This post has been sponsored by General Mills. All thoughts and opinions are my own.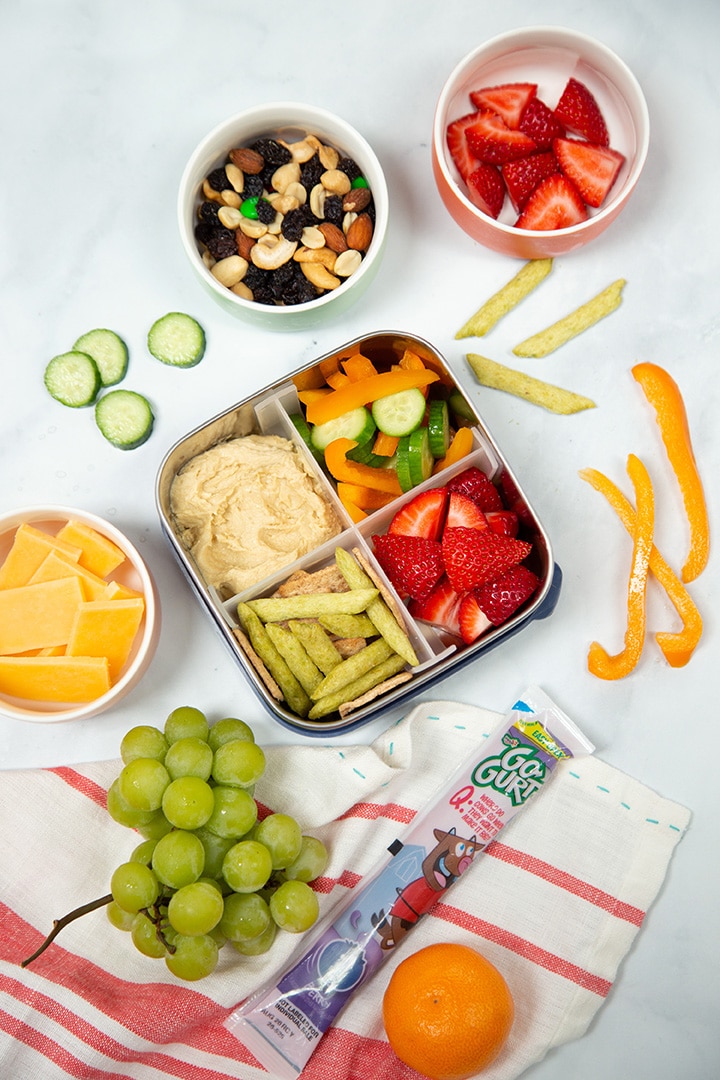 Can you believe that back-to-school season is in full swing? We are still in disbelief as to how fast the summer has gone. Today we are delighted to share with you some of our very favorite go-to kid's lunch ideas for the school year in partnership with our friends at Go-GURT®. Making this list is so helpful to have in your arsenal; it's full of ideas to keep the kids from getting bored with their lunches.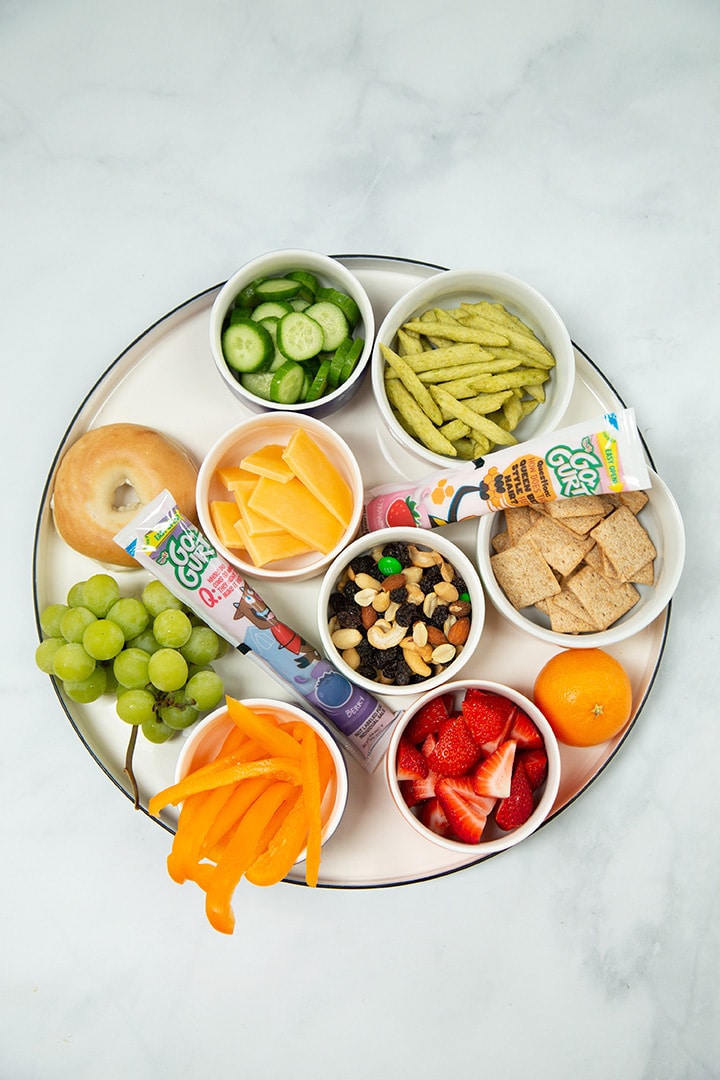 We have rounded up our go-to lunchbox ideas that include a protein, veggie, fruit, starch and snack. Our girls love Go-GURT in their lunches, especially the strawberry and berry flavors. We love Go-GURT's Freeze 'N Thaw capability: simply freeze the night before and pack the morning of for your kids to enjoy a perfectly cool and thawed snack by lunchtime. This is such a simple solution to keep the kids' entire lunchbox cool for lunchtime.
I get so many of my lunchbox staples at my local Walmart. You can find the Go-GURTs in the yogurt section of the store. The girls love the strawberry and berry flavors that I can find in the 16- count, Value Pack box size. Perfect! Have you tried Walmart's online grocery pickup program yet? I am obsessed with the ease and speed of grocery shopping now!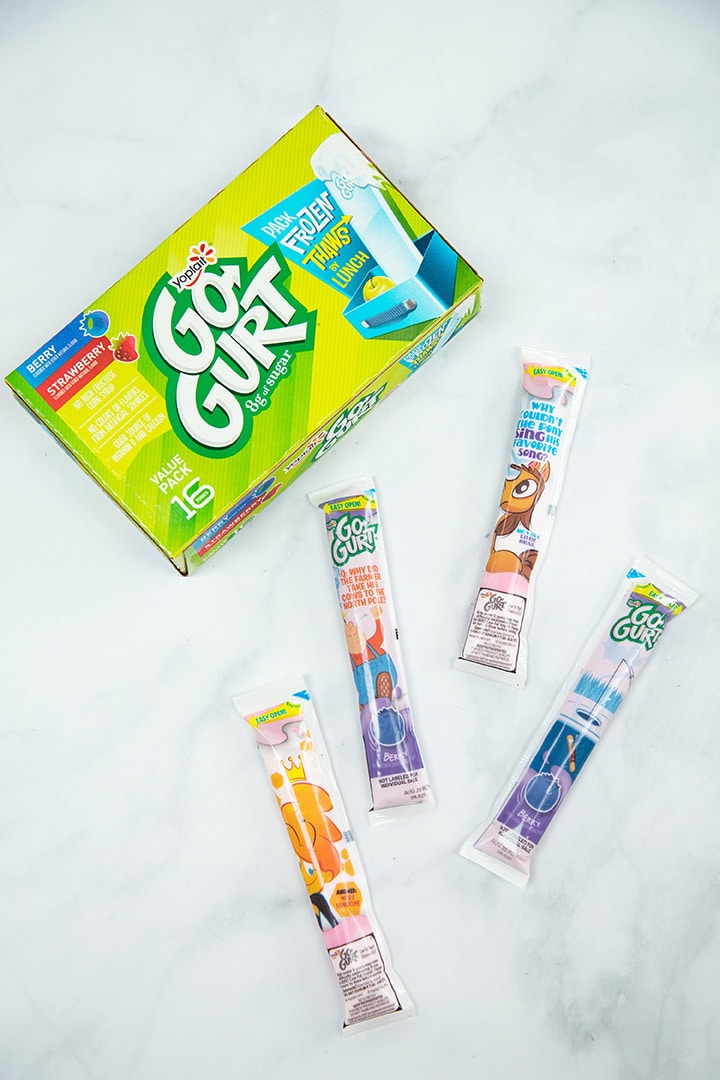 Now for more about our fast, fun and kid-friendly lunchbox ideas…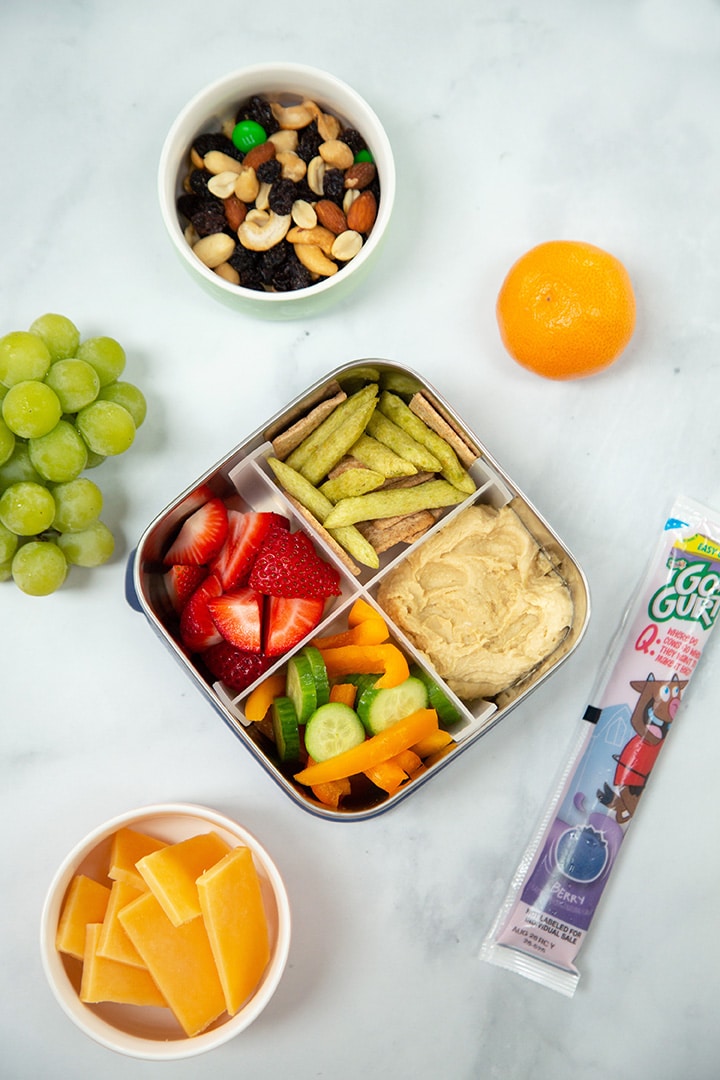 Back to School Lunch Ideas
Although only the first notates a Go-Gurt addition, we think it'd be a great add-on to any one of these back-to-school lunches!
Turkey roll ups, hard boiled egg, carrots, apple and GoGurt

Pita Pocket, snap peas, strawberries and pita chips

Heart shaped PB&J, carrots, blueberries, cheese stick

Bagel with cream cheese, celery and red pepper, ranch dip and apple

Tortellini, cucumbers with ranch, strawberries

Mac and cheese, blueberries, peppers with dip, pretzels

Pinwheel sandwiches, cubed cheese, celery, mixed berries

PB&J bagel, kiwi, carrots and hummus, pretzels

Appetizers (salami, hummus, cheese and crackers), pistachios, strawberries

Pot stickers, edamame, grapes

Ham and cheese sandwich, apple, snap peas with ranch, tomatoes

Quesadilla, clementine, red peppers with dip, pretzels, raisins

Fried rice with chicken, carrots and peppers, berries

Chicken fingers, carrots and celery with ranch, grapes, hard boiled egg

Salami and turkey roll ups, cucumbers with hummus, berries and pistachios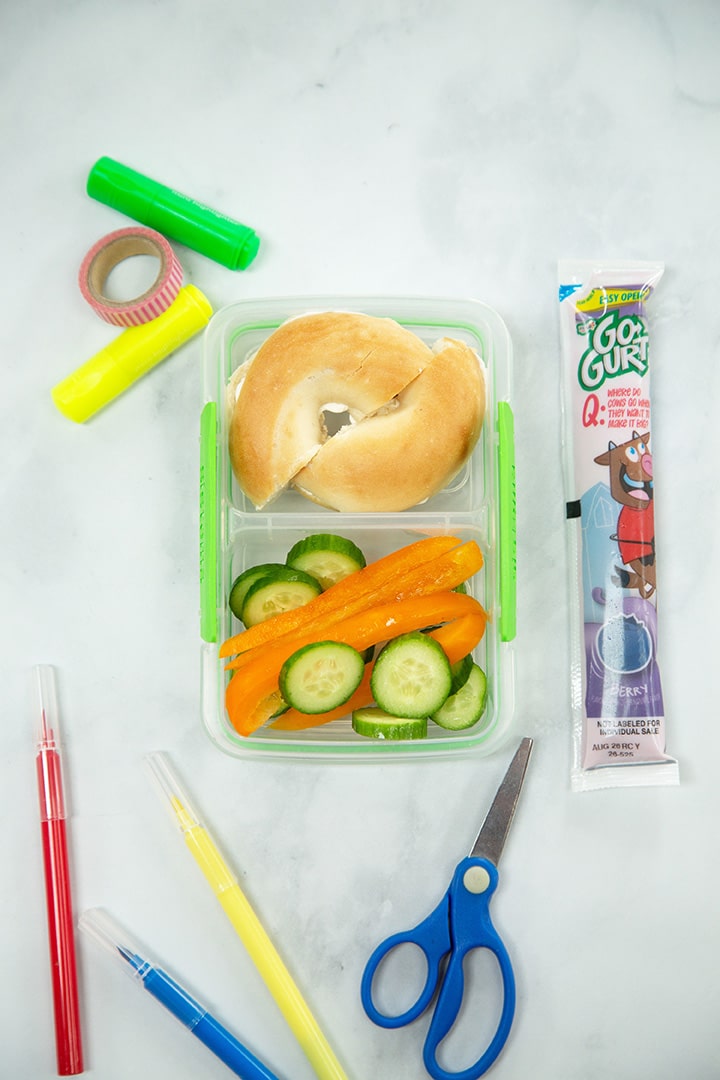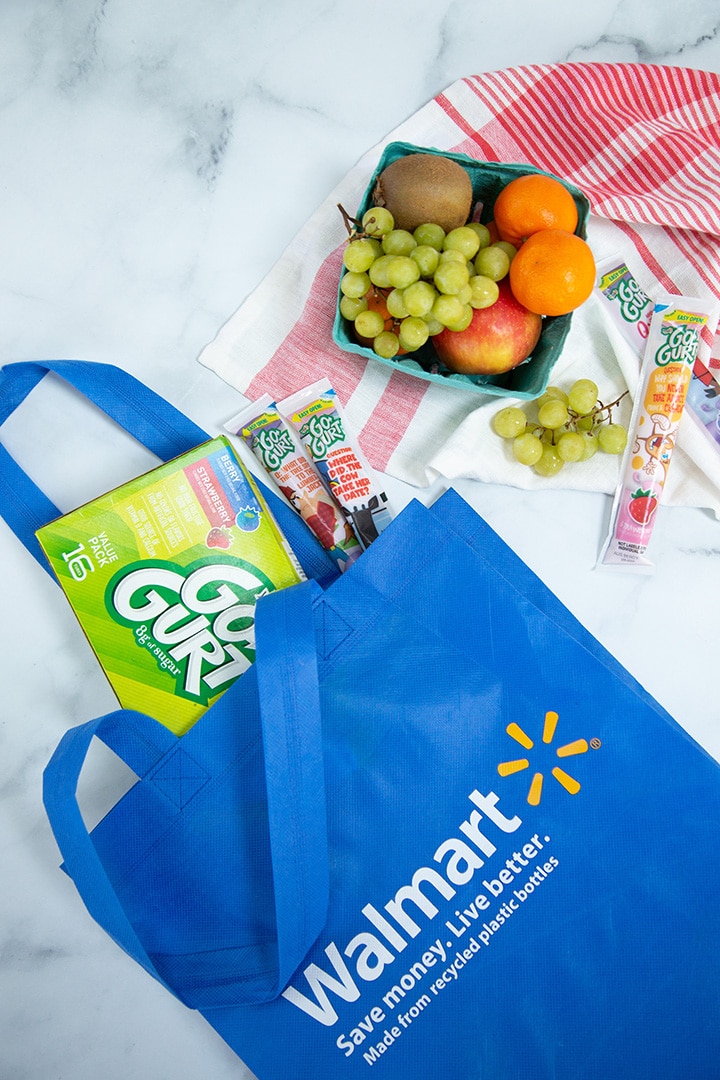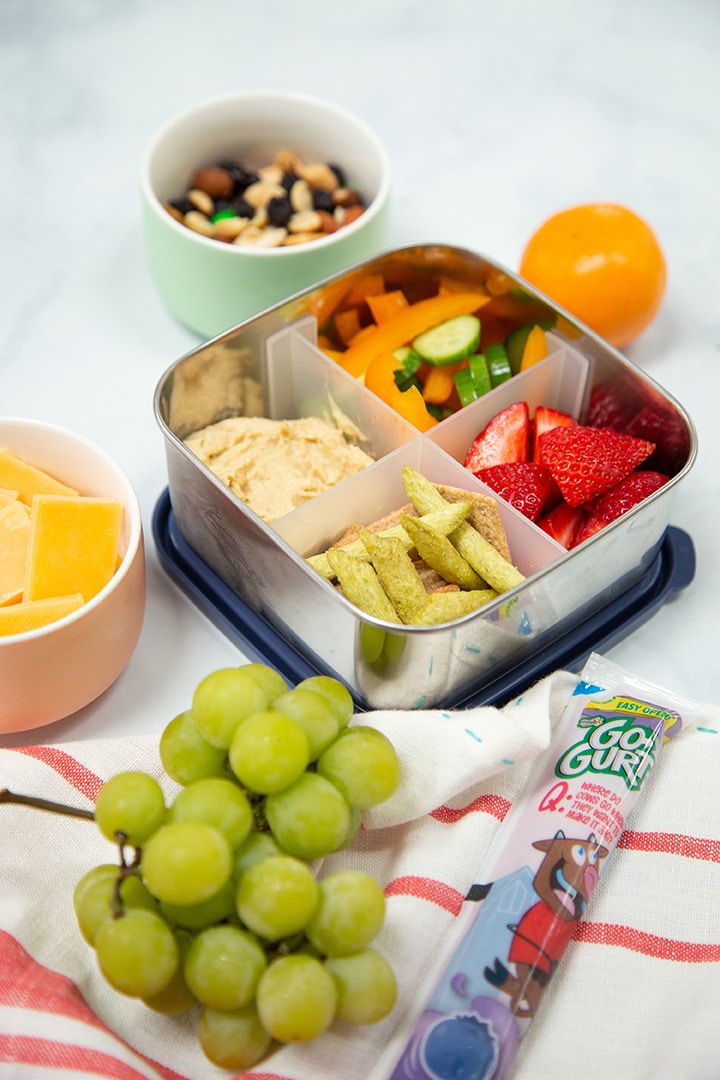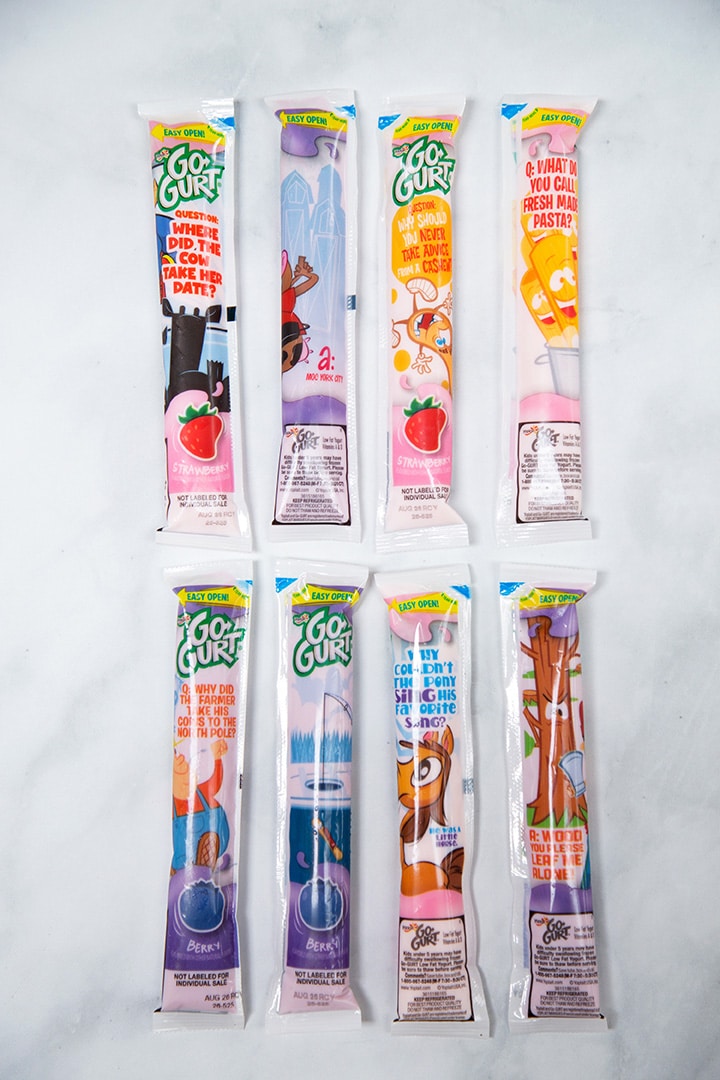 Photos by Sara Albers.
SaveSave
SaveSave
SaveSave