2020 New Year's Game Free Printable
Looking for a fun game for this New Year's Eve? Print our 2020 New Year's Game Free Printable!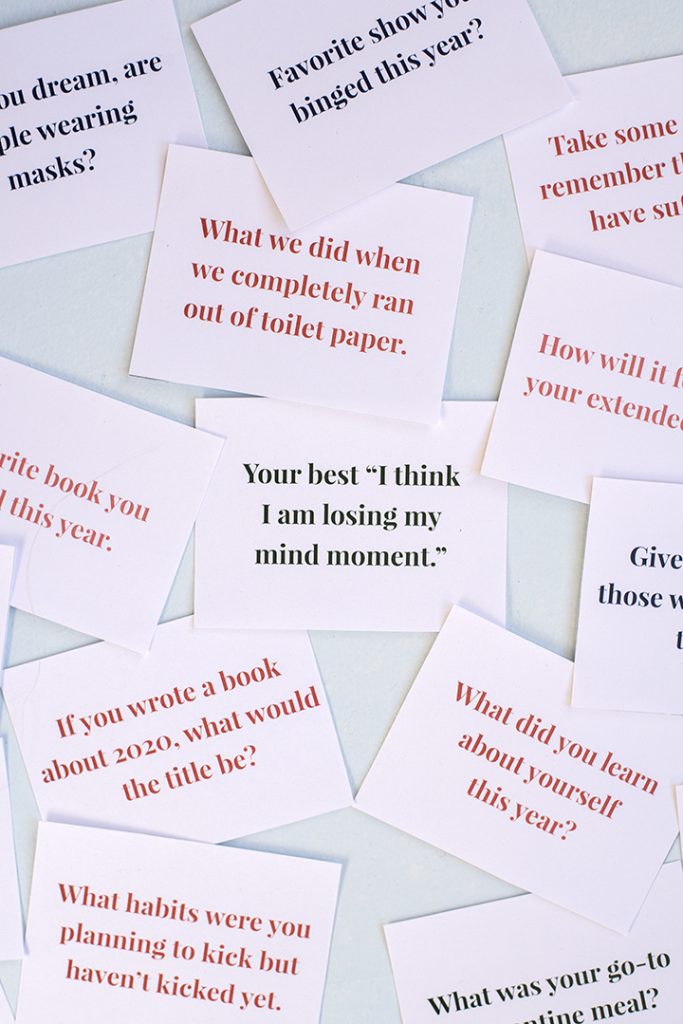 Our original New Year's Game Free Printable has been downloaded thousands of times since we created it. And since this year has been such a unique year, we knew we had to make a 2020 edition with relevant questions to ask each other.
2020 New Year's Game Free Printable
This game is all about getting the conversation going. It is a fun way to ask silly, meaningful and thoughtful questions to your family on New Year's Eve. You can reminisce about your favorite foods you discovered this year, habits you wished you would have kicked in 2020, and how long you went without a haircut.
Cards will also prompt you to give kudos to those who worked tirelessly this past year to keep us safe and to have a moment of silence for all of those we have lost or who have suffered greatly.
The questions will get your family thinking back on their favorite (and maybe not so favorite) moments of the year. The questions will also have them reflect on what a strange year this has been. Some of our favorite questions include: "What did you learn about yourself this year?" and "Your best "I think I am losing my mind moment this year."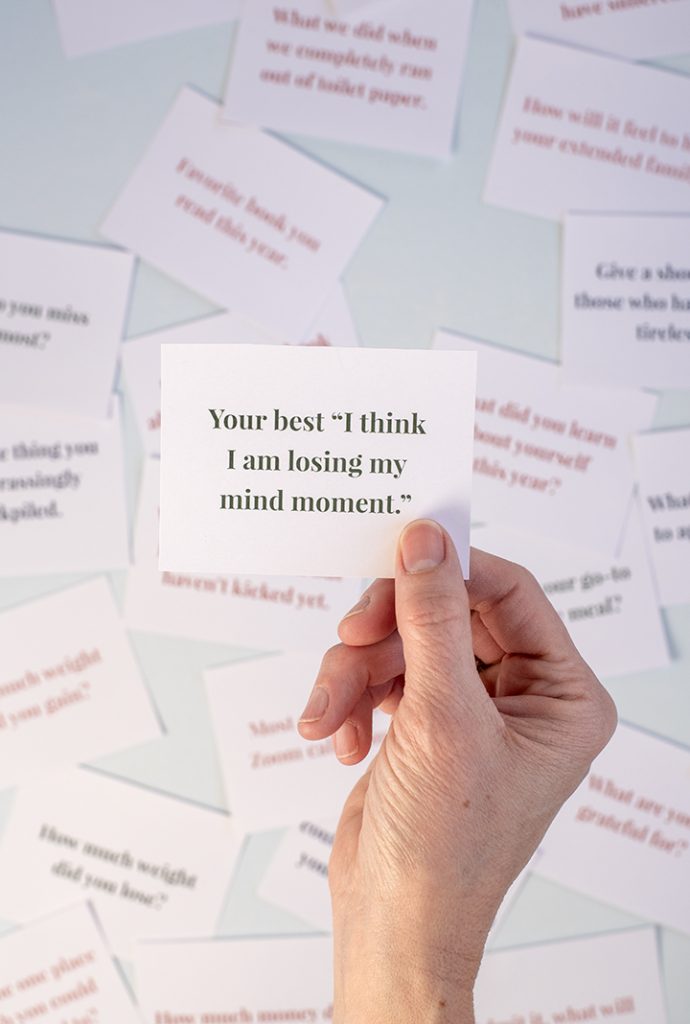 How to use the New Year's Eve Game Free Printable
You can use our original NYE game printable and select some questions to mix in with the 2020 edition. Use the game cards as a place card at the NYE dinner table or place cards in a glass bowl and have family members pick a card.
What are your plans for NYE this year? Another idea is to send the link to the 2020 New Year's Game Free Printable to friends and family and then set up a zoom call to play the game together!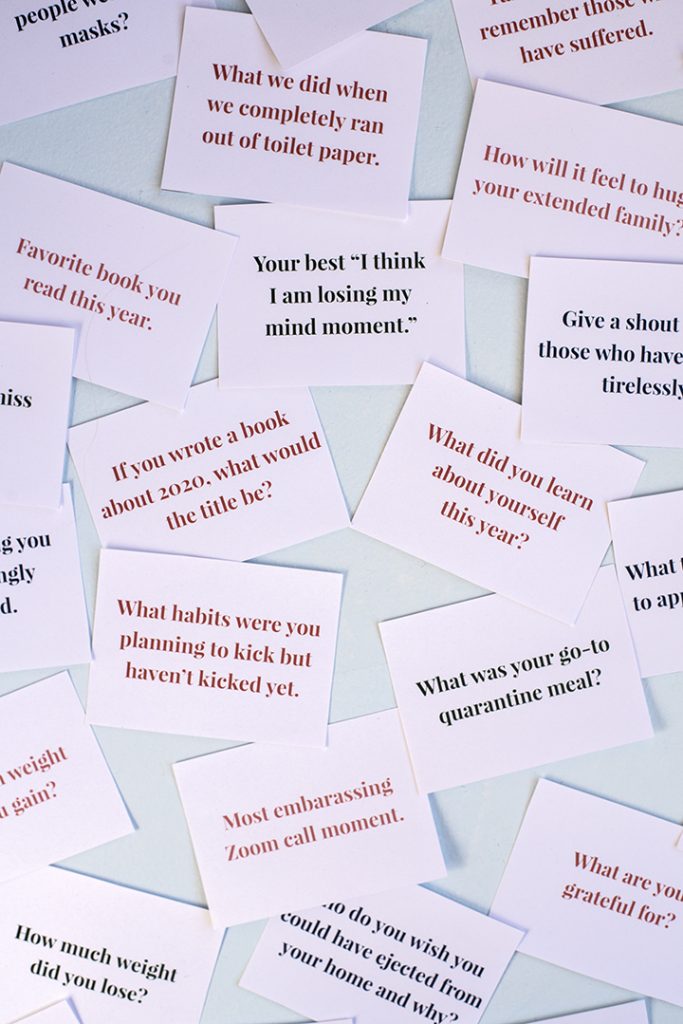 There are so many fun questions for your family to ask each other. And there are some sentimental questions as well. 2020 has been such a tough year. So many people have been sick, dealt with job loss and more. We do not take any of these things lightly. Covid hit our homes and it was tough. We hope 2021 can bring new hope and good health for everyone.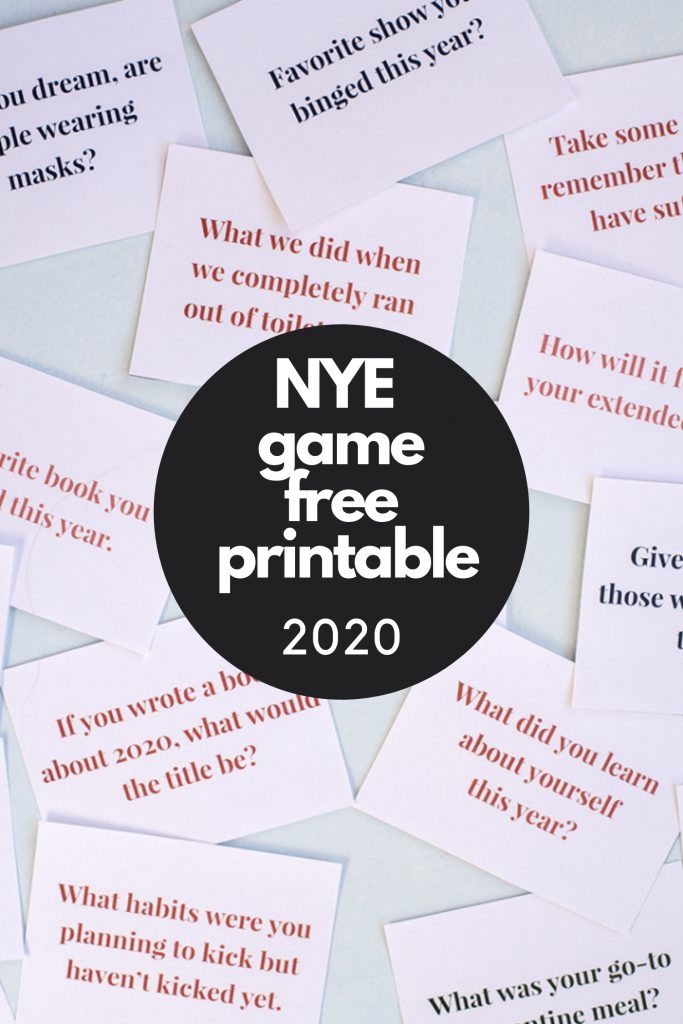 How to print the 2020 New Year's Game Free Printable
Simply click HERE. You can download the PDF file and print on card stock or regular printer paper. Cut the game pieces out and have fun! And remember, this game is for personal use only.
More at home New Year's Eve ideas
Play a family game of charades
Do a zoom call with grandparents and use our printable game
Write a list of 21 things you want to do as a family in 2021
Make a "fancy" at home dinner and have everyone in the family dress up
Family dance party
Play Pictionary
Write a list of resolutions as a family
We have to thank some our our girlfriends for helping us come up with all of these great questions for this 2020 NYE game!