25 Random Acts of Kindness DIY Advent Calendar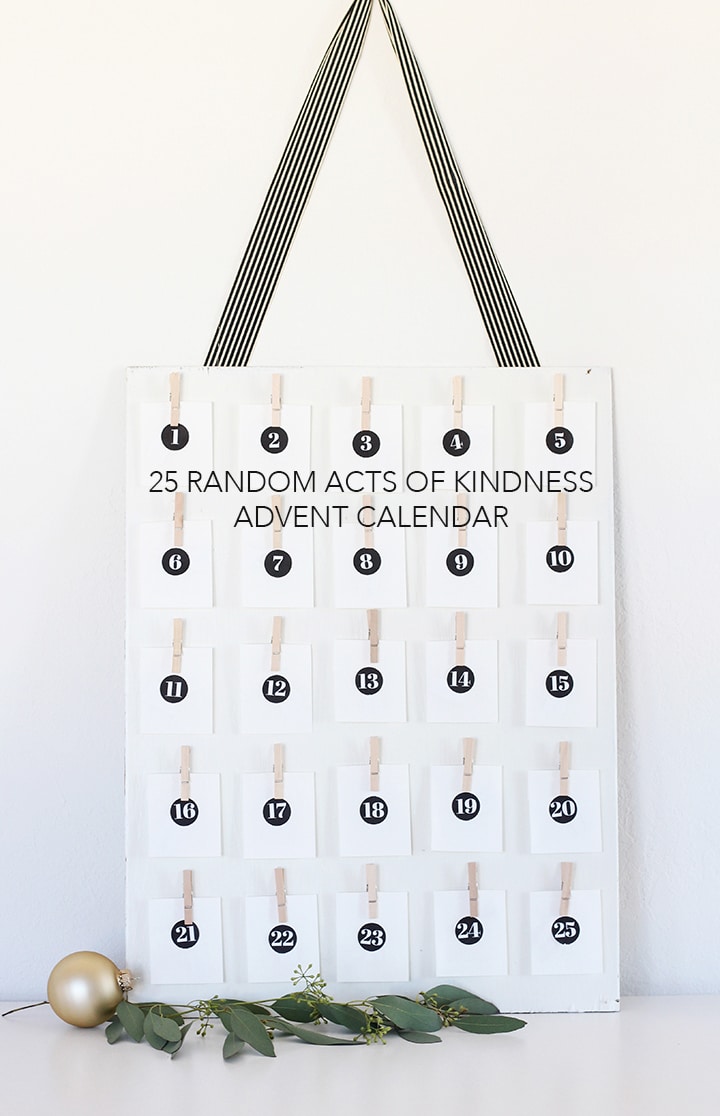 Typically we grab a cheap chocolate-filled Advent Calendar every year for Harper. But this year, we wanted to try something different. Something with more purpose for our child and our family.
I got the idea to incorporate acts of kindness from my friend Molly. Her sister-in-law Heather had done random acts of kindness as a gift for Molly's birthday. She had her children do 40 acts of kindness in honor of their Aunt Molly's birthday. I absolutely love this idea!
So, I turned this idea of kindness into a simple and reusable DIY Advent Calendar that can be used year after year. It was so fun coming up with all the little acts of kindness for this project. I am including the printable for 25 Acts of Kindness for the Holidays in this tutorial. Some of the acts of kindness include; take cookies to the fire station, donate books to a hospital, help your siblings with their chores.
Make sure and check out some other Advent Calendars we have made for you! Like this new printable one.
Read more for the 25 Random Acts of Kindness DIY Advent Calendar tutorial.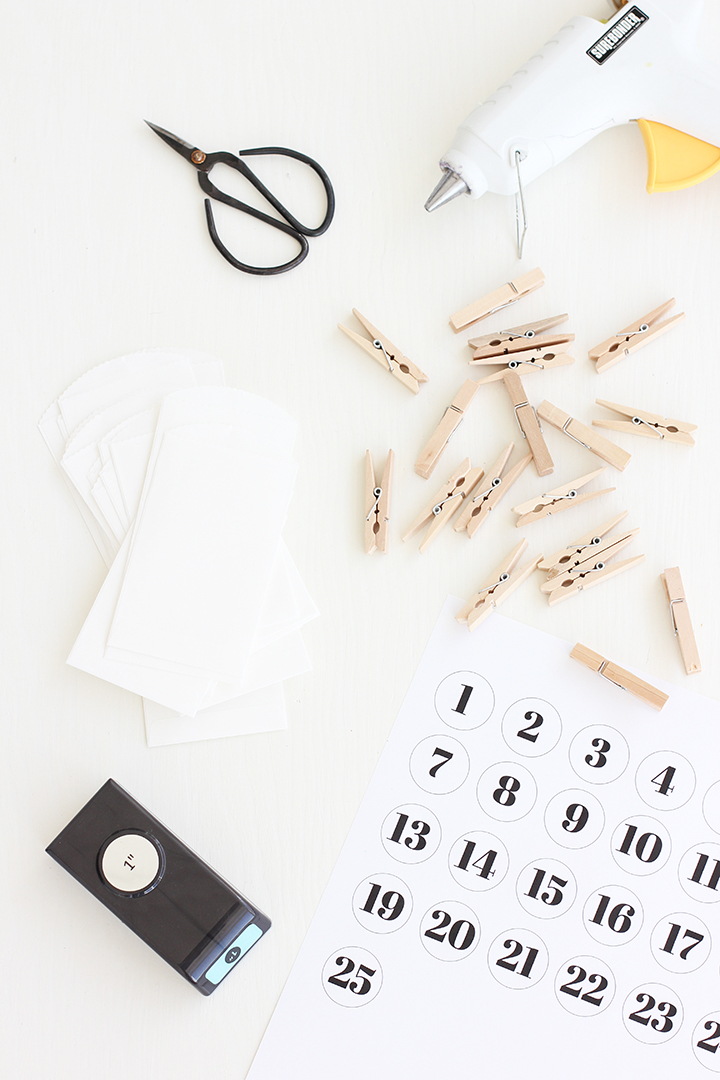 Supplies: 18 inch x 24 inch wood board (or foam core board) | 4 inch white paper sacks | 2 inch wood clothes pins | hot glue gun | glue stick | ribbon | one inc circle punch | Advent Calendar numbers printable | 25 Random Acts of Kindness printable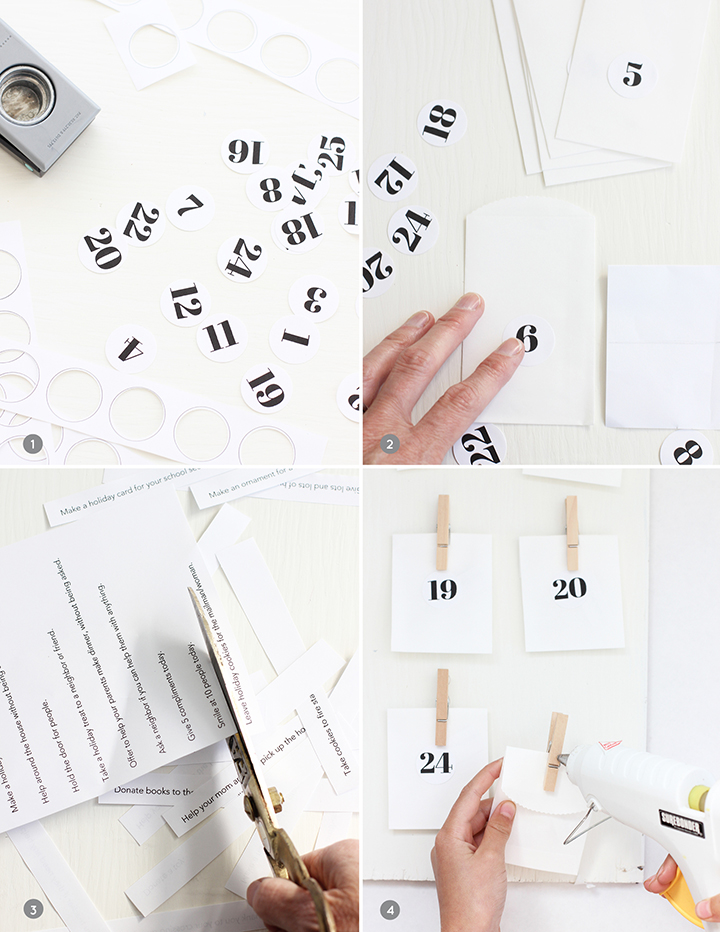 Step 1. Paint board white or use a white foam core board. Print Advent Calendar Numbers and punch out using a one inch punch.
Step 2. Glue the number on the front of the envelopes.
Step 3. Print the 25 random acts of kindness printable. Cut each sentence, fold and place in each envelope. Fold the envelopes to 3 inches in length and clip onto clothes pins.
Step 4. Using a hot glue gun, glue the clothes pins onto the board. You can use a tape measure to determine the space between each number.
I used my hot glue gun to attach a black and white ribbon to the top back of the board so I could hang the Advent Calendar on the wall. You can also just set it on top of a table.
We are looking forward to December 1 to start of acts of kindness. My daughter is so excited.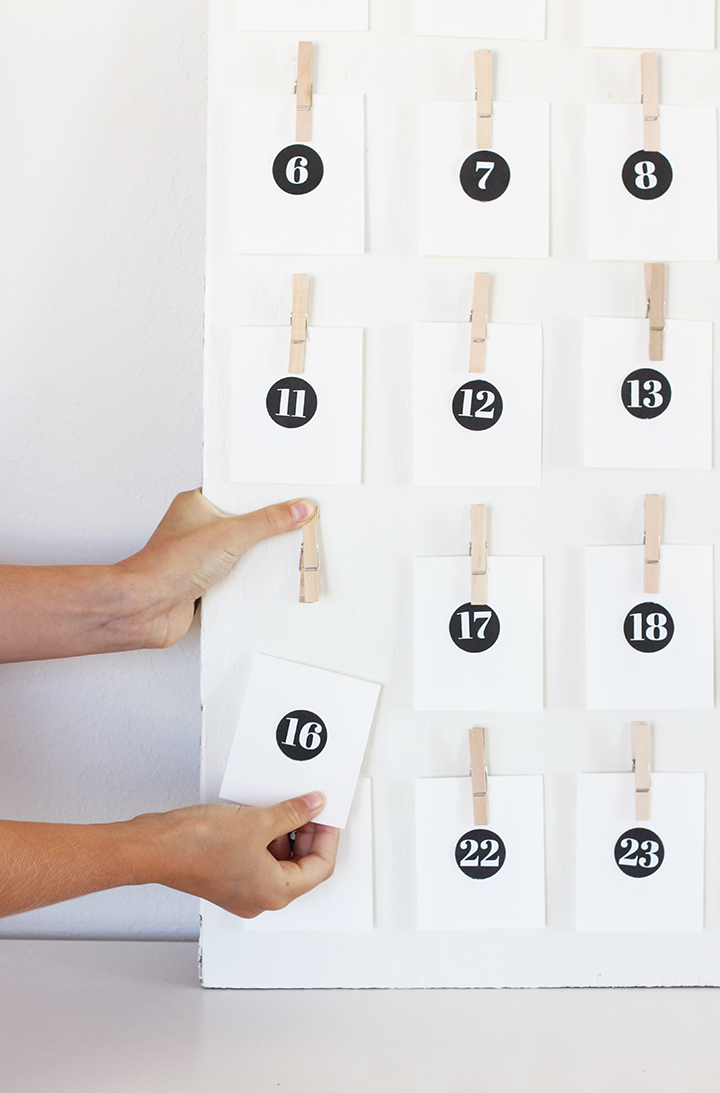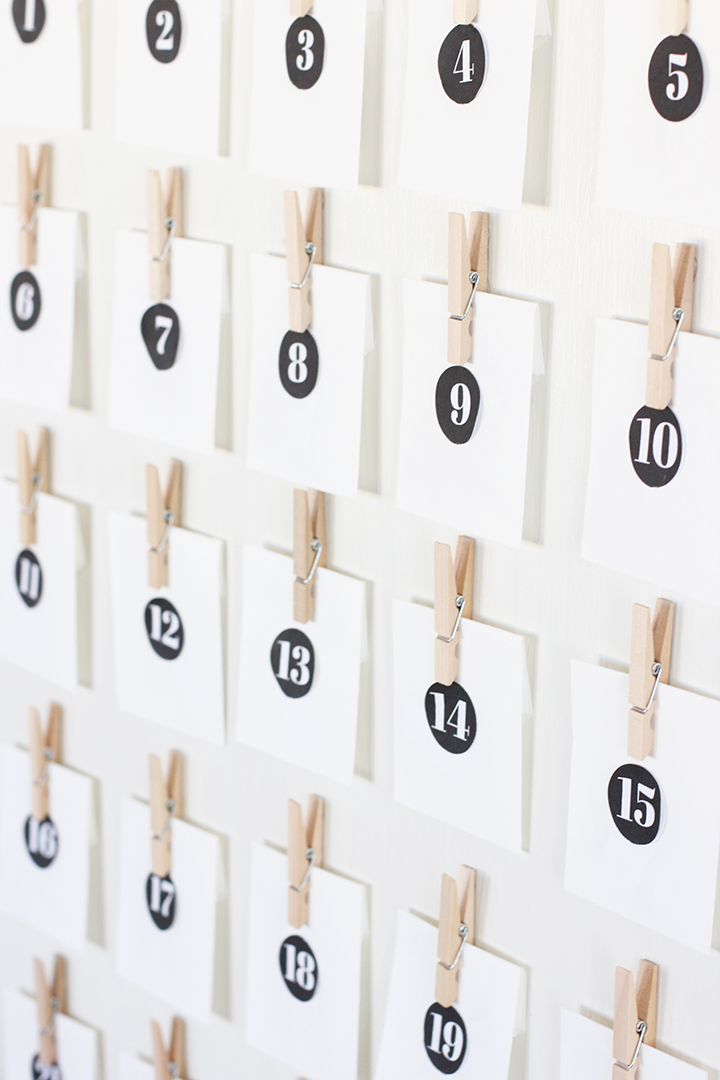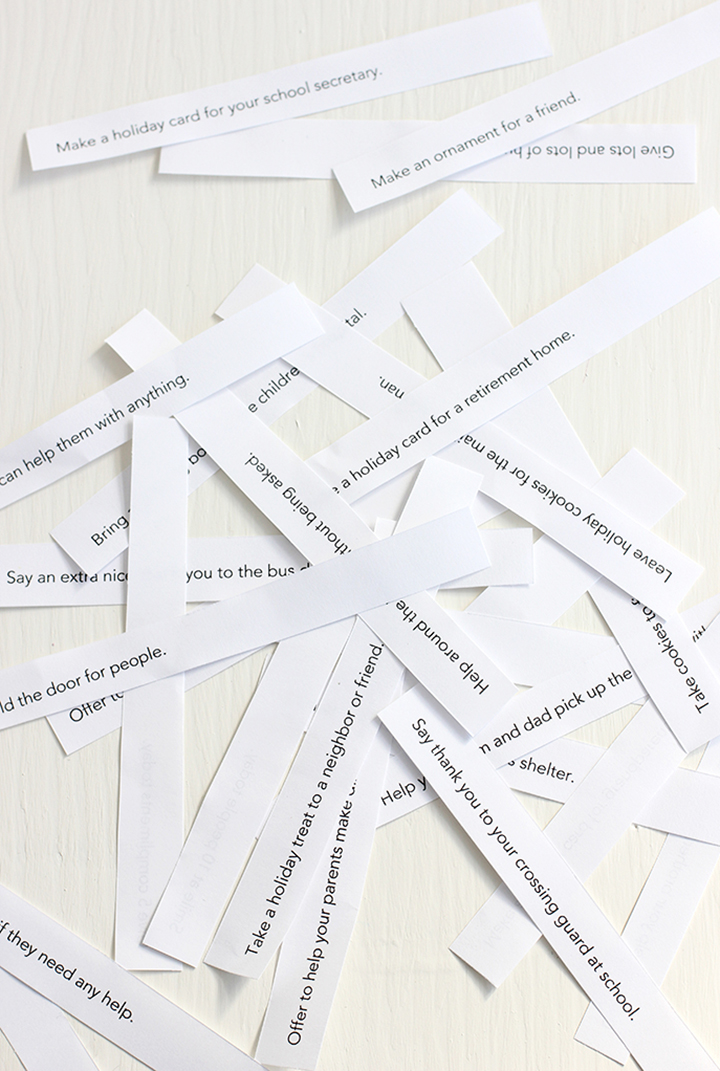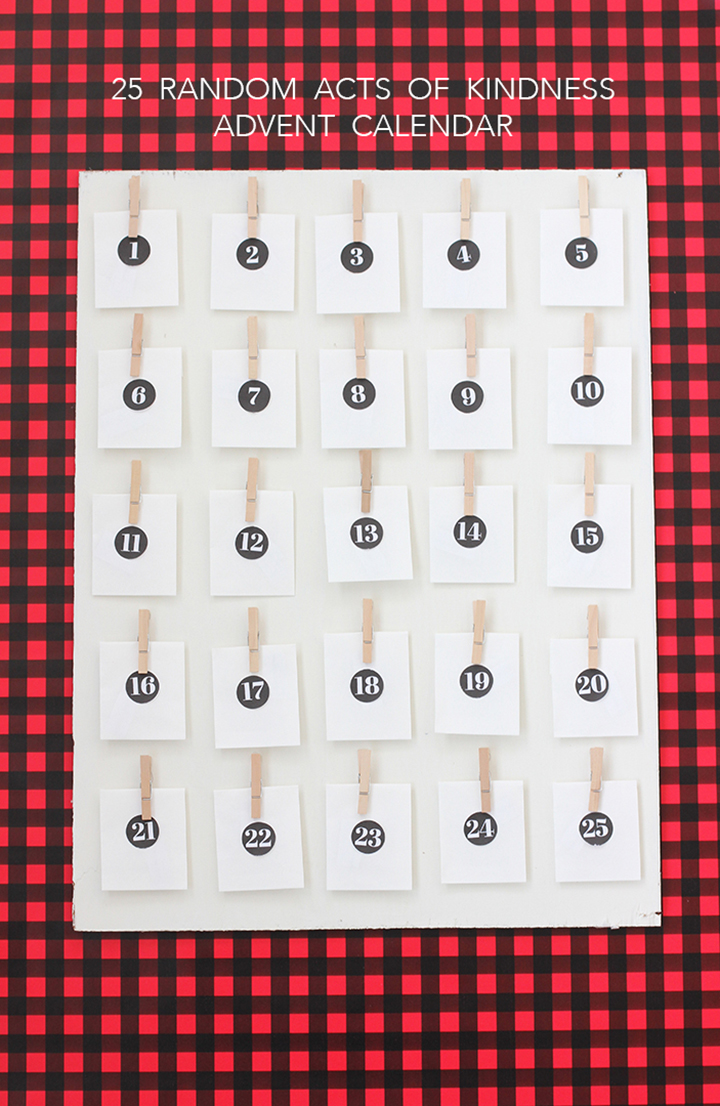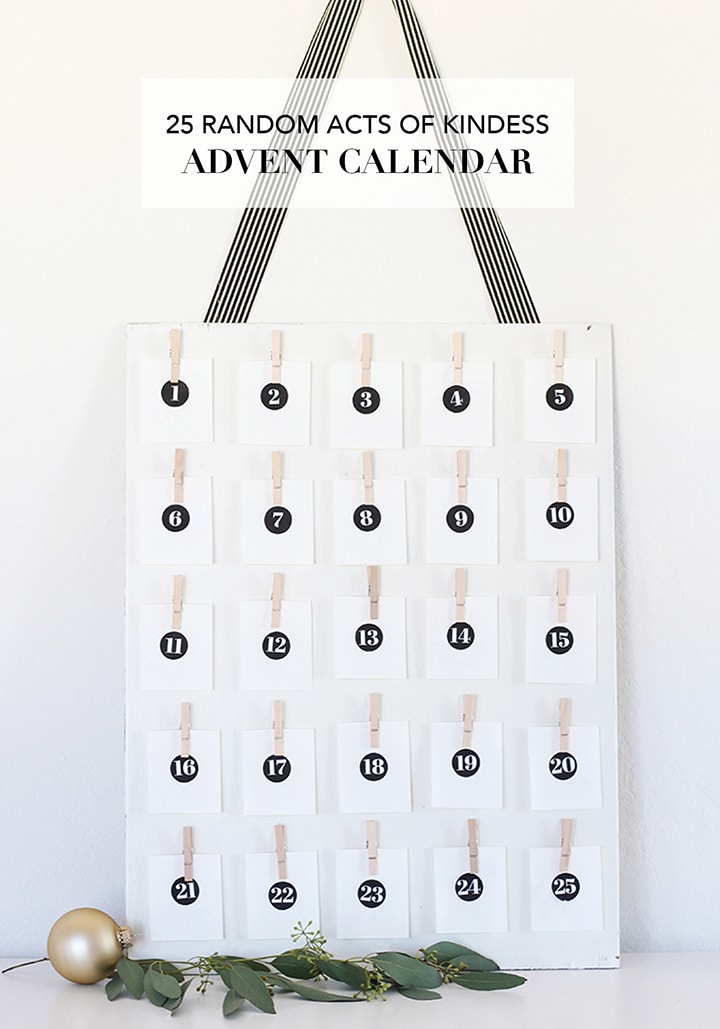 Photos by Sara Albers. All rights reserved.