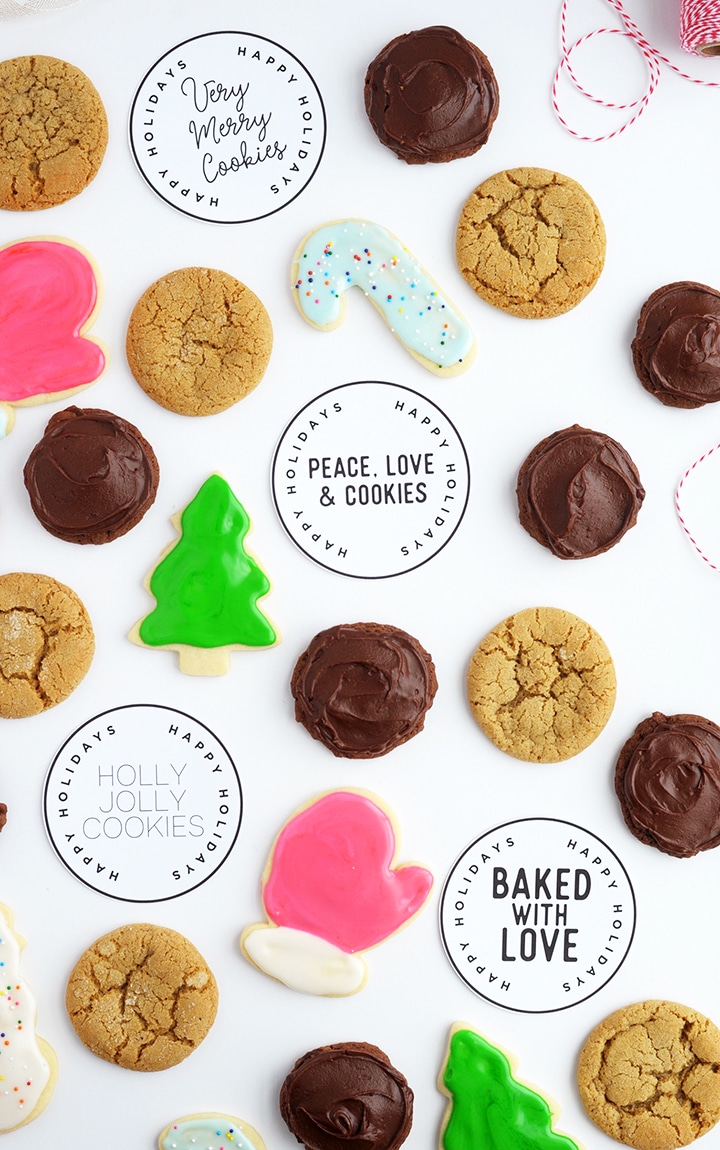 'Tis the season for cookies! One of the best December holiday traditions in our families is baking cookies. We've teamed up with Rubbermaid TakeAlongs® to share our 5 favorite holiday cookie exchange recipes along with a free printable label to send your guests home with. There's nothing like a container of fresh baked Christmas cookies!
We found these festive containers while checking things off our list at Target. Once we saw them we knew they'd be jus the thing to use to fill up with our favorite holiday cookies. I started dreaming up the fun black and white labels to place on the top with my favorite black and white striped ribbon. These TakeAlongs® are only available in these fun colors for a limited time at Target.
Now for the cookies! We've always been huge fans of the classic sugar cut out cookies, chocolate frosted cookies and delicious ginger cookies. We love the different flavor of each.
Read more for the free printable label and cookie recipes!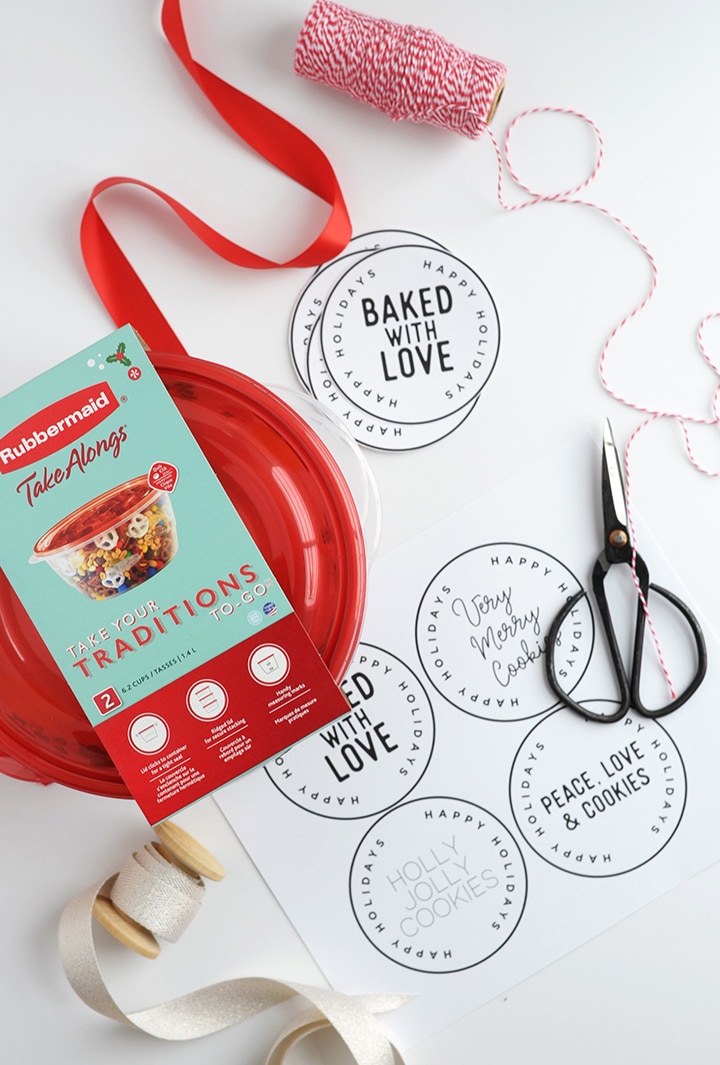 We love to wrap thick striped ribbon around our TakeAlongs® and then top it with our Free Printable Cookie Label. We created four different versions for you: Baked with Love, Very Merry Cookies, Holly Jolly Cookies, Peace, Love & Cookies. Just print the Free Printable Cookie Label sheet out, cut them out and have them ready for your package. These black and white modern labels go so well with the red topped TakeAlongs®. And please remember, the labels are for personal use only.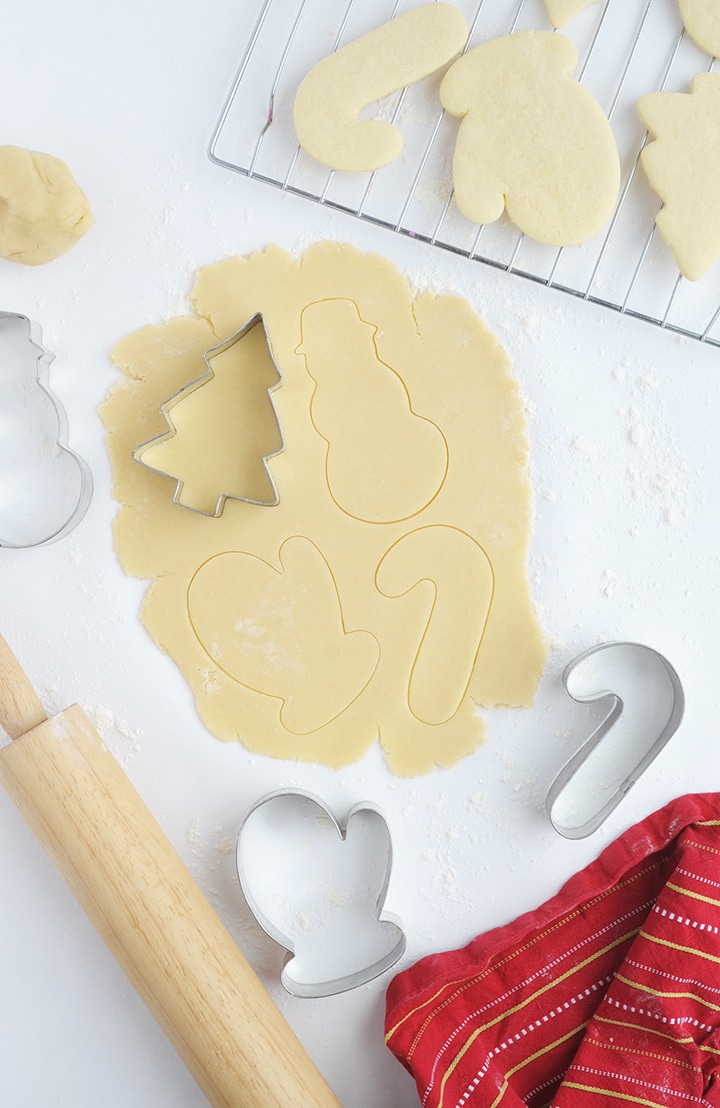 Sugar Cookie Recipe
Ingredients
1 cup butter, room temperature
1 cup sugar
1 ½ teaspoons vanilla
1 egg
1 teaspoon water
3 cups flour
1 ½ teaspoons baking powder
¼ t salt
Cream butter, sugar and vanilla.
Add egg and water. Beat until light and fluffy.
Combine flour, baking powder and salt. Sift together.
Blend dry mixture into creamed mixture, divide dough in half. Wrap each half in waxed paper or plastic wrap and chill for one hour.
Bake at 375 degrees for 6-8 minutes. Watch them carefully. Take out of oven before edges turn brown.
Icing:
Start with 2 cups of powdered sugar. Add 1 teaspoon vanilla and 1 tablespoon melted butter. Stir in teaspoons of milk one at a time until you reach desired consistency.
Ginger Cookie Recipe
 Ingredients
1 1/4 cups all-purpose flour
1 cup whole-wheat flour
2 tsp. ground ginger
1 tsp. baking soda
3/4 tsp. ground cinnamon
1/2 tsp. ground cloves
1/4 tsp. freshly ground black pepper
1/4 tsp. salt
3/4-cup butter, softened
1 cup white sugar
1 egg
1 Tbs. water
1/4-cup molasses
2 Tbs. white sugar
Preheat oven to 350F.
Stir together flours, ginger, baking soda, cinnamon, cloves, pepper and salt. Set aside.
In a large bowl, cream together butter and one cup sugar until light and fluffy. Beat in egg and then stir in water and molasses.
Gradually stir dry ingredients into molasses mixture.
Shape dough into walnut-sized balls and roll them in remaining two tablespoons sugar. Place the cookies two inches apart onto an ungreased cookie sheet and flatten slightly.
Bake for 8-10 minutes in preheated oven.
Allow cookies to cool on baking sheet for five minutes before removing to a wire rack to cool completely. Store in an airtight container.
Chocolate Cookie Recipe
Ingredients
1 cup butter softened
1 ½ cups sugar
2 eggs
1 tsp vanilla
1 Tbs coffee flavored liquor (or instant coffee)
2 cups flour
2/3 cup cocoa
¼ tsp baking soda
½ tsp salt
2 cups chocolate chips
Preheat oven at 350.
Cream sugar and butter together with mixer. Add eggs, vanilla and liquor.
Next, sift dry ingredients.
Mix dry and wet ingredients. Stir in chocolate chips.
Chill dough for one hour. Use a soup spoon to scoop dough into ball-shaped cookies. Place on cookie sheet. Bake for 8 – 10 mins. Recipe makes 2 dozen cookies.
Chocolate Icing Recipe
2 ¼ cups powdered sugar
¼ cup cocoa powder
½ tsp vanilla
1 Tbs butter
¼ cup milk
Mix all of the ingredients together and ice cooled cookies.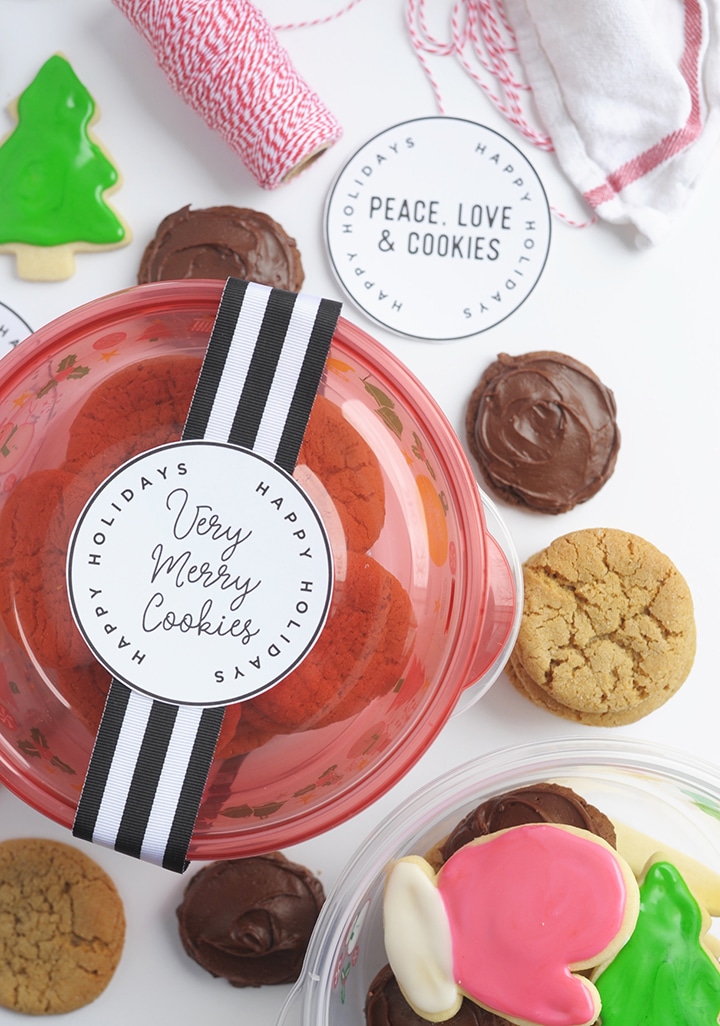 Two more of our favorite cookies to try include Lemon Poppyseed Shortbread from The Whole Bite and these Flourless Chocolate Fudge cookies from Mama Gourmand.
For our cookie exchanges, we like to encourage our guests to bring two dozen of their favorite holiday cookies. When hosting a cookie exchange, it's always easier to have everything ready to go. Have your ribbon precut, your labels cut out and recipe cards ready for swapping. You can pass out a TakeAlong® container to each guest, let them fill it up to the brim and then it's your job to package it up so it looks just like a present!
These containers of cookies also make the best hostess gift during the busy Christmas party season. Bring the hostess a mix of these cookies, add the ribbon and label and even include recipe cards of your favorite cookie on the top. Just tape it next to the label. The festive print on the TakeAlongs® make them perfect for the Holidays and it's true, people love homemade gifts. Honestly, bringing fresh baked cookies in a cute packaged reusable container like this is my go-to gift at Christmas gatherings. And oftentimes, the cookies make their way to a platter on the buffet table immediately!
The TakeAlongs® can be found at Target during the holidays.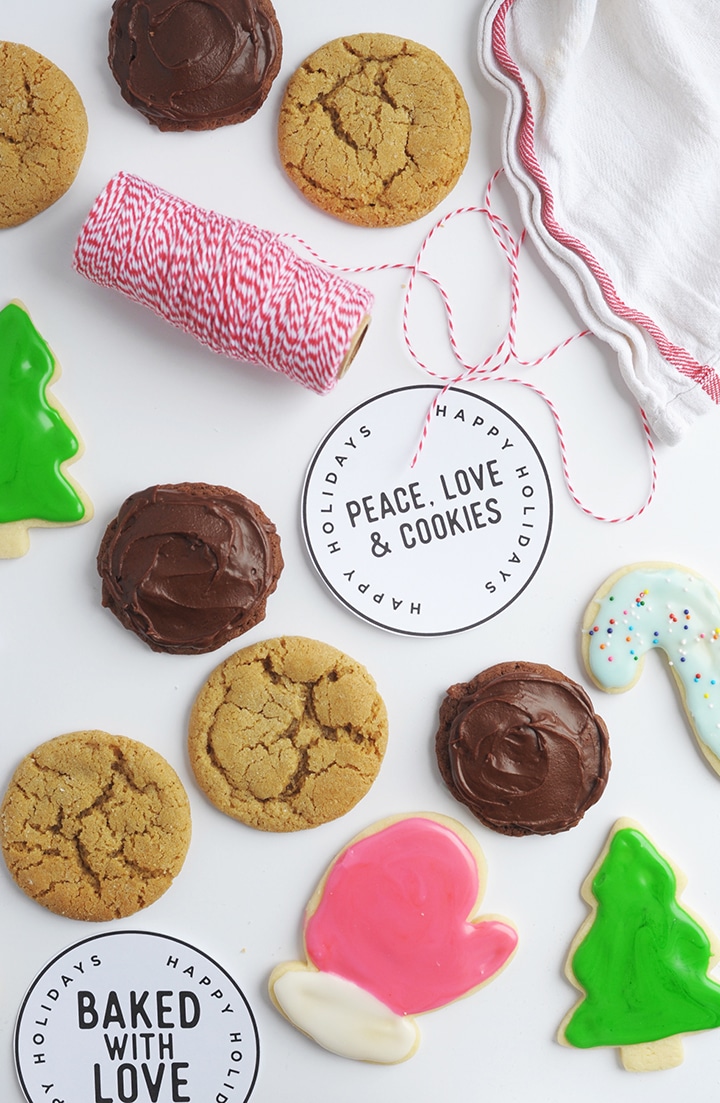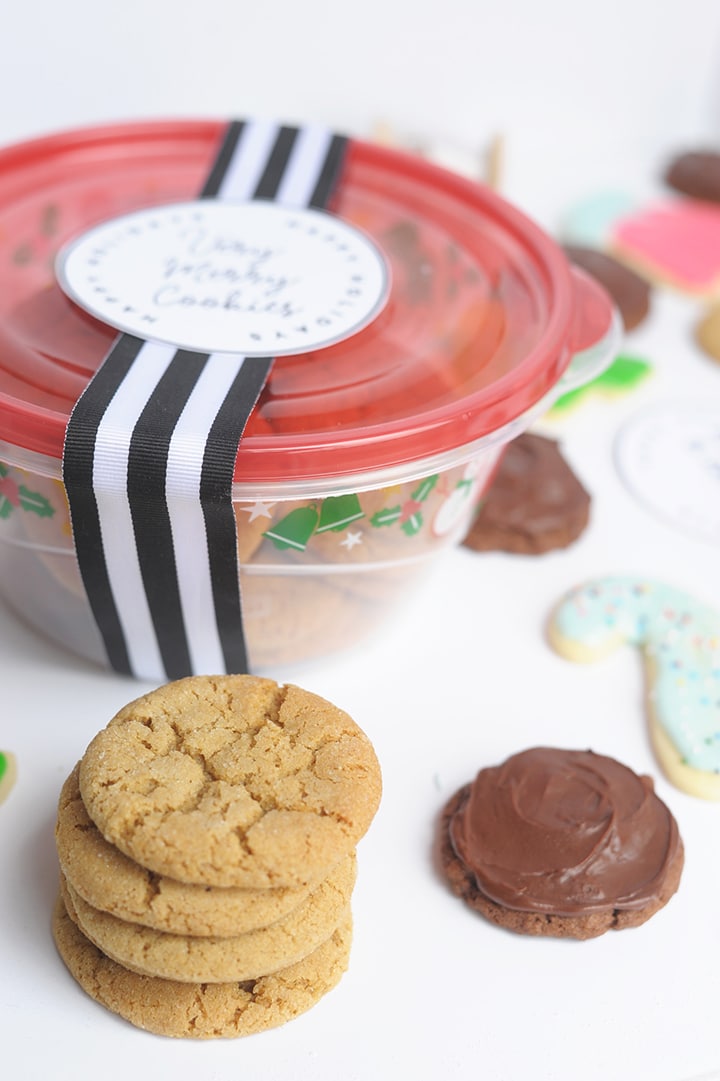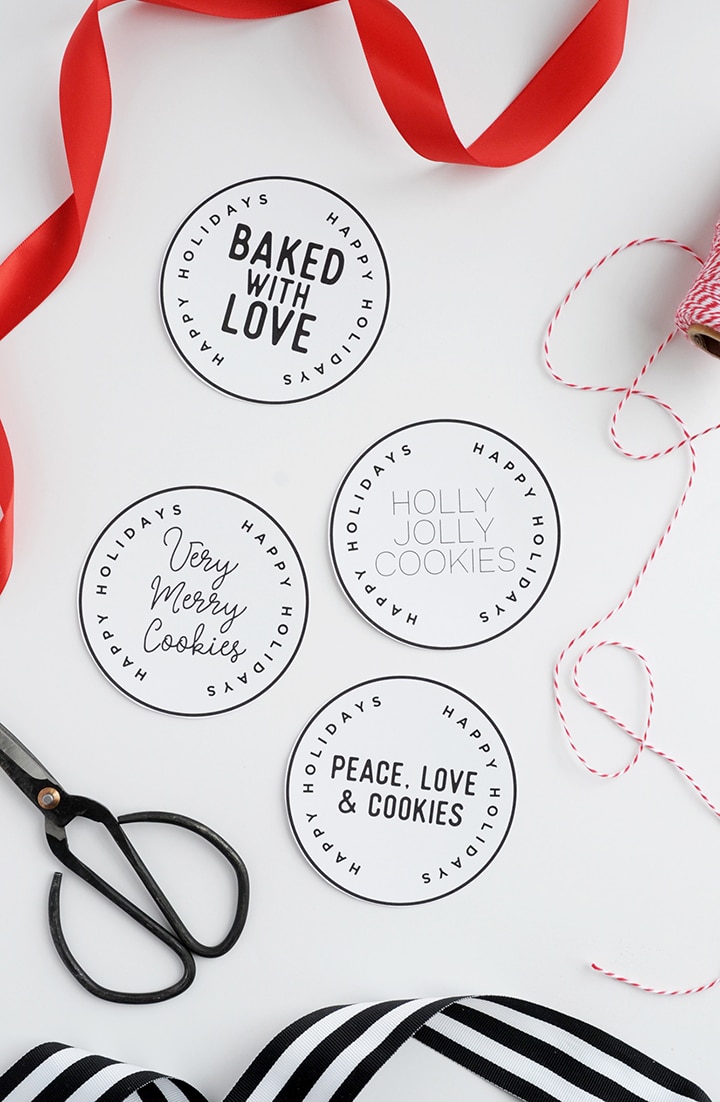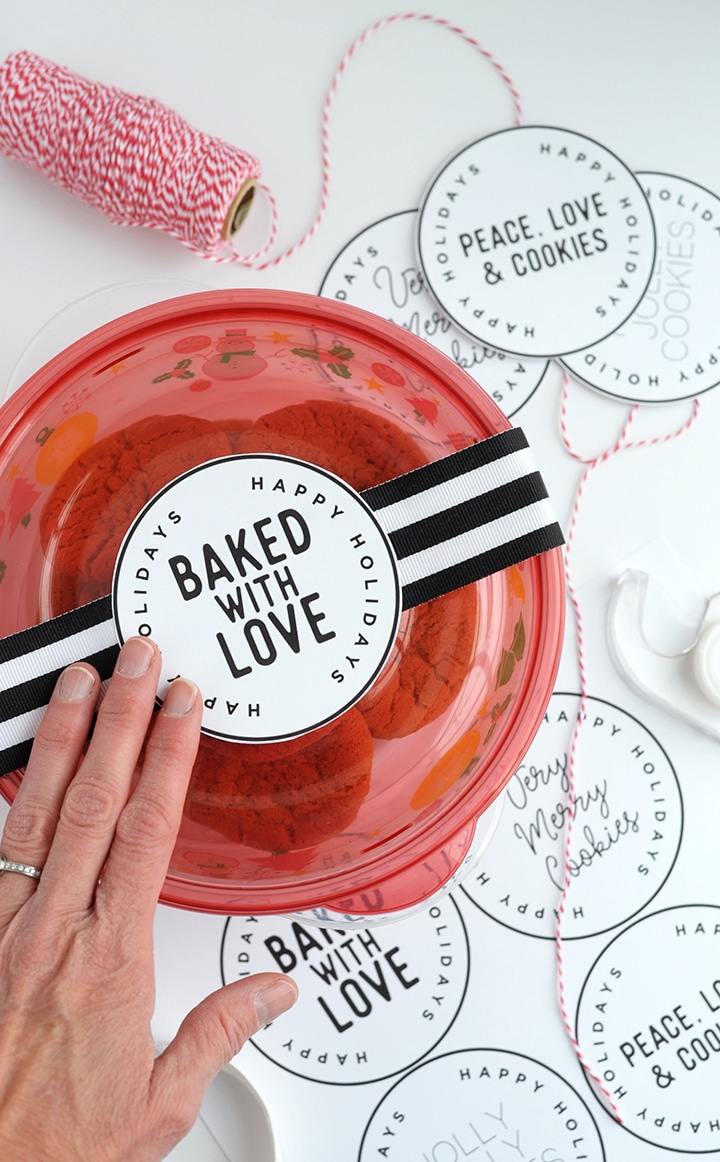 Photos by Melissa Fenlon, all rights reserved.
Thank you to Rubbermaid TakeAlongs® for sponsoring this post.