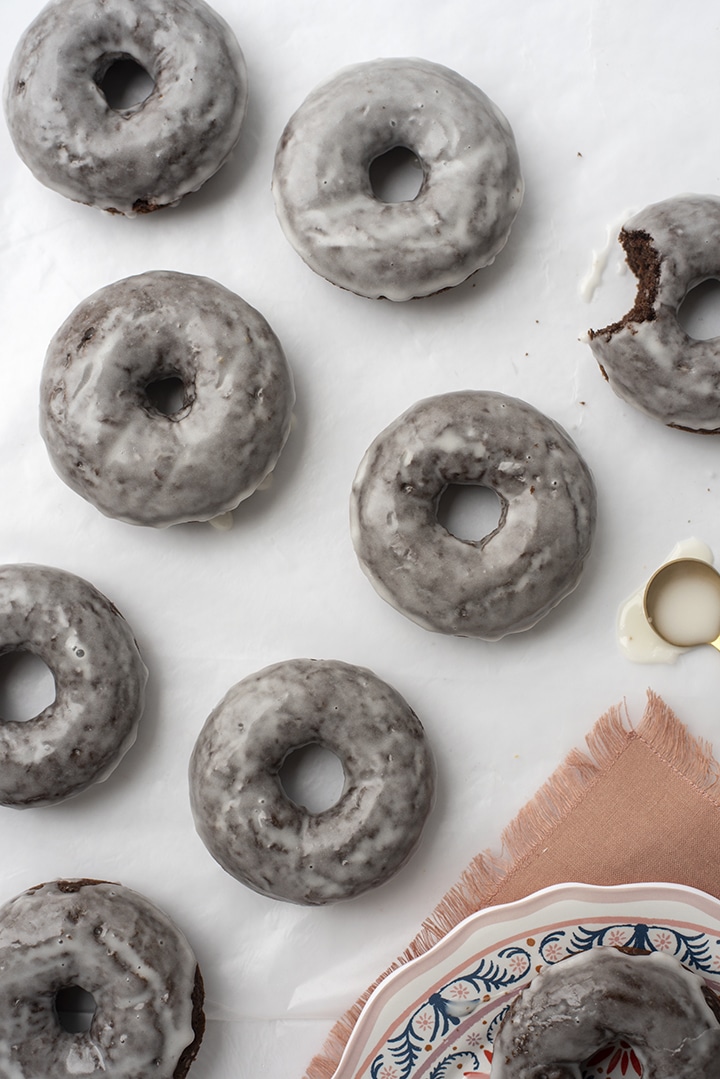 The girls and I have been doing a lot more baking lately and you should have seen their eyes light up with I pulled out the donut pan! We decide on chocolate donuts with a vanilla glaze on top – and this Baked Chocolate Donuts Recipe did not disappoint. These donuts are easy to make and even easier to serve and enjoy.
If you haven't baked donuts at home, you must give it a try! It is so easy and the family loves them. This Baked Chocolate donuts are seriously so good that you will want to make it a Saturday morning tradition! The girls also love our the Baked Vanilla Donuts with sprinkles.
Baked Chocolate Donut Recipe
Baked Chocolate Donuts Recipe
Our very favorite baked choclate donut recipe ever
Ingredients
1 1/4 cup all purpose flour
1/2 cup sugar
1/3 cup cocoa powder
3/4 teaspoon baking soda
1/4 teaspoon salt
2 eggs
1/2 cup milk
1/3 cup sour cream
2 teaspoons vanilla
3 Tablespoons oil (vegetable or melted coconut oil)
Glazed Topping
1 1/2 cups powdered sugar
3 Tablespoons milk
1 teaspoon vanilla
2 Tablespoons melted butter
Instructions
Preheat oven to 375 degrees. Spray donut pan with baking spray.
Whisk together flour, sugar, cocoa powder, baking soda and salt in a medium bowl.
In a small bowl, beat eggs and add milk, sour cream, vanilla and oil. Beat all wet ingredients together.
Pour wet mixture into dry ingredients and mix until combined.
Spoon batter into a gallon size Ziploc bag and cut 1/8 inch off of one corner of the bag. Pipe batter into each donut spot, fill 2/3 full. Bake for 8 minutes.
Let the donuts cool in the pan for a few minutes, then pop them out and let them cool on wire cooling rack. Dip the top of each donut into the glaze and let let.
Makes 18 donuts.