Baked Vanilla Donuts Recipe
If you haven't made homemade donuts before, now is the time to try our favorite Baked Vanilla Donuts Recipe.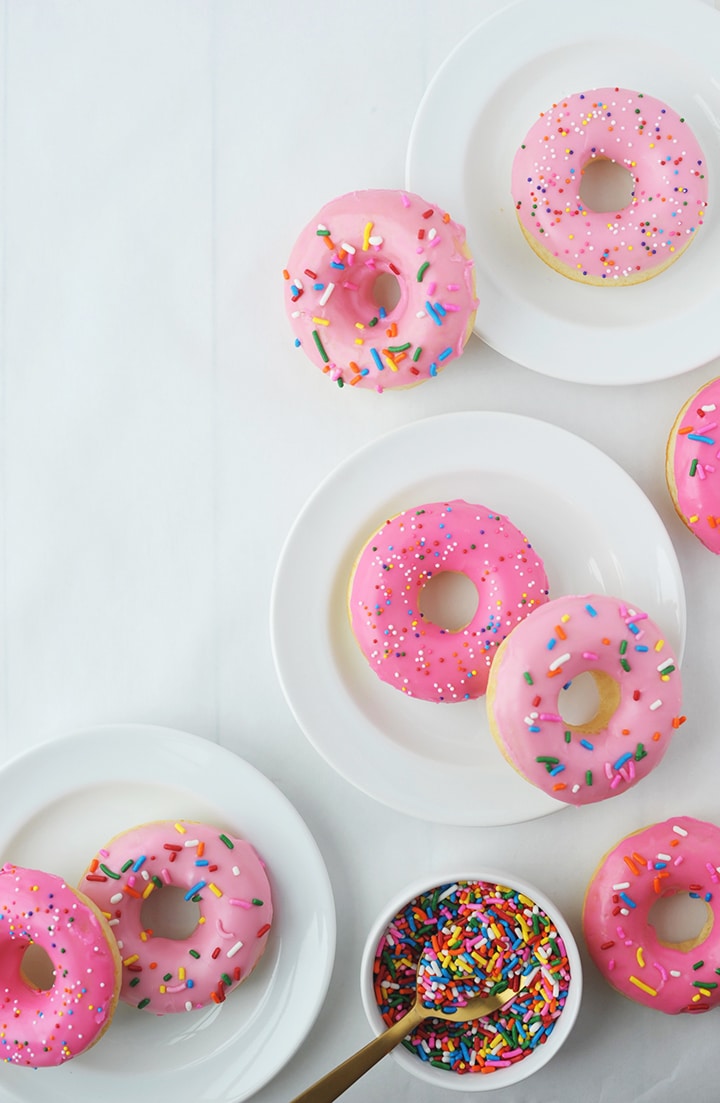 This Valentine's Day, why not surprise your favorite people with something sweet. We love to do something fun the morning of Valentine's Day, so this year we're making the girls (and our guys) our favorite Baked Vanilla Donut Recipe with pink frosting and sprinkles!
These little donuts are so easy to make at home, even though they look like they came from a bakery! You just need a donut pan to make these little sweet donuts.
Light and airy donuts
And there's not as much guilt when eating a baked donut. No frying here, folks. We're allowing everyone to have at least two since they're baked. Wink, wink.
These baked donuts are on the light and airy side of the donut family. They're really a cross between a muffin and a cupcake if you ask me. But there's something so fun about homemade donuts, especially when they are pink.
Read more for the full recipe.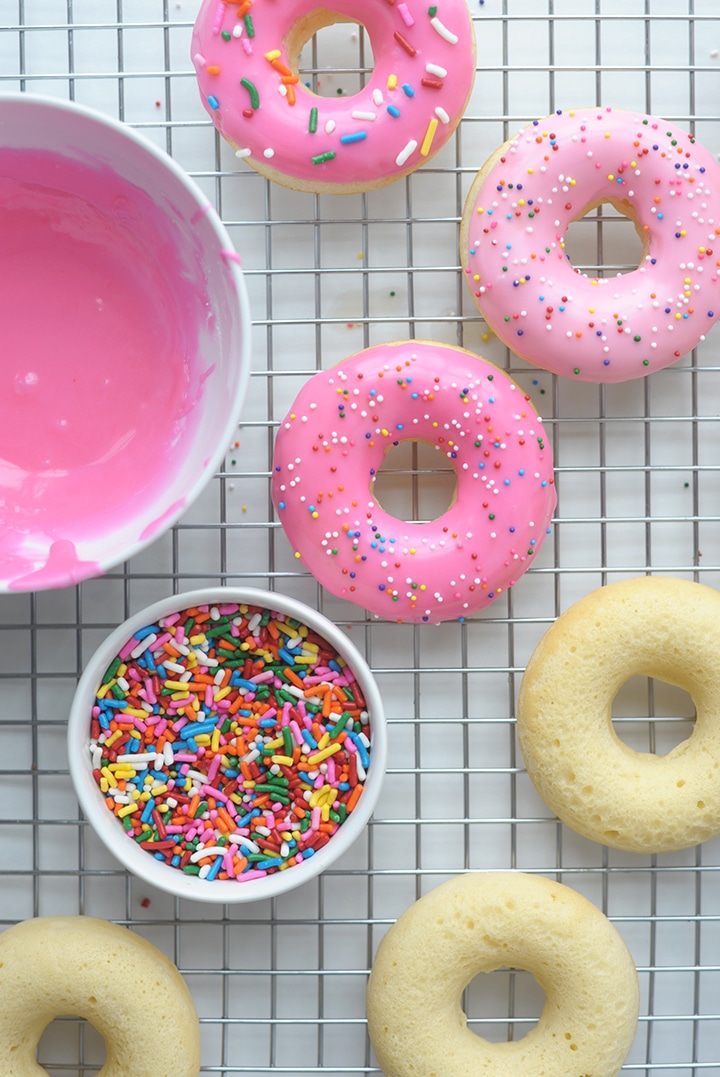 Baked Vanilla Donuts Recipe
1 cup all purpose flour
1/2 cup whole wheat white flour
1/2 cup sugar
3/4 teaspoon baking powder
1/4 teaspoon salt
2 eggs
1/2 cup milk
1/3 cup sour cream
2 teaspoons vanilla
3 Tablespoons vegetable oil (or melted coconut oil)
Preheat oven to 375 degrees. Grease donut pan.
Combine flour, sugar, banking powder and salt in a bowl. In a separate bowl, whisk eggs, then add milk, sour cream, vanilla and oil and combine. Add wet ingredients to dry ingredients and stir until combined. Batter will be on the thick side. I like to put the batter in a large resealable plastic bag and cut a hole in the corner so I can pipe it into my donut pan.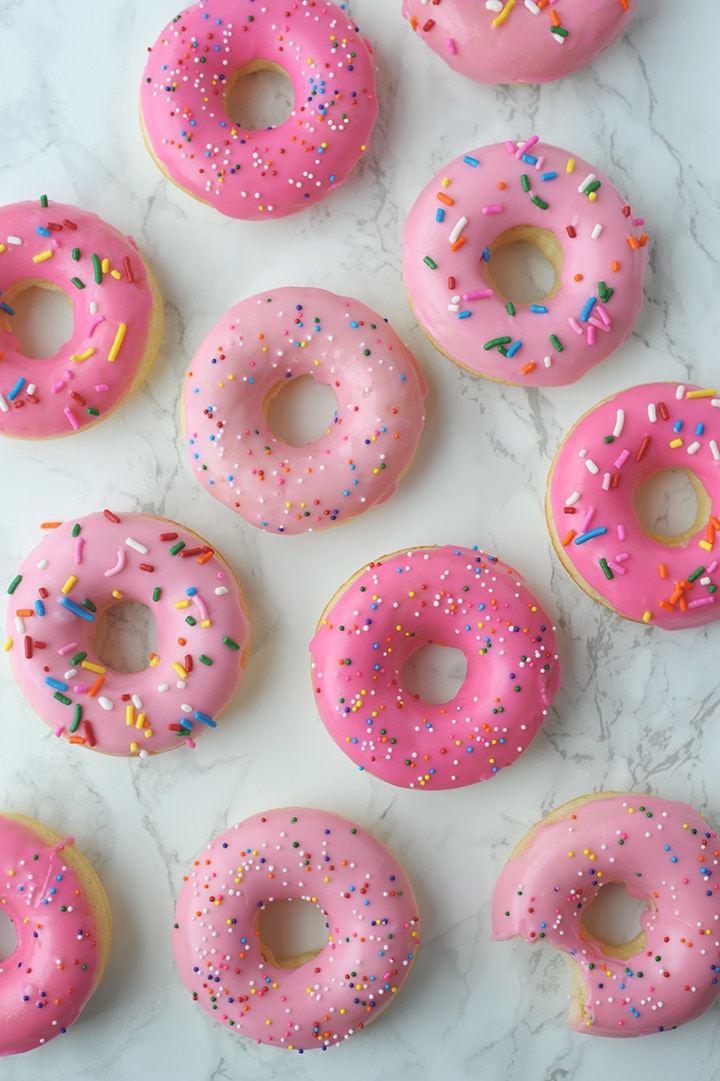 Fill donut pan 2/3 full and bake for 8-9 minutes. Cool for several minutes, then remove donuts from pan and cool on rack. Once cool to the touch, dip the tops of the donuts in your icing and top with sprinkles. I used gel food coloring to get the two different shades of pink.
Pink Icing Recipe
1/2 cup powdered sugar
1/2 teaspoon vanilla
1 Tablespoon milk
Combine all the ingredients in a bowl and stir until smooth. If you like the icing thicker, add more powdered sugar a bit at a time. To thin the mixture, just add a bit more milk. I like mine on the thicker side as I find it easier to dip and get the glossy thick coat of icing on the donut.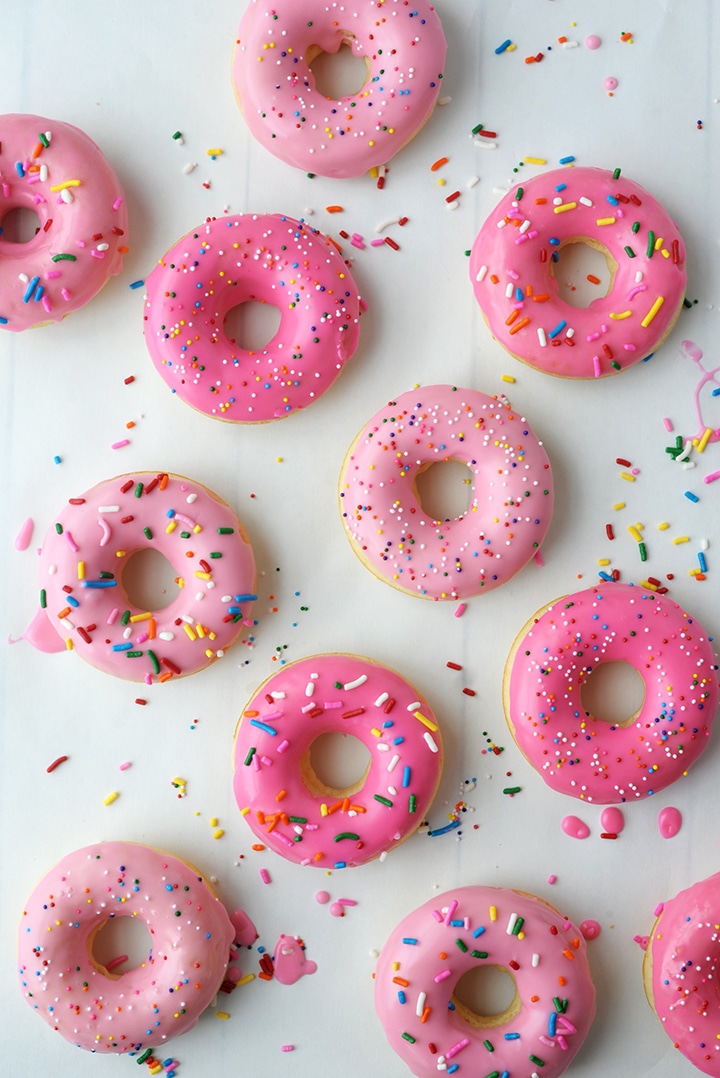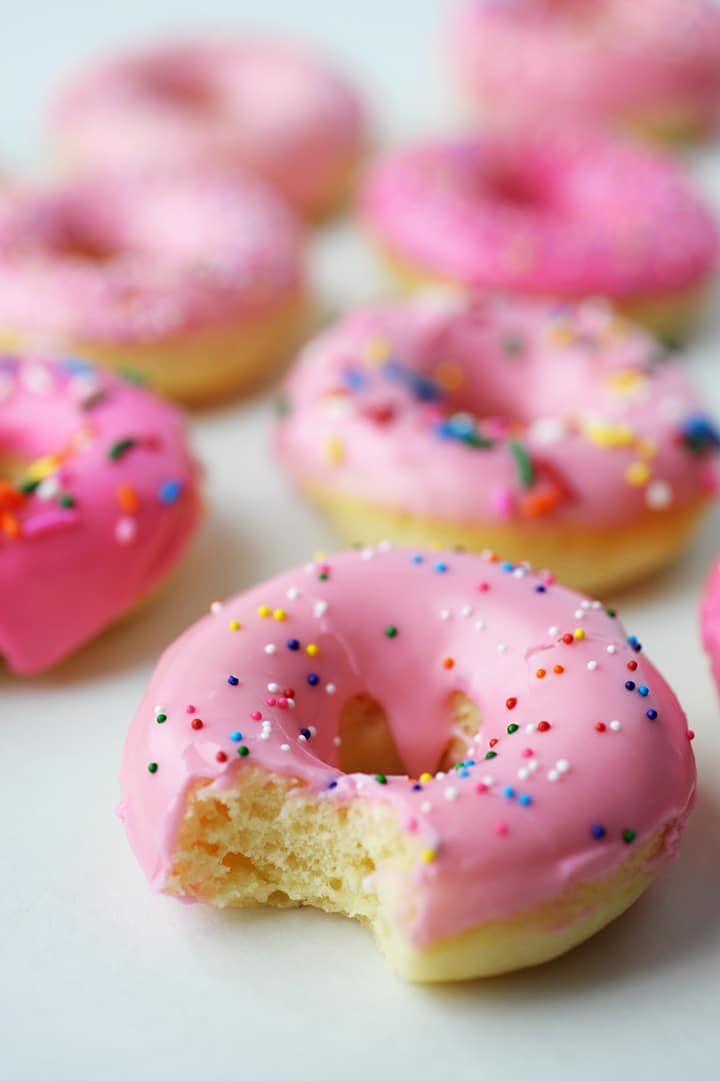 More Baked Donut Recipes to Try!
We can't stop at just pink frosted vanilla donuts, we have to try chocolate and pumpkin too! If you're looking for a light and fluffy chocolate donut with vanilla glaze, you've got to try our Baked Chocolate Donut recipe.
Every fall we start making our pumpkin baked donuts that are covered in Cinamon and sugar. And we even made Lemon Baked Donuts too!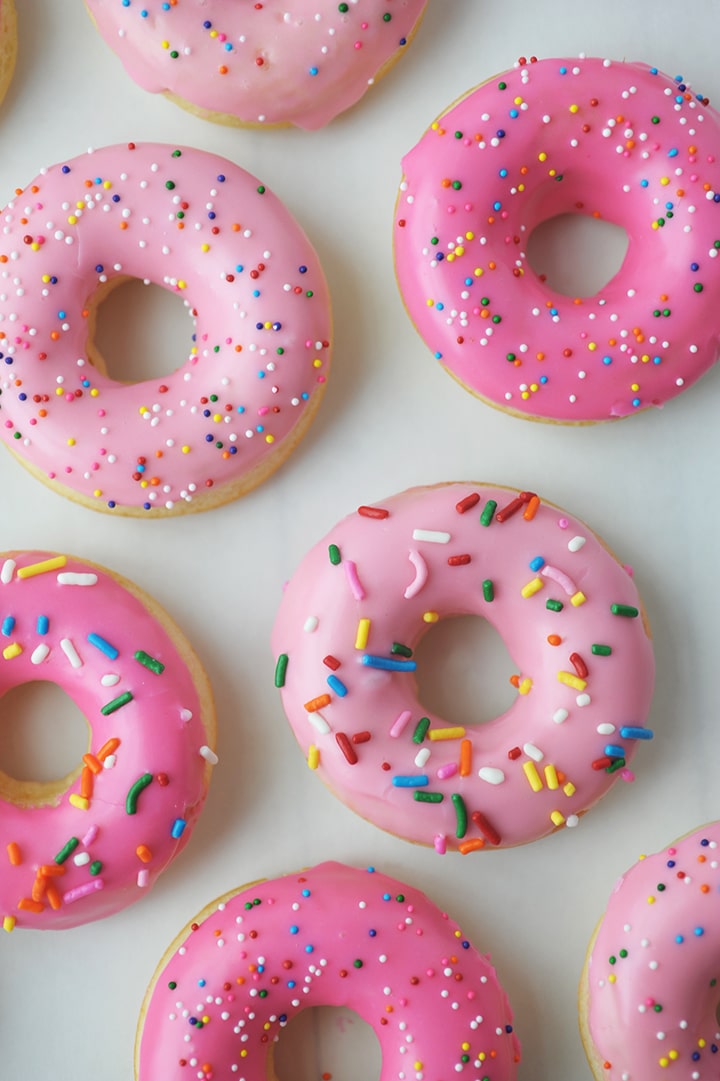 photos by Melissa Fenlon. all rights reserved.