Beet and Greens Salad Recipe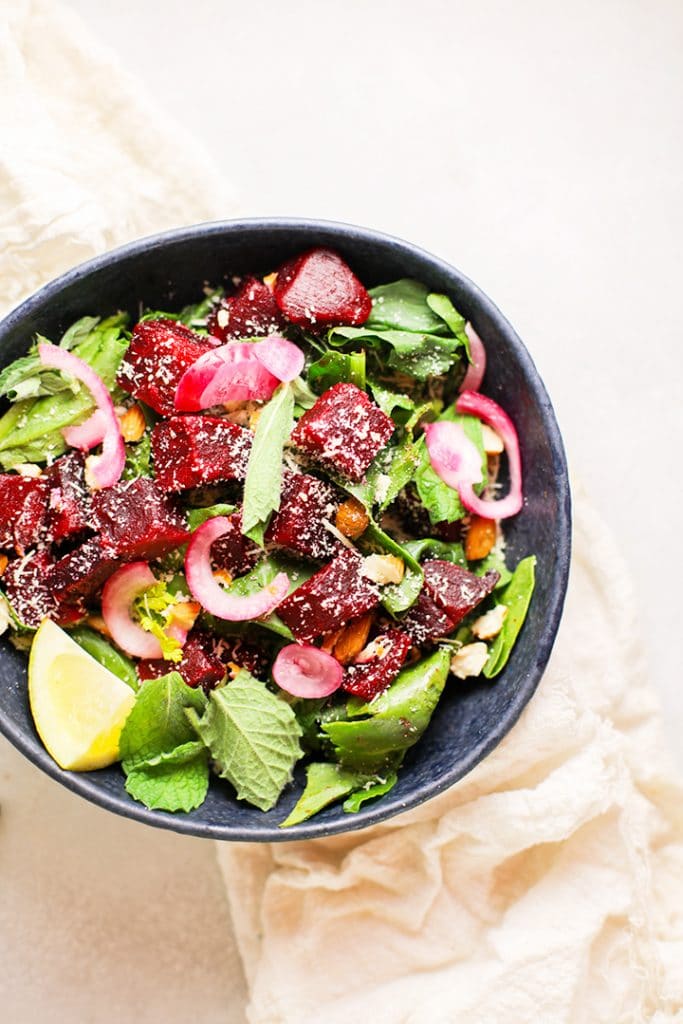 This Beet and Greens Salad is a staple any time of year. We love the addition of fresh mint and lemon vinaigrette with the roasted beets and greens. Especially in the spring and summer, our go to dinners are usually a protein and veggies on the grill and a big salad. Adding beets to any salad give it an extra boost of vitamins and minerals.
What are the Benefits of Beets?
Beets are good sources of vitamins and minerals, such as folate, manganese, potassium, iron, and vitamin C. They are a power packed root vegetable that are wonderful to eat roasted on salads, as an appetizer roasted with goat cheese and also juiced! I make a juice from beets, green apple, orange, celery and lemon. So good!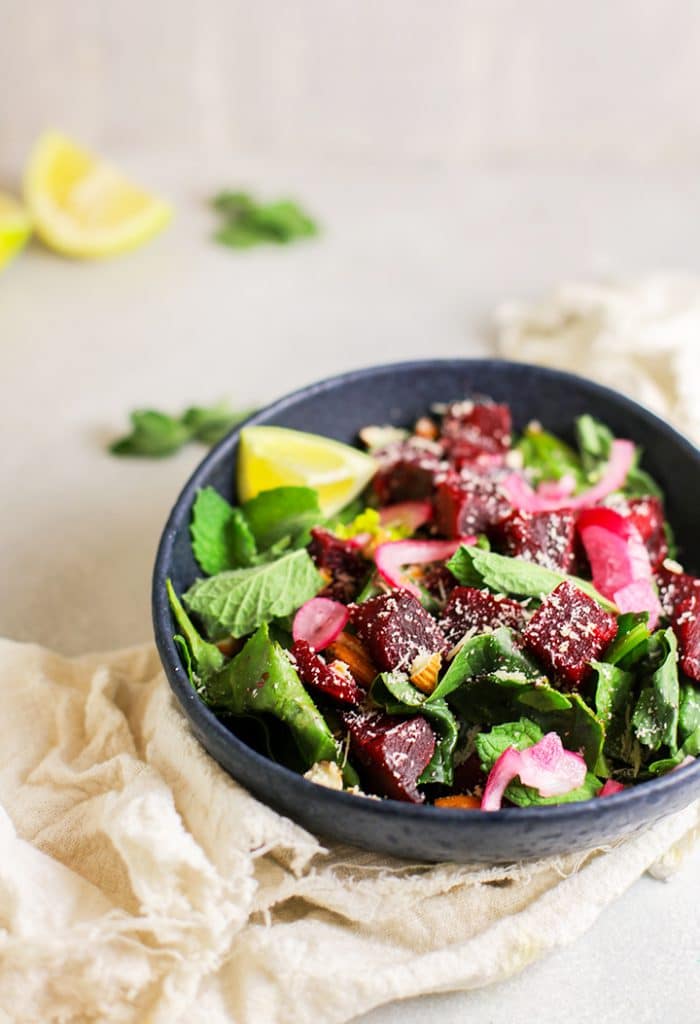 How to Roast Beets
We love to have roasted beets in the fridge – ready to add to a salad like this one, or as a side to any meal. You can keep them in the refrigerator for around 5 days so it's the perfect meal prep hack! Pre heat over to 400 degrees. Cut off most of the greens on top of beet. Wash and scrub beet throughly. Wrap the beet individually loosely in foil. Place the wrapped beets on a rimmed cookie sheet (so it will catch any juices while cooking). Roast for about 45-55 minutes. Allow to cool a bit and then peel off the skin using a paper towel. If the skin doesn't come off easily, it needs a bit more cooking time.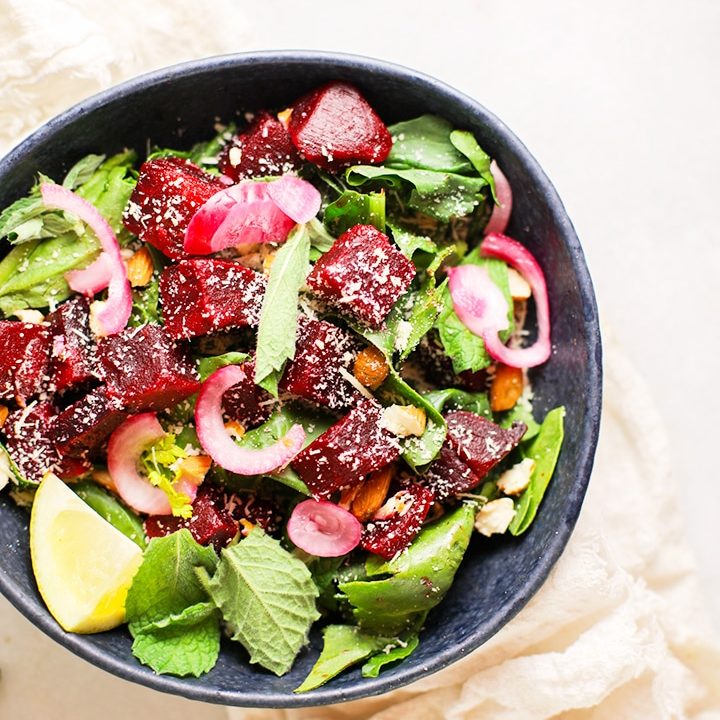 Beet and Greens Salad Recipe
Try this nutricous and delicious Beet and Greens Salad with lemon vinegrette. Beets are so nutricious. Perfect salad anytime of year.
Ingredients
2 Cups spinach, chopped
½ Cup beet, diced and cooked
4 Tbsp chopped almonds
3 Tbsp chopped mint
3 Tbsp parmesan cheese
3 Tbsp quick pickled onions
Vinaigrette:
2 Tbsp lemon juice
2 Tbsp olive oil
2 Tbsp apple cider vinegar
1 Tbsp honey
½ Tsp mustard
Salt and pepper to taste
Instructions
For the dressing, in a small bowl combine the lemon juice with olive oil, apple cider vinegar, honey, mustard and salt and pepper. Shake vigorously until everything is well mixed.

Drizzle half the vinaigrette over the spinach and massage. Top with the beet and almonds, drizzle with the remaining vinaigrette and toss to combine. Add the mint leaves and sprinkle with parmesan cheese. Top with the pickled onions.
Notes
Add a little spice to the dressing with a few dashs of ot sauce.
How to Pickle Onions
To make the quick pickled onions just thinly slice red onions and cover with apple cider vinegar and 2 tbsp sugar. Add salt and paper to taste and mix to incorporate. Let them sit for around 30 minutes but you can also keep them refrigerated for around 5 days. So so good to bring dishes to life!
A few of our other go to salads that we have been loving:
Chopped Salad with Cilantro Lime Dressing