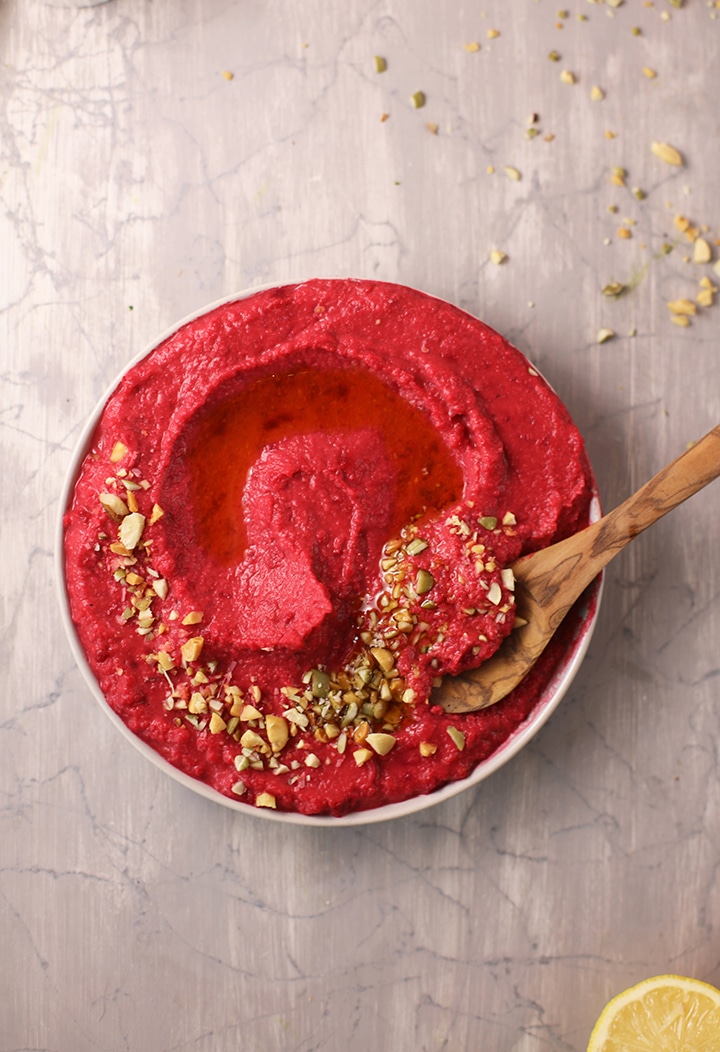 You know how much we love making appetizer boards. We always add a bowl of hummus to our veggie boards and you can't go wrong with a beet hummus. The color is so vibrant and beets are so good for you too! We're sharing our go-to beet hummus recipe today and think you're going to love it! Your kitchen will smell amazing as you roast the beets and garlic for this beet hummus recipe.
We served it with chopped almonds on top to give it more texture, but feel free to serve it without them. Roasting the beet makes it softer and easier to process and it gives it a delicious flavor! Roasting the garlic mellows it so we don't have that strong bite.
Read more the the full recipe…
Beet Hummus Recipe
Ingredients
1 Beet, peeled and diced
2 Tbsp olive oil
1 Tsp salt
2 Garlic cloves
1 Cup chickpeas
2 Tbsp tahini
½ Cup olive oil
¼ Tsp cumin
1 Tbsp lemon juice
Salt and pepper to taste
Directions
Preheat oven to 400 degrees. Place the peeled beet with the garlic in a baking pan. Drizzle with olive oil and salt and toss until coated. Place in the oven and bake for 45 minutes or until roasted. Remove from oven and let it cool.
Place the roasted beet, chickpeas and garlic into a food processor. Pulse for 2 minutes.
Add the lemon juice, cumin, a pinch of salt and tahini and pulse for 2 more minutes.
With the food processor running pour in the oil and process until smooth and creamy.
Serve with chopped almonds and a drizzle of olive oil.