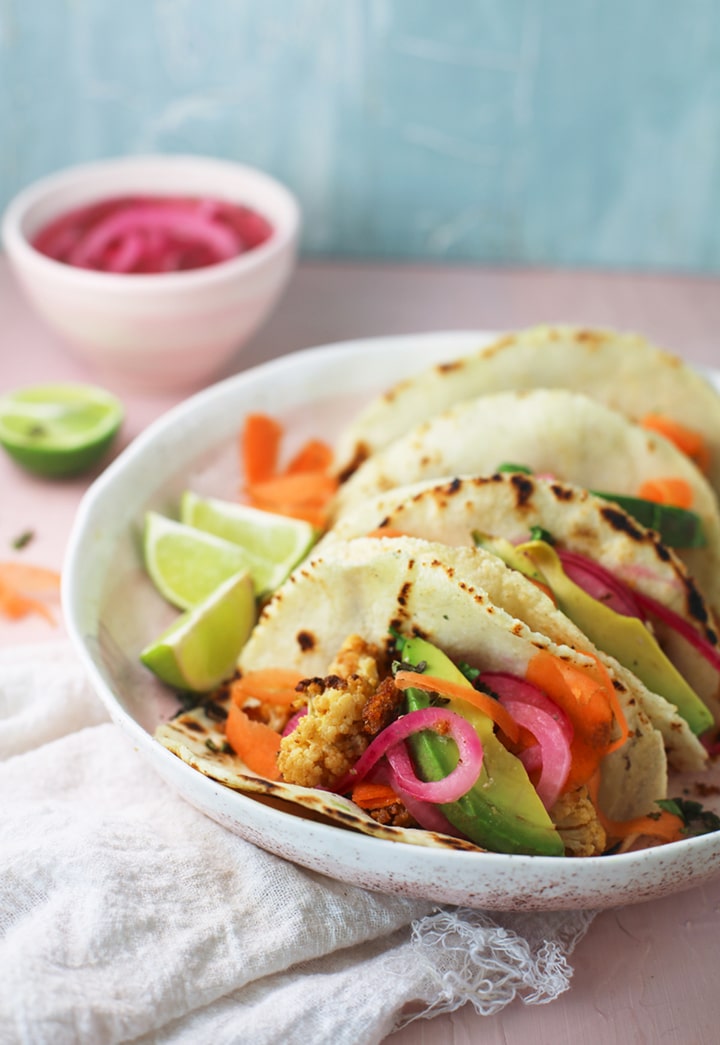 If you're at all like us, you will eat tacos every day of the week! We decided to mix it up a little bit and try making a Cauliflower Tacos Recipe. We think you're gonna love these! They are made with crispy roasted cauliflower and pickled onions… and they are to die for!
You're going to want to incorporate this crispy roasted cauliflower into more meals – it would be delicious served with a salad! To season the cauliflower, we used a mix of salsa, some barbecue sauce, and some of our favorite spices.
Read more for the full recipe!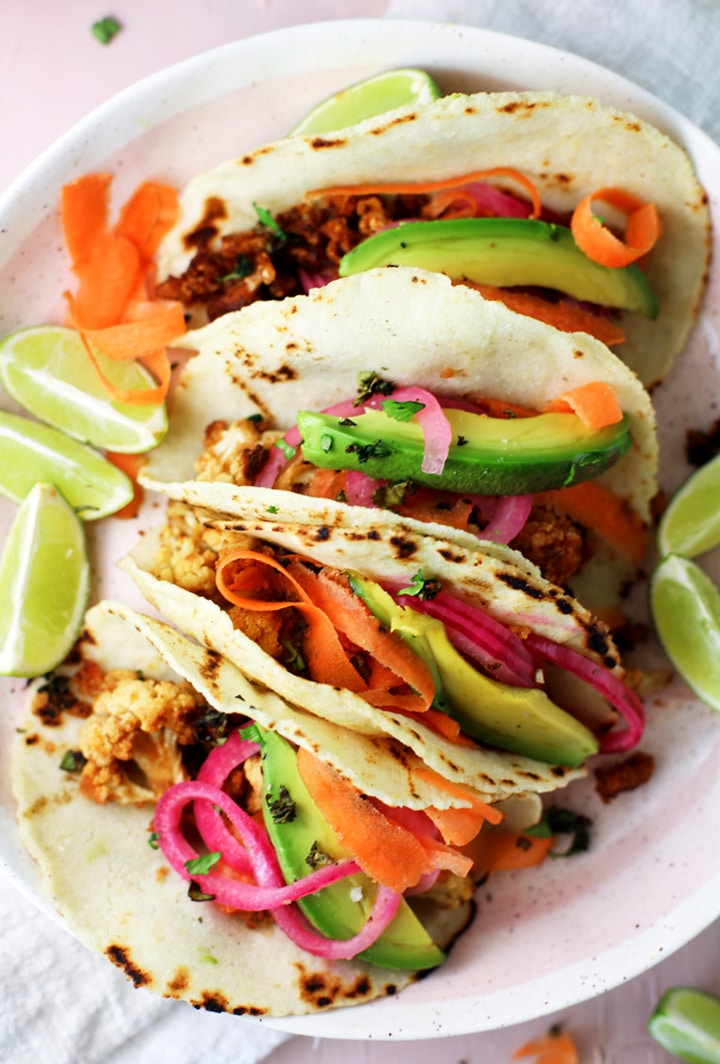 We also made homemade pickled onions to serve with these tacos. Pickling onions at home is super easy and takes less than 10 minutes of active time + some waiting. Just slice red onion and mix it with equal parts vinegar and water a small teaspoon of salt and sugar and some extra spices if you want. Then just let it rest for 2 hours and that's it.
Cauliflower Tacos Recipe
Ingredients
crispy baked cauliflower
1 Large head of cauliflower cut into florets, around 4 cups
4 Tbsp olive oil
4 Tbsp Mexican salsa
½ Cup panko
2 Tbsp BBQ sauce
½ Tsp chili powder
1 Tsp paprika
½ Tsp garlic powder
½ Tsp onion powder
½ Tsp cumin
For the tacos
Crispy baked cauliflower
8 Corn tortillas
1 Avocado, sliced
½ Cup shredded carrot
⅓ Cup pickled onion
4 Tbsp chopped cilantro
Lime juice
Directions
Preheat the oven to 425 degrees. Lightly grease a baking pan and set aside.
In a small bowl mix the olive oil, salsa, and BBQ sauce. Mix in the spices.
Coat the cauliflower florets with the sauce. Then cover with panko. Spread on a baking pan and take to the oven.
Bake for 20 minutes. Flip cauliflower so it roasts evenly and bake for 20 more minutes. Remove from oven.
Assembly the tacos. Divide the crispy baked cauliflower between the corn tortillas. Add the sliced avocado, carrot and pickled onion. Top with cilantro and a squeeze of lime juice.