This is a sponsored conversation written by me on behalf of Amopé. The opinions and text are all mine.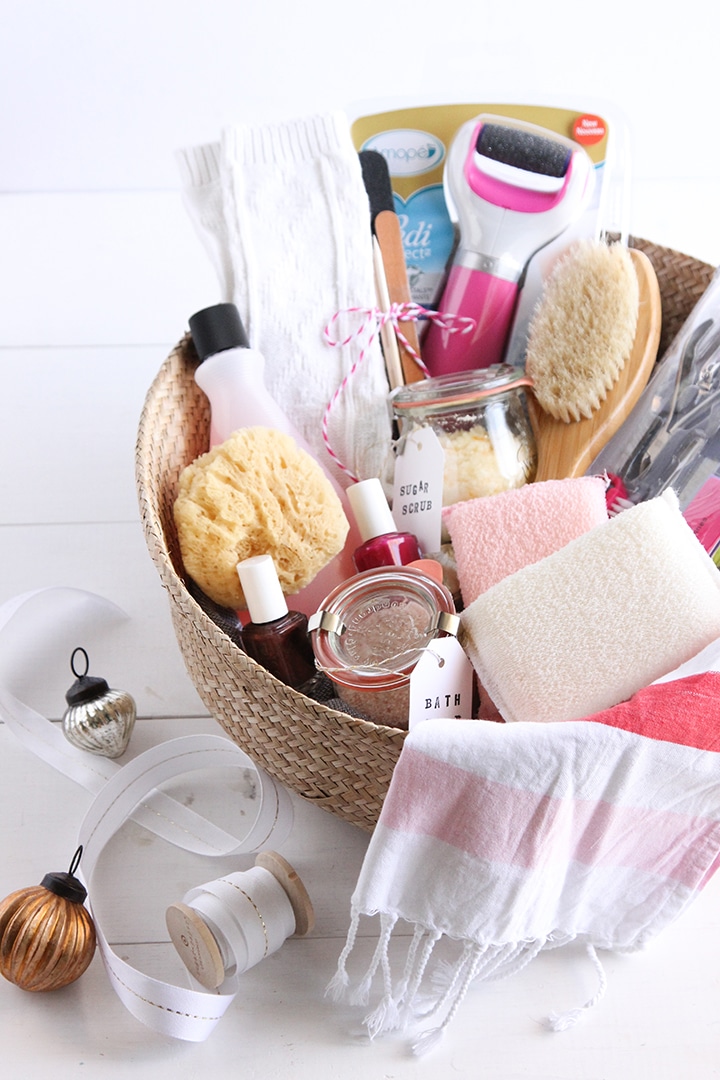 Create a "Pamper Yourself" Holiday Gift basket
Creating thoughtful gift baskets is something we love to give and receive. Thoughtful is the key word in that sentence. Putting together gift baskets for girlfriends, sisters and more is so much fun. You do not have to feel overwhelmed about creating a thoughtful gift basket. It is all about coming up with a theme. Today we partnered with Amopé to share how to create a "Pamper Yourself" holiday gift basket. We will walk you through what we put together. We will also share basket and bin ideas as well as some other themes that your friends and family will love.
Read more to learn how to create a "Pamper Yourself" holiday gift basket…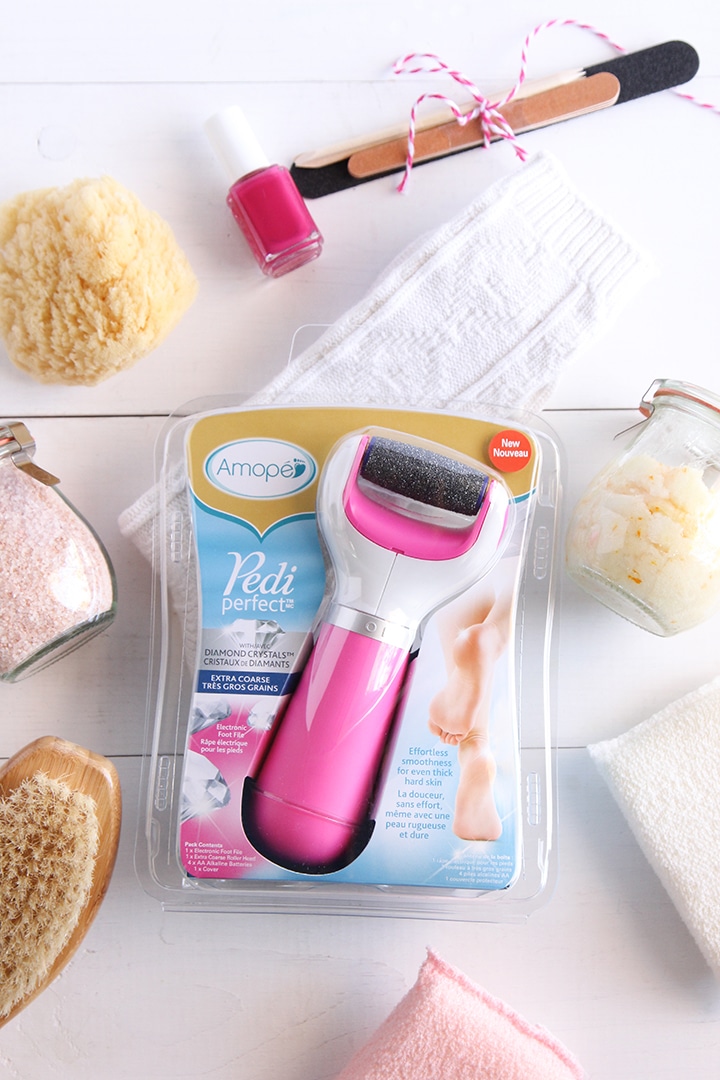 "Pamper Yourself" Holiday Gift Basket
When we come up with a theme for a gift basket we always have a "hero" item. Our "hero" item for the "Pamper Yourself" gift basket is the Amopé Pedi Perfect – Extra Coarse Electronic Foot File. We love this foot file. It makes an at home pedicure so nice! It also makes your heels feel like you were at the spa. The extra coarse roller head with long lasting micro-abrasive particles comes with finely ground diamond crystals. It buffs away hard skin leaving you with visibly smooth feet.
We love to add so many of our favorite things to the gift baskets! After you select the hero item, come up with all of the add on pieces that will tell a story. "Pamper Yourself" for this basket is all about an at home pedicure, manicure, and winter skin care.
So, what's in the basket?
Amopé Pedi Perfect – Extra Coarse Electronic Foot File
Nail files
Emery boards
Mani/Pedi kit
Nail polish
Nail polish remover
Cozy socks
Lotion
Bath Salts
Homemade sugar scrub
Exfoliation sponges
Scrub brush
Turkish hand towel or patterned towel
So many of these items I found at Walgreens. The Amopé Pedi Perfect is in the foot care section with so many of the items I included. Right now, you can use this $10 off coupon from 12/4 through 12/25 on the Amopé Pedi Perfect – Extra Coarse Electronic Foot File at Walgreens.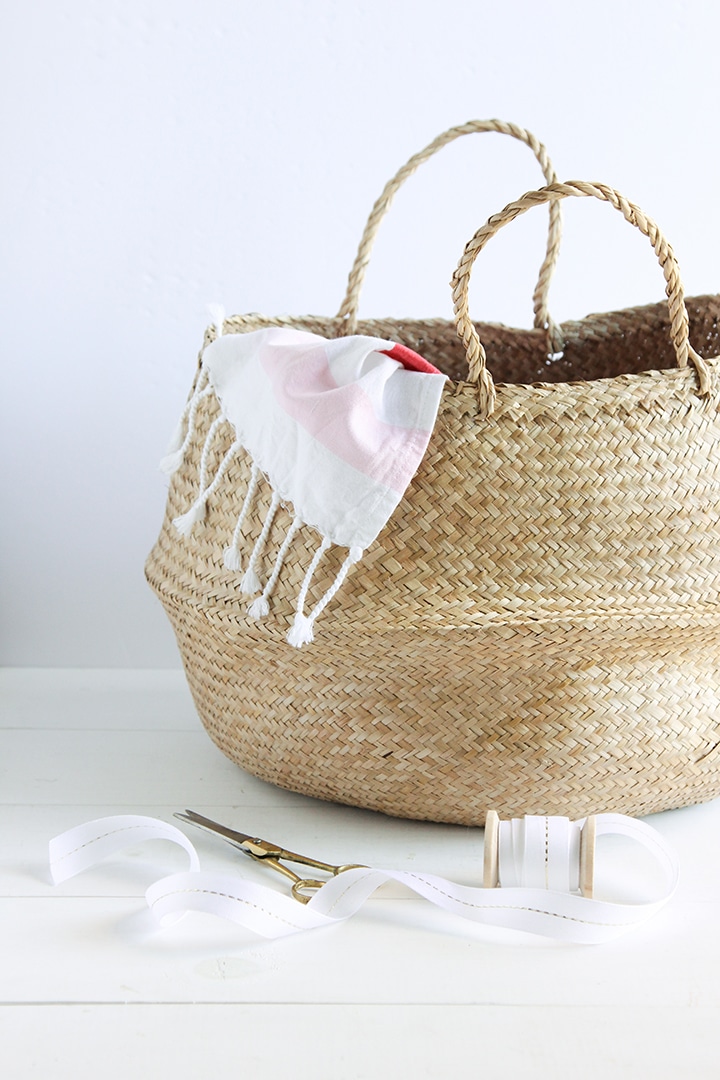 My go-to basket for gifts is a hand woven collapsible one. You can throw so many goodies in the wide bottomed basket. I also love to use old or new crates. They add character and depth to the present. It is fun to think outside of the box as well – use a canvas tote bag, a galvanized tin pail, or even a large flour sack dish towel and fold up all the goodies inside. Add some pretty satin ribbon or even a natural twine to tie around the basket or bin.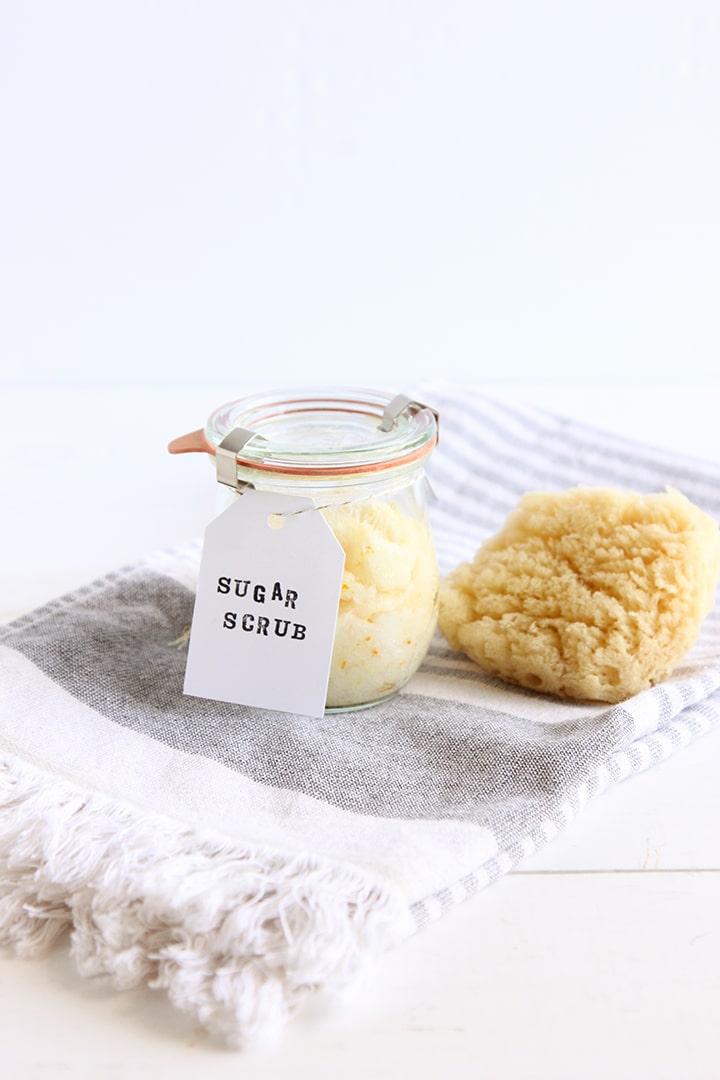 Add a personal touch
One thing I love to add in a gift basket is a little something homemade. I included a homemade sugar scrub in the "Pamper Yourself" basket. This citrus sugar scrub is so simple to make – coconut oil, sugar, and orange zest. I like to use little glass Weck jars for the scrub. I also get a big bag of pink bath salts to add to a jar as well. Add a little handmade label or gift tag to the basket using alphabet stamps and card stock paper. It would be sweet to make a "Pamper Yourself" card to add to the basket as well.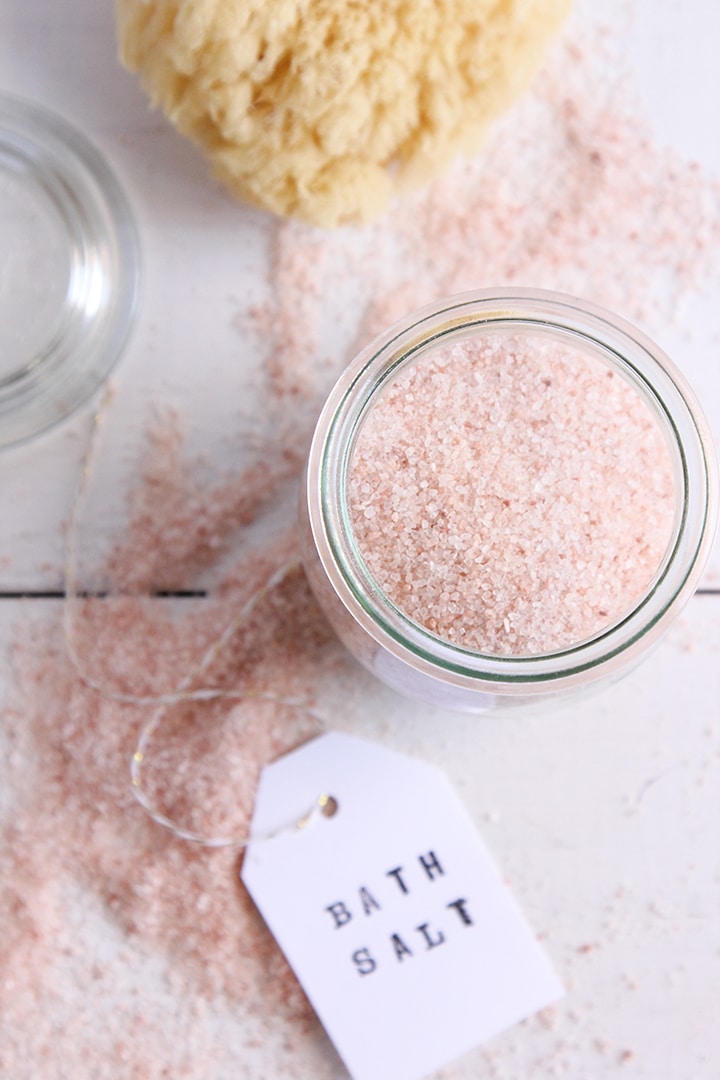 Although the "Pamper Yourself" gift basket is a favorite of ours, we've also loved giving baskets with other themes.. Other gift basket ideas include:
"Sonoma basket" (red wine, white wine, crackers, cheese, cheese knives, mini wood board)
"Kitchen Favorites" (fill the basket with your favorite kitchen tools and dish towels)
"Coffee Break" (a few different gourmet coffees, mugs, dish towel, napkins)
"Get Crafty" (favorite crafting tools, ribbon, paper, glitter, glue)
Happy Holidays! – Sara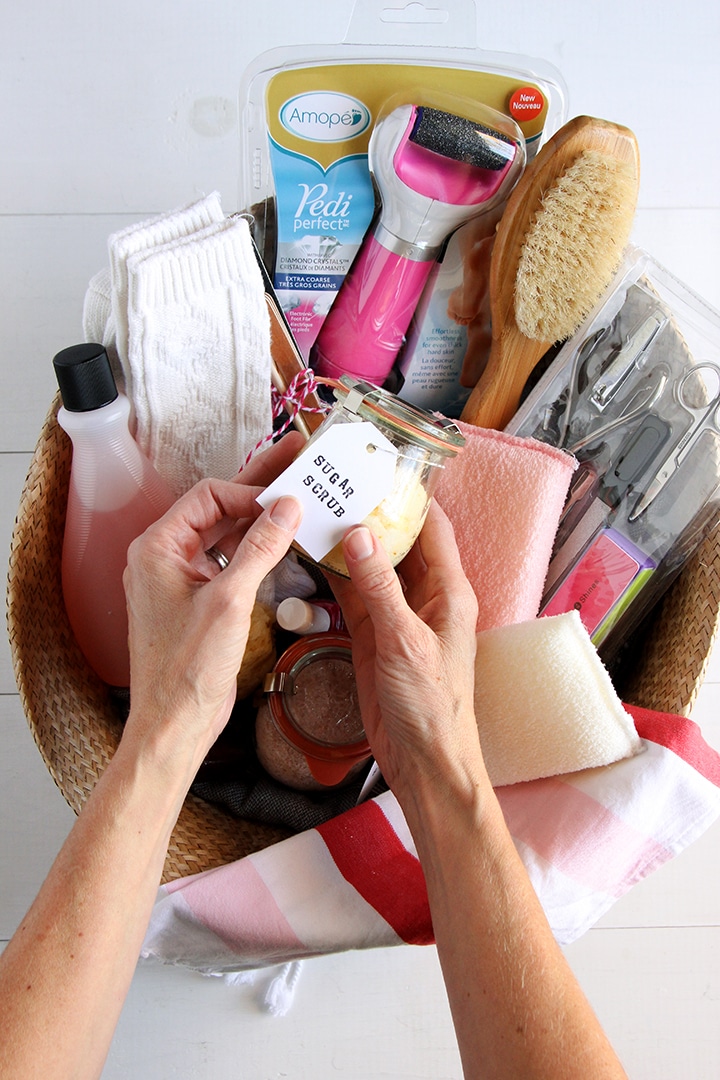 Photos by Sara Albers.