Check out how we made these DIY Cane Wrapped Candles. Perfect for any home!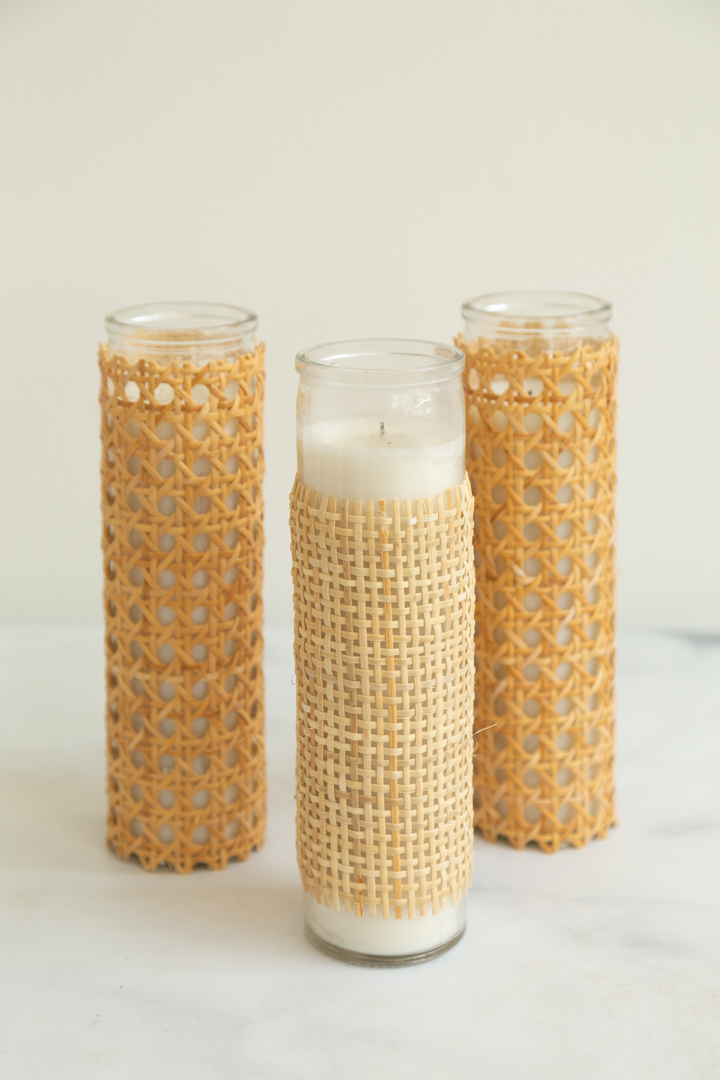 Our new (old) house has a wonderful front patio. It is twice as big as our back patio so we have been spending so much time out front. It is a brick patio and in the evenings it is absolutely beautiful. I have hung lights but needed more candles on the outdoor coffee table and side tables.
Now, these cane wrapped candles will look wonderful inside as well. I have a room filled with shelving and these jar candles will add some beautiful texture and pattern.
I was looking for a cheaper option for candles and was delighted when I found these at my local Walmart. You can also find them here.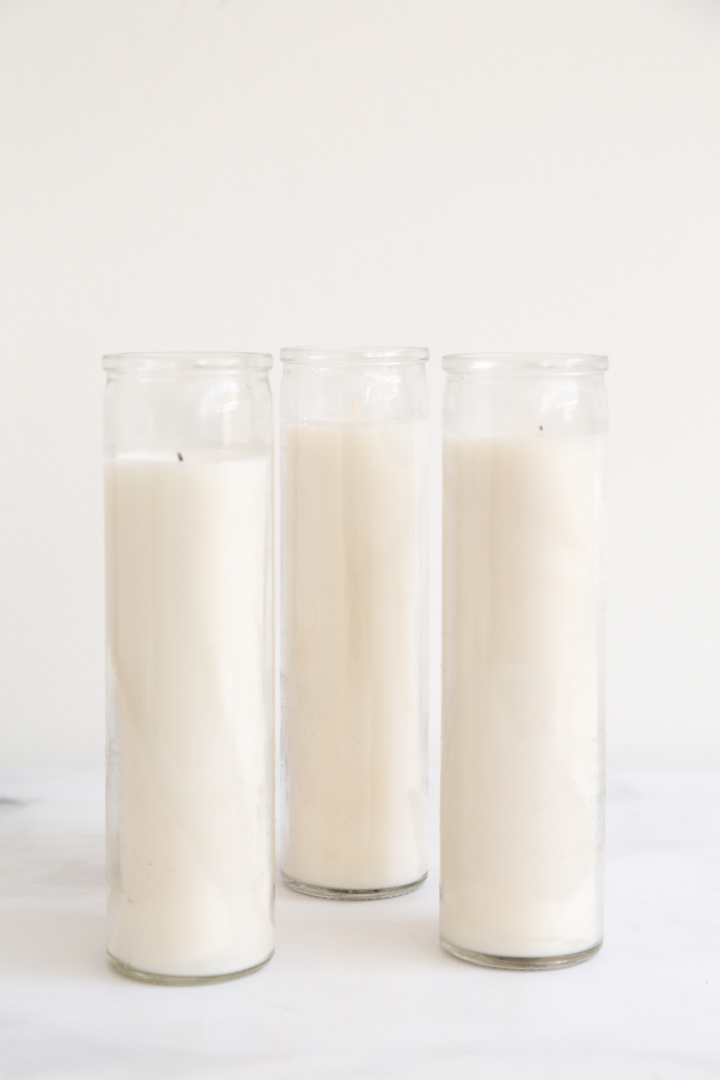 Now, how to make these candles a DIY/craft project…. Adding cane webbing to projects is indeed a great way to add something special to something plain. Like this vase and cabinet Ikea hack.
What is cane or cane webbing?
Cane webbing is a woven material, part of the wicker family. It is used for furniture, specifically for chairs and cabinets. Often you will see it on seats of chairs. It has made a comeback and very on trend in the past few years. Cane webbing comes in different designs – the traditional webbing and a favorite of ours, open box weave webbing.
In most DIY projects using cane webbing, you will need to soak the webbing first. I traditionally use the bath tub to do this. But for this candle project, there is no need to soak it if you want to save a step!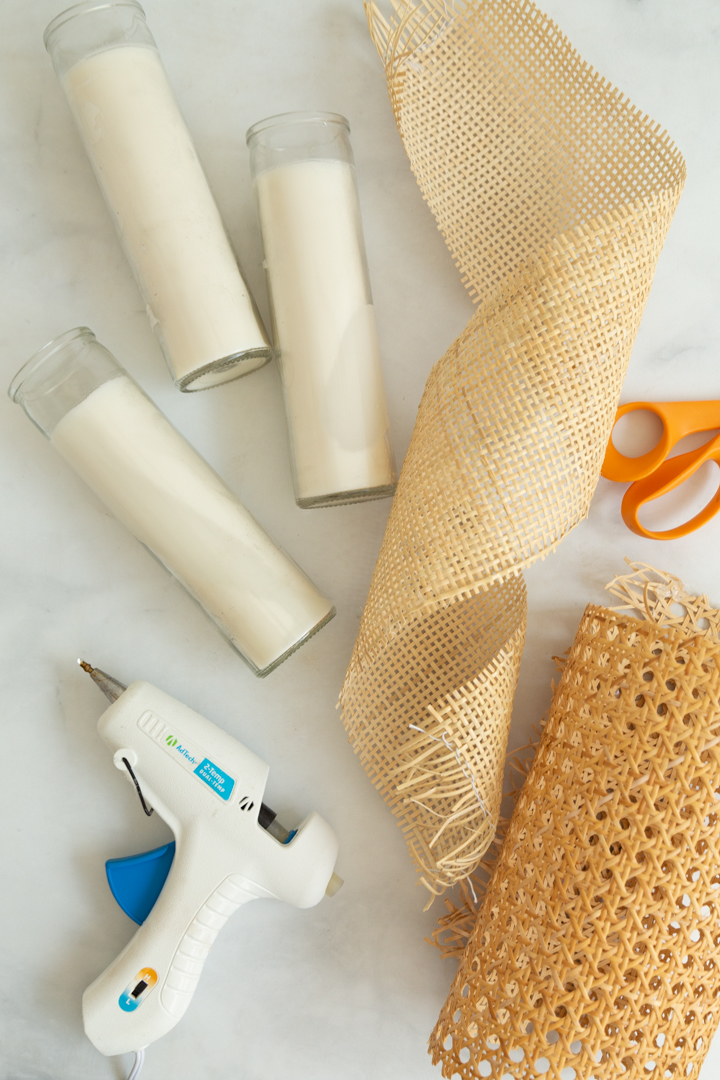 DIY Cane Wrapped Candles Supplies
Scissors
How to make DIY Cane Wrapped Candles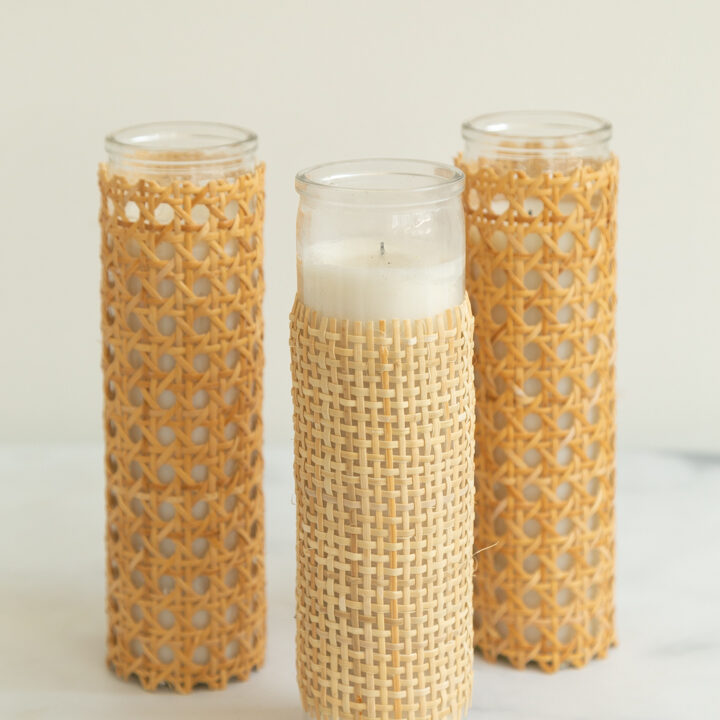 DIY Cane Wrapped Candles
Learn how to make these beautiful DIY Cane Wrapped Candles using inexpensive jar candles and cane webbing scraps!
Instructions
Gather supplies - grab some jar candles at Walmart or Dollar Tree. Find cane webbing (order online or use scraps from previous projects).
Lay candle on cane webbing piece to measure. You will want to overlap the cane webbing about an inch to glue onto candle.
Use hot glue (gorilla glue works best) to adhere the cane webbing to the glass jar. NOTE: Be careful - hot glue is HOT! Use the tip of the glue gun to hold down the cane onto candle.
Wrap the other end of cane webbing and adhere with hot glue.
Recommended Products
As an Amazon Associate and member of other affiliate programs, I earn from qualifying purchases.
More DIY candle projects from our archives:
Find some more DIY craft projects all about candles. From bubble candles, to adding citronella oil to homemade candles and even a cool arched candle holder. We are making taper candles for the first time this summer and cannot wait to share!