Turn plain white cotton cloth napkins into art using our DIY Ice Dye Cloth Napkins tutorial. Simple and fun and the perfect summer project.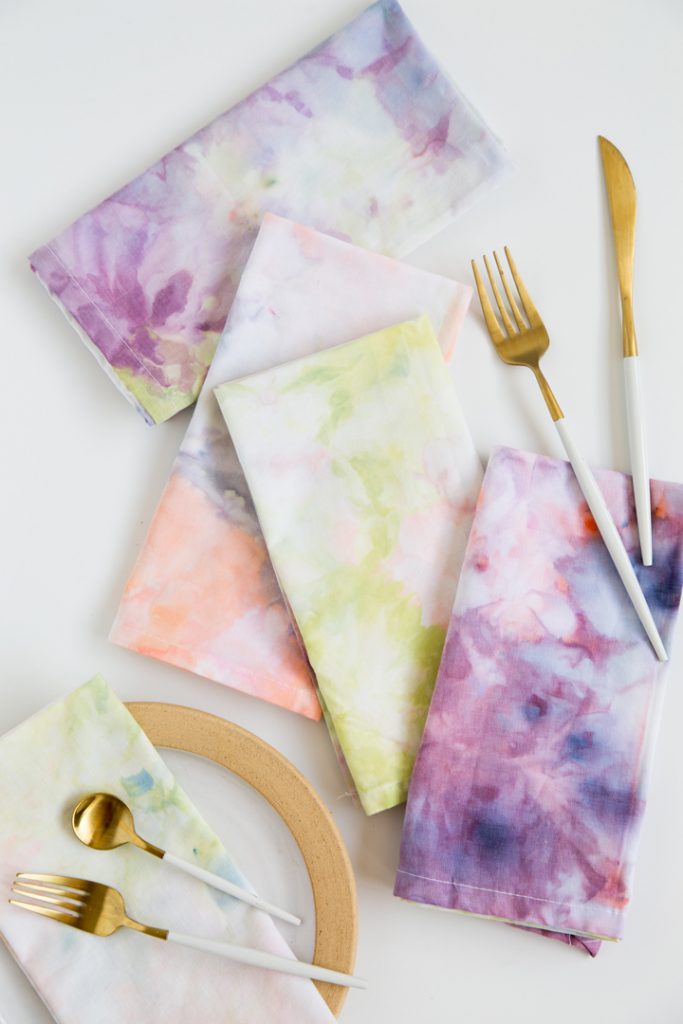 Turning a plain white cloth napkin into something special is a favorite craft project of ours. We have indigo dyed them, hand stamped some, and even made some to look like we hand painted using water colors… Today, we are so excited to share these beautiful DIY Ice Dye Cloth Napkins. Wouldn't they make the prettiest gift?
If you haven't experimented with ice dyeing yet, you are really missing out. This method of dyeing fabric is addicting. The powder fabric dye gives an almost water color effect on the fabric.
We used Jacquard Procion Fiber Reactive Dye for this project. The purple color is actually the brown rose dye, green is Avocado, orange is Peach and Rust Orange, and Blue is Aquamarine. It is absolutely amazing to watch the powdered dye change colors as the ice melts.
What is Ice Dyeing?
This is a method of dyeing using ice, (pre-treated) fabric and fabric dye. You can use natural fabrics like cotton, linen, wool, and silk. The fabric is washed and kept damp. Fabric can be pre-treated with salt, vinegar or soda ash (depending on fabric and dye that you use). Then ice is placed onto of bunched fabric and powder dye is applied to ice. The melting ice gives the water color effect as you allow the ice to melt over the fabric completely.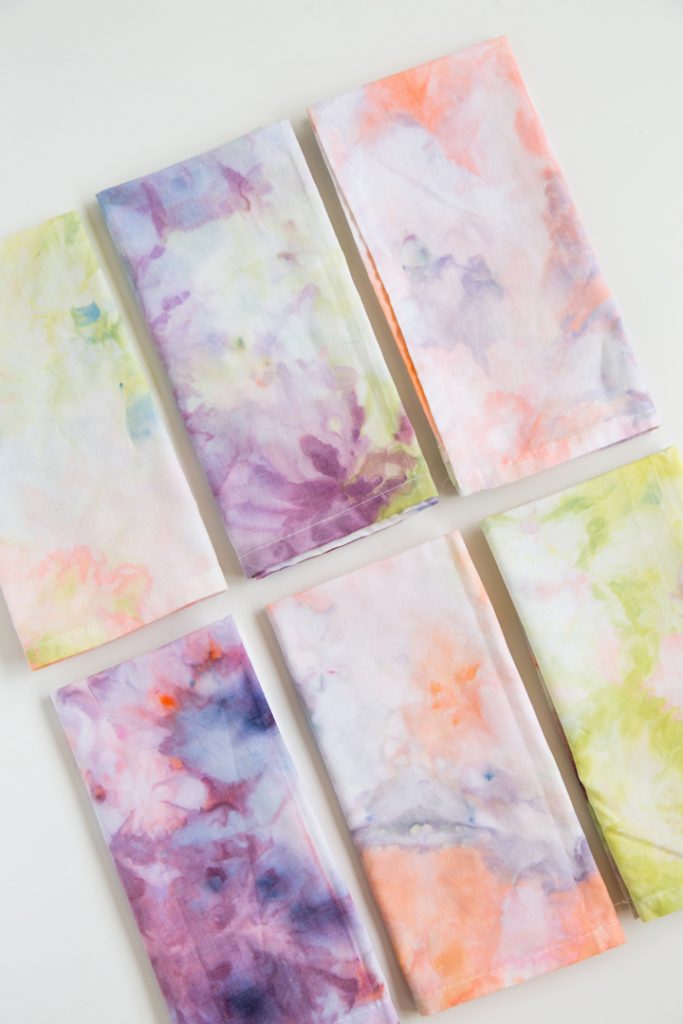 Ice Dye Cloth Napkins Supplies
Bin or tray
Ice
Gloves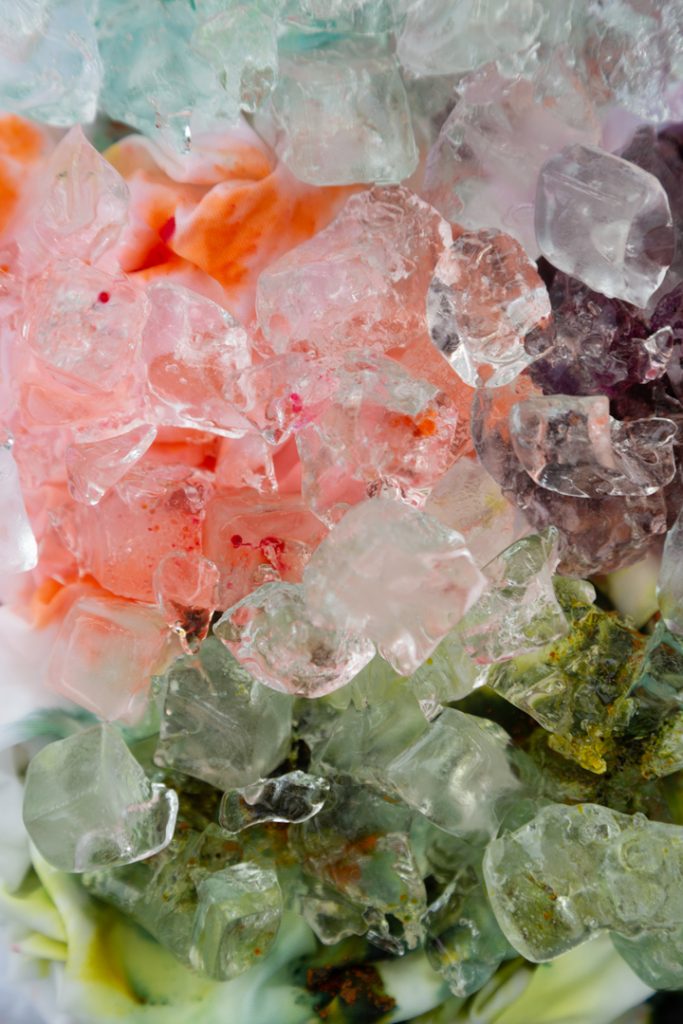 DIY Ice Dye Cloth Napkins
Yield: 8

Prep Time: 20 minutes

Active Time: 2 hours

Total Time: 2 hours 20 minutes

Estimated Cost: 15

Learn how to make these beauitful water color effect cloth napkins using the ice dyeing tie dye method
Materials
Cloth Napkins
powdered fabric dye
Ice
Gloves
Instructions
Prep the cotton fabric. Wash with mild detergent to remove anything from fabric. Next soak the damp fabric in a soda ash warm water mixture. Follow instructions on soda ash label.
Cover your work area (we use a white plastic tablecloth).
Prep your supplies. Place cooling rack over the tray or bin to catch the melting ice and dye.
Remove fabric from soda ash bath. Wring out the excess water. Bunch the fabric and place it on top of cooling rack.
Place ice on top of the fabric.
Now it is time to sprinkle powdered dye on to ice with a spoon. A little bit goes a long way! You do not need a large sum.
NOTE: If you use mulitple colors of dye, leave a little room in between where you spinkle the posdered dye so the colors do not overly blend.
Allow the ice to melt completley. Depending on how warm it is, this could take a few hours.
Wash and dry.
Notes
These Ice Dye Cloth Napkins would make a darling hostess gift for friends. Or the perfect birthday gift for a friend. We recommend making a large batch of the cloth napkins at once so you can have them on hand for gifting.
Recommended Products
As an Amazon Associate and member of other affiliate programs, I earn from qualifying purchases.
You can find more Ice Dyeing projects here:
Ice Dye Turkish Towels (beach towels)