DIY Indigo Marbled Ornaments
Learn how to make these DIY Indigo Marbled Ornaments this holiday season!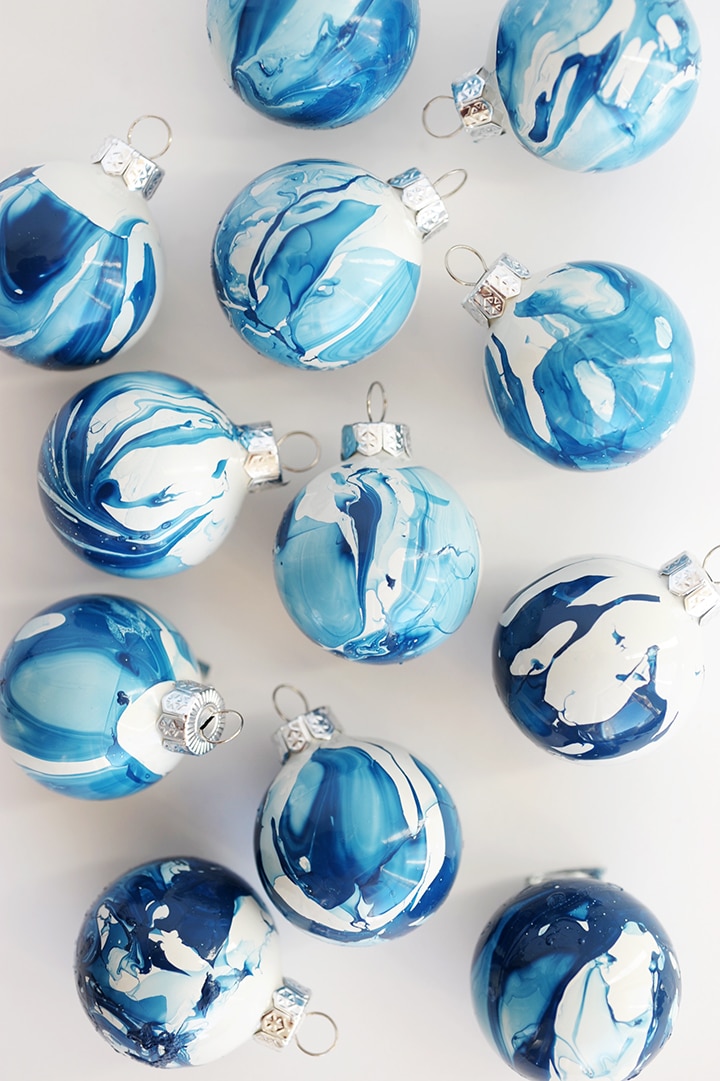 Here's the thing, I've never marbled with nail polish. Sara is the queen of marbling with nail polish, especially dark blue, otherwise known as our obsession – indigo. She famously marbled Easter eggs and then this year, marbled the cutest little white pumpkins.
So, of course, we were going to marble with dark blue nail polish this year. She said she'd make our DIY Indigo Marbled Ornaments  since she's a pro. Then the poor thing got the flu. So Calla, my seven year old, and I took on the project this weekend. And you guys, it was so easy!
Quick & Easy Ornaments
It really took us five minutes to do a dozen ornaments. I'm pretty proud of of our marbled ornaments. They look so beautiful on the tree.
Although marbling is a bit addictive… I'm looking around my studio wondering what I should marble next…
If you would like see a video of marbling, check this one out. This shows how we made marbled Easter Eggs using multiple colors of nail polish.
Read more the full tutorial…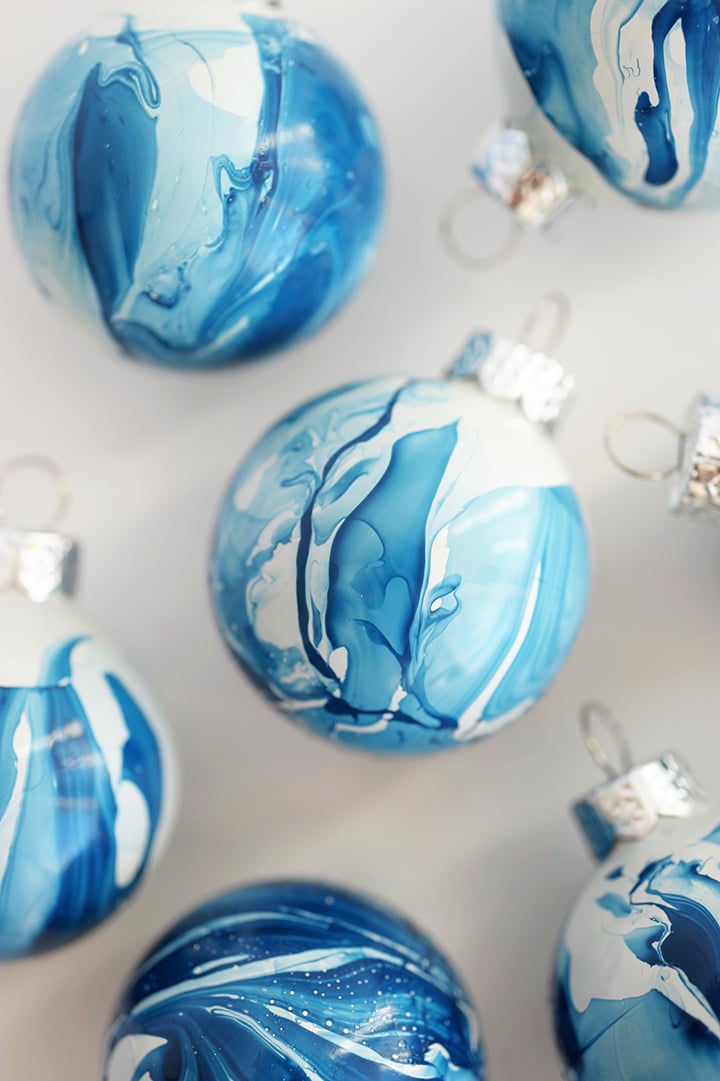 DIY Indigo Marbled Ornaments Supplies
stir stick
nail polish remover
wax paper
room temp water
Where to find plain white ornaments?
You can find plain white ornaments online (like amazon) or at craft stores and big box stores. See some of our favorites here: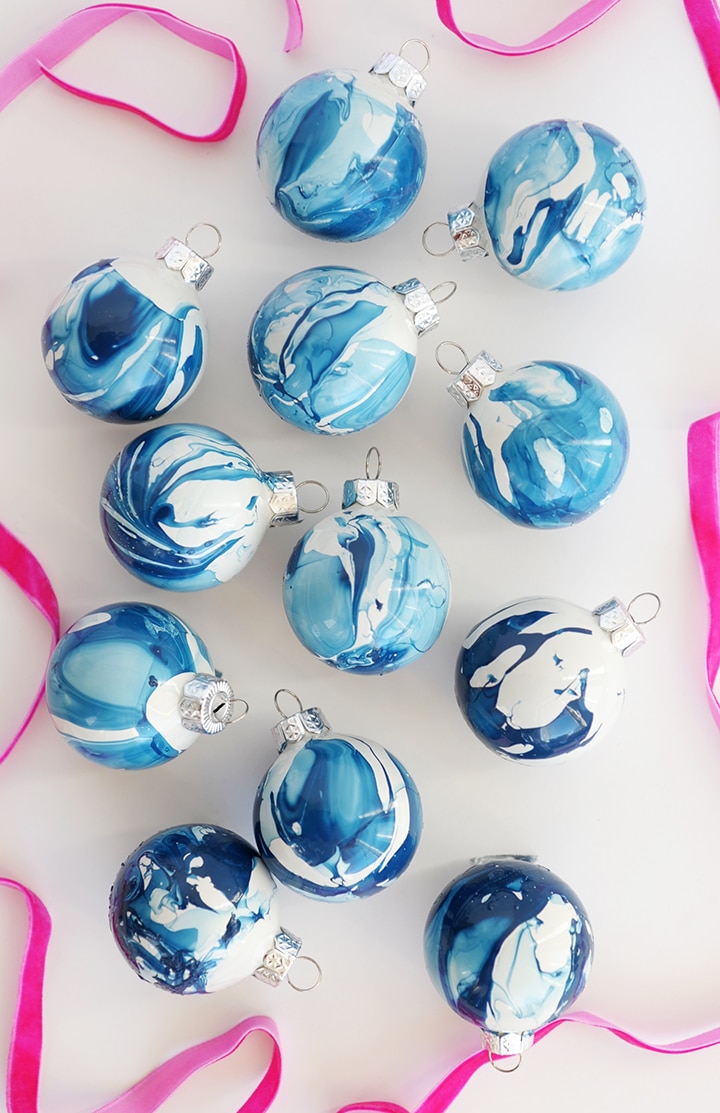 How to make DIY Indigo Marbled Ornaments
Step 1: Fill plastic container 3/4 full with room temperature water. I used a 28 oz container.
And when I say room temp, I really mean that. If it's too cold, the polish will sink, if it's too warm, my polish seemed more sticky.
Tip:
Use a new bottle of nail polish. We tried some other colors that I had on stock and the older polish definitely did not work as well.
Step 2: Start to pour nail polish gently into the water. A little polish goes a long way. The more polish you put in the water, the more coverage your ornament gets.
Step 3. Lightly stir polish on the water with your stir stick to make a marble look in water.
Step 4. Dip the ornament under the water and swirl. Since the ornaments have a topper on them, you don't necessarily have to wear gloves for this project. You can just hold the topper and dip. But when marbling things, like eggs, you should wear gloves.
Step 5. Dry the ornaments. You can lay the ornaments down on wax paper to dry or create a drying rack with foam and pins. We also used two crates and hung the ornaments from dowel rods, balancing the rods over the crates.
You can use any nail polish color you want, we just have an indigo obsession. You can also mix colors, which Calla loved trying when we were done with the blue. Can't wait to see what you guys create! Happy Holidays!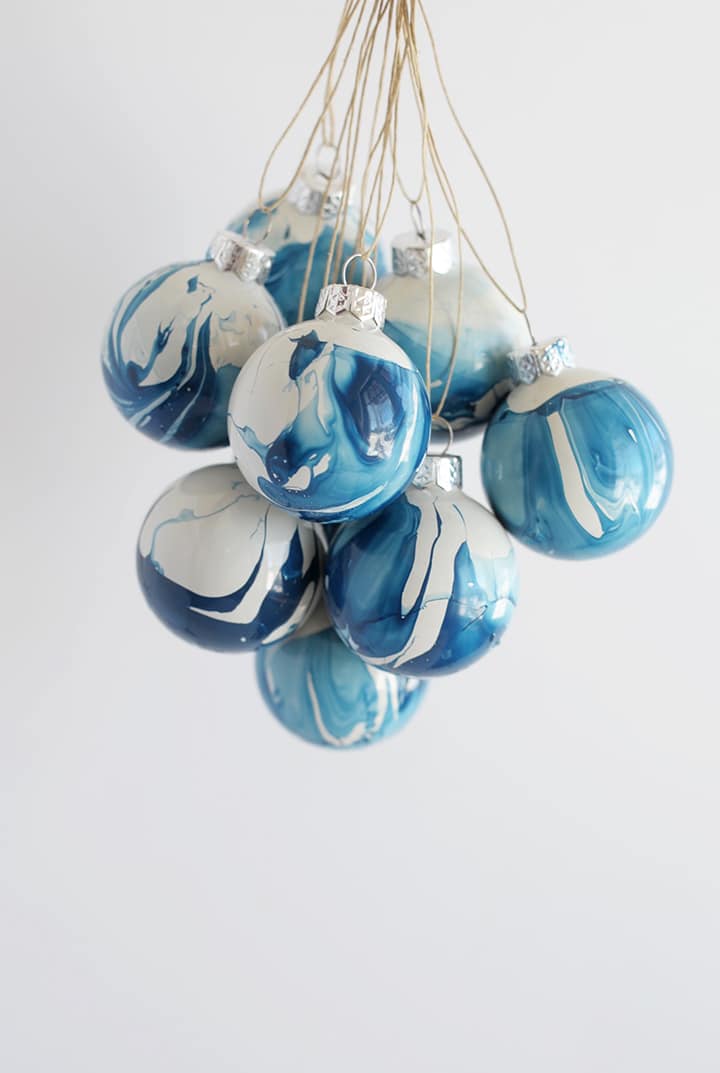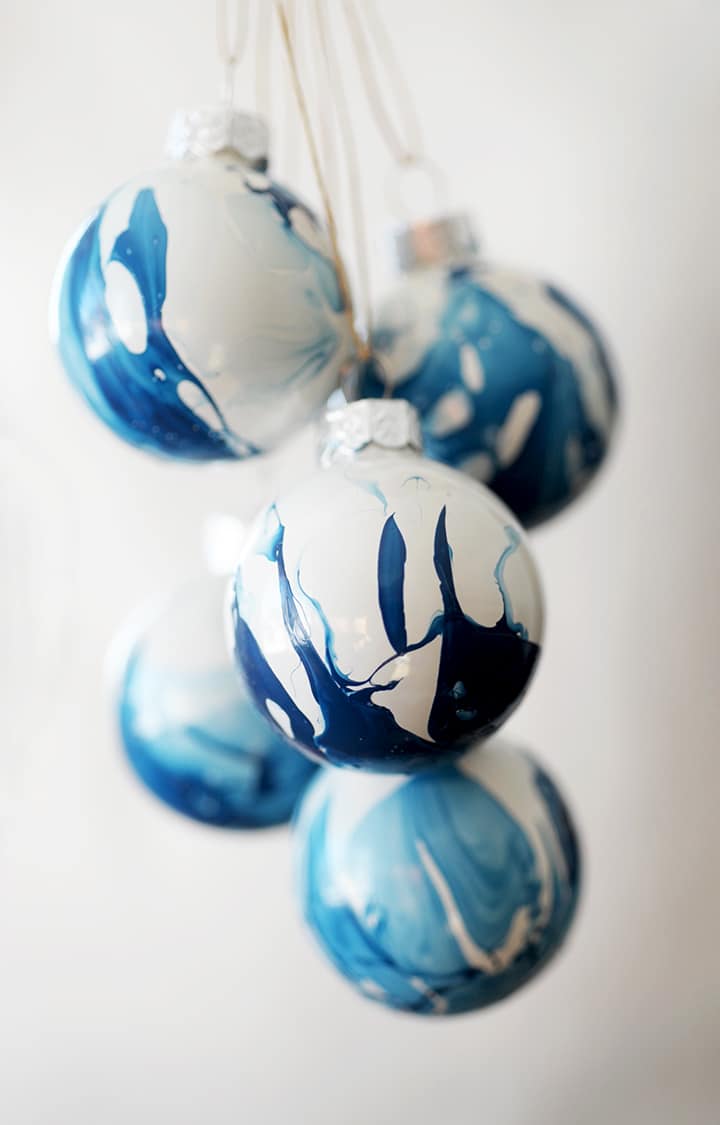 We love making homemade Christmas ornaments and wanted to share some of our favorites!
Favorite DIY Christmas Ornaments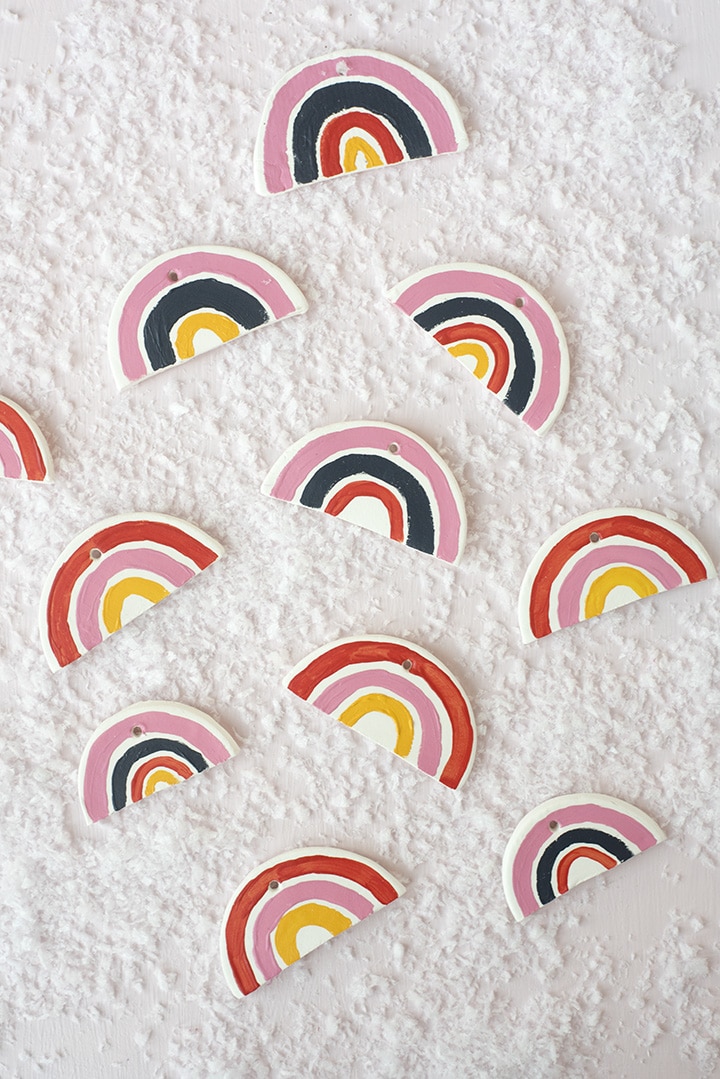 DIY Wood Bead Snowflake Ornament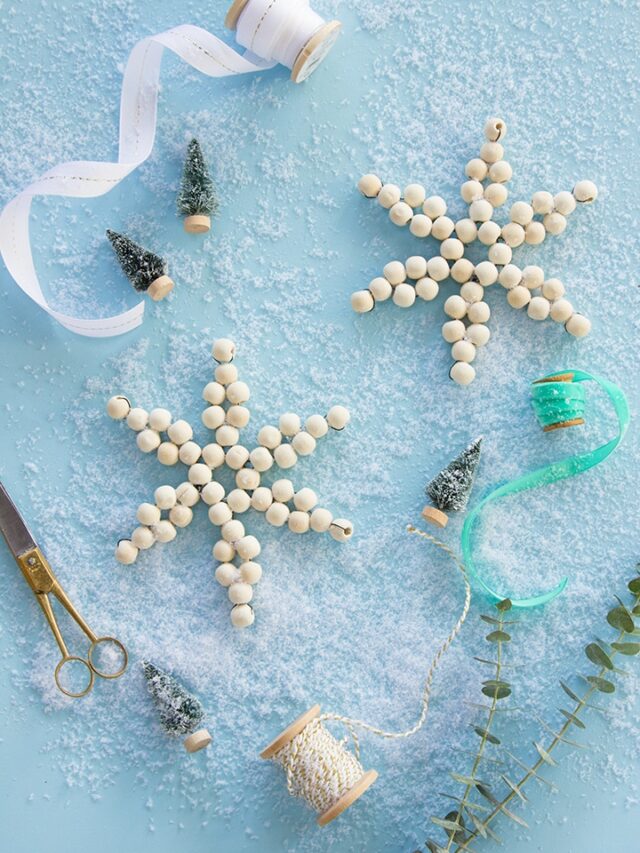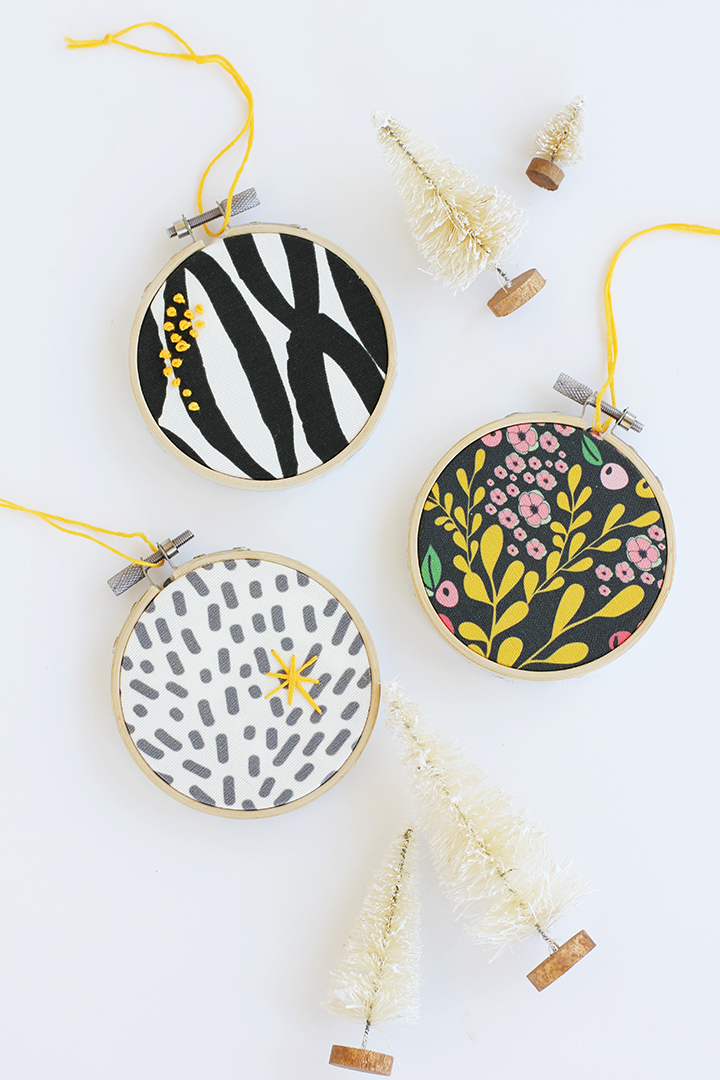 photos by Melissa Fenlon. all rights reserved.