DIY Indigo Shibori Dish Towel Tutorial
We are infatuated with anything indigo and this year our gifting will be wrapped in our handmade indigo dishtowels. One of our favorite gifts is one that you can use, and hand dyed dish towels are at the top of our list. Check out our DIY Indigo Shibori Dish Towel Tutorial.
We made this project as a collaborative effort to spread the love of handmade gifts with 11 other crafty makers. From December 9ft to December 20th, each crafter will post a different DIY gift in a different color to form a beautiful rainbow.
Read more for the tutorial…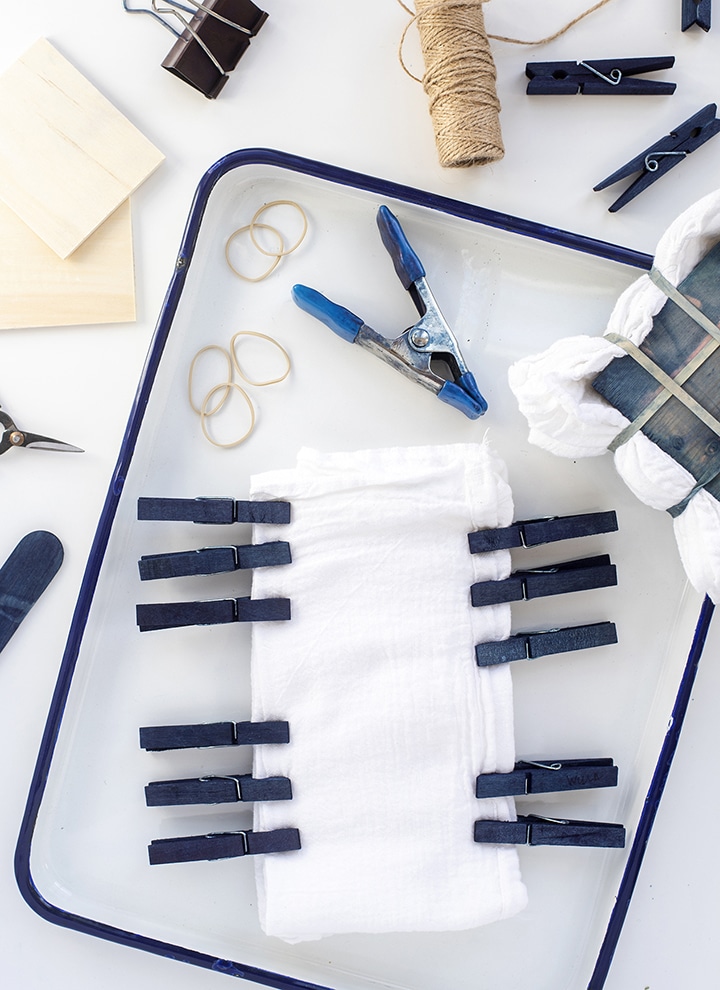 What Supplies Do You Need?
These are the supplies we recommend: Indigo Dye Kit, Flour Sack Dish Towels, 2- 5 gallon buckets, rubber bands, wood blocks or tiles, rubber gloves, drop cloth or trash bags, scissors, paint stick
Step 2: Next add the soda ash and reduction agent. Stir slowly in one direction and continue slowly in the other direction. You will start to notice a foamy top. You can remove this "flower" to save and reuse later with the dye. Your dye will look neon green. Next cover the bucket (to prevent oxidation) and wait at least a half hour. We like to wait a full hour before using dye.
Step 3: We love using the classic shibori technique doing the accordion fold. Fold the fabric like an accordion (long way). Fold it again the other direction using the same technique. Now you will have a square or rectangle shape. Take two wood pieces or tiles and place on the top and bottom of fabric. Bind the fabric between the wood with rubber bands. The bigger your wood/tiles and the more rubber bands you use, the more white you will end up with. See the full tutorial here.
We love to use this technique and fold the final step using a flag folding or triangle technique. Give it a try!
Step 4: Once your shibori techniques are done, all rubber banded and clipped, dunk the fabric in water and ring out, it should be completely wet prior to dyeing. Wearing rubber gloves, submerge the fabric into the dye bucket. Hold and massage the fabric under the dye (without touching the bottom of the bucket) for 3 to 5 minutes.
Step 5: Remove the fabric from the dye. The fabric will look green, not indigo. Let rest and oxidize. You will see the magic happen – from green to indigo! Once oxidized, you can repeat the dyeing process for a deeper, darker indigo color. We repeated a second time. Remove the rubber bands and wood/tiles and lay flat for the full oxidization.
Step 6: Wash in cold and tumble dry.
Looking for more shibori projects?
Here are more shibori and indigo projects that we've created: our Shibori Indigo Ponytail Holder, Indigo Cloth Napkins, and our Shibori Wall Hanging.