DIY Indigo Shibori Scarf Ponytail Holder
You know how much we love using shibori folding techniques and indigo dye, don't you! Well if not, here is a little trip down memory lane. We have made pillow cases, napkins, dish towels, place mats and more. In the past we have used the natural indigo dye, but on today's project we used Indigo dye from Rit.
We've been wanting to make some of our own scarf ponytail holders and thought an indigo shibori fabric would be the perfect look. We've partnered with our friends at Rit Dye to use their Indigo dye to make the ever popular scarf ponytail holder that much easier! You will find step-by-step directions below on how to make your very own DIY Indigo Shibori Scarf Ponytail Holder. We used white cotton fabric, folded it using shibori techniques and then made a simple sewing pattern to whip up some hair accessories with the fabric!
What is Shibori?
Shibori is a Japanese dying process, using a resist method. You can bind, fold, twist, stitch and more to create patterns on fabric. We love using the Itajime method which is when you accordian fold the fabric and bind it together with wood blocks and secure with bands or string. We will also show you how to use everyday supplies to create simple patterns as well.

DIY Indigo Shibori Scarf Ponytail Holder Supplies
For dying fabric:
Salt

Dish soap

Plastic bins or stainless steel pot

Rubber gloves

Hot water

Wood squares (from craft store)

Wood clothespins

Binder clips

Rubber bands

Popsicle sticks

Pre washed white cotton fabric

Sewing machine/thread

Scarf Ponytail Pattern

Iron

Scissors

Hair elastics
Shibori folding technique steps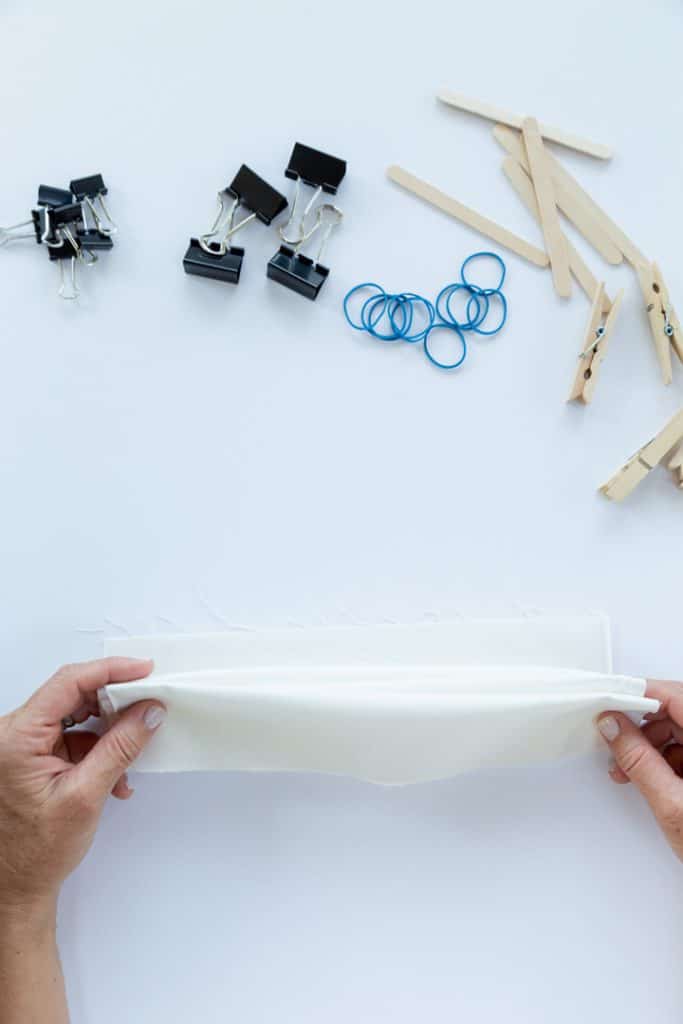 I used fat quarter size pieces of white cotton fabric. Fold the fabric into an accordion fold lengthwise, about 1.5 inch folds.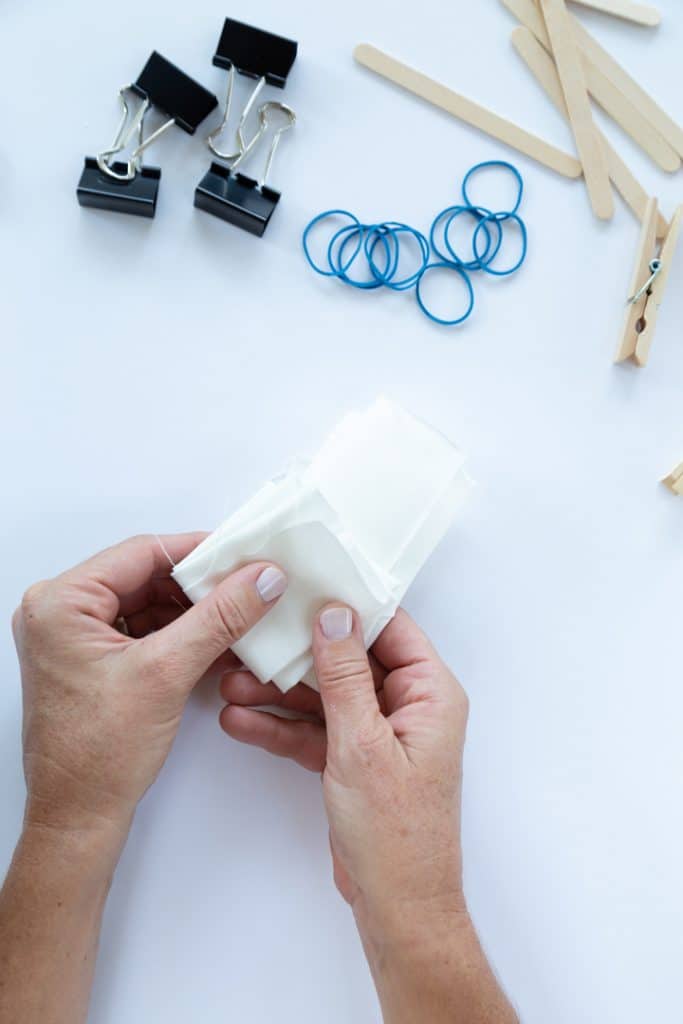 2. Next fold the long rectangle shaped folded fabric into another accordion fold – into a square shape.
3. See below for the different techniques we use to create patterns.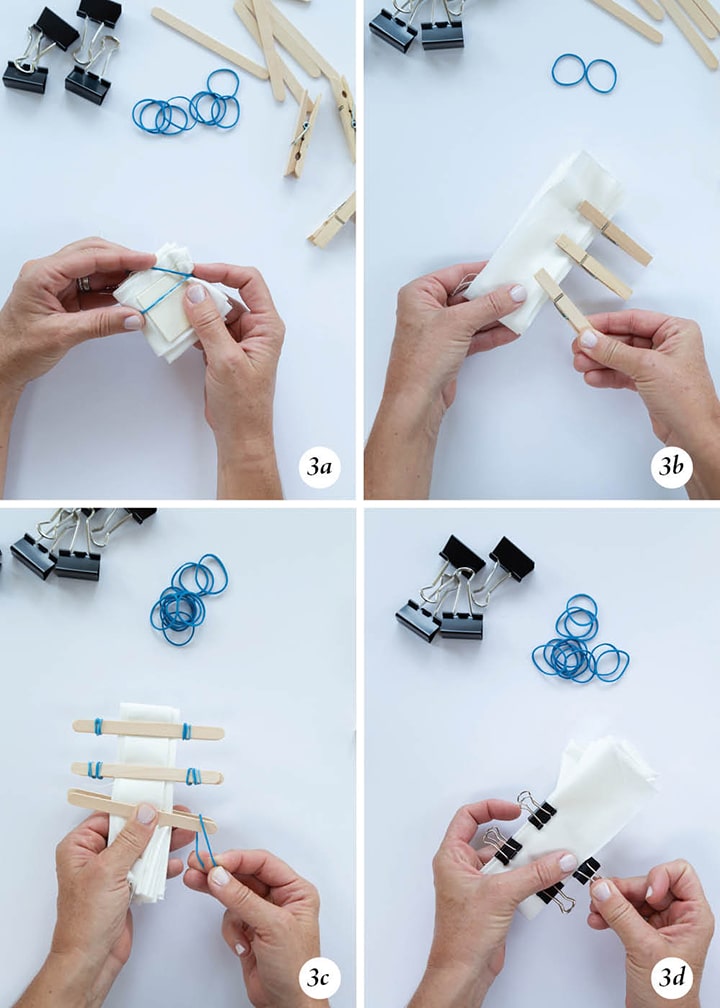 3a. Use wood square pieces on the top and bottom of the accordion folded fabric and bind with rubber bands for a white block pattern.
3b. Use clothespins on the long accordion fold to create a dot pattern. Clip them on the outer edges of both outer edges of the folded fabric.
3c. Use binder clips on the long accordion fold create a cool pattern of dots and rectangles. Clip them on the outer edges of both outer edges of the folded fabric.
3d. Use popsicle sticks over the long fold create a striped pattern. Place the popsicle sticks on the top and bottom of the folded fabric and use rubber bands to bind them together.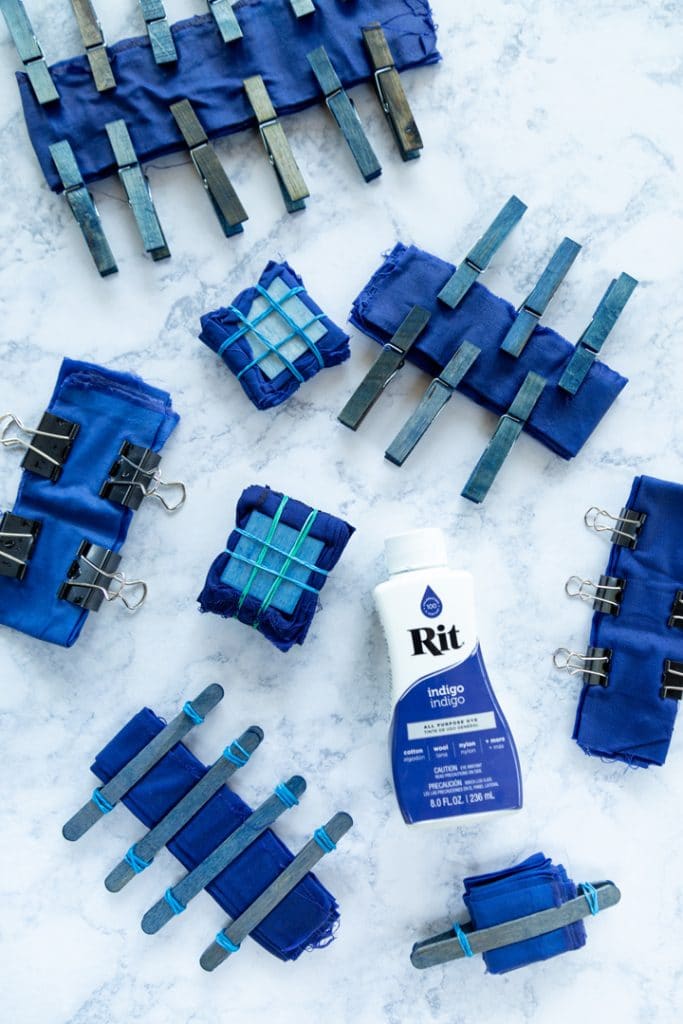 How to Dye the fabric (detailed directions on ritdye.com)
Prepare the dye. We mixed a half bottle of Rit All-Purpose Dye in Indigo with 4L of hot water (about 140 degrees).
Wet the fabric before you place in dye bath. Add the folded fabrics into the dye. I wanted a rich dark color, so I kept the fabric in the tub for 15 – 20 minutes. Make sure to stir slowly as the color will dye more evenly this way.

Remove the fabric and wring excess dye into the tub.

You can use the Rit Dye Color Stay Dye Fixative as well. Find directions

here

.

You should not unbind until after you use the use fixative.

Rinse in cold water and then untie the bindings to see the patterns you have created!

Wash in machine using mild detergent.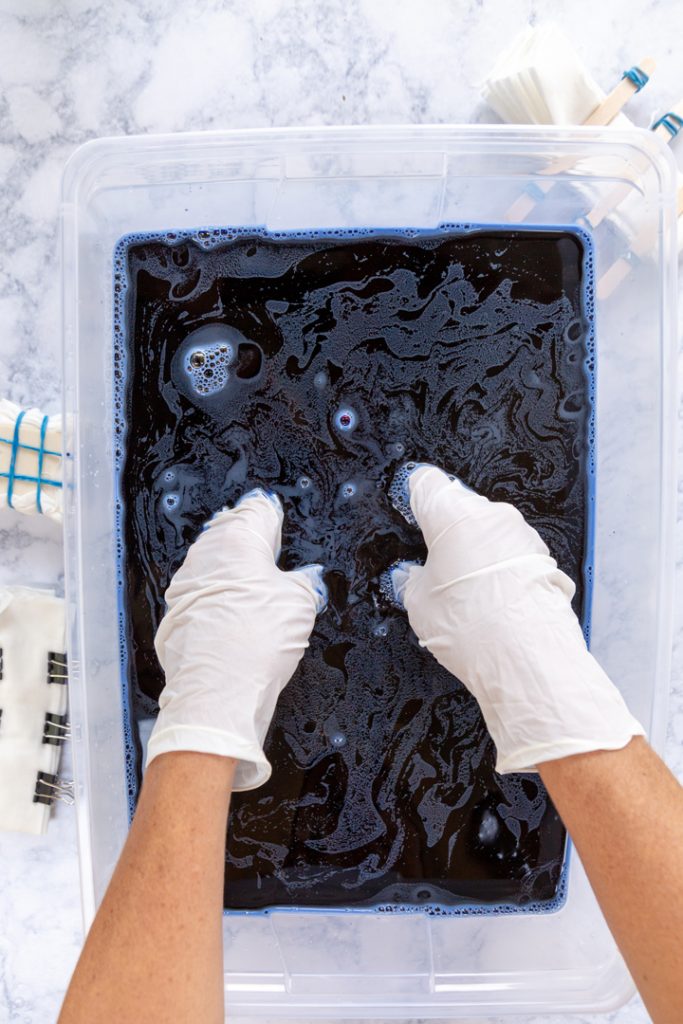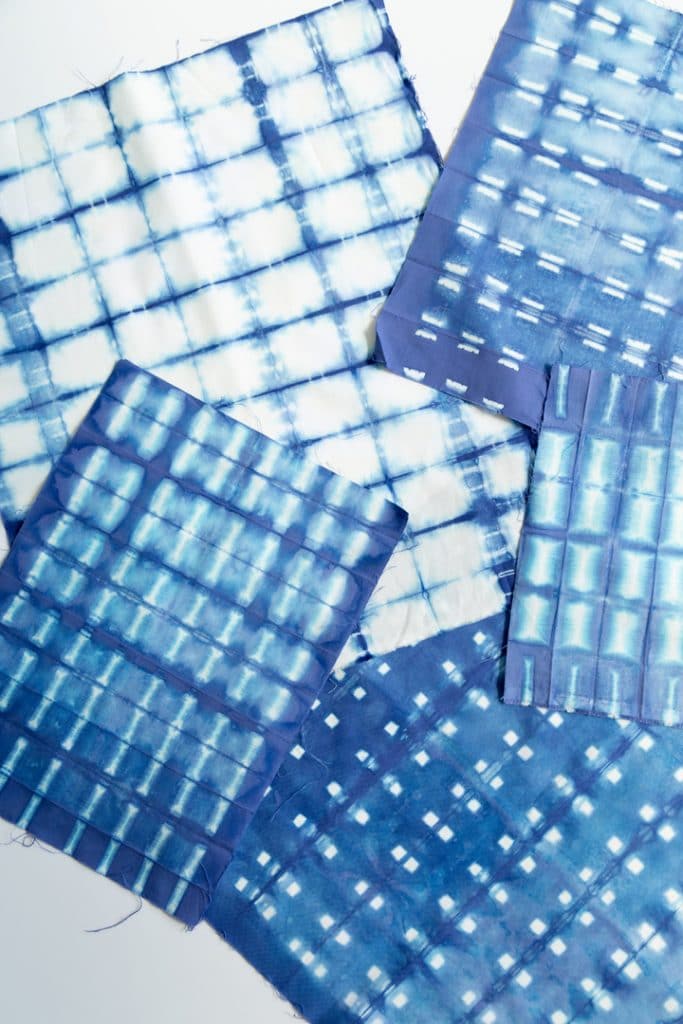 How to sew a DIY Scarf Ponytail Holder
Print the DIY Scarf Ponytail Holder pattern HERE. Cut the scarf ponytail pattern frm the printed copy.

Cut 2 pieces of dyed fabric. Place the pattern on the fold of fabric so you will be cutting through two layers of the fabric.

Pin the two pieces together (the pieces will be 17 inches long).

Sew around the edges, leaving a 2.5 inch opening in the middle on the longest side.

Pull the inside through the opening and iron flat.

Sew the seam closed.

Tie around a hair elastic and enjoy!