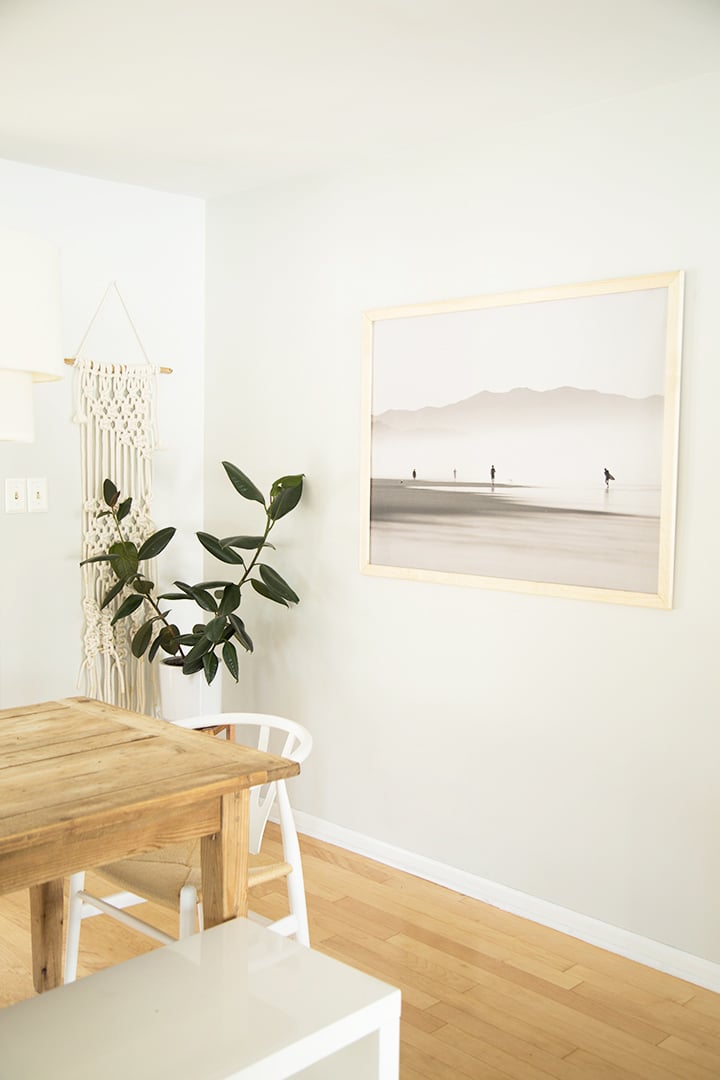 If you are looking to add some large scale statement art to your home on the cheap – this is just the way to do it! In our new house we have a few large walls in the dining room/kitchen area. I wanted to to do a large scale art print or photo on the dining room wall specifically. I was really wanting to do a large black and white print there and our friend Paige Laverty in San Francisco is an absolutely amazing surf photographer. I printed a photo of Ocean Beach in SF of Paige's as an engineering print. You can use any high resolution photo of your own or from online print shops like Jenny's Print Shop.
If you are not familiar with engineering prints, they are large scale photos printed on thin paper (traditionally in black and white). I printed mine at Fed Ex. But I know places like Staples do it as well. You can get a 48 inch x 36 inch photo printed for under $10. The photo needs to be high resolution and sized correctly (you can get the details from the print shop). Remember that this is a photo print on thin paper, so it will not print 100% crisp. Melissa has an engineering print of Harper & Calla in Sayulita from years ago that hangs in Calla's room. Love.
Engineering print tips:
Choose a high resolution photo.
Turn it to black and white (in photoshop or a free version of photo editing software called Pic Monkey). You can adjust contrast as you like.
Size the photo to the appropriate size using software.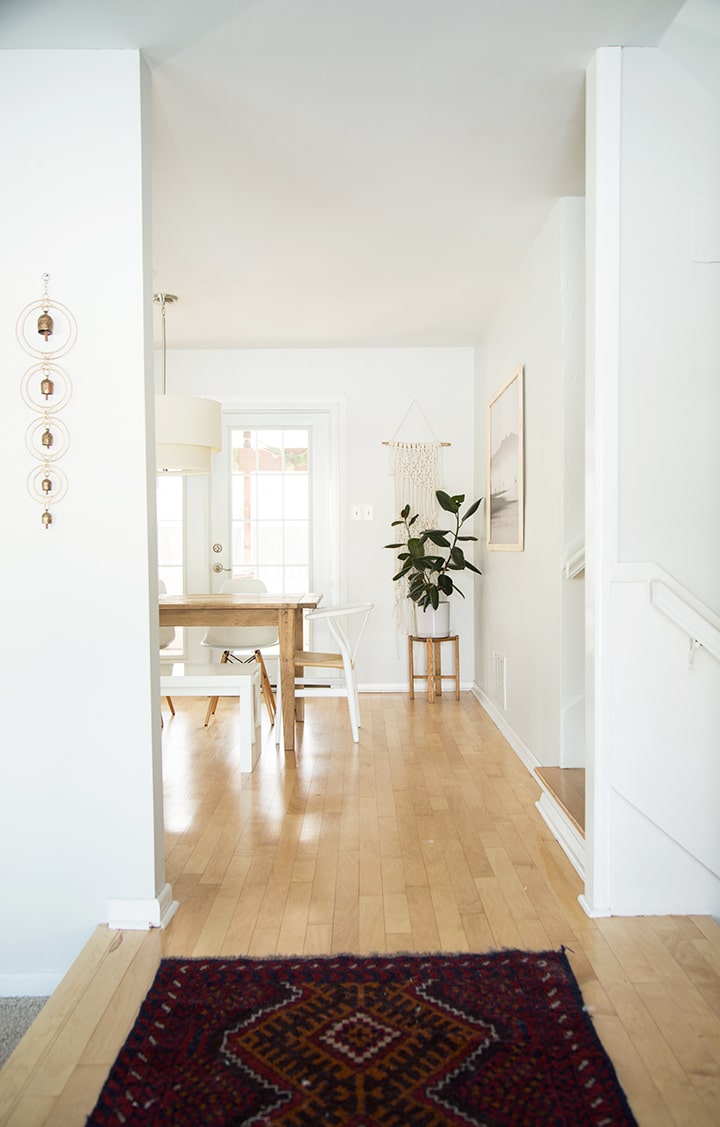 I wanted to frame the engineering print, but not spend a fortune. I went to the hardware store to try and come up with a plan. I first thought I would adhere the image on a sheet of plywood and then use wood pieces to make a simple frame. But it was becoming too heavy. I then went to my local art store to find canvas stretcher bars. They are cheap and came in the 48 inch and 36 inch sizes that I needed. I also found a kit on amazon that would be just as easy. One thing to keep in mind when doing this DIY framing project – I do not use plexiglass or anything to that affect to cover the print. So if you are concerned that little handprints or little fingers might be touching the print, make sure to hang it out of reach of the kids! But what is cool about the frame – you can switch out the large print whenever you wish for $10.
Here is what you need to make the frame and make it:
Supplies
2 – 48 inch  and 2 – 36 inch canvas stretcher bars (similar to this kit from amazon)
48 in x 36 in engineering print from printer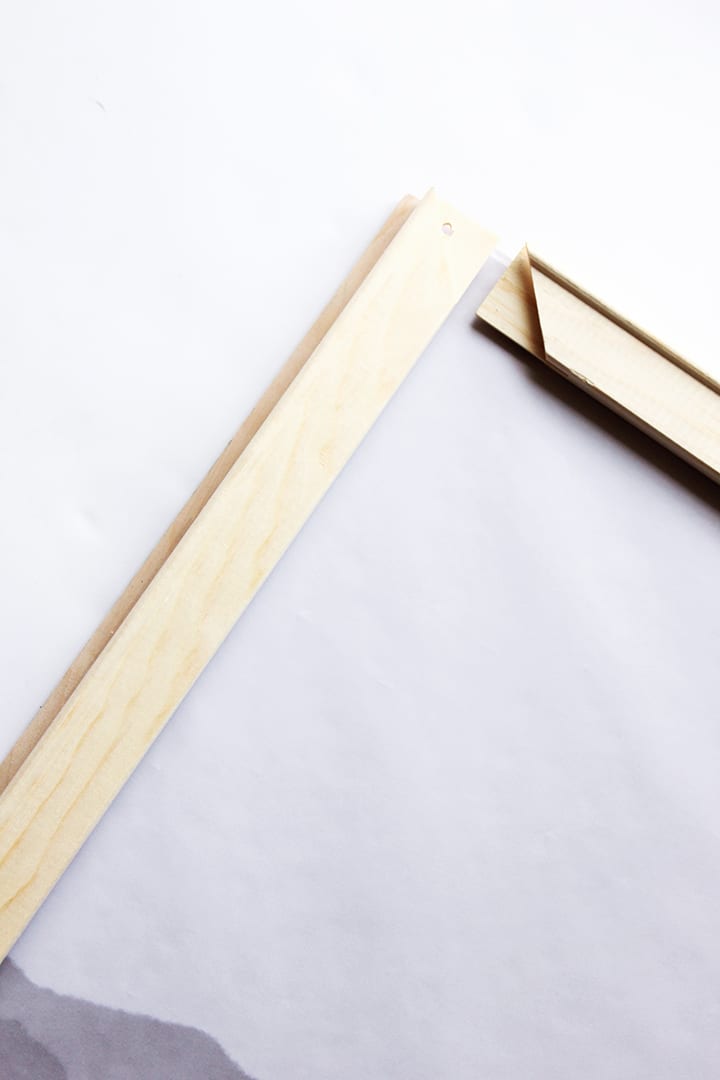 Steps
Slide the stretcher bars into the grooves to build the frame. There are slits on each end of bars – join the ends together in the openings, square and snug. Then slide in the little wood pieces to secure on the corners.
Place the frame face down and place double sided tape on one corner. Start on the corner and down one side to start adhering the print onto the back of the frame. Go slowly and ask someone to assist you if possible. You want to get the print taped on as smoothly as possible. Be careful as the paper is thin.
Add D ring hooks to the back of frame.
Check out all of Paige's photos on her site – she is offering our readers 30% off prints with code aliceandlois30. (she sells prints, but not digital downloads). I would highly recommend following her instagram feed – it is stunning!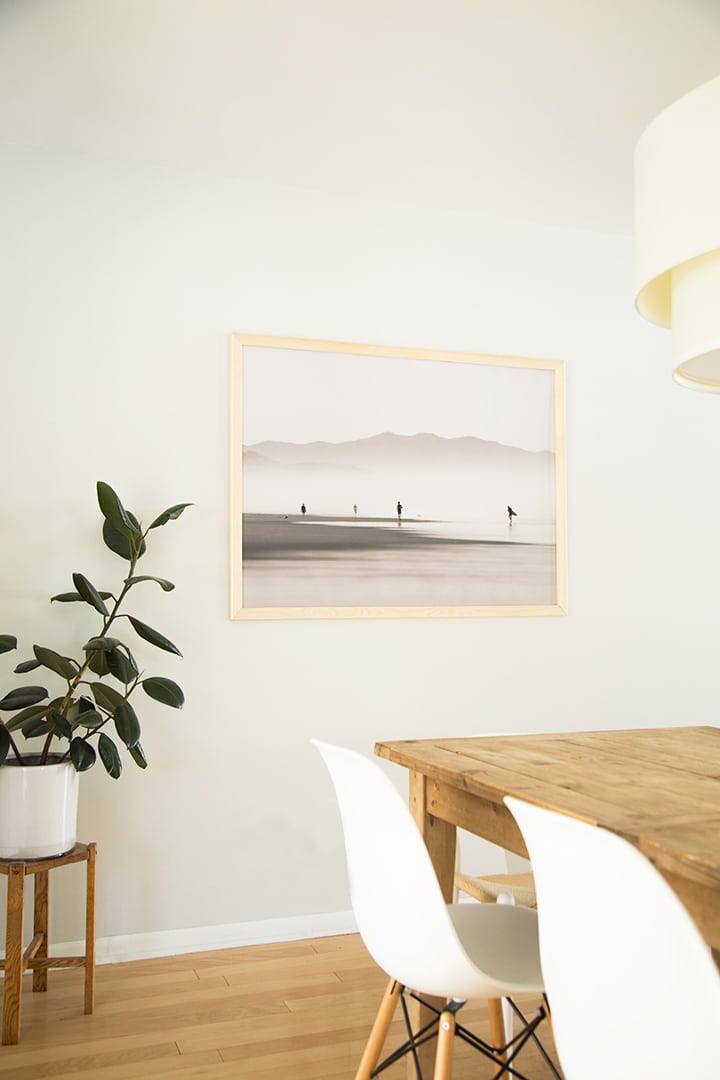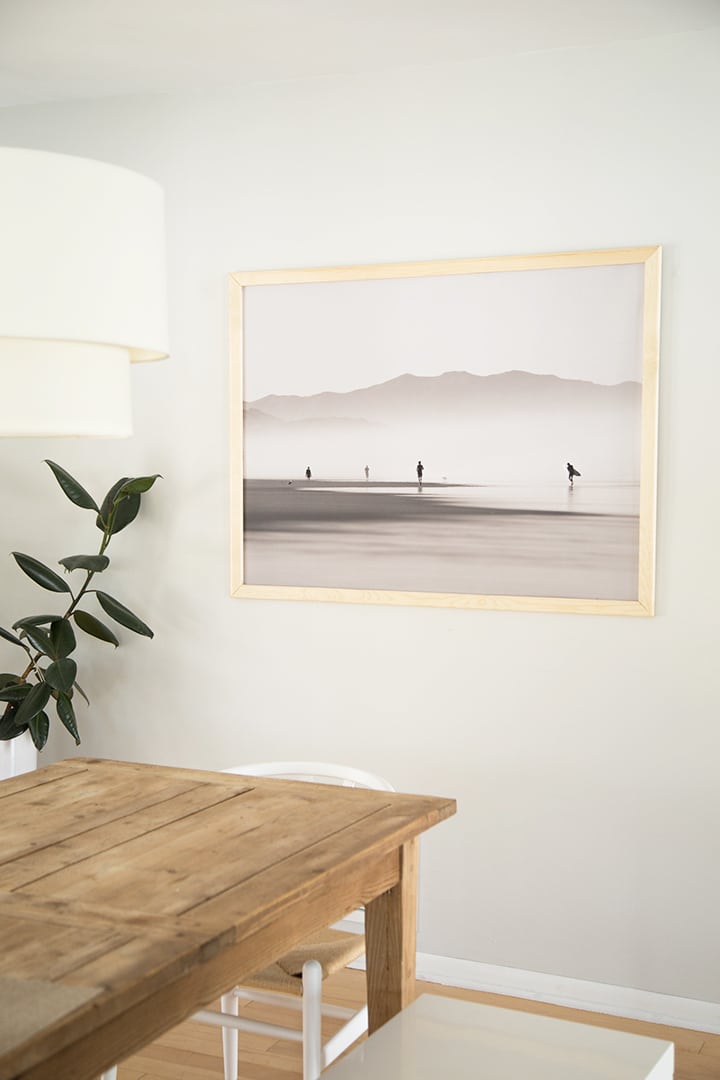 Photos by Sara Albers.