DIY No-Sew Rope Easter Basket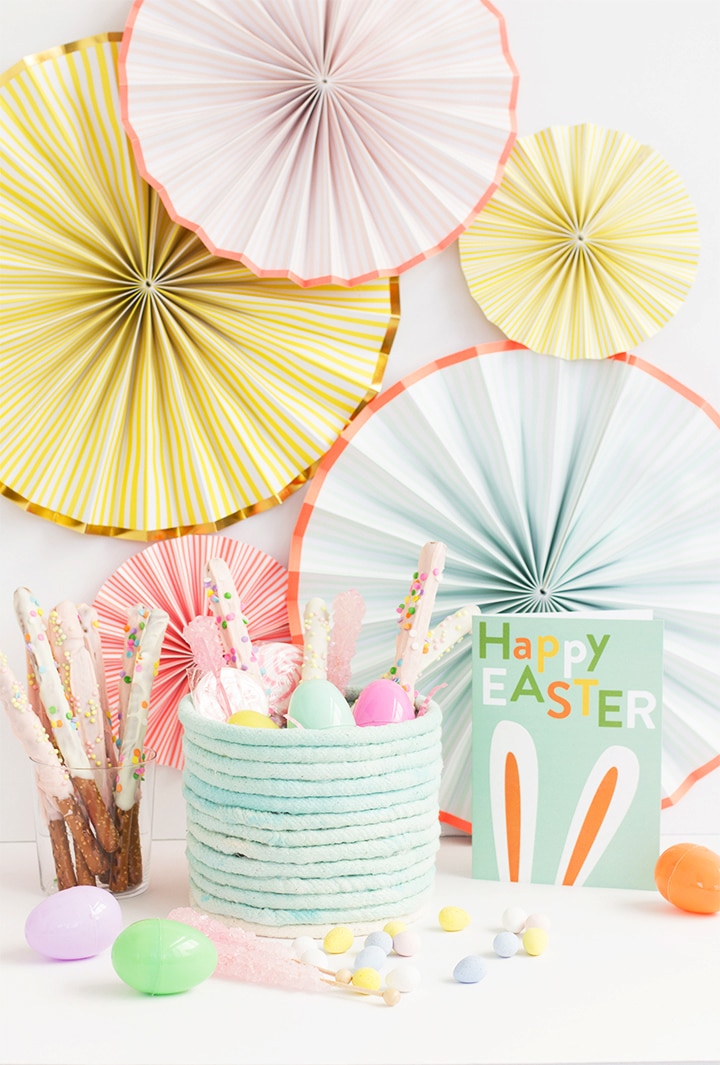 This post has been sponsored by American Greetings. All thoughts and opinions are my own.
Every holiday throughout the year, our kids get goodies in the mail from grandparents. Well, this Easter we are starting a new tradition – we'll be sending goodies and handmade gifts to the grandparents! They do so much for us; it is a perfect time to do something special for them.
I knew I wanted to make an Easter basket that could be used year round as a little storage piece. I love making projects that are multi-purposed – and this DIY No-Sew Rope Easter Basket is just that. My color scheme for this project actually came from a darling Easter card from Target. The spring and pastel colors of the card inspired me to dye the basket a beautiful pale blue.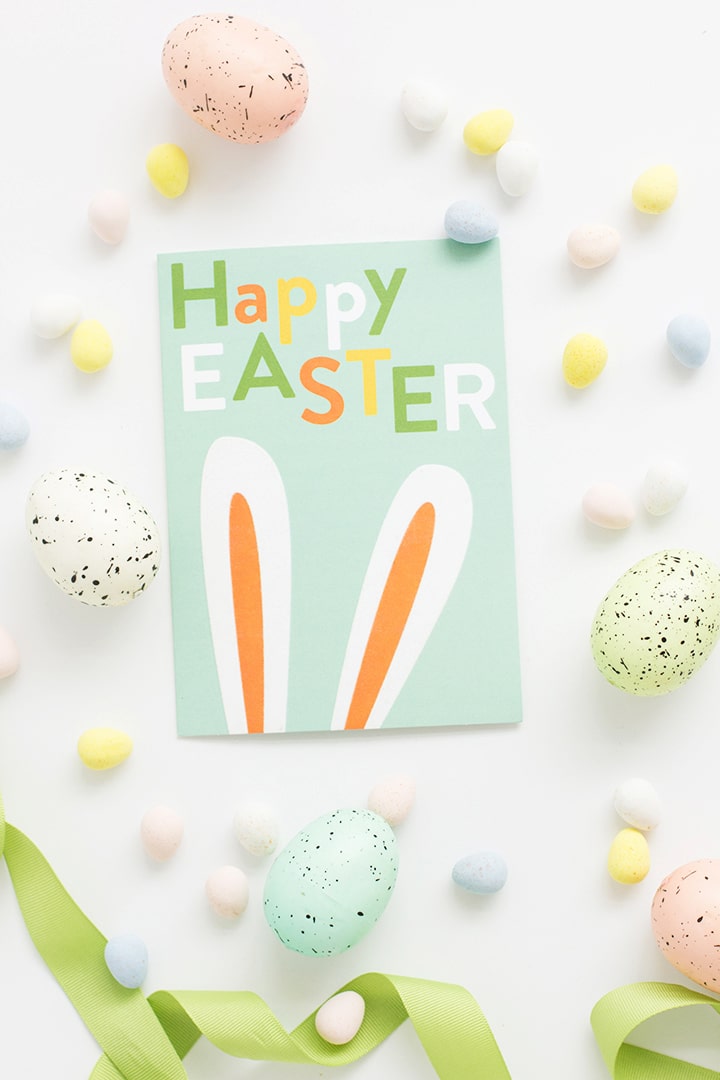 Read more for the full tutorial for our DIY No-Sew Rope Easter Basket…
I wanted to fill the basket with goodies, including homemade treats. I added more spring pastel colors with my White Chocolate Dipped Pretzels. These treats just scream springtime with pastel sprinkles!
Adding a special heartfelt note when giving a gift is something we love. The Easter basket wasn't complete without a sweet note from the family. I feel like in this technology-obsessed world, there is something so personal and special about writing a card to a loved one! And of course we had to add a few little special notes in a some of the Easter eggs.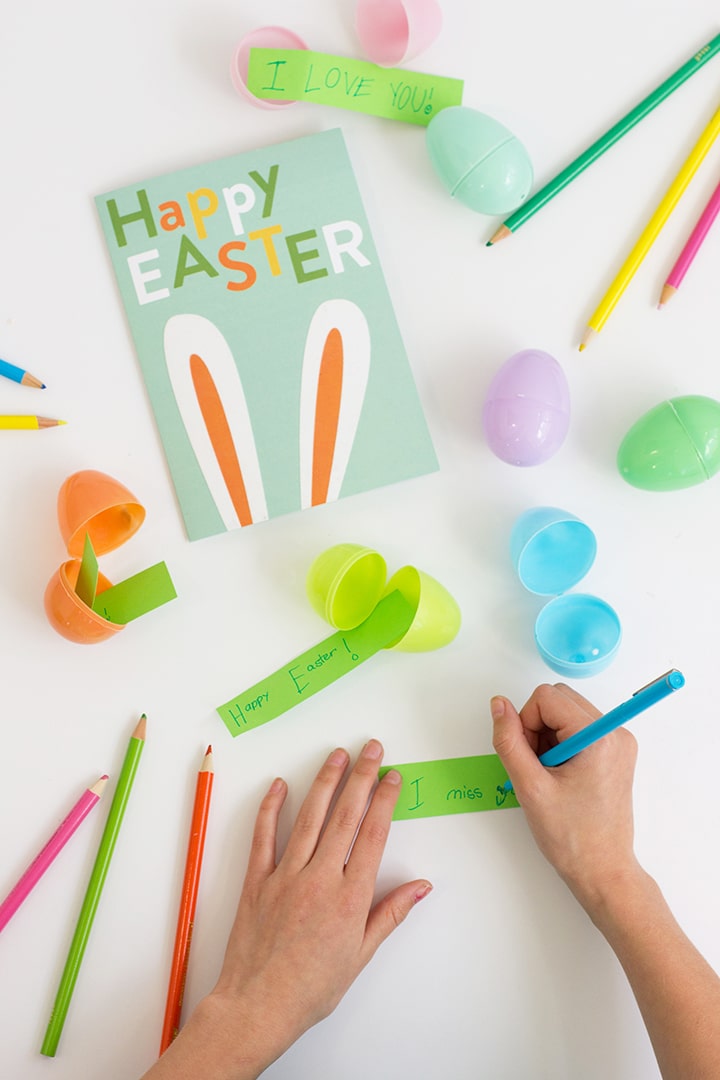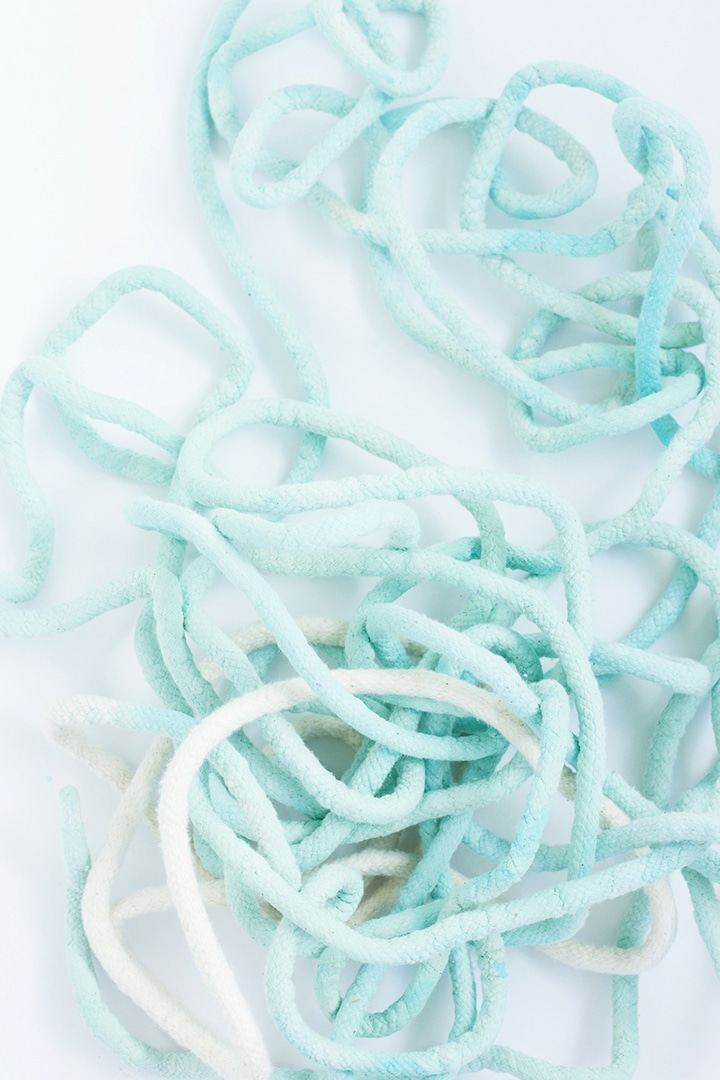 DIY No-Sew Rope Easter Basket Supplies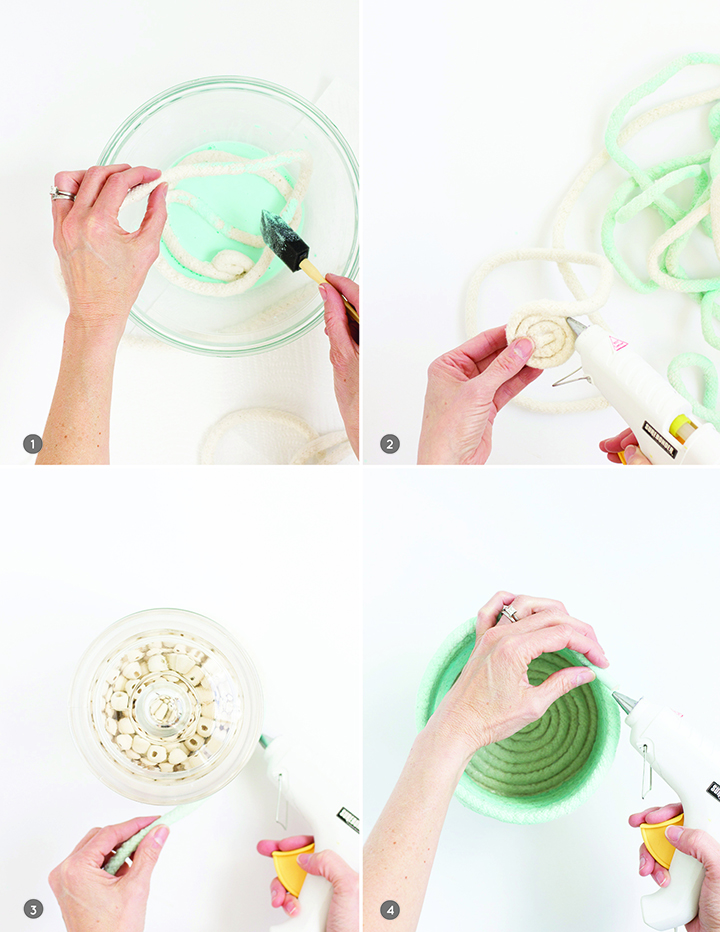 Steps
The night before you plan to make basket, dye the cotton cording. Add a few tablespoons of paint to bowl. Mix in 1 cup of room temp water. Submerge the cording in the bowl and squeeze out excess paint. You can do half of cording in this mixture. I would recommend doing a second batch of watered down paint for the other half. Dry the cording on freezer paper or plastic bag.
After the cording is dry, you are ready to make your basket. Start by choosing a shape of the basket. I used a large glass jar to mimic the shape for my basket. Now get your glue gun warmed up and you are ready to go. Start by wrapping the cord and applying hot glue between every bit of the cording. Continue wrapping the cord to make the size circle large enough to be the bottom of basket.
Continue to wrap and glue, wrap and glue. At this point, start gluing the cording together on the top of cord to build the basket shape.
Once you have reached the desired size for basket, trim the cording and secure with tape or glue (so it doesn't fray). Make sure the top coil is glued securely.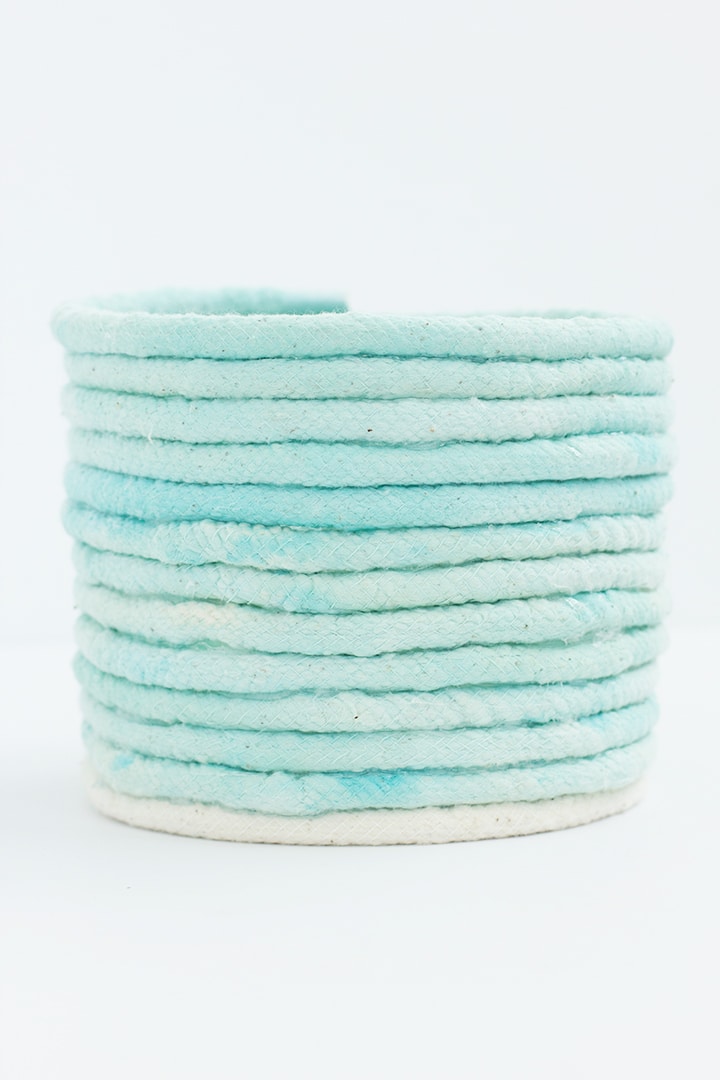 White Chocolate Dipped Pretzels Recipe
Pretzel Rods
White Chocolate chips or block
Sprinkles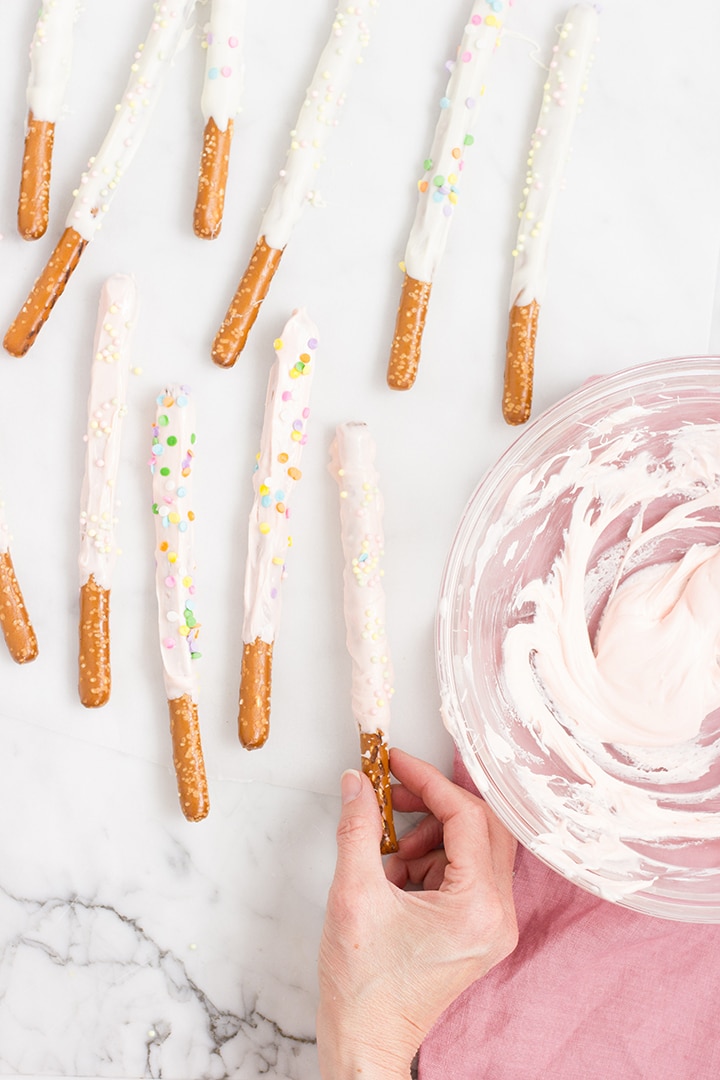 Melt one 11 oz package of white chocolate chips on a double broiler. You can keep white for dipping or add candy coloring (use food coloring for candy).
Dip pretzel rod into melted chocolate. Use a small spatula to get chocolate on ¾ of the pretzel.
Place on parchment paper and add sprinkles! Let cool and harden.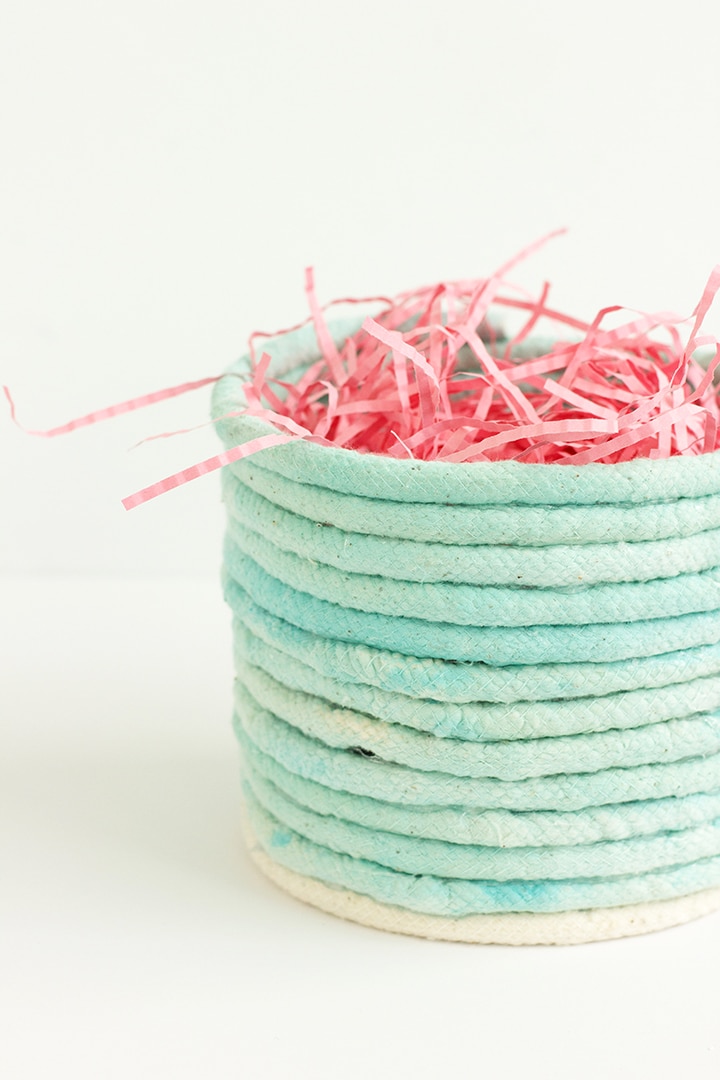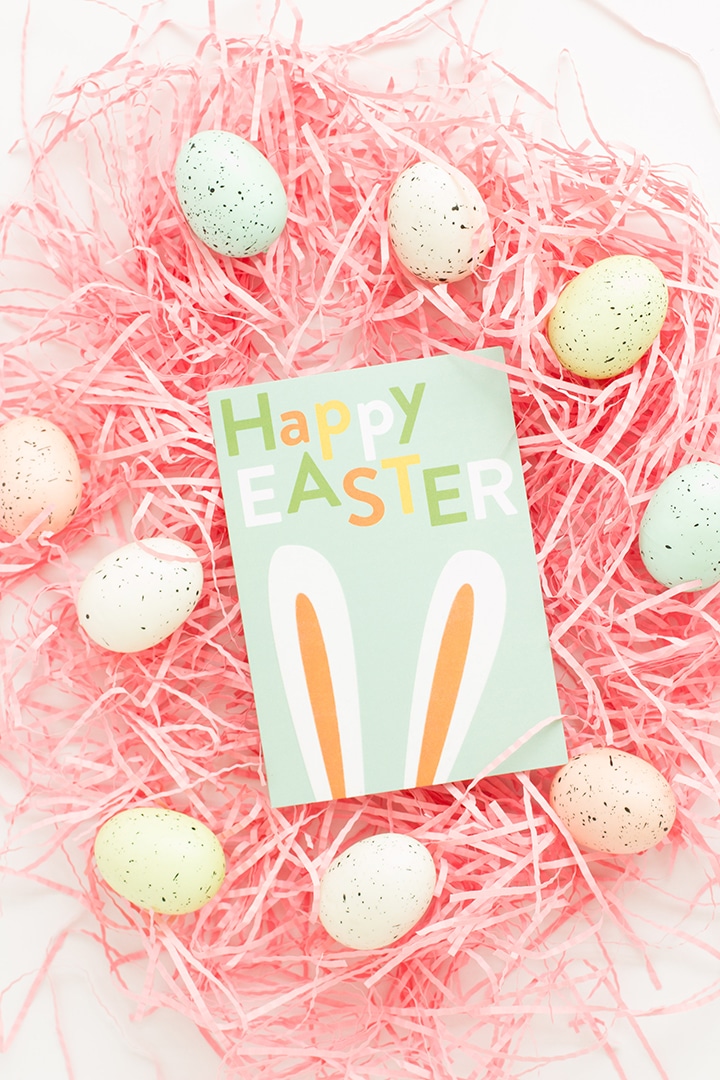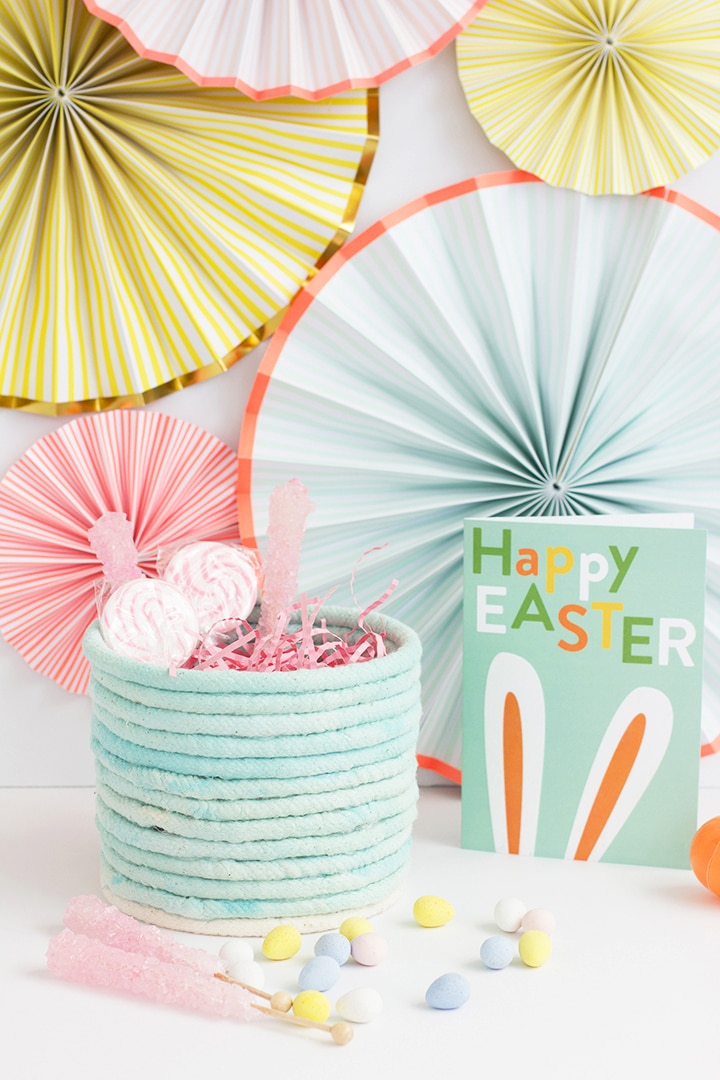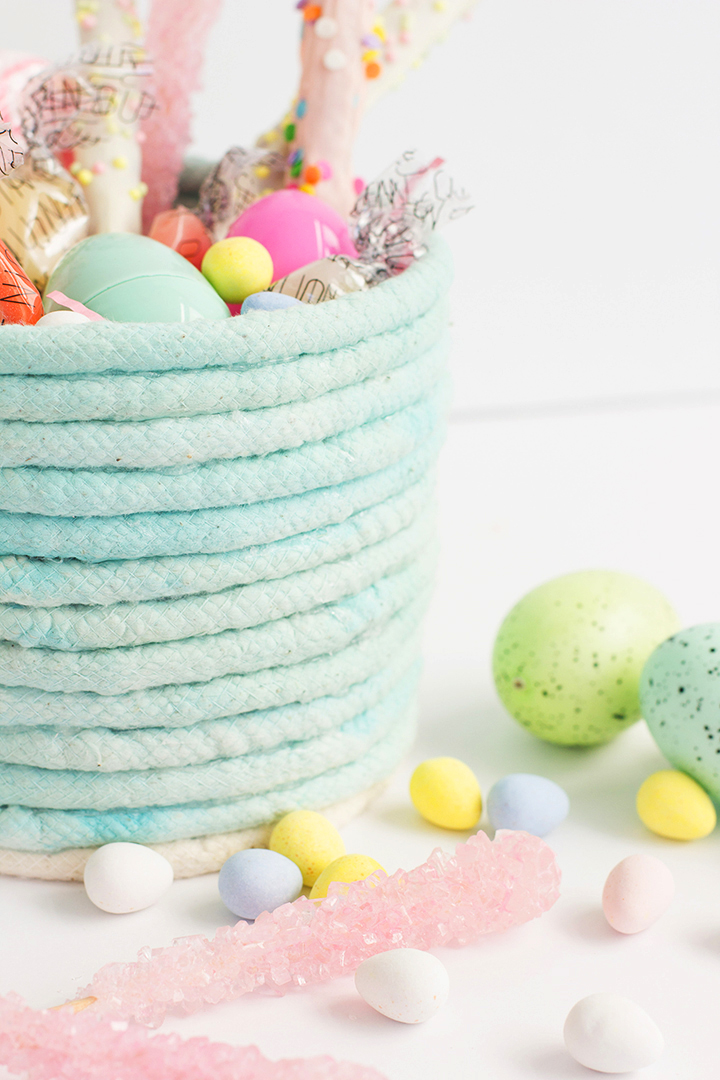 Photos by Sara Albers.
Head to Target to find the perfect card for your grandparents this Spring. Cartwheel offers will be running from 3/12 to 4/15. Get 5% off from March 12 to April 1, 2017.