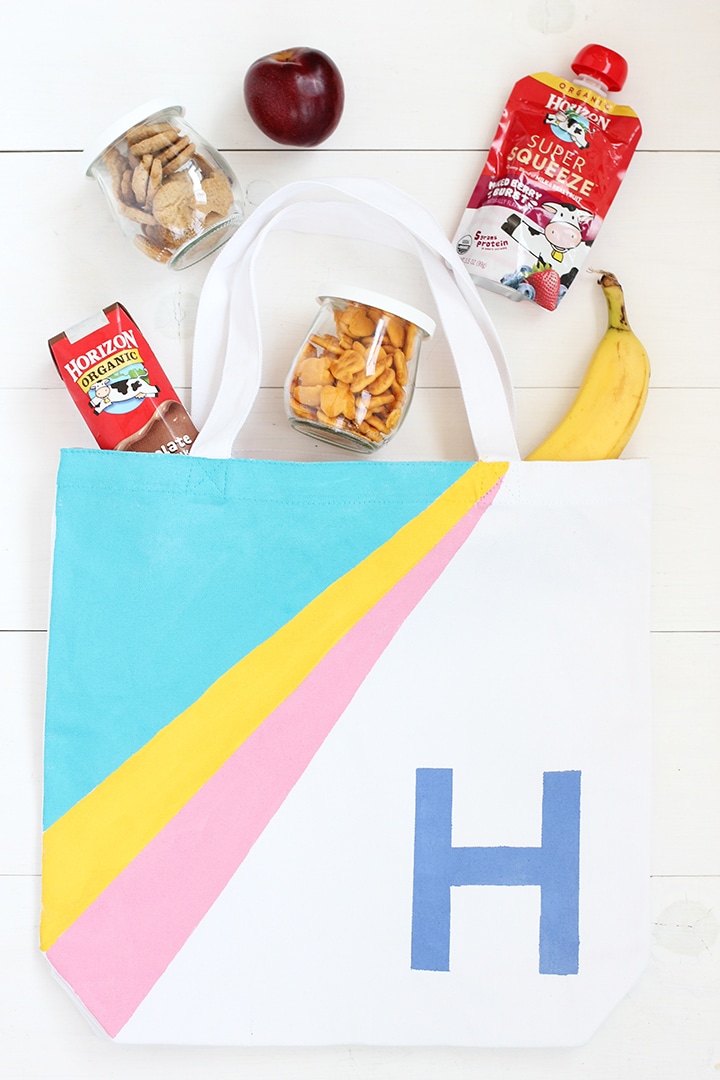 With back to school season in full swing, we're getting into new routines in our households. One thing I swore I would improve at is being prepared with good-for-you snacks after school, especially when we're off to activities, like soccer practice or dance. Part of starting a new routine at our house is making the new a little bit fun. So to get ready for that crazy after-school shuffle to practice after school, we made this colorful DIY On The Go Snack Bag with our friends at Horizon Organic.
You can make this DIY snack bag with some fabric paint and a homemade stencil using freezer paper. We loved using our child's initial on the bag – gives them ownership of their new snack bag.
Read more for the full tutorial for DIY On The Go Snack Bag…
Supplies
paint brush
tape
scissors
x-acto knife
iron

Steps
First, determine a font and size you want the initial to be on the bag.
Print your initial. Place a sheet of freezer paper on top of the printed initial. Trace the letter. Cut the letter out using an x-acto knife. You are creating a stencil, so make sure not to cut into the edges of the letter.
Gently pull the inside of the letter from the paper.
Place the glossy side of freezer paper down on the fabric and iron. This creates a seal on the fabric.
Go ahead and tape off an area near the top of where you want to paint a design. *Place a sheet of paper inside the bag so the paint does not leak onto the back side of bag.
Paint your letter!
Paint the top design portion.
Let paint dry for 10 mins and gently pull the freezer paper from the bag.
Continue taping off areas at an angle to create the multi-color angles.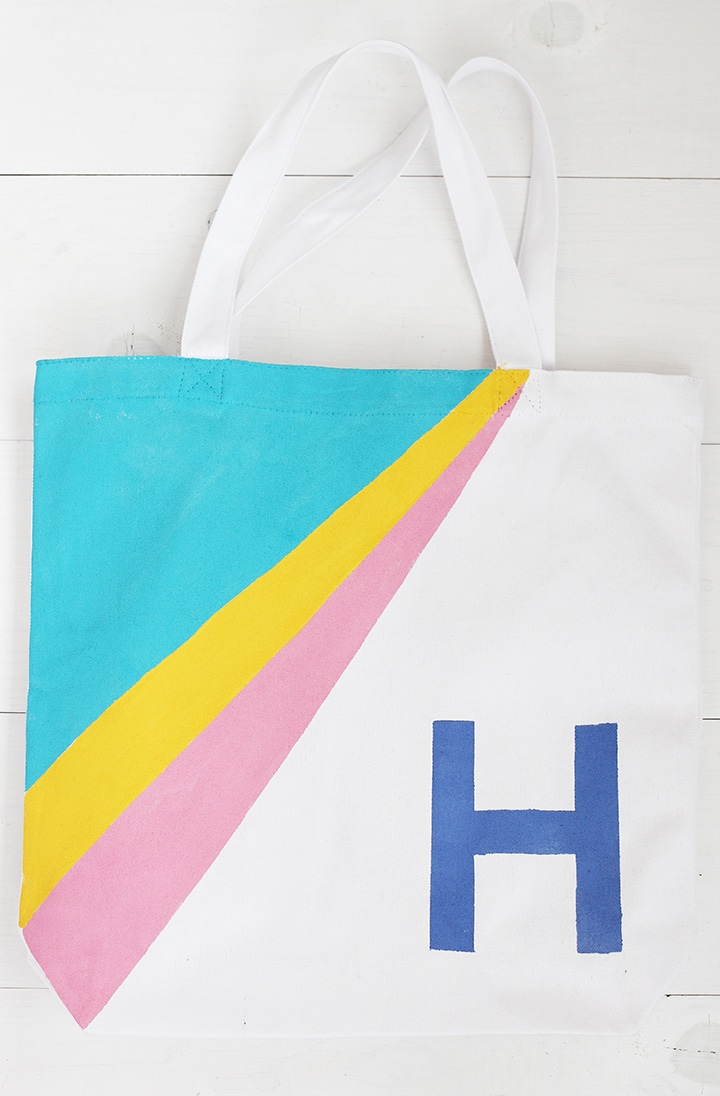 Favorite After School Snack Ideas
Kids need good choices when it comes to snacks after a long day of school and before they hit the soccer field, dance studio or baseball field. We love to cut fresh celery, carrots, red peppers and cucumbers, along with fresh nectarines, strawberries and grapes. Give them something special like Horizon's cheese sticks, super squeeze pouch, and crackers. We always try to give the kids a variety of fruits, veggies, nuts, cheese and crackers.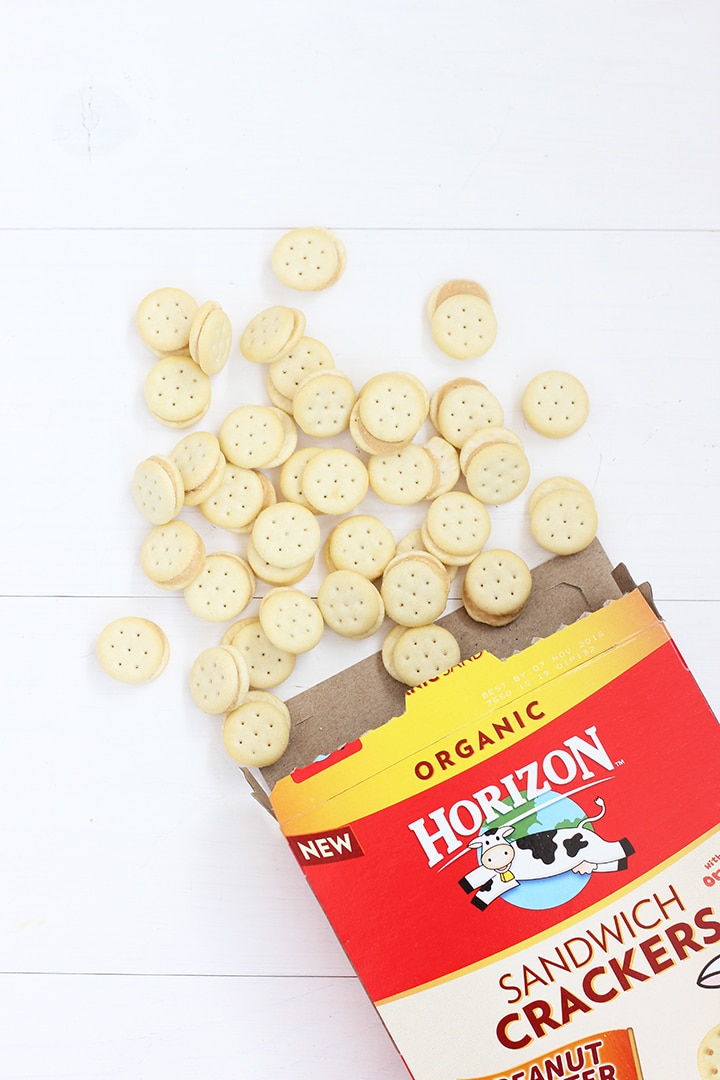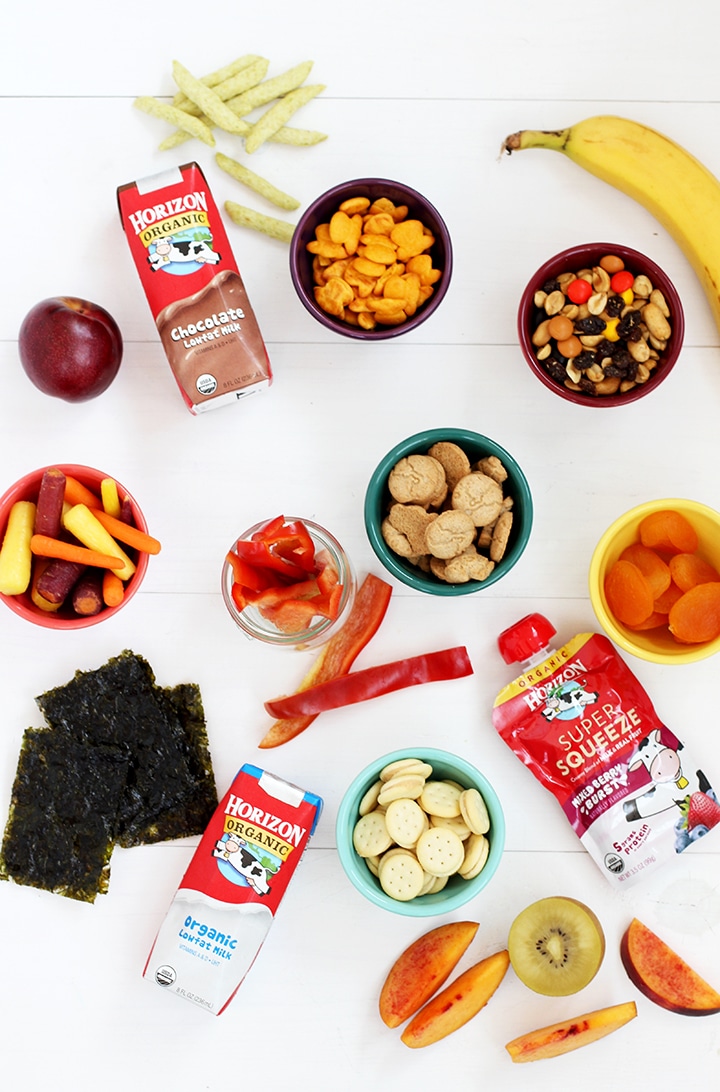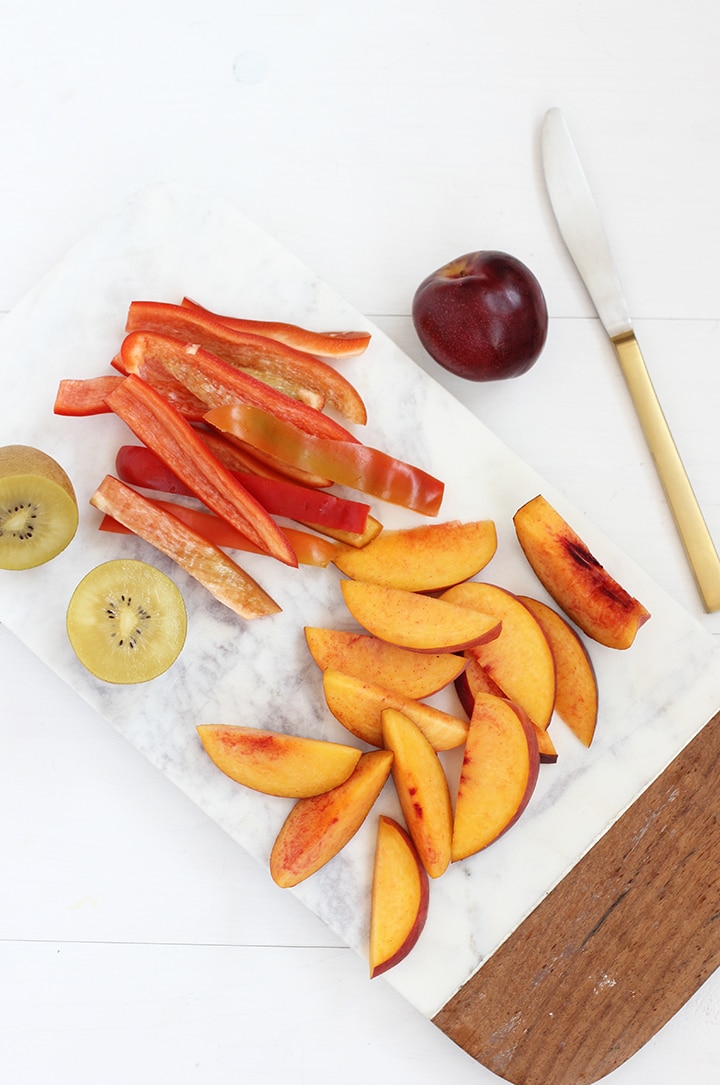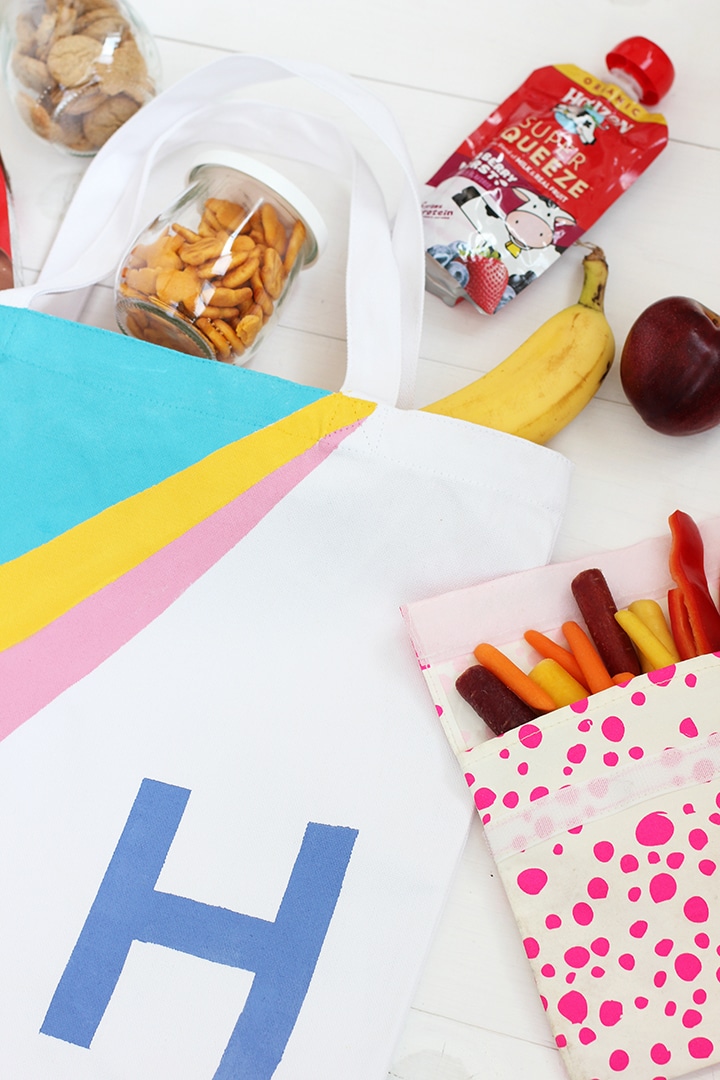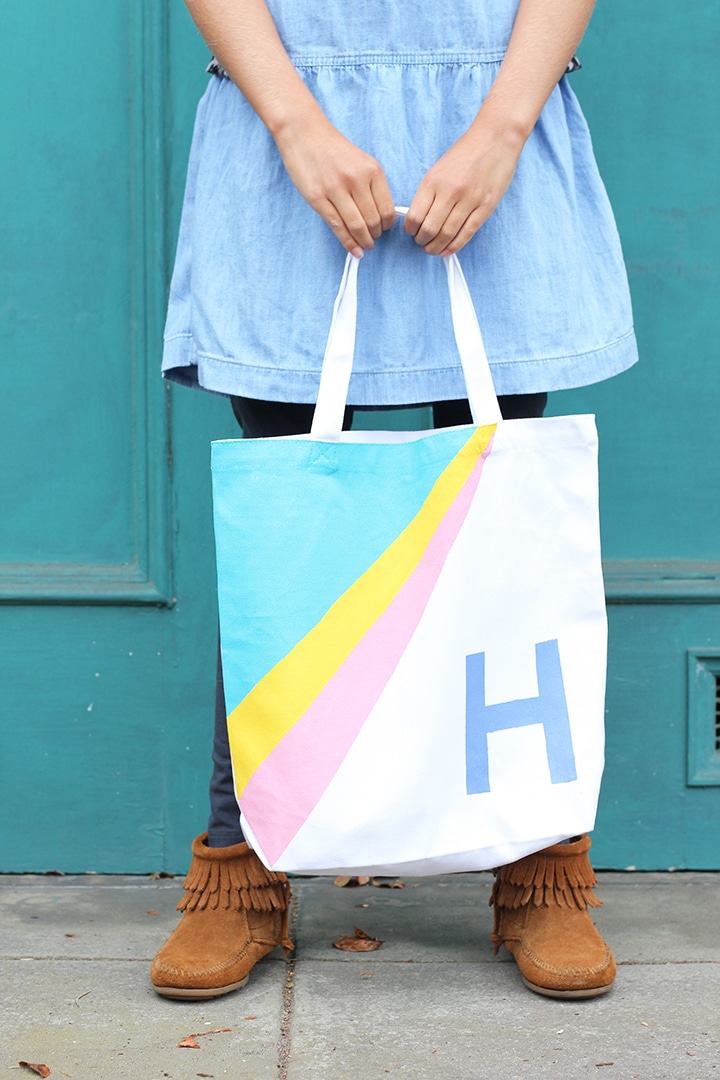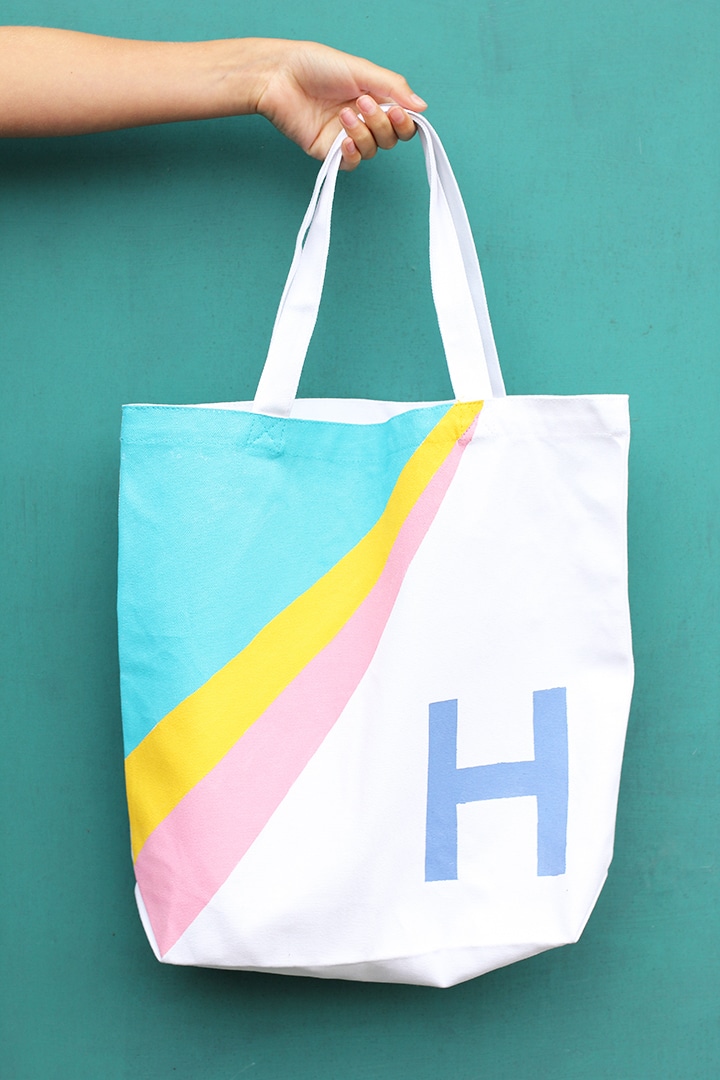 Photos by Sara Albers
This is a sponsored conversation written by me on behalf of Horizon Organic. The opinions and text are all mine.