Learn how to make these beautiful DIY Paper Bag Stars for holiday decorations.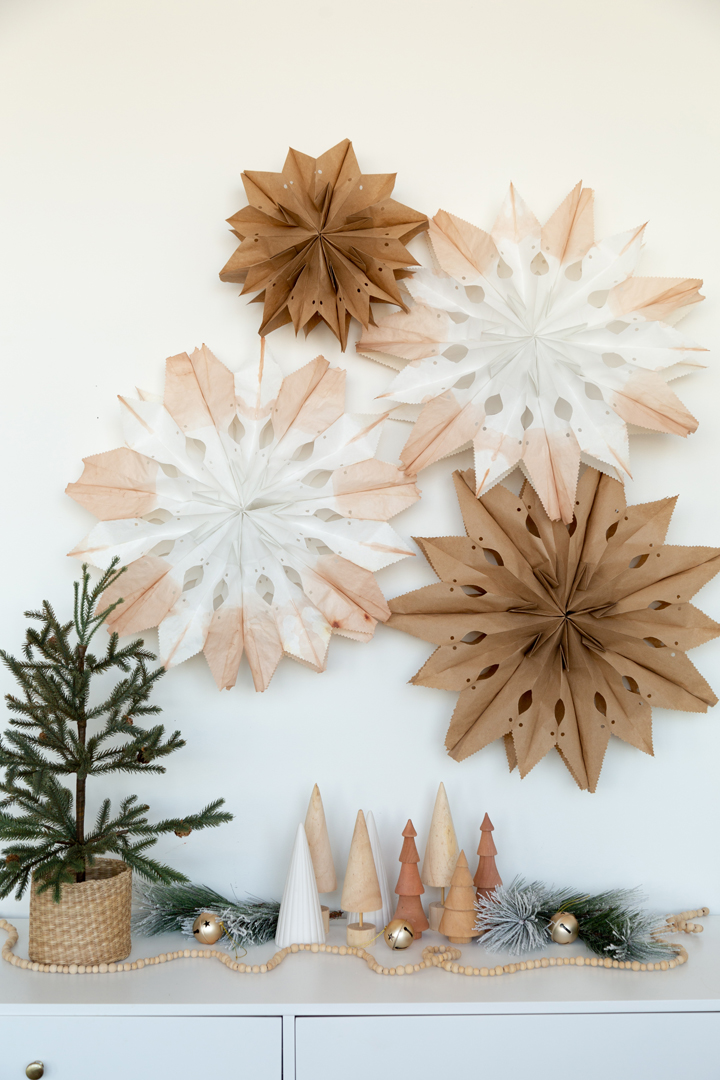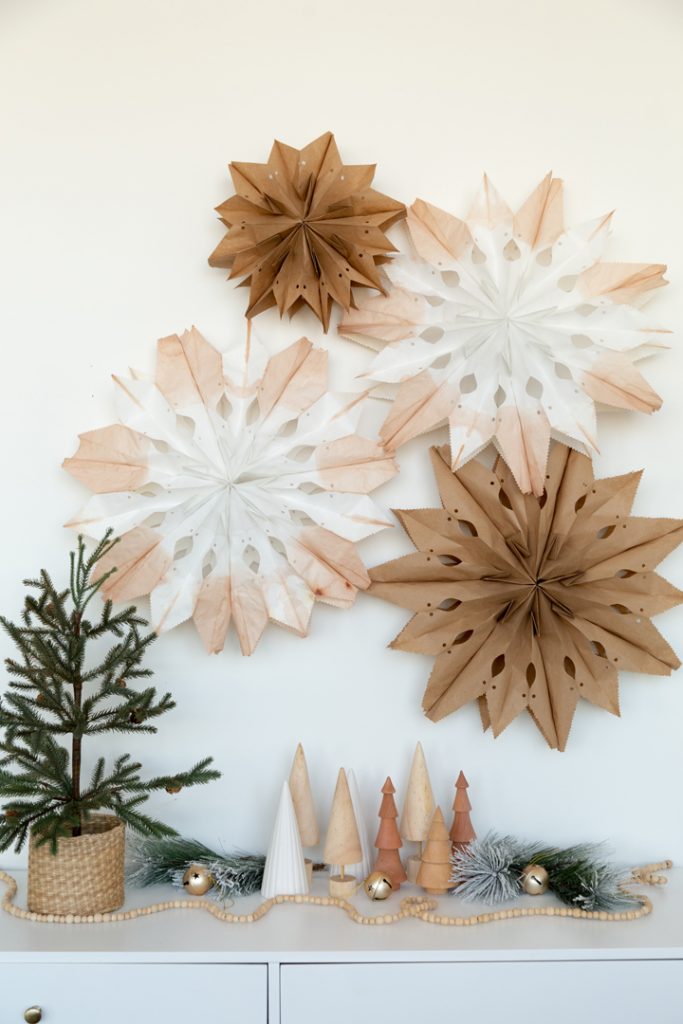 Don't you love when crafts you made as a child, teenager, young adult and now parent are still relevant? Well, these paper bag stars are just that!
I first remember making these paper bag stars as a child – with brown lunch sacks and paste. Yes, the paste that some kids in class would always try and eat! Ha!
You also might have seen these handmade stars on the internet this month – they have been an Instagram darling these last few weeks. Regardless of their popularity – we wanted to share our versions. These DIY Paper Bag Stars bring back such wonderful memories of crafting.
These DIY Paper Bag Stars make the perfect holiday decor since they resemble snowflakes.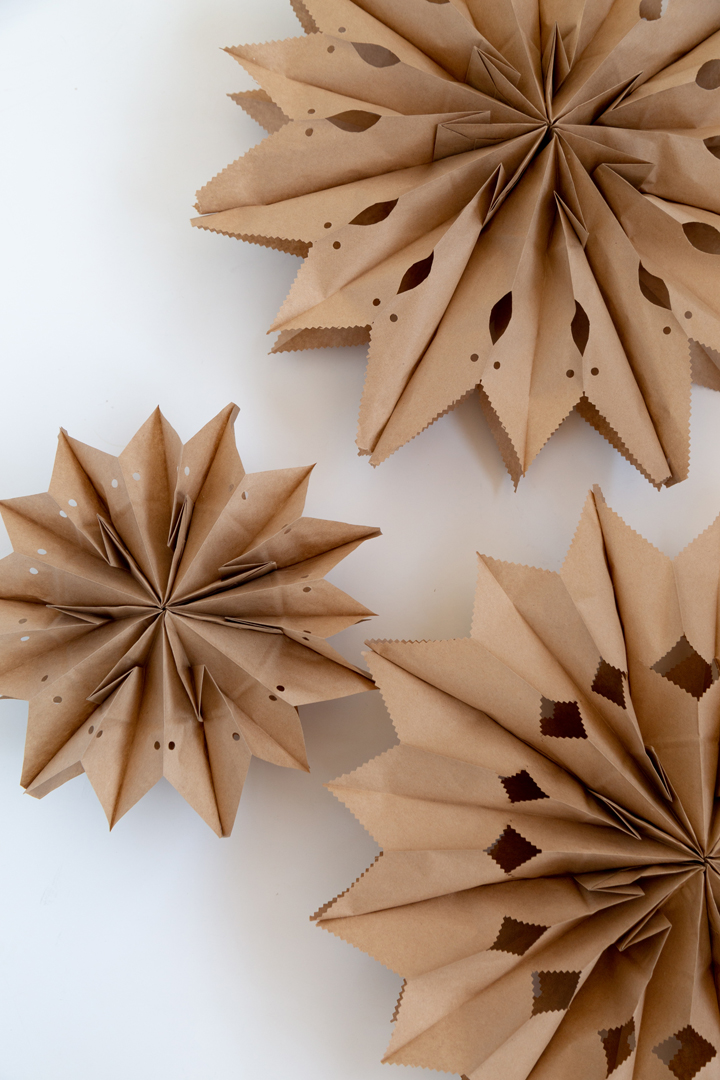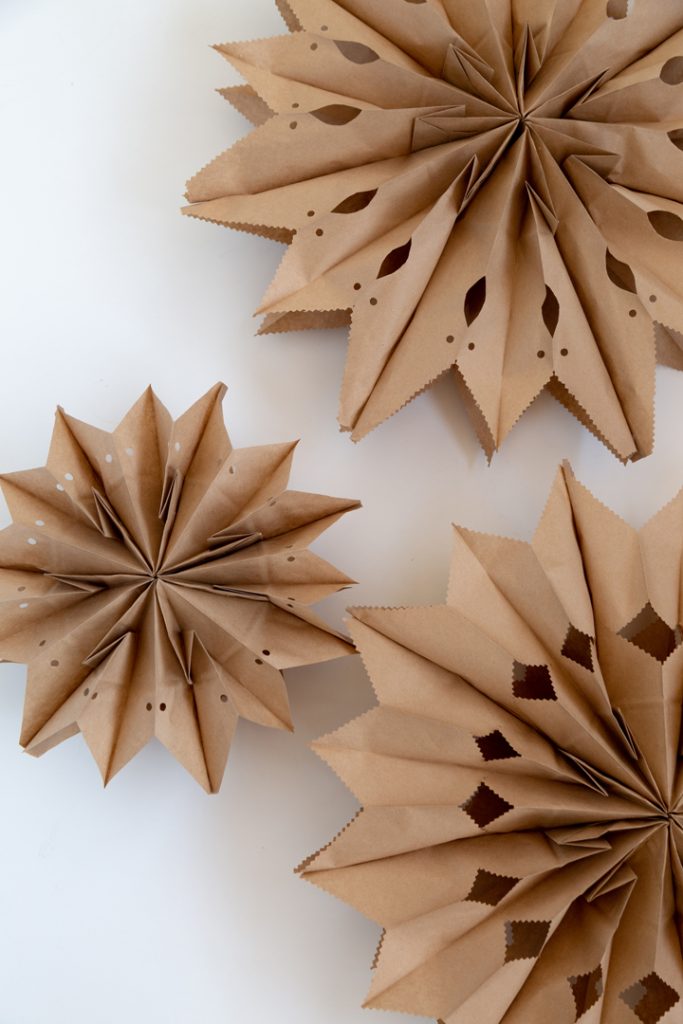 Hand Dyed Paper Bag Stars
A new spin on the traditional brown bag star is using white bags. You know we love dyeing fabrics (indigo, ice dye, natural dye). We used a dip dye method with the white bags to give a tie dye vibe. You could even dye the entire bag if you'd like.
We have made these for a baby shower before and used different shades of pink dye. So pretty!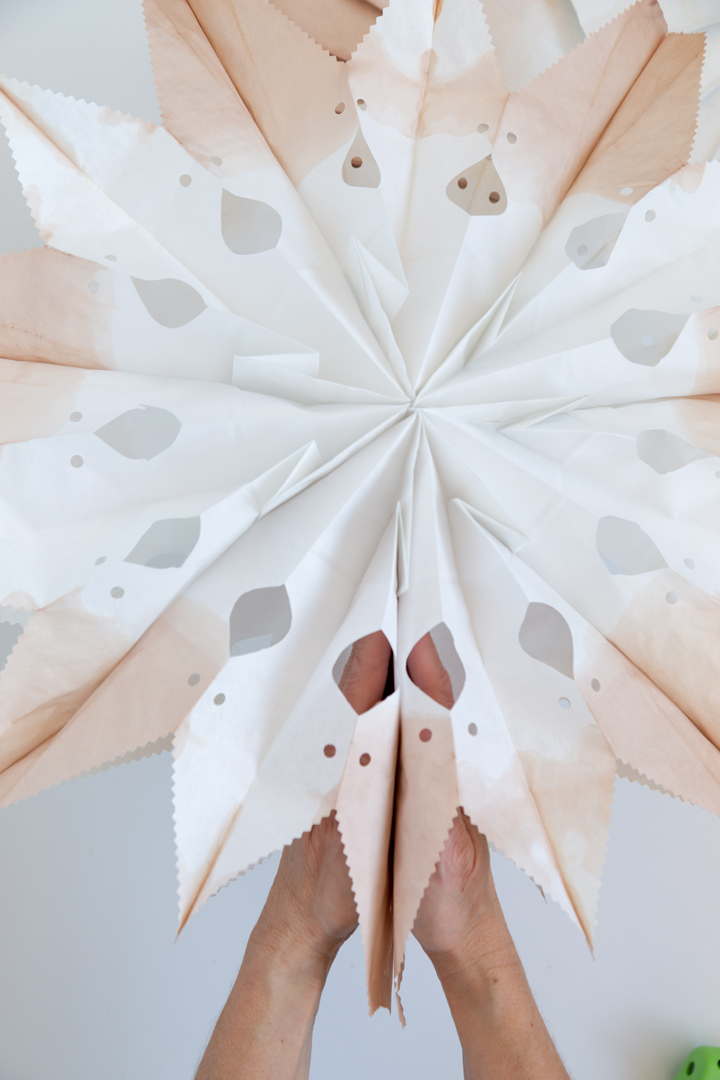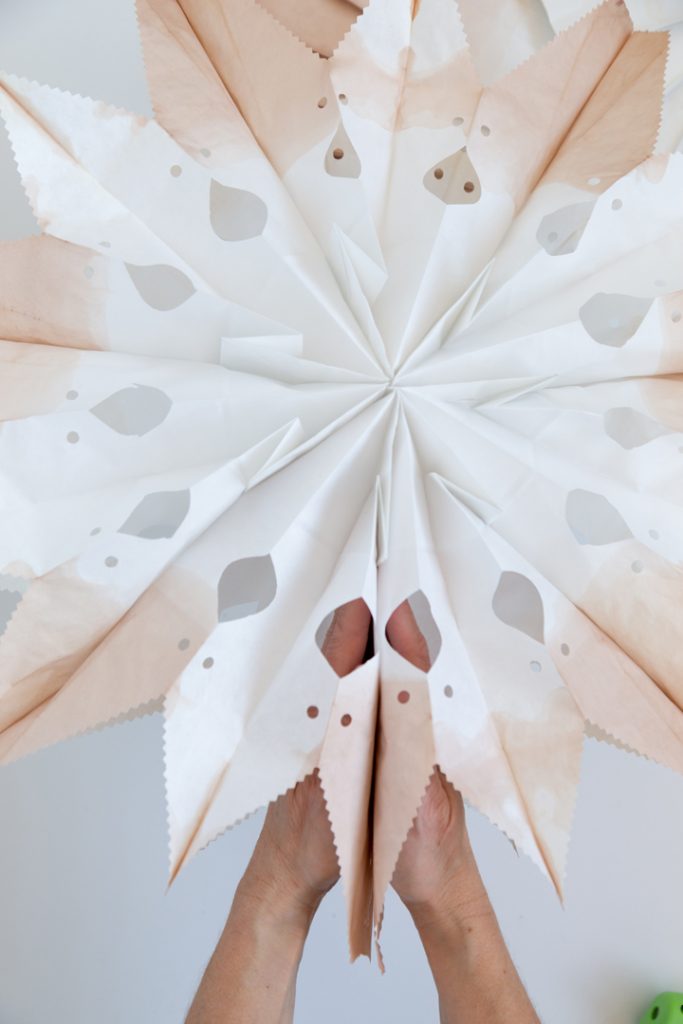 Paper Bag Star Supplies
You only need a few materials to make these darling DIY Paper Bag Stars. We like to use white bags and regular craft paper bags.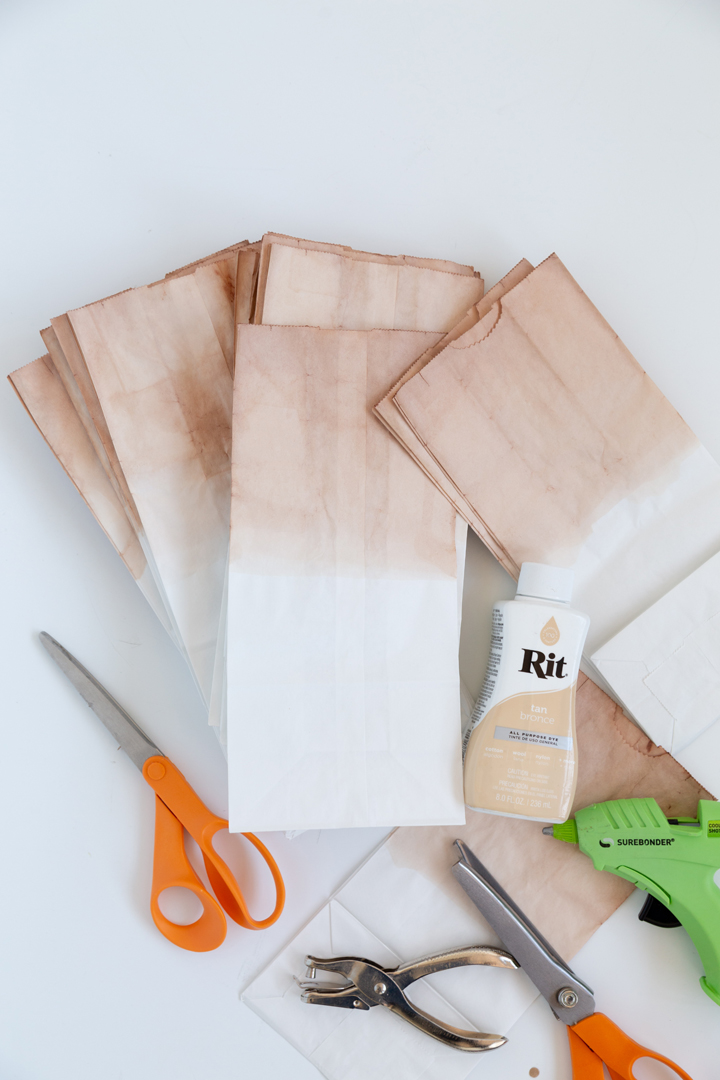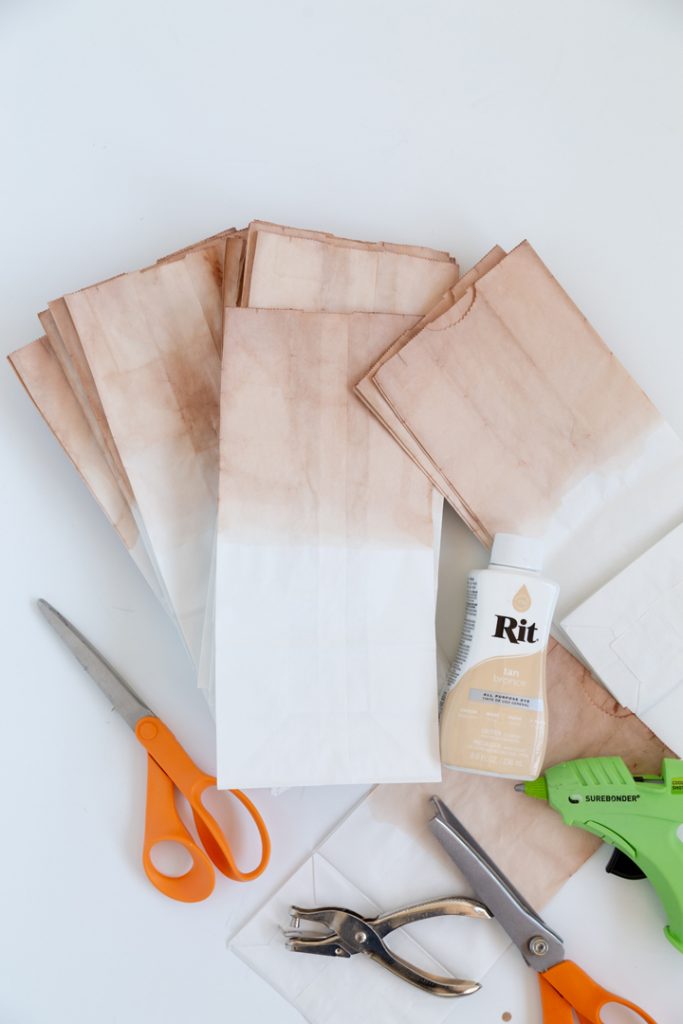 DIY Paper Bag Star Patterns
See a few of the patterns we made for the stars.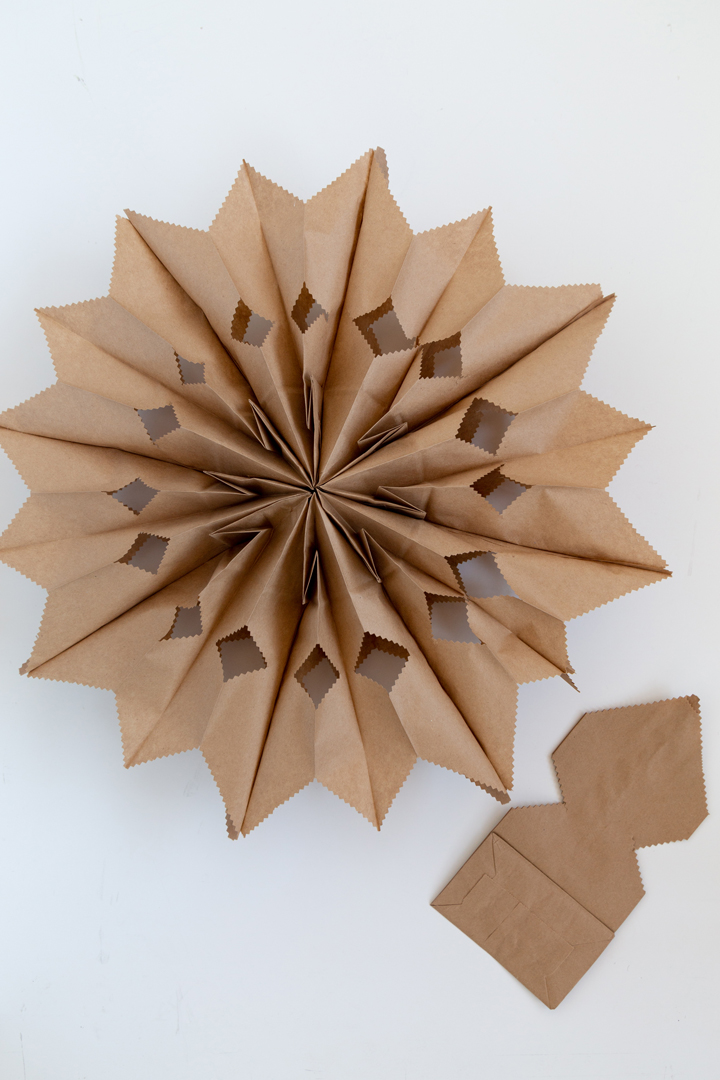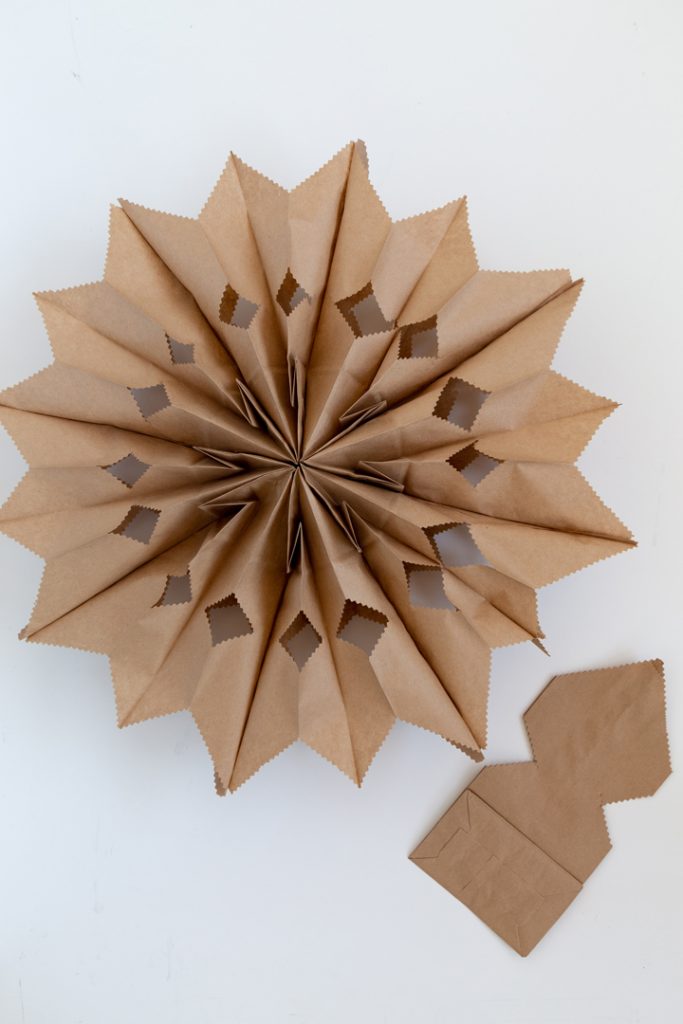 Pinking shears (zig zag scissors) are the key for the fun zig zag pattern on these paper bag stars. We cut the top of the bag at an angle on each side to meet to a point. Then cut out a triangle shape on each side of bag.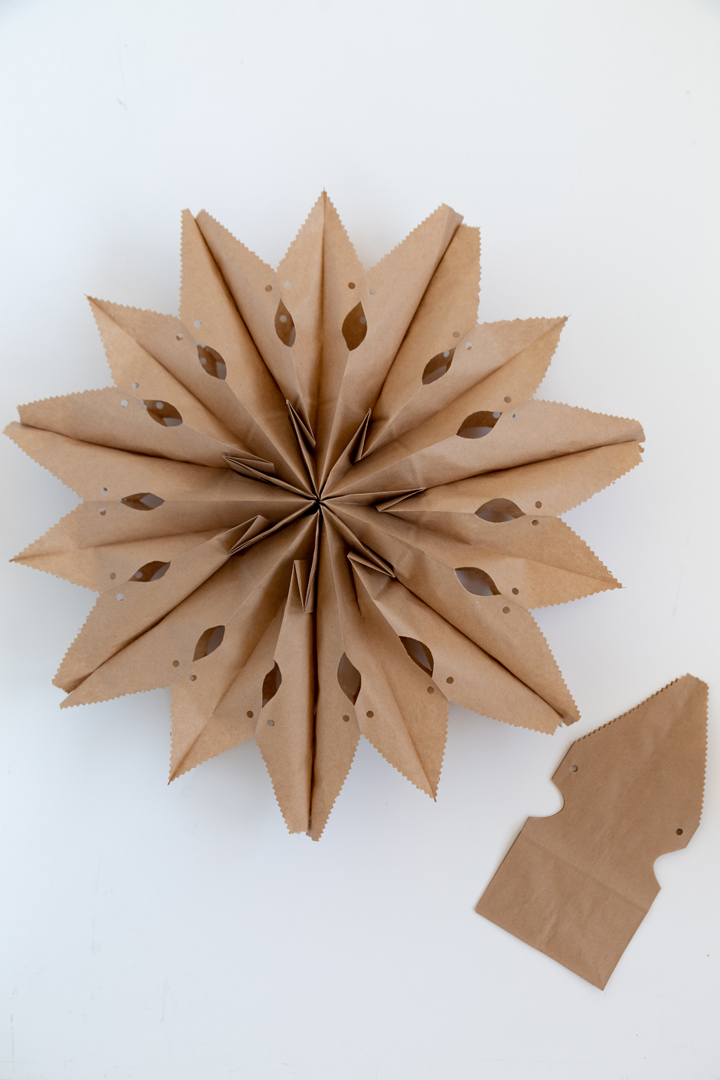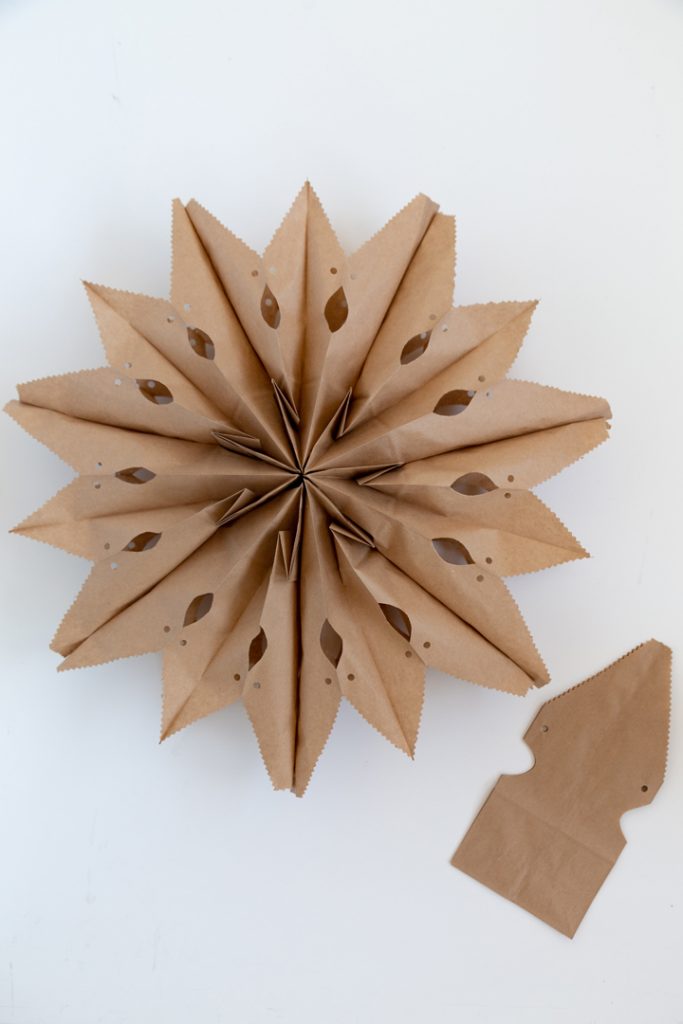 This paper star style uses pinking shears and regular scissors – and a hole punch!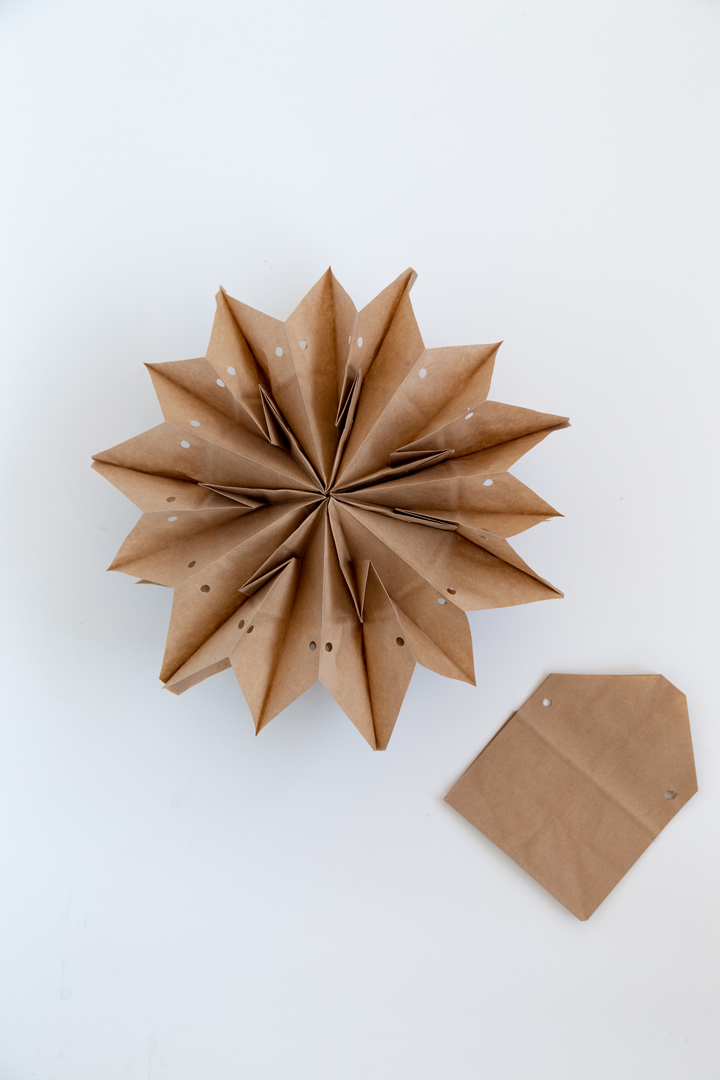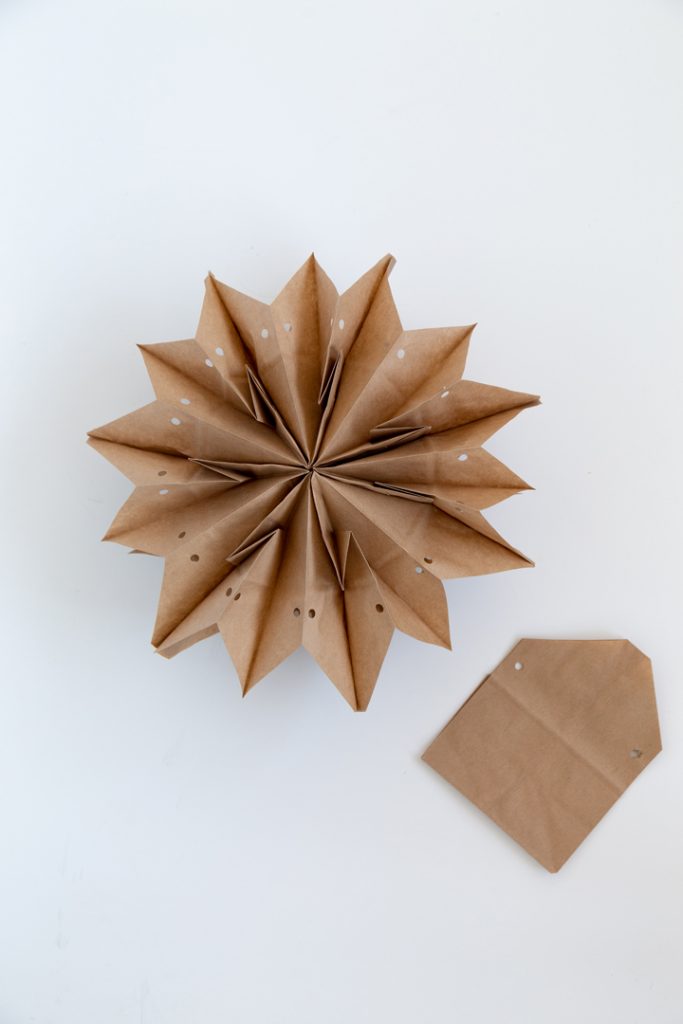 See the step by step tutorial below for how to make these holiday decorations!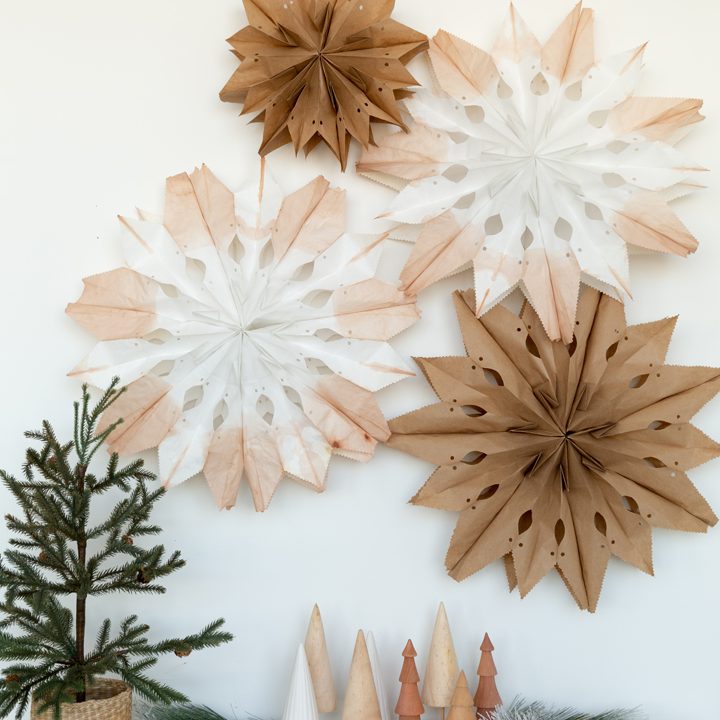 DIY Paper Bag Stars
Learn how to make DIY Paper Bag Stars - adding a tie dye look! We use a dip dye method using watered down paint.
Materials
White paper bags
Brown paper bags
Tan Rit Dye
Plastic bowl
Tools
Hot glue gun
Scissors
Pinking shears
Hole punch
Instructions
First start by dyeing the white bags. I used tan Rit Dye. Pour desired amount of dye into hot water and mix. Dip the top half of bag into dye for about one minute. I hung mine from my clothing drying rack. Allow to completely dry.
Next choose a pattern. You will need 7 bags to make a star. We used pinking shears to create a zig zag look at the edges. See images for the two patterns we used.
Cut all 7 bags with the same patter.
Add a hole punch for more detail!
Lay the bag flat, with the smooth part facing up. Add a "T" of glue and lay the next bag on top.
After glueing the 7 bags, add glue to the front of bag and pull the last and first bag together. I like to slide my hands inside those bags to pull together.
Tape onto the wall using scoth tape or my personal favorite - sticky tac
Notes
You can also find colored paper bags at many large craft stores. This would be a fun way to decorate for a birthday party with a fun color theme. How fun would it be for a baby shower as well with pastel colored bags!?
Recommended Products
As an Amazon Associate and member of other affiliate programs, I earn from qualifying purchases.
View this post on Instagram
You can also buy pattered bags and other solid colors to create beautiful decor. How cool would white paint look splattered on the front of the brown paper bag stars?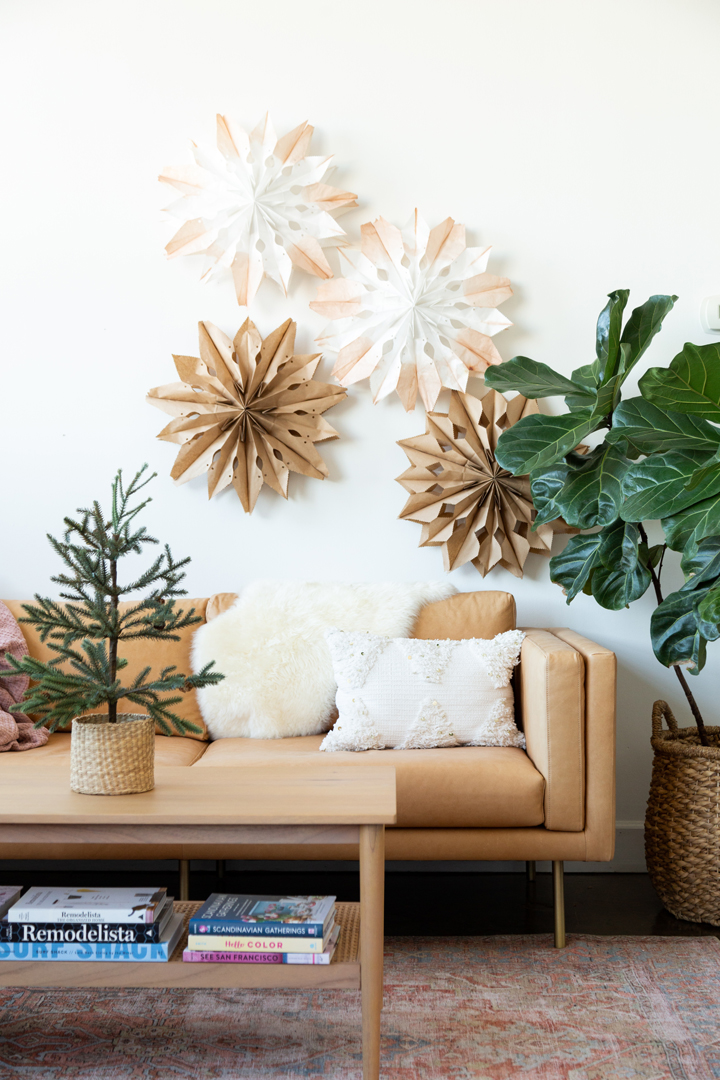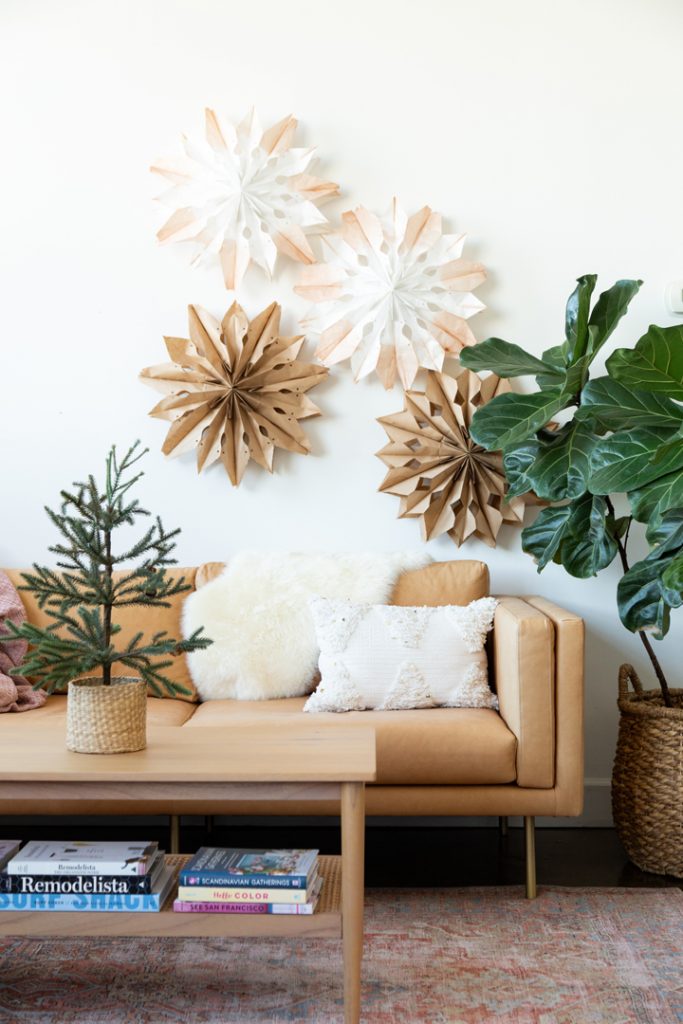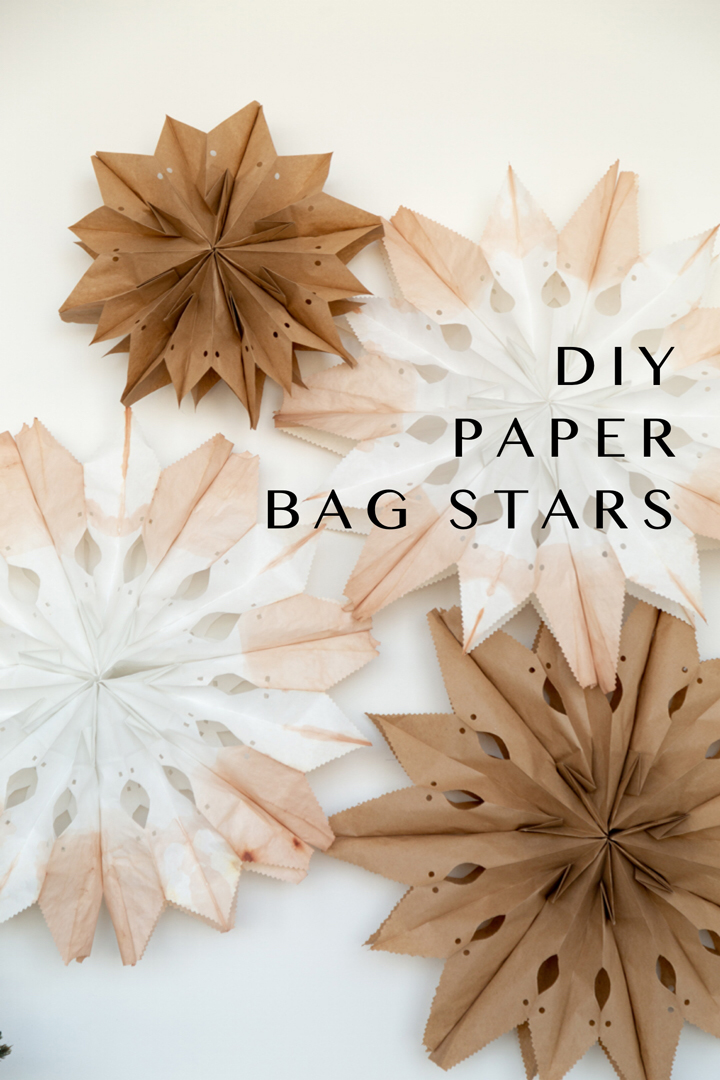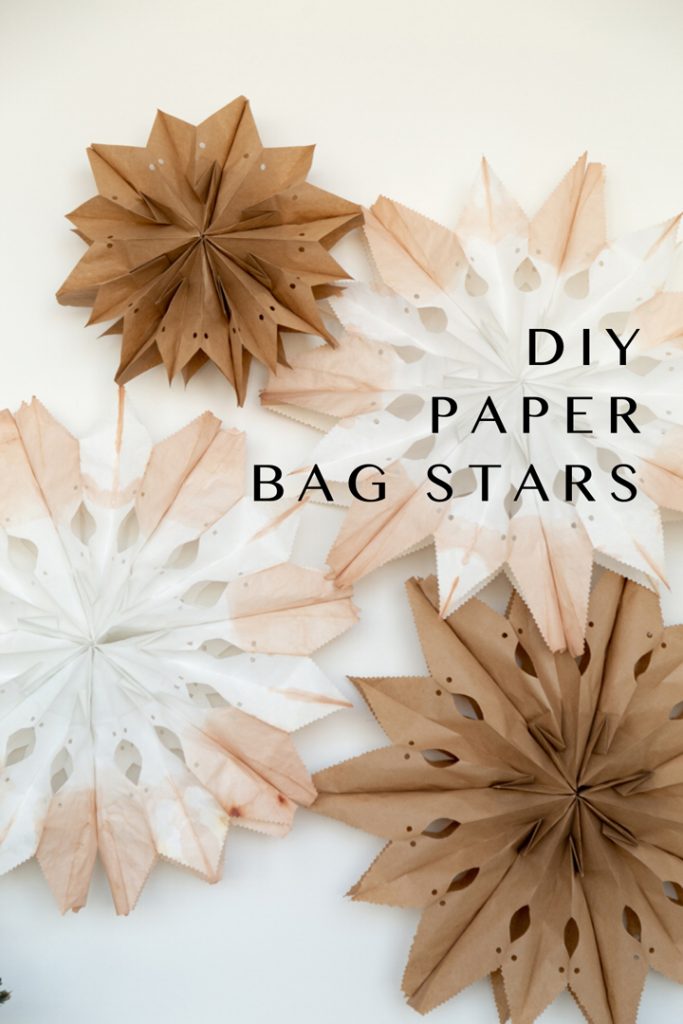 Check out more of our handmade holiday decoration ideas!
Handmade Holiday Decor Ideas
Are you looking for some simple and festive handmade holiday decor ideas? You have come to the right place! Check out a few of our favorites...