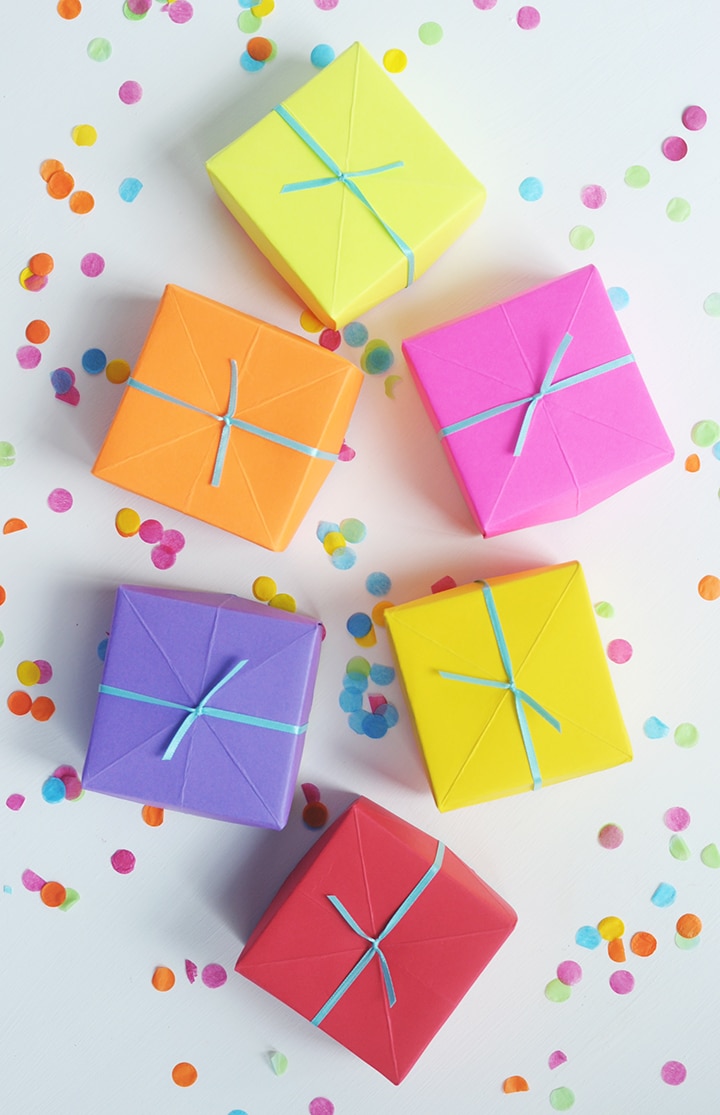 We love DIY projects that are versatile in every sense of the word. Versatile projects that can be as much fun for the kids as it can be for adults, and versatile in how the finished project can be used. These DIY paper boxes can be gift boxes, trinket boxes to hold kid's treasures, little storage boxes for your office supplies or hold all your precious small craft supplies.
We partnered with our friends at AstroBrights® Papers this week to share our tutorial for these colorful DIY paper boxes.
Read more for the full tutorial…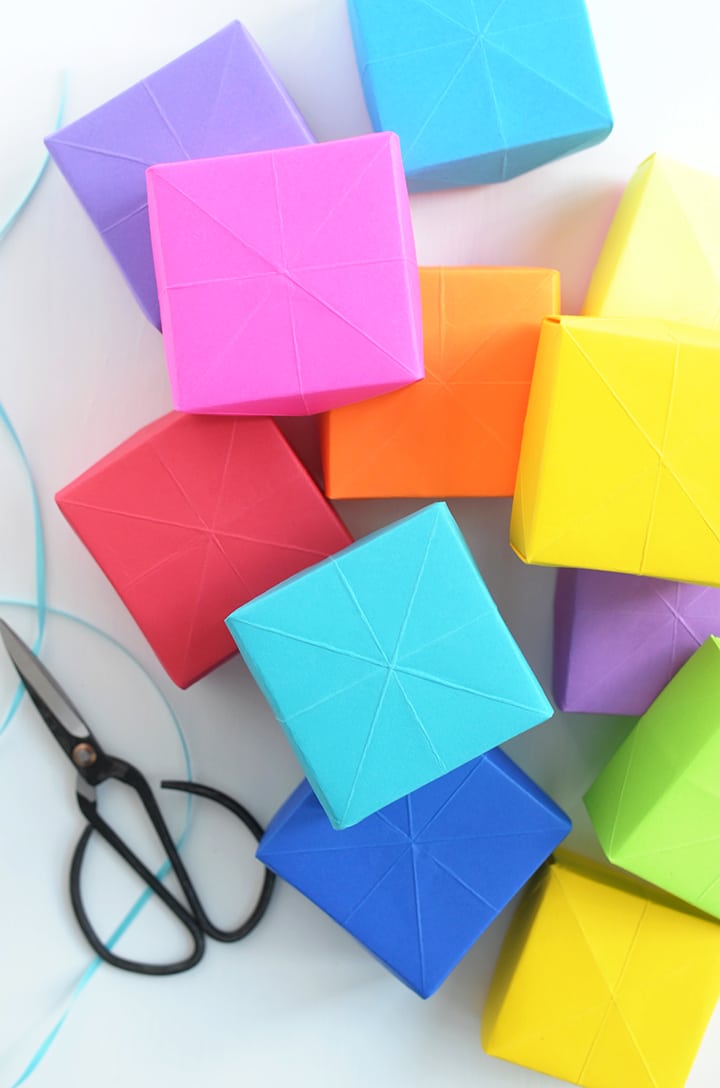 This is a great way to try your hand at origami. This box may at first appear on the difficult side, but in actuality, it's a pretty easy paper folding project.
These sturdy and colorful paper boxes can be used for the holidays. Thinking these would be such a fun way to create a new advent calendar this year. They also would be great for your home office. Choose colors that add pops of color on your desk.
Our favorite way to use these boxes? As gift boxes! Once you get the hang of the folds, you can put on the latest episode of Game of Thrones and crank out a dozen of these paper boxes.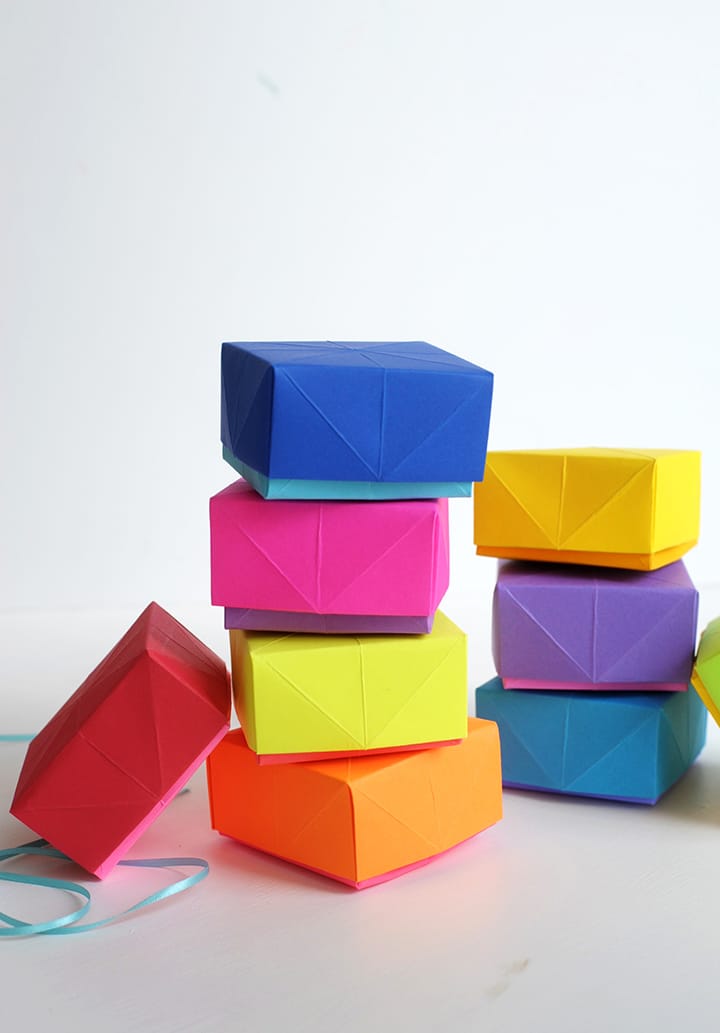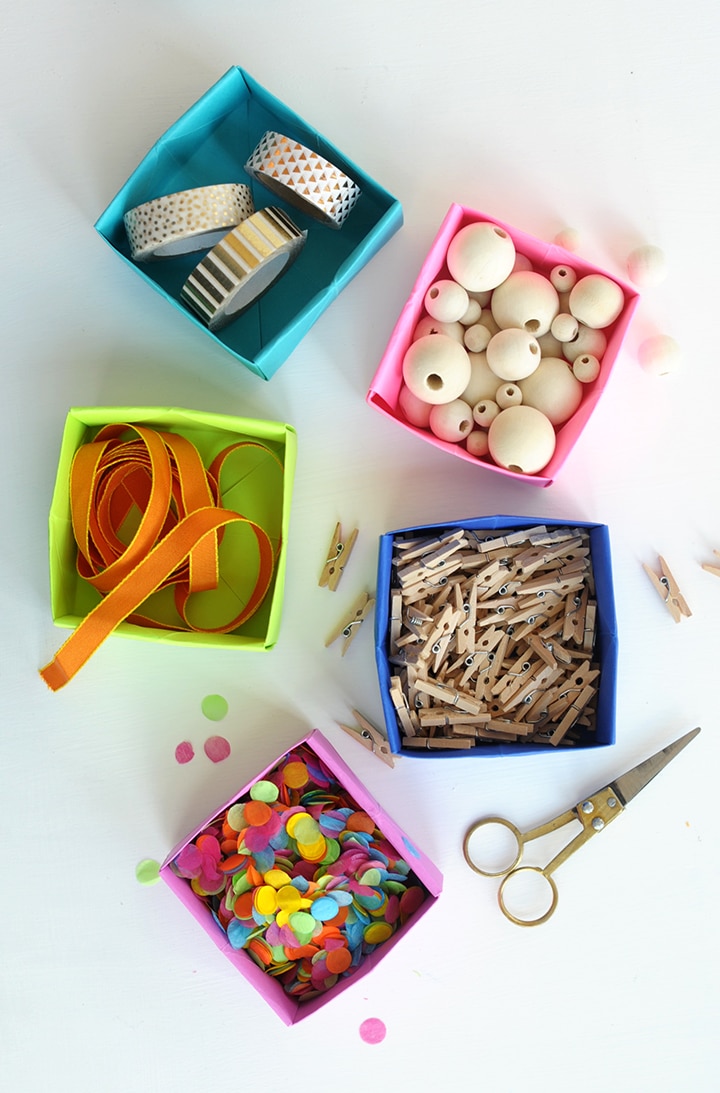 We love to make them in all of Astrobrights vivid colors. The top of the box in one color, the bottom in another. Astrobrights has the biggest selection of bright colors, from Cosmic Orange to Solar Yellow to Venus Violet and Fireball Fuchsia and Lunar Blue. We had so much fun picking from all of the bright colors! Some of our favorite color combos for the two toned boxes include: Fireball Fucshia and Planetary Purple, Re-Entry Red and Celestial Blue, and Cosmic Orange and Solar Yellow.
Supplies:
Astrobrights 8.5 x 11 paper, scissors
You can choose between card stock and regular weight paper, however we chose card stock to make these boxes sturdier.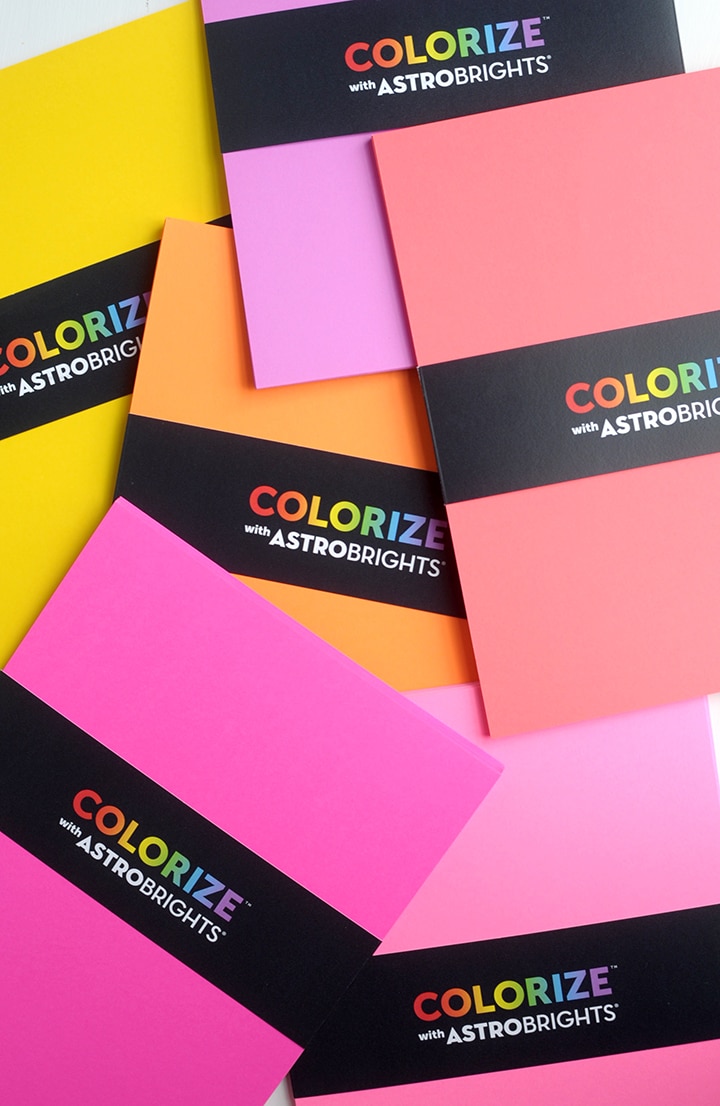 Steps:
Fold your sheet of 8.5 x 11 Astrobrights color card stock to create a square. It's good to make a significant score with your fingernail. Simply run your fingernail along each fold. You can use a bone folder, but it's easy to use your nails, too. Take bottom corner and fold up to top.
Cut excess paper, making a square.
Fold paper in half in triangle shape.
Unfold triangle and fold in half in rectangle shape.
Fold bottom fourth towards center line. Repeat fold to create quarter folds.
Repeat in other direction. Fold in half in rectangle shape, then in fourths. You should now have 16 "squares."
Next, just like making a cootie catcher, fold all corners up to the middle of the square.
Complete folds and score with fingernail.

9. Pull out two opposing triangles flat.
10. Fold up bottom triangle to middle line.
11. Repeat on top.
12. Unfold the previous two folds.
13. Pull out the other two triangles.
14. Repeat steps 10-11.
15. Now you're ready to form the box. Pull long sides up to be two walls of the box.
16. Using the scores, fold the bottom and top into the box to create the remaining walls. Fold tip into the center of the bottom of the box.
Pro Tip: To create the bottom of the box, you need to trim two sides of the 8.5 x 11 paper before you create the square. I like to trim at least a quarter inch off the sides. This makes the bottom box just smaller enough to fit easily.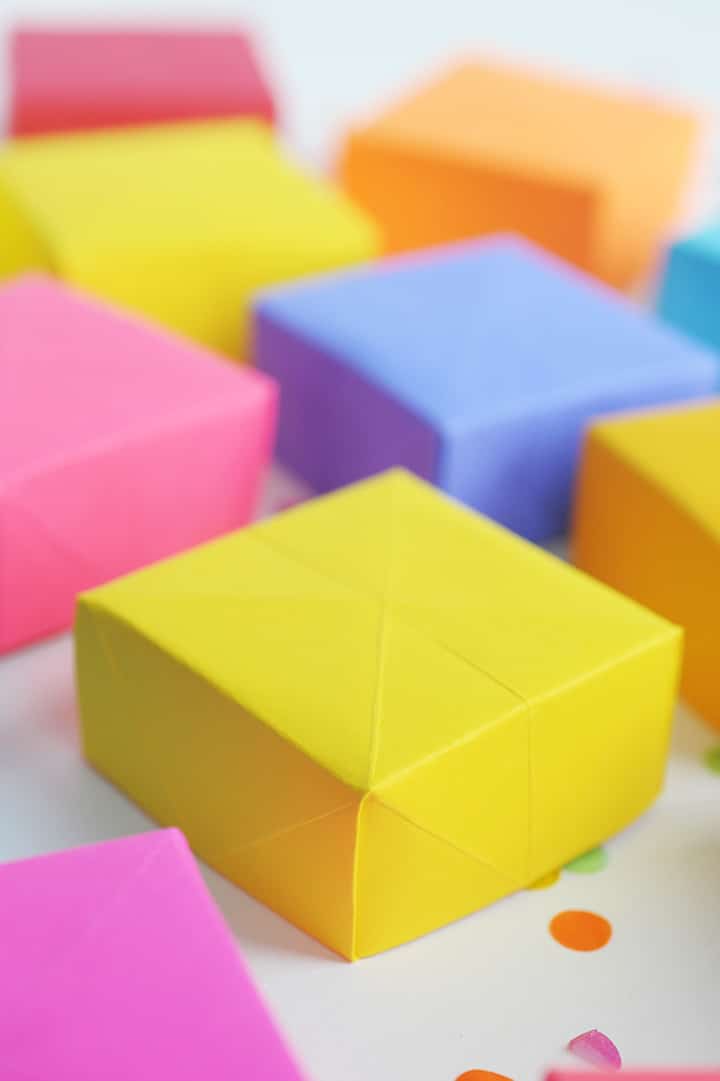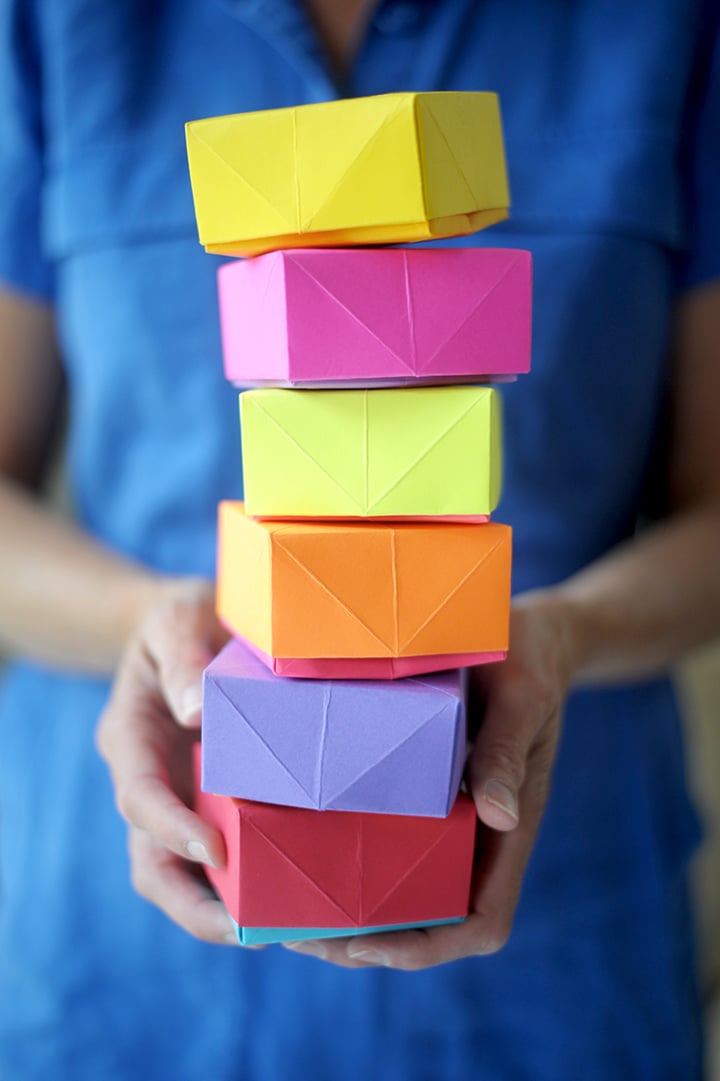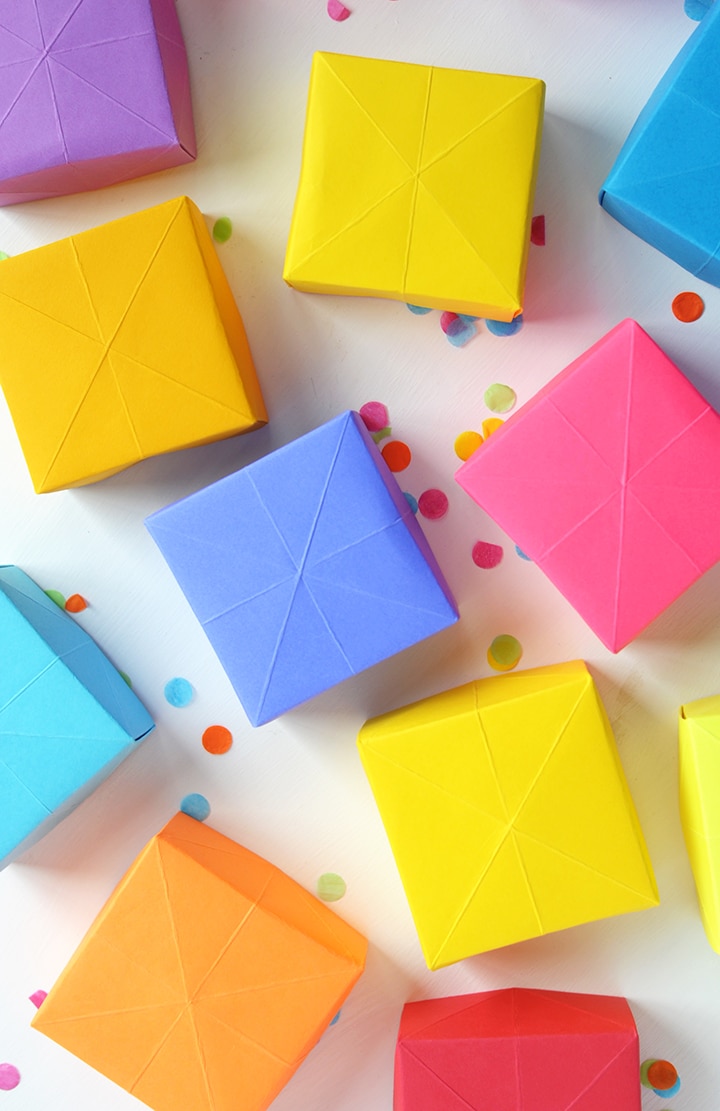 Top the box with your favorite ribbon or keep plain and let the score marks really shine. They make such gorgeous patterns!
Have fun creating these DIY paper boxes. Just a fair warning, making these boxes is a bit addictive! Can't wait to see your colorful creations with Astrobrights Papers!
Thank you so much to AstroBrights® Papers for sponsoring this post. And thank you for supporting the brands who support Alice & Lois.
Photos by Melissa Fenlon.