DIY Shibori Indigo Cloth Napkins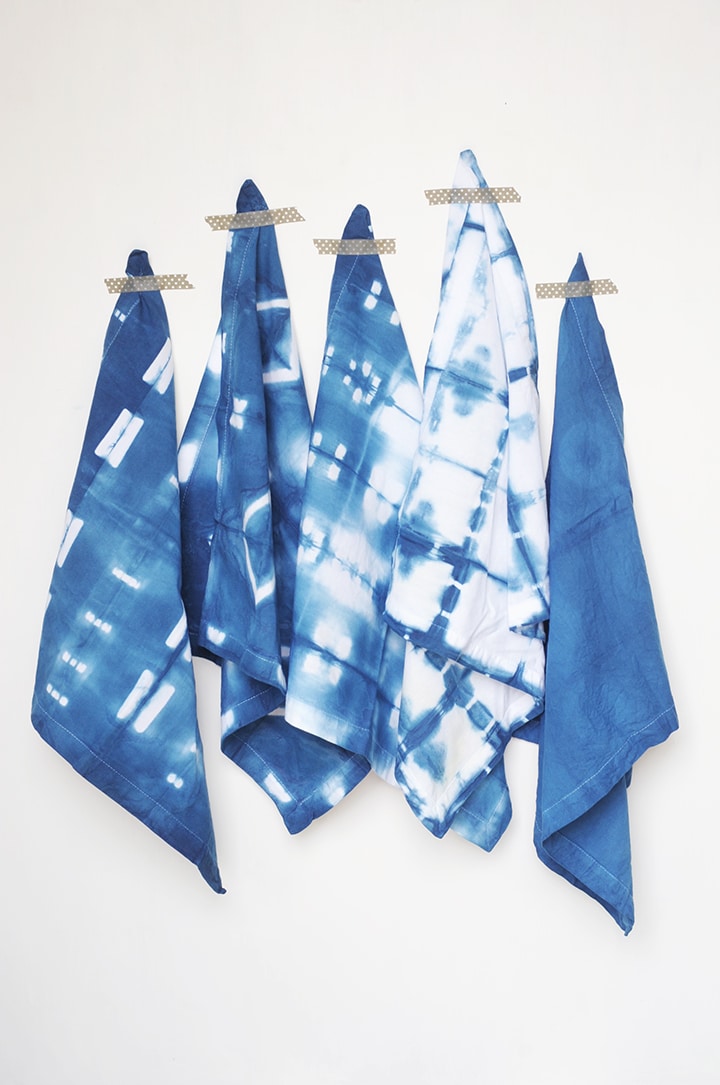 It's a tradition that every summer when Sara comes to visit me in Crested Butte that we get out the indigo kit, mix up some dye and start folding anything we can find that is white cotton in the shibori technique. We've fallen in love with indigo, especially dyeing using the shibori method. Folding squares and triangles, figuring out what we can use as unique clips and wood blocks to reveal an interesting pattern is the absolute best!
You can tell we're addicted to shibori and indigo by all of the projects we've featured – Pillows, this Wall Hanging and our very first shibori tutorial.
Today we're sharing some new patterns we created in this DIY Shibori Indigo Cloth Napkins Tutorial. We think you're going to love them as much as we do!
Read more for full tutorial…
Supplies: Indigo Dye Kit  / white 100% cotton fabric cloth napkins  /  2- 5 gallon buckets  /  rubber bands  /  wood blocks or tiles  /  rubber gloves  /  drop cloth or trash bags  /  scissors  /  paint sticks   /  binder clips  /  wood plant stakes  /  clothespins
A few tips prior to dyeing – read the pamphlet that comes with the kit. It is full of valuable information! The more you know going into it, the easier it will be. Make sure the fabric you are using is 100 percent natural. The indigo dye will not dye anything other than 100 percent natural fibers.
Follow the dye mixing instructions on your kit. We like to let our mixture covered for one hour, then remove the flower and start dyeing!
Here are some of our new favorite folding and binding techniques: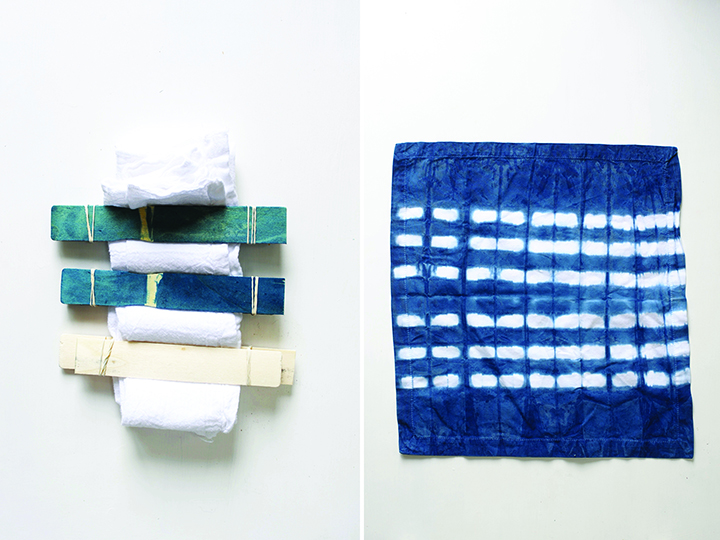 Begin by folding your fabric accordion style. For this particular design we did initial accordion fold on the longer side of the napkin, then folded it in half.
Use paint sticks (that we cut in half) to create three bindings. Use rubber bands to secure them very tightly.
Wearing rubber gloves, submerge the fabric into the dye bucket. Hold and massage the fabric under the dye (without touching the bottom of the bucket) for 3 to 5 minutes.
Remove the fabric from the dye. The fabric will look green, not indigo. Let rest and oxidize. You will see the magic happen – from green to indigo! Once oxidized, you can repeat the dyeing process for a deeper, darker indigo color. We repeated a second time. Remove the rubber bands and wood/tiles and lay flat for the full oxidization.
Wash in cold and tumble dry.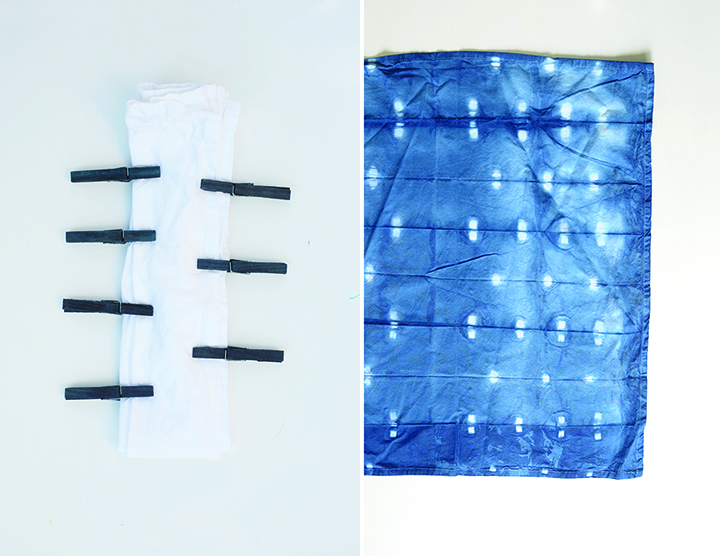 We love the simplicity of the design created by clothespins!
Accordion fold your piece of fabric, then fold in half. Simply clip clothespins to the fabric and follow directions for dyeing above.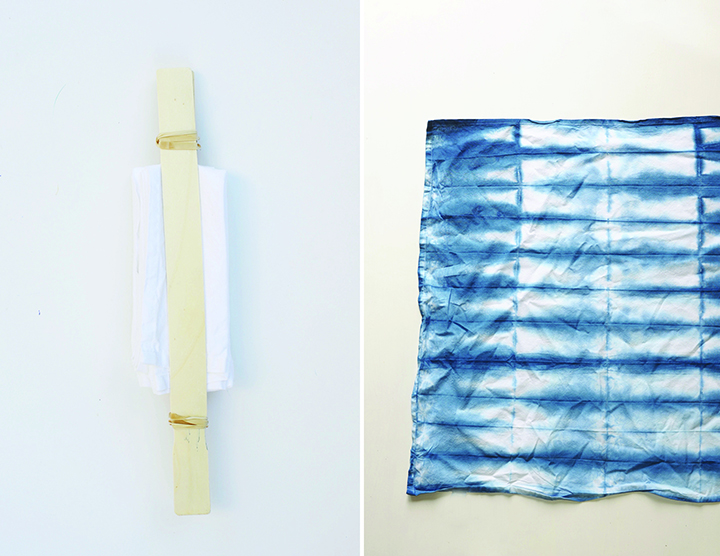 Loving this linear look we created with paint sticks.
Accordion fold your fabric, then fold in half and tightly secure two paint sticks with rubber bands. Follow dyeing instructions above.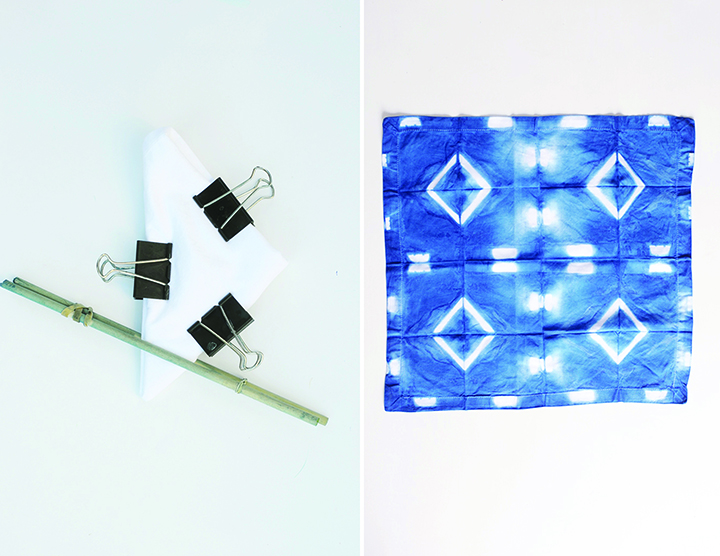 The triangle folding technique has become an absolute favorite! You can create such unique patterns folding your fabric like a flag.
Fold fabric in standard accordion fold. We like doing a wider accordion fold in this method. After the initial accordion, then fold your fabric in a triangle, like you are folding a flag.
Then use binder clips, clothespins, wood blocks (anything you wish) to create your pattern. Above, we used binder clips and plant stakes to create this look.
Follow dyeing instructions above.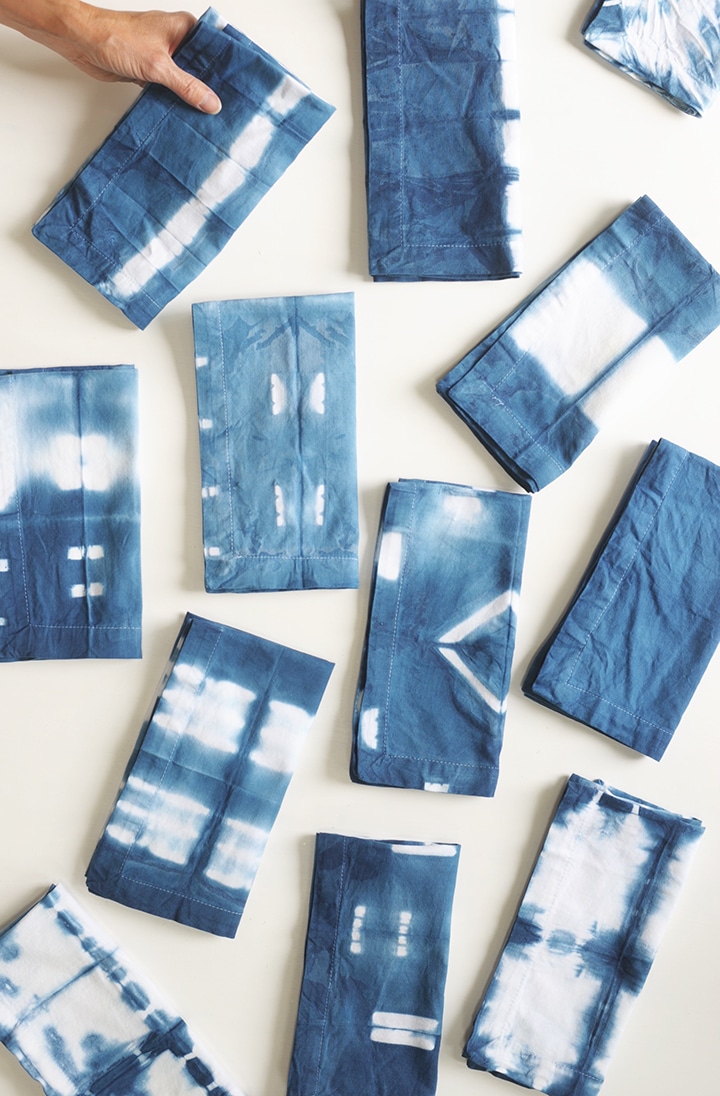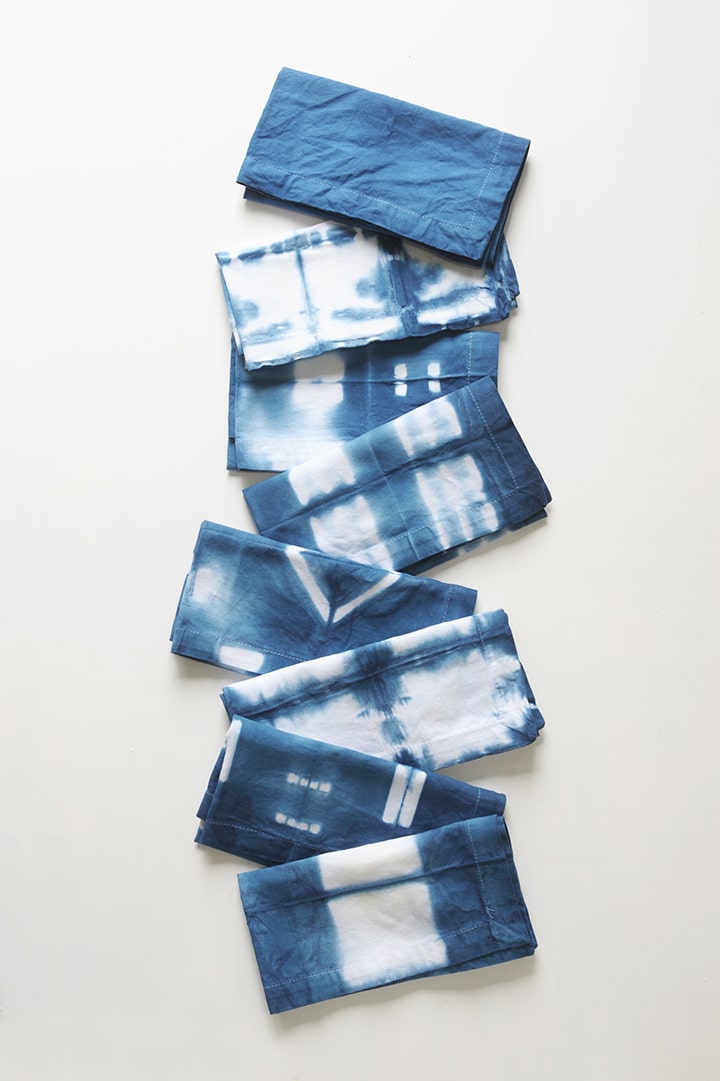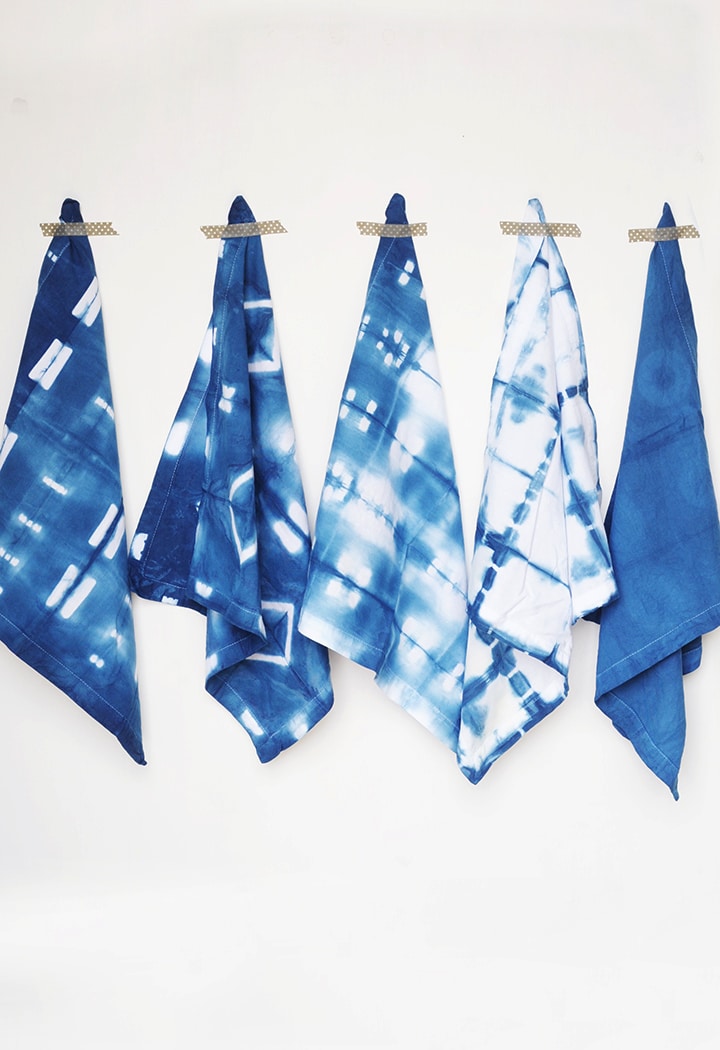 Images by Sara Albers and Melissa Fenlon, all rights reserved.