See just how simple it is to make this DIY Vote Sweatshirt using iron on letters and a bit of embroidery.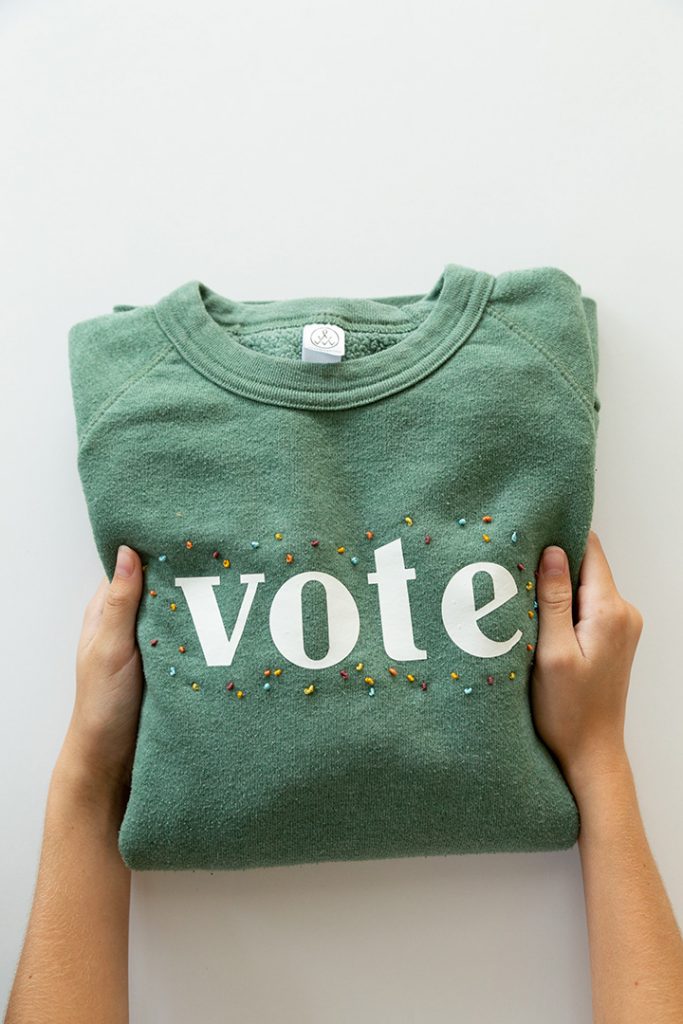 We wanted to make something to show our passion for getting out there and voting! It is so important to get out there and VOTE! Often as a crafter I get caught up in the work projects instead of personal projects, and this was the perfect little passion project. It is incredibly simple to make this sweatshirt – a project that would be great to make with your kids.
You could also use this same technique on a t-shirt or canvas bag!
DIY Vote Sweatshirt Supplies
Embroidery needle
Iron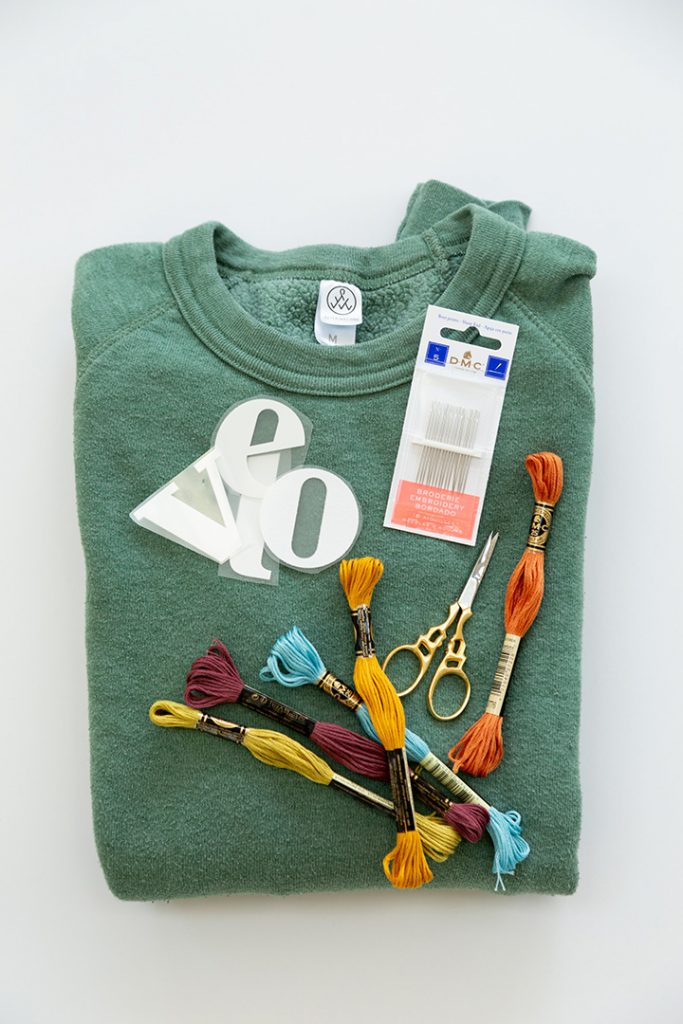 DIY Vote Sweatshirt
Learn how to make this DIY Vote sweatshirt with a touch of embroidery!
Materials
Sweatshirt
Iron On letters
Iron
Embroidery thread and needle
Instructions
Wash and dry sweatshirt
Cut out iron on letters and lay onto sweatshirt
Lay a cotton towel on top of letter and iron (following directions on packaging)
Allow to cool and remove the plastic layer
Add some color and texture by embroidering french knots onto the sweatshirt. I used five different colors of thread.
Notes
You can add any word onto a sweatshirt that you wish. We made this VOTE sweatshirt during the last election. But you can add a name, a city, a statement! This makes a great gift for a friend as well.

Embroidery tips
We love adding embroidery to unexpected items – like this project we made a few years back. Adding french knots is a favorite technique. Simple thread the needle and tie a knot at the end. Push the needle through to the front of shirt. Wrap thread around the needle three times (standard is two but I wanted the knot to the be bigger) tightly. Push the needle through close to the original hole. Tie the ends together on the back to secure. You can add a tough of fabric glue to the knot on the back to keep really secure.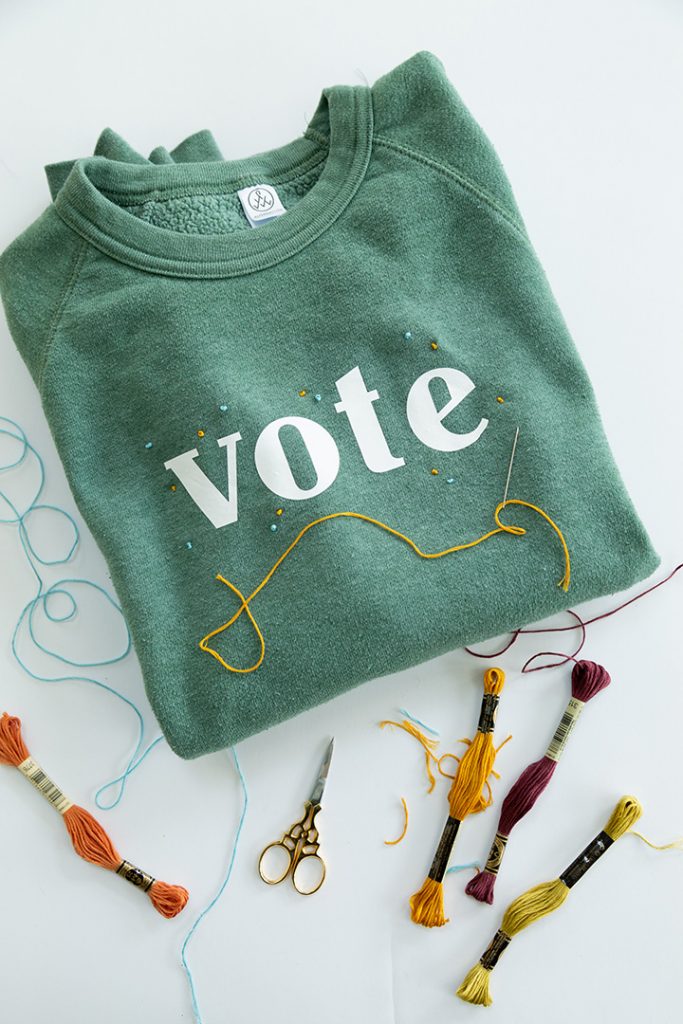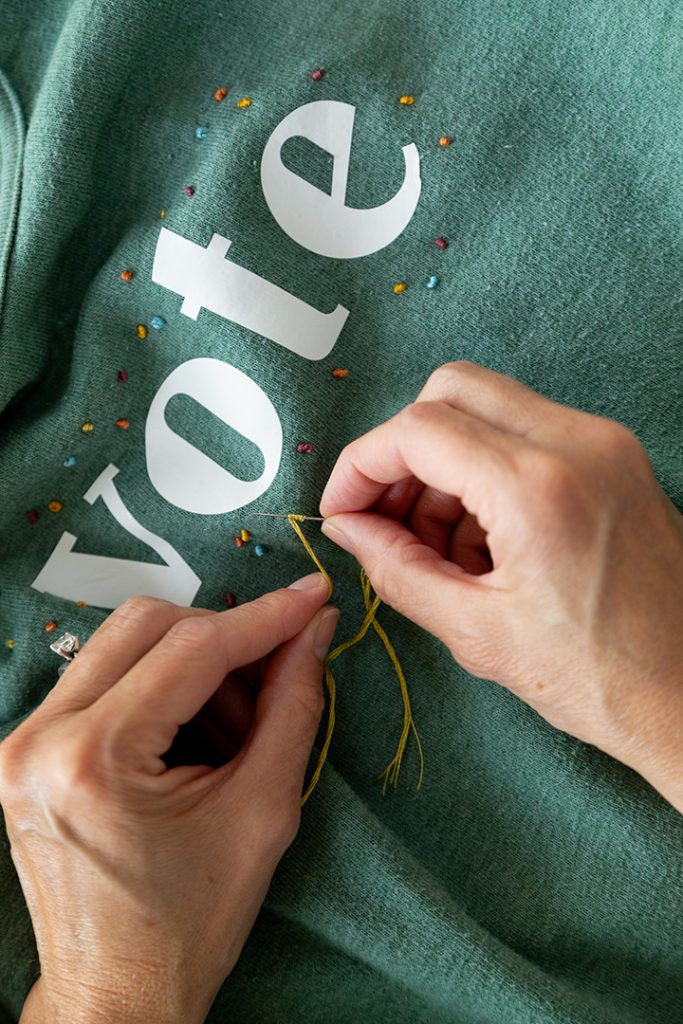 Some other iron on letter options that we love are:
Ideas for sweatshirts