Get ready for a quick and easy wood planter or vase with this DIY Wood Dowel Vase project.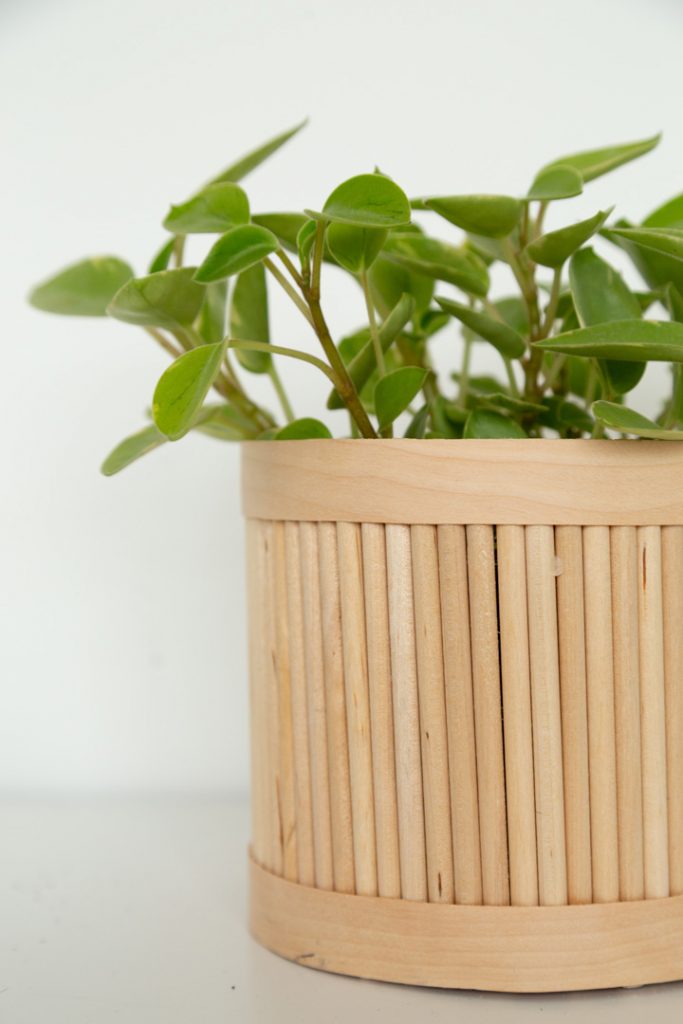 Have you been noticing all of the fluted wood detailing on furniture lately? DIY or store bought, wood fluting and paneling is so on trend. Here is our version of the popular look with this DIY Wood Dowel Vase (or use as a planter).
We used craft store wood dowels. They come pre-cut and pre-packaged. You can always use longer dowel rods from the hardware store, but you will need to make more cuts.
If you haven't used Iron On Veneer edging, you will want to keep finding projects to use this material on!
What is Wood Veneer Edging?
Wood veneer edging is an iron on wood tape in a sense. You can find it on Amazon or at your local hardware store. It comes in white birch or red oak traditionally. Used mostly as a finishing edge on plywood projects. You can iron on the edging to give a clean finished look to a desk, shelving, other furniture projects. The veneer comes with a glue that is activated by the a hot iron. You will fall in love with this material!

DIY Wood Dowel Vase Supplies
Glass vase (we thrifted ours from Goodwill)
Hand saw
Wood dowels (I used 12 inch dowels)
View this post on Instagram
How to make a DIY Wood Dowel Vase/Planter
Measure the dowel rod on the vase to determine the cut measurements needed.
Use a hand saw (or this mini circular saw would be perfect and quick!) and cut enough dowels to fit around the vase
Glue the dowels around the vase. I recommend using Gorilla glue hot glue sticks to adhere the wood to glass. Regular hot glue sticks might not hold the wood to vase as well as you want.
Next, wrap the wood veneer edging around the vase. This gives the vase a clean look without having to sand down all of the wood dowels. I love the look of the veneer around the top and bottom of vase. Use a hot iron to adhere the veneer edging to the vase.
You are going to want to make a bunch of these! They are simple to make and look so good. Since you use a glass vase, you can add fresh flowers to this project or use as a planter. I have a plant in mine, and pull the planter out to water it.