This post has been sponsored by Frito-Lay. All thoughts and opinions are my own.
Try our Easy Black Bean and Corn Salad for a picnic or family party!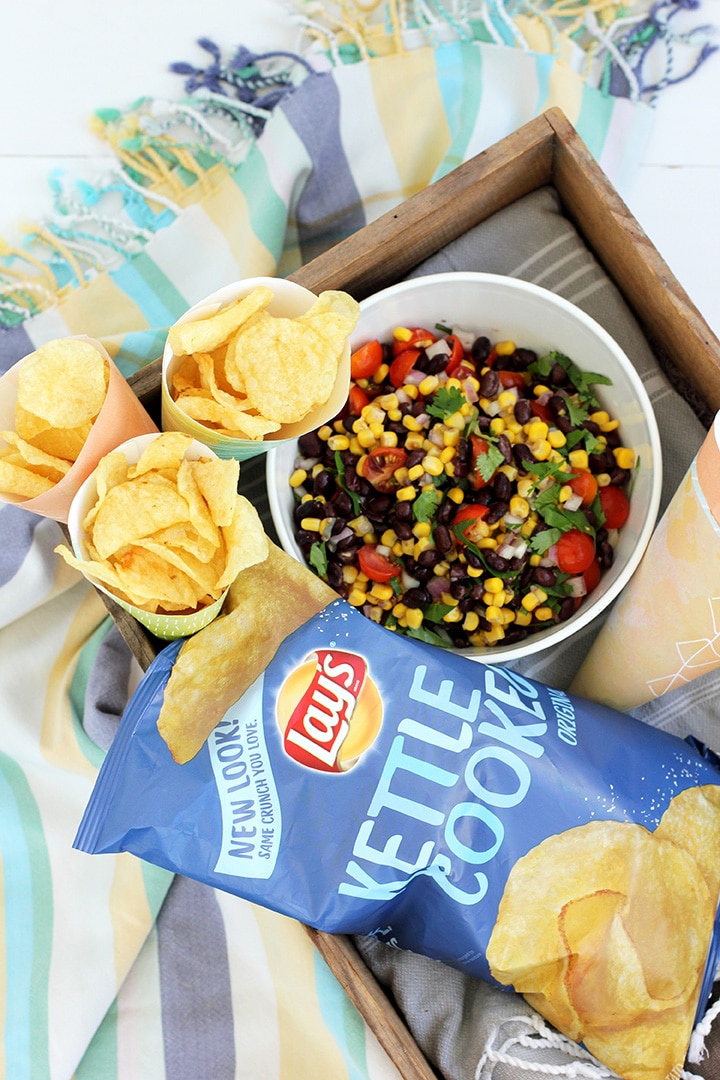 Summertime is our favorite time of year! The kids are out of school and ready for fun. We love to plan adventures ahead of time for the summer days, but sometimes the spontaneous activities are the best!
Today we are delighted to partner with Frito-Lay to share a few ideas on how to make a spontaneous beach picnic SIMPLE! Get ready to say yes to summer activities more easily with our easy black bean and corn salad recipe that takes minutes to throw together. And you want to know what we love about this "salad?" You use Lays Kettle Cooked Potato Chips to scoop it up to eat!
We are also sharing our favorite tips for easy beach picnics, activities and fun! Read more for all the details.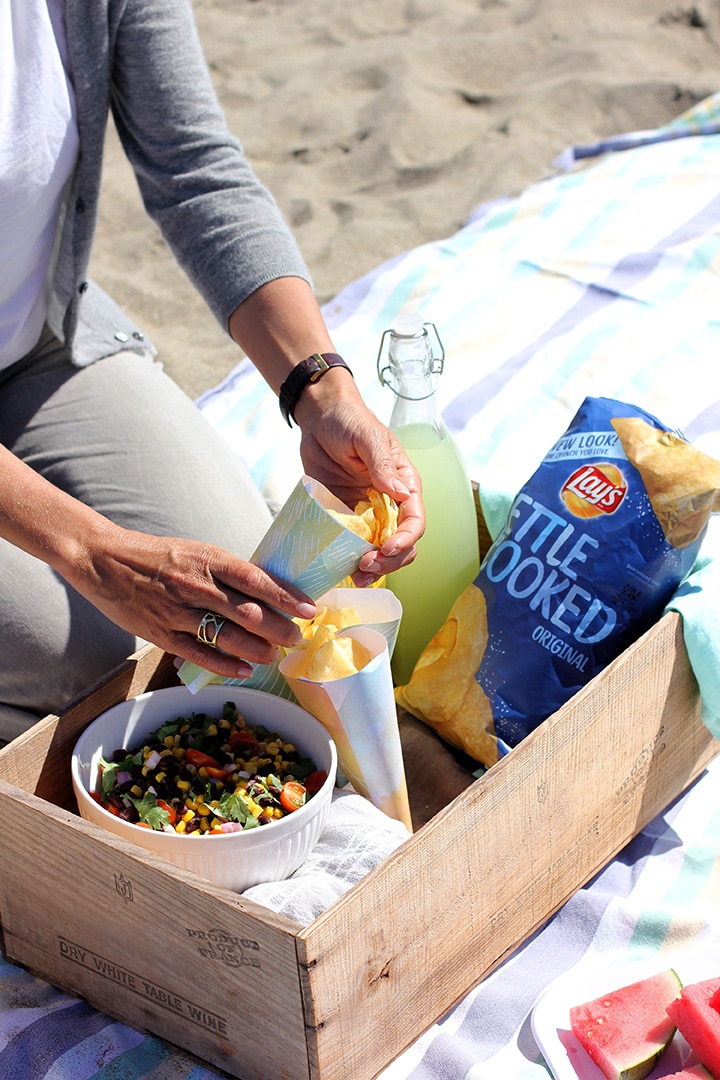 Easy Black Bean and Corn Salad Ingredients
One can corn
One can black beans Sliced cherry tomatoes (20) 1⁄2 red onion, diced
1 T olive oil
1 T rice wine vinegar
1 freshly squeezed lime
1/3 C chopped cilantro salt & pepper Directions
Drain corn and black beans , add to mixing bowl. Slice cherry tomatoes in half. Dice half of red onion.
Add to bowl. Add oil, vinegar, lime juice into mixture. Add chopped cilantro and salt and pepper to taste. Keep in refrigerator until you pack up your picnic for the beach!
Use Lays Kettle Cooked Potato Chips to scoop up this tasty salad! This recipe is perfect paired with some of our beach faves:
– Sandwich wraps (tortillas with chicken, avocado, lettuce and chipotle aioli)
– Watermelon
– Veggies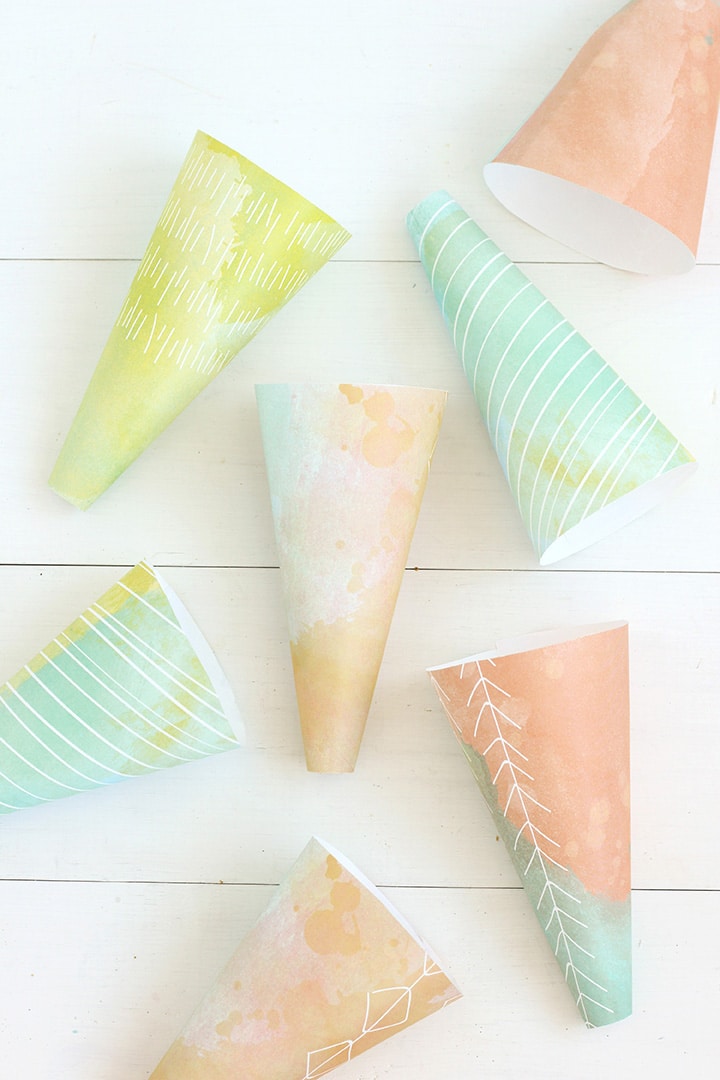 Beach picnics are so much fun – but sometimes the sand can get all over. So we designed a simple paper chip "cone" to let your guests have a holder for their chips. You could use these for popcorn too! It makes snacking at the beach so much easier.
Click here for the free printable.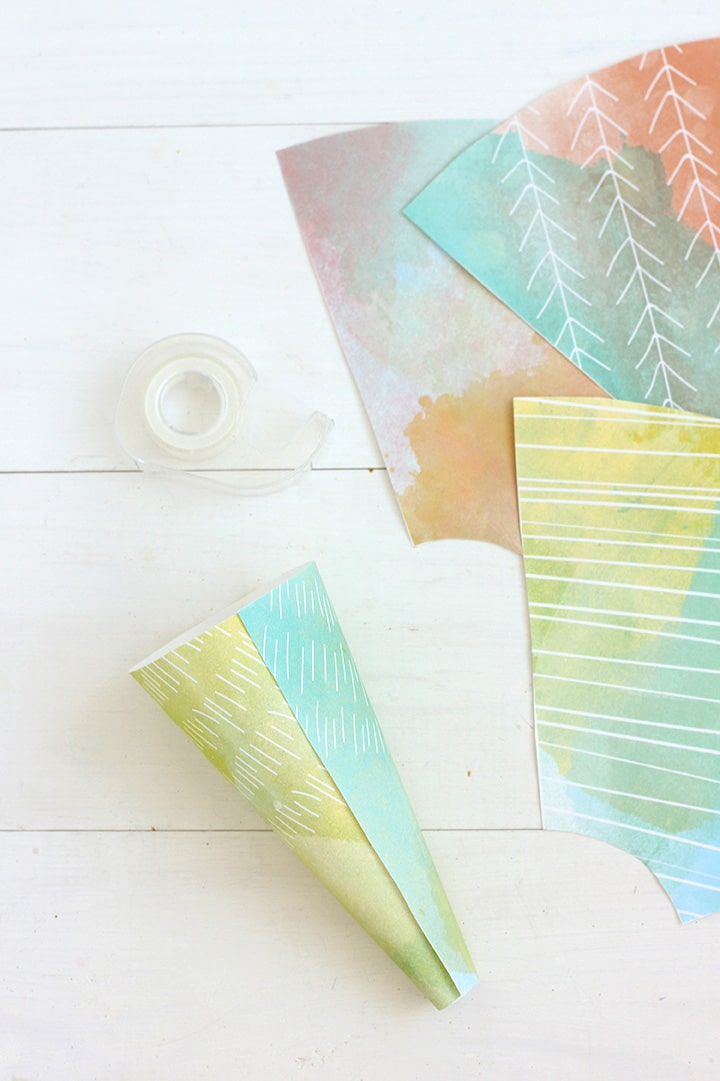 Simply print the files and cut out the pattern. Use double-sided tape for wrapp ing the paper together to make a cone shape.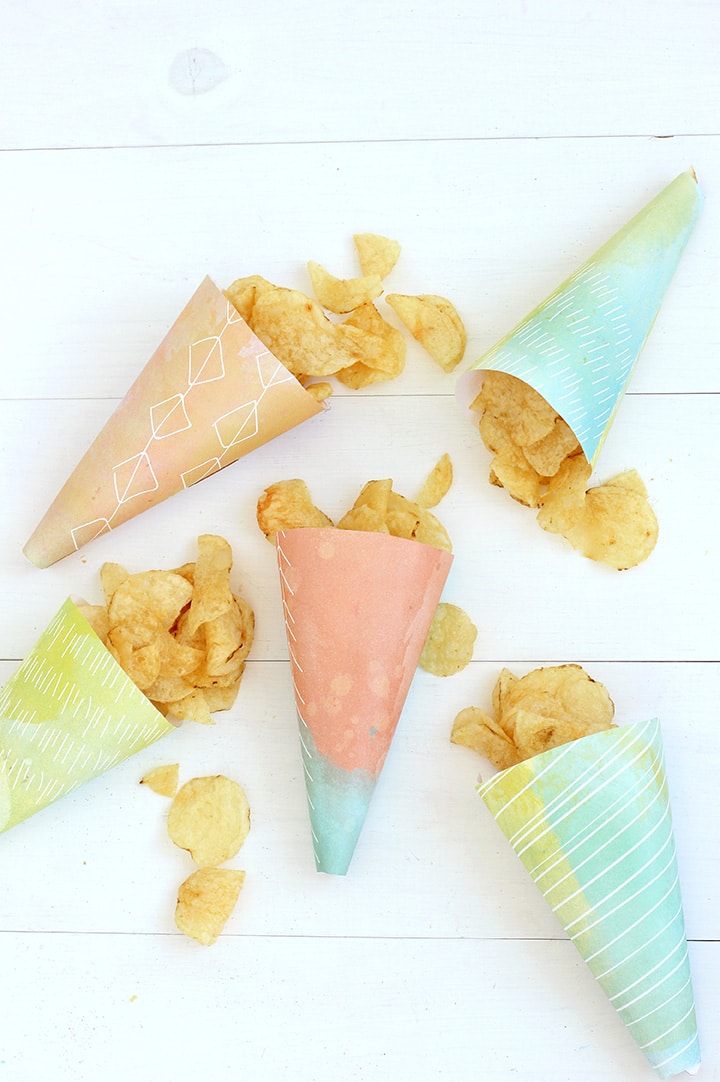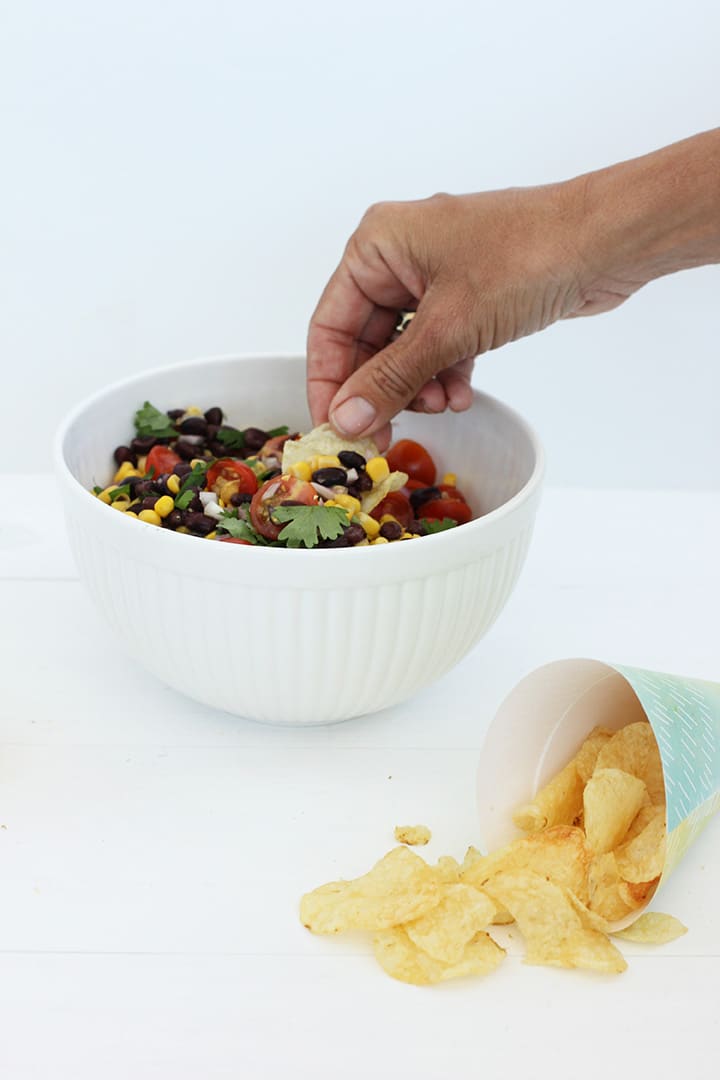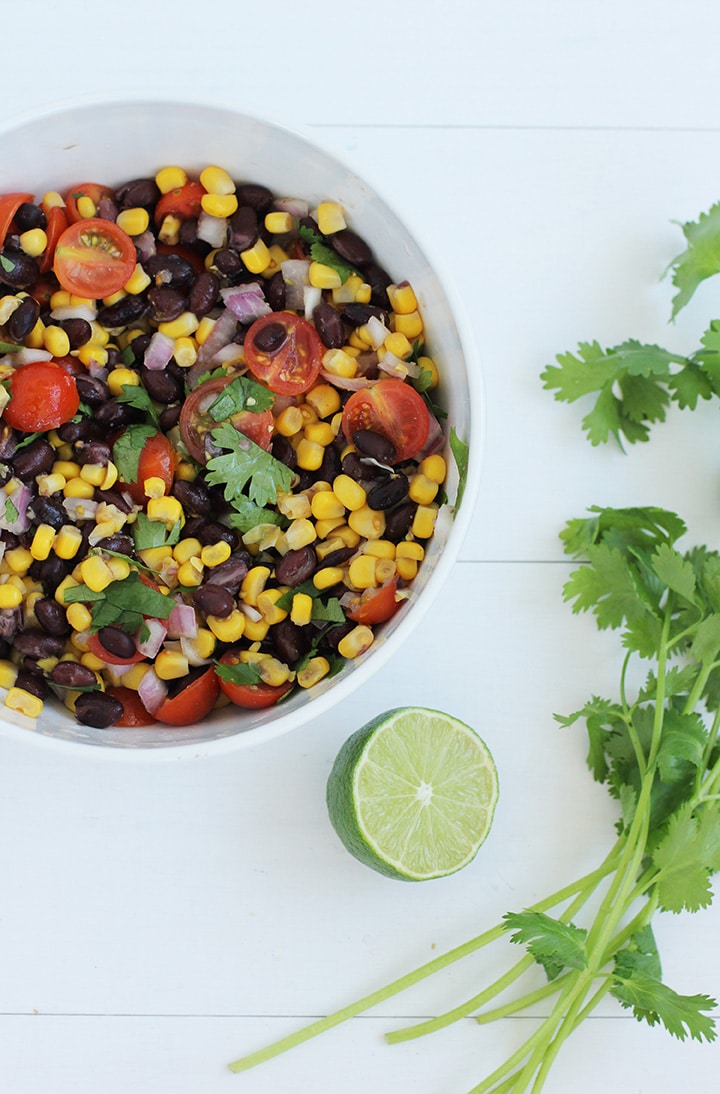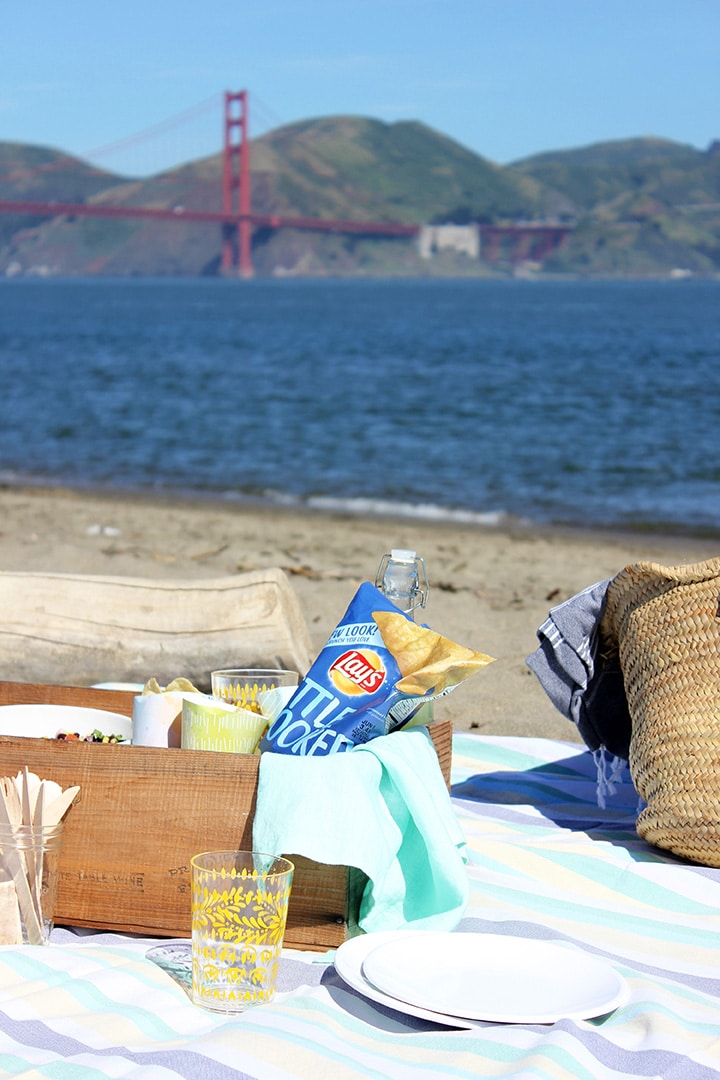 Tips for packing a picnic for beach
Use an old wood crate to transfer food from home to beach. You can even turn it upside down and use it as a little table.
Bring tablecloths and beach blankets to make a large space for your picnic.
Pack snacks and food in containers with lids. This way you get less sand in the food and make less of a mess.
Bring baby powder! This is the best tip my friend Katie taught me years ago. Baby powder gets the sand off the kids so easily!
Fun Beach Activities
Driftwood tent – Let the kids collect driftwood to create a fort on the beach. We always throw in an extra old sheet for the kids use on their fort. This is a favorite activity that the kids love! And it can be hours of entertainment.
Bring a ball bag – you can never have enough balls at the beach. S occer, football, or a big baseball game are our favorites. Gets the whole family active!
Sand toys – often we reuse old containers instead of sand pails and store bought toys. Large yogurt tubs work perfectly!
Boogie boards, paddle boards and surf boards – Here in San Francisco we put on our wet suits to enjoy the ocean! We are ready for the beach.
Check out more great summer recipes and ideas on the Frito-Lay Pinterest board.
Photos and content by Sara Albers. Assisted by Heather Rothert.