Easy Cheesecake Yogurt Popsicles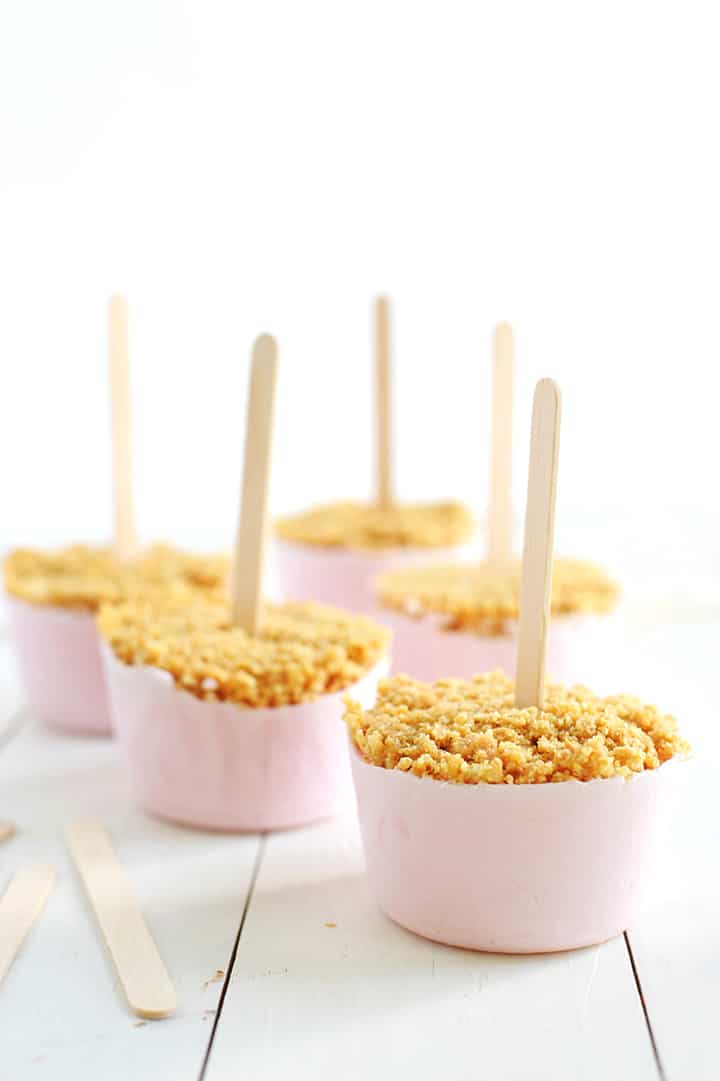 This post has been sponsored Dannon. All thoughts and opinions are my own.
With summer in full swing, we're always on the hunt for a quick and easy dessert that will help beat the heat and satisfy our sweet tooth at the same time. We love any type of popsicle at our house, and these Easy Cheesecake Yogurt Popsicles take the prize for the easiest and tastiest treats.
We teamed up with Dannon to create these delicious and protein-packed cheesecake yogurt pops using their Dannon® Oiokos® Triple Zero strawberry yogurt, for a classic strawberry cheesecake popsicle. And for all you chocolate fans, we love their Oikos Triple Zero Mayan Chocolate blended greek yogurt too. Chocolate cheesecake anyone?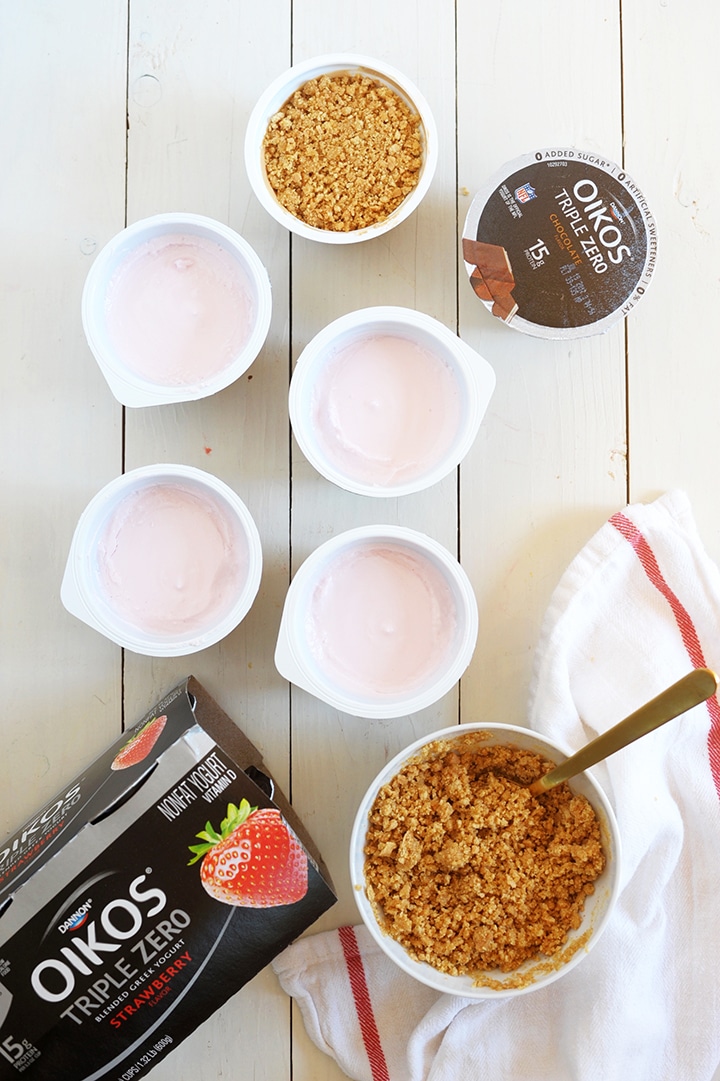 These popsicles are so quick to prepare. The hardest part is waiting for them to be ready in the freezer!
Easy Cheesecake Yogurt Popsicles
Dannon Oikos Triple Zero yogurt in 5.3 oz containers
Fresh fruit, chopped (optional)
Graham Cracker crust
6 graham crackers, crushed
3 Tablespoons melted butter
To prepare graham cracker crust, crush crackers.
Pour melted butter in bowl with crushed crackers and stir until combined.
Remove wrappers from yogurt containers.
Spoon graham cracker crust to the top of yogurt and press gently with spoon.
Insert a popsicle stick into center of crust. Be sure not to press all the way down, you don't want your stick coming out of the top of the popsicle.
Place cups in freezer for 5-6 hours, or until completely frozen.
To remove popsicles from cups, run the cup under warm water until easy to remove.
Serve immediately!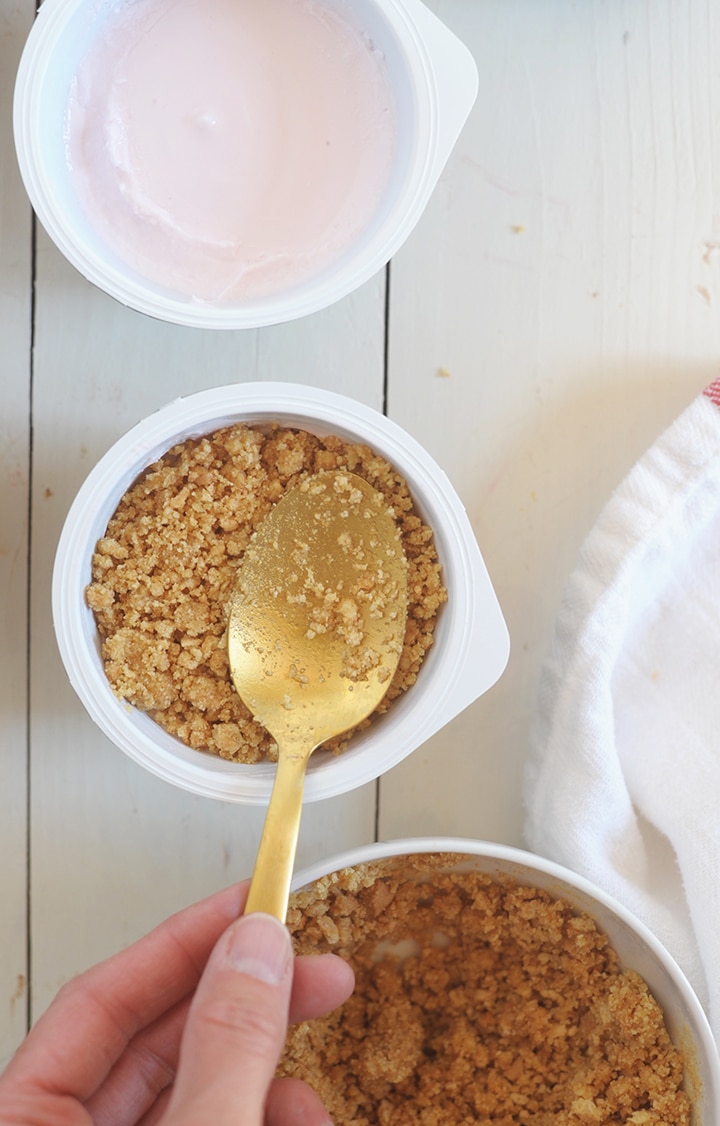 We made our first batch of cheesecake yogurt popsicles with the strawberry Triple Zero yogurt. Next time we make some of these, we want to try adding fresh chopped fruit to the yogurt before putting on the graham cracker crust topping. The vanilla Triple Zero yogurt would be so delicious with blueberries, raspberries or strawberries added to it. Talk about a classic cheesecake pop!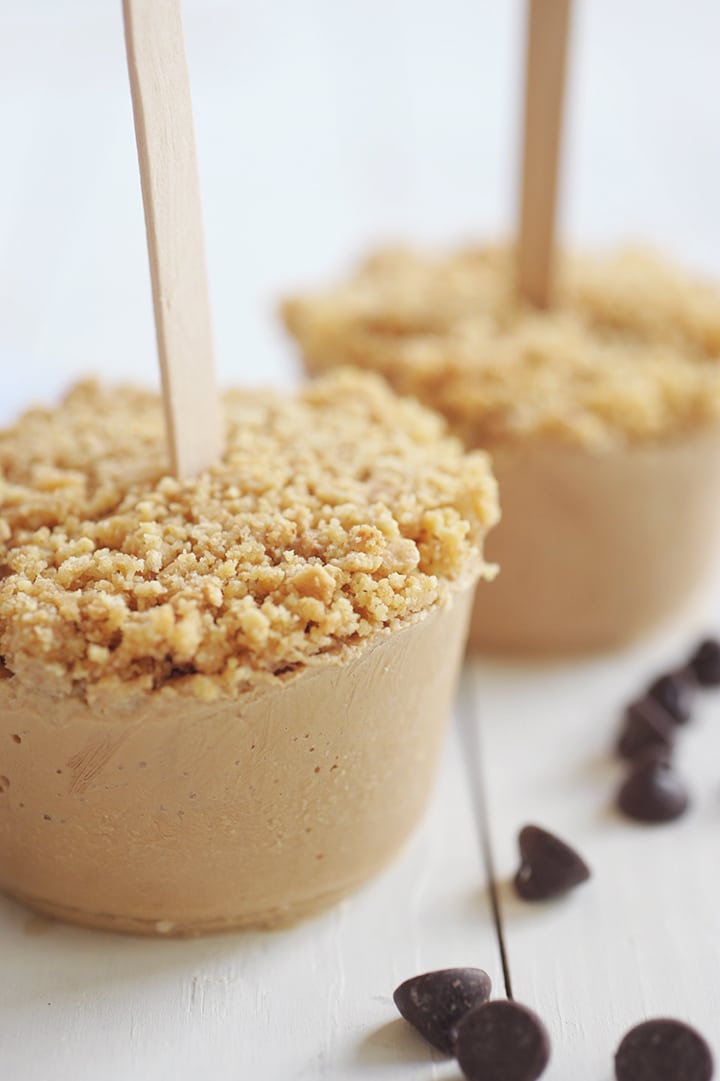 These new Dannon yogurts are easy to find. When you're running errands at Walmart, you can find them in the dairy section. Trust us, you'll want to try all the flavors! Speaking of which, we couldn't stop at just strawberry cheesecake pops. We had to try the new Mayan Chocolate, which made for the perfect chocolate cheesecake pop. The graham cracker crust goes perfectly with the rich chocolate. My girls were fighting over the last chocolate popsicle!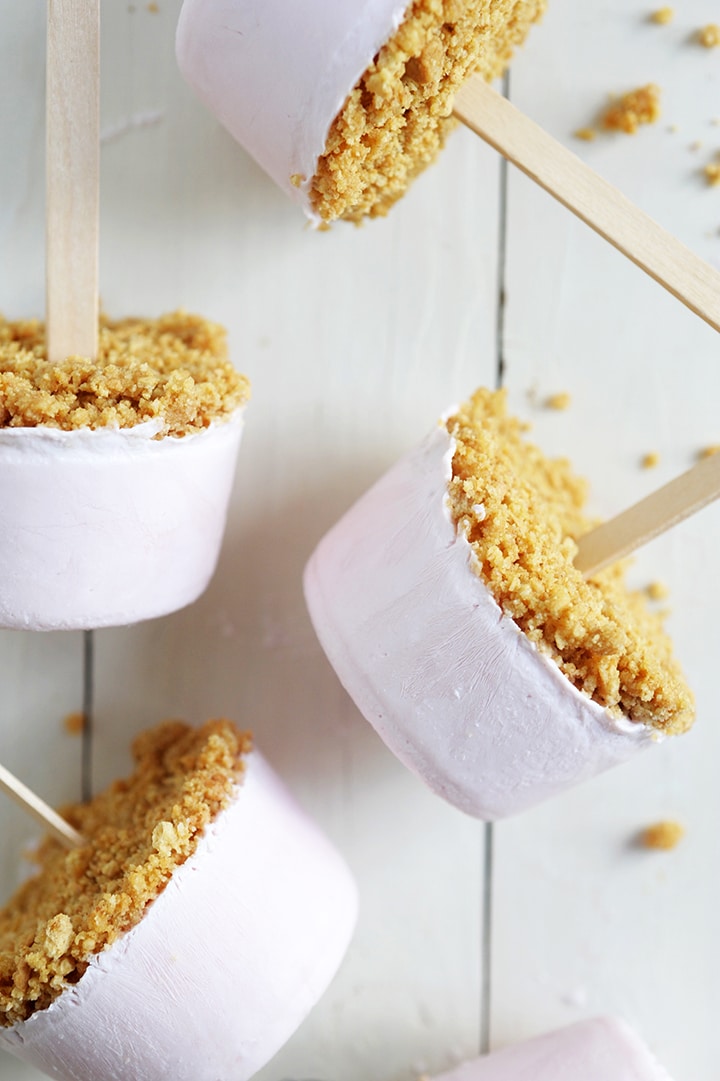 Besides being so easy to make, we love how much protein is in the Dannon blended Greek yogurt. It's not only a great source of high quality dairy protein, but it's also a good source of calcium and vitamin D.
You won't feel guilty serving these at a summer party, or keeping them on hand in the freezer for the kiddos. These cheesecake pops are the best sweet afternoon treat or after dinner dessert. So when you head to Walmart, be sure to try some of the Dannon Oikos Triple Zero blended greek yogurts. You can get a special rebate here.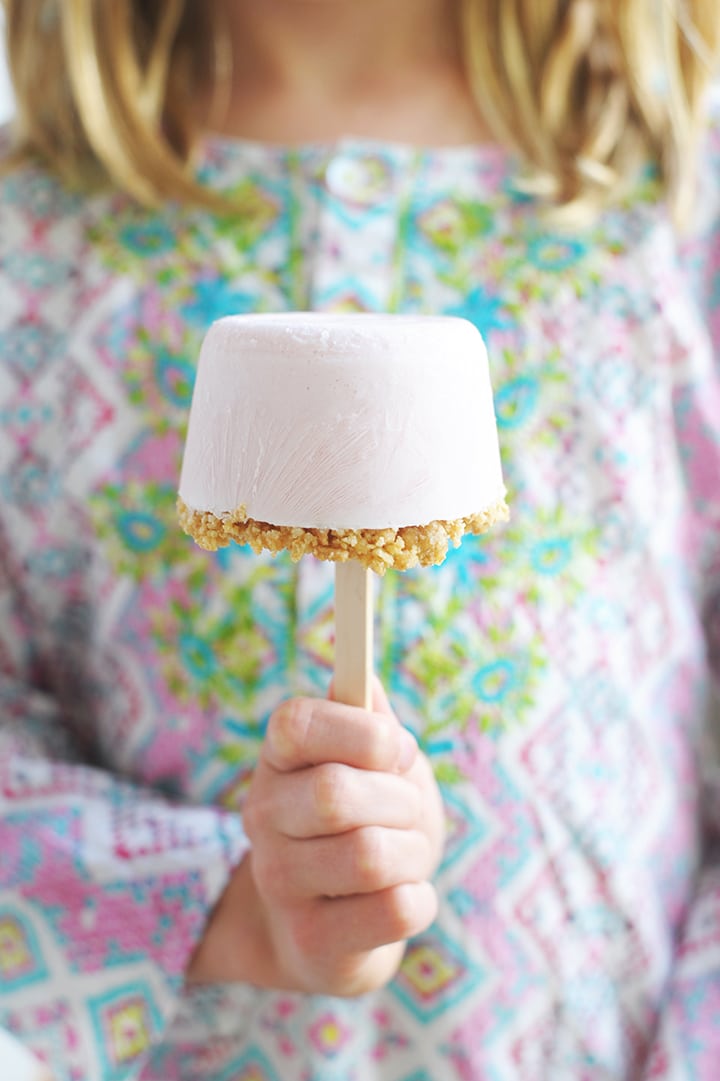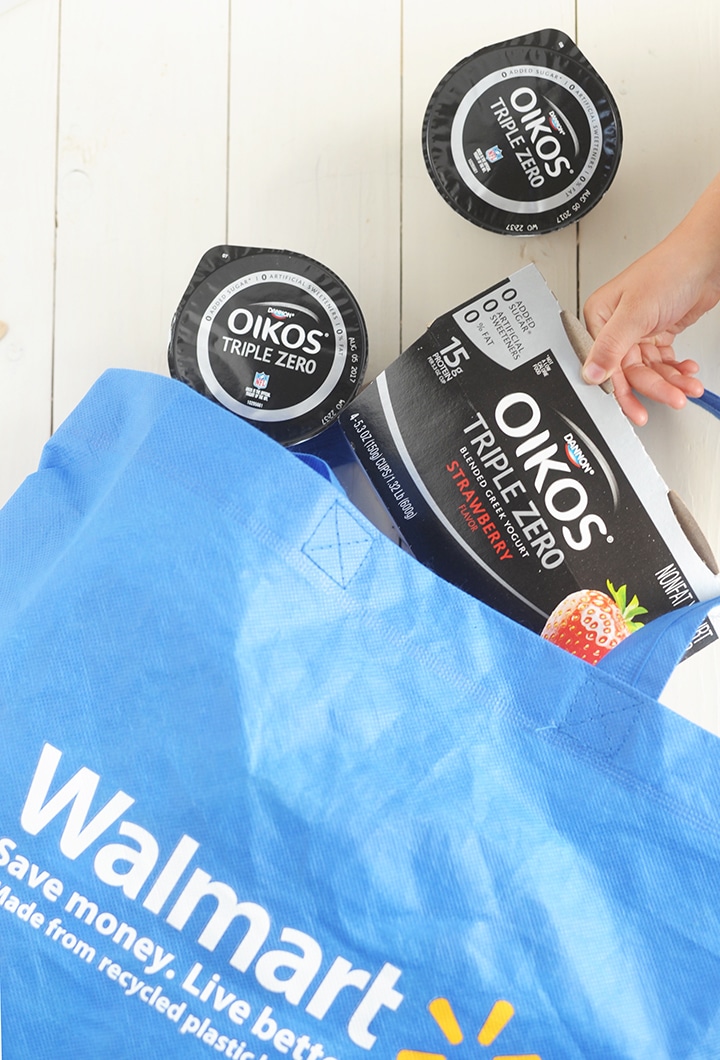 photos by Melissa Fenlon.