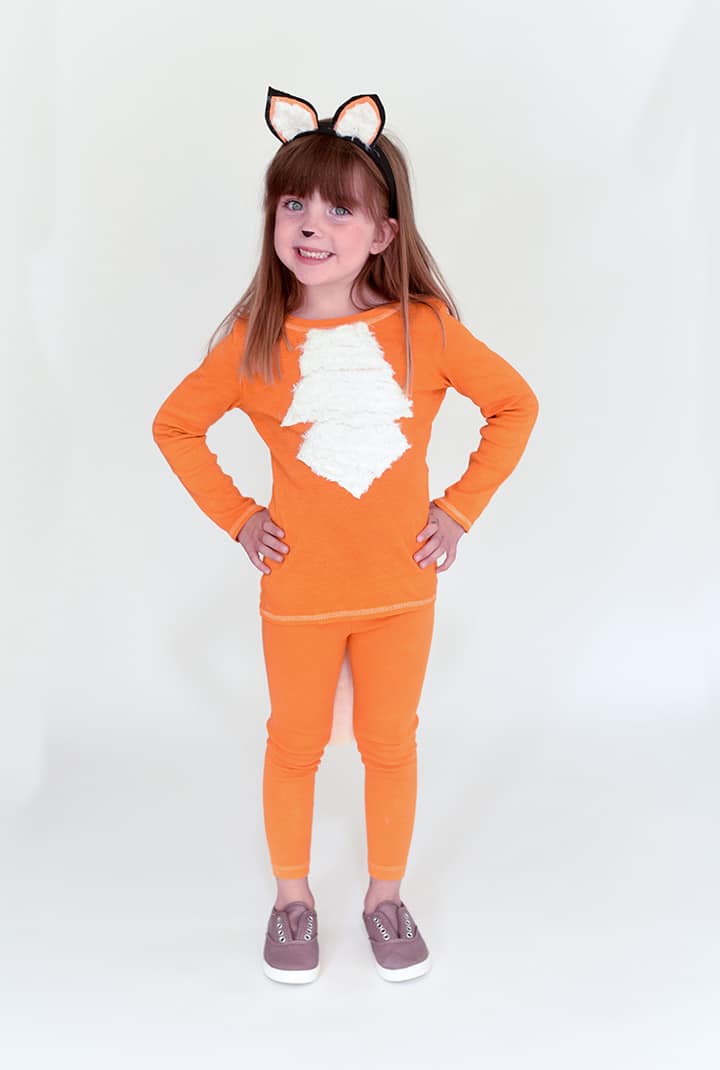 We love homemade costumes for Halloween, and we love dreaming up easy to make ensembles each October, especially for the kids. We teamed up with our friends at Rit Dye to create an Easy DIY Fox Costume. It's colorful, playful and so cute on a little one!
This handmade costume is adorable and we love how it turned out, especially the color! We hand-dyed our costume in Rit's all purpose dye, mixing our own custom colors. Rit Dye has 500+ color formulas on their site so you can always find the exact color you need for your costume. Poppy is so in love with the fox costume, she hasn't taken it off!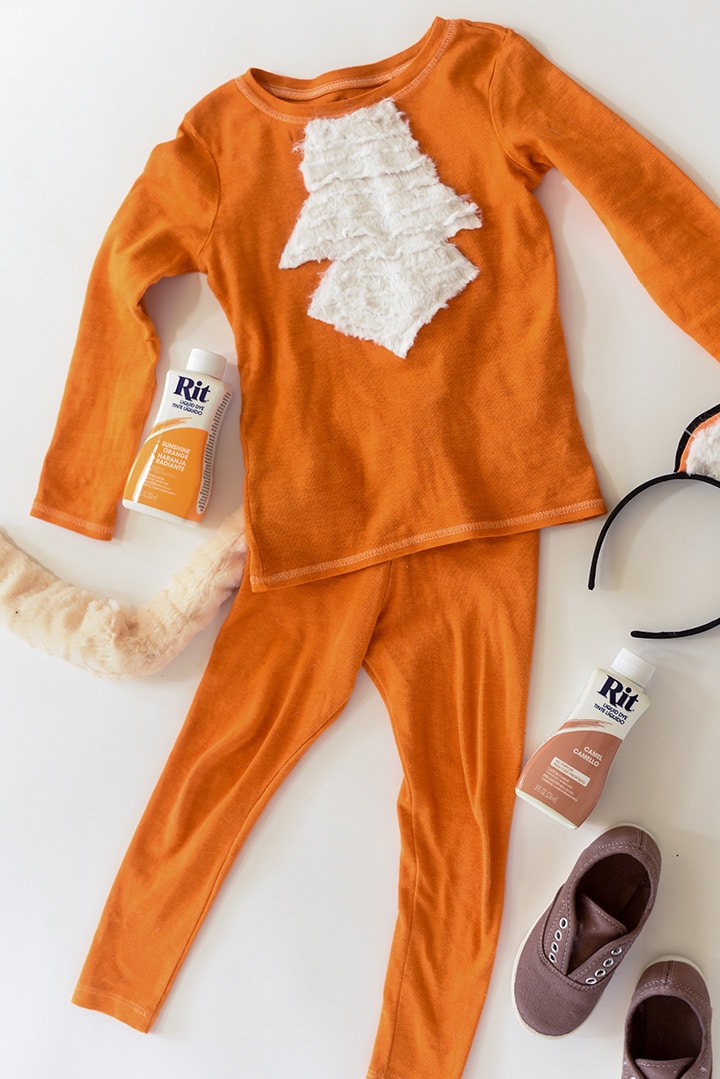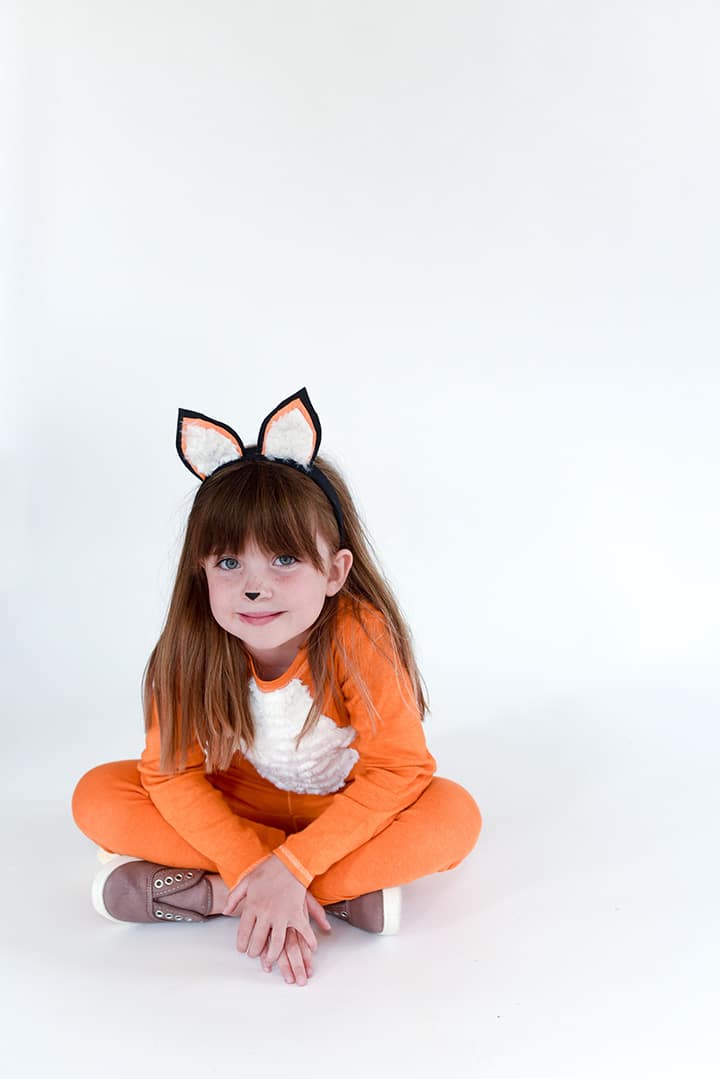 This costume is so easy to create. We used a long sleeve white t-shirt, white leggings, an inexpensive pair of white tennis shoes, faux fur and a headband to make this DIY Fox Costume.
We used the bucket method to dye our costume pieces. Rit Dye has dyes for all-natural fabrics like cotton and they also have a new dye for synthetics, like polyester, their Rit DyeMore. Both our t-shirt and leggings were 100 percent cotton and white, so we knew we could achieve matching pieces! Rit Dye has great instructions on their site. We followed the easy to follow directions here.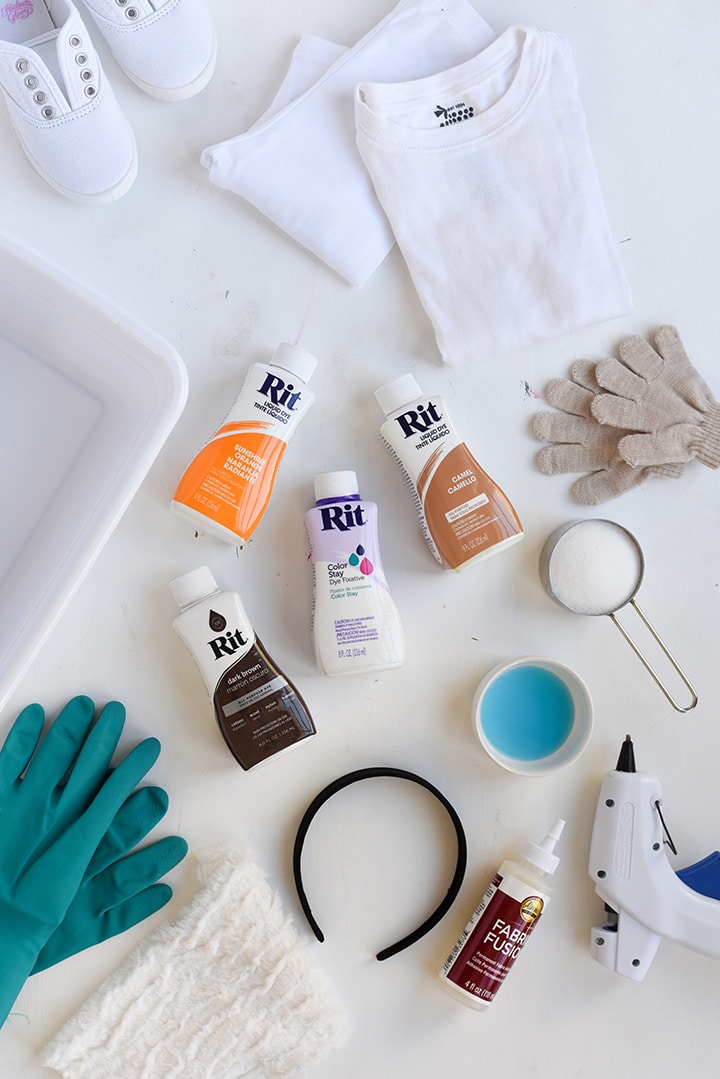 Supplies:
Rit All Purpose Dye, Rit ColorStay Dye Fixative, measuring cup, large metal spoon, plastic bucket or basins, rubber gloves, table cover, salt, dishwashing liquid
Long sleeve white cotton t-shirt, white cotton leggings, ½ yd white faux fur, white sneakers, hot glue gun, fabric glue, scissors, paper template, marker, felt sheets, cardboard, headband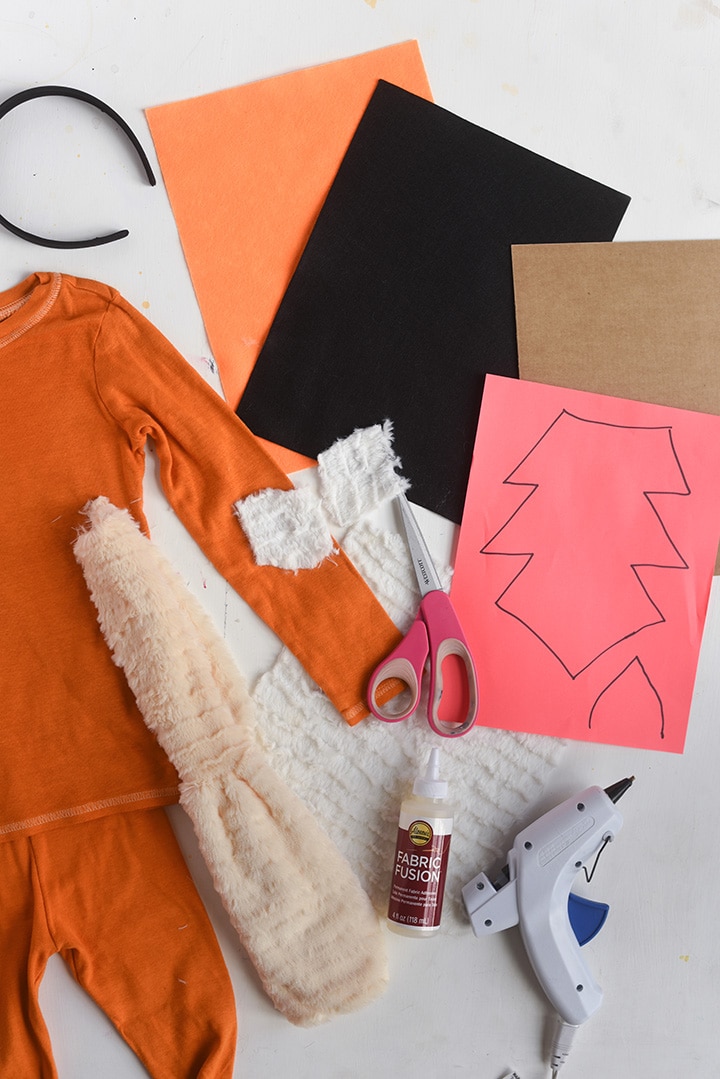 Dyeing Instructions:
1. Prewash fabrics you are planning to dye.
2. Cover your work area with a plastic cover to protect surface.
3. Fill your bucket or plastic basin with the hottest water you can get from your tap. (Water should be 140 degrees or more. You can always heat water on the stove and add to bucket.)
4. Mix in salt and a teaspoon of dishwashing liquid and stir with metal spoon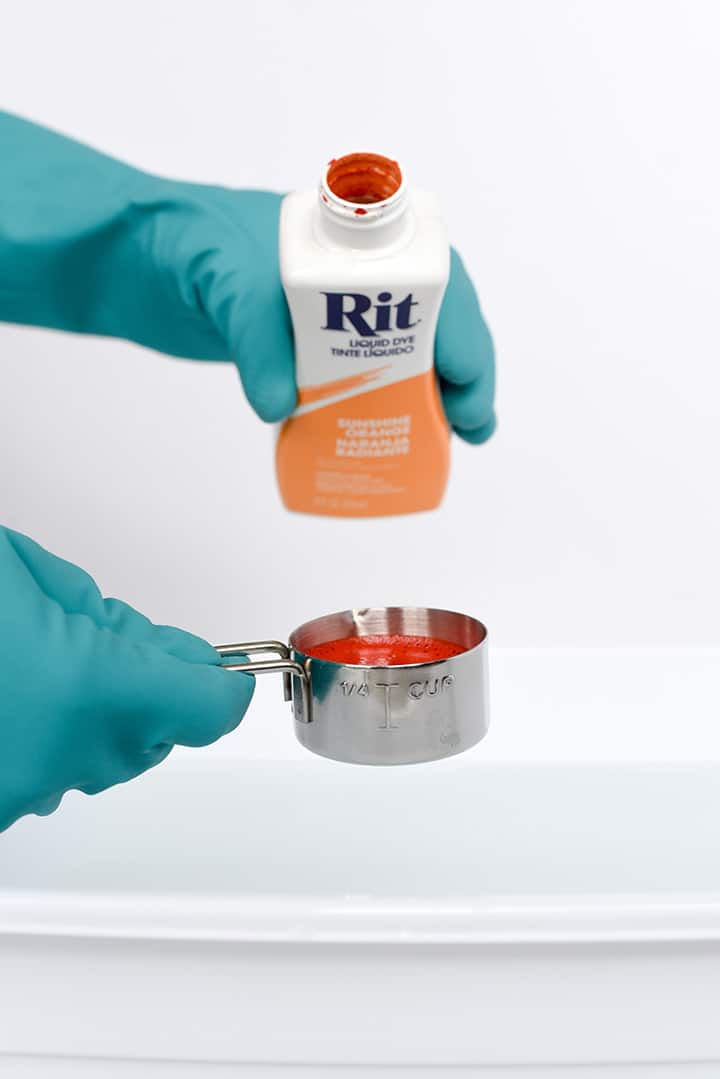 Add in dye from bottle and stir with spoon. (We used Sunshine Orange and Camel for the shirt and leggings and Dark Brown and Camel for shoes). We used full amount of sunshine orange, just adding a teaspoon of camel for shirt and leggings. For the brown shoes, we used half and half of dark brown and camel.
Wet items in water to prepare for dyeing then add to dye bucket.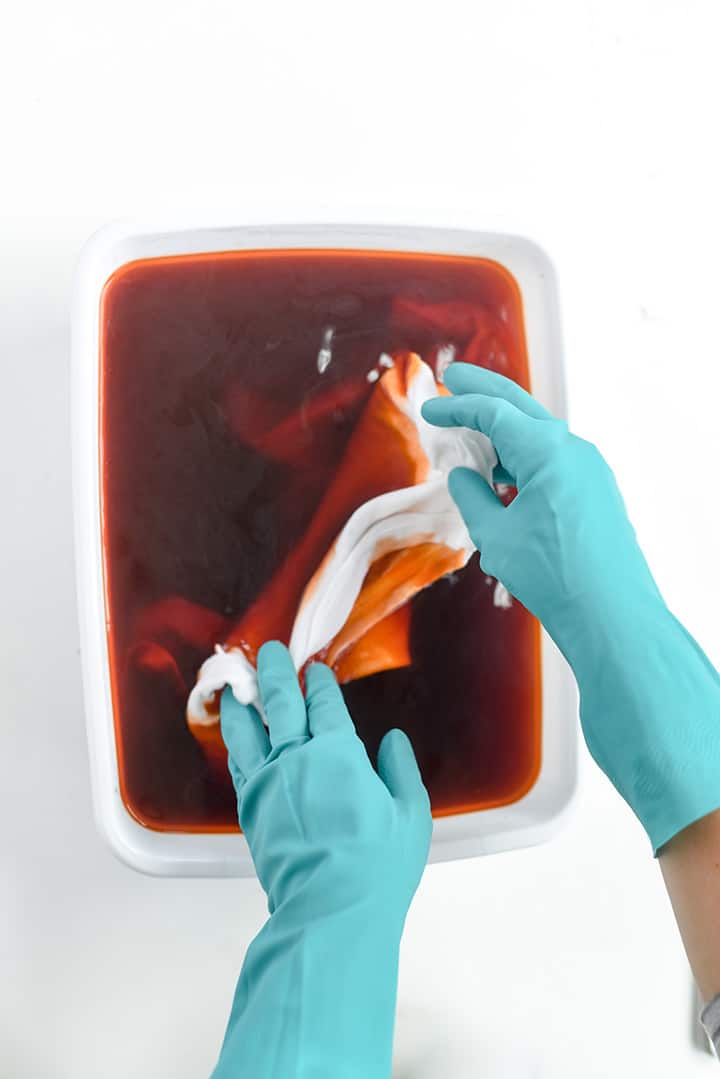 Stir slowly and continuously. We stirred ours for ten minutes, then off and on for 40 minutes. The stirring helps ensure even color.
To enhance the color, we used Rit Dye's Color Fixative. Find directions here.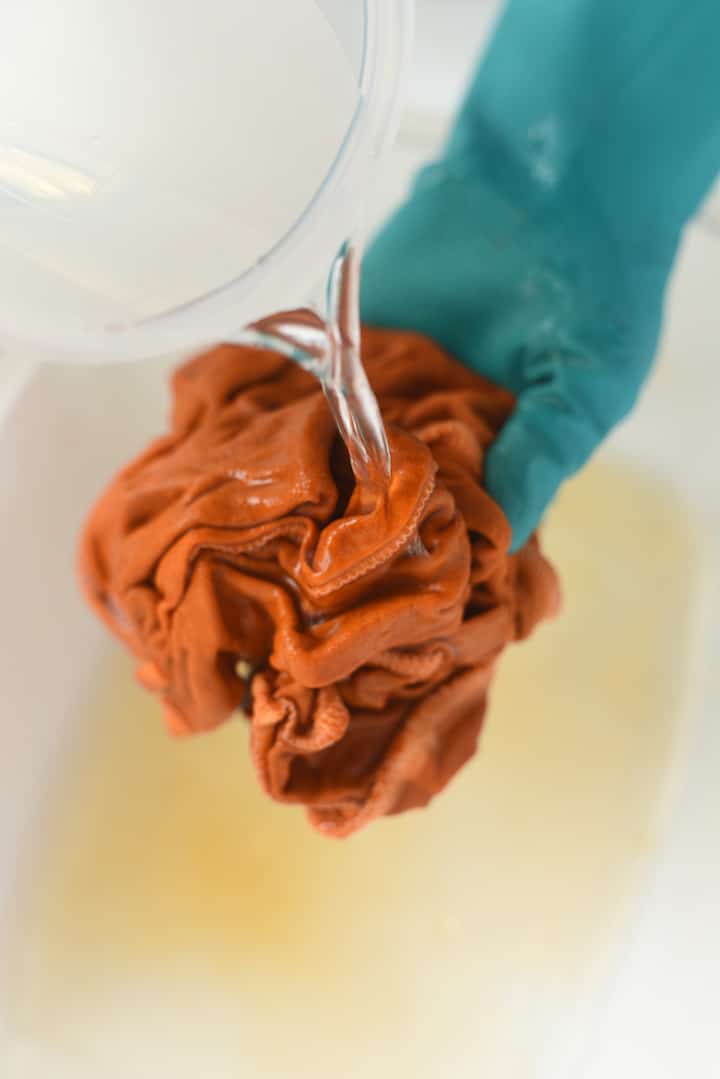 Rinse your pieces in cool water until water runs clear.
Wash items in warm water with mild detergent and dry.
We repeated this process for the shoes using dark brown and camel dyes.
Costume Instructions:
Draw out a shape on paper for your furry chest piece. Cut out.
Trace template onto back of faux fur piece and cut out.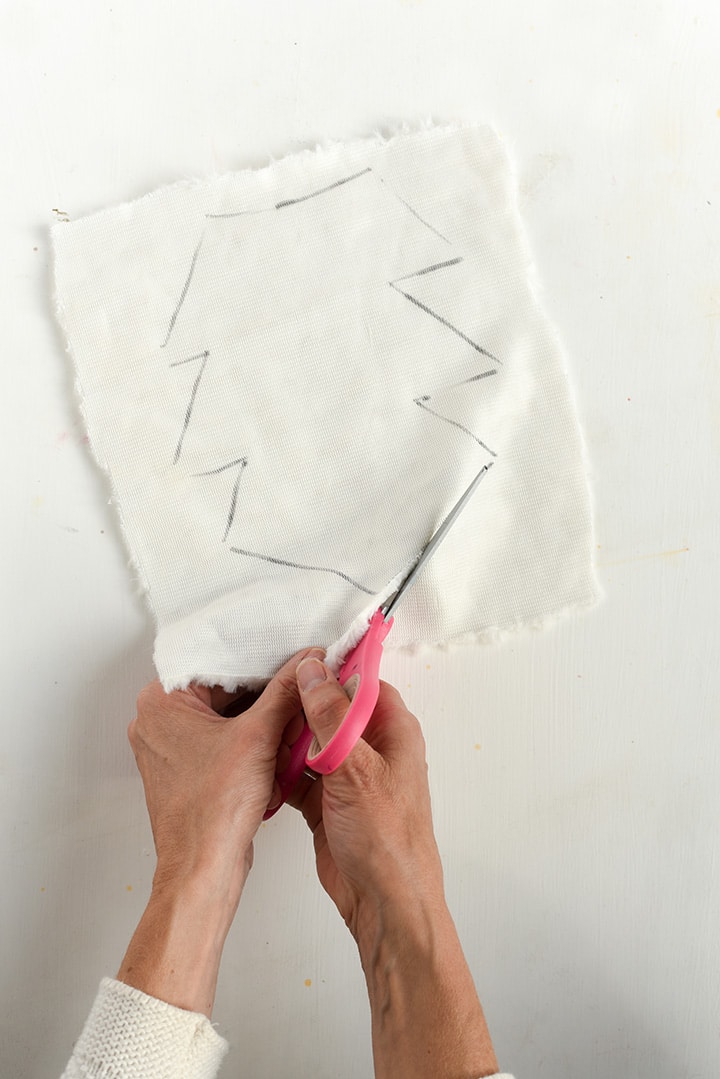 Place a piece of cardboard inside the shirt to protect back side from fabric glue. Using the fabric glue, adhere faux fur piece to chest.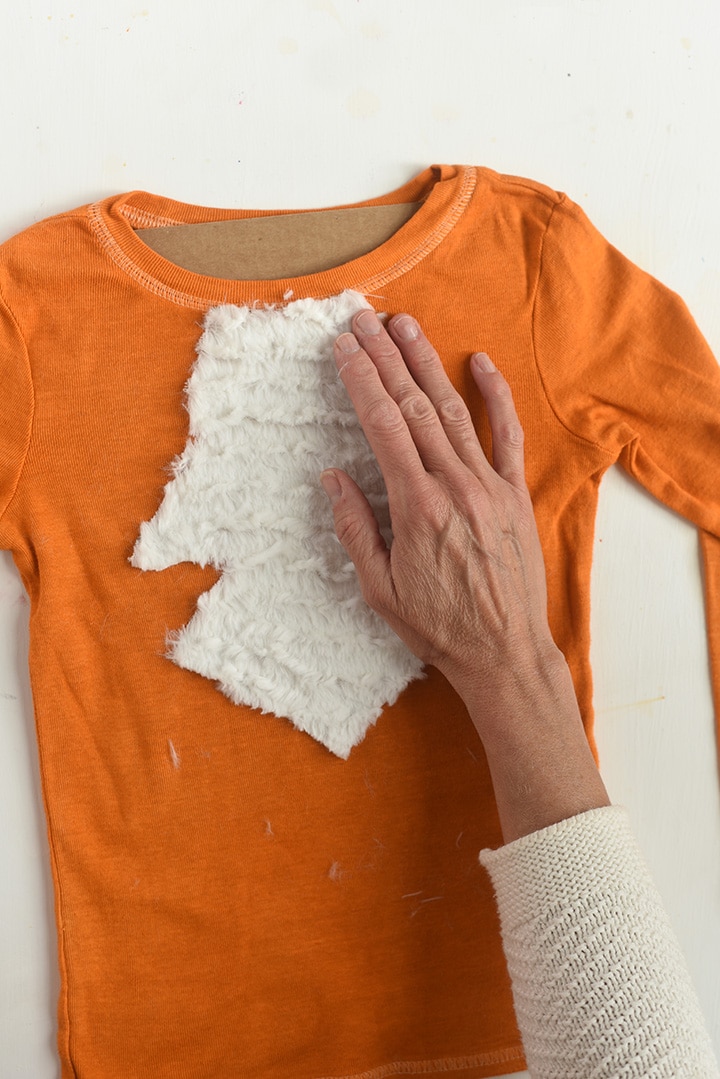 To create your tail, cut out piece of faux fur 10 inches wide and 20 inches long. Simply glue together long seam and let glue dry.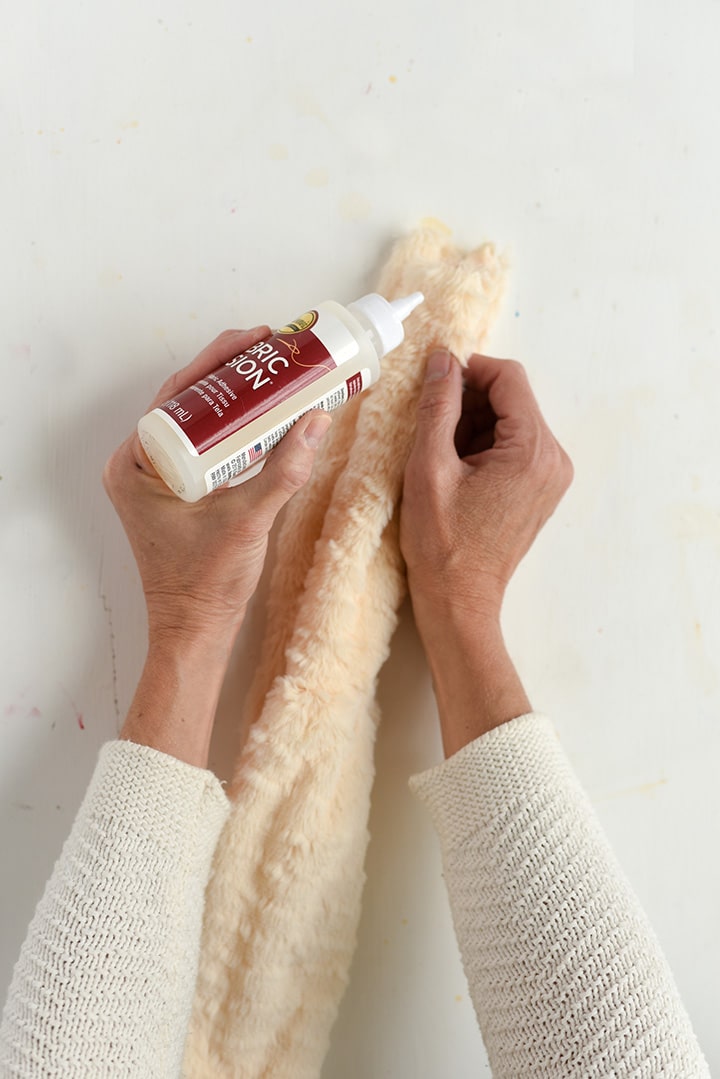 To create the fox ear headband, draw a template for your ears and cut out pieces on black and orange felt, then cut out smaller pieces of faux fur and glue together with hot glue gun.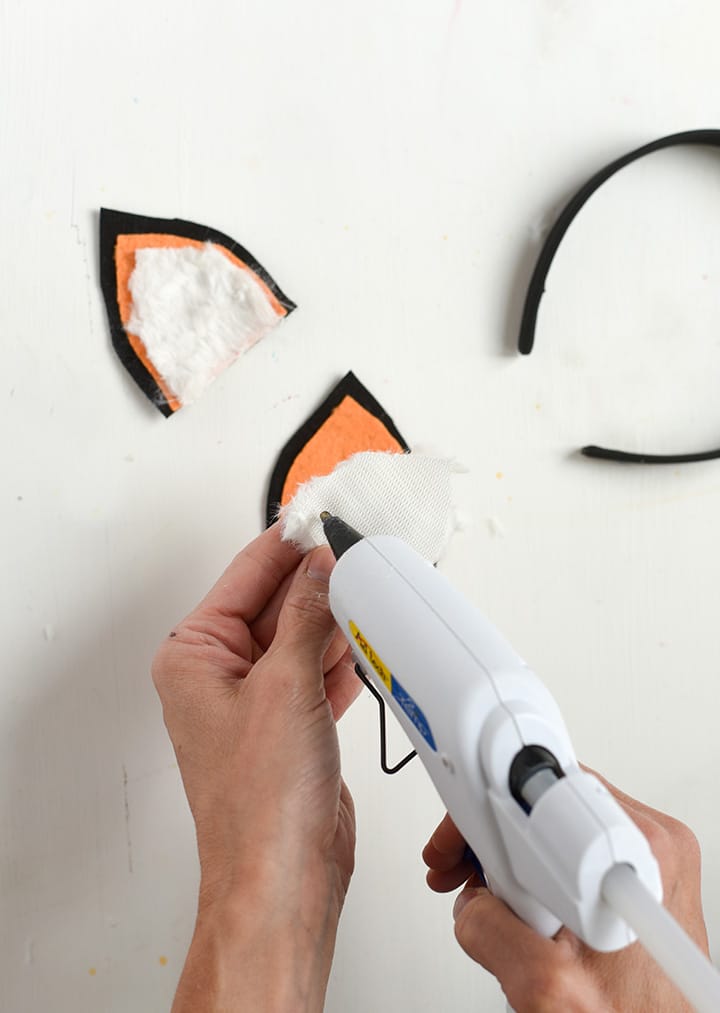 Once ears are dry, glue bottoms of ears onto the top of the headband with hot glue gun.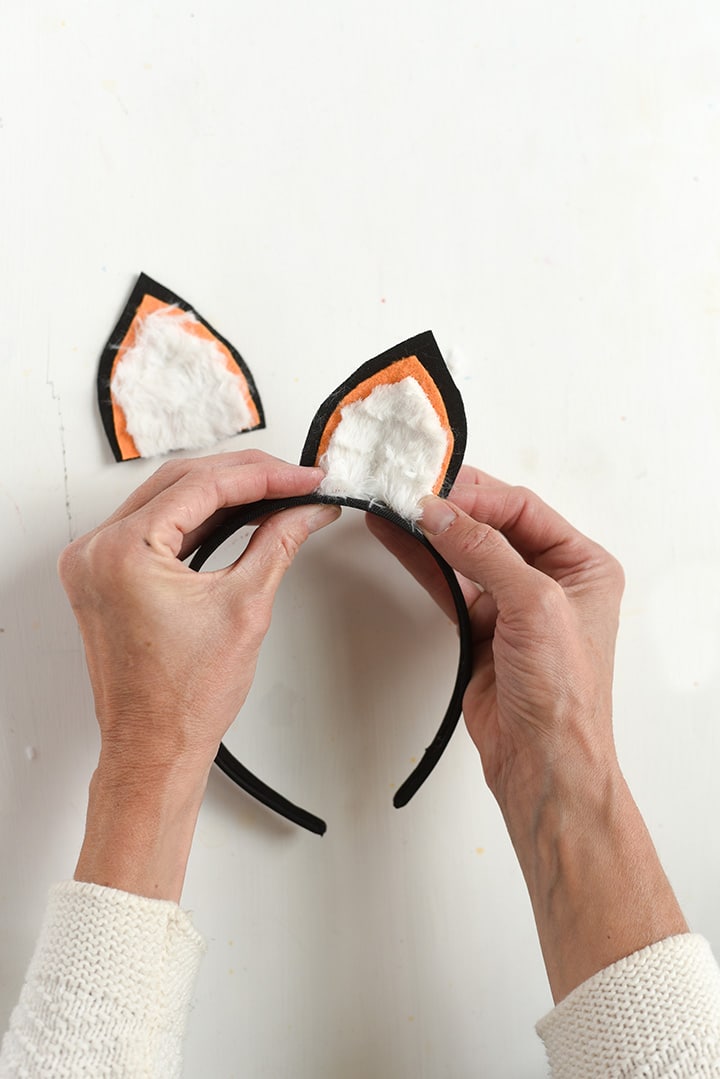 For tail, there are many options to adhere it. We opted for a tuck in tail, so we could wear this as an everyday outfit too! But you can also glue or safety pin the tail onto the leggings as another option.
You can dye little gloves too for the costume and glue on circles of faux fur if your Halloween night will be chilly.
We're so pleased with how our little fox costume turned out. The orange top and bottom are so bright and we love the hand-dyed look and feel. And those hand-dyed shoes have us wanting to do more!
Rit Dye has more great Halloween costume inspiration.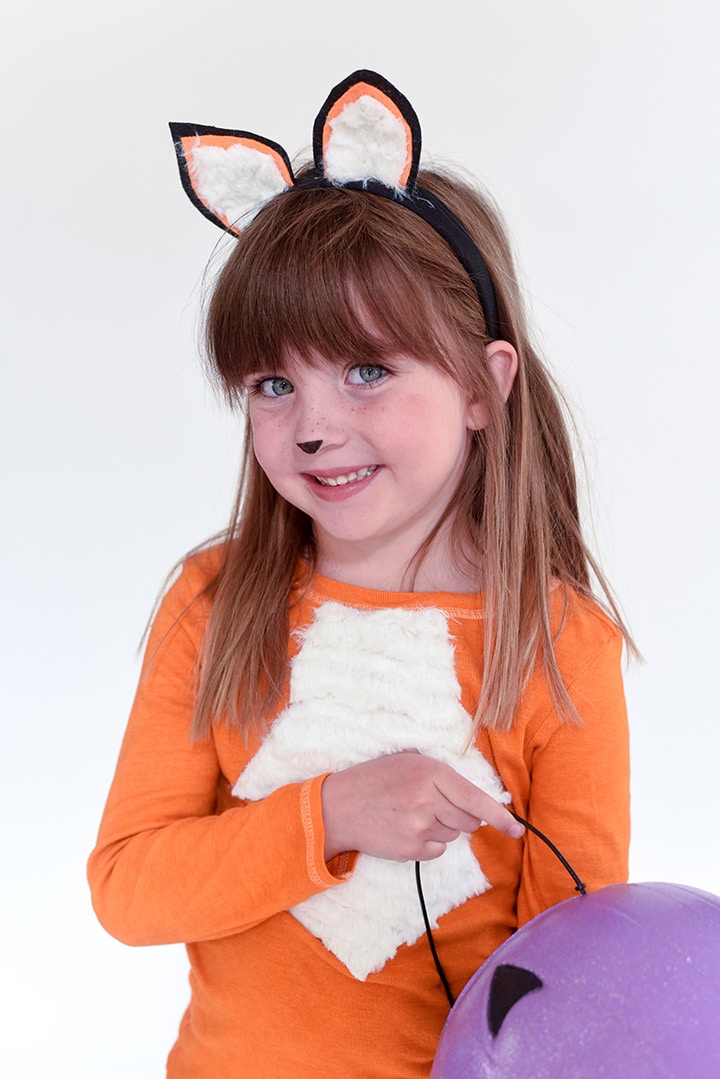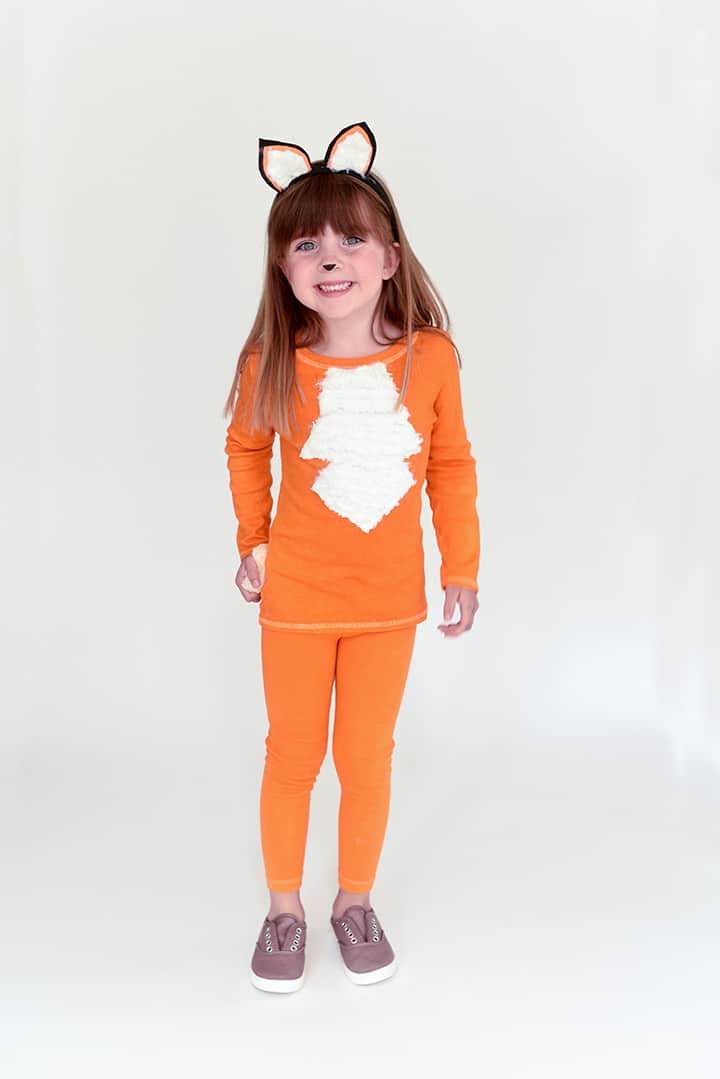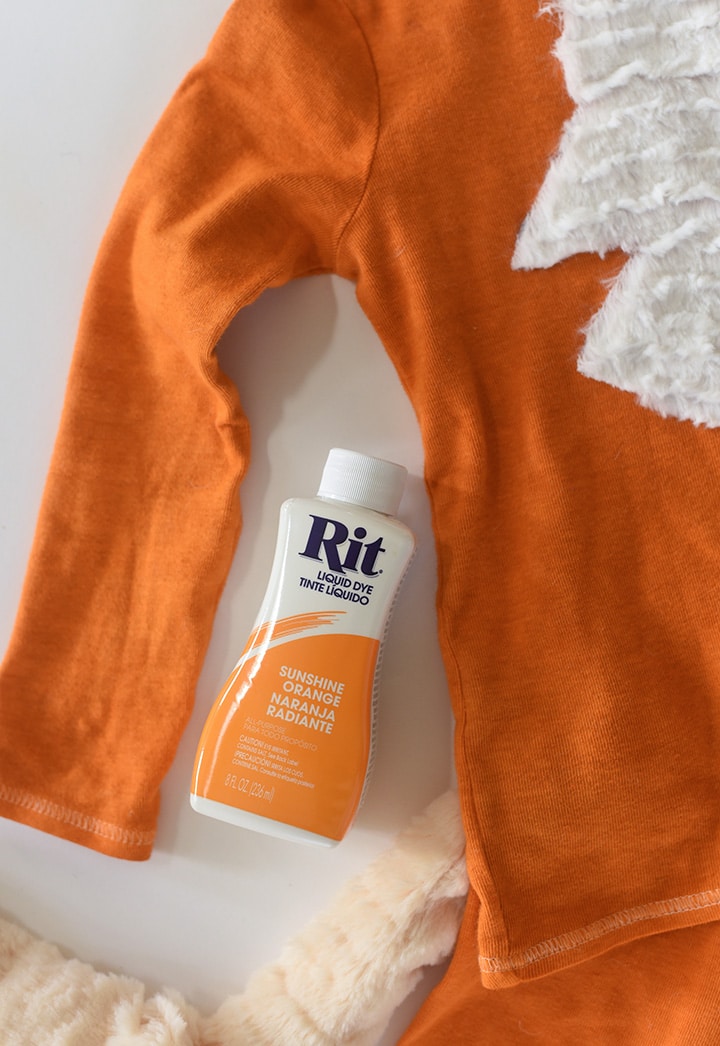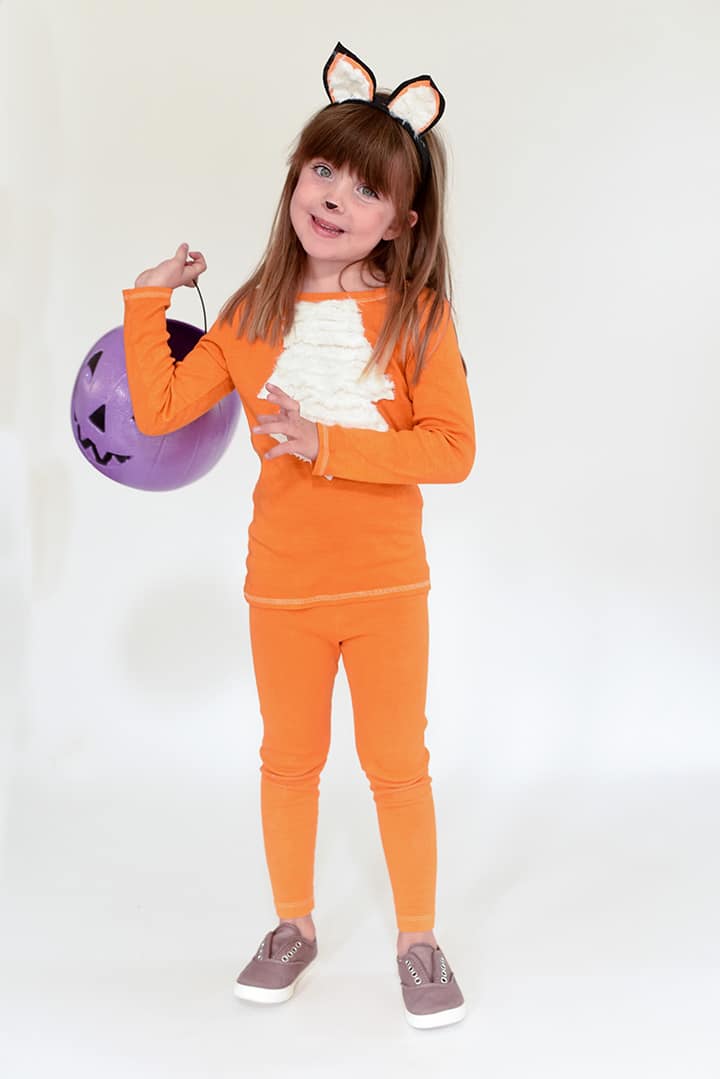 Photos by Melissa Fenlon.