Easy Summer Entertaining Ideas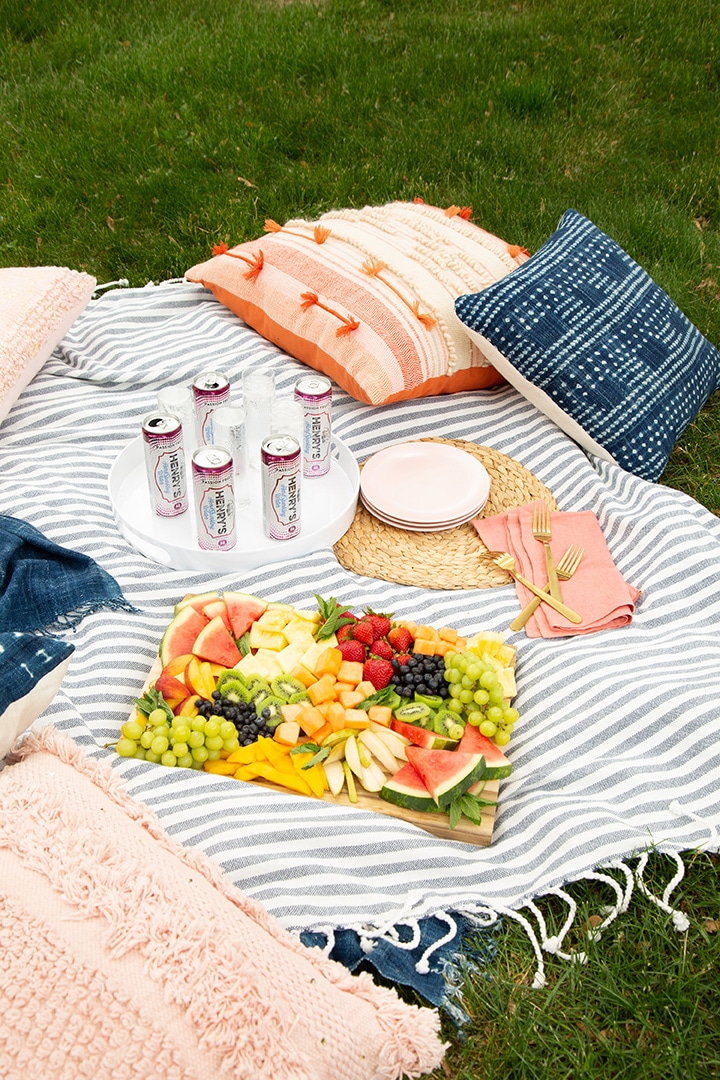 Summer is officially here and we are loving everything about it! Backyard gatherings, BBQs, outdoor games – you name it, we love summer entertaining. One of the things we love best about summer entertaining is being spontaneous. We are delighted to be partnering with Pints and Plates to share a few simple ideas on easy summer entertaining. If you are not familiar with Pints and Plates yet, you have to check them out. There are tons of recipes and pairing ideas for drinks and apps, main dishes and desserts.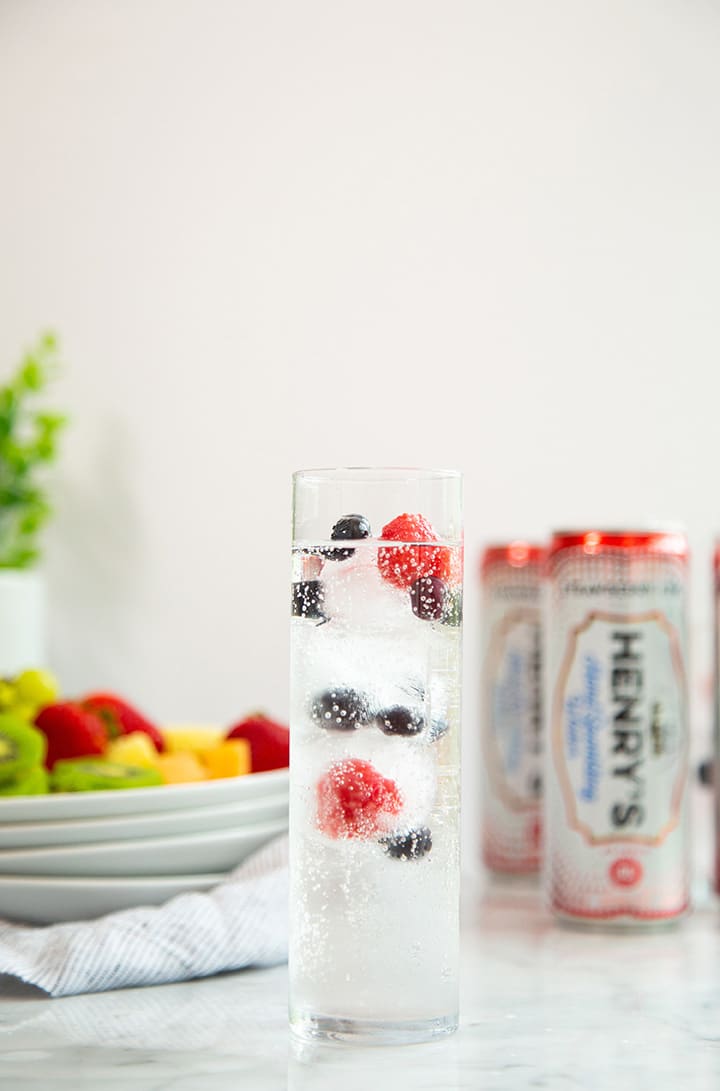 In the summer, we are always looking for easy entertaining ideas that don't take much time and are simple to put together. And when it is hot, we want an adult beverage that is cold and refreshing. So today we are sharing some ideas including an easy summer fruit board recipe and the perfect drink to go with it – Henry's Hard Sparkling Water.
We love the refreshing and light Henry's Hard Sparkling Water this summer. There are only 88 calories per can, no sugar, and made with alcohol and natural ingredients. Our favorite flavors are Strawberry Kiwi and Passion Fruit.
How to make Fruit Filled Ice Cubes
We use a small square silicone ice cube tray, but any tray will do. Wash berries and place into the ice cube tray. Raspberries and blueberries are the perfect size. Fill with water and freeze overnight. You could even add fresh mint to the ice cubes as well. The Strawberry Kiwi flavored Henry's is perfect with the fruit filled ice cubes. And we love that the drink is only 88 calories and made with natural ingredients.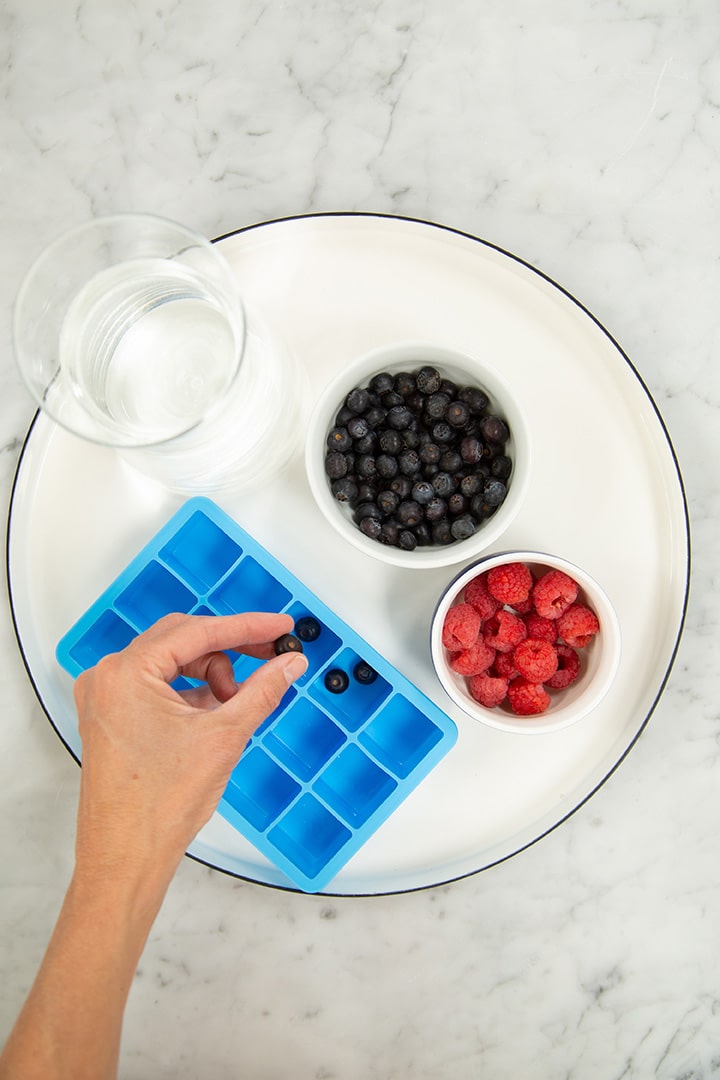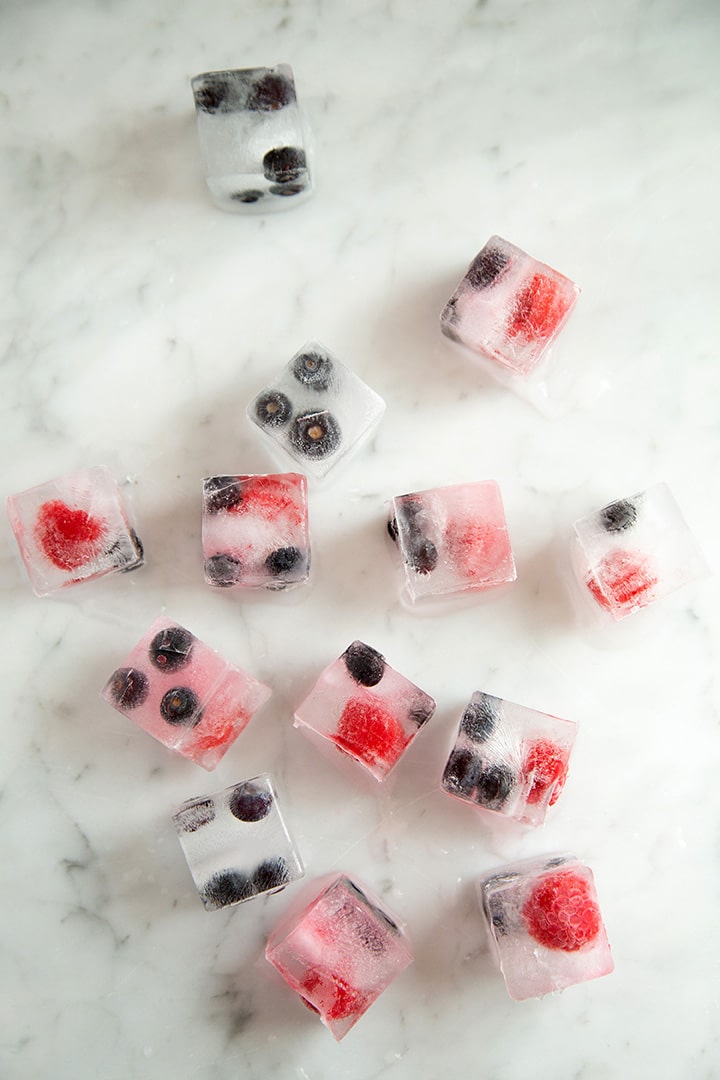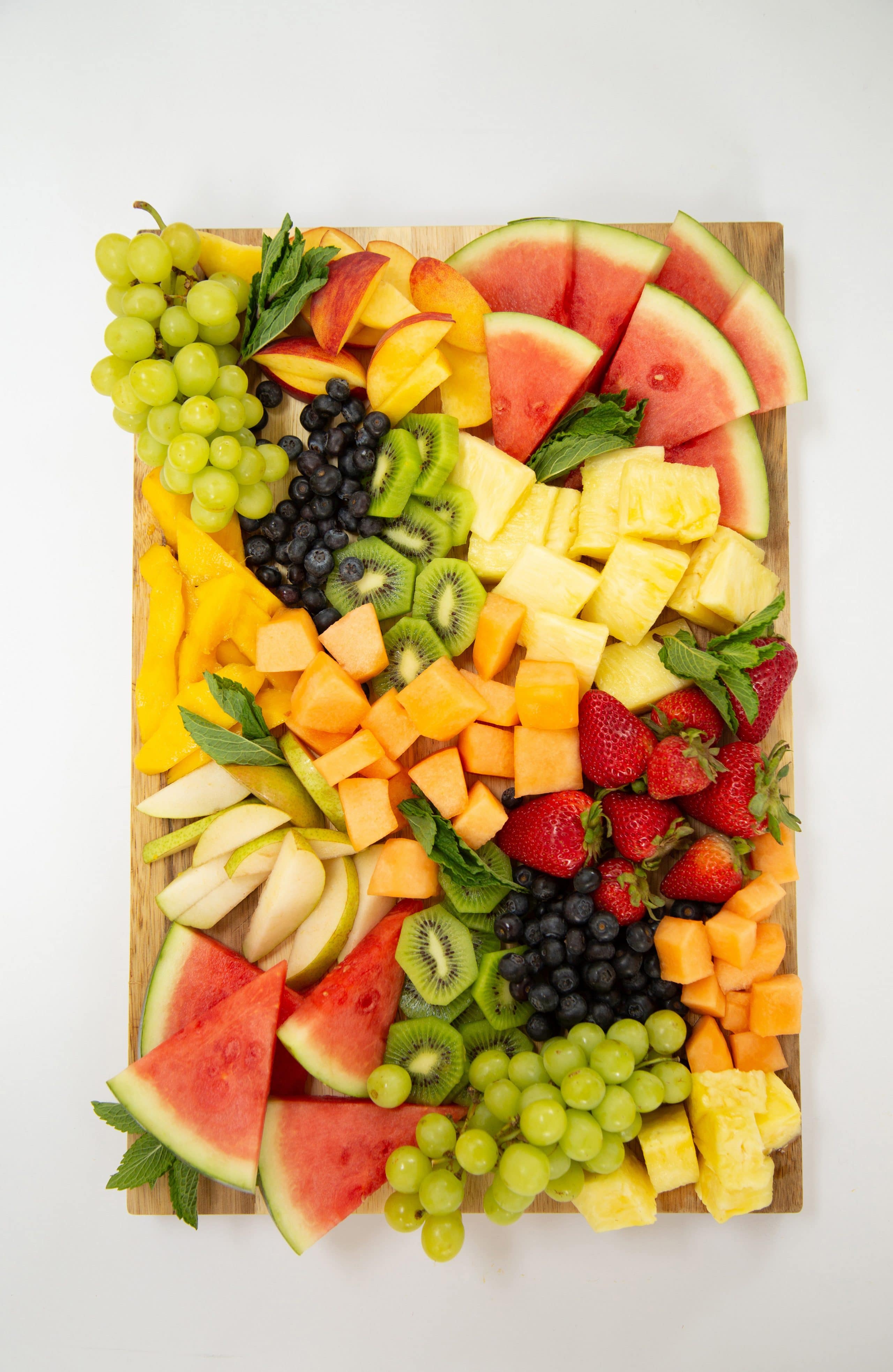 Easy Summer Fruit Board
Just like a charcuterie board, we built a simple and easy, yet beautiful, fruit platter on a large wood cutting board. This is actually something very simple to throw together. You will need at minimum 10 different kinds of fruits. Wash and cut to bite size pieces. You want to have as many colors on the board as possible – pinks, oranges, greens, reds, yellows. Some of the fruits we love are:
watermelon
cantelope
kiwi
mango
grapes
nectarines
peaches
pineapple
strawberries
blueberries
pears
Build the fruit board by starting with larger pieces on the edges, like the watermelon slices. Next add a grouping of pineapple pieces next to the watermelon. Then add a bunch of cantaloupe pieces and so on. You want to alternate colors and textures. We love to add some fresh mint leaves to the board in various spots to add some pops of green.
The fruit board is perfect with the Henry's Hard Sparkling Water. The Strawberry Kiwi and Passion Fruit flavors compliment the fresh summer fruit. My favorite pairing was the Passion Fruit with the Summer Fruit Board because it was so refreshing! This pairing tastes so fresh and bubbly. It just screams summertime! You can add a little something special by adding the fruit filled ice cubes.
Summertime Entertaining Ideas
Get outside! Set up a comfy area in the yard for guests to lounge. You can throw multiple blankets, tablecloths, or fabric on the grass. Add some coziness by layering a few throw pillows onto the fabrics. This creates such a casual and comfortable atmosphere for guests. You can even move a coffee table outside as an extra place to set drinks and food. The fruit board is perfect for this set up.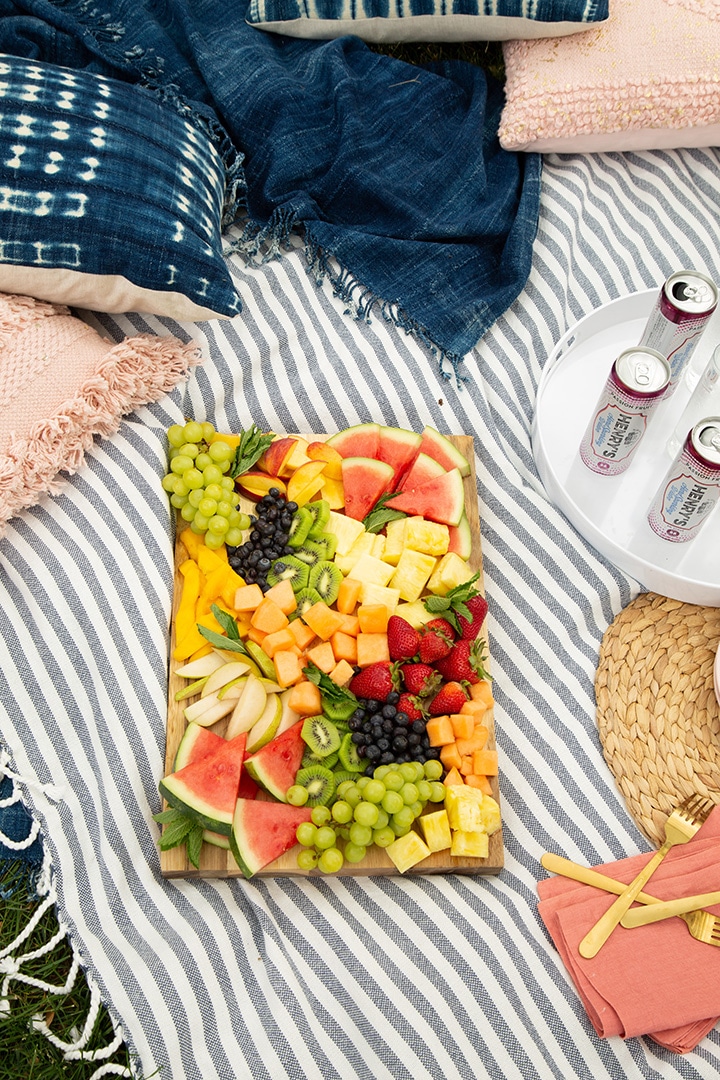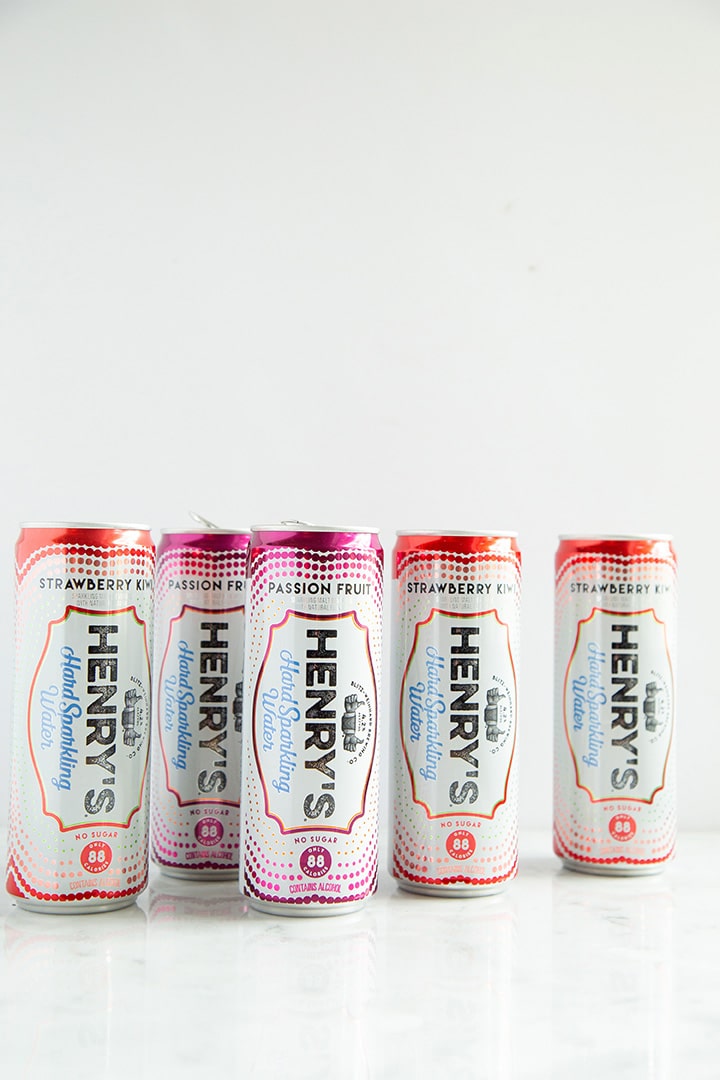 Cheers to an amazing summer!
Photos by Sara Albers.