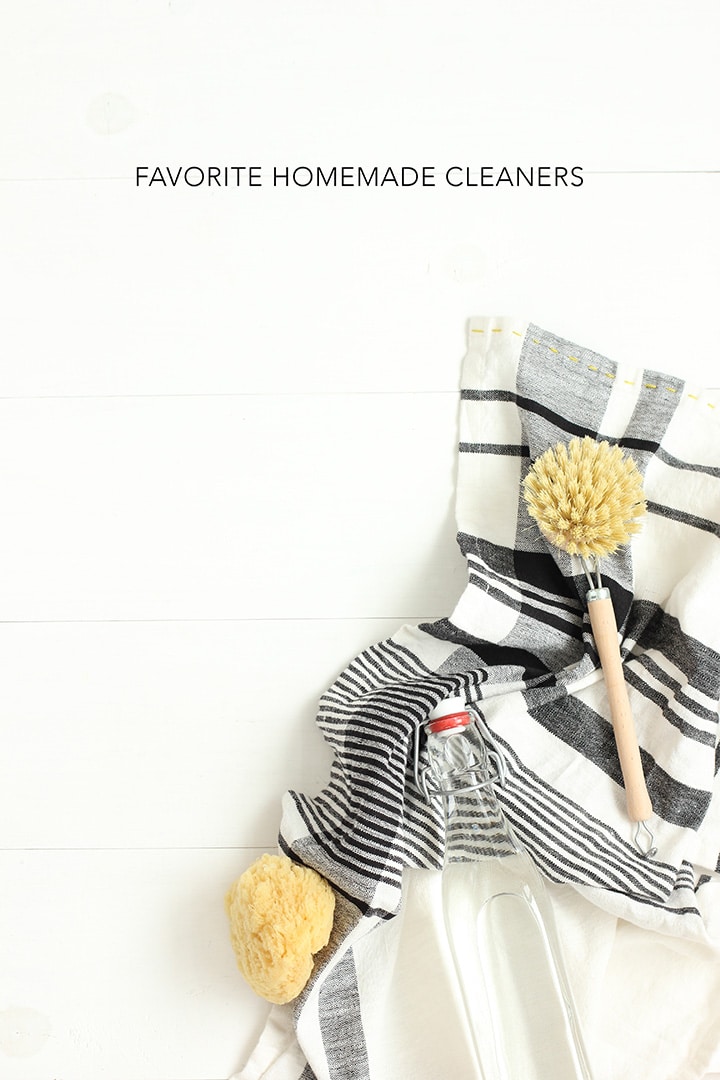 Maybe we are a bit on the late side of starting Spring cleaning, but at least we are starting, right?! We have been trying more and more to use homemade cleaners or cleaning products that have less chemicals. We have rounded up some of our favorite homemade cleaners to share just how easy it can be to make your own. Most cleaners use simple ingredients that many times you already have at home. Vinegar, Castile soap, distilled water, and baking soda to name a few. Baking soda is a favorite for so many things – this works great on so many surfaces as it is only slightly abrasive. It is a deodorizer as well. And we love to add essential oils (tea tree, lavender, or lemon). Tea tree oil is great for bathroom cleaners as it is naturally antibacterial.
A few things to note – containers: Use clean containers for storing homemade cleaners and make sure and label the bottles. Always test your homemade cleaner on a surface first (on a hidden part of the surface). For example, do not use vinegar solutions on stone surfaces! The acid in the vinegar can ruin the finishes!
All Purpose Cleaner:
I have traditionally used a mix of distilled water and castile soap, like this Castile Soap Cleaner. But want to try some new ones as well.
Lavendar Mint All Purpose cleaner
Drain Cleaner:
Our favorite is this recipe: Pour 1/2 C baking soda in drain. Next pour 1/2 C with vinegar and cover drain (with a plug or towel).  After 10 minutes, pour boiling water into drain to flush.
Drain cleaner with cream of tarter
Tile Grout Cleaner:
Our favorite recipe to to mix 1 part water to 3 parts baking soda. Mix into a paste. Scrub onto grout using toothbrush or small brush. Remove paste with sponge.
Bathroom Cleaner:
We love to use this one – 2 C distilled water, 2 T vinegar, 15 – 20 drops of tea tree oil.
Window Cleaner:
We like to use this one.
What are your favorite homemade cleaners?
Photo by Sara Albers.