Free Printable Holiday Sweater Wrapping Paper with Ugly Sweater M&Ms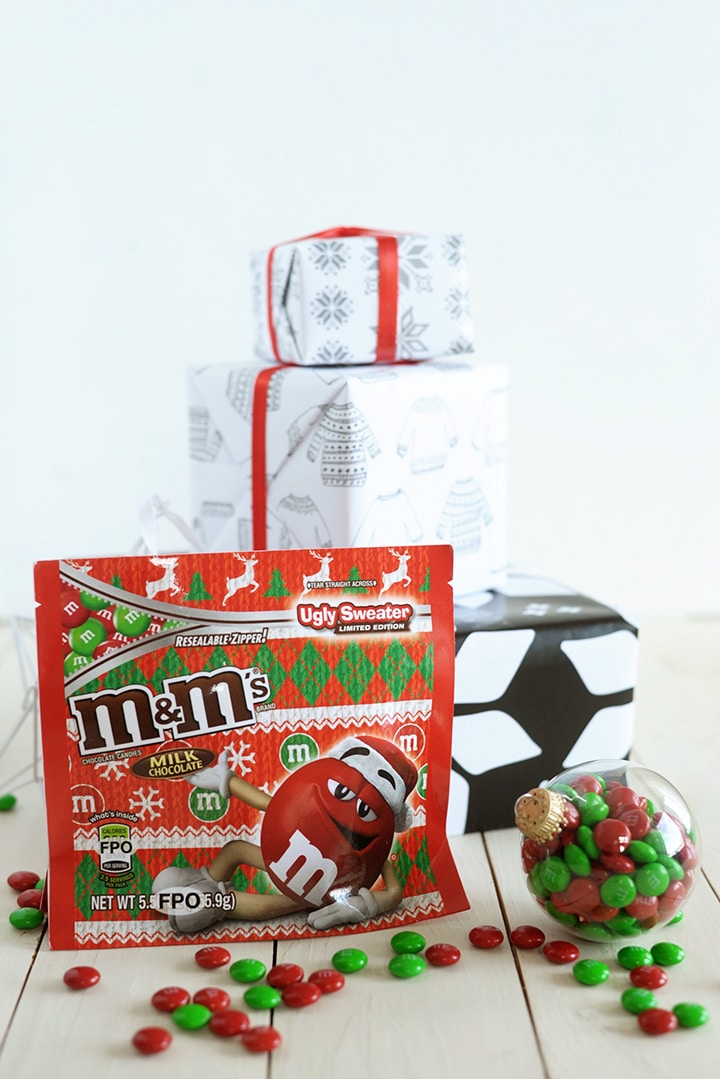 This post has been sponsored by ©2017 Mars, Incorporated and its Affiliates. All thoughts and opinions are my own.
What a fun time of year it is! We love the holidays – the gift making, the baking, the snow and of course the parties! We were inspired by M&M'S® Ugly Sweater Packs to create this free printable holiday sweater wrapping paper & teamed up with M&M'S and Kroger to create these knit-inspired wrapping papers for you, along with a fun DIY gift topper to use this holiday season.
Whether you're hosting your own Ugly Sweater party, or headed to a friend's get together, you can be ready with our ugly sweater wrapping paper. All you have to do is download the files and print them at your local copy shop. We made them black and white to keep them affordable to print. In addition, you can add color to the paper designs with colored pencils, watercolor paints or markers. Our favorite paper we created has to be the hand-drawn sweater design. We used colored pencils to color in a sheet of that paper, and it looks so cute, we want to frame it for some new holiday décor!
Read more for free printable holiday sweater wrapping paper…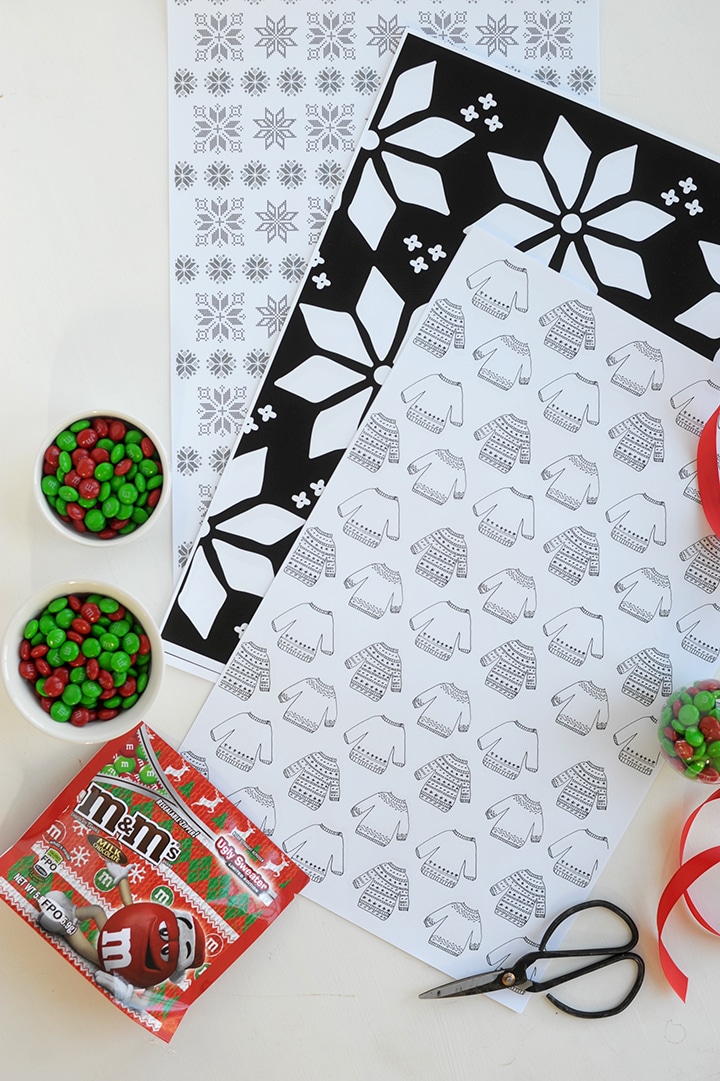 We always love to bring a hostess gift to holiday parties, and you can't go wrong with the special M&M'S Ugly Sweater Packs to bring along to an Ugly Sweater party. We also created a fun gift topper using a clear plastic ornament and filled it with the holiday M&M'S in red and green. It's festive and the whole family will love the sweet treats inside!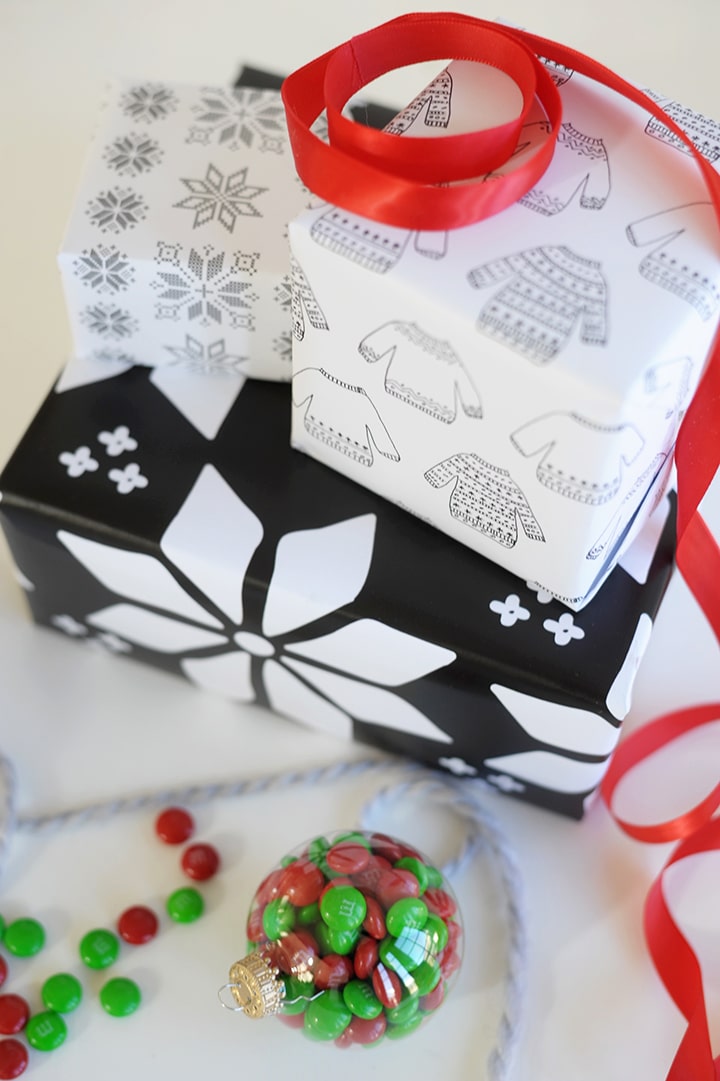 M&M'S ornament gift topper
Supplies: clear plastic ornaments (you can buy them at craft supply stores), holiday M&M'S, ribbon
Steps:
Fill ornament with red and green M&M'S
After it's filled, put the top back on and adhere to top of present with ribbon.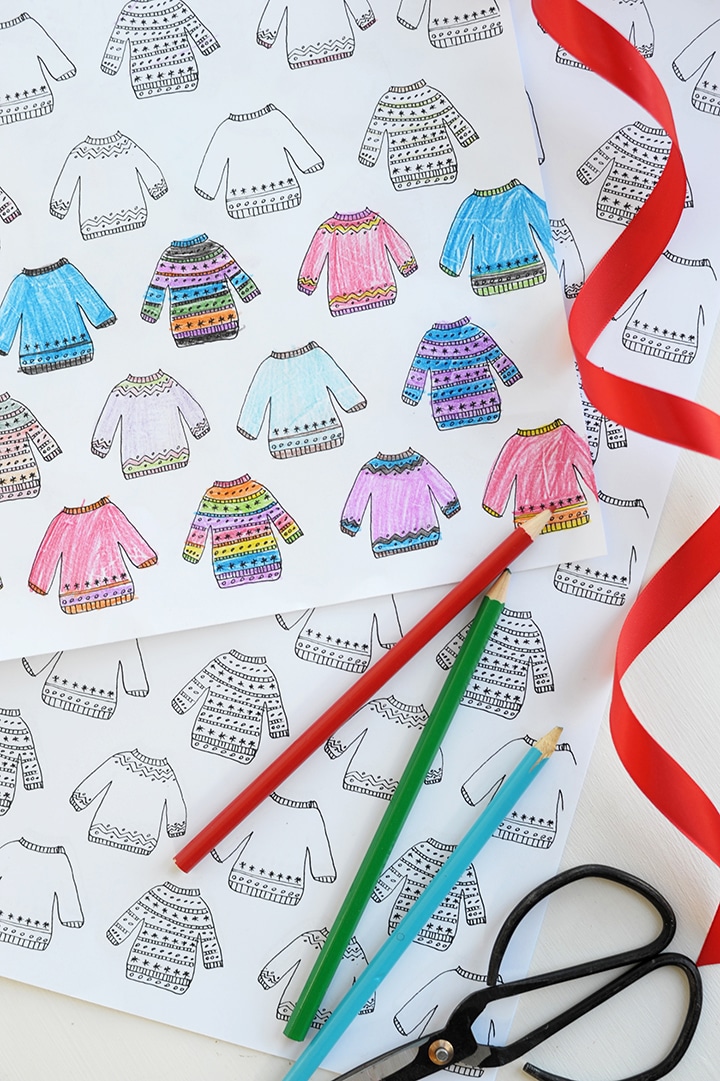 Printable Wrapping Papers
Download the Hand-Drawn Sweater Wrapping Paper here –> Hand-Drawn Sweater wrapping paper
Download the Black and White Modern Snowflake Wrapping Paper here –> Modern Holiday Snowflake Paper
Download the White Snowflake Sweater Wrapping Paper here –> Simple Snowflake Paper
Just download the files and ask them to be printed on regular weight white office paper. They are designed to be printed on 11×17 paper.
We love using black and white wrapping paper because you can use any color ribbon you'd like. For the holidays, we love light blues and turquoise, pops of red and seasonal greens. These papers look so cute with the vibrant red and green of the M&M'S inside an ornament too!
The M&M'S Ugly Sweater packs are easy to find at Kroger or King Soopers stores, in their seasonal aisle. And they're on sale all season long – 2 for $4. These fun sweater packs are exclusive to Kroger and King Soopers stores this holiday. Find your local store by using this store locator.