DIY Graham Cracker Gingerbread Houses
See how to make the most darling DIY Graham Cracker Gingerbread Houses this holiday season.
Making gingerbread houses is one of our family's favorite holiday traditions each December. For years, we've been making the easiest kid-friendly graham cracker gingerbread houses.
We teamed up with Honey Maid this week to share our go-to tutorial for these DIY Graham Cracker Gingerbread Houses.
One of the best things about these graham cracker houses is how easy they are to construct for a family holiday decorating night or a big gingerbread making party for a dozen kids. Honey Maid graham crackers are such a great go-to snack, but they also make the best gingerbread houses!
There gingerbread houses make darling decorations for the holidays! We love to use them along with our DIY Christmas Village with free printables.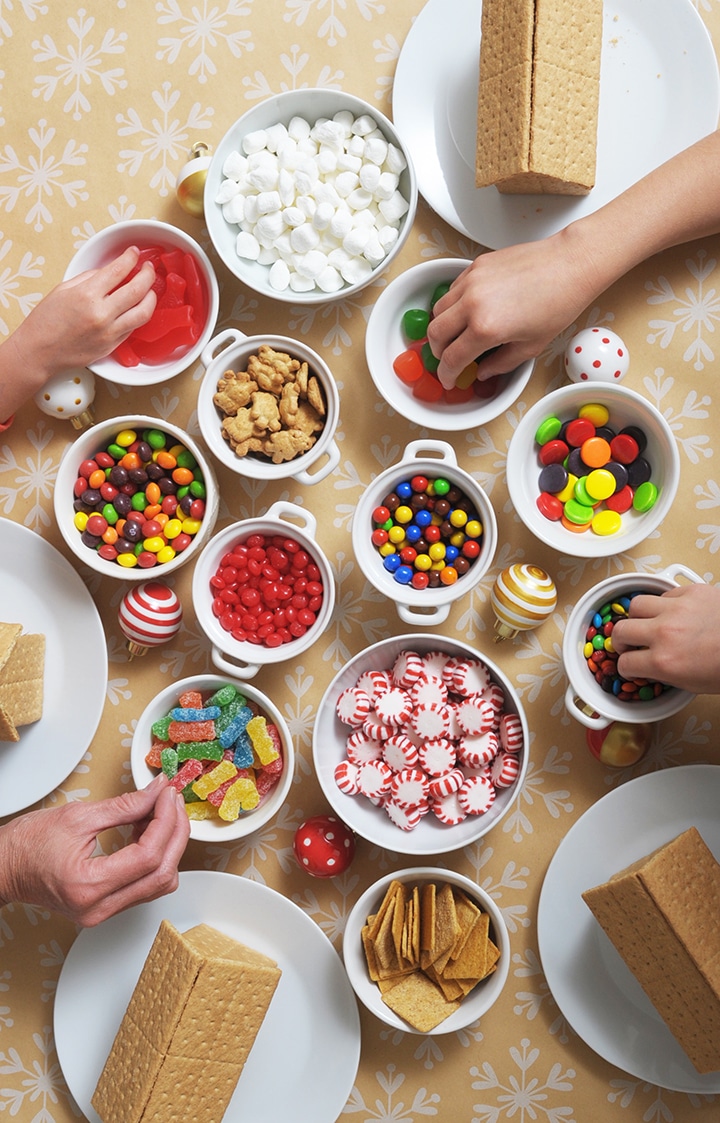 Tips for a Graham Cracker Gingerbread House Making Party
Create your table
Start with your dining room or kitchen table. Put down a tablecloth and then create a runner out of your favorite Christmas wrapping paper. This protects your tablecloth and it creates a festive look!
Candy Topping Station
Create a candy topping station at the center of the table. We used mini white bowls for each of the toppings, but I also love using muffin tins to hold all the different kinds of candy.
Placesettings
Use scrapbook paper or wrapping paper to create paper placemats for each placesetting. Then cut a piece of cardboard or use a paper plate for each child's graham cracker gingerbread house.
Decor
Make some DIY Paper Bag Star decorations to hand on the wall near the table where you will be making your gingerbread houses! This looks so cute to continue to the kraft paper look if you are using kraft wrapping paper for the table top. Add some of our free printable DIY Christmas Village.
The Glue
In addition to all the candy, you'll need the glue, otherwise known as royal icing. I like to have one bag of royal icing for every two kids. Make your royal icing and then use a big sealable bag to hold your icing and cut off one corner to use as a piping bag.
Royal Icing recipe
I like the Wilton's royal icing recipe – Beat 3 Tablespoons Meringue Powder, 4 cups powdered sugar and 5 Tablespoons warm water until icing forms peaks (7-10 minutes at low speed with a heavy-duty mixer, 10-12 minutes at high speed with a hand-held mixer).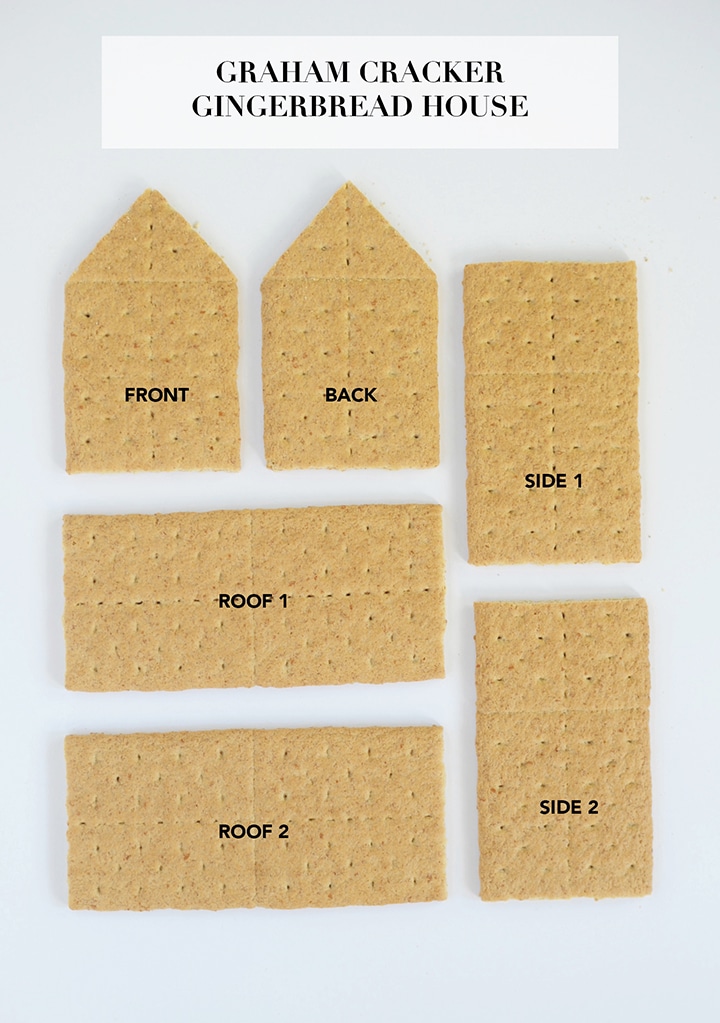 How to make your DIY Graham Cracker Gingerbread Houses
Each house will use six Honey Maid graham crackers. Follow the template in the photo above to cut each side. I like to use a serrated knife to make the cuts. Don't press too hard when "sawing" the pieces.
You are going to cut two identical pieces for the front and back of the house. You are making two cuts to create a peak at the top of each cracker.
Next cut two identical sides of the house. This one is easy, just cutting off an inch on one end of the graham cracker. And the final two pieces are whole crackers that you use for the roof.
To glue your houses together, you can use a hot glue gun, or royal icing. It all depends on if you intend to eat your gingerbread houses.
We actually never eat them after they are on display in our house during the holidays, so I use my trusty hot glue gun. But I've made them with royal icing as my glue and that works as well.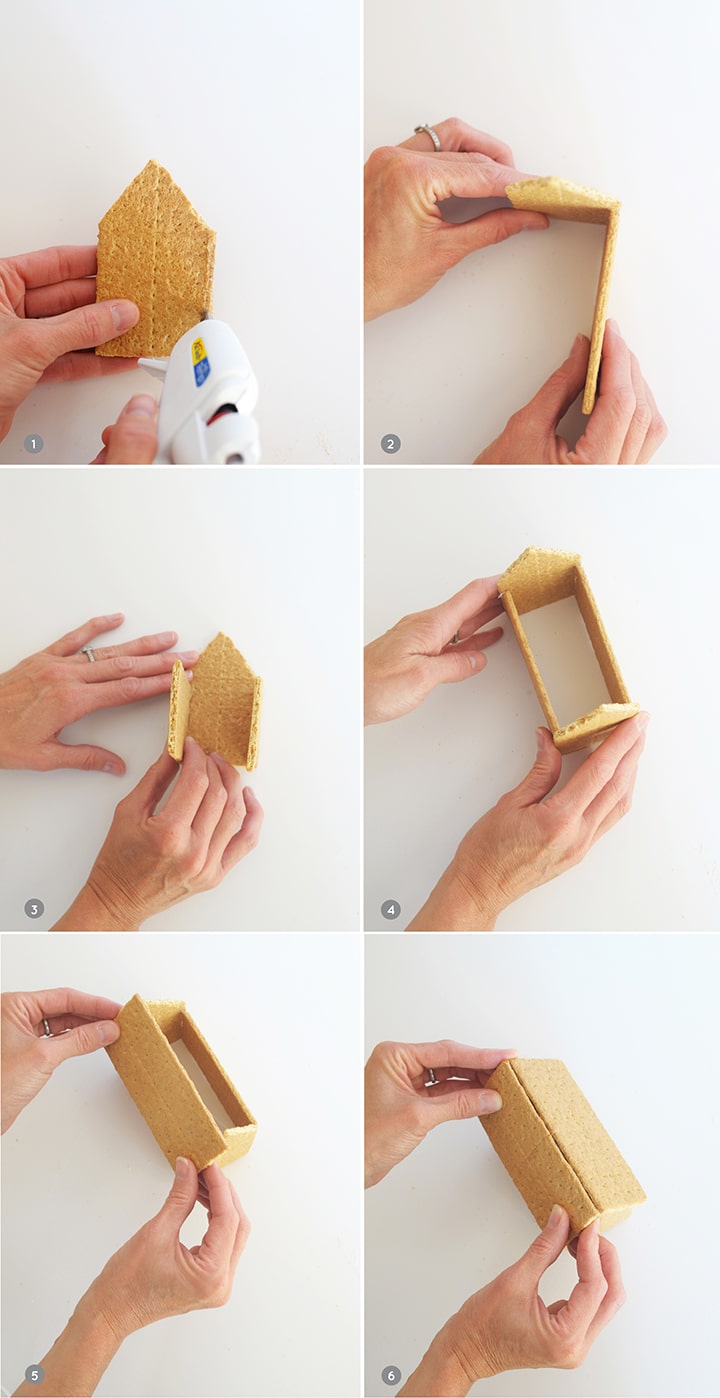 Steps:
Put glue down one side of inner wall of front of house.
Attach side wall to the glued piece and hold until secure.
Repeat on other side.
Put glue on other end of each side wall.
Attach back piece and hold until secure.
Put glue on roof lines and secure graham crackers to roof.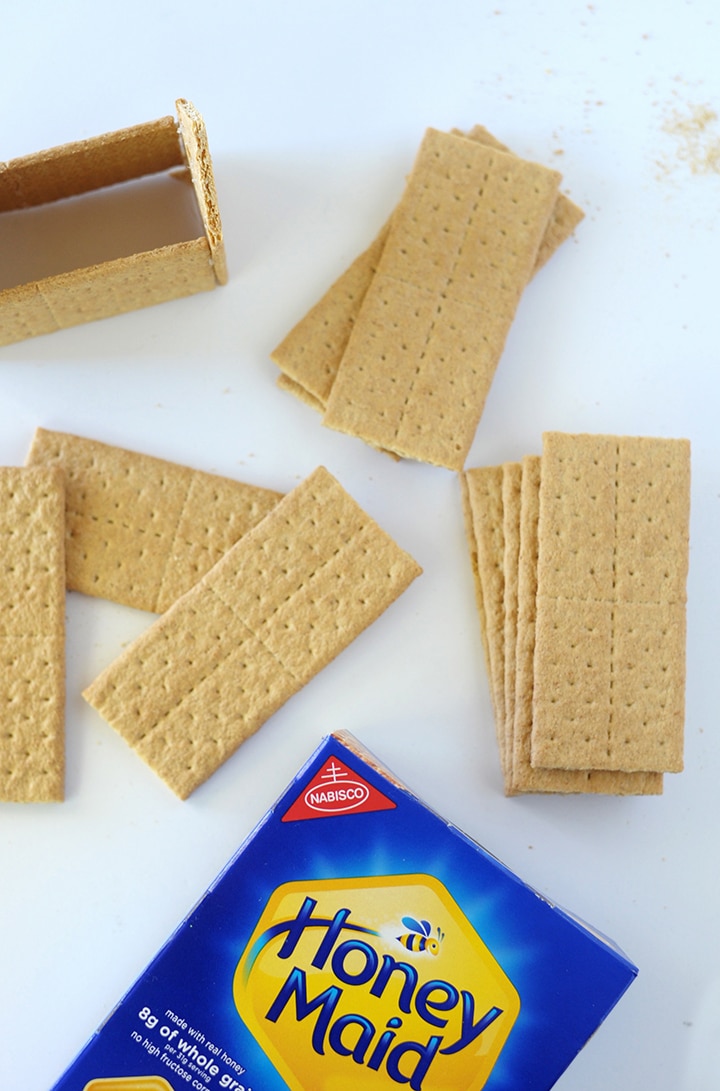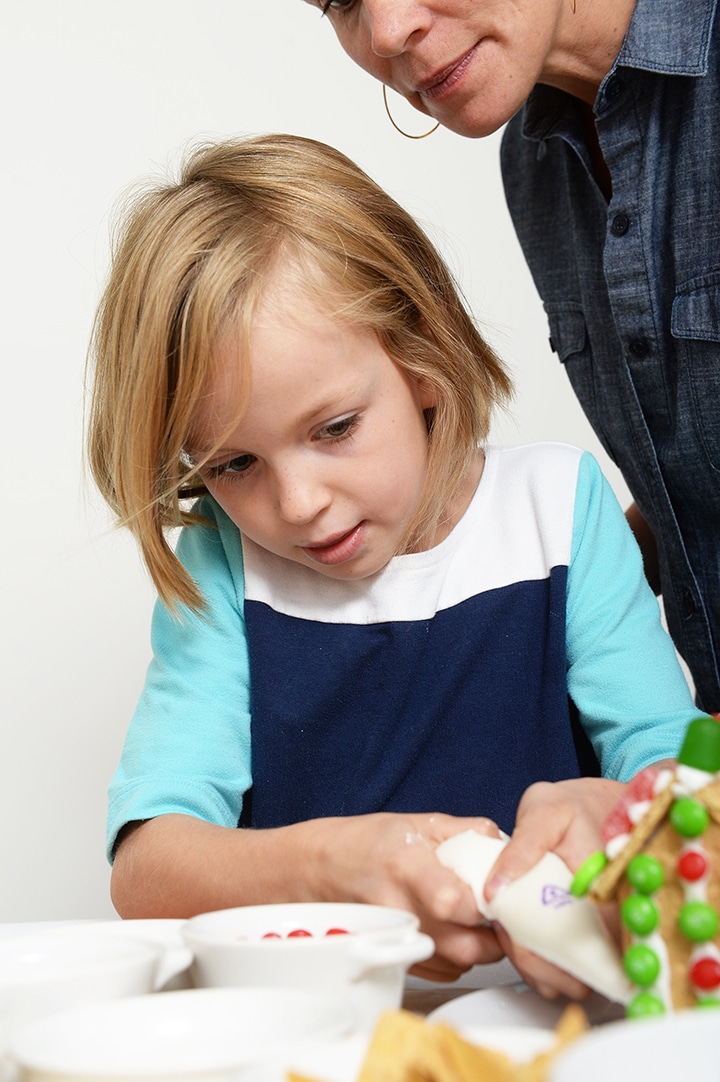 Pro Tip
Here's a tip, I like to construct my graham cracker gingerbread houses the night before so they are fully set. You will have some graham cracker scraps.
We love to put them in a bag and save them for perfect kiddo snacks! They are great to throw in your bag for an on-the-go snack.
Now it's time to decorate! Let the kids' imaginations go wild. If the kids are too young to pipe on the royal icing themselves, it's great to have an adult handling that for them.
We love using colorful candy in many different shapes. This year we loved using Swedish Fish, Sour Patch Kids and then made the cutest little teddy bear sculptures with Teddy Grahams.
To make them we simply put a drop of royal icing on top of a peppermint candy and then added a Teddy Graham to the top of it! The kids love to create little scenes around their gingerbread house.
We also used Wilton melting chocolates this year to add some extra decoration to the graham houses. The kids loved creating patterns with the melted white chocolate.
We hope you love making these graham holiday houses as much as we do!
photos by Melissa and Alex Fenlon.
Thanks to Honey Maid for sponsoring this post and thank you for supporting the brands who support Alice & Lois.