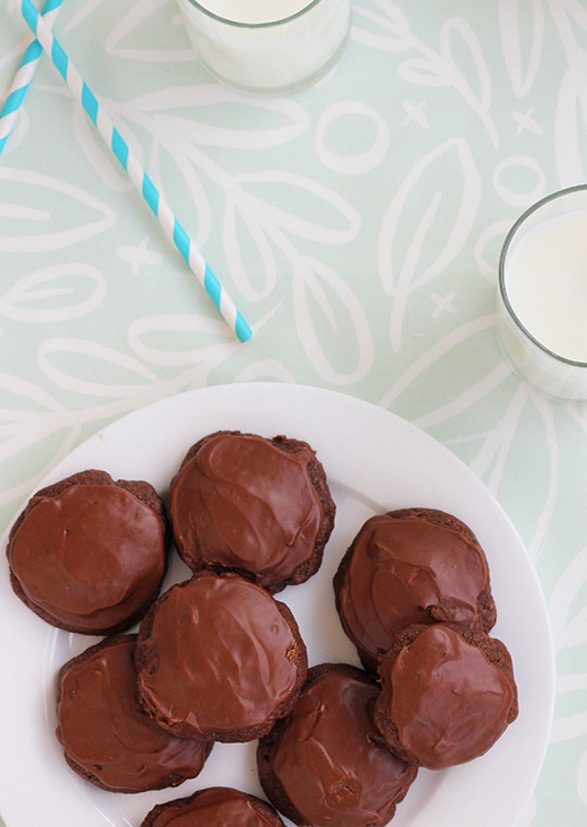 There is just something so magical about a chocolate cookie from your childhood. This cookie recipe does just that – reminds us of our Grandma making cookies in her kitchen on the farm. It also reminds us of our own mom making these cookies in her kitchen when we were kids but also now our kids enjoying these cookies that are made in our parent's kitchen in Michigan.We have made countless dozens of homemade sugar cookies homemade sugar cookies in Gram's kitchen as well.
Grandma's Chocolate Cookie Recipe is simple and so good! These cookies are essentially mini chocolate iced cakes disguised as cookies. Ha! Cocoa, chocolate chips, butter equals so much goodness! Our girls love making this Chocolate Cookie Recipe as much as we do. For the holidays we love to add crushed candy canes or peppermints on top of the chocolate icing.
Our sweet friend, Melissa from Lulu the Baker asked us to join in her virtual cookie swap and we could not resist! We are delighted to team up with a few of our favorite bloggers to share some more holiday cookie recipes today.
Virtual Cookie Exchange
Melissa from Lulu the Baker made a Chocolate Chunk Ginger Cookie that looks sooo good!
Amy from Delineate Your Dwelling made her Grandmother's recipe as well, a Holiday Meringue Wreath Cookie. Can't wait to try these.
Haeley from Designed Improvised made Cherry Ice Box Cookies, a Texas favorite. I will have to give these a try!
Anne from Anne Cropper – Anne made a Chewy Christmas Sugar Cookie that looks amazing.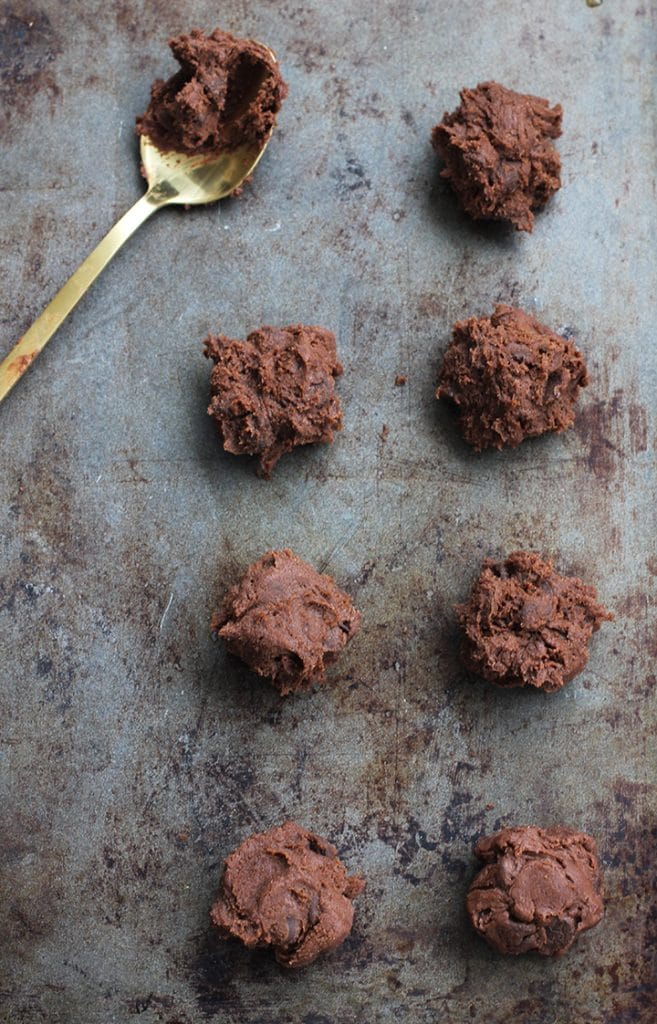 Get our Grandma's Chocolate Cookie Recipe here…
Grandma's Chocolate Cookie Recipe 
The best chocolate cookie recipe you have ever tasted! Chewy chocalte cake like cookie with chocolate chips and homemae chocolate icing. The perfect holiday cookie or for any time of the year. Add some crushed candy cane on top for a fun holiday touch.
Ingredients
1 cup butter softened
1 ½ cups sugar
2 eggs
1 tsp vanilla
1 Tbs coffee flavored liquor (or instant coffee)
2 cups flour
2/3 cup cocoa
¼ tsp baking soda
½ tsp salt
2 cups chocolate chips
Icing ingredients
2 ¼ cups powdered sugar
¼ cup cocoa powder
½ tsp vanilla
1 Tbs butter
¼ cup milk
Instructions
Preheat oven at 350

Cream sugar and butter together with mixer. Add eggs, vanilla and liquor.

Mix dry and wet ingredients. Stir in chocolate chips.

Chill dough for one hour. Use a soup spoon to scoop dough into ball-shaped cookies. Place on cookie sheet. Bake for 8 – 10 mins. Recipe makes 2 dozen cookies.

Mix all of the icing ingredients together and ice cooled cookies.