This post has been sponsored by Aidells Sausage Company, Inc. All thoughts and opinions are my own.
Cooking outdoors is one of our favorite ways to enjoy these warmer days. And if you've never tried grilling pizzas, you've got to try it. It will become a new favorite meal for the whole family! We teamed up with Aidells and Safeway to share an easy and delicious Grilled Pizza Recipe featuring their Aidells® Apple Chicken Links.
Our whole family loves pizza and loves Aidells Apple Chicken Links, so this pizza recipe is a home run in our household. Aidells uses real ingredients, which is important to us – their sausages, burgers and meatballs use all-natural ingredients combined in unexpected ways.
You can create some creative, delicious pizzas with their sausages – so many thoughtfully unexpected flavor combinations that you can find at Safeway year-round in the specialty meat section. Make sure to check out the Safeway app for weekly deals, too.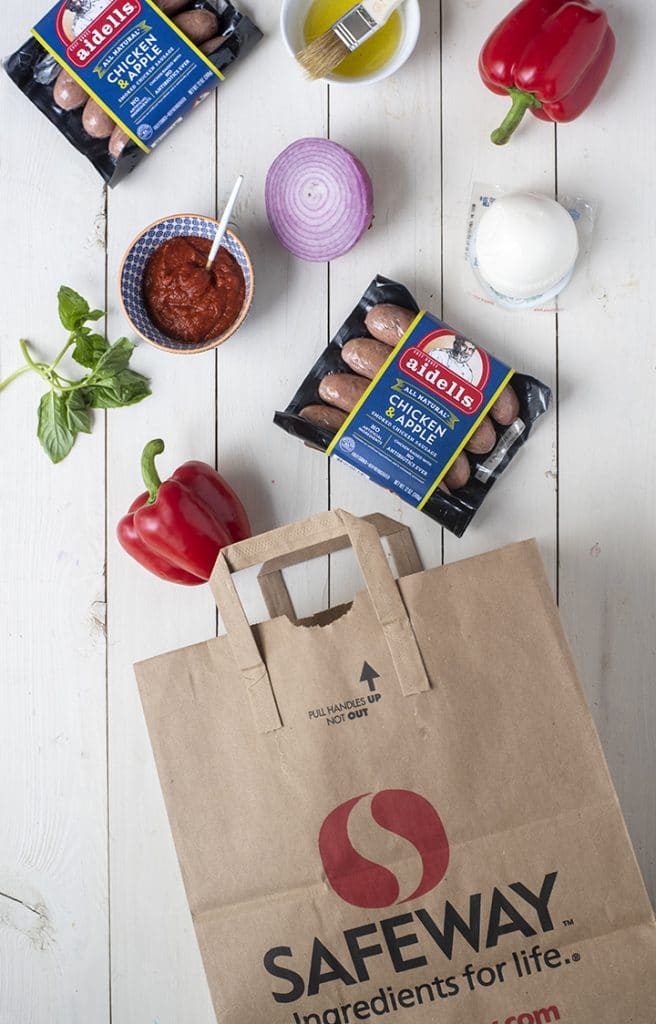 We love this particular apple chicken link, onion and pepper pizza on the grill. This pizza dough recipe is easy to make and the pizzas are so fun to build on the grill!

1 cup warm water (we prefer water to be 105-110 degrees)
1 T honey
1 envelope dry yeast
3 T olive oil
3 cups all purpose flour
1 ½ teaspoons salt
1 T chopped fresh rosemary
Combine the warm water, yeast and honey in a glass measuring cup, and let stand until it is foamy (around 10 minutes). Add flour, oil and salt to a stand mixer and combine. Pour water mixture over and mix for 5 minutes.
Oil a large bowl and add dough, turning to coat with oil, cover with plastic and let sit for one hour. Punch down dough and lightly knead for a couple of minutes. Divide dough into 4 balls. You are ready to make some pizzas!
Grilled Pizza Recipe with Apple Chicken Links, Onion and Peppers
Ingredients:
Olive oil
Pizza sauce
Fresh mozzarella
Aidells® Apple Chicken Links
Red bell pepper
Red onion
Fresh basil
Pizza dough
1. Grill your Aidells Apple Chicken Links on the grill. Slice into thin rounds.
2. Thinly slice your red peppers and red onions.
3. Slice fresh mozzarella into ½ inch slices.
4. Prepare your grill to medium heat
5. Stretch pizza dough to 9-inch round and place on wooden paddle.
6. Brush dough on one side with olive oil and place on hot grill. Grill for about three minutes, watching underside so it doesn't burn.
7. Brush remaining side with olive oil and flip over on grill. Add your cheese, peppers, onion, grilled Apple Chicken Links and close grill and cook until dough is cooked through and cheese is melted.
8. Top with fresh basil and serve.
Grilled Pizza Recipe video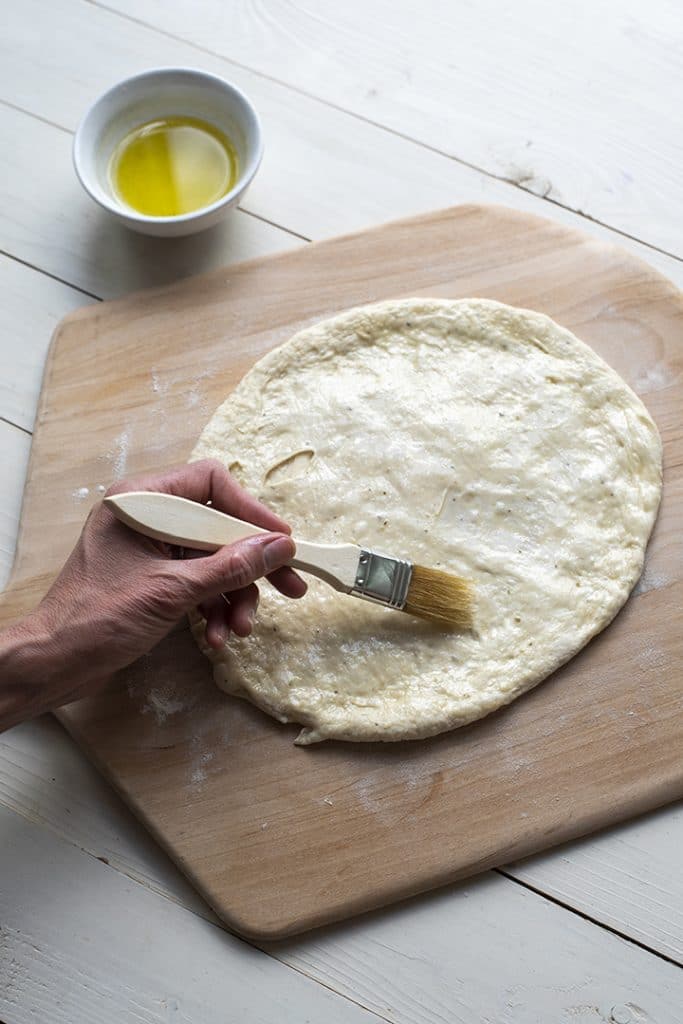 A few tips for grilling pizzas:
• Prepare a cutting board with all of your toppings to place next to the grill. This makes topping the pizza quick and easy.
• Have fun with grilling Apple Chicken Links and veggies first, then slice them up for your toppings. You could easily grill the red onions and red peppers for this pizza. Or try even more grilled veggies with Aidells Apple Chicken Links.
• Let the kids help top the pizzas, but pull the dough off the grill first with tongs and a cookie sheet. Have the kids place their toppings, then slide pizza back onto grill.