Grilled Pound Cake and Nectarine Skewers Recipe
This post is sponsored by Tyson Foods, Inc. All comments and opinions are entirely my own.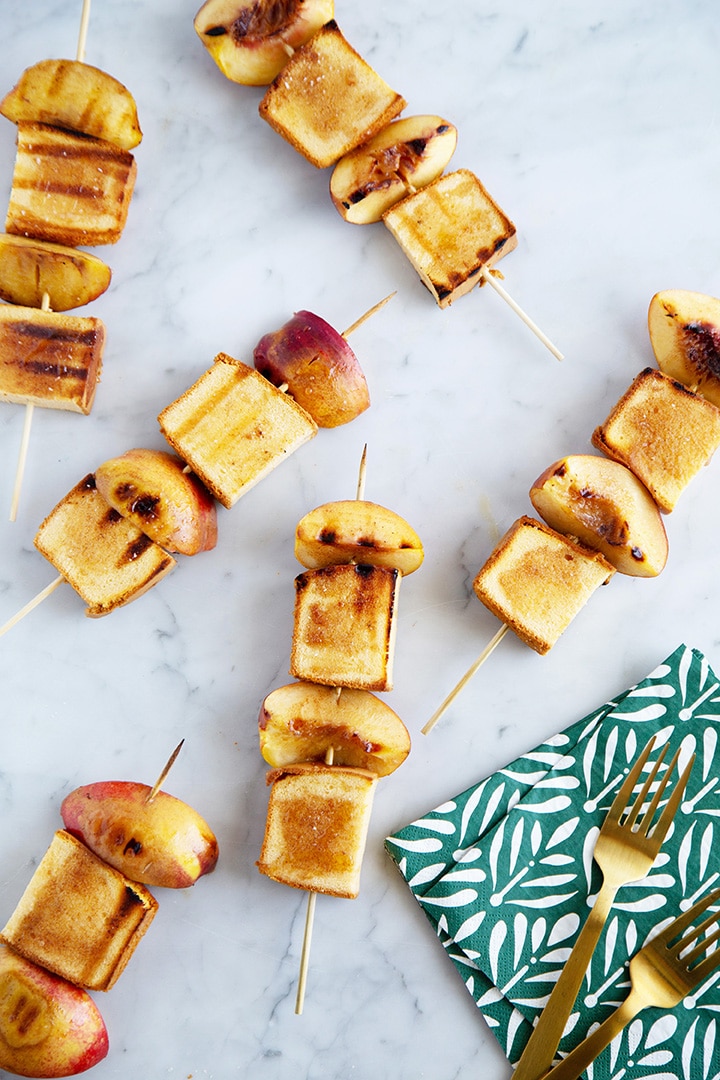 Long summer days call for backyard parties. You know what we love about throwing summertime soirees? Grilling! And we don't stop grilling after the proteins and veggies, we love to throw dessert on the grill. We purchased Sara Lee®at Target to share a favorite summer dessert – Grilled Pound Cake and Nectarine Skewers. You will for sure surprise your guests with this summer dessert. The pound cake and stone fruit is brushed with a butter, cinnamon and honey mixture and lightly grilled to perfection. The grilled pound cake and nectarine skewers are easy to make and easy to serve, and you can easily find all of the ingredients at Target.
We're also sharing some of our favorite ways to personalize a summer soiree – from music to drink stations to backyard games.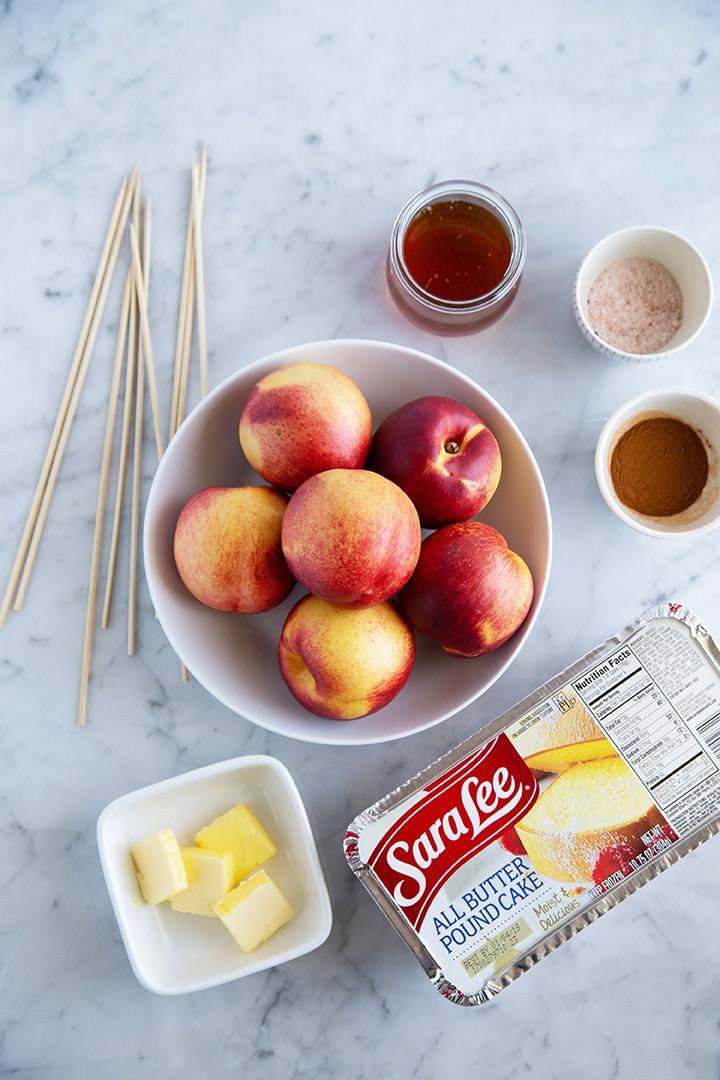 Grilled Pound Cake and Nectarine Skewers Recipe
Ingredients
Sara Lee Pound Cake
Nectarines (or peaches when in season)
3 T butter
1 T cinnamon
1 T honey (plus extra for drizzling)
Pinch of sea salt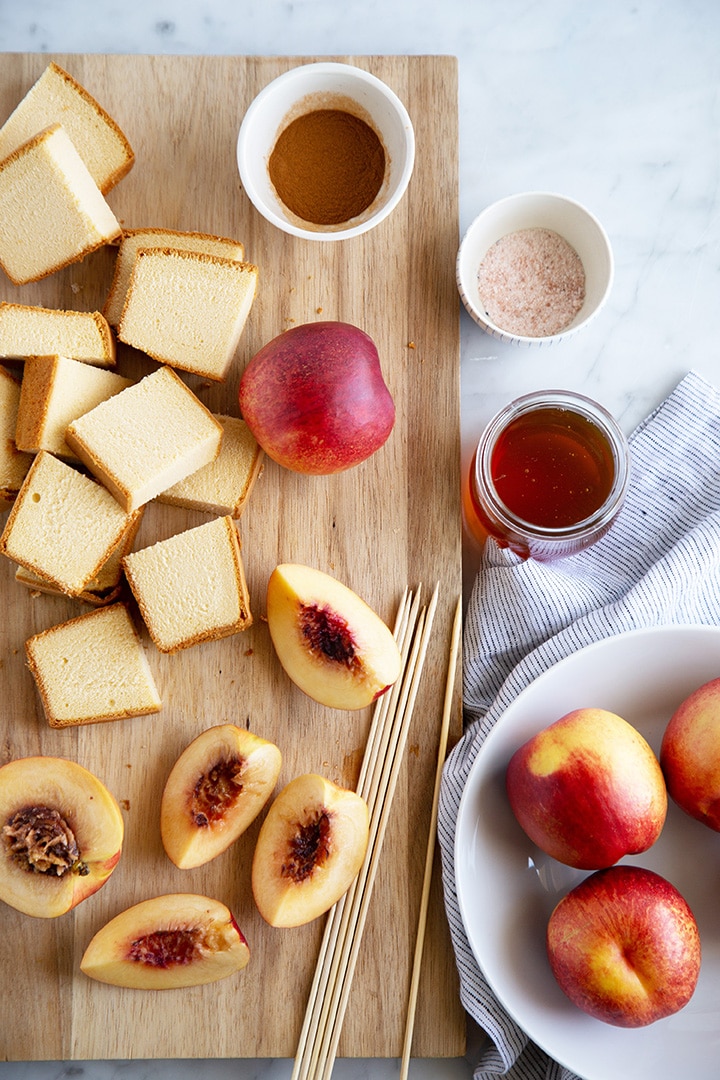 Cut thawed pound cake in half down the middle. Cut into eight pieces.
Cut each piece through the middle.Cut nectarines into quarters.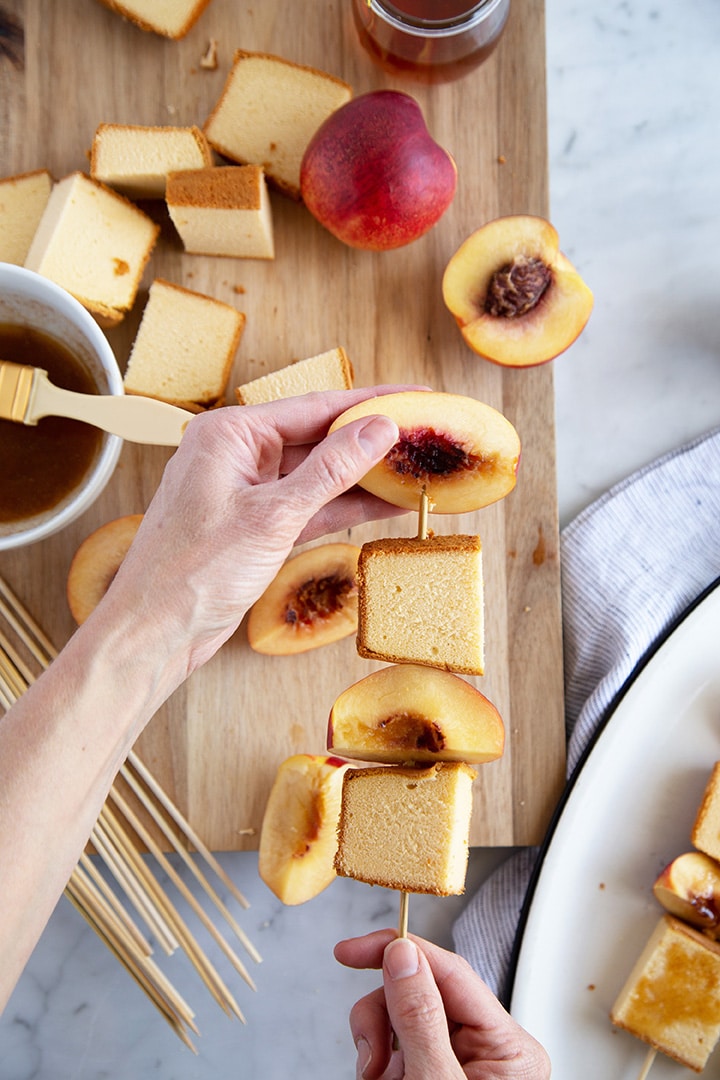 Slide two pieces of pound cake and 2 pieces of nectarines onto soaked skewer. Alternate pound cake/nectarine.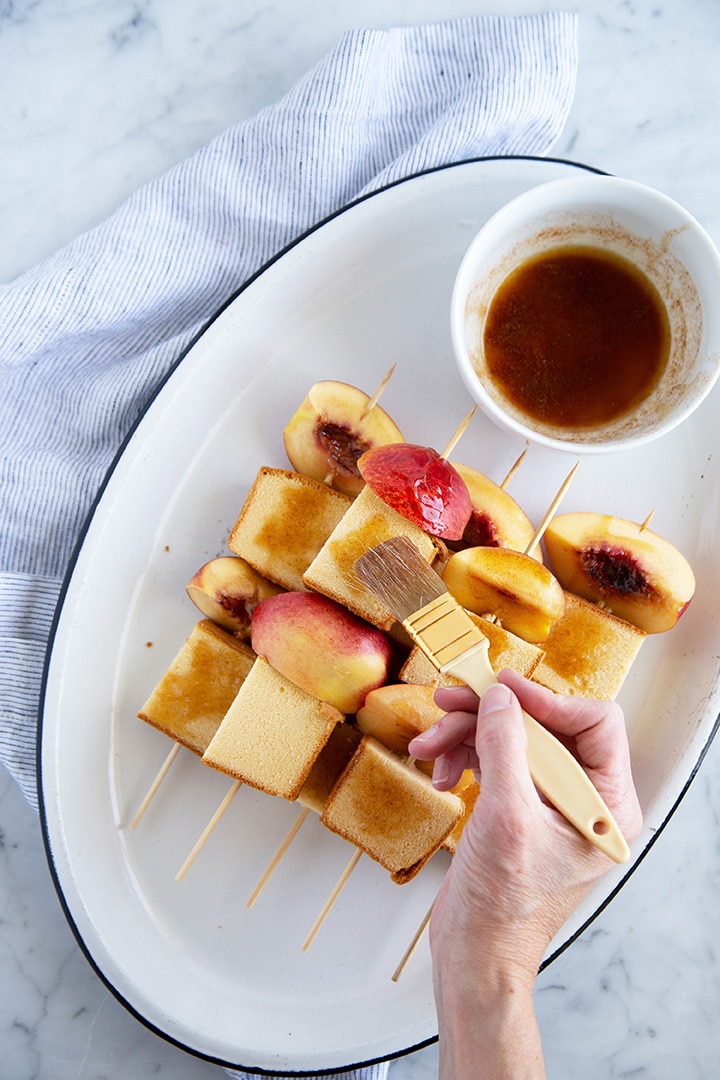 Melt butter. Add cinnamon and honey and stir. Brush the butter mixture on the pound cake pieces and nectarines.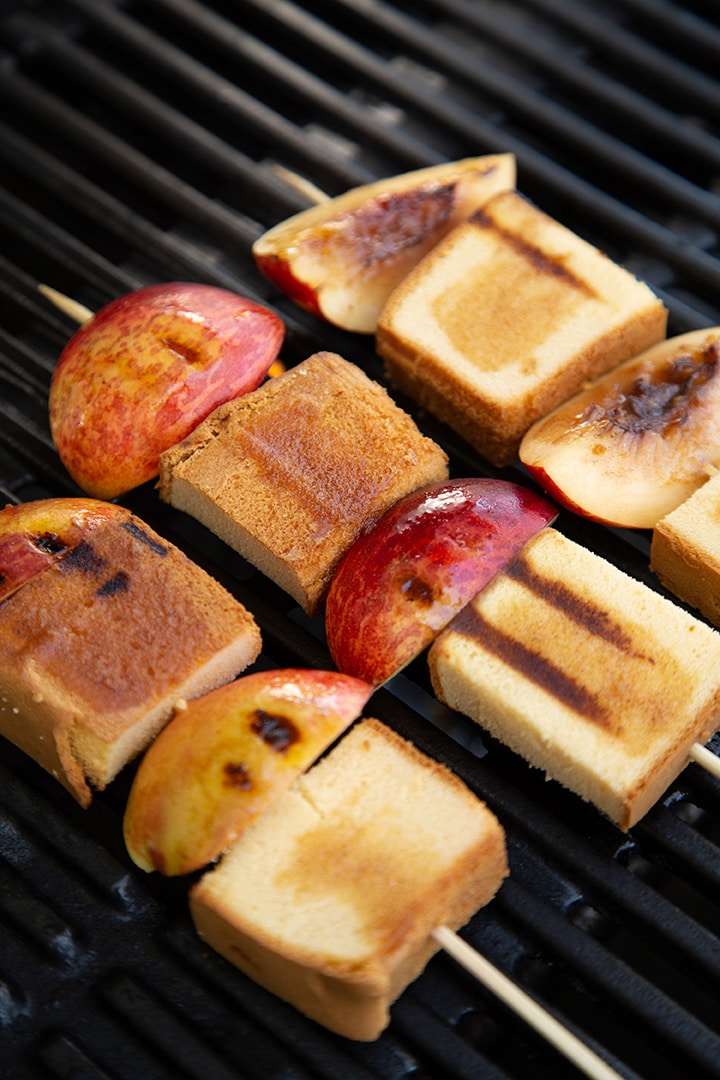 Grill on medium heat for about 2 minutes per side.
Serve on a platter. Drizzle honey and a dash of sea salt on skewers.
You can also serve with vanilla ice cream or frozen yogurt or homemade whipped cream. This recipe will work with other fruit as well. Peaches are so delicious grilled. We cannot wait to try this with pineapple. What other fruits would you try?
Grab all of the ingredients on your Target run. You can find the pound cake in the freezer section. Check out the Summer Field Guidefor another grilled pound cake recipe and summer activity inspiration.  Also make sure and use the Target Cartwheel offer for 25% off 1 Sara Lee Pound Cake.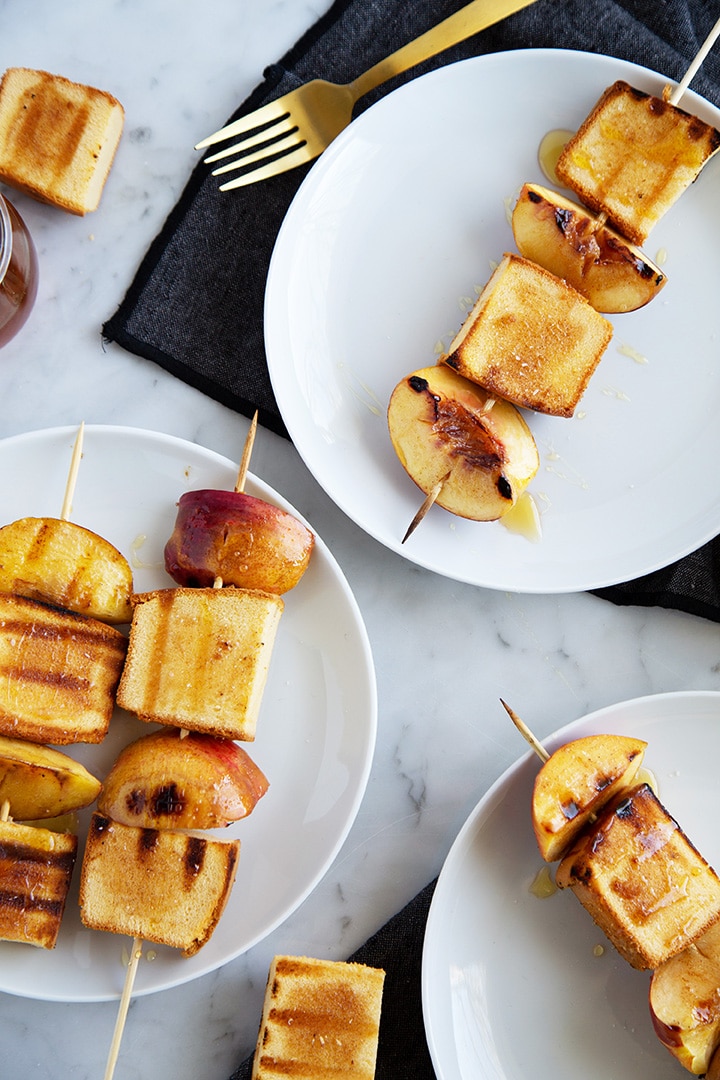 Easy Outdoor Entertaining Ideas
 Create a summer playlist: It's so fun to put together a special playlist for a summer get together. It might be a party that calls for surf-inspired songs or your favorite nostalgic summer hits.
 Drink Station: We love big batch cocktails for summertime parties. You can make it before guests arrive and serve in a large container. Let guests top their drinks with fruit and fresh herbs.
 Make a conversation area: Create a unique place where people can gather and relax. Try putting an old rug out on the lawn under a tree, add some poufs or big throw pillows and you've got an on-trend space for people to converse. And it's always a good idea to add some white lights to the tree for a sweet spot to be when the sun goes down.
 Game time: If we're having several families over for a barbecue, we love to have backyard games set up for the kids and the adults. Croquet, badminton and crush ball are all good idea. It's also fun to have games ready for the whole family, like a water balloon toss, three legged race or yard twister.
 Dessert Table: What we love about a dessert like these Grilled Pound Cake and Nectarine Skewersis that guests can build their own. Pre-cut the Sara Lee®All Butter Pound Cake into squares, slice the peaches, nectarines and pineapple. Place out wooden skewers and let guests assemble their sweet treat. Then brush on the butter mixture and grill! Set out fresh berries and whipped cream as toppings.
Photos by Sara Albers.