Spice up your craft night with a Goat Cheese Crostini Pairing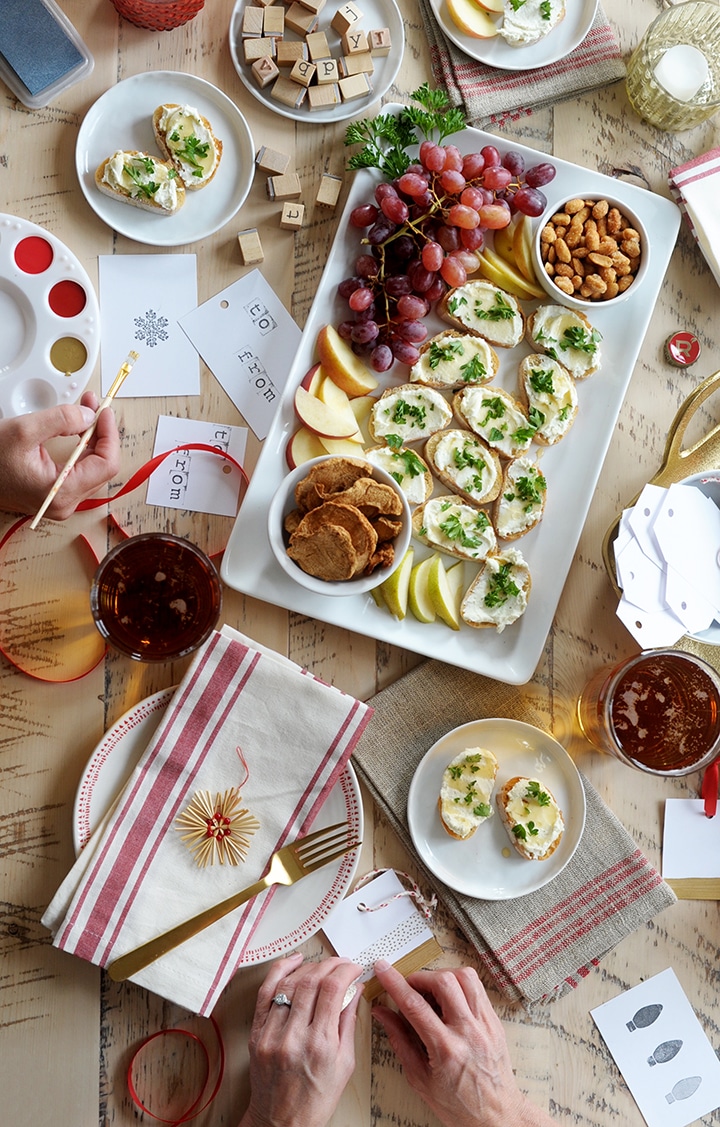 One of the things we love about the holidays is making homemade gifts, especially when this involves creating them with friends. There's nothing like gathering around a big table full of craft projects – from hand stamped holiday gift tags to hand painted wrapping paper to jewelry making supplies.
We partnered with Pints and Plates to share one of our favorite appetizers to serve at a holiday craft party – a Whipped Goat Cheese Crostini recipe that goes perfectly with Redd's Apple Ale. Keep your holiday craft night easy by serving appetizers – try building a big charcuterie board along with this delicious goat cheese crostini. We've learned from much trial and error to err on the side of quality over quantity when it comes to holiday entertaining. Focus on just a few knock it out of the park appetizers, like this crostini and then create a meat and cheese board that will serve your guests until they are full. We're also big fans of a signature drink when we entertain. The Redd's Apple Ale gives this goat cheese crostini a hint of apple in the reduction sauce. It's the perfect pairing for your guests at this casual craft night.
Read more for the Whipped Goat Cheese Crostini recipe and Redd's Apple Ale pairing, along with some tips for a holiday crafting night…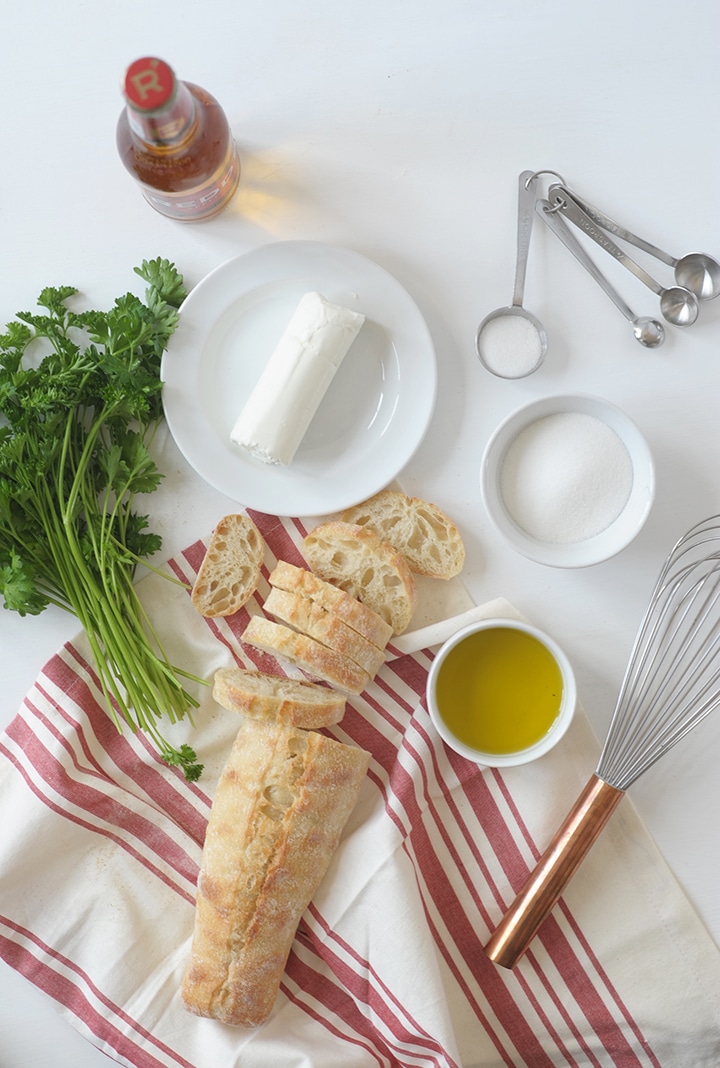 Whipped Goat Cheese Crostini
Serves: 4-6
Prep Time: 5 minutes
Cook Time: 20 minutes
Total Time: 25 minutes
INGREDIENTS
2 tablespoons sugar
1 12-oz bottle of Redd's Apple Ale
1 French baguette, sliced and toasted
4 ounces goat cheese
2 tablespoons olive oil
1 tablespoon chopped parsley
PREPARATION
STEP 1
Slice baguette into ½-inch slices and place on cooking sheet. Bake at 350 degrees until lightly toasted (about 6 minutes). Turn slices over to toast equally on both sides. Remove from oven and let cool.
STEP 2
Create Redd's Apple Ale reduction: Pour entire bottle of Redd's into a saucepan and add sugar. Reduce until thickened (about 15 minutes).
STEP 3
Whisk goat cheese in mixing bowl at medium speed. Slowly mix in olive oil and 1 tablespoon of Redd's Apple Ale reduction (see step 2).
STEP 4
Place toasted baguette slices on serving platter and spoon about 1 to 2 tablespoons of goat cheese whip onto each toast. Drizzle remaining Redd's reduction over crostinis and sprinkle with chopped parsley.
We love the fresh take on this goat cheese with the sweet apple reduction on top. It goes perfectly with the light, whipped goat cheese. It's easy, so pretty on a platter and your guest will love it!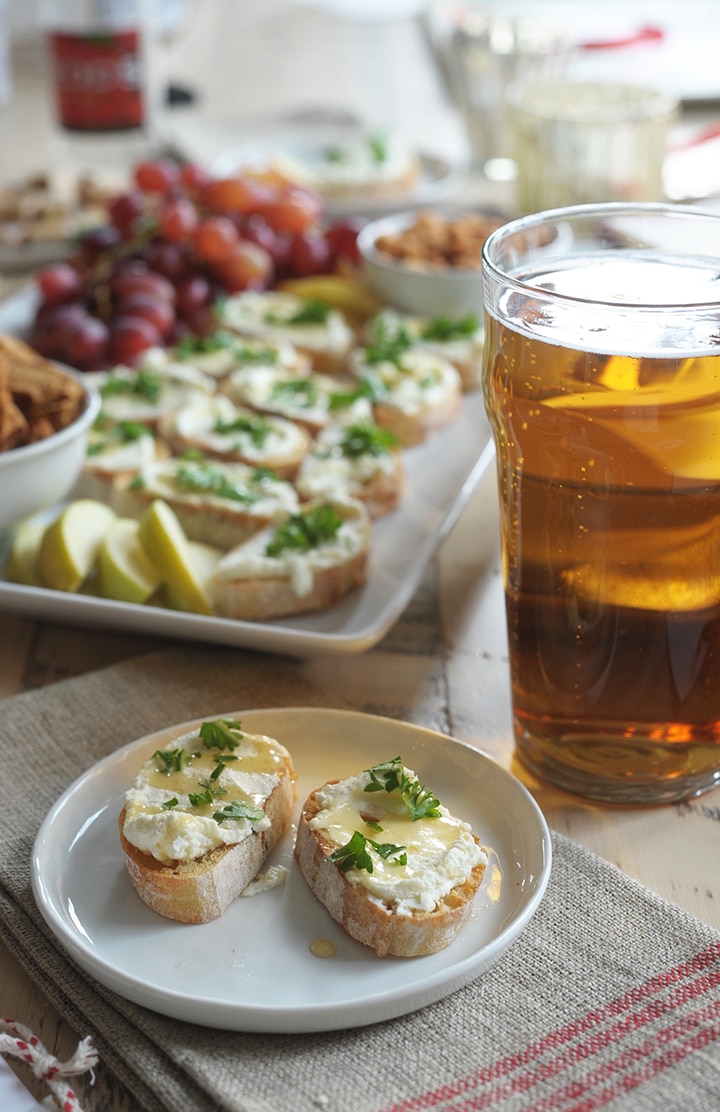 Holiday Craft Night Tips
Choose Your Project: In early holiday season, it's fun to bring your girlfriends together to make handmade gift tags and wrapping paper. Do all craft prep before your guests arrive. For instance, cut cardstock into gift tag shapes and punch holes in each. Gather paints, alphabet stamps, washi tape and ribbon to create one of a kind gift tags like we did. For homemade wrapping paper, we love to get inexpensive rolls of white and kraft paper. Precut sheets for your guests to decorate. Try potato stamping patterns in paint or free form abstract painting. It's all about giving your guests the tools to create something amazing they can bring home and gift or use during the holidays.
Some other ideas for craft nights include: jewelry making, painting wooden spoons, ornament making, and mini yarn wall hangings.
Set your table: This is why we love appetizers for holiday gatherings like this. They are easy to eat and work so well at the center of a big table of guests. We like putting the charcuterie board and goat cheese crostini along the middle of the table. Create a place setting for each guest with a small plate and pretty linen napkin topped with an ornament they can take home. Add silverware to a glass and have that on the table for guests to grab. Serve your beer out of a metal tub filled with ice.
Be creative with how you set out your craft supplies. For our gift tag making night, we set out supplies on gold serving trays, putting pre-cut paper tags in white bowls. Add spools of ribbon, rolls of washi tape, paint and paintbrushes, along with stamp pads and alphabet stamps.
We already want to start planning our next craft night. Already looking at Pints and Plates recipes like these prosciutto skewers,  and this chicken, brie and pear flatbread.
Have fun hosting your holiday craft night!