Homemade Baked Sweet Potato Chips
post by Sara
This time of year I crave root vegetables, especially sweet potatoes. Sweet potatoes are rich in fiber, potassim, iron and vitamin C. I usually roast sweet potatoes, but my 7-year old doesn't care for them. I thought if I made chips, that might change her mind. Have you ever tried to make crispy baked sweet potato chips before? This recipe for homemade sweet potato chips is simple in ingredients, but takes a bit of patience.
Read more for the recipe and instructions…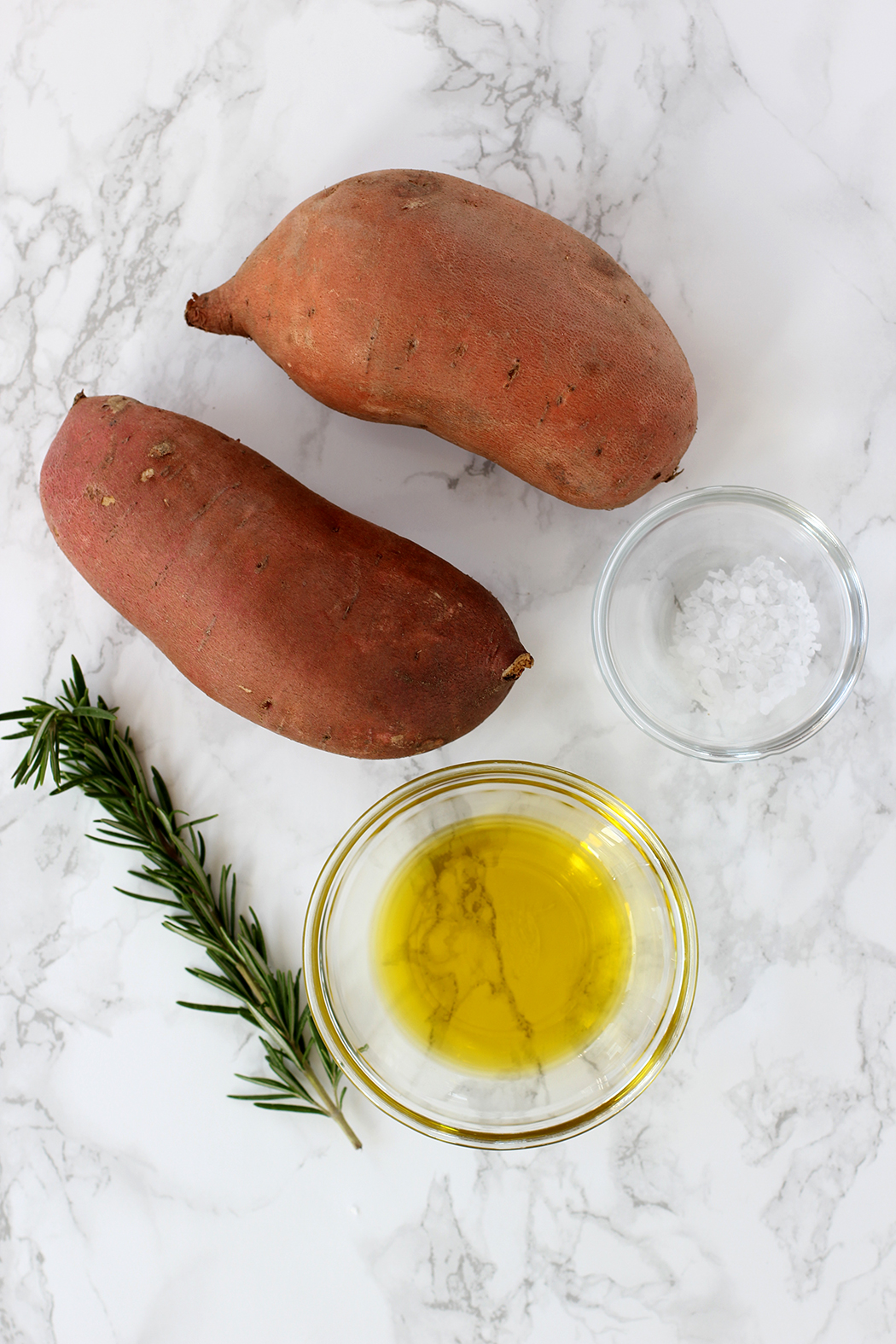 Ingredients: 2 sweet potatoes // 3 tablespoons olive oil // salt & pepper // fresh rosemary chopped // Handheld Mandoline
// parchment paper // large baking sheet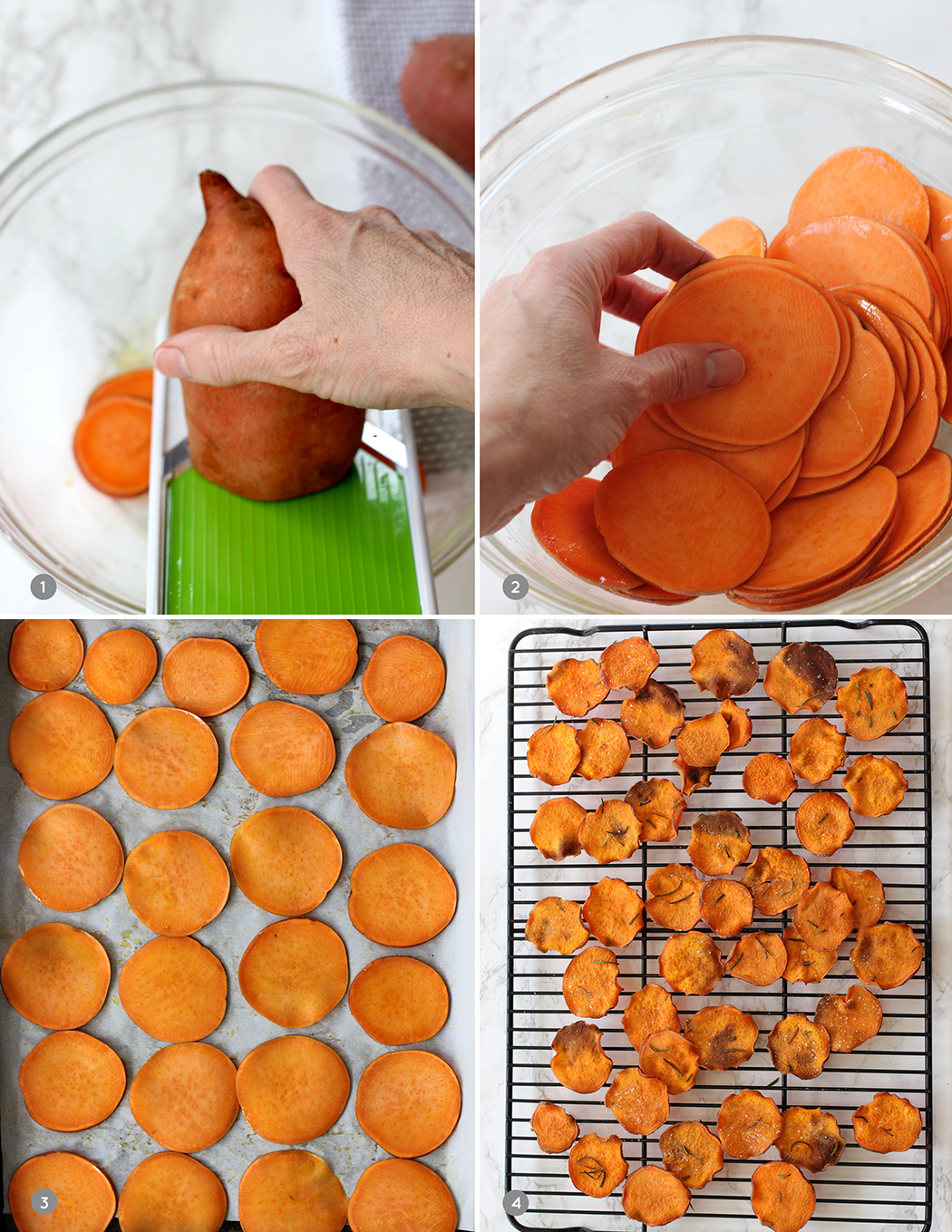 Preheat oven to 300 degrees F.
1. Wash sweet potatoes. Slice potato 1/8 inch thick using a handheld mandolin slicer. If you do not have a mandolin, slice as thin as you can with knife.
2. Mix the sliced potatoes with olive oil.
3. Lay flat on parchment paper on cookie sheet. You can also use foil, this will make the chips even crispier. Try not to overlap the slices. Sprinkle chopped rosemary onto slices. I recommend salting after baked. You can fit almost one sweet potato on a large baking sheet.
4. Ok, cooking time. I have tried cooking the potato slices at a higher temp but could not get then to be crispy! This is what worked best for me.
– Bake 15 mins, flip each slice using tongs.
– Bake 5 mins, flip. The edges will be curling and starting to brown.
– Bake 4 mins, flip. Depending on your oven, you might want to rotate your pan.
** Repeat this 4-minute flip up to 6 times. **
The smaller chips will be ready before larger chips. You might need to continue the 4-minute flip a few more times, depending on how hot your oven runs.
– The chips should be browning on edges and a dark orange color in middle. Remove done chips and place on cooling rack. Sprinkle with salt when still hot. Let cool 15 minutes.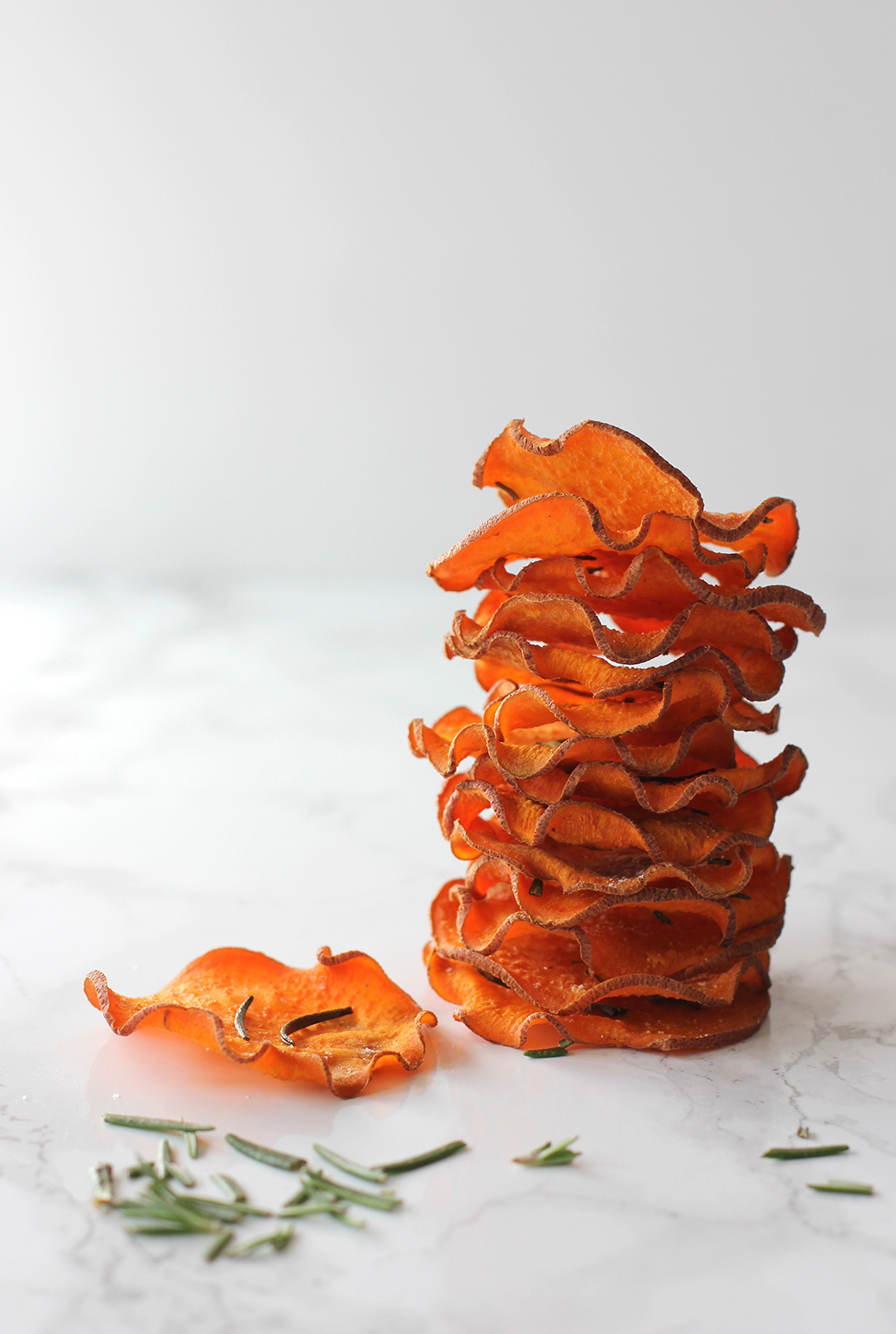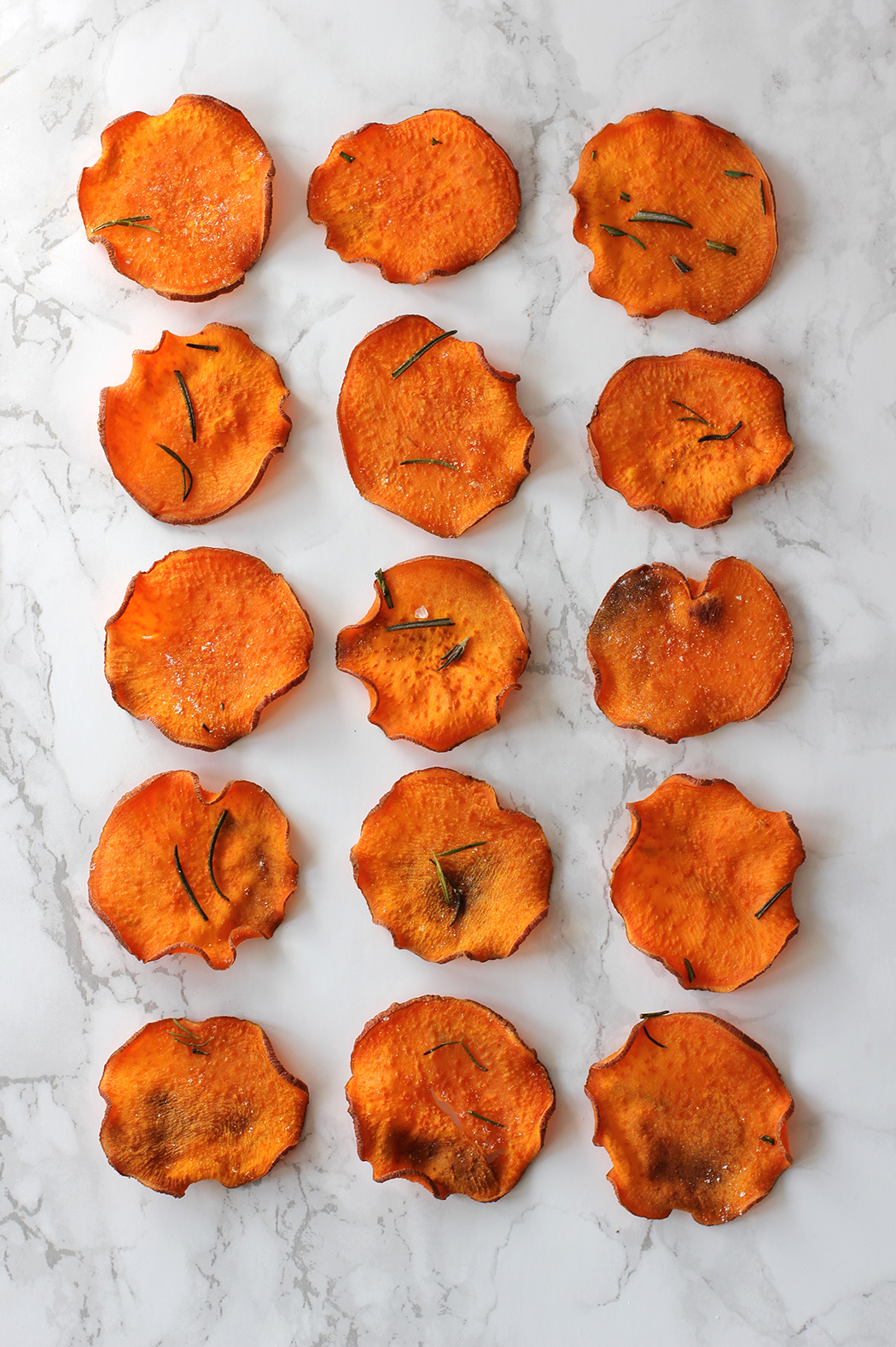 This might seem that it requires quite a bit of patience… I just set the timer on my phone and stayed in the kitchen doing dishes.
You can top with salt, pepper, and more rosemary. There are so many variations you could try – sweet, spicy, savory!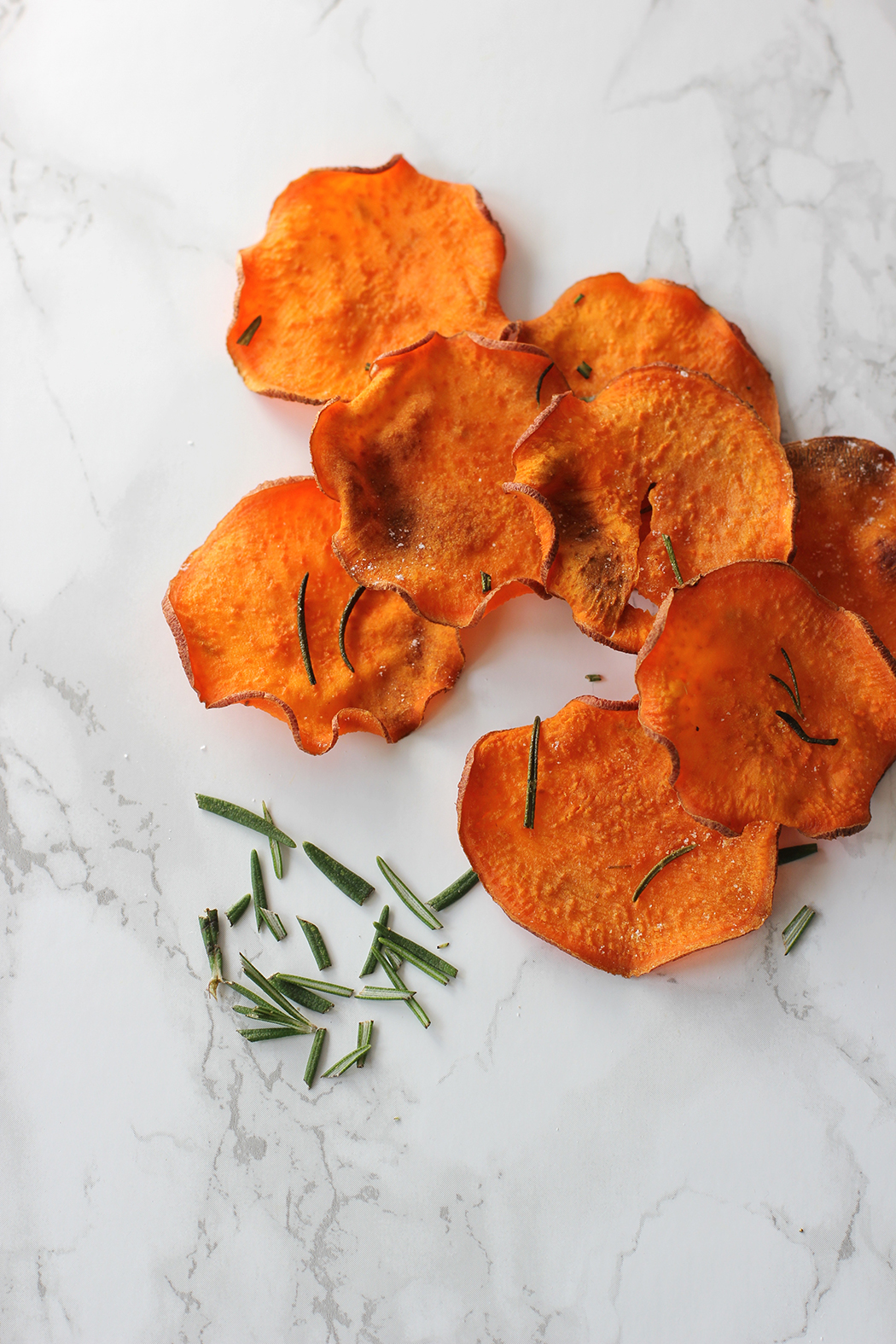 Photos by Sara Albers. all rights reserved.