How to Bleach Wood Furniture
Check out our latest DIY furniture obsession! We are here to show you how to bleach wood furniture to get a driftwood or natural wood look. This has been a very popular furniture refinishing or refurbishing trend this past year.
We love the look of light wood. Some people call it driftwood, which we also love. The light and bright shade of wood goes with any decor and with any wood tone in the room. This looks nice with dark wood floors and light as well.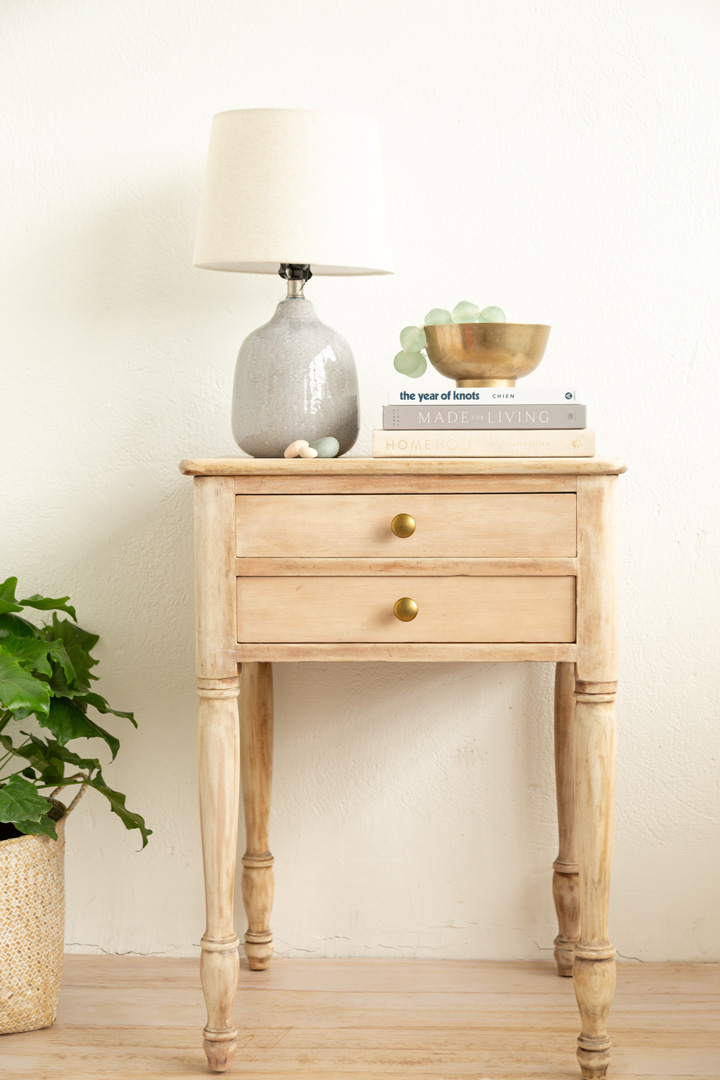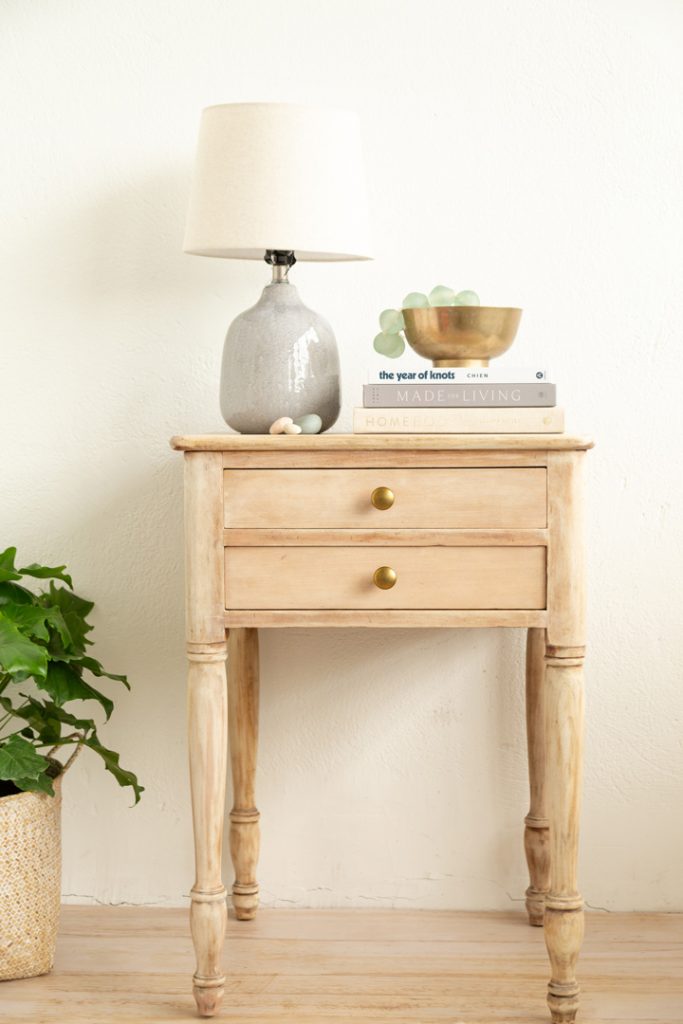 I don't know about you, but I love the look of natural driftwood finish on wood furniture. It is timeless and can mix well with any color and tones that you have in your home. It gives a neutral warm feeling, don't you think?
We used a cherry wood side table and transformed it into this beautiful light wood accent table! Now, using cherry wood was something we learned about the hard way. The darker the wood – the more you have to bleach it.
We kind of have a thing for side tables – remember the fluted side table we made!? Or this tiled one?! All in all, we love DIY home projects. And, we also have a thing for sharing all of our knowledge on how to strip and bleach wood furniture.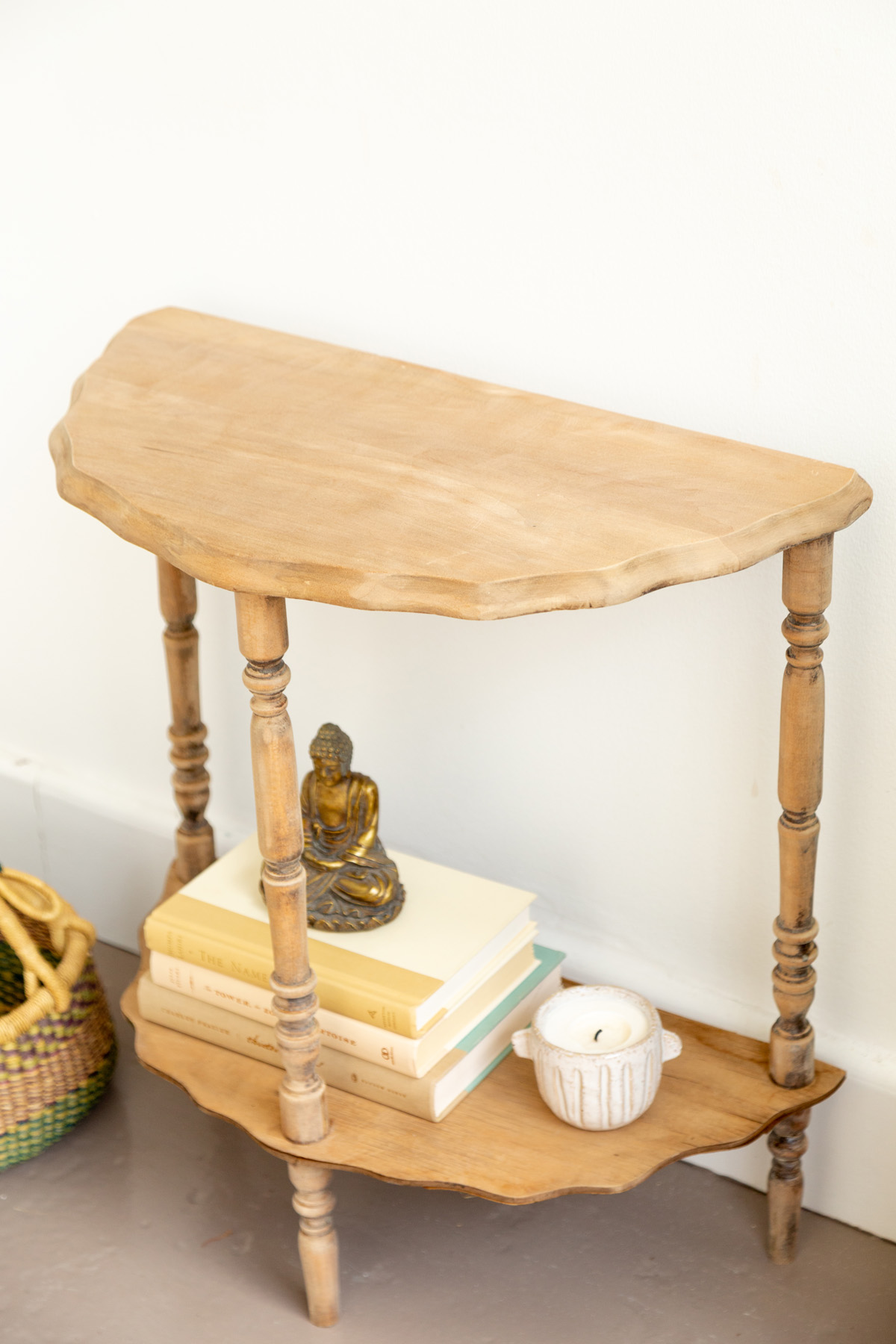 3 types of wood bleach
Good ol' clorox can can remove the stain color of wood but cannot effectively change the color of darker woods. Regular household bleach can work well with already lighter colored wood. We do like using the kind that does not splash.
We find it easiest to mix bleach and some water in a spray bottle and spray onto the wood.
Oxalic acid can remove stains (like water and rust) and lighter wood. It typically comes in a powder form and you mix it with hot water.
This is typically used with wood workers trying to get a more uniform color before re-staining a piece of wood furniture. You are to use it on bare wood only.
"Two part" A/B peroxide-based bleaches
This type of wood bleach comes with two bottles that you apply with gloves and sponges. They are sodium hydroxide (caustic soda) and hydrogen peroxide. Using both chemicals causes a  chemical reaction that removes the color from a previous stain or wood color.
I used the Wood bleach A and wood bleach B (the two part) for the table below.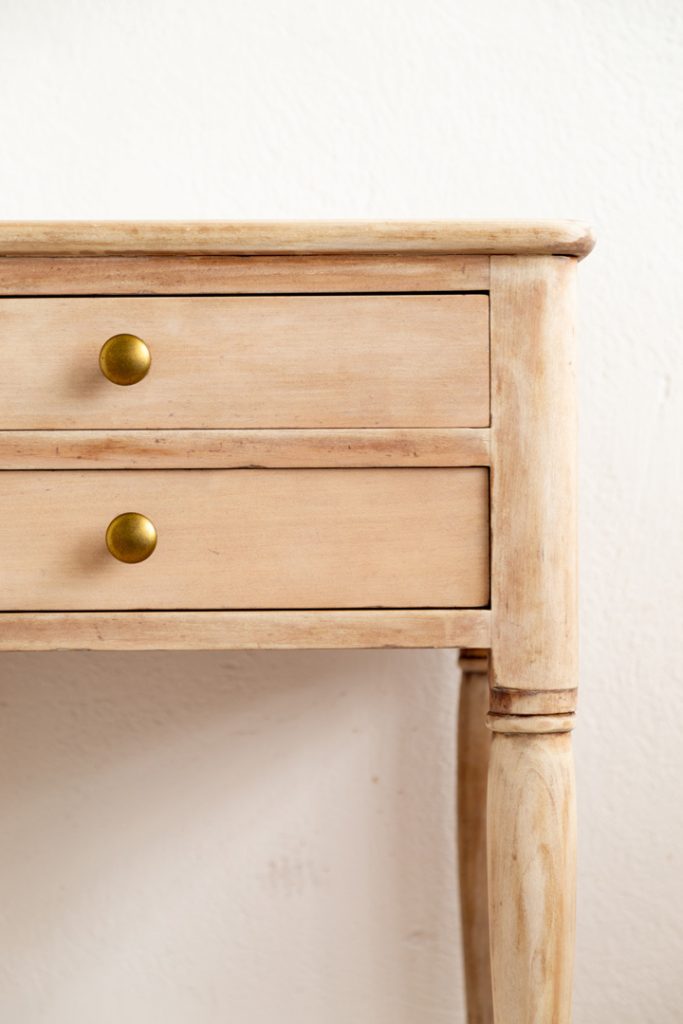 How to Bleach Wood Furniture
Here are a few tips when bleaching wood furniture:
Prep the wood first! This means you have to strip the furniture that has a varnish or thick stain. I used Citrus Strip.
You will want to make sure after stripping and cleaning wood that you wipe down with mineral spirits/water mix and let dry completely.
Use a good power sander! And use good chemical resistant gloves when stripping and bleaching wood.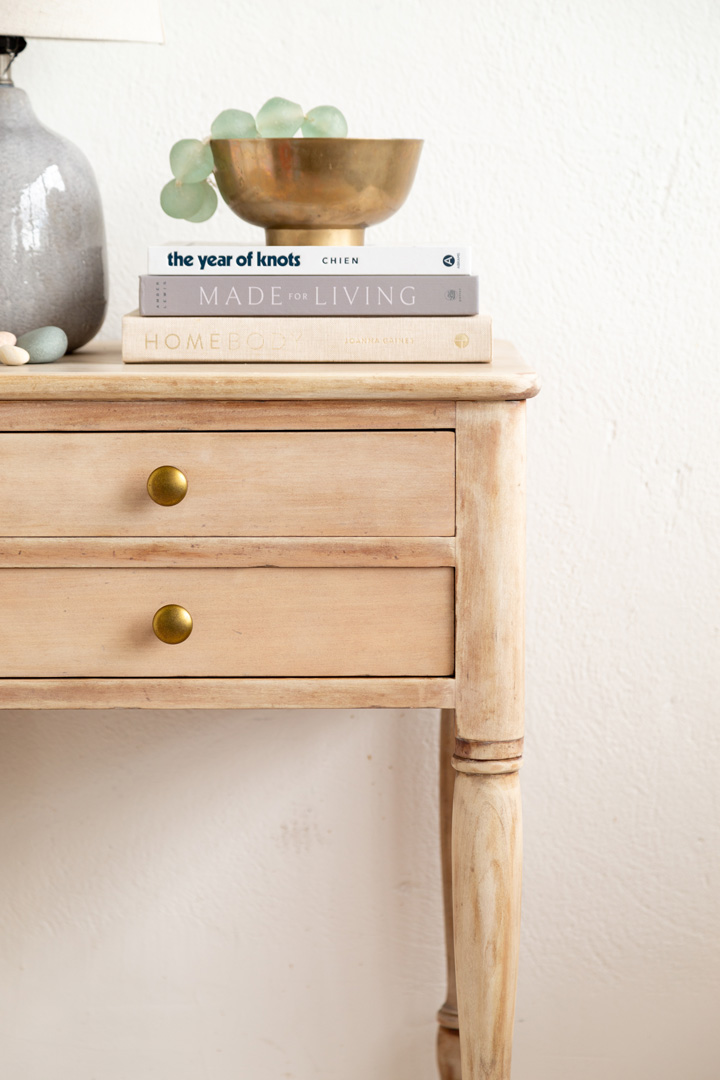 Use a vinegar/water mix in between bleaching. You can do the bleaching process multiple times if you are using a darker wood (like in my case cherry wood). This will neutralize the wood between bleaching.
The best wood types for bleaching are oak, beech and ash. As I have said before, typically the darker the wood, the harder it is to bleach. I used an antique cherry wood table and did the bleaching process

three times

to get the light driftwood color I was going for!
DIY Furniture Projects for the Home
Check out some of our favorite DIY Furniture projects for the home - from Ikea hacks to transforming wood furniture.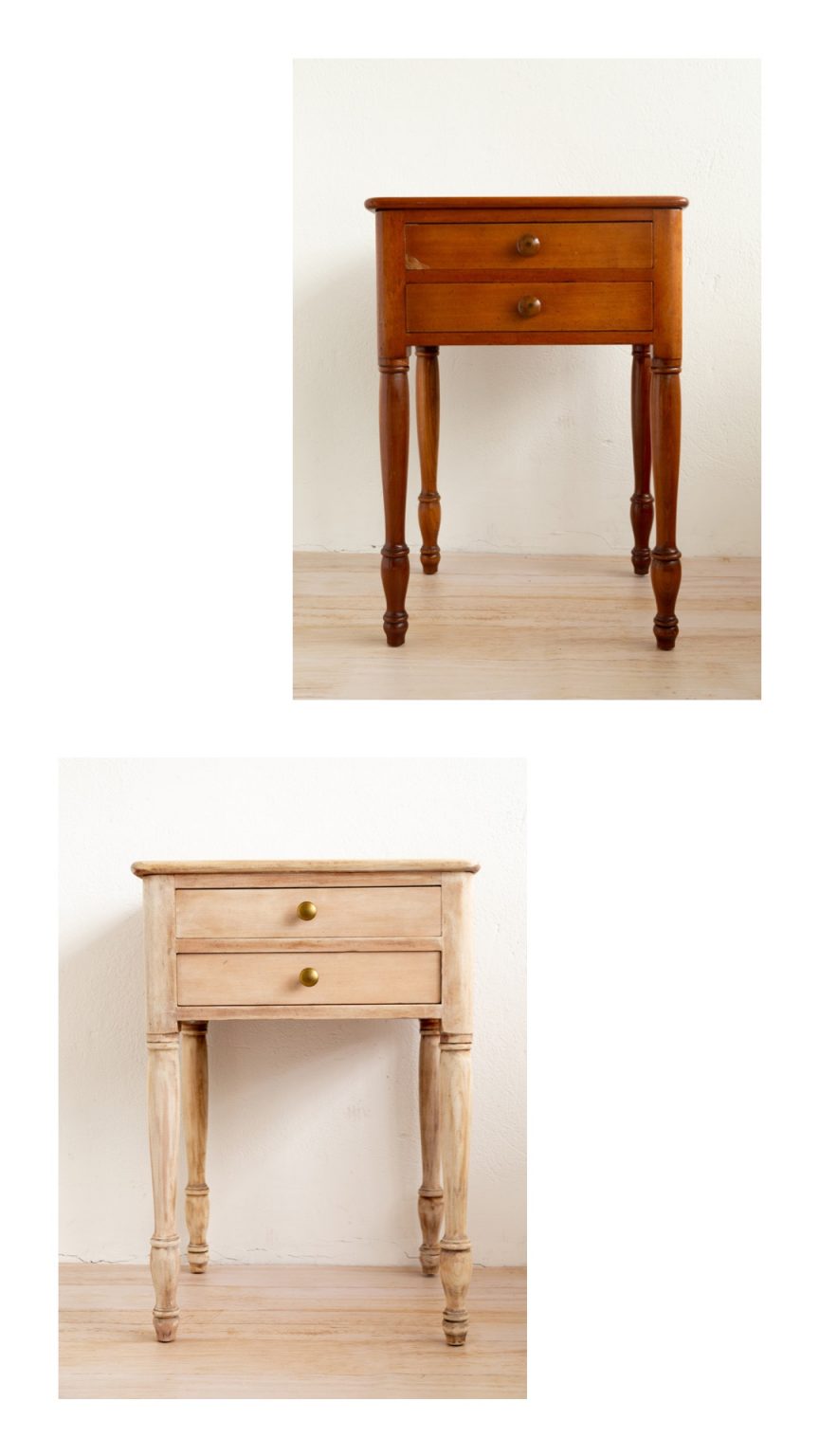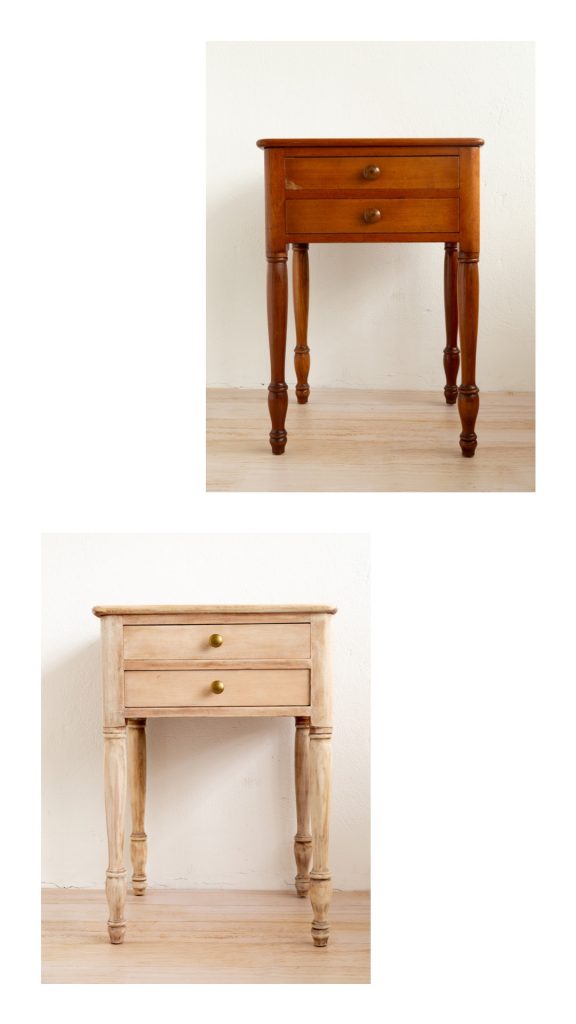 This bleached wood side table is our latest DIY adventure for hunker.com. We give even more detail on how to bleach wood furniture on hunker.