How to Dye Outdoor Cushion Covers
This post has been sponsored by Rit Dye and all thoughts and opinions are my own. 
Have you ever wondered if you could dye your outdoor cushion covers? If so, you have come to the right place! Learn how to dye outdoor cushion covers today!
We are so thrilled to share this project with you. Take a look at all of our tips and tricks on successfully dyeing out cushion covers.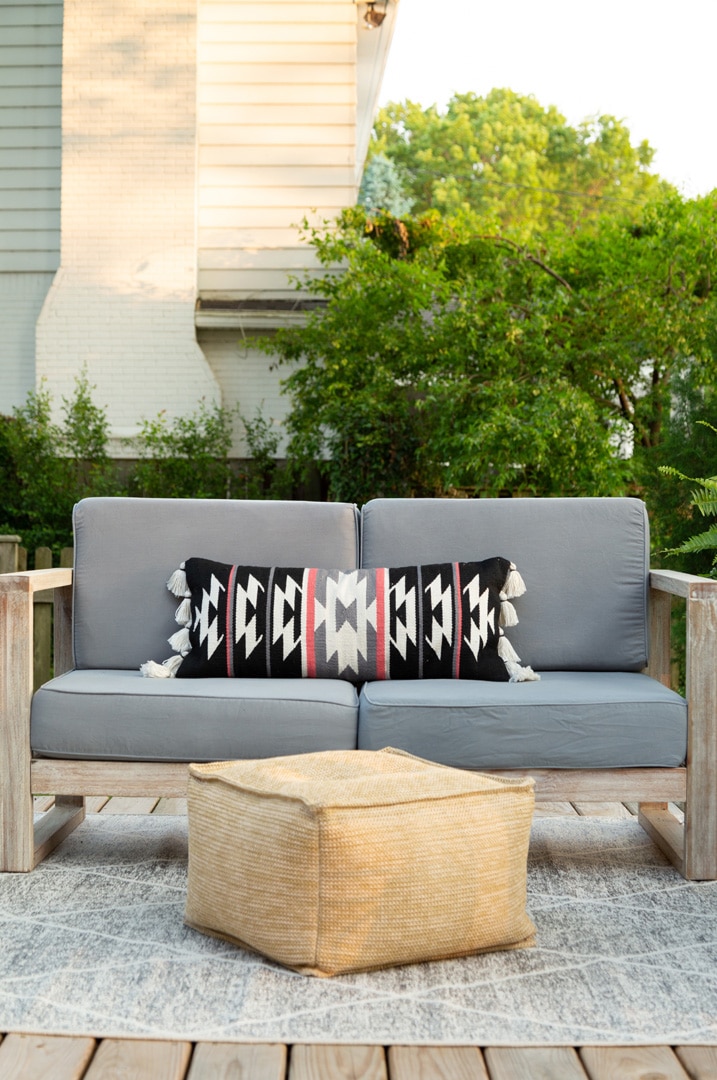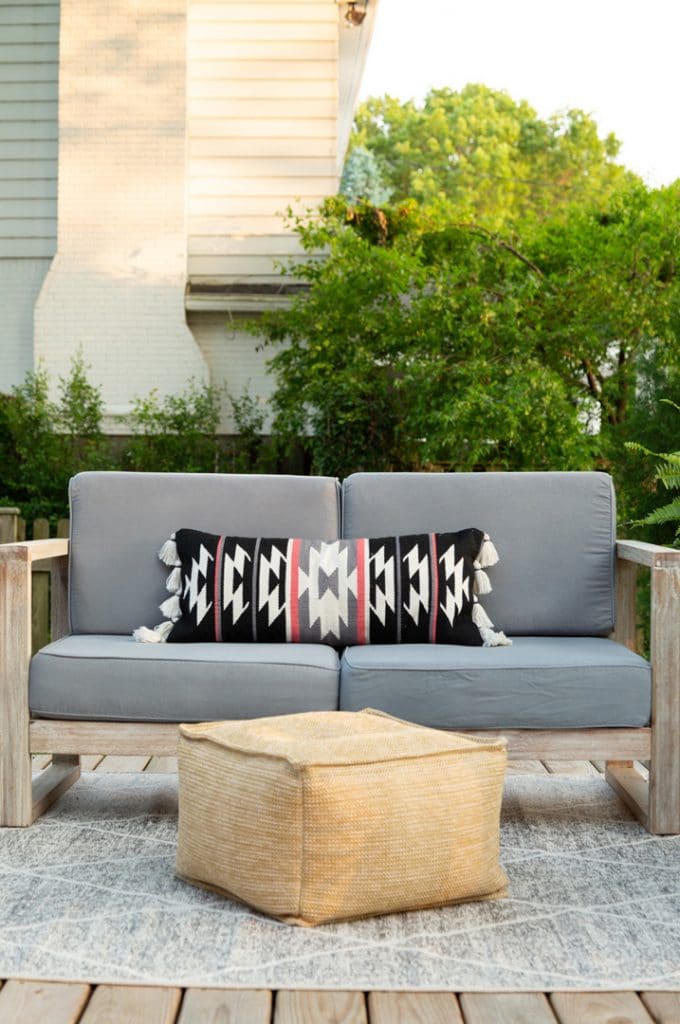 I was loving my new outdoor couch and chair that I had for our deck. The white washed wood frames with off white cushions looked so nice outside, but it was getting unbelievably dirty in a matter of two weeks. I was beyond frustrated.
But then I did a little bit of research and figured out that I could dye polyester fabric. The cushion covers were 100% polyester and Rit Dye makes a dye especially for synthetic fabric! Yay! So today, with my friends at Rit Dye, I am showing you how to dye outdoor cushion covers.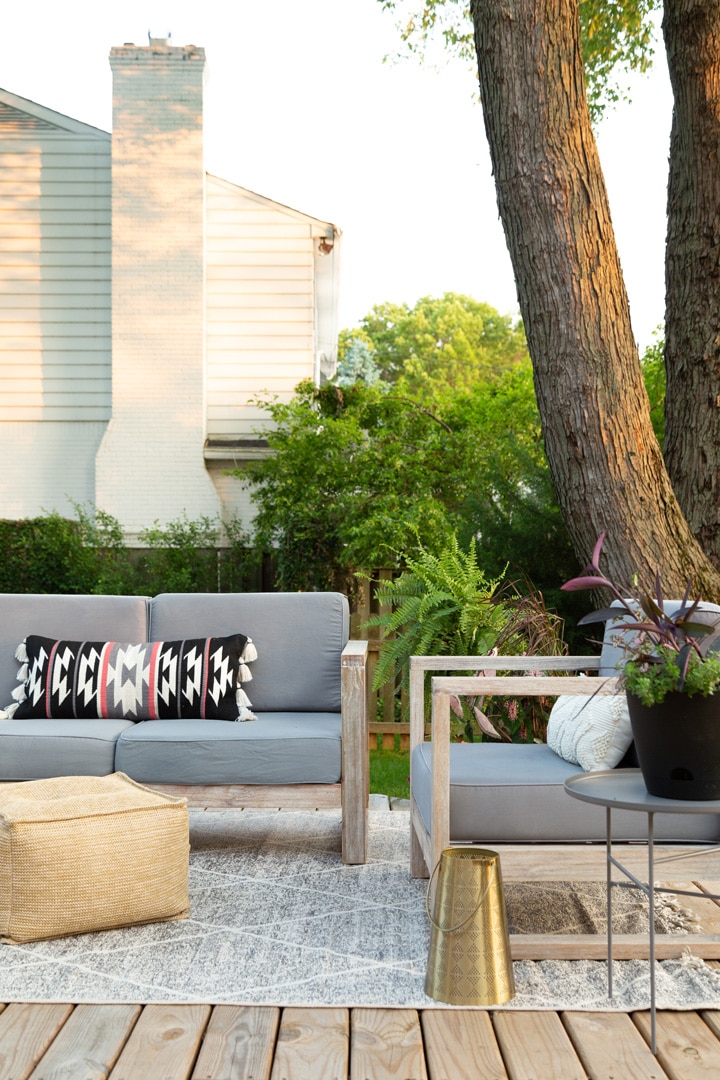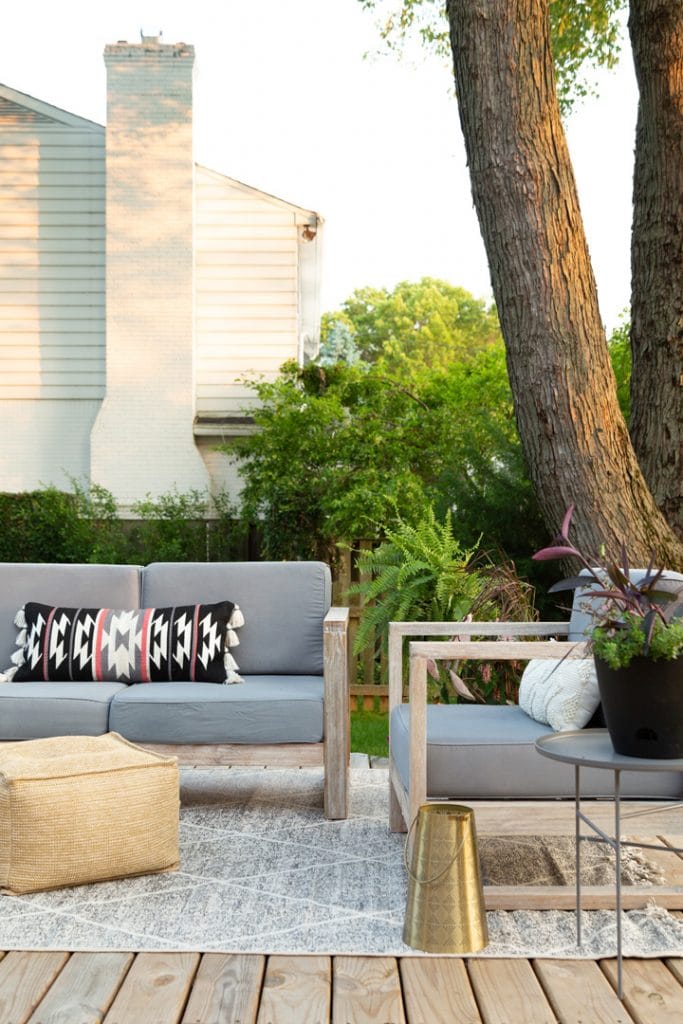 I wanted something darker, that would not show so much dirt, so I went with a medium grey color. I am so pleased with how they turned out. I was inspired by the grey tone from a pillow I had that was a bit of a southwest feel, with black, grey and a pop of coral. It turned out to be a perfect match!
I was feeling so frustrated by the off-white cushions that I was considering a new set. This is why I love the magic of dye! It is so fulfilling to take something and give it new life – turning a frustrating outdoor cushion situation into something I love!
This project inspired me to move the furniture to a prettier spot on the deck and really accessorize! We are absolutely loving this outdoor lounge area!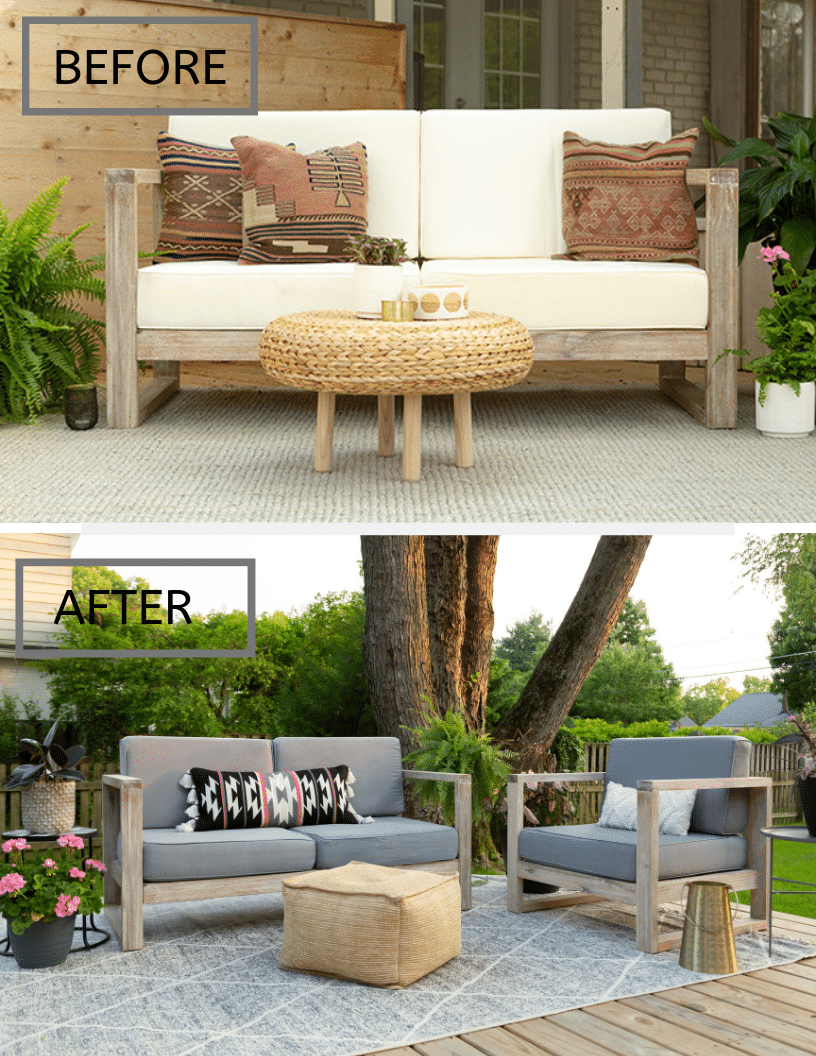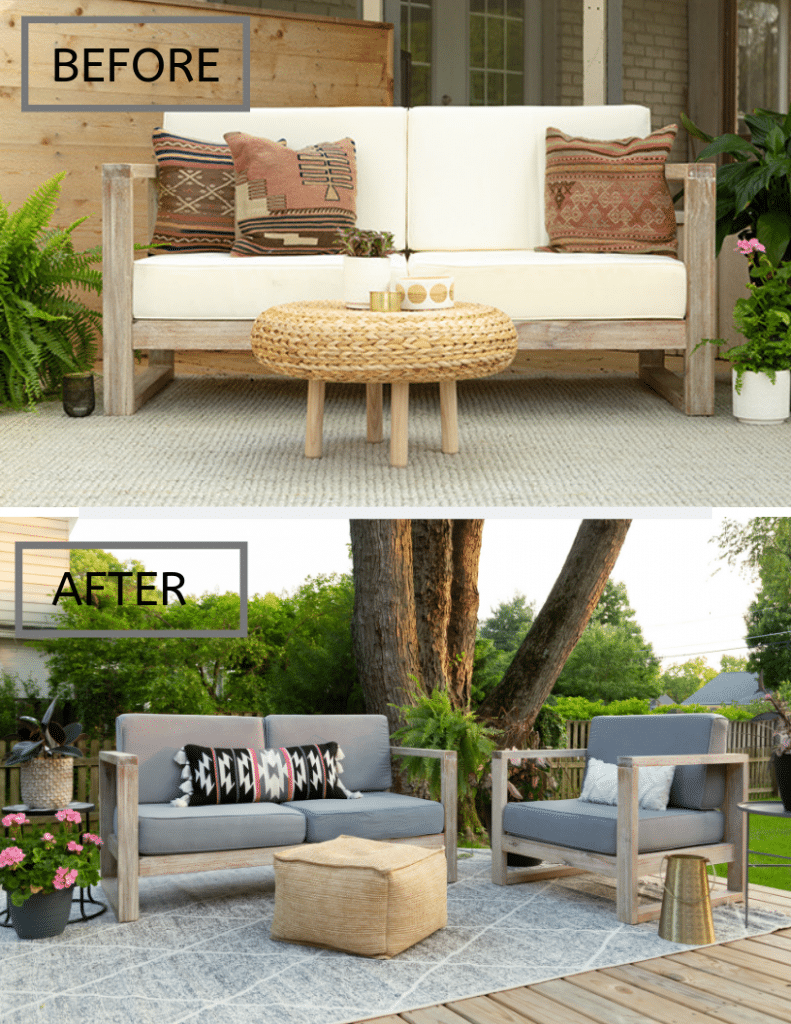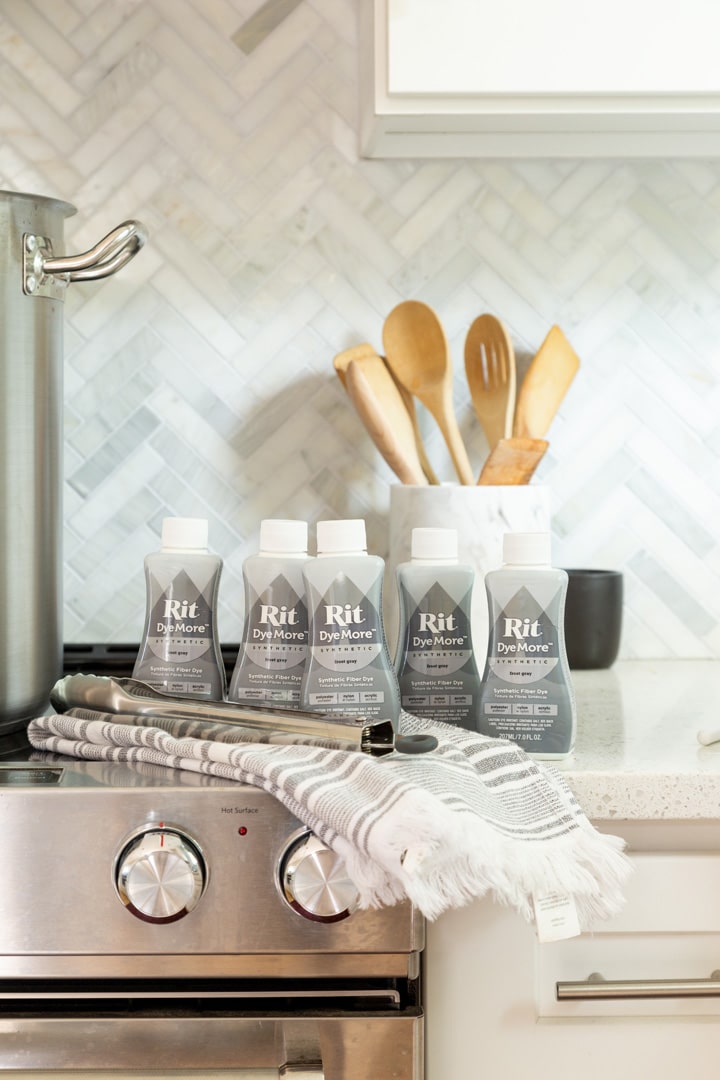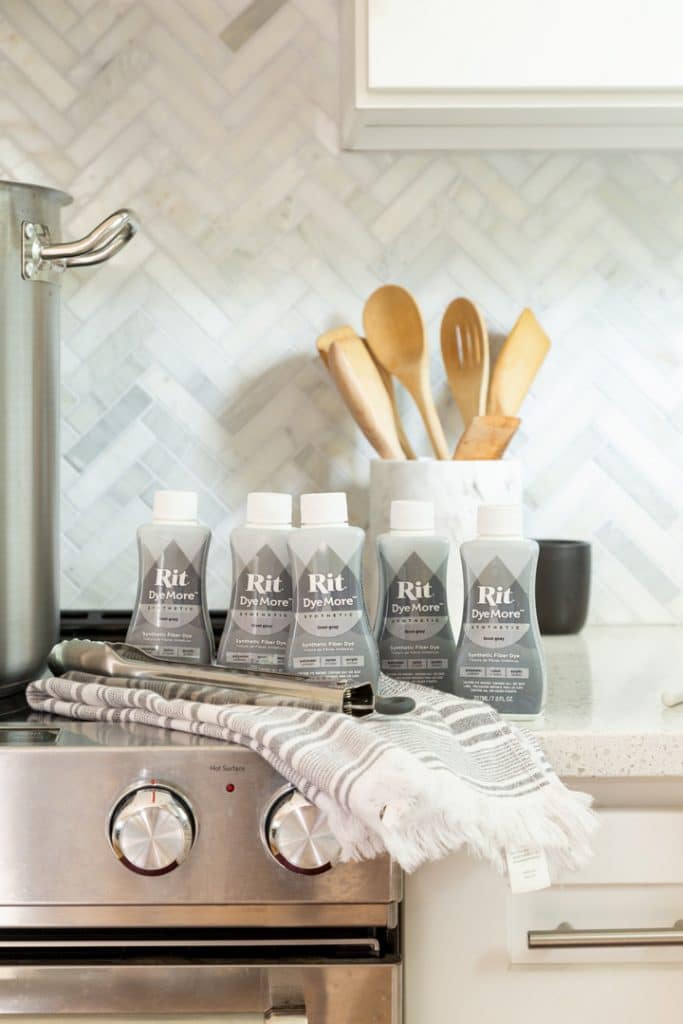 Supplies
100% polyester cushion covers
DyeMore Dye for Synthetics in grey 
Paper towels
Rubber gloves
Rubber bin
ScotchGard water and UV fabric spray
How to dye polyester outdoor cushions covers
(find more info on dying synthetic fabrics HERE)
A few tips from my process:
Test the fabric first and make sure to wash the fabric before dying!

Work with a friend! This is not a one person job. It was so much easier and faster with two people.

Make sure to have paper towels ready for any splashes or drips!

Once you are completely done with dyeing the fabric and wash and  dry – you will need to make sure and spray with a sun and water shield protective spray (so the fabric will not fade). 
How to keep dyed cushions from fading
You must (I repeat, you must) use a protective spray so that the newly dyed cushion covers do not fade if you are keeping the cushions outside in direct sunlight.
Here are a few options:
Ok, so polyester is a harder fabric to dye than regular cotton. You must dye polyester fabric on the stovetop, using high heat. A big pot is a must to fit the covers. (I link to one in the supplies list).  I had 6 pieces that I dyed.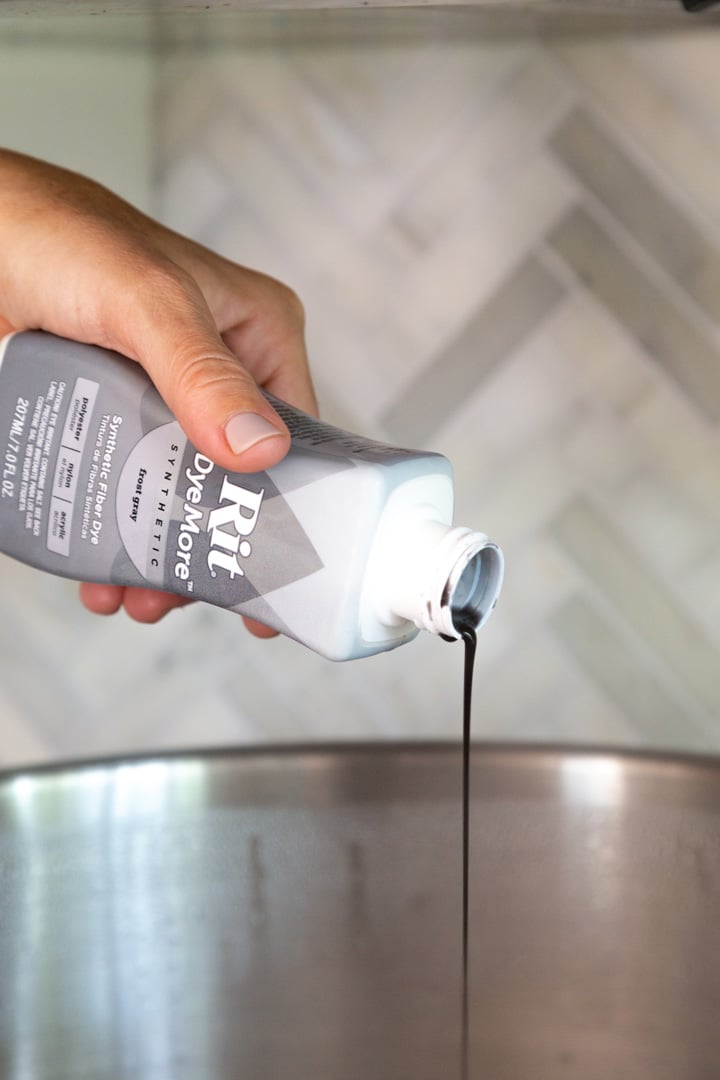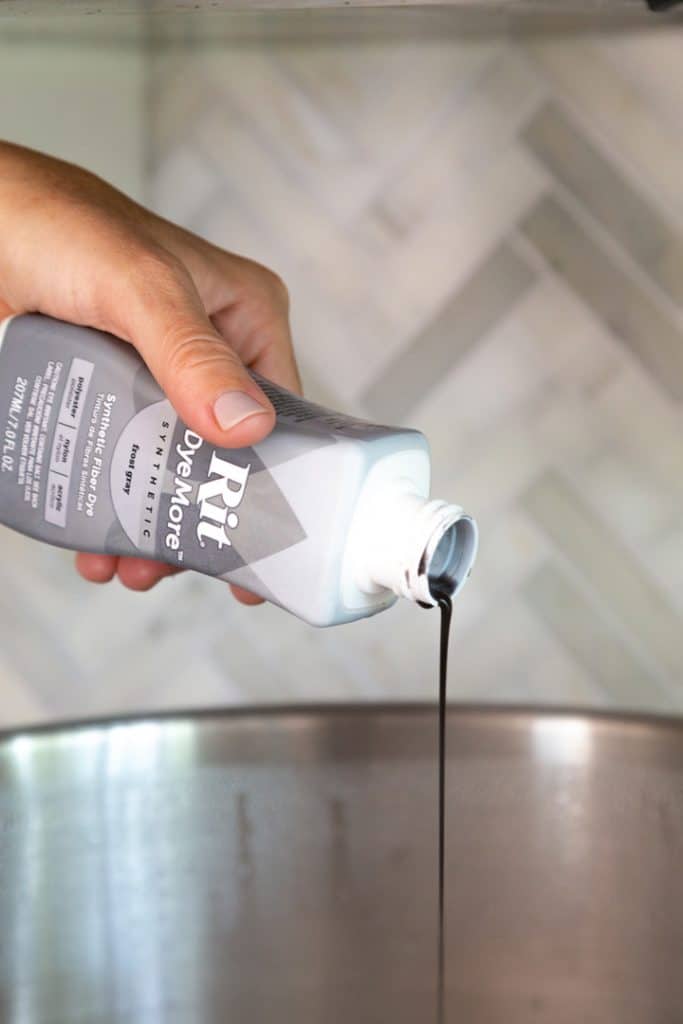 Instructions
Step 1
First, determine how much dye is needed. Weigh the cushion covers on a food scale or estimate the weight. As a general guideline, one bottle of Rit DyeMore will dye up to two pounds of dry fabric. If dyeing 100% polyester or trying to achieve a very bold color, double the dye quantity. I would recommend dyeing a swatch of the fabric first! My fabric was 100% polyester, so I doubled the amount of dye needed. Refer to the back of the bottle for exact measurements.
Step 2
Pre wash the cushion covers per the label's instructions. Do not dry.
Step 3
Cover work surface. I used a paper towels and a plastic tablecloth.
Step 4
Wear rubber gloves to protect hands from getting stained and to insulate them when working with hot water.
Step 5
Due to the complexity of dyeing synthetics, you must use the stovetop method to maintain an almost boiling temperature for the duration of your dyeing (200 F° or greater). The dye will not work completely if you try and dye synthetics using luke warm or cold water.
Step 6
Fill a stainless steel pot with enough water for the fabric to move freely. Rit Dye recommends using three gallons of water for every pound of fabric. My fabric was about 3.5 – 4 pounds. I used 10 gallons of water.
Step 7
Add 1 teaspoon of dish detergent to help promote level dyeing.
Step 8
Cover pot and heat water on stove top to just below boiling (200 F° or greater).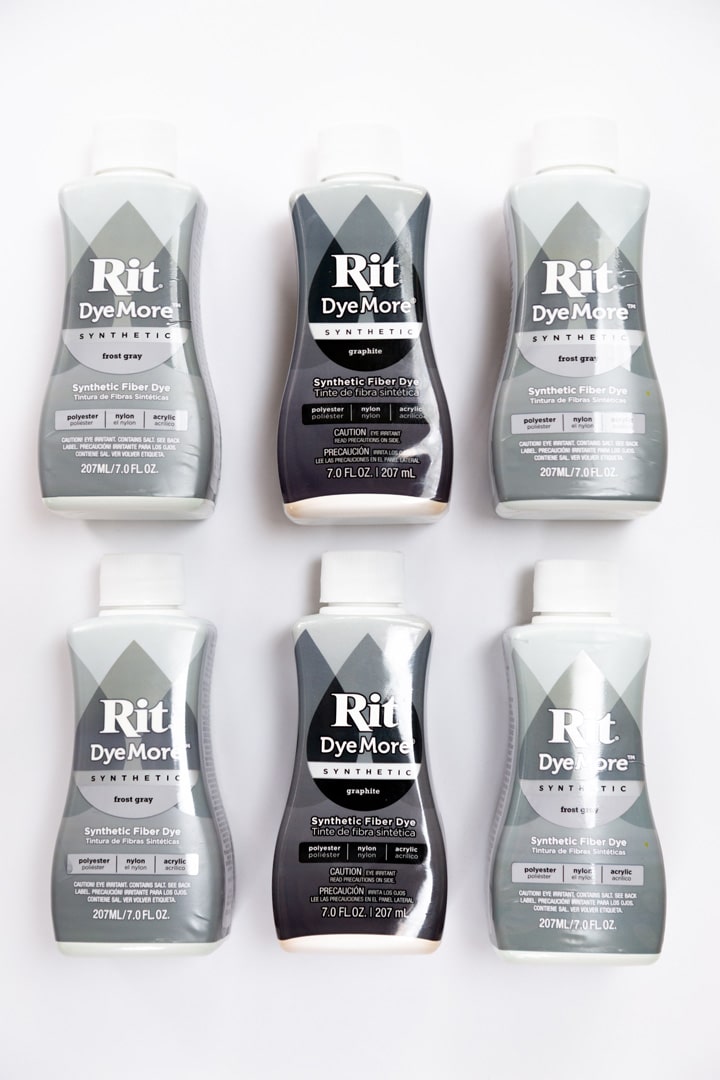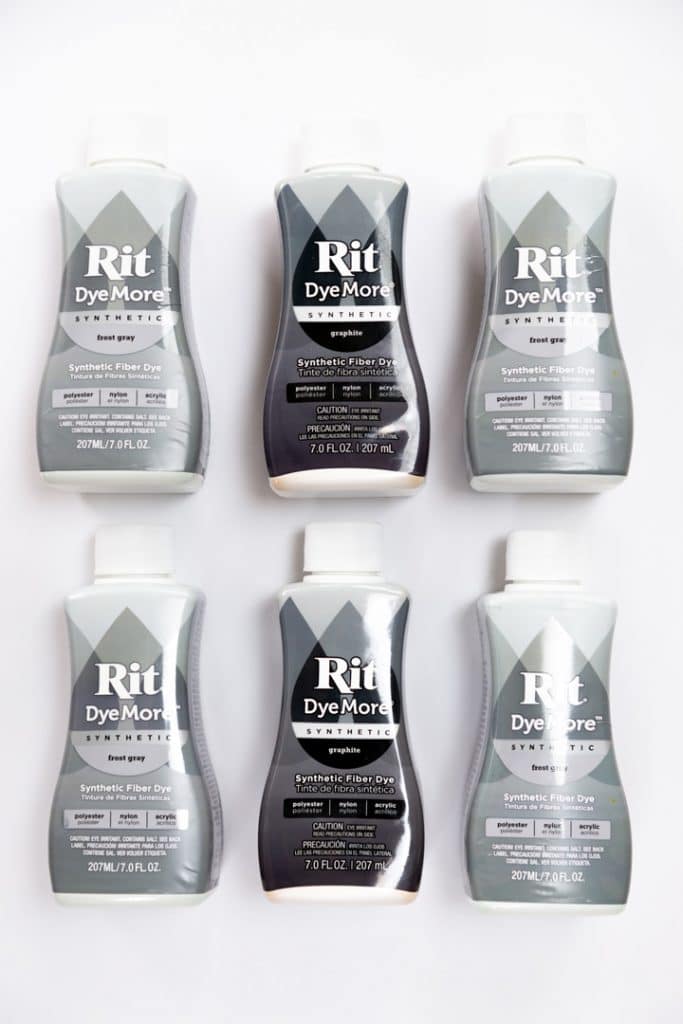 Step 9
When water begins to simmer, shake dye bottles and add to water. Stir gently. For my dark grey fabric I added 5 bottles of Frost Grey and 2 bottles of Graphite. I had about 4 lbs of fabric, so I was generous with the dye.
Step 10
Wet the item you are going to be dyeing and add it to the dyebath. I had just washed mine so they were ready to go.
Step 11
Keep temperature at a low simmer for the duration of your dyeing.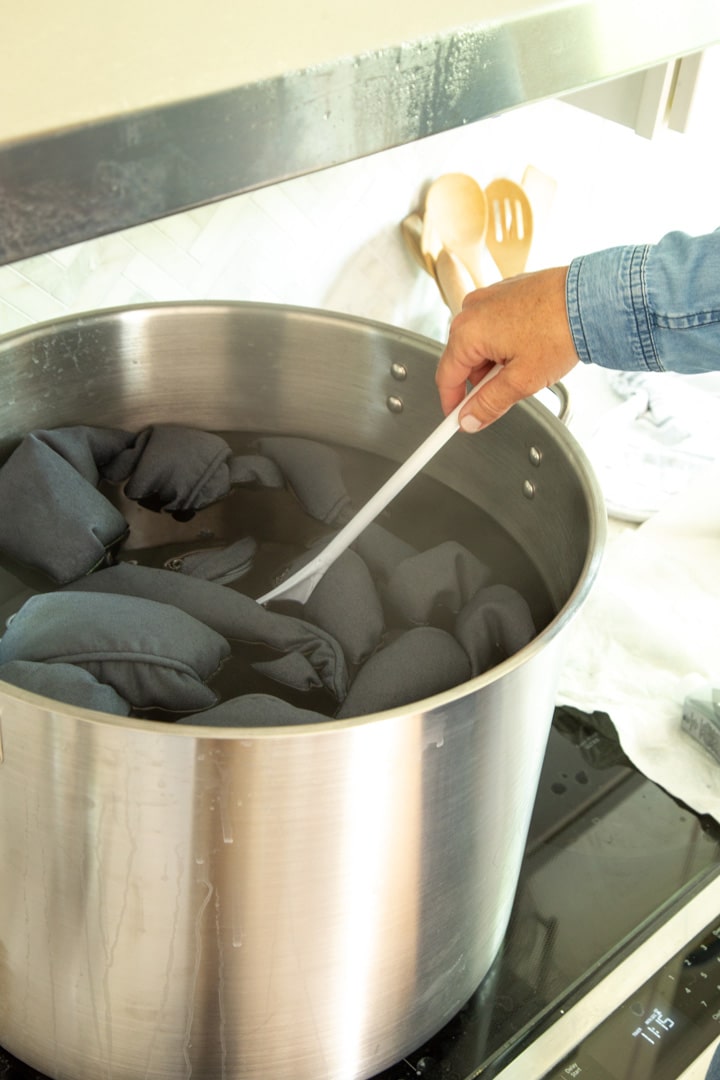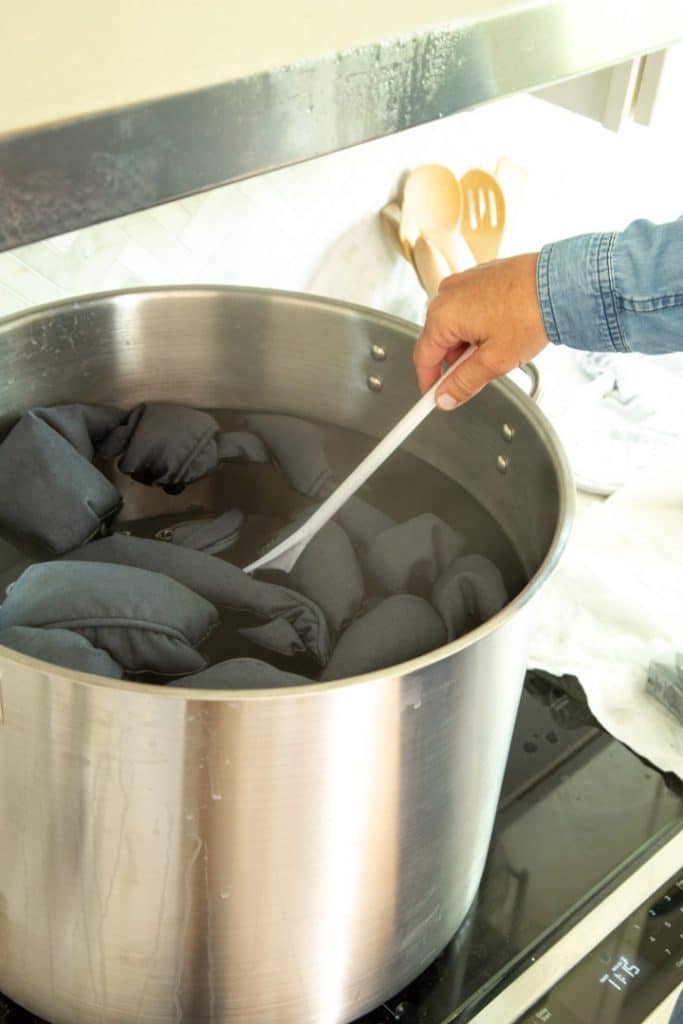 Step 12
Stir slowly and continuously. The first 10 minutes are the most critical. Stirring helps to ensure an even color with no splotches.
Step 13
We kept the cushion covers in the dyebath for 40 minutes, stirring and moving the fabric around to get an even dye.
Step 14
Use a large set of tongs to remove the fabric from the pot carefully as it is hot! We put a rubber bin next to the large pot to move the fabric closer to the sink. Then moved the fabric into my stainless steel sink to rinse.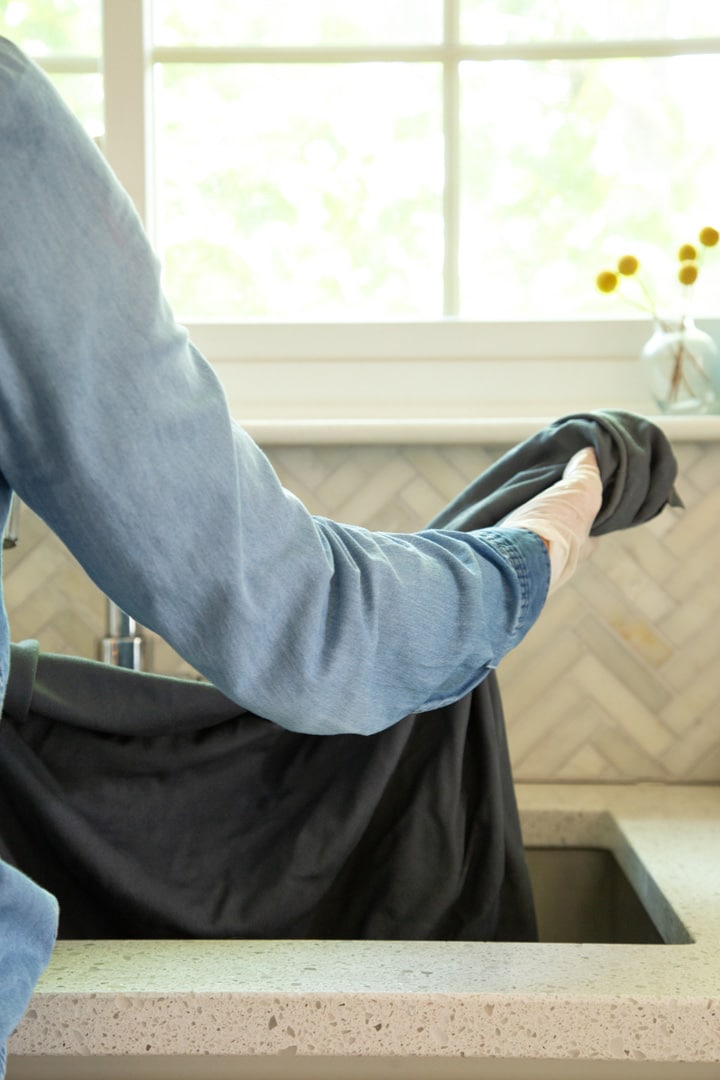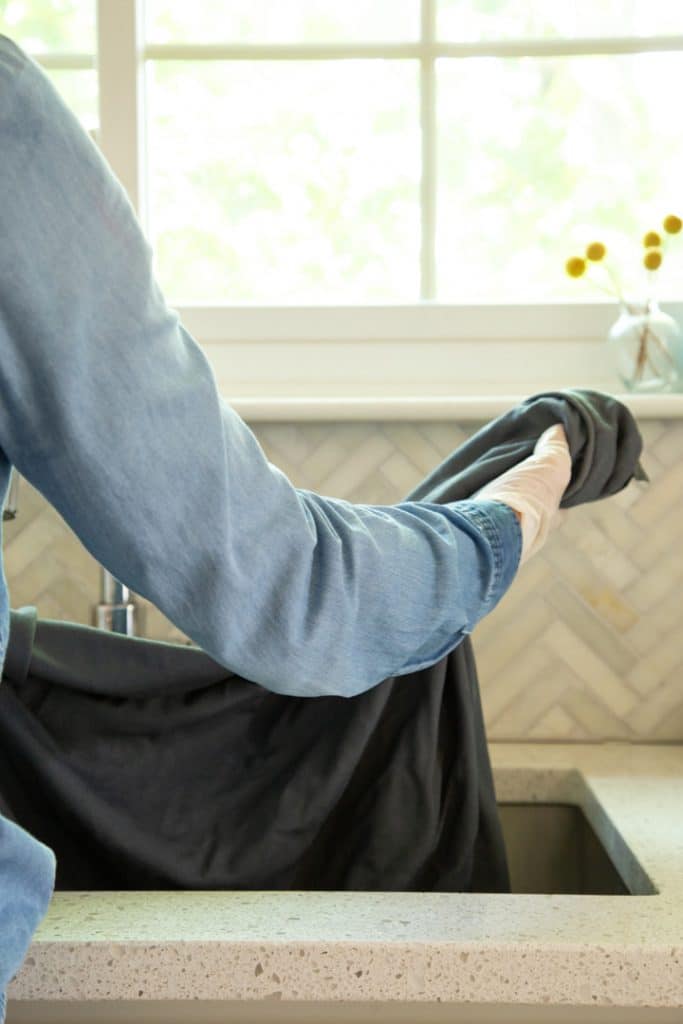 Step 15
Rinse in warm water and then gradually cool water until rinse water begins to run clear.
Step 16
Wash the cushion covers in your washing machine. Hang or lay flat to dry. Use a warm iron if needed.
Step 17
Spray the cushion covers with ScotchGard UV and Water protective spray. 
More info can be found on the Rit Dye site here. If you are interested in changing your outdoor cushion covers, check the label to see what fabric they are! If they are polyester – use Rit DyeMore and grab a large stainless steel pot. Find a friend to give you a hand and have some fun!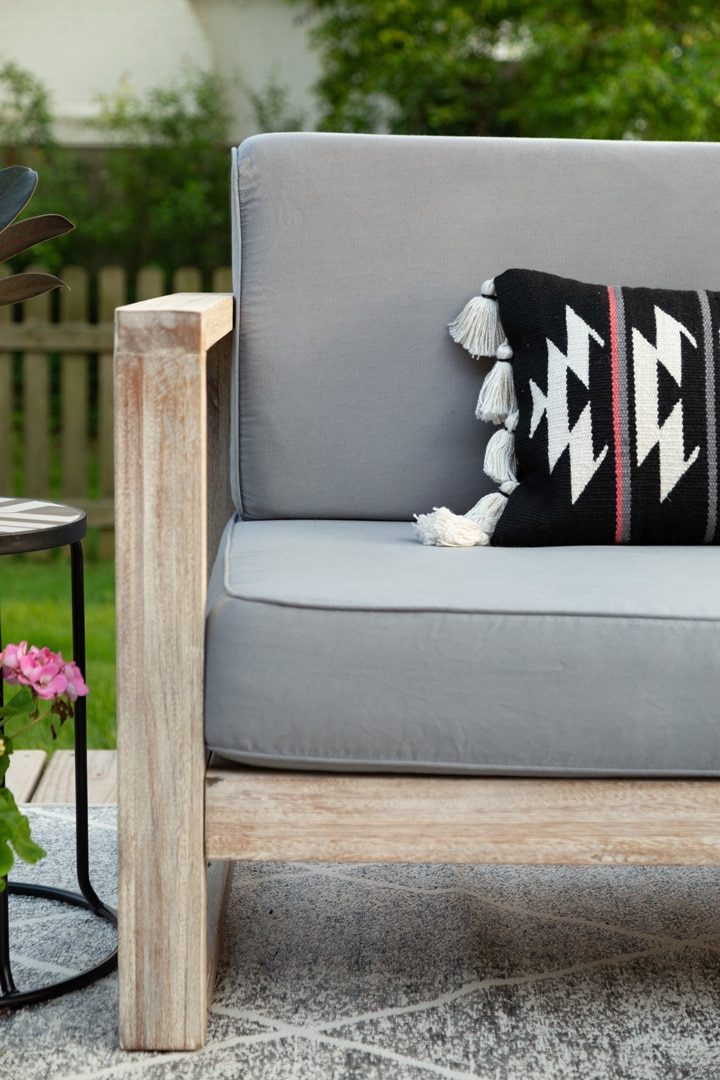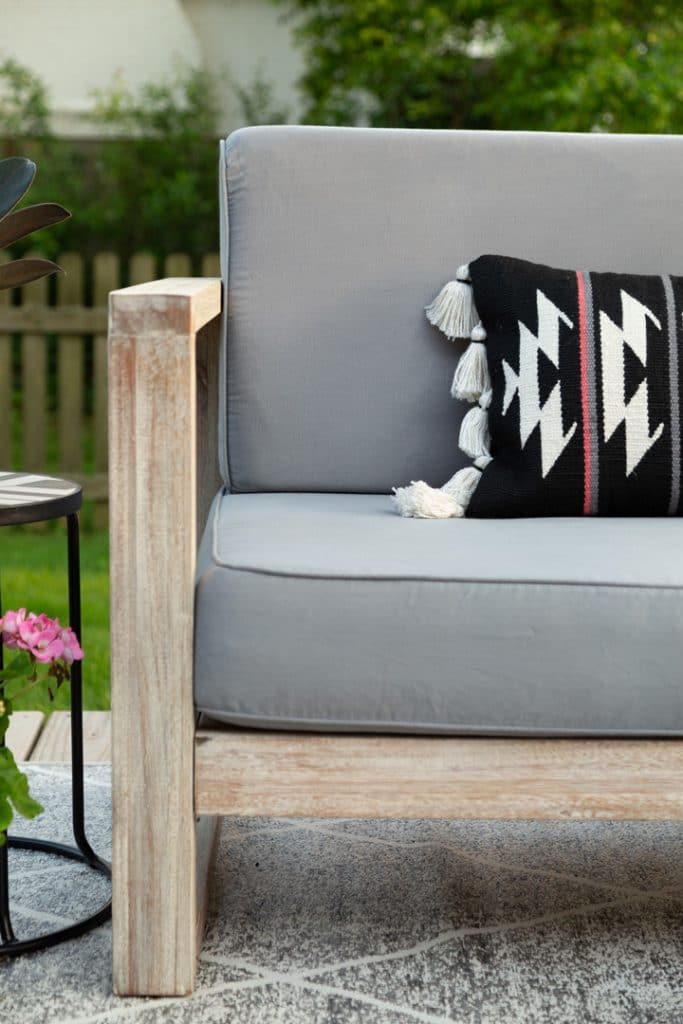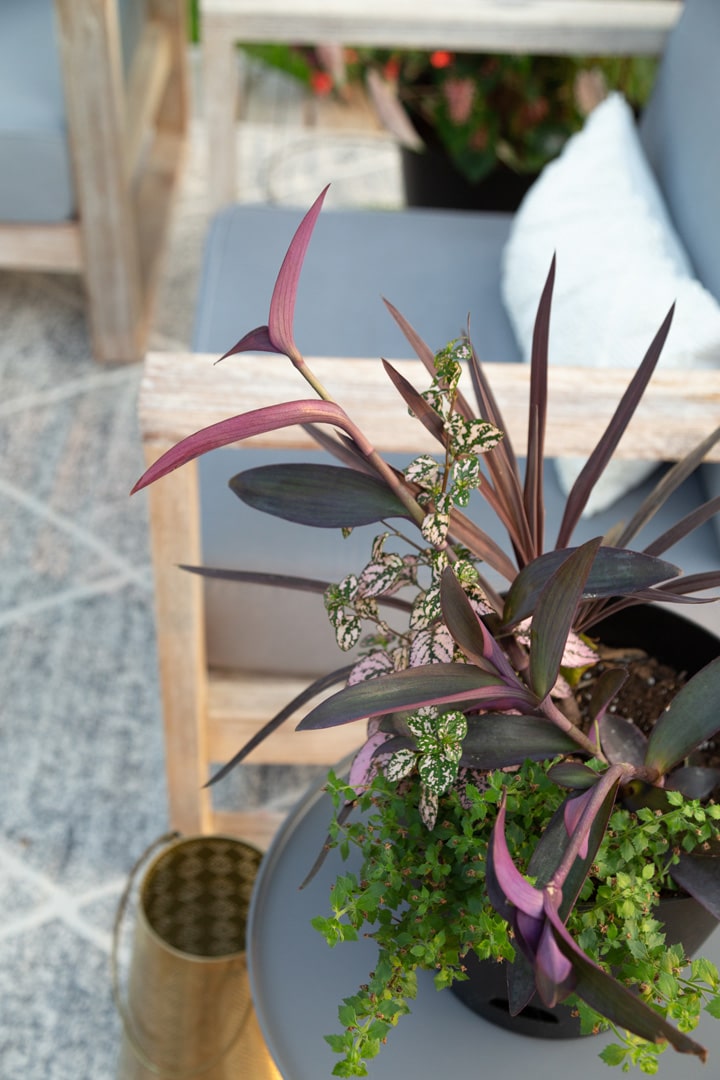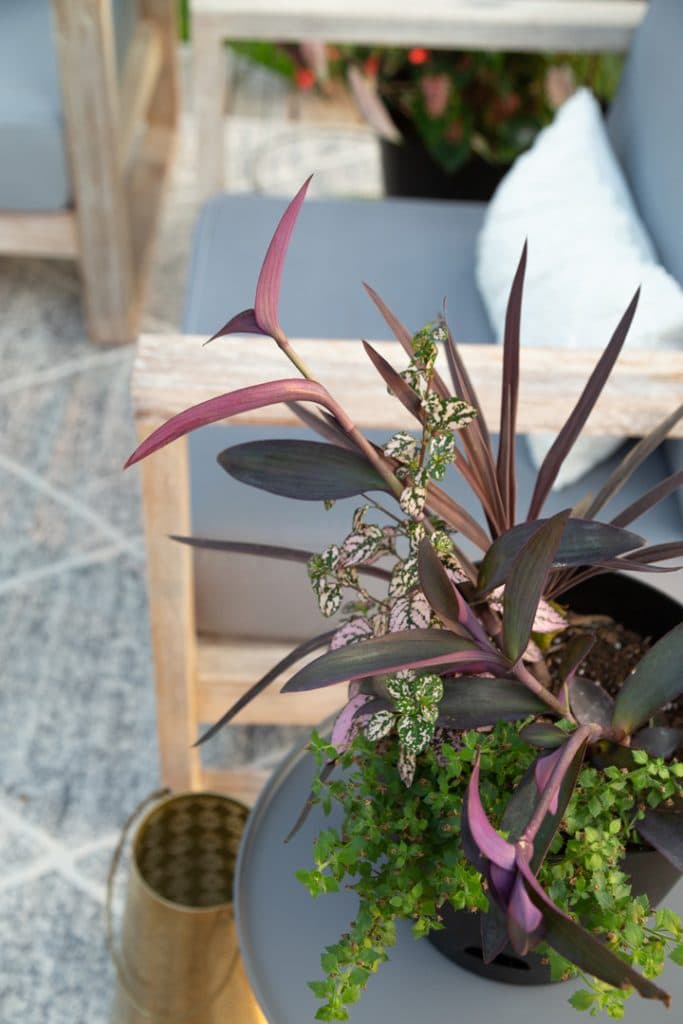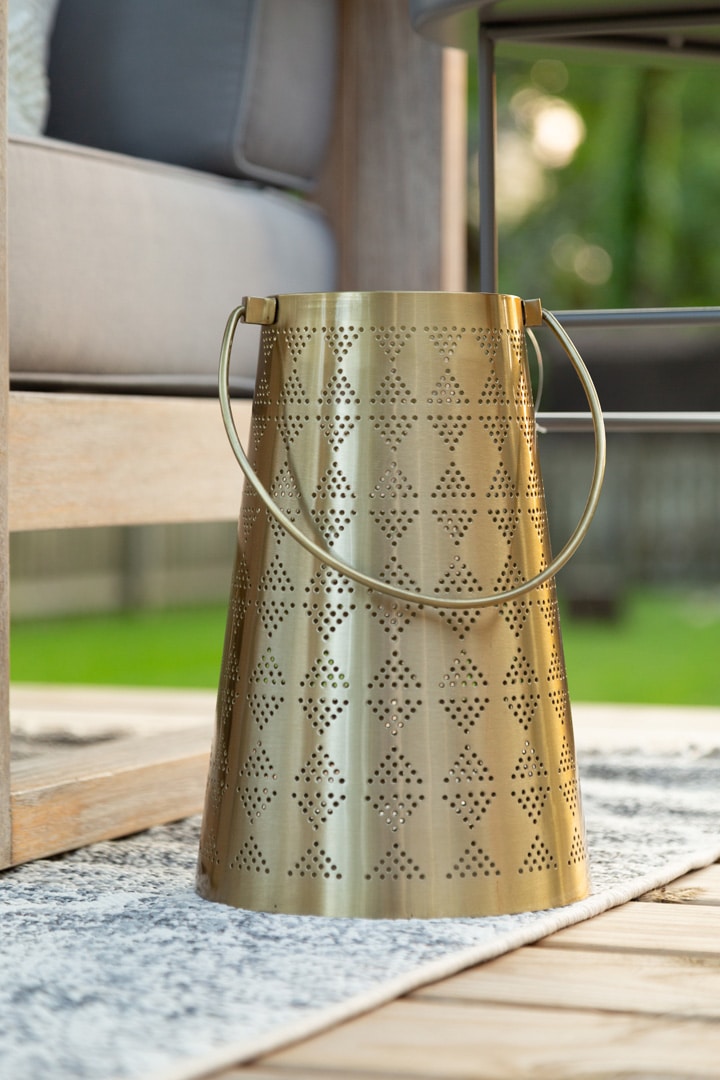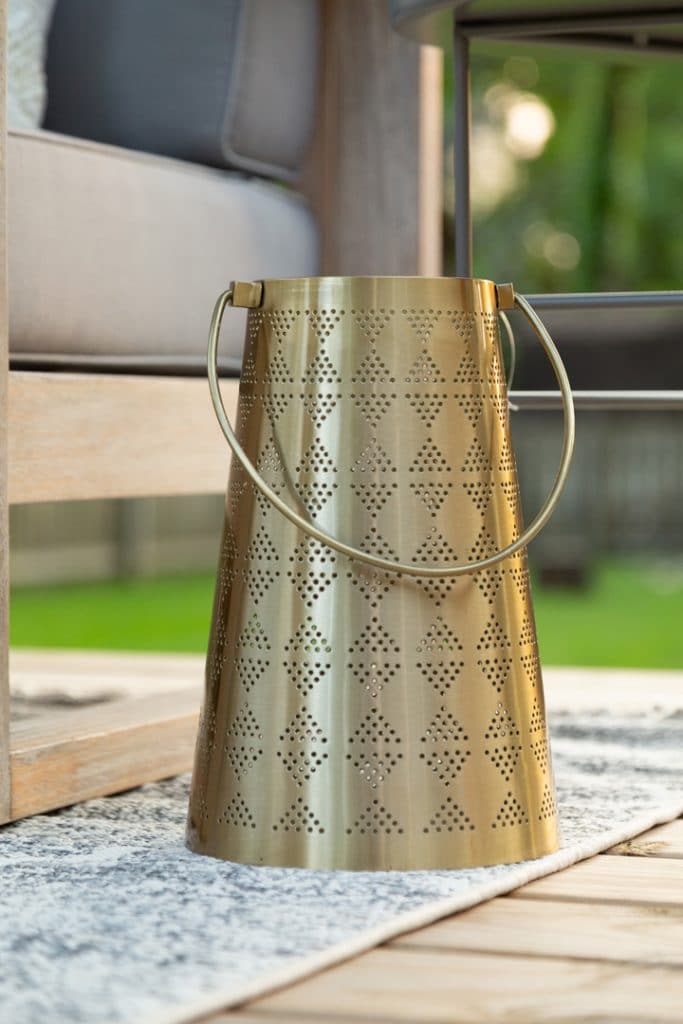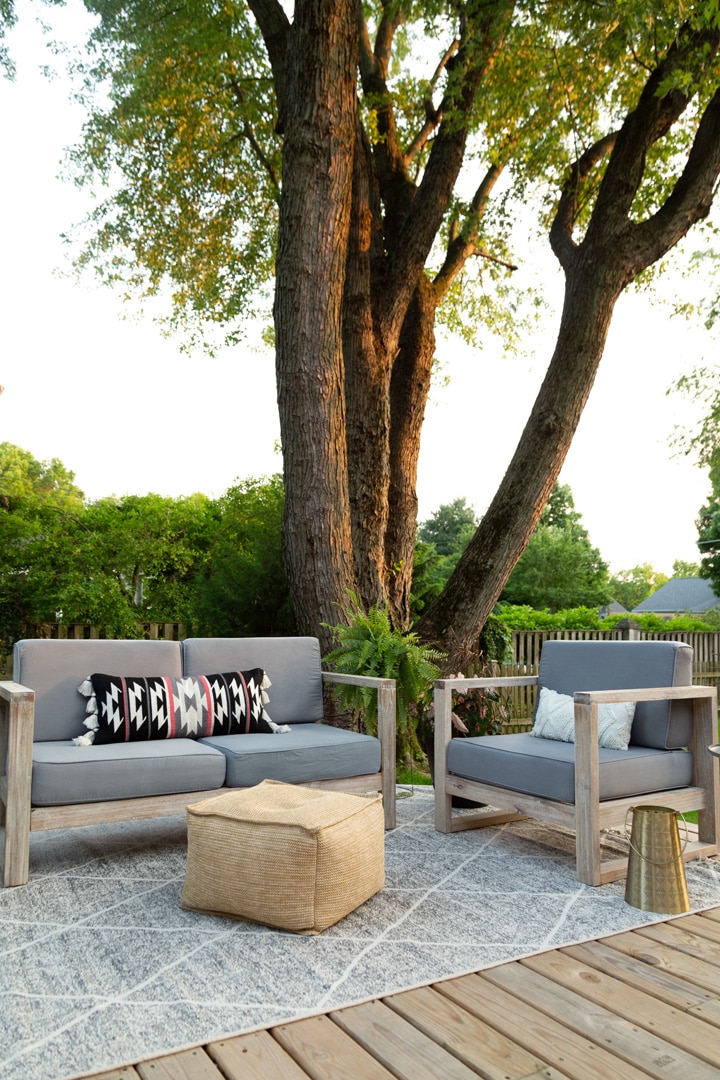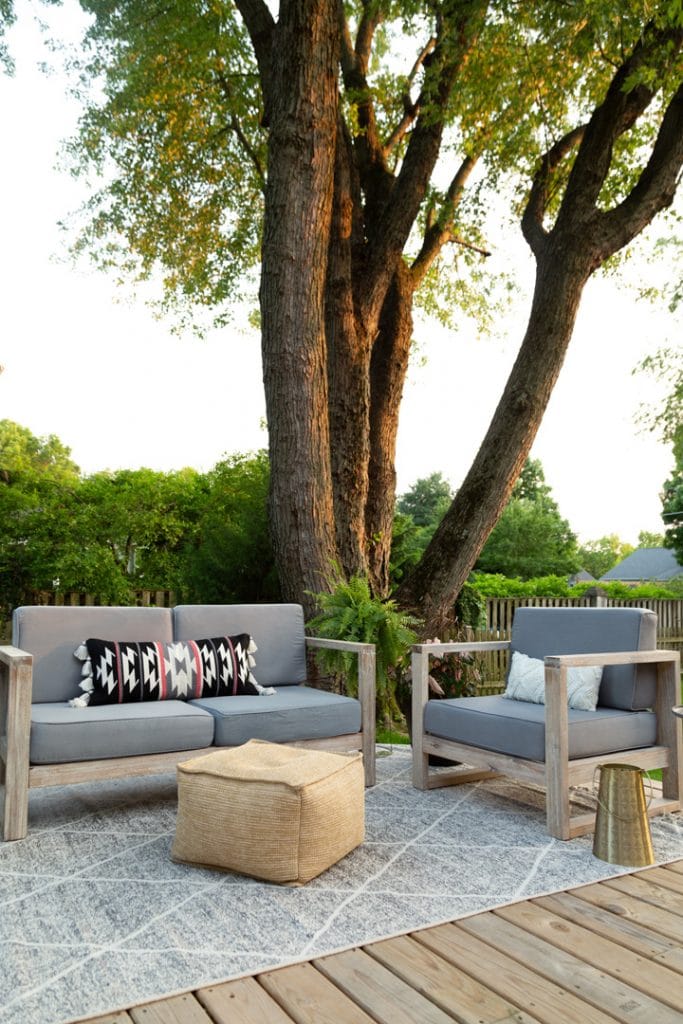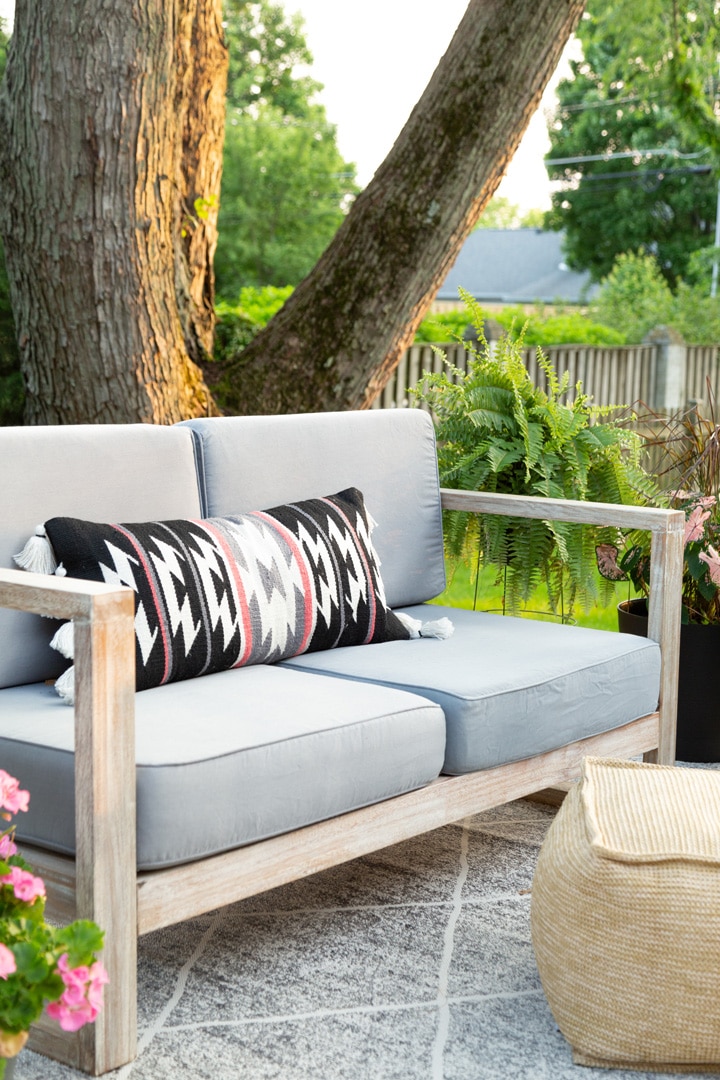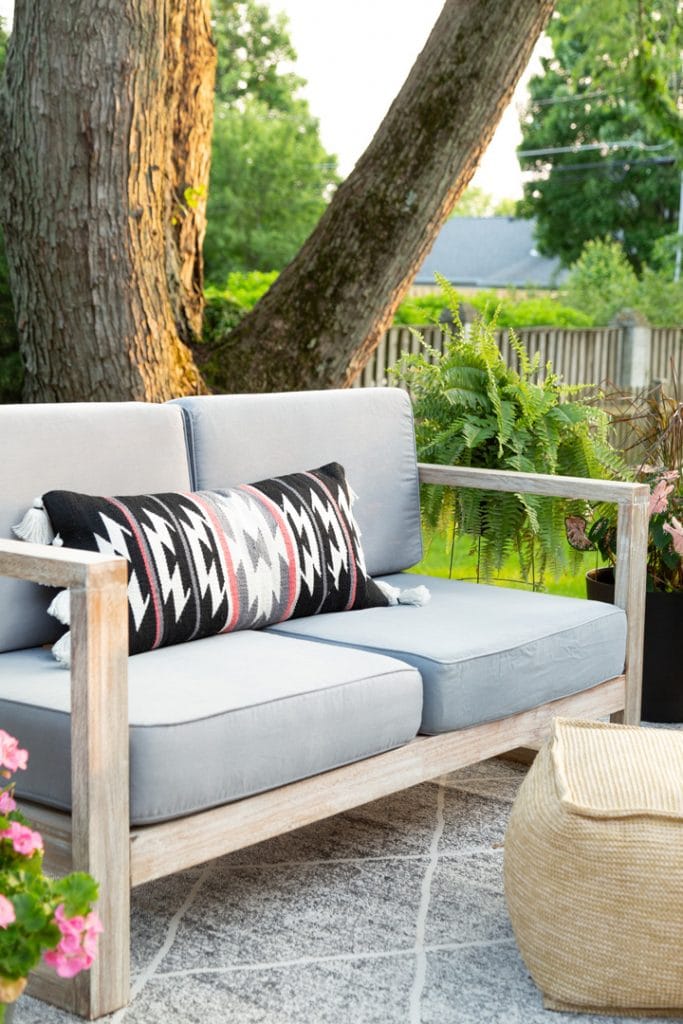 Photos by Sara Albers. Assisted by Sarah Adams.