If you haven't tried this method of tie dye, you have to give it a try. Learn how to ice dye fabric now!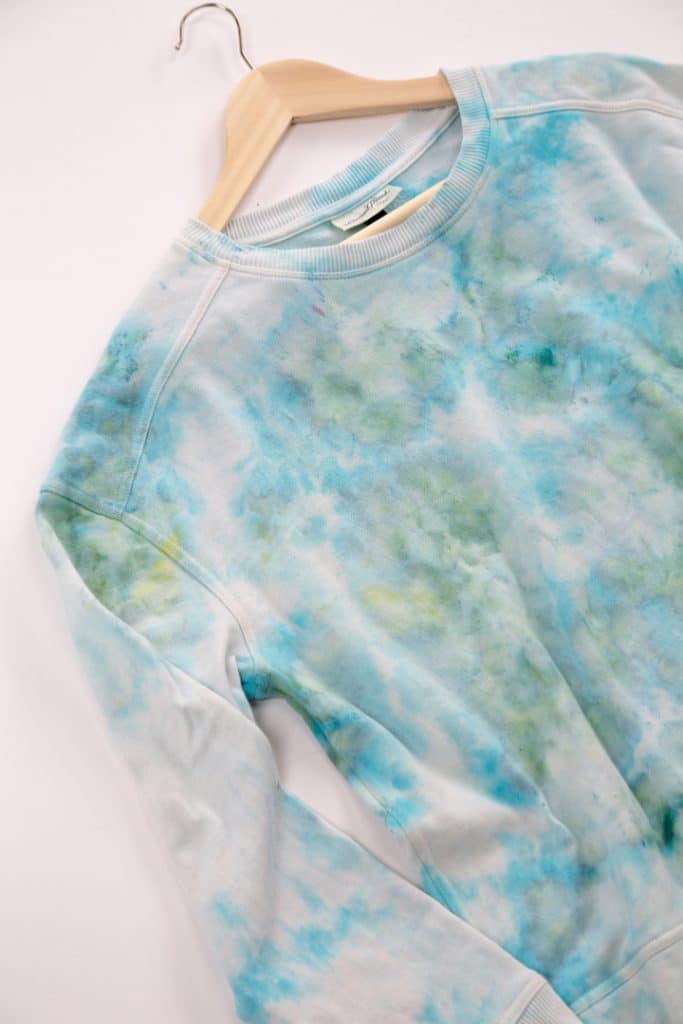 We are continuing to see the the tie dye trend everywhere and are loving it! You know we love to experiment with dyeing fabrics. From natural dyes to our favorite Rit Dyes. We have dyed cloth napkins, tablecloths, bags, placemats and even my outdoor cushion covers.
Today we are so excited to share another dyeing obsession of ours, showing you how to ice dye! This method gives a watercolor effect to fabrics. It is stunning. And the perfect summer project…
Since writing this first Ice Dye post we have made hooded sweatshirts, Ice Dye Dish Towels, ice dyed cloth napkins and a summer tote bag. We even ice dyed turkish towels!
Did you happen to see how we used powdered dyes this winter to do snow ice dye?!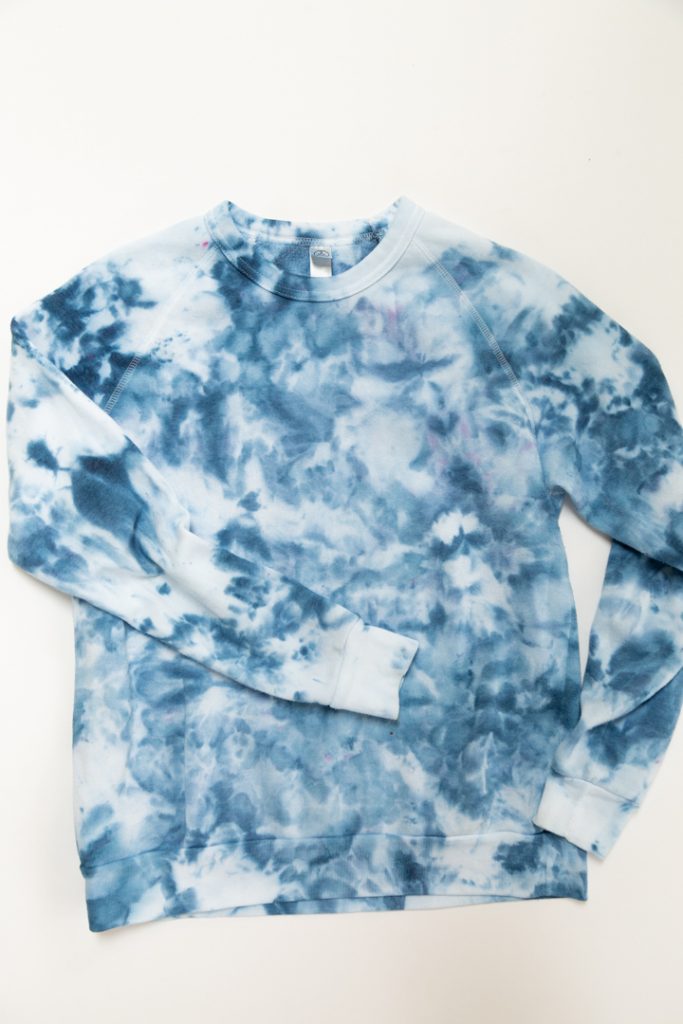 We love this method s much that we make and sell Ice Dye Dish Towels in our shop! They come in a 3-pack, all unique and beautiful! Make sure and check them out.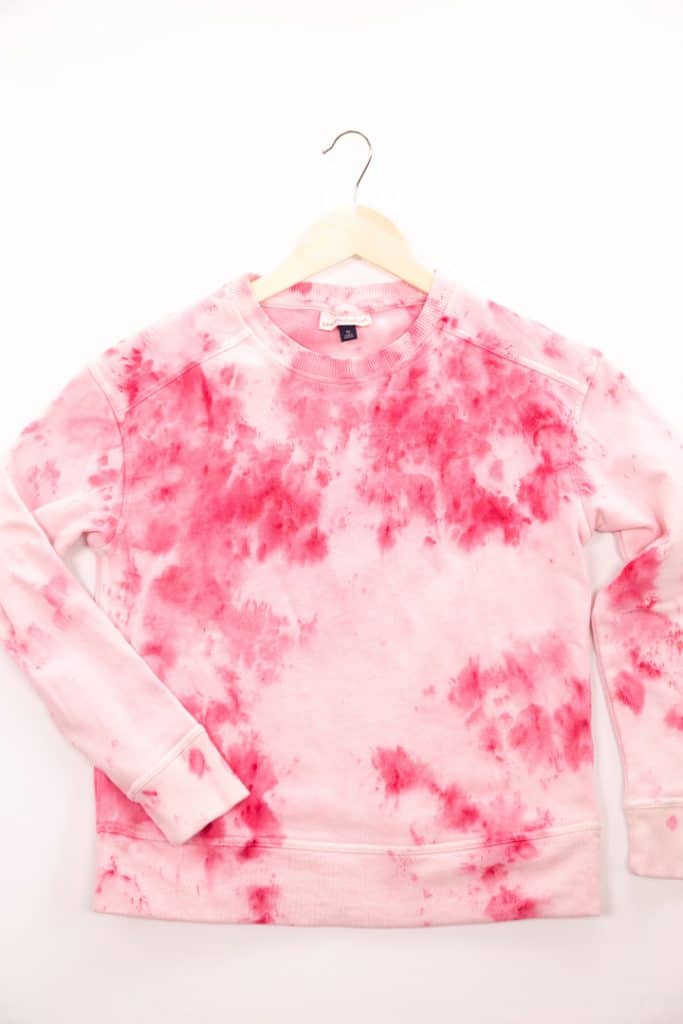 What is Ice Dyeing?
This is a method of dyeing using ice, (pre-treated) fabric and fabric dye. You can use natural fabrics like cotton, linen, wool, and silk. The fabric is washed and kept damp. Fabric can be pre-treated with salt, vinegar or soda ash (depending on fabric and dye that you use).
Then ice is placed onto of bunched fabric and powder dye is applied to ice. The melting ice gives the water color effect as you allow the ice to melt over the fabric completely.
What kind of dye to use for ice dyeing
We used Rit Dye all purpose powder dye. But you can use fabric powder dye like this as well.
We wanted to get a more ombre effect, so we only used one color dye on each sweatshirt. It is remarkable really how many shades of blue and green we got using the teal dye.
I cannot wait until we can host a backyard craft day with friends and make all kinds of amazing ice dyed garments!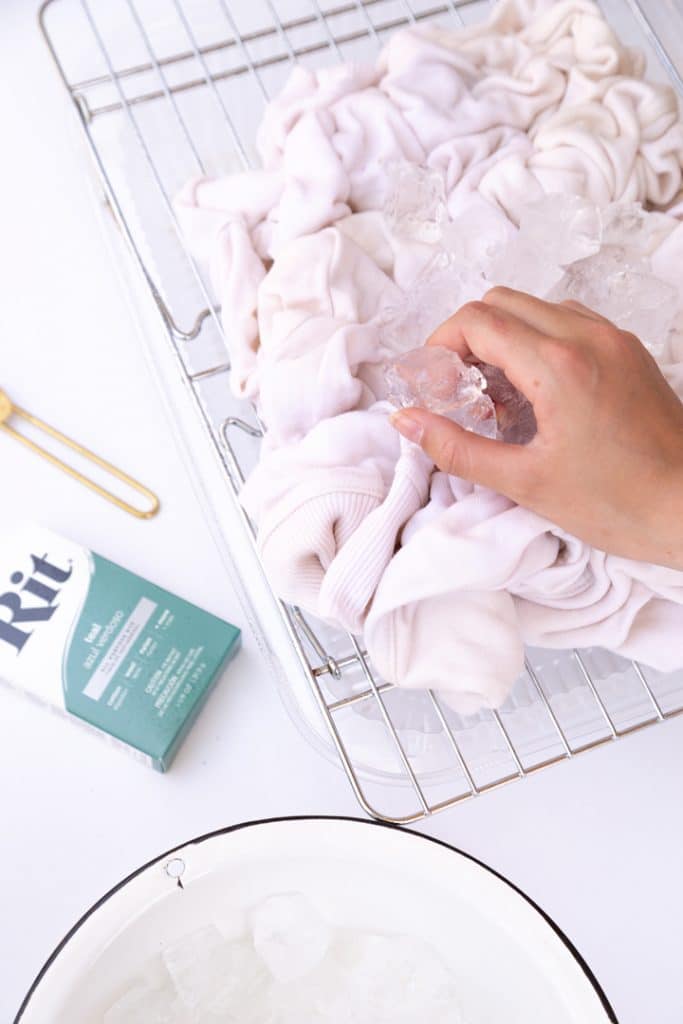 Where do you find white sweatshirts?
You will want to use 100% cotton sweatshirts or natural fabrics (cotton, linen) for this project. Here are a few that I have found:
Off white womens crew neck (this is what we used for this project)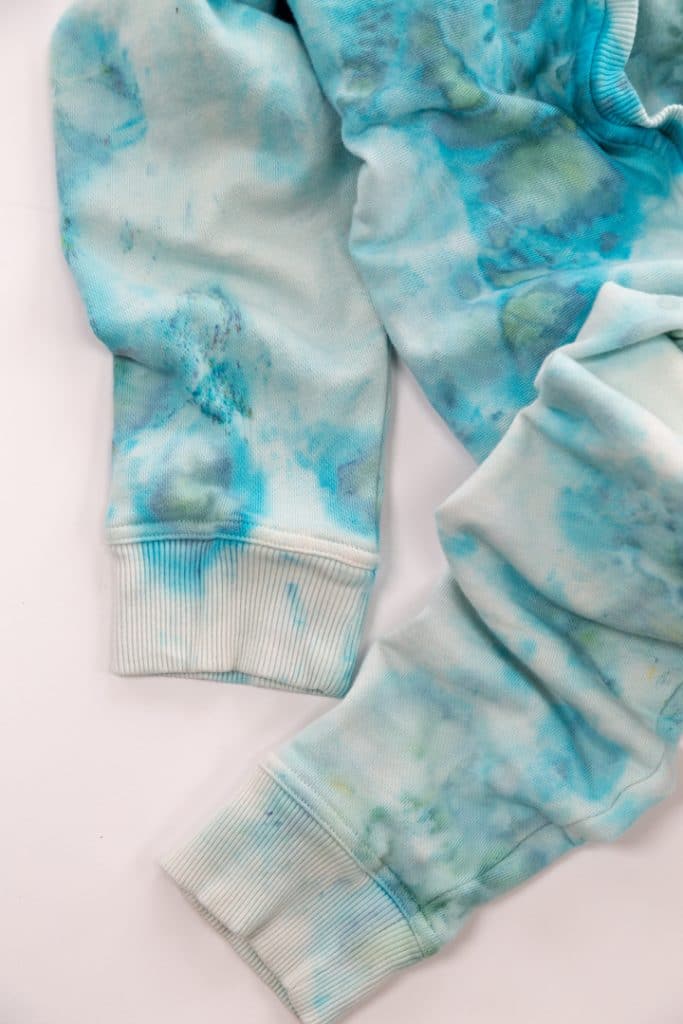 How to Ice Dye Fabric
Supplies
Rit Dye all purpose powder dye
Bin or tray
Ice
Gloves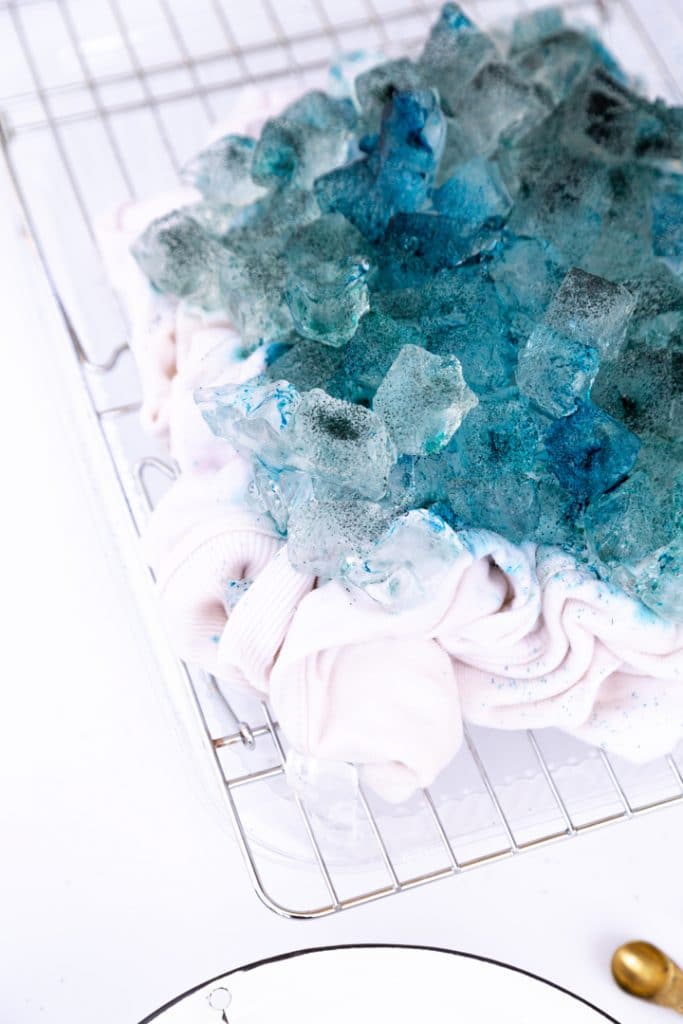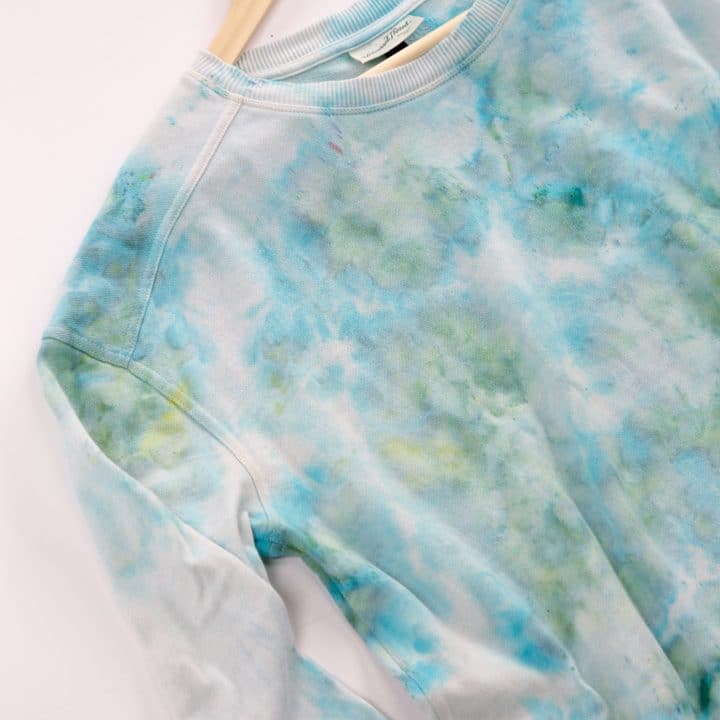 How to Ice Dye Fabric
Total Time:
1 hour
50 minutes
Learn how to use powder fabric dye and ice to create stunning watercolor effects! This is an amazing way to tie dye any cotton fabric.
Materials
Fabric Dye (we used Rit Dye all purpose powder)
Cotton sweatshirt
Ice
Gloves
Tools
tongs
Cooling Rack
Bin or tray to fit under rack
Instructions
Prep the cotton fabric. Wash with mild detergant. Keep damp for dyeing.
Cover your work area (we use a white plastic tablecloth).
Prep your supplies. Place cooling rack over the tray or bin to catch the melting ice and dye.
Take your damp sweatshirt and wring out any excess water. Bunch the fabric and place it on top of cooling rack.
Place ice on top of the fabric.
Sprinkle powdered dye on to ice with a spoon. A little bit goes a long way! You do not need a large sum. I used just hte teal dye on the blue sweatshirt and just hte pink dye on the pink sweatshirt.
NOTE: If you use mulitple colors of dye, leave a little room in between where you spinkle hte posdered dye so the colors do not overly blend.
Allow the ice to melt completley. Depending on how warm it is, this could take a few hours.
Now it is time to set the dye. We used Rit Dye Fixative in hot water (about 2 T in 2 gallons of hot water. We let sit in fixative and water bath for 10 mins.
Then wash and dry.
Notes
The ice dye method gives almost a watercolor effect to fabric. It is so fascinating to see how a single fabric powder dye can change into multiple colors. You can see ow many colors make up one color of dye. So cool!
Recommended Products
As an Amazon Associate and member of other affiliate programs, I earn from qualifying purchases.
You can also find more info on ice dyeing here. This process is so satisfying! We continue to fall deeper in love with creating our own designs in fabric through using dyes.
More Ice Dye Ideas
Creating your own fabric designs and colors is so satisfying. Check out the beach towels we dyed using the ice dye method. We used 100% cotton turkish towels in white. Another idea for ice dyeing is using cloth napkins. These came out so beautifully.
I am so tempted to do a tablecloth next! What colors would you do for a tablecloth? Blues, mustard and maybe the deep pinkish purple would be stunning!
We hope you will be inspired to make your very own Ice Dyed creations like the sweatshirts we made. Or you can always buy one here.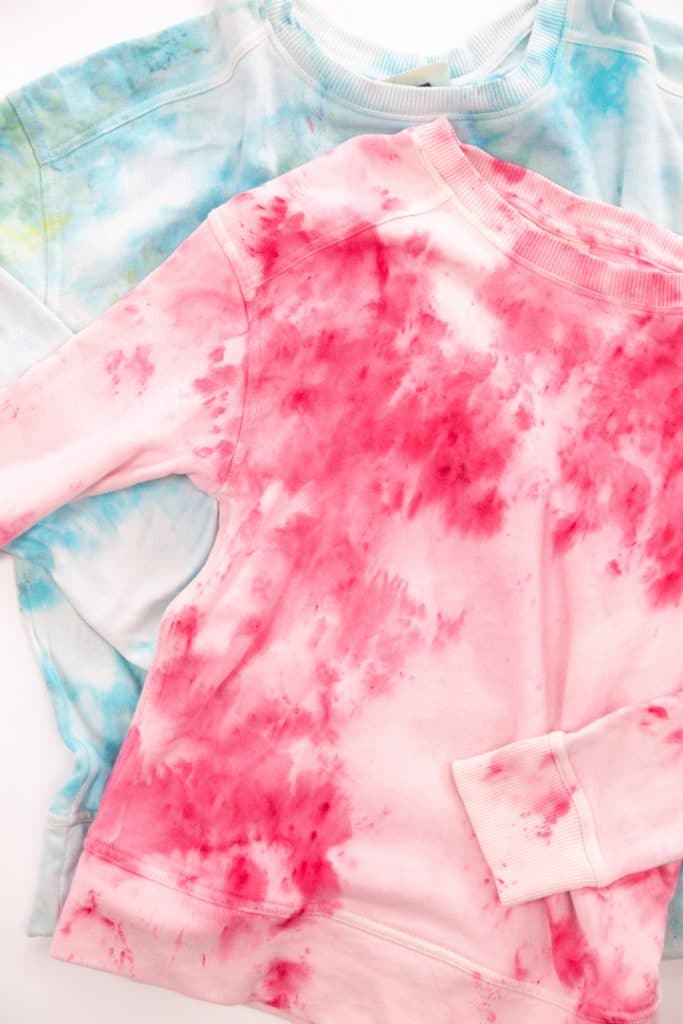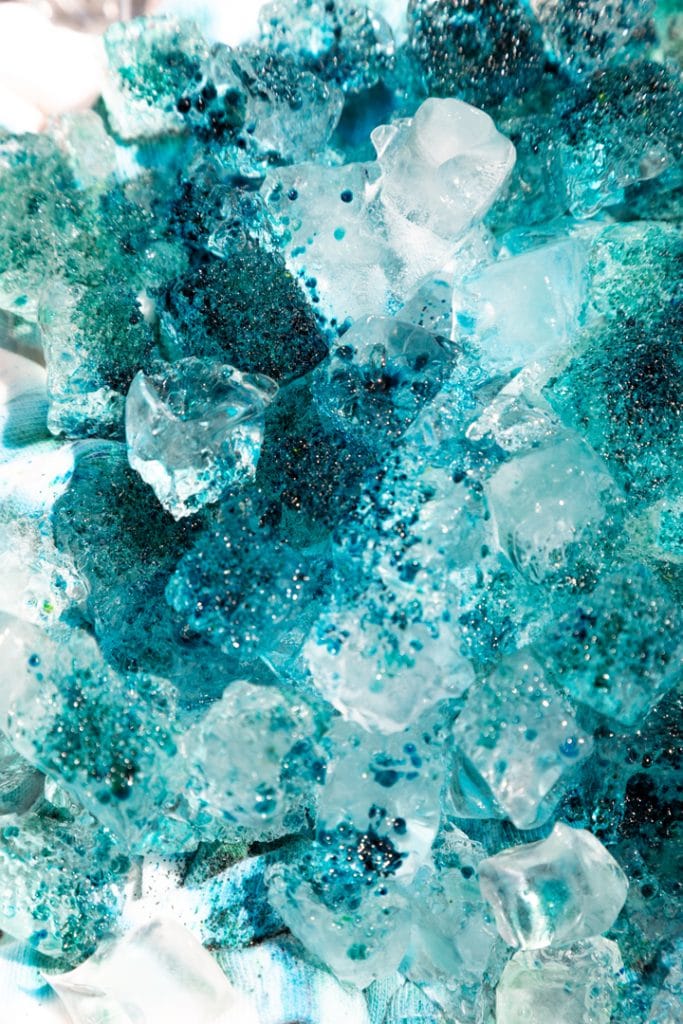 This method of tie dyeing has honestly become our favorite way to tie dye. It has become a way to teach kids about how colors are made of different colors. For example, when using the blue dye you can get little specs of magenta and lighter blue. And when using green, spots of yellow appear. It is truly fascinating!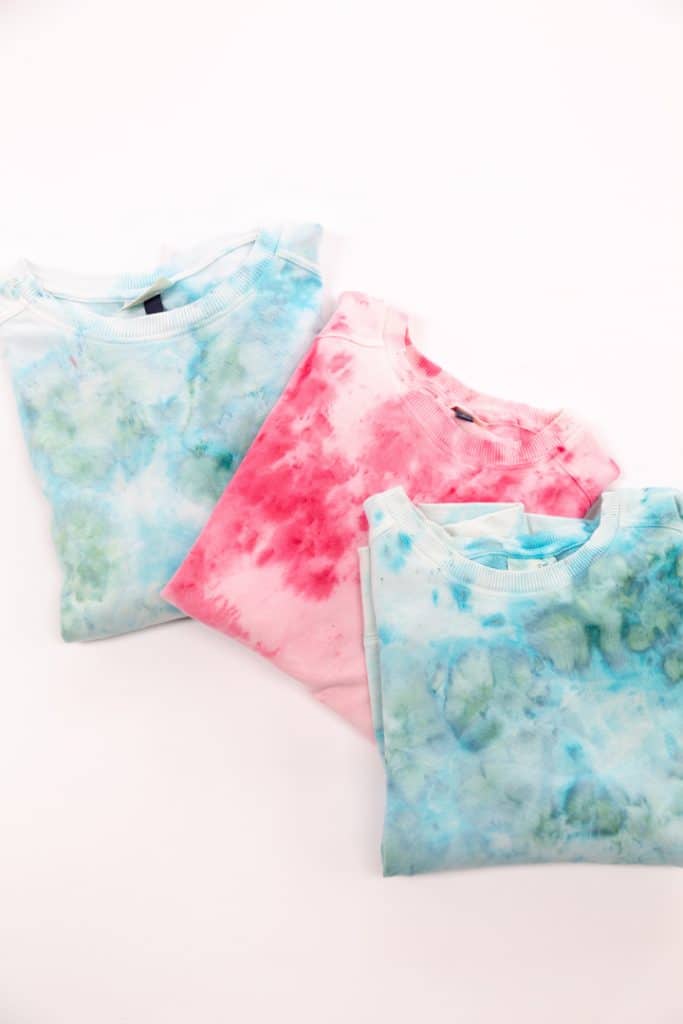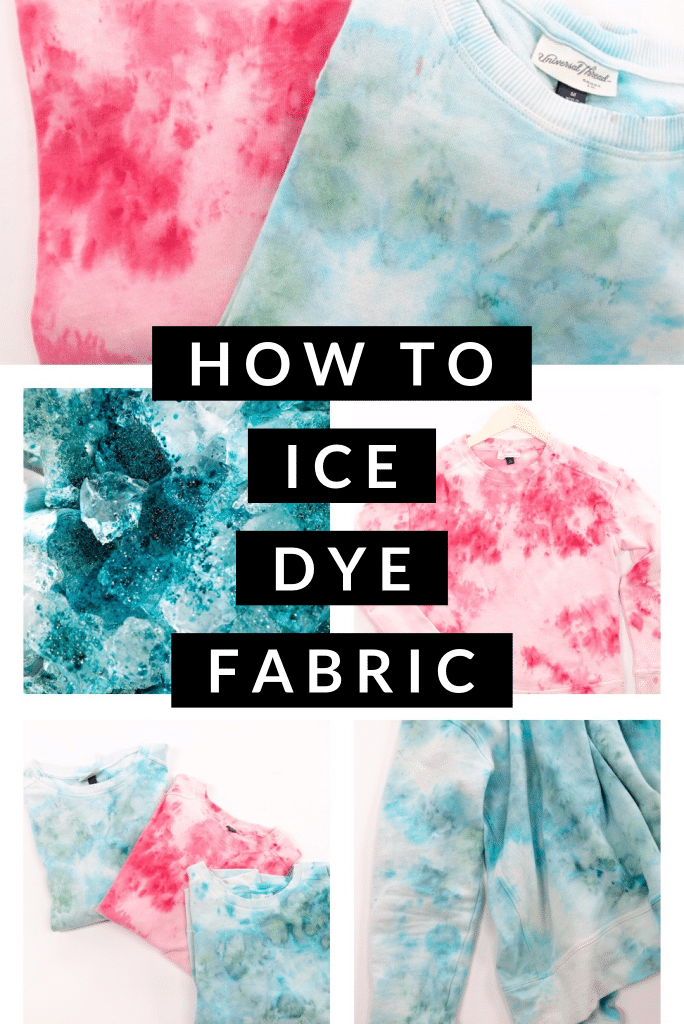 Photos by Sara Albers.