How to Make a Wine-Paired Dinner
This post has been sponsored by Layer Cake Wine. All thoughts and opinions are my own.
See how to make a wine-paired dinner for a fun and festive Fall evening!
This past year has given us more of an opportunity to try making new recipes at home. And we are especially loving trying new cuisines from around the globe. Today we are delighted to partner with Layer Cake Wines to share some of our favorite recipes paired with their wines.
Creating a wine-paired meal is something that reminds me so much of living in the Bay Area. We loved going to wine country to not only try new wines but also discover new flavors and recipes that paired well with certain foods.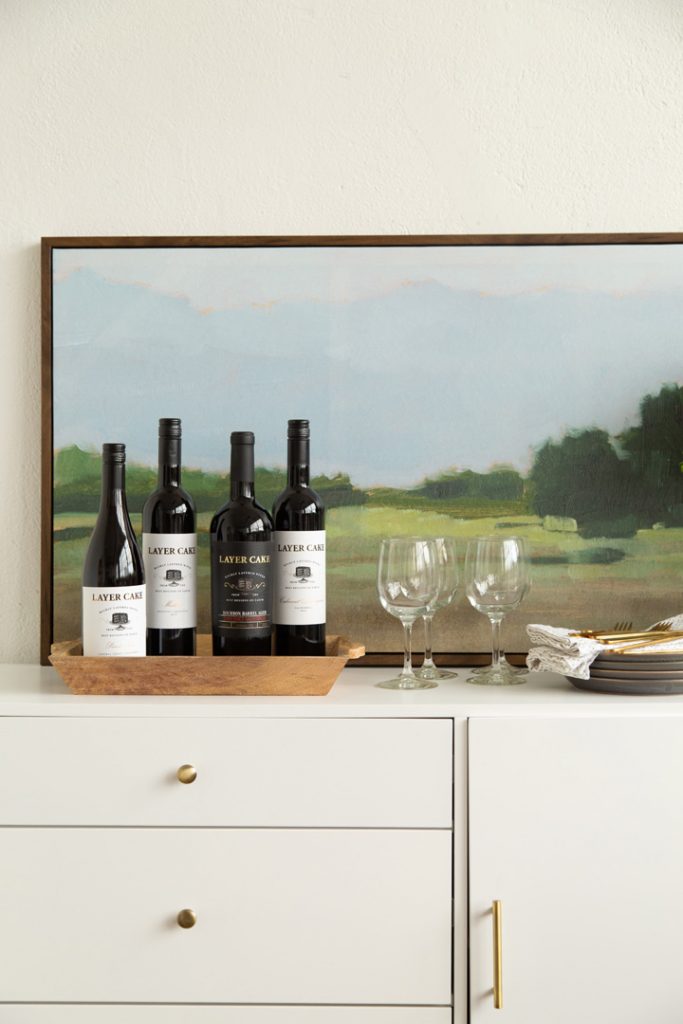 Today I am sharing the Layer Cake Malbec, paired with Steak Kabobs with Argentinian Chimichurri sauce. Along with their Pinot Noir with a mixed greens, pear, and goat cheese salad. Roasted potatoes with a balsamic glaze paired with the Cabernet Sauvignon and then a veggie kabob with bbq sauce with the Bourbon Barrel Aged Cabernet Sauvignon.
Layer cake wines are so delicious—they are filled with richly layered flavors from the best winemaking regions on earth. I am so excited to share all the ideas to make your very own wine-pairing dinner!
Click here to find Layer Cake near you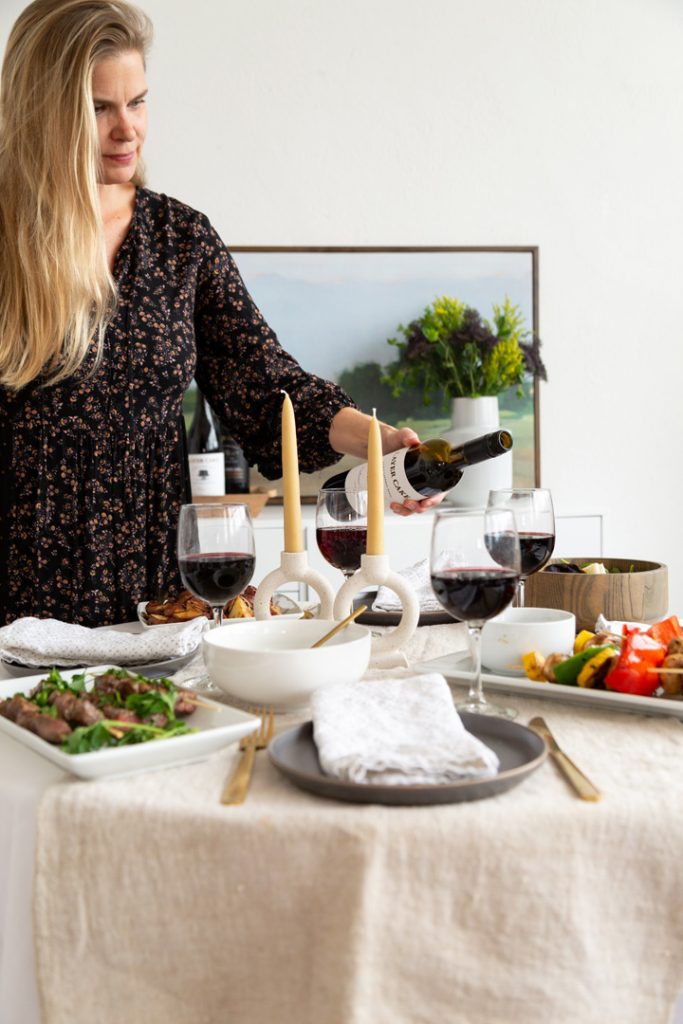 Steak Kabobs with Chimichurri Sauce Recipe
What better to pair with a Malbec than an Argentinian dish. This is a bigger, bolder wine, so pairing with a steak and flavorful sauce is perfect.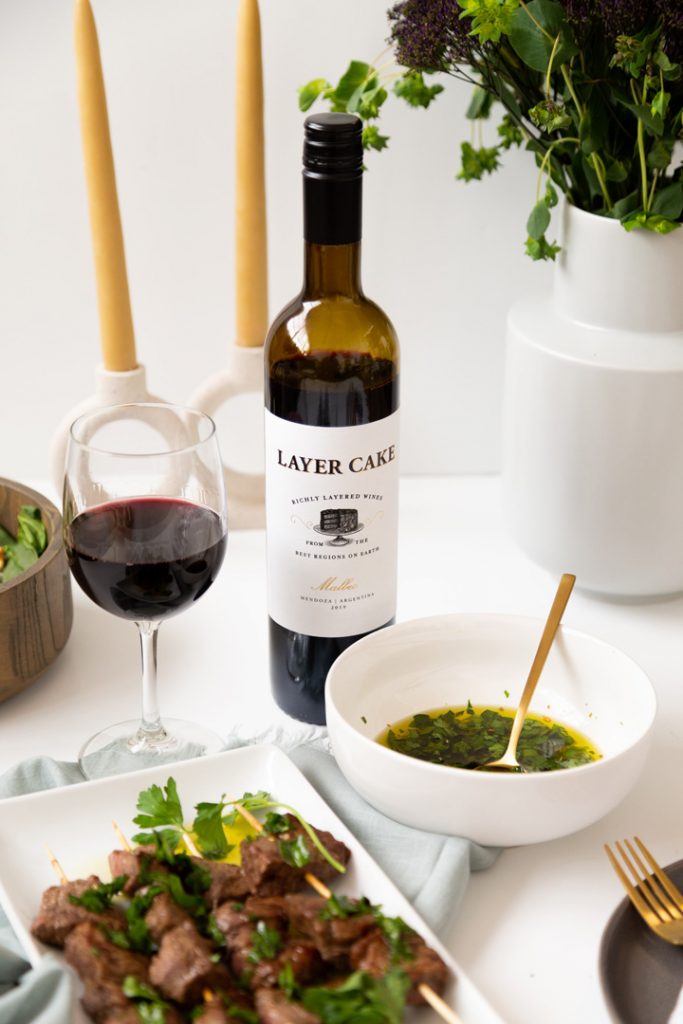 We like to use sirloin steak for the kabobs. Cut into 1-inch pieces. Add salt and pepper and a bit of oil. Grill to desired pinkness.
Chimichurri Sauce
1 cup tightly packed fresh parsley
2 garlic cloves
⅓ c olive oil
¼ c red wine vinegar
Pinch of red pepper flakes
Pinch of salt
Chop parsley and garlic (or chop in food processor).
Mix with oil, vinegar and spices.
Pour over grilled steak kabobs
Mixed greens with pear and goat cheese salad
This salad is inspired by Central California—the goat cheese, nuts, and pears with mixed greens reminds me so much of that area. What better to serve it with than Pinot Noir.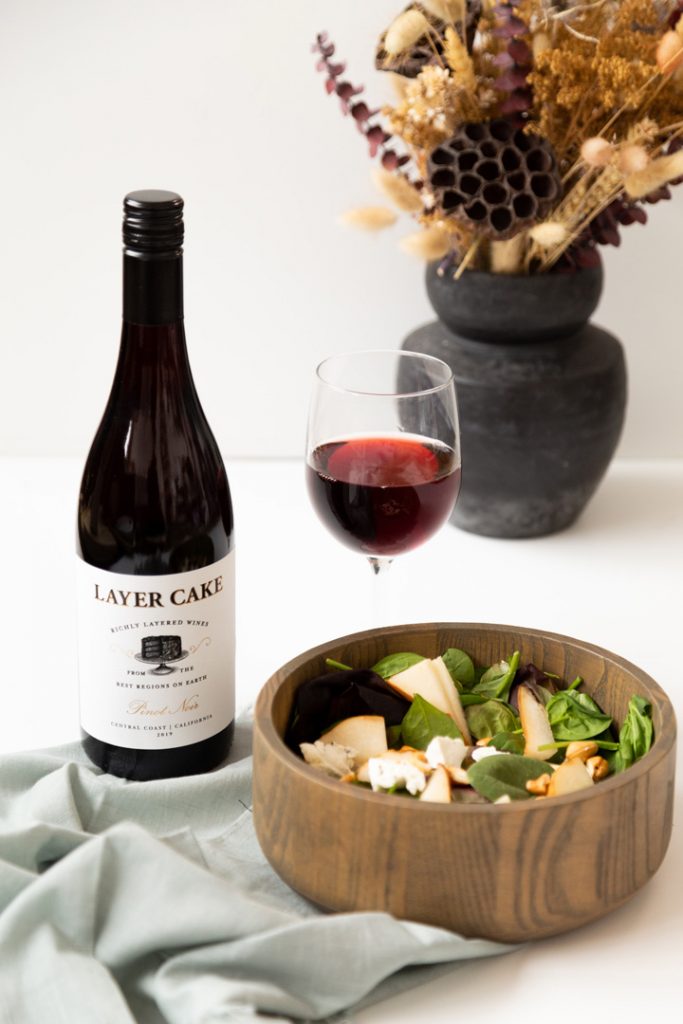 Bowl of mixed greens
Thinly sliced pear
⅓ c of goat cheese, broken up
⅓ c chopped cashews
Lemon vinaigrette dressing
Combine in bowl for a wonderfully light salad.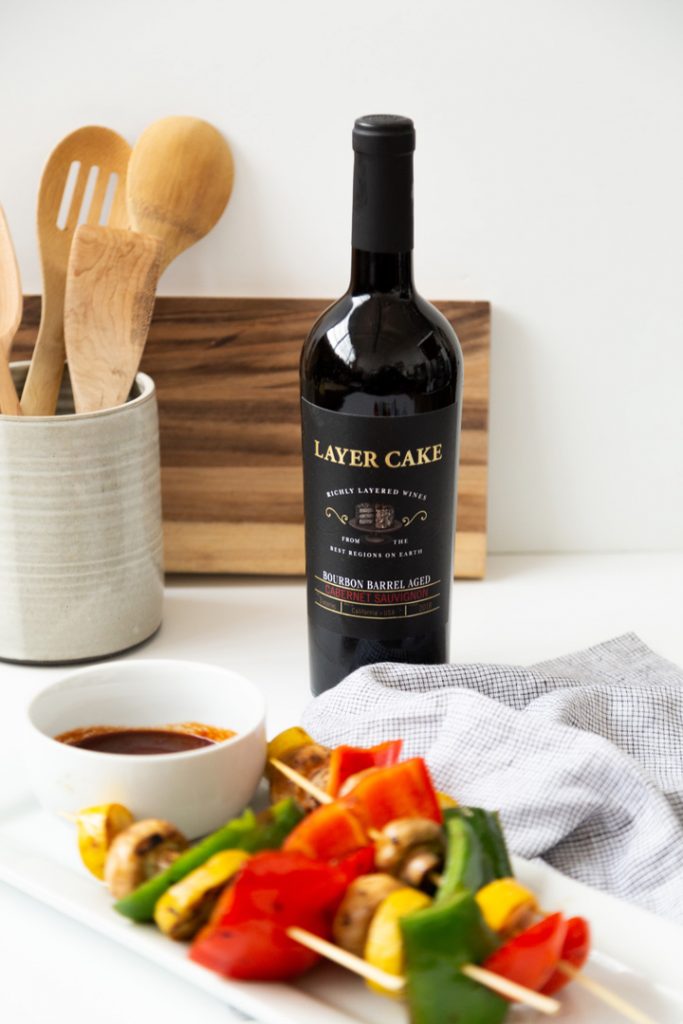 Grilled Veggie Kabobs with barbecue sauce
We loved pairing this recipe with the Layer cake Bourbon Barrel Aged Cabernet Sauvignon. The Bourbon Barrel gives this Cab a unique flavor that goes so well with a tangy BBQ sauce.
Veggie Kabobs recipe
Red and green pepper
Mushrooms
Squash
Onion
Olive oil
Salt and pepper
You can make a homemade bbq sauce or use your favorite sauce. Put veggies on skewers, drizzle with oil, salt, and pepper. Grill kabobs until done. Drizzle with BBQ sauce.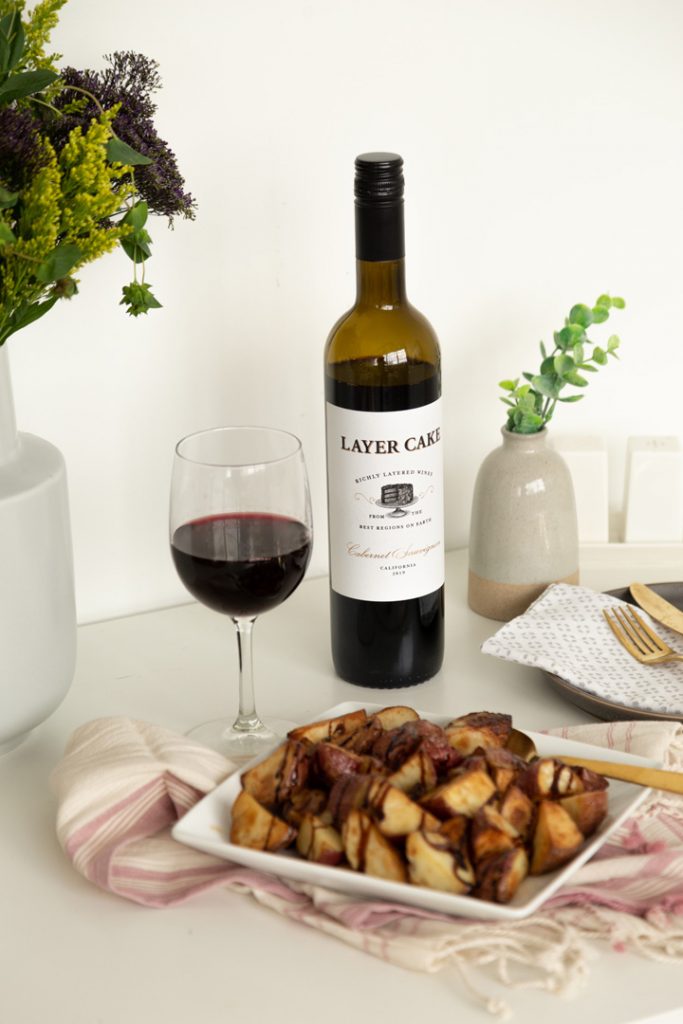 Roasted Potatoes with Balsamic Glaze
The Layer Cake Cabernet Sauvignon is the perfect pair for this roasted potatoes recipe. There is something about the unique flavor of the balsamic reduction that is so complimentary to the flavor of this Cab.
Roasted Potatoes recipe
Quartered red potatoes (about 4 cups)
3 garlic cloves – minced
White onion, quartered
Olive oil
Salt and pepper
Mix all ingredients on a roasting pan. Roast at 400° for 25 mins.
You can make a balsamic reduction by bringing one cup of balsamic vinegar to a boil. Reduce heat and let simmer for 15 mins. You can add a sweetener to the vinegar if you'd like (we do not). Drizzle over potatoes.