How to Make DIY Chinoiserie Inspired Pumpkins
Are you looking for a simple and easy fall decor craft project this year? If so, these DIY Chinoiserie Inspired Pumpkins will soon top your crafting to do list!
We are going to show you how to take paper cocktail napkins with a chinoiserie design and transform a white pumpkin into beautiful fall home decor. Talk about an elegant take on pumpkin decor!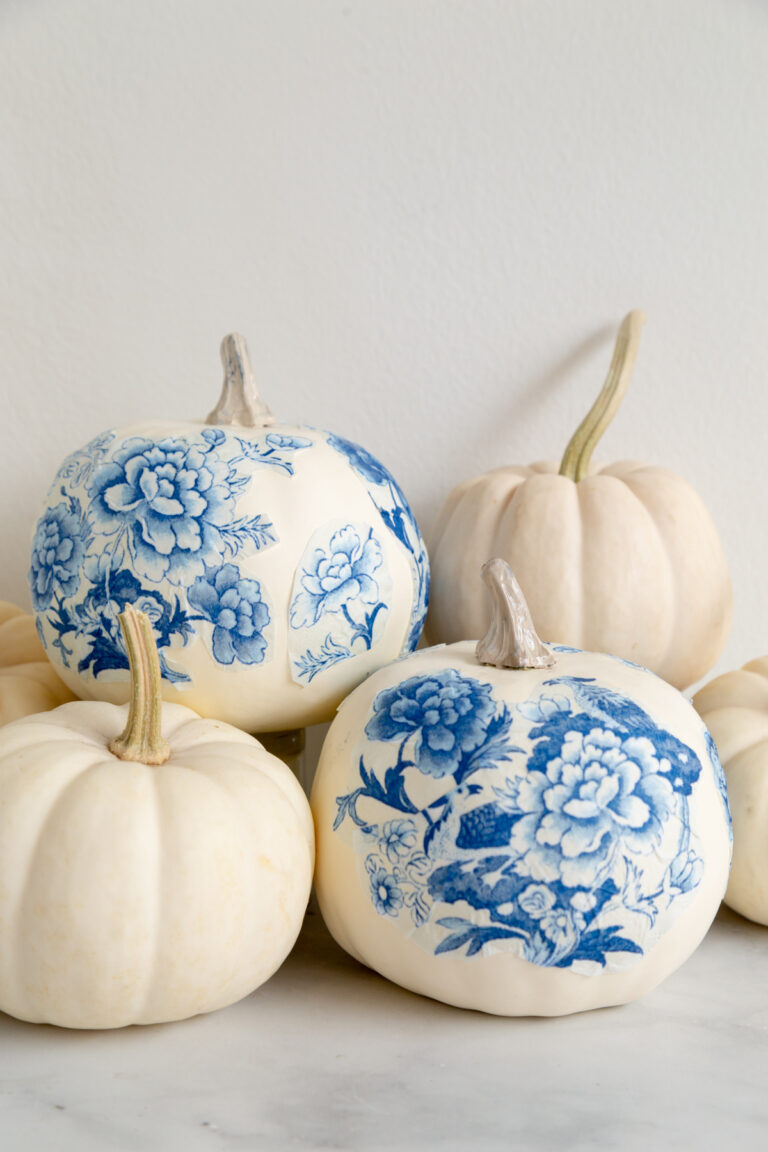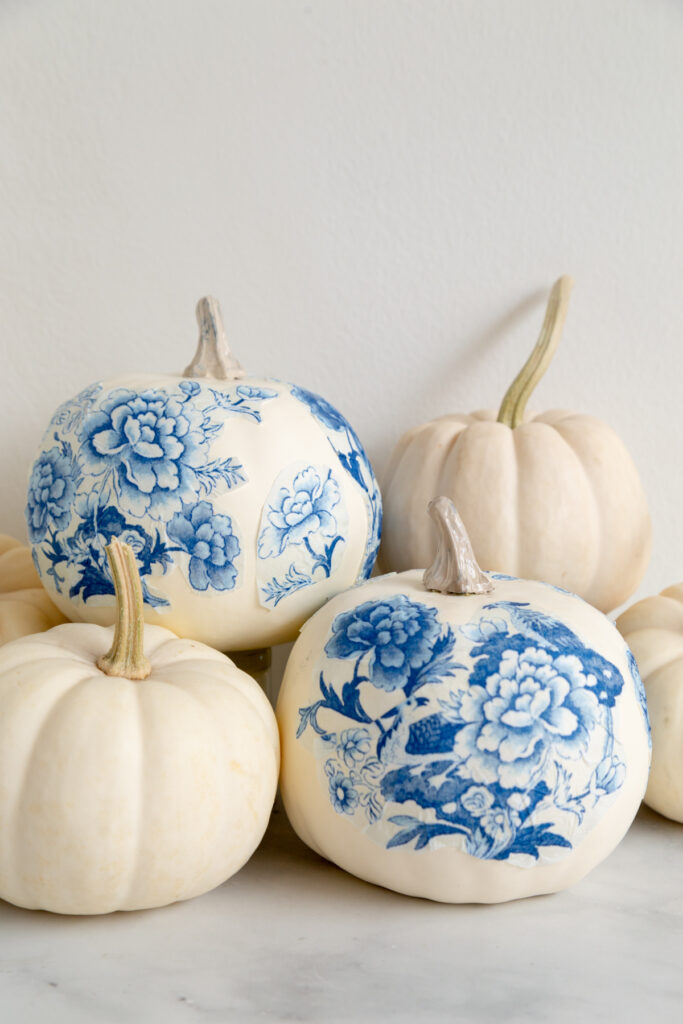 You can use a real pumpkin or craft pumpkins for this project, totally up to you. We opted to use faux craft pumpkins so we can use them to decorate year after year. 
We absolutely love this method of decorating pumpkins!
What is Chinoiserie?
Chinoiserie is a term used for designs inspired by Chinese and East Asian influences. It can be found in art, design, furniture, decorations and more. It is a European term for the Asian influenced style. It is traditionally blue and white.
We love the classic, formal style with the bold blue and white.  You can find this design on ginger jars, plates, fabric and more.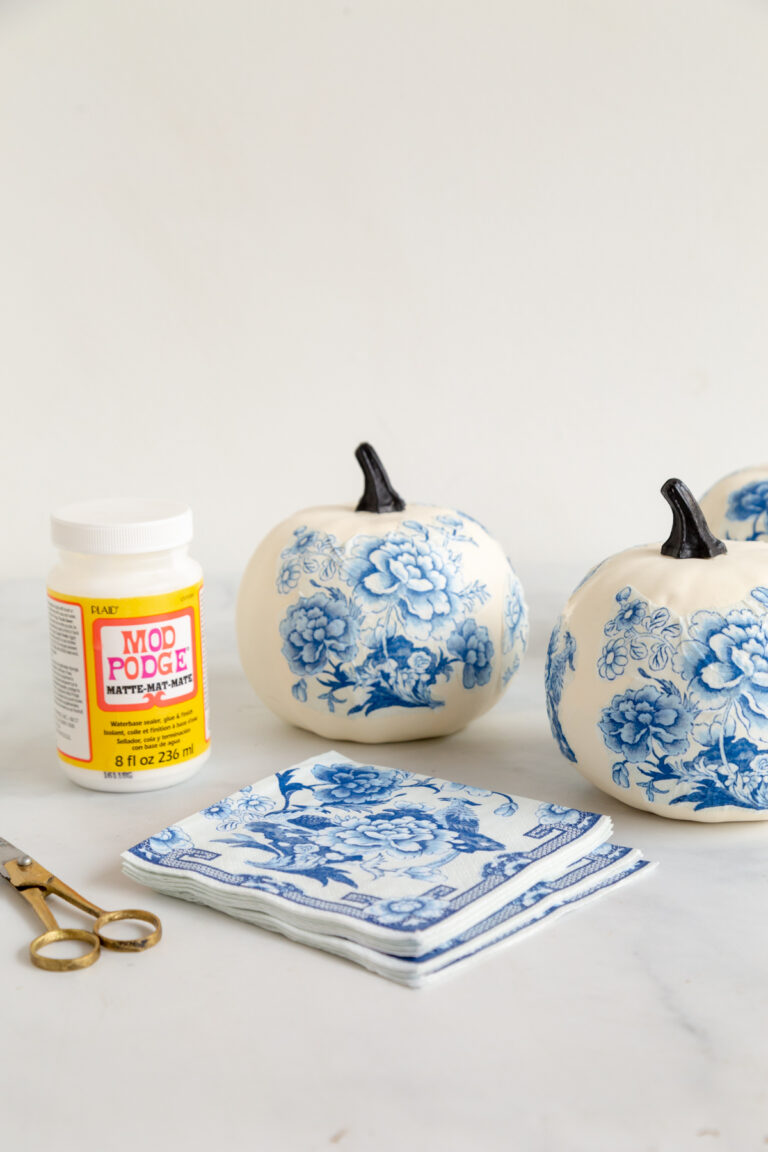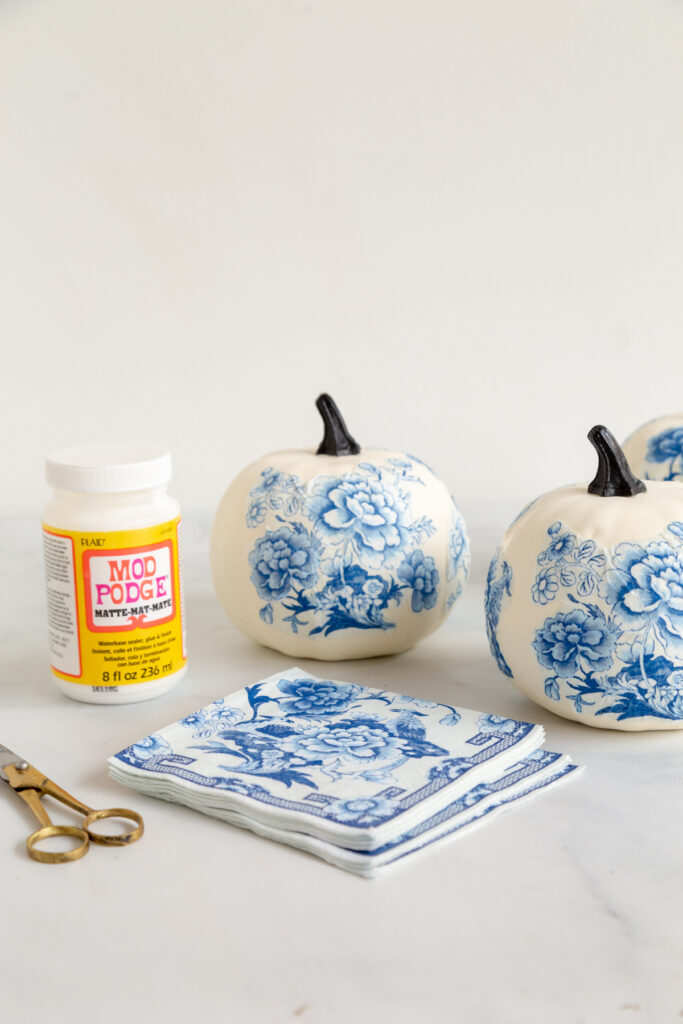 Adding the chinoiserie to white pumpkins is a beautiful addition to decor for your home of rate autumn season. Blue and white can go with so many different decor styles. Remember our blue and white Indigo Marbled Pumpkins?! We use them every year as Fall decor.
Needless to say that we are obsessed with these DIY Chinoiserie Inspired Pumpkins!
Where to find chinoiserie paper napkins
The main supply in making these DIY Chinoiserie Inspired Pumpkins are the paper napkins! The napkins we used for this project are from amazon. We have included a few more options below as well.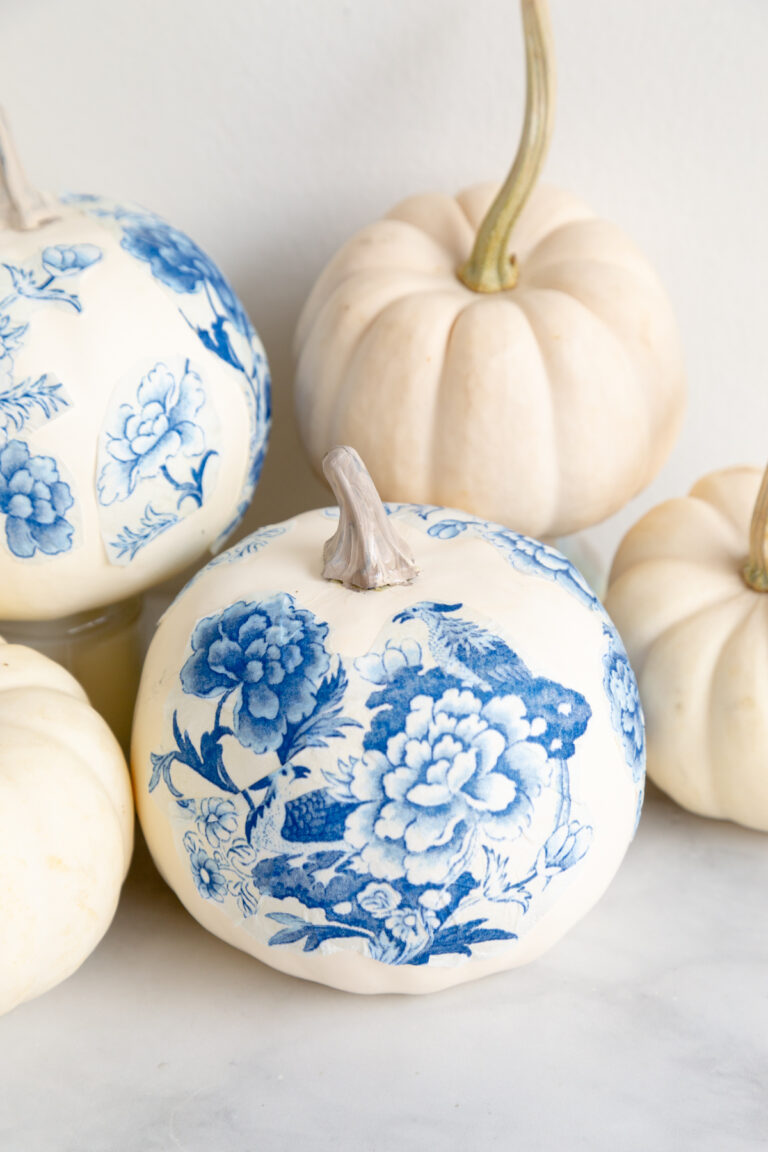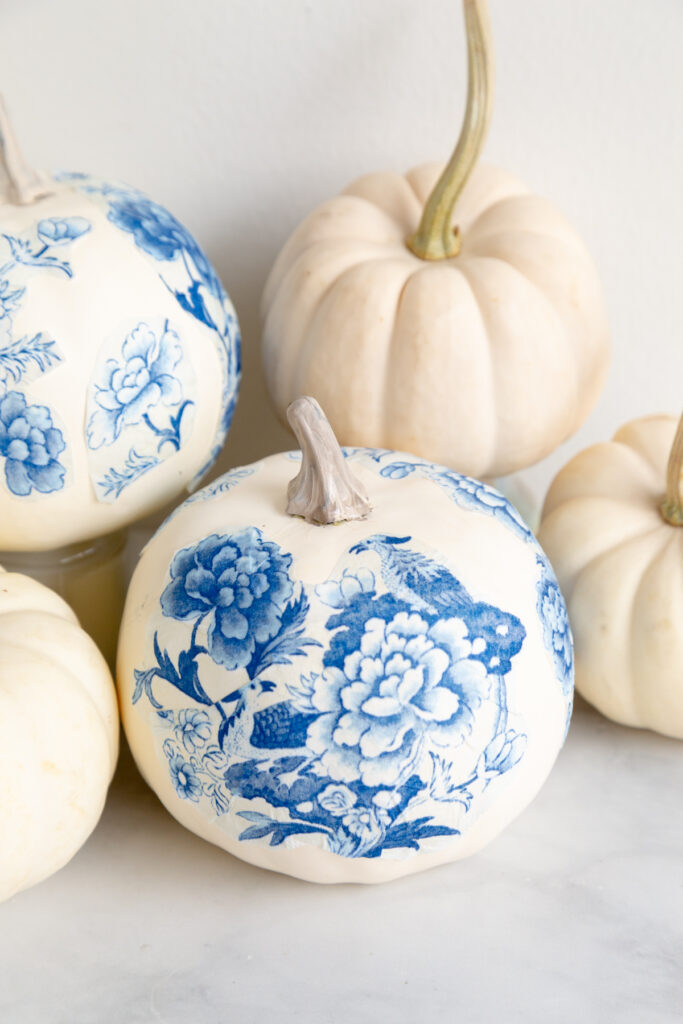 How to decorate pumpkins with napkins
Mod Podge is the secret ingredient in decorating pumpkins using paper napkins. So what is Mod Podge? It is decoupage, which is a thin glue that is used in craft projects. It is also used a a clear coat finish. We love using the Matte finish Mod Podge. But it also comes in gloss as well.
This is not our first project using Mod Podge and pumpkins. Remember these beautiful Decoupage Floral Pumpkins?! We have used tissue paper, paper napkins, fabric and more!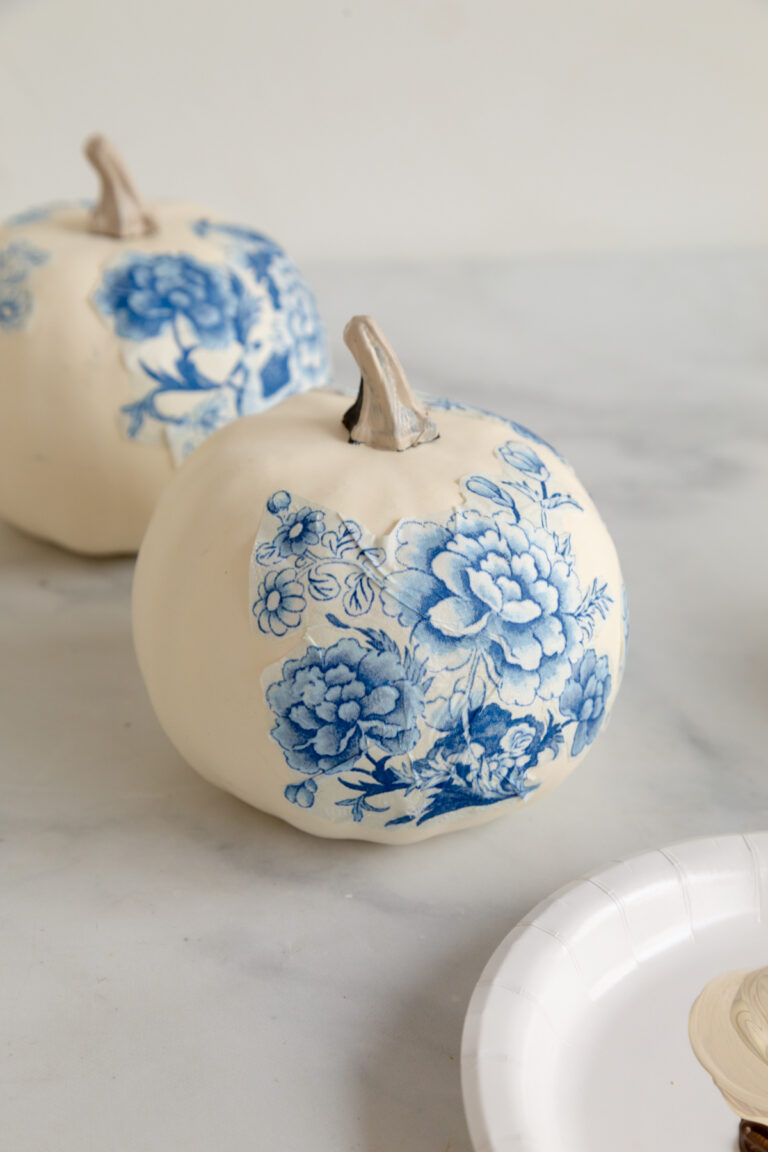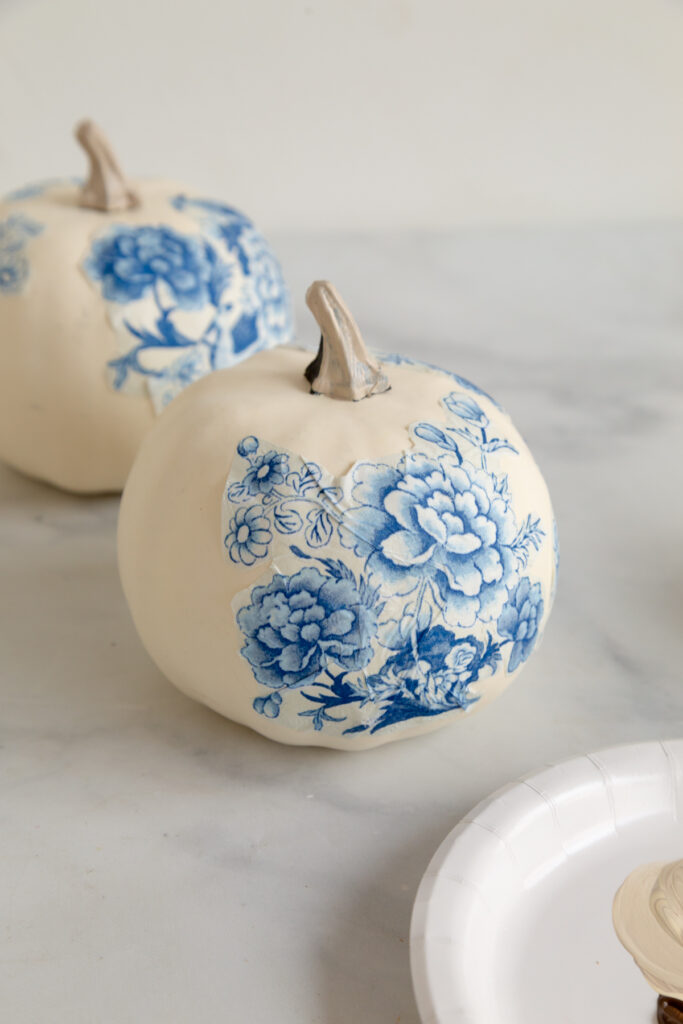 What you need to make Chinoiserie Inspired Pumpkins
​- Mod Podge
– Paint brush (regular or sponge brush)
– Pumpkins (white pumpkins or white craft pumpkins)
– Craft paint (we mixed brown and tan) for the pumpkin stem
What kind of pumpkins to use
You can either use real pumpkins or faux for this craft project. Ceramic pumpkins could even work. We used faux pumpkins for beautiful chinoiserie pumpkins project. You can find them at craft stores and big box stores like Target or Walmart. We love the mini white pumpkins from Target. 
Real pumpkins also work well. The smaller white ones are good. The size of the pumpkin does matter. The larger the pumpkin, the more napkin cutting is required! Smaller pumpkins are easy to work with.
How to Make DIY Chinoiserie Inspired Pumpkins
Prep the pumpkins
Wipe down the faux or real pumpkins. If the pumpkin is not the color you would like, use white paint to change the color. Flat white spray paint or acrylic paint work just fine. For instance, if you are using orange pumpkins, this blue and white pattern looks best on white.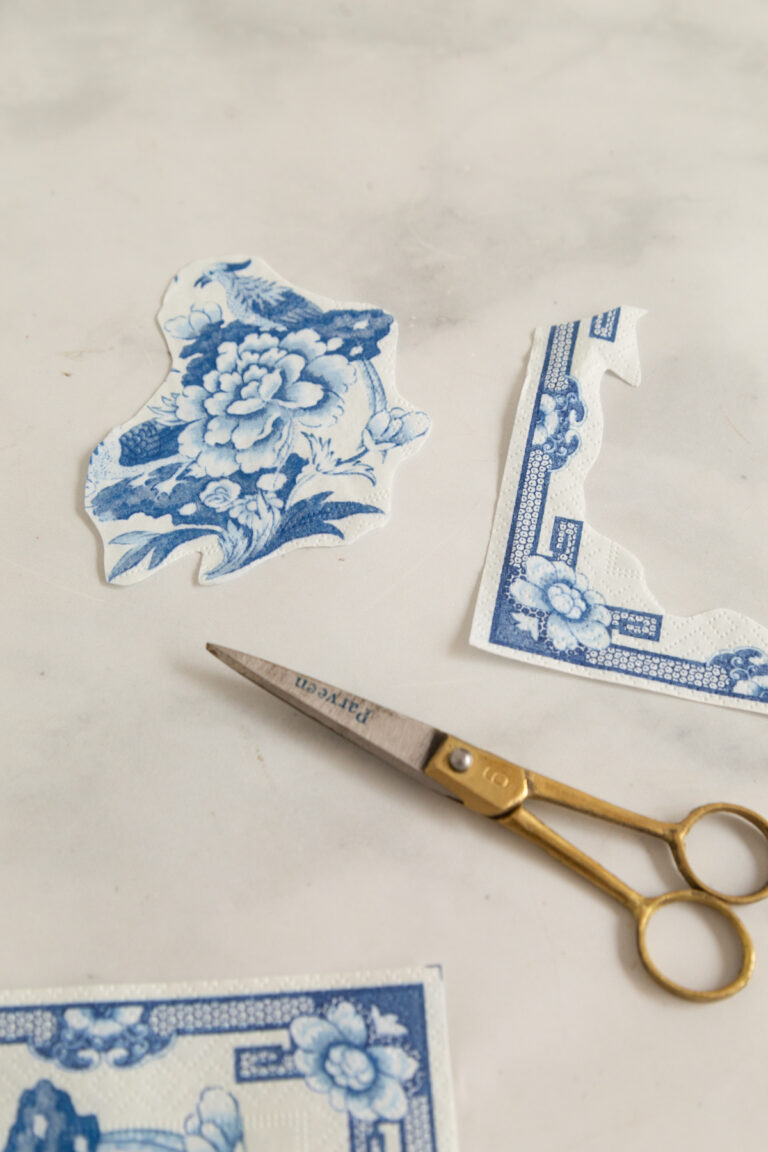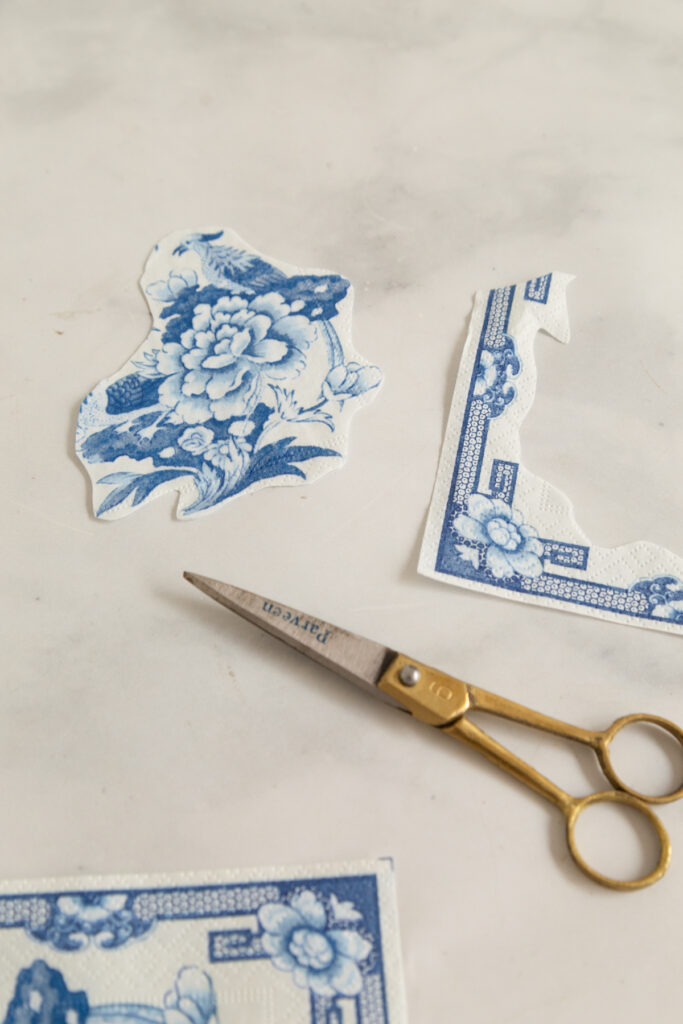 Cut designs from Chinoiserie paper napkins
First peel a layer of the plain white napkin. You really only want to use the printed layer of the napkin. This makes it so much easier to work with. Then suing sharp scissors, cut around the design.
Adhere to pumpkin with Mod Podge
You can either apply a thin coat of mod podge directly to the pumpkin, or you can apply to the back of the napkin piece that you have just cut. One base coat of the decoupage is just fine. Then gently press the napkin piece onto the pumpkin. Watch out for the curves of the pumpkin when applying the napkin. Use your finger tips to gently press on the curves.
Allow to dry.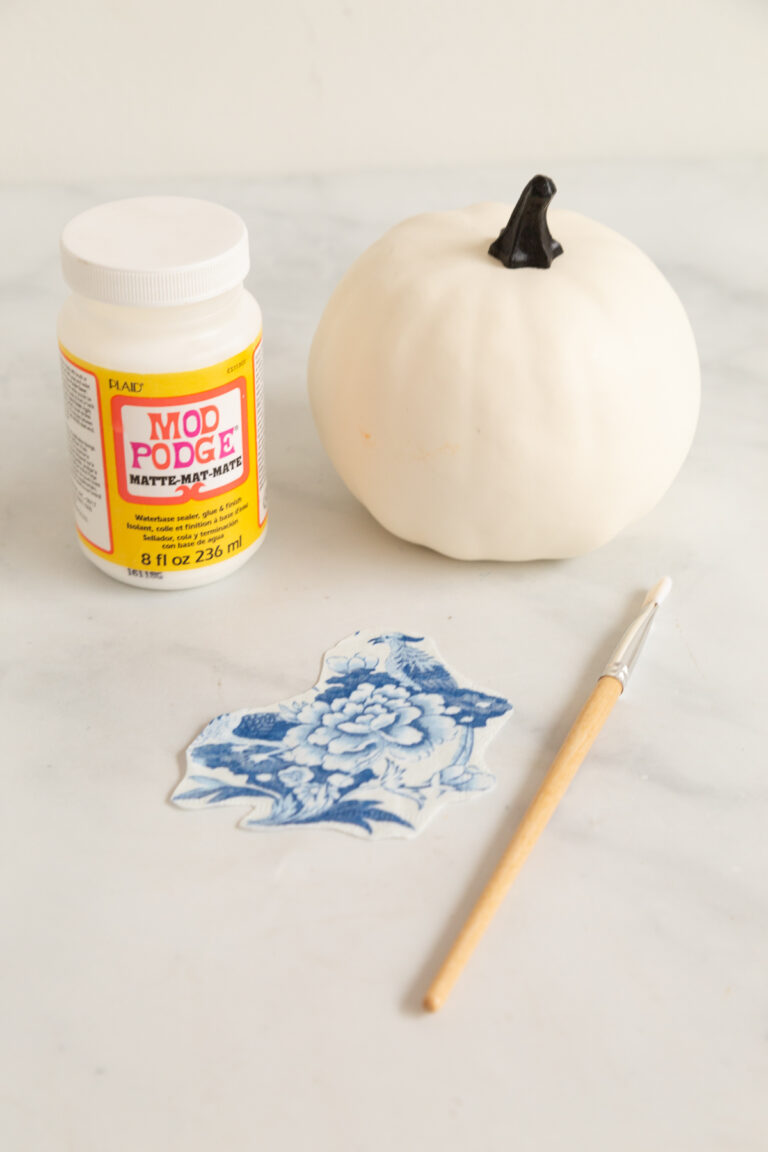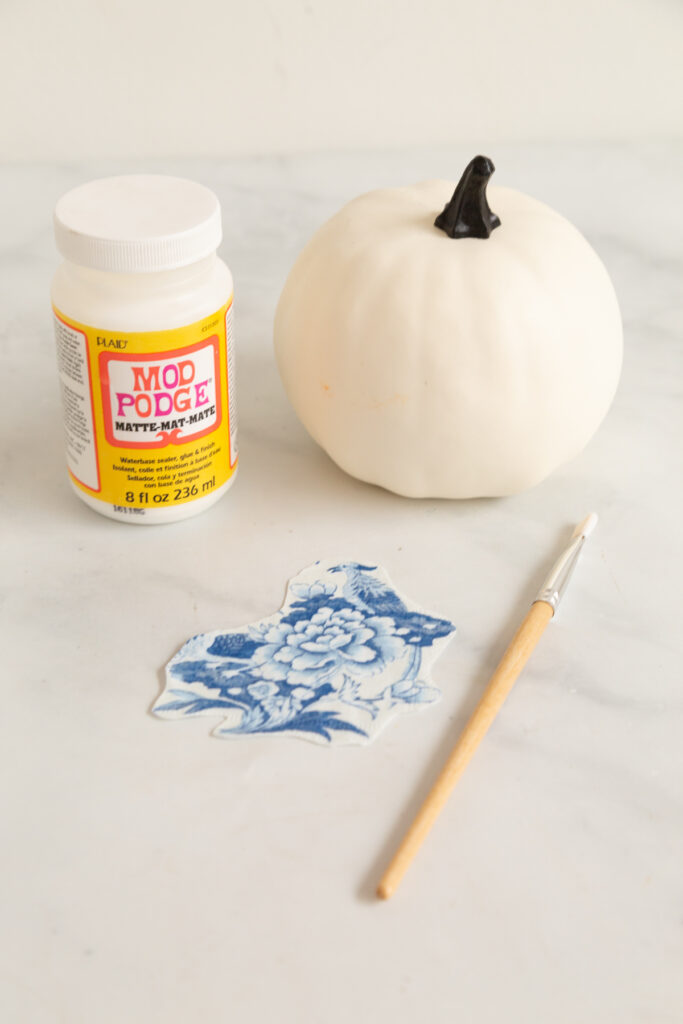 Apply top coat
Now paint mod podge directly on top of the paper napkin designs. This is the easy way to seal the designs on the pumpkins. One coat should be just fine!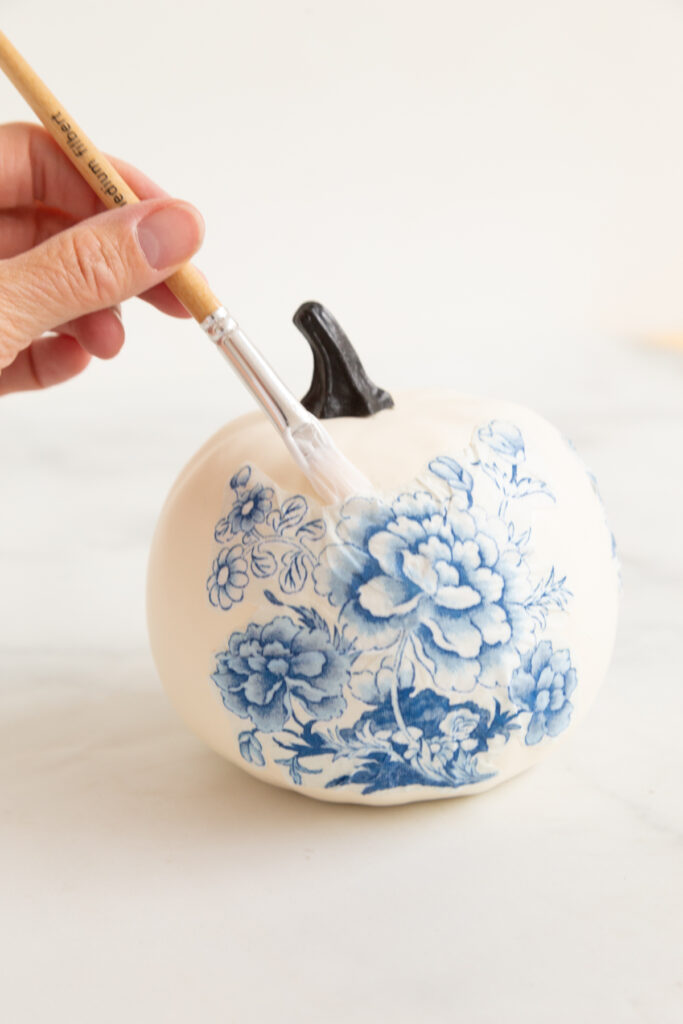 Paint the stem
Now this is all personal preference, but I am not crazy about the black stem. We went with a brown and tan paint to soften the look of hte stems. You could even use gold paint (or even gold leaf) for a fancier look.
Decoupaged pumpkins are a fun DIY project for the entire family. This would also make a wonderful ladies craft night idea! This is a budget-friendly project as well.