How to Strip and Bleach Wood Furniture
Learn our favorite methods to Strip and Bleach Wood Furniture.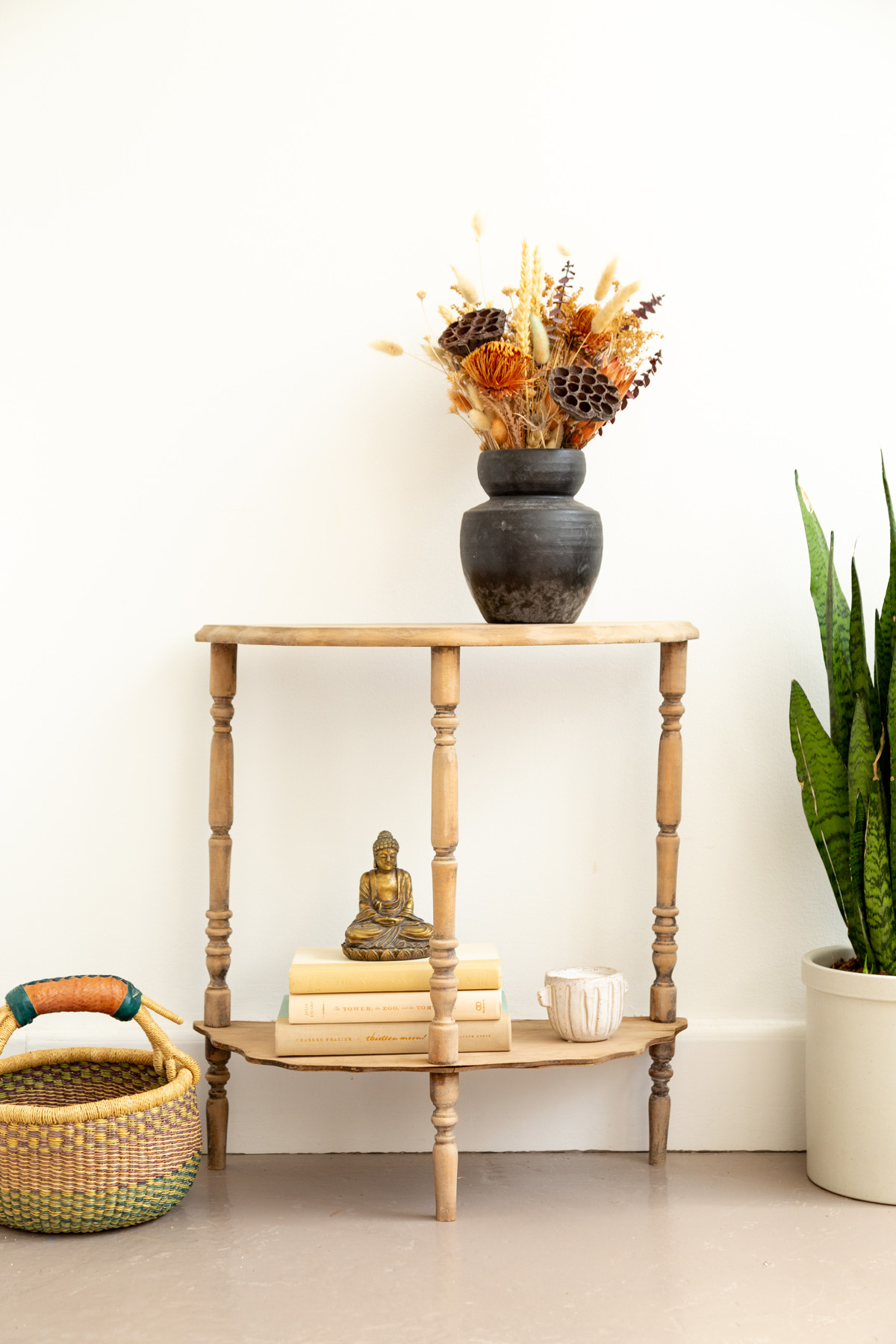 How to strip and bleach wood furniture
Do you have an old piece of furniture that you love but do not love the color of the stain or wood? Well, you can do something about it. Stripping the old varnish or stain might seem like a lot of work, but it really is not too bad!
Bleaching a piece of furniture changes the color of the wood. The bleaching process is easier than you might think. We have become obsessed with it, like with this table. The look of bleached wood is so on trend right now. And honestly, it never goes out of style.
We love the look of bleached light wood. Some refer to this look as the "Coastal Grandmother" or Serena and Lily aesthetic. The color of the wood becomes a natural look, giving the wood tone an almost light white color. You can take a darker wood furniture piece and give it a natural wood look using the process below.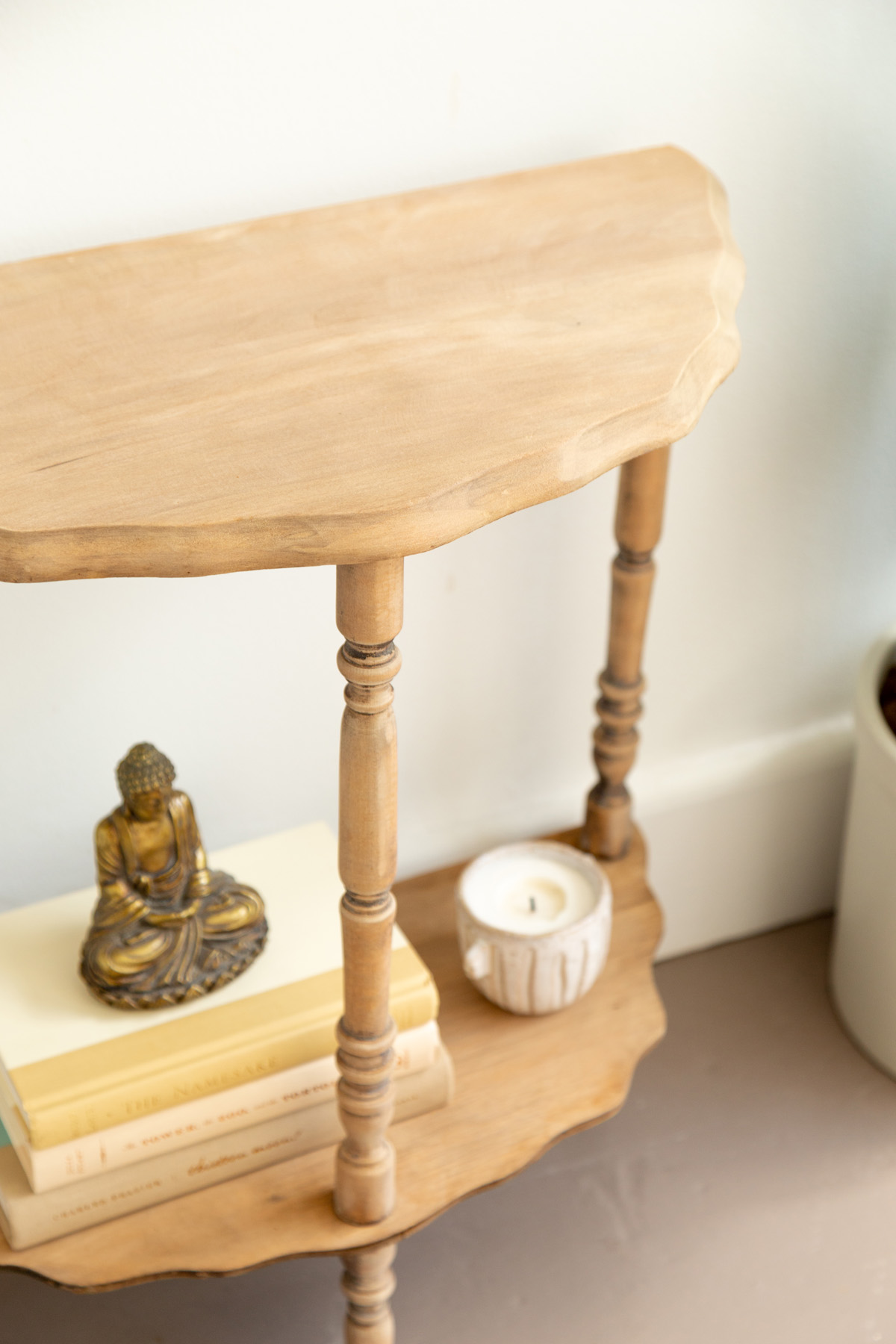 How to strip wood furniture
The easiest method we have found is to use oven cleaner spray. Yes, you heard us correctly, OVEN CLEANER! We love this Easy Off brand cleaner.

Oven Cleaner method
Supplies:
bowl with water and dish soap
power hand sander
How to strip a wood table using oven cleaner
First, prep your piece of wood furniture. Wipe down the furniture piece to clear any cobwebs, dirt and grime with a damp cloth.
Now it is time for the oven cleaner. We recommend doing this outside! Make sure and read the label for details on usage. We like to be out in the fresh air when we strip the varnish. Spray the furniture all over with the cleaner. Allow to set for 20 minutes.
It is best to not be in direct sunlight. Let the oven cleaner work it's magic for 20 minutes.
Use a scrub brush and scrub the entire piece to remove the old stain and varnish.
Next dip the brush in soapy water and scrub again.
Rinse the furniture with a hose until the water runs clear.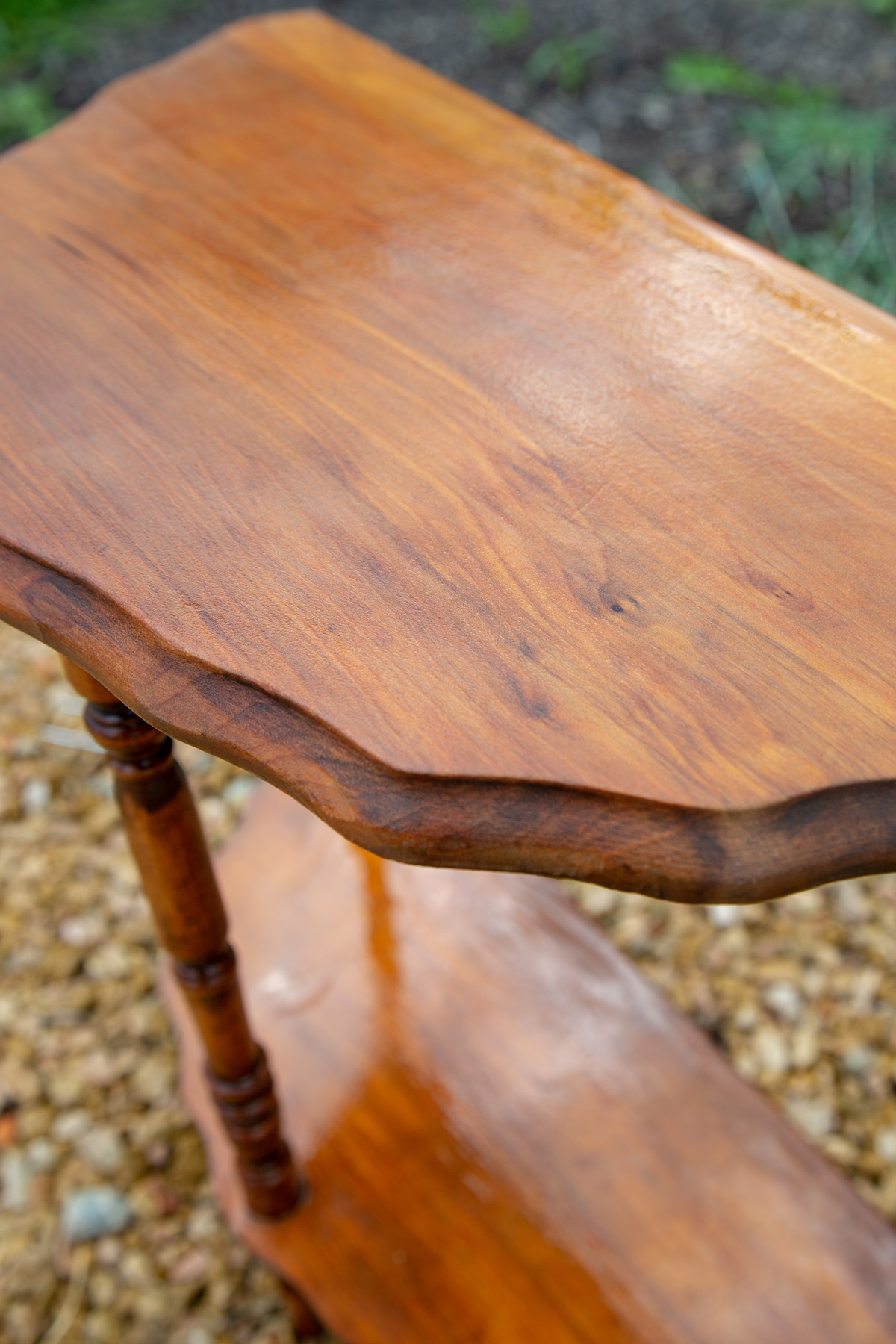 Allow to dry in the sun.
After the piece is dry, use a power sander with 120 grit sand paper and sand the entire piece. You can get in the grovers using a sanding block or sand paper.
The final step, you can do the bleach method below if you are looking for a lighter color wood. Then seal with a sealant.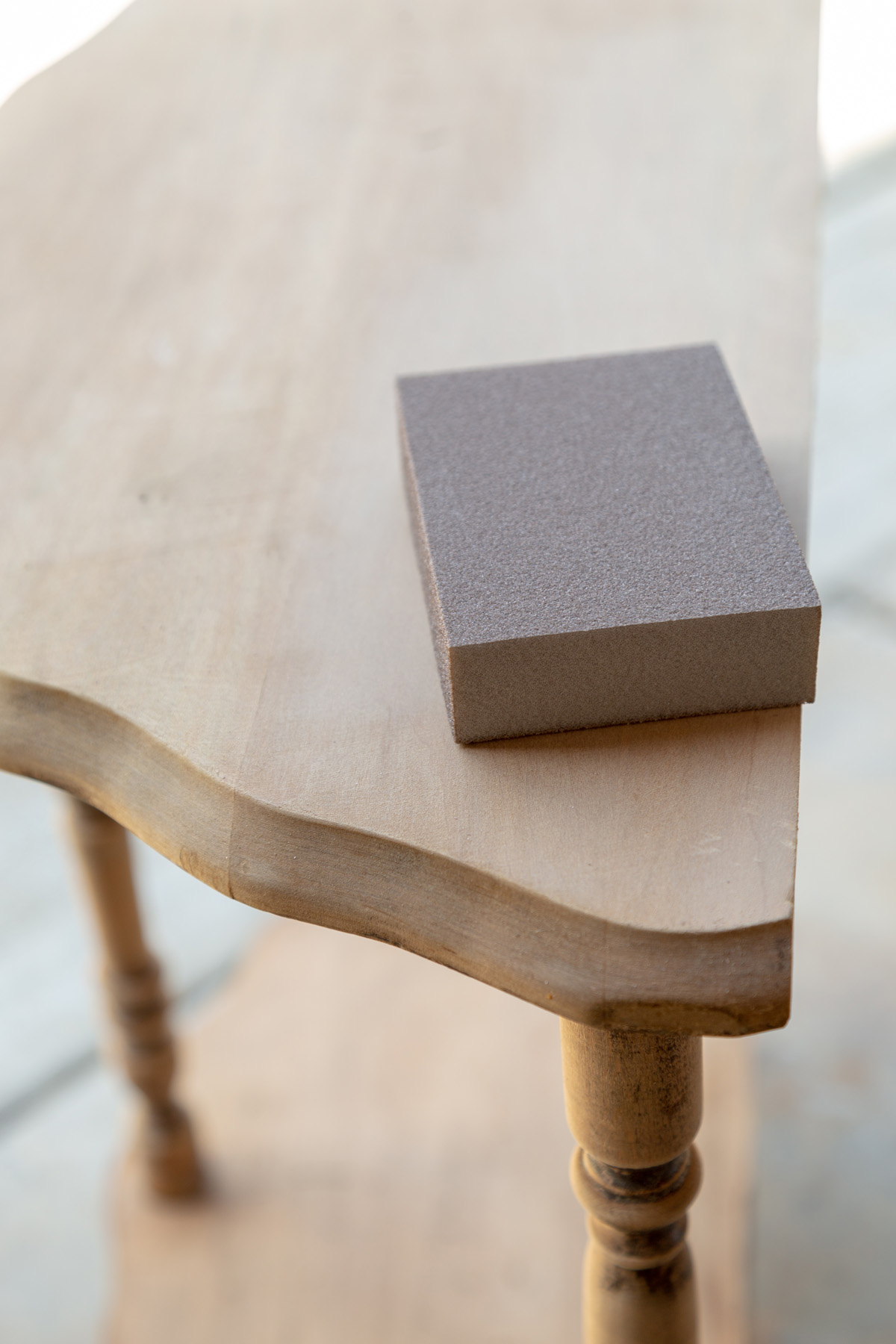 What kind of furniture can you use oven cleaner on?
You will want to use real wood furniture. This stripping process does not work well with wood veneer pieces. It is too thin and can dry out too easily. A good rule of thumb is the lighter the wood is to start with the better the results. Meaning a dark cherry wood table will need multiple processes of oven cleaner and then bleach to get a light wood color because of the red undertones. Thus drying out the wood tremendously.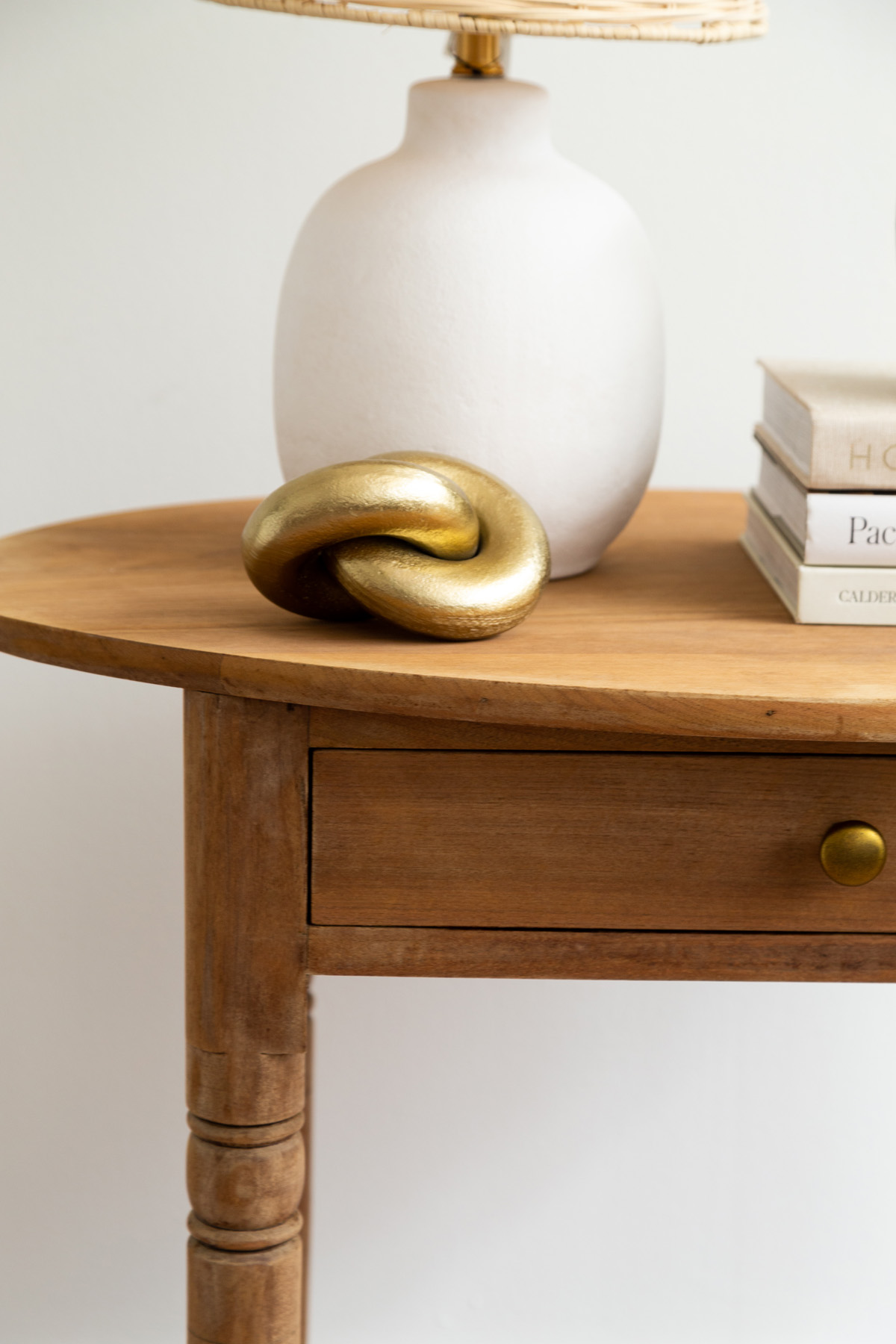 Citrus Strip method
Supplies
Plastic drop cloth
Scrapper or plastic putty knife
Prep the furniture. Wipe it down, remove hardware, etc.
Apply the stripping gel to the entire wood piece. Refer to the directions on the bottle for instructions. Make sure to use chemical-proof gloves when working with Citrus Strip.
Brush the stripping gel all over the table and wrap in a plastic drop cloth. It is important to "wrap" the piece with the plastic because it will not dry the piece out. You want the gel to stay in gel form.
Remove the plastic sheet and start scrapping! Scrap the gel off – and the varnish off!
Next remove all remnants of the stripping agent. Mix equal parts denaturalized alcohol and clean water in a clean spray bottle and spray. Wipe with a clean rag, and then allow to dry overnight.
Sand the furniture with a power sander (120-grit sandpaper). This will get you to the raw wood.
You can do the bleach method below if you are looking for a lighter color wood. Then seal with a sealant.

How to bleach wood furniture
What type of bleach to use?
I am sharing the three different types of bleach you can use to bleach out the wood color of real wood furniture. These are three products that I have used below. I have outlined the types of bleaches you can use for furniture makeovers. As allows, you will want to work with the chemicals in a well-ventilated area.
Yes, good ol' clorox bleach can can remove the stain color of wood but cannot always effectively change the color of darker woods. Regular household bleach can work well with already lighter colored wood. I have found using household bleach to work best on lighter wood like pine. The mix of bleach and sunlight can really lighten the wood tremendously.
Oxalic acid can remove stains (like water and rust) and lighter wood. It typically comes in a powder form and you mix it with hot water. It is typically used with wood workers trying to get a more uniform color before re-staining a piece of wood furniture. You are to use it on bare wood only. You must follow the safety instructions on the packaging. This is an acid, so safety first!
"Two part" A/B peroxide-based bleaches – this type of wood bleach (also known as two-part bleach) comes with two bottles that you apply with gloves and sponges. They are sodium hydroxide (caustic soda) and hydrogen peroxide. Using both chemicals causes a chemical reaction that removes the color from a previous stain or wood color. Zinsser wood bleach is a bit hard to find right now. I have had luck in Menards stores. We used this wood bleach on this table and loved the outcome of this furniture makeover!

How to bleach furniture using household bleach
Supplies:
Household bleach
water
spray bottle
chemical proof gloves
Household bleach method
After the wood furniture has been stripped and sanded, it is time to lighten that wood! Mix bleach and water (1:1 ratio) in a spray bottle.
Spray the entire furniture piece and allow to sit in the sun for 15 – 20 mins. If you are wanting a lighter wood finish, do this process again.
Then seal with a sealant. We recommend 2 – 3 coats. Allow to dry for an hour or two in between coats and lightly sand (400 grit) for a smooth finish.

What type of sealant to use
There are many types of sealant that you can use on this type of project.
Polyurethane – You can find polyurethane in oil-based and water-based finishes. I find that the oil-based ones can leave an almost yellow/orange tint over time. I also find that a poly coat can make the bleached or lightened wood a little darker.
Polycrylic – this is a water-based finish. They have a much lower odor and I do love the finish. This polycrylic top coat is what I go for most often. It keeps a truer color of the wood. We love this sealant.
Clear wax – We like to use this one. It is a soft wax that goes on matte and dries hard. It protects and does not have a harsh smell. You can also use a white wax.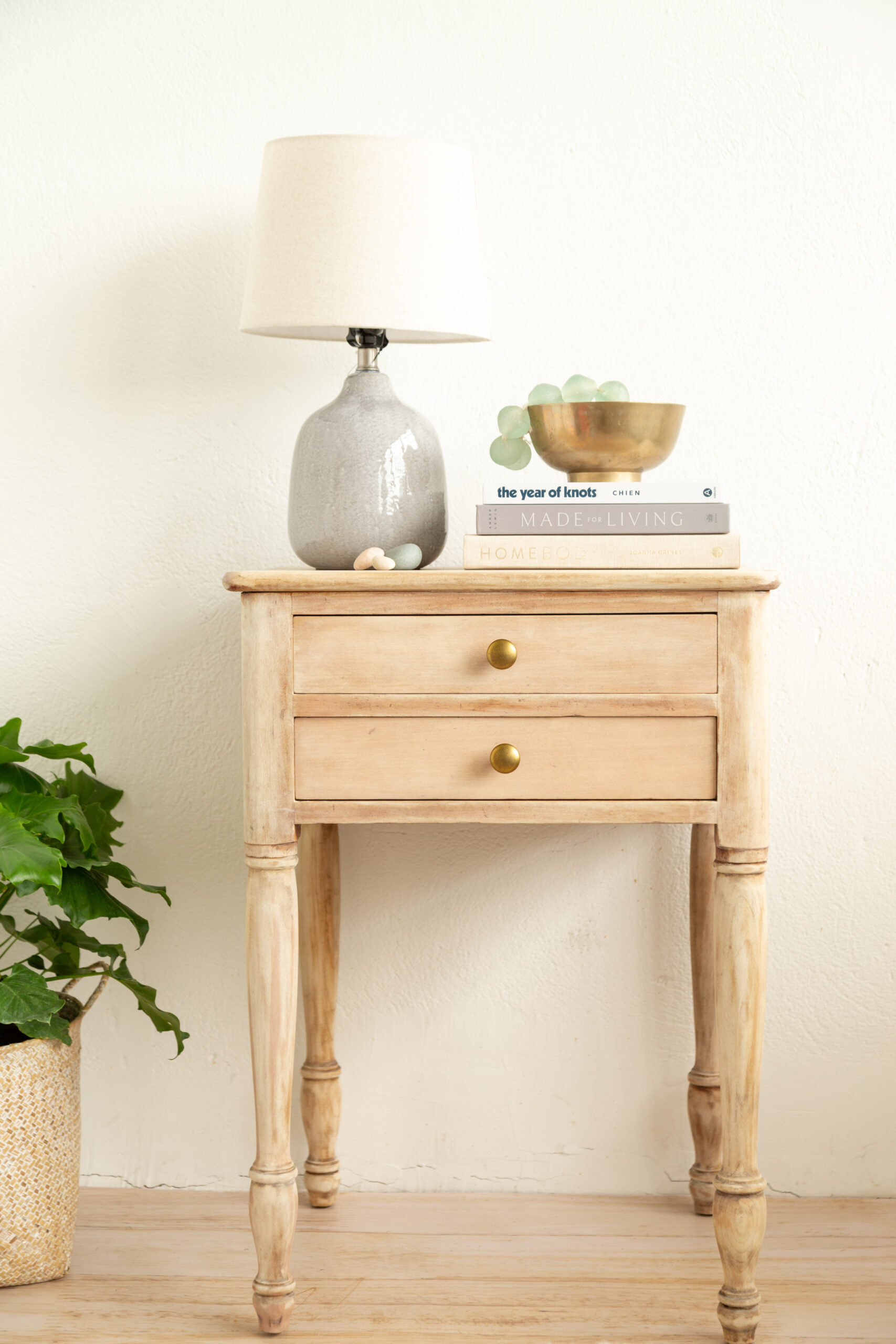 Some links may contain affiliate links where we could make a small percentage commission if purchased through the link.