Ikea Billy Bookcase Hack to Arched Cabinet
Just wait until you see this amazing Ikea Billy Bookcase Hack to Arched Cabinet project!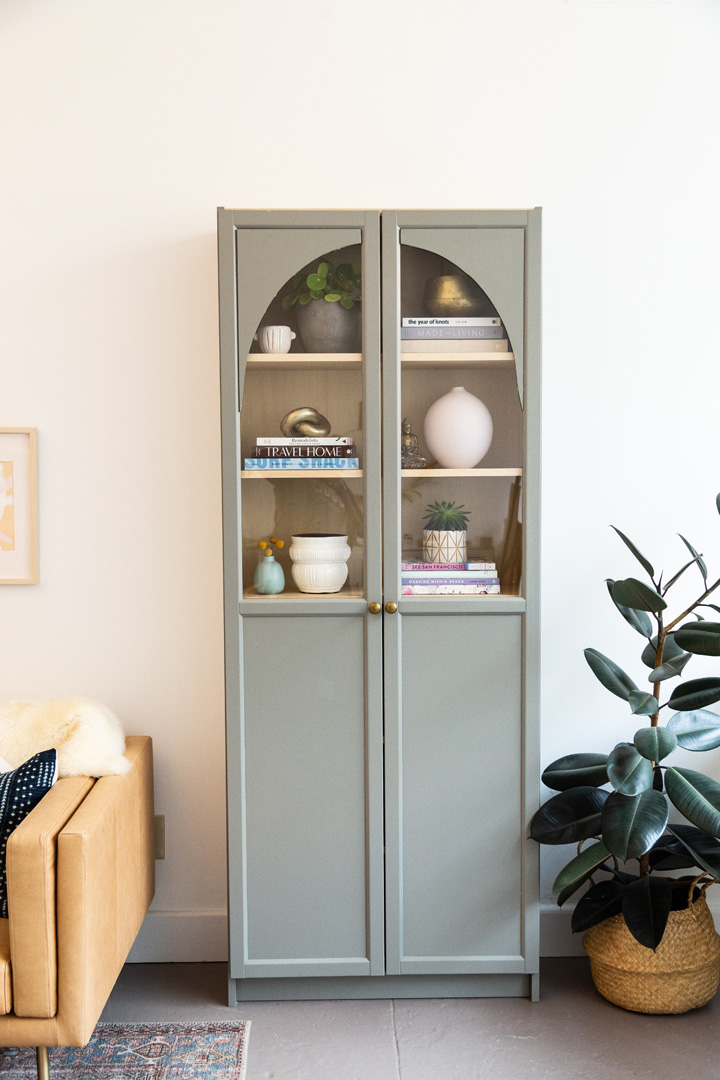 You know we love a good Ikea Hack, right? Our latest and greatest uses the Ikea Billy bookcase. We transformed it into a high end looking piece using a beautiful earthy green paint, some MDF board, a jigsaw and glue.
Talk about transformation! This Ikea Billy Bookcase Hack to Arched Cabinet project looks incredibly high-end, don't you think?
What is an Ikea Hack?
Are you familiar with the term, "Ikea Hack?" If not, an Ikea Hack is when you turn a basic piece of Ikea furniture (or anything Ikea really) into something more high end or give it an on trend look. It is upgrading, customizing and revamping the basic Ikea piece into something new.
We used the Ikea Billy Bookcase with the glass panel doors. The glass panel doors with the glass on top work best.
Shape and color is what makes this a true transformation.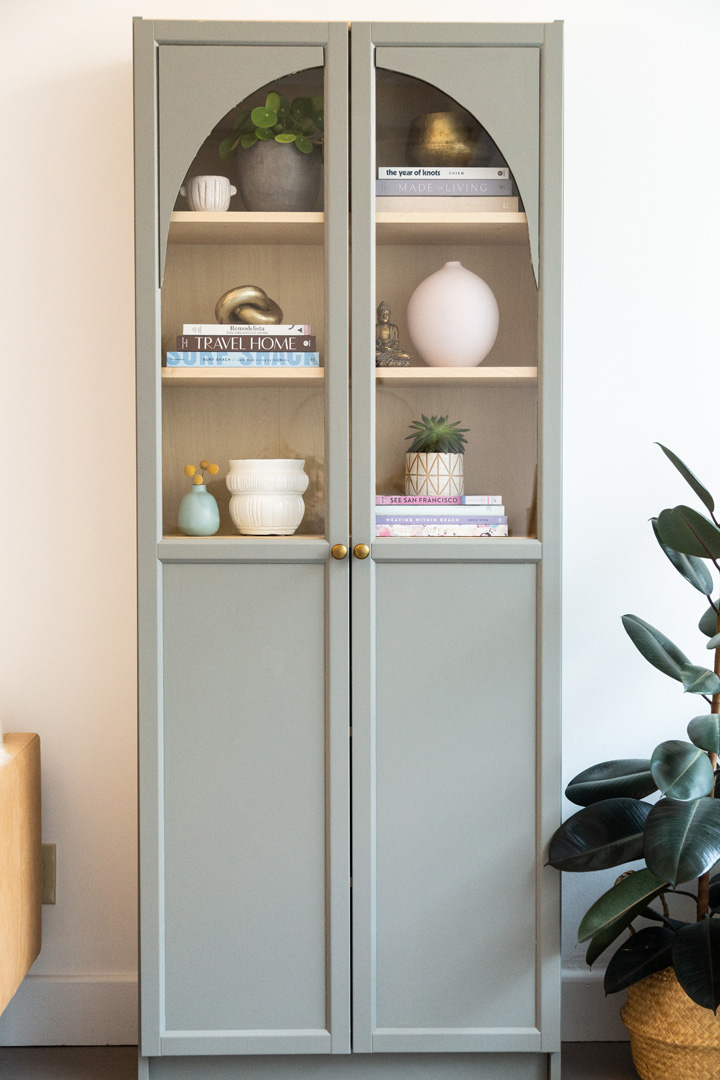 Color
The earthy mossy green color is Benjamin Moore Desert Twilight. This paint color is absolutely perfect for this Ikea Hack! Our paint store recommended to use cabinet paint to give the cabinet a smooth finish. And don't forget to use cabinet paint roller for the perfect finish.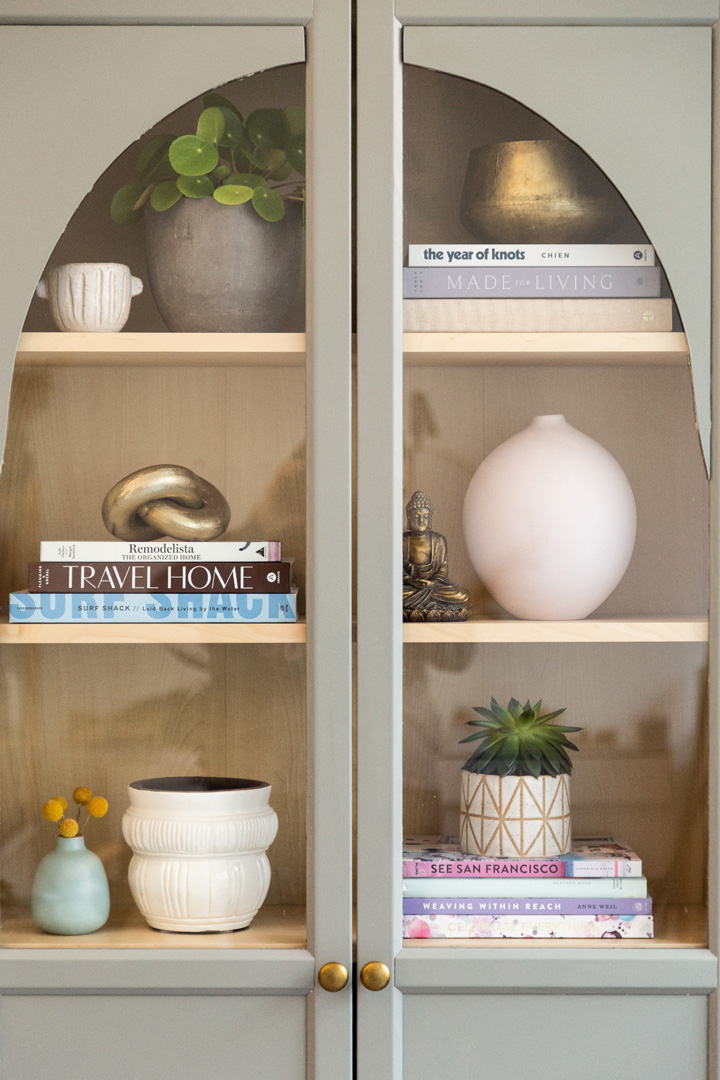 Shape
Adding a rounded arch shape to each glass cabinet door gives this basic cabinet an elevated look. We used a jigsaw to cut out the shape in MDF board. You might have noticed over the last year more and more high end cabinets with arches. Here are a few arched cabinets that we love:
Hardware
Changing out Ikea hardware is a must! Often Ikea furniture comes with plastic knobs and hardware. We like to add new knobs or brass ones.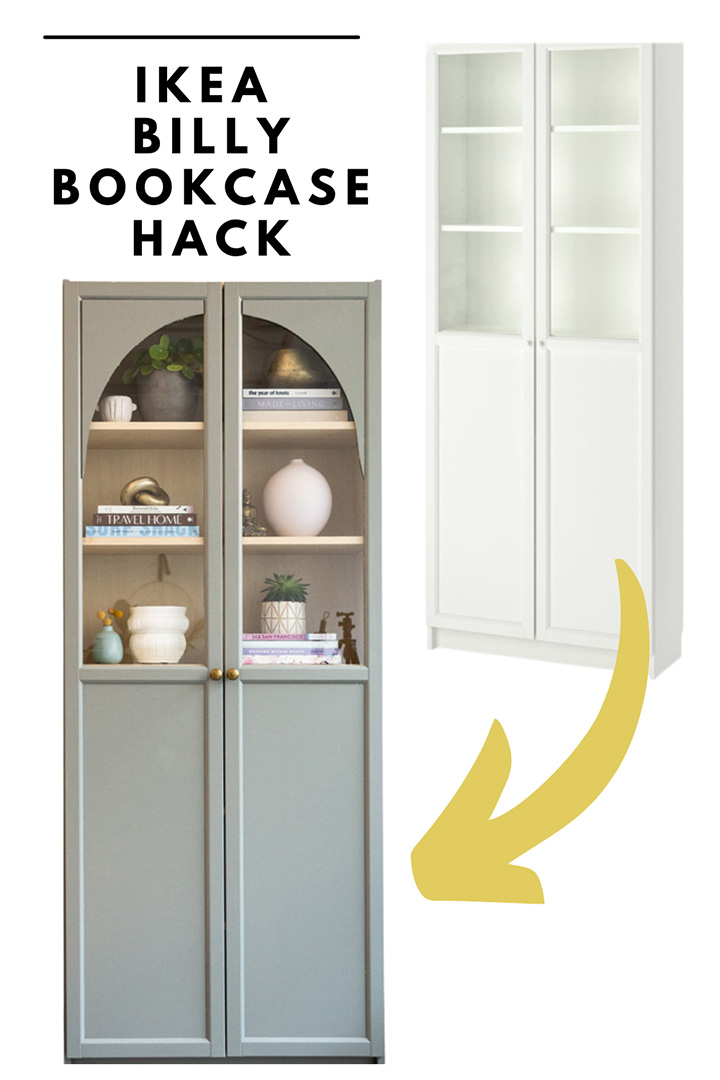 Check out ow we made this amazing Ikea Hack – You can find the full tutorial over on hunker.com.
Favorite Ikea Hacks
Check out some of our favorite Ikea Hacks - where we transform a basic Ikea piece and add some new personality to it! From benches, to cabinets and more! Take the ordinary to the extraordinary with these home DIY tutorials!