Kale Salad with Apples and Nuts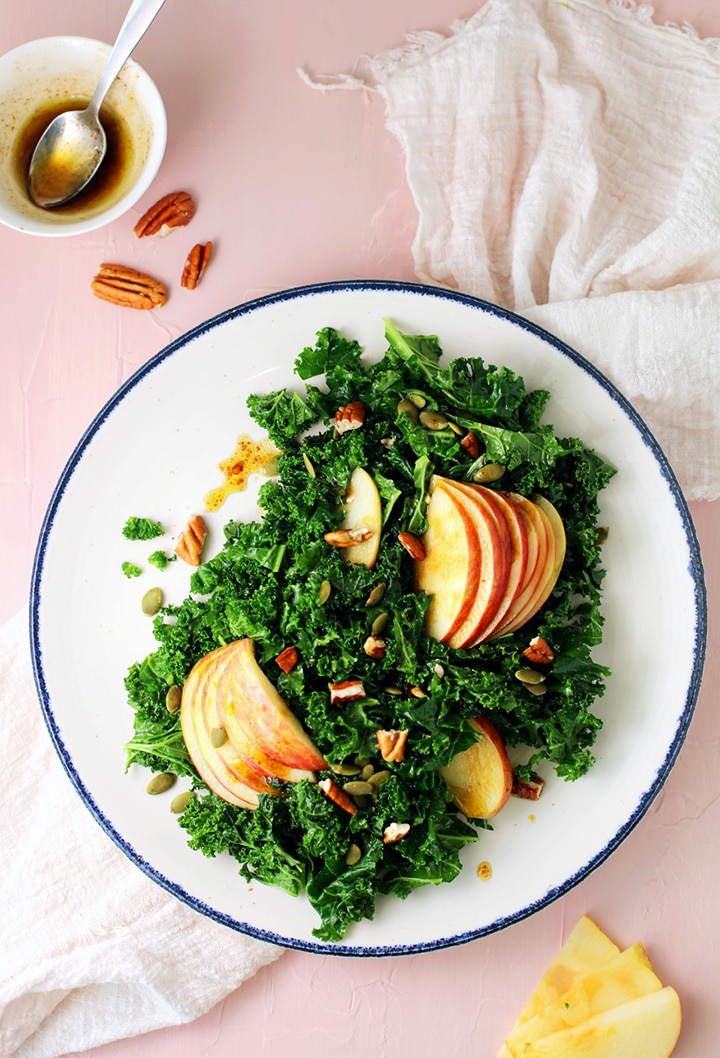 We are always on the look out for a new kale salad recipe and we think you're going to agree with us, that this is going to be your new go-to recipe. This Kale Salad with Apples and Nuts is so simple to make. The secret to a delicious kale salad is massaging the kale with olive oil and vinegar and then letting it marinate for a couple of minutes. With kale, you actually need that break down in order for the leaves to soften up. This also helps to pack up the kale with more flavor.
We added both pepitas and pecans to this kale salad, which add the perfect amount of crunch, color and flavor.
We quickly toasted the pepitas and pecans on a pan, it only takes about three minutes. The idea is to bring all the flavors and oils out, you don't need to wait for them to brown.
We like to serve this salad with a basic balsamic vinaigrette and it lasts well in the fridge for up to five days so it's meal-prep friendly too!
And you can always sub apples for another fruit like strawberries. Whatever is in season works!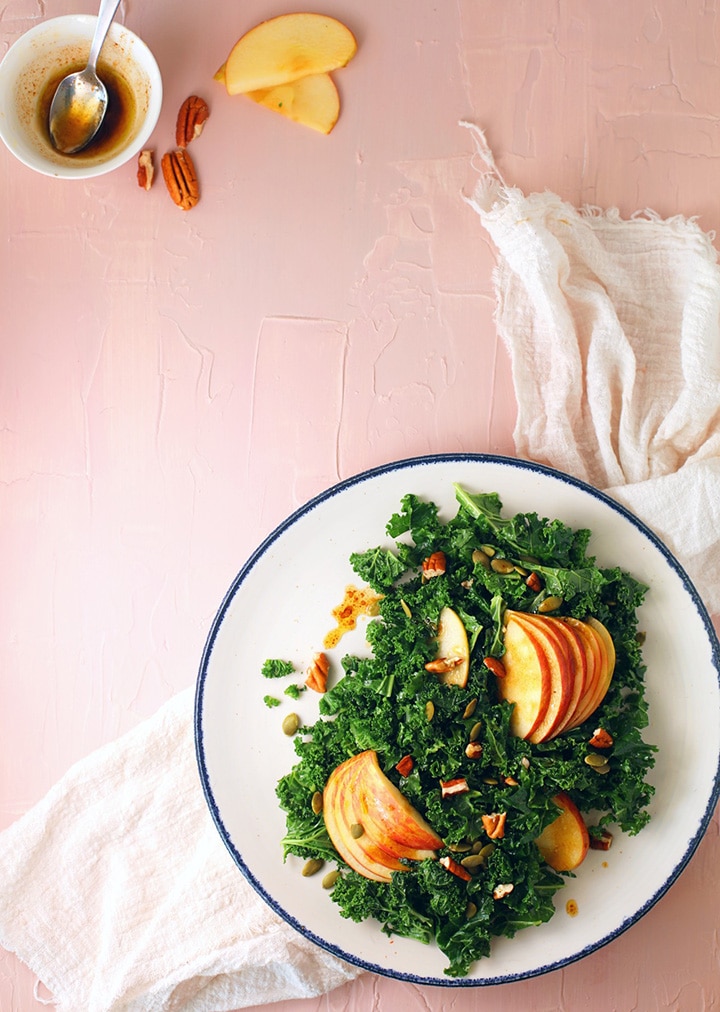 Kale Salad with Apples and Nuts
Ingredients
4 Cups kale, chopped
1 Honeycrisp apple, thinly sliced
¼ Cup pepitas
¼ Cup chopped pecans
2 Tbsp olive oil
1 Tsp balsamic vinegar
Pinch of salt
For the balsamic vinaigrette
¼ Cup olive oil
2 Tbsp balsamic vinegar
1 Tsp mustard
1 Tbsp honey
1 Garlic clove, minced
Salt
Pepper
Directions
In a small bowl combine the olive oil and the balsamic vinegar and the salt. Massage the chopped kale and let it sit for 5 to 10 minutes so the kale softens up.
Meanwhile, in a pan over medium heat, toast the pepitas and the pecans until fragrant (around 3 minutes). Remove from heat.
Whip up the vinaigrette. Whisk the balsamic vinegar with the mustard and the honey. Add the clove, salt, and pepper. Pour the olive oil and continue whisking until emulsified (around 5 minutes).
Assemble the salad. Make a bed with the massaged kale. Top with the sliced apples and the toasted pepitas and walnuts. Drizzle with the balsamic vinaigrette.