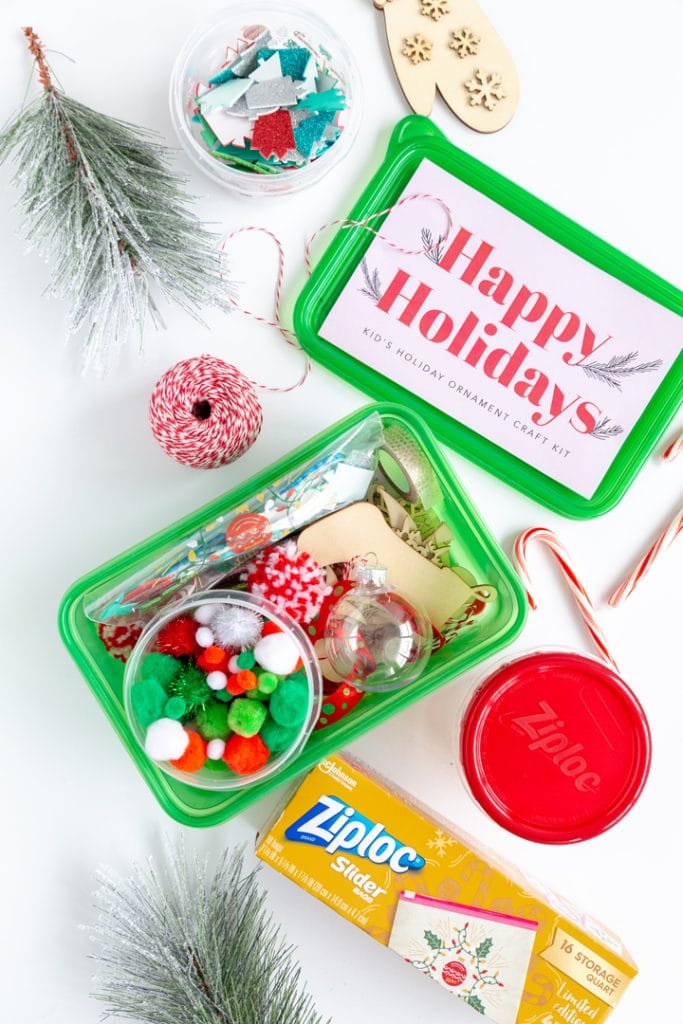 This post has been sponsored by SC Johnson makers of the Ziploc® brand. All thoughts and opinions are my own.
If you are hosting a holiday gathering or attending one with kids this year, we have such a fun gift idea that we love giving (and making). We will show you how to put together a Kid's Homemade Ornament Craft Kit. This is such a fun idea to have ready for any kids that are coming over for a family holiday party. We are delighted to partner with the Ziploc® brand to share this craft kit! We used the Ziploc® brand Press n Seal Storage Containers, printed slider bags, and Ziploc® brand Holiday printed Twist 'N Loc containers to house all of the fun supplies for this ornament-making kit. This kit also works as a sweet gift when going to another family's house for a holiday gathering.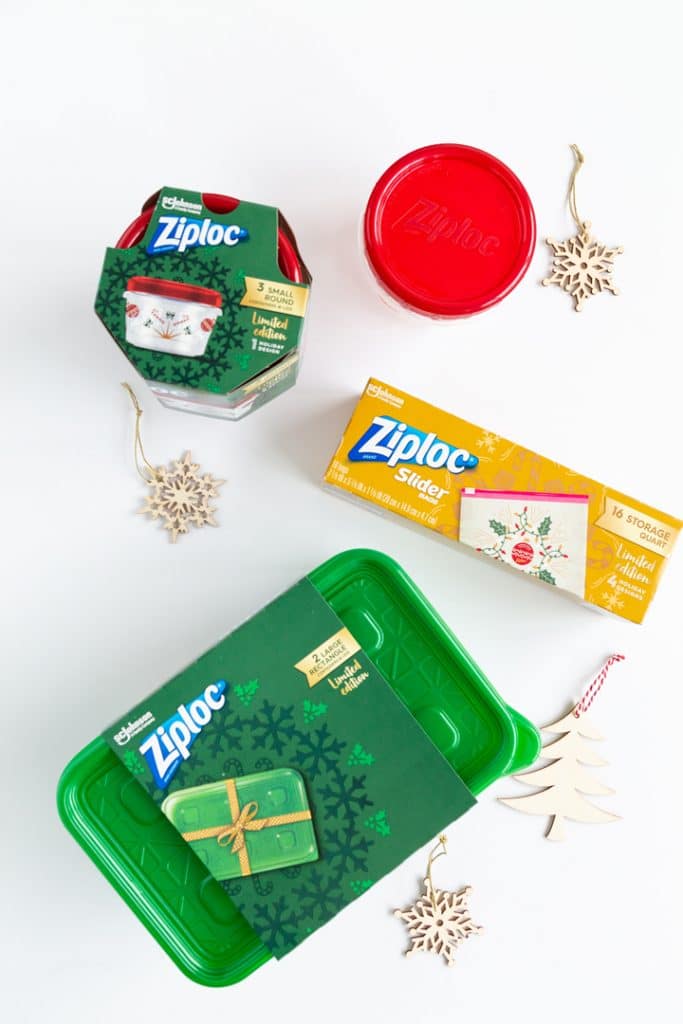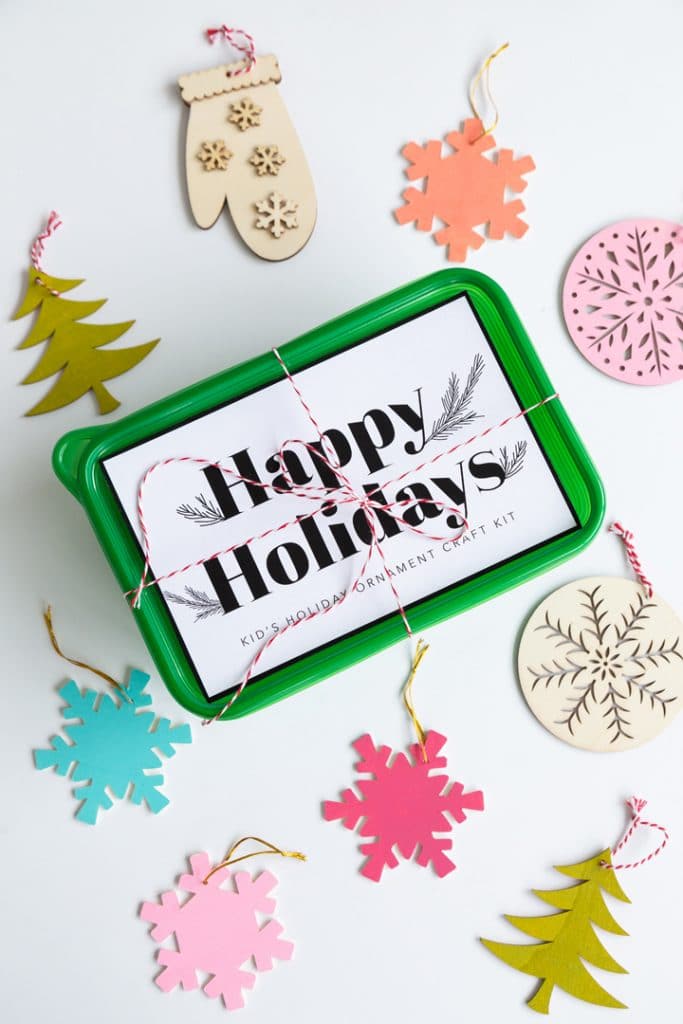 We also designed a darling free printable label and how-to instructions card for you! The label fits perfectly on top of the Ziploc® brand Press n Seal storage container. We have provided the label in red or black/white. You can download and print HERE for black & with printable and red printable.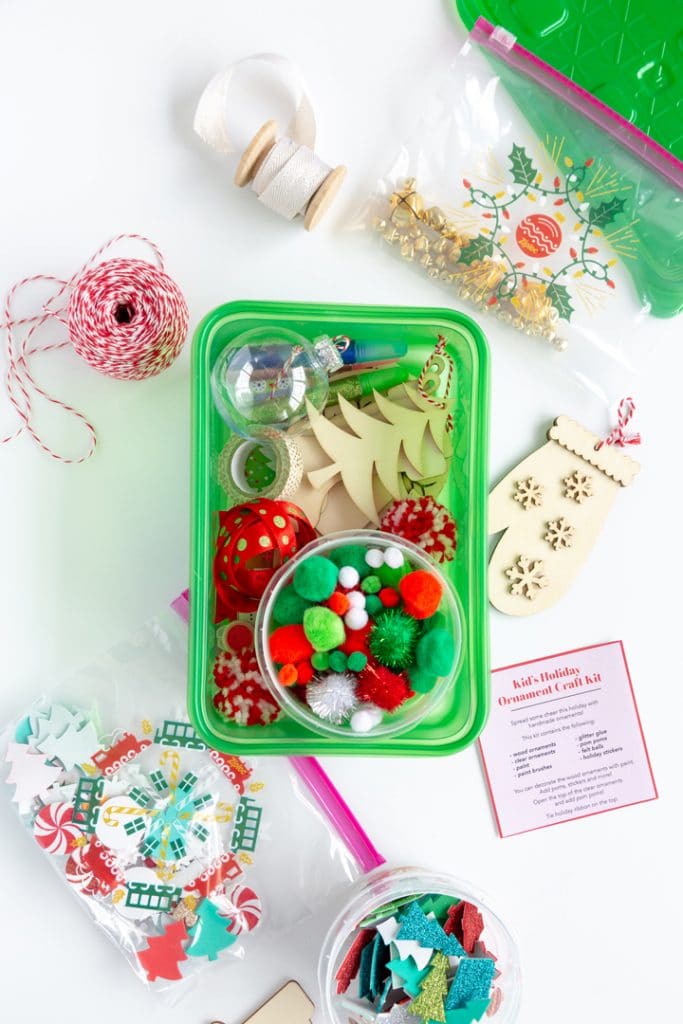 How to make a Kid's Homemade Ornament Craft Kit
The Ziploc® brand Press n Seal storage container is the perfect size to fit all kinds of craft supplies. You can seal up the season with the Ziploc® brand's new gifting collection. We love the holiday designs on all of the containers and bags. When you make your shopping list for the Ziploc® brand products and craft supplies, don't forget to use this coupon to save $1 off any 2 Ziploc® brand products.
WARNING! Small slider could come loose from the bag and cause a choking hazard in small children. Immediately discard any loose sliders.
Here are some of our favorite things to pack in the craft kit:
Ziploc® brand Holiday Bags
Ziploc® brand Holiday Containers
Wood holiday ornaments
Clear plastic ornaments
Paint and brushes
Pom-poms
Stickers (foam and regular)
Ribbon
Washi tape
Glitter glue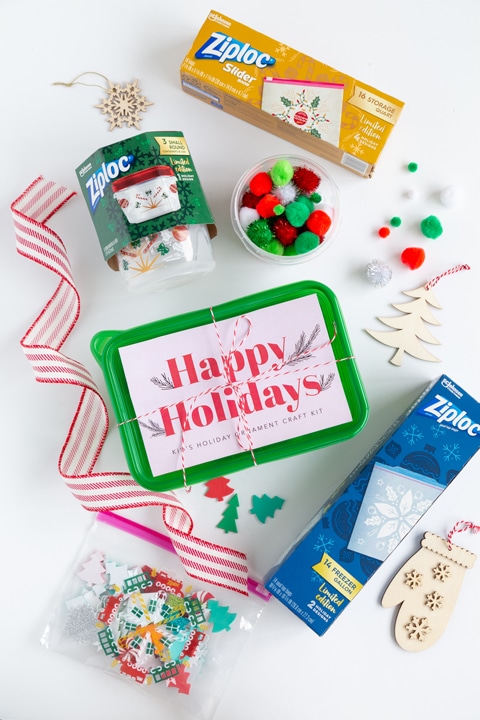 Check out just how simple these kits are to make in our video…
Directions
Print and cut the free printable labels. Tape onto the top of the lid.
Fill the container with all the supplies. I used the Ziploc® brand

Holiday printed

Twist 'N Loc Containers to house the pom-poms, and the foam stickers were perfect to store inside the Ziploc® brand

Holiday printed Slider

Bags.
Set up a little assembly line if you are making multiple kits at once. I like to keep a few extra kits ready to go for any last-minute gatherings!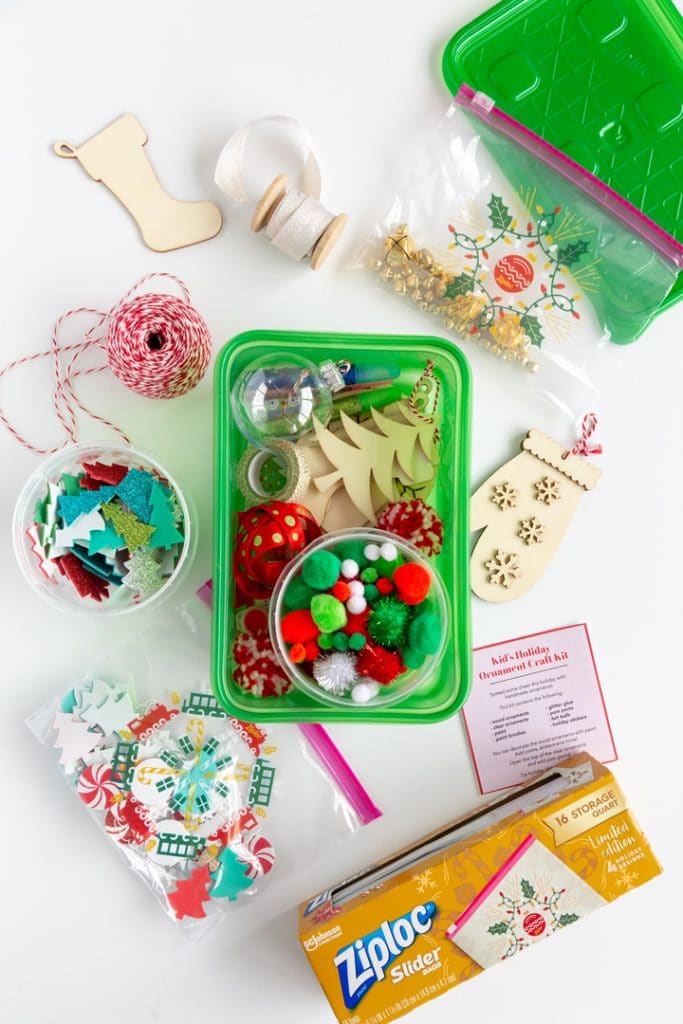 These kits are also a great idea when you are hosting a party and friends are bringing kids. Have some kits ready to go—the kids will absolutely love them! The Ziploc® brand Press n Seal Storage Containers are the perfect size, are durable, and you can use them over and over again. Simply wash, rinse, and reuse! We also love to reuse the slider bags; the seals are durable and stay strong for many uses.