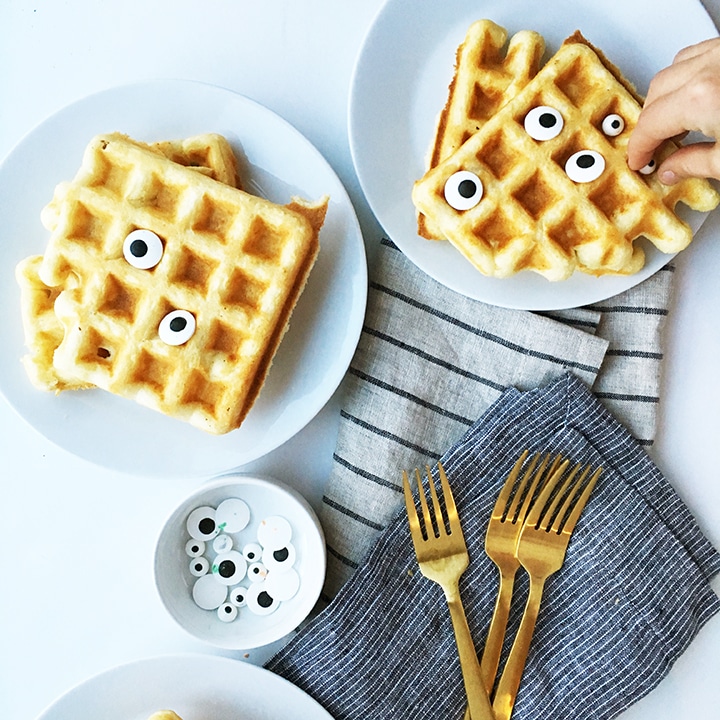 Happy weekend! Three more sleeps till Halloween! The girls are so excited for the big day. Poppy's been wearing her Halloween costume everyday this week. It's the first year I haven't made their costumes. I was a bit nostalgic about it at first, but they're so thrilled about being Elsa and Anna. We took them to Denver a couple months ago to see Frozen on Broadway and they are hooked on it again.
The girls and I made waffles last night. Alex and I were getting ready for the new season of Stranger Things, the girls were just thrilled to have breakfast for dinner 🙂 Of course we had to add some eyeballs!
Hope you all are having a fabulous weekend! Enjoy some of our favorite links from the week… –Melissa
Who's sitting next to you?
A new record for the Appalachian Trail.
Let her be funny.
Looking forward to the new Joan Didian's film.
Hidden messages of scribbles.
These look ridiculously good.
A lovely DIY leather basket.
The prettiest crepe paper flowers.
Love the simple lines in this garden.
Best designed restaurants in the country.
An absolutely stunning kitchen.
Pretty new sweater for fall.
Keep eyeing this simple bag.
Can't go wrong with this pouf.
A fan of this chunky knit.
Pin of the week.