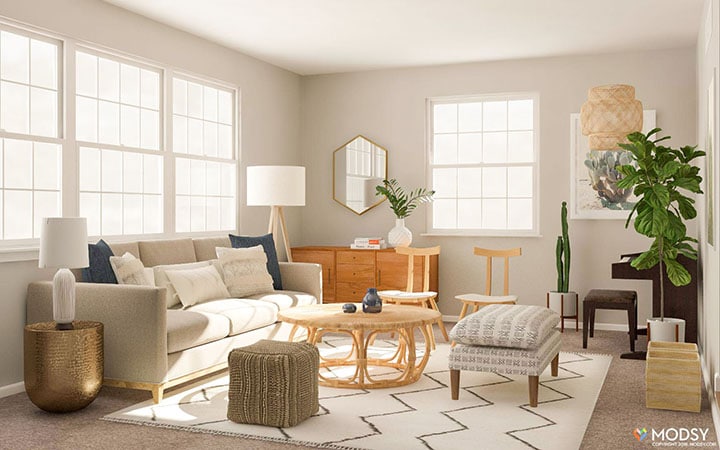 So, I figure it is just about time to really start decorating this new house of mine! We have been here for a few months and room by room we are getting organized. My method seems to be organize first, determine furniture needs and then design. That might be a bit backwards for some, but it seems to be what is working for our family.
Our living room is the first room you enter when you walk in through the front door, so it is the room that makes the first impression. It is also open to the dining room and kitchen. Our home is a 1960's tri-level that had been updated by the former owner.  But we are ready to start making more of our own personal touches to our new house. Today I thought I would share with you how I am working on the main floor of the house. It is time for a living room makeover! I was so excited when Modsy reached out to me about trying out their online interior design 3D rendering service. Modsy's mission is to let their customers "try on" furniture in their room and visualize it before you buy a thing. This is brilliant! The image above is a rendering of my room from Modsy! I teamed up with their amazing designer, Karina, to design my Living Room Makeover! I was feeling so overwhelmed by the entire interior design process – so this is exactly what I needed. Today I am sharing a sneak peek into the design and cannot wait to share the rest next month.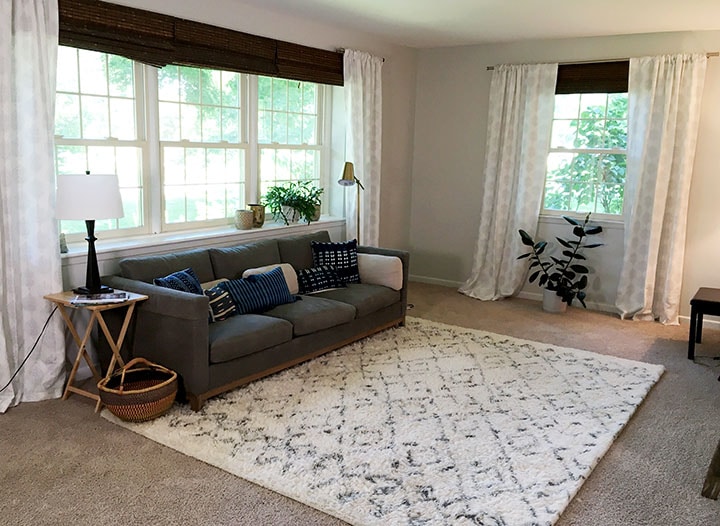 Living Room Stats (before picture above from my iPhone)
"Sunken" (you step one step down)
Carpeted (not my favorite, but it will be nice and cozy in the winter)
Rectangle shape 20ft  x 13ft
Large window on front of house and one side window
No ceiling light (why do so many older homes not have ceiling lights in the living rooms?)
The only things we moved with us that are in the living room are the shag rug, a plant and small piano. I shopped for a couch for the first month and fell in love with the Taraval Couch from Crate and Barrel. And to my surprise, I found it (barely used) on Craigslist for half of the price. I also bought an antique wood ladder at the Midland Antique Mart in downtown Indy for the room. But as you can see above, the room is in major need of some serious furniture.
I sent Karina lots of pictures of the space. Then her team created 3D renderings of the space to scale which is so unbelievable! She then took my feedback on my style and feel for the room, specific products or brands I liked, etc. I told her I wanted the room to feel welcoming and comfortable. As for the style – I told her that I love a California, rustic yet modern design. And that I love to mix old and new pieces.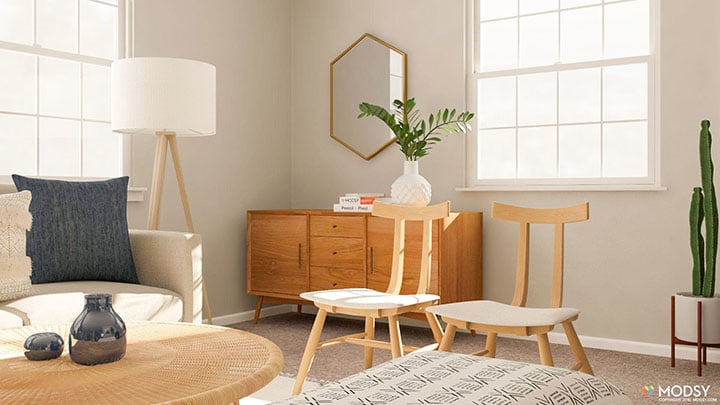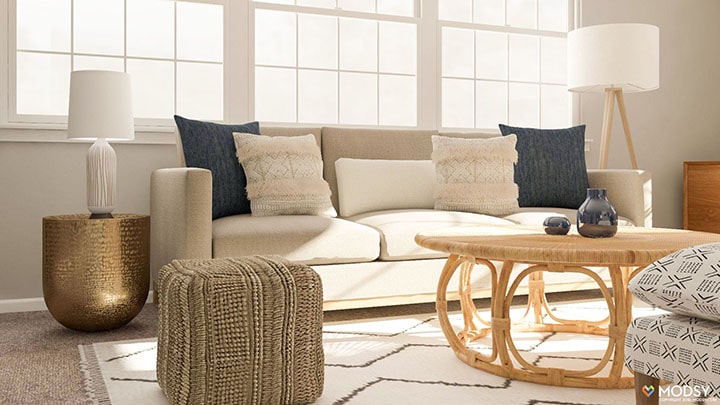 These photos are the actual renderings created by Modsy for me! Karina was so right when she said, "We do all the heavy lifting for you." So, so true. I had been feeling like I needed to buy a coffee table, chairs, end tables and lights and return, buy, return, buy. I am so excited about what Karina has put together so far. I cannot wait to share the Living Room Makeover reveal at the end of next month.
The next steps are to keep working with Karina to finalize the design and then pull the trigger on purchasing pieces of furniture. I'm so excited with the direction that Karina developed for the room. It reflects my style and can't wait to see it evolve.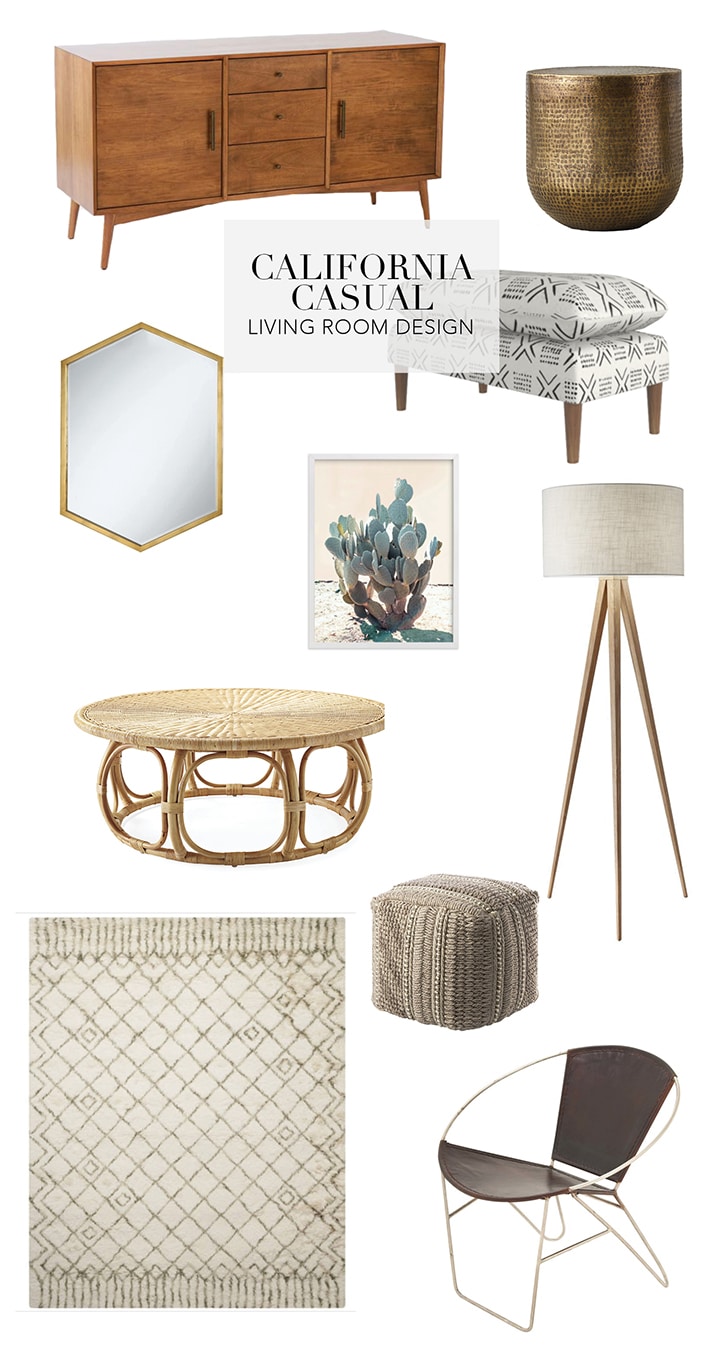 Modsy was kind enough to give Alice & Lois readers 20% off your first design package (both the $69 & $199 packages). Use code ALICELOIS20 for your discount.
This post was made in partnership with Modsy. As always all thoughts & opinions are my own.