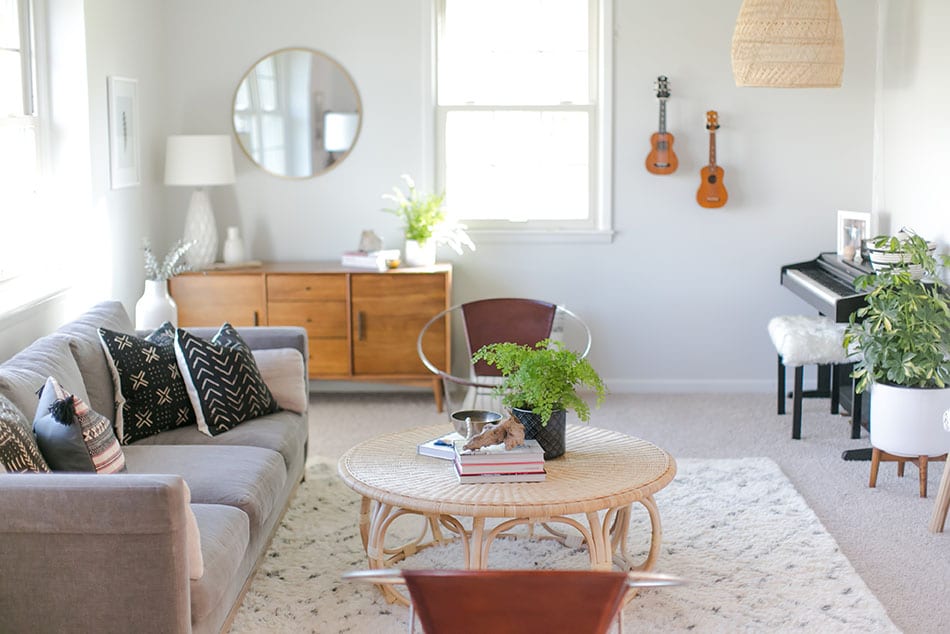 images by Jamie Sanger
The time is finally here for me to share my living room reveal with you! Yay! We have been in our house in Indianapolis for five months – so hard to believe we have been in the Midwest for that long. It was about time for me to compete one room in our house, don't you think? I have been working with an amazing online interior design company called Modsy. They were instrumental in helping me figure out how to decorate and furnish the living room. Our living room is open to the dining room and kitchen, but is sunken (with only one step).
A few months ago, I shared my living room design that Modsy created. A little refresher on how Modsy works – Their mission is to let their customers "try on" furniture in their room and visualize it before you buy a thing. This is brilliant! For $49 (per room) you upload pics of the room, fill out a profile, then their designers build renderings and make product suggestions. And for $199 per room you get a dedicated designer to work with you. Modsy was nice enough to give our readers a 20% discount! (Code ALICELOIS20). So for under $40 you can get renderings for a room in your house you are having trouble figuring out furniture arranging, new pieces that you want to buy, etc. Melissa wants to do one for her family room!
I worked with their amazing designer, Karina, to design my Living Room Makeover. I was feeling so overwhelmed by the entire interior design process – so this is exactly what I needed.  Having the ability to visualize furniture in my room before I starting buying things is such a smart way to go! This image below is from Modsy – a 3D rendering of my room. Karina picked many of the pieces. I had the couch and the rug as my starting points, but that's it!
The first image above is from the Modsy rendering. The second one is my room!
Some of the things I love most about the room:
The West Elm buffet – at first I thought a heavy piece of furniture would be too big or cumbersome in that corner. But when Karina showed me the render of the room with the piece I was amazed at how perfect it fit in the space! See it to believe it!
The Serena and Lily rattan coffee table – just like the buffet, I thought the coffee table would feel too big in the space. Nope – Karina nailed it with the light, airy table. I love it!
Accent chairs – Karina also suggested keeping the accent chairs airy, not too heavy. I love how it turned out.
Layered rug  – I never would have thought that I could put my shag patterned rug over carpet… but it works!
Music corner – we inherited the small piano from our neighbor in San Francisco. Ty & Harper love to play together. I love how the ukuleles look hanging on the wall in that corner. Although Harper always takes hers to her room. The large basket pendant light really adds a wow factor to that corner, don't you think?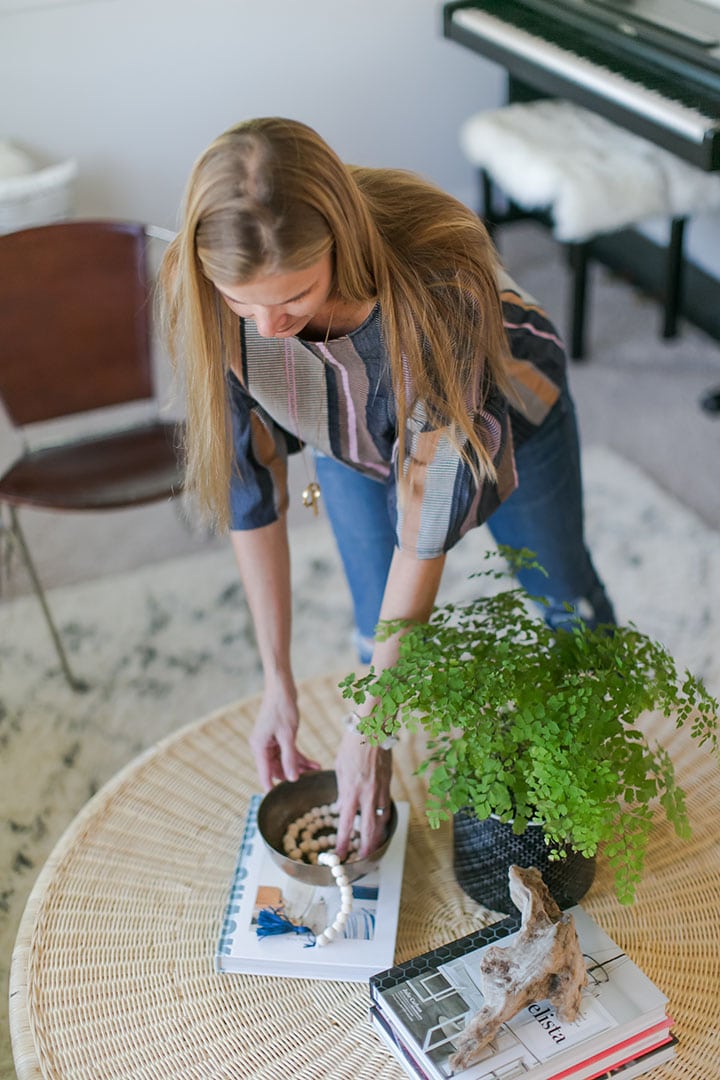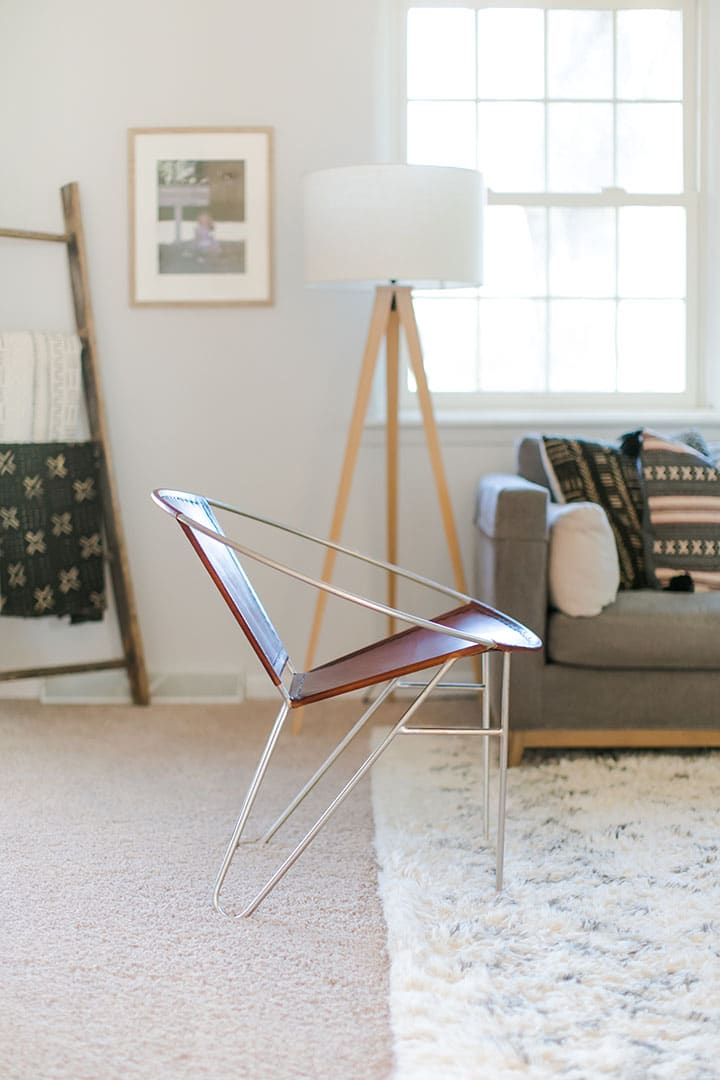 Of course there are a few DIY or handmade elements in the room…
Upholstered Ikea Bench – I bought an inexpensive wood bench from Ikea (under $40) and added padding and mud cloth fabric. I will walk you through the steps below.
Mudcloth pillow – All but one pillow in the room I made. I had a stash of mud cloth from the Alameda Flea Market that I used on all of the pillows. The striped pillows in the basket are made from a dish towel and a placemat!
Old camping folding stool – I found this at an antique fair in Michigan and recovered it with leather. I will share a tutorial soon!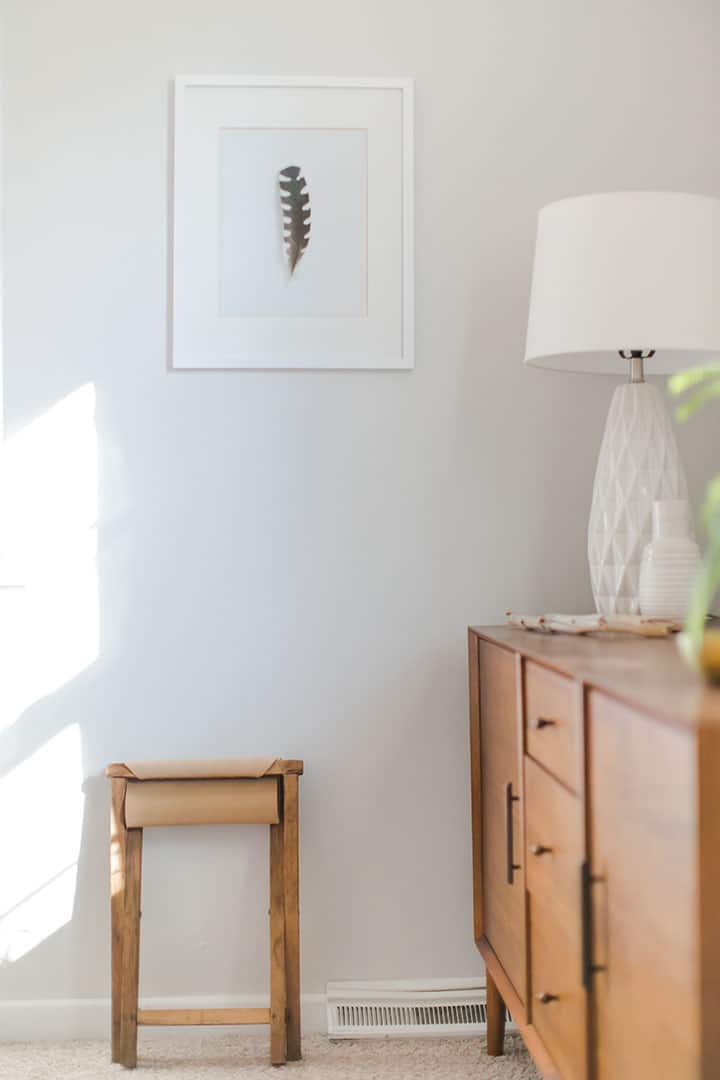 Personal touches in the room include photographs and objects. I made a gallery wall using inexpensive Ikea frames and black and white photos and prints. I just love how the ukuleles look hanging next to the piano. And the large pendant light was a score at the Serena and Lily Outlet in Berkeley (Bay area friends – did you know there was an outlet in Berkeley?!). The feather print is a photo that Melissa took. The feather is from our parents house in Michigan. I also love having travel and design books in the room for inspiration.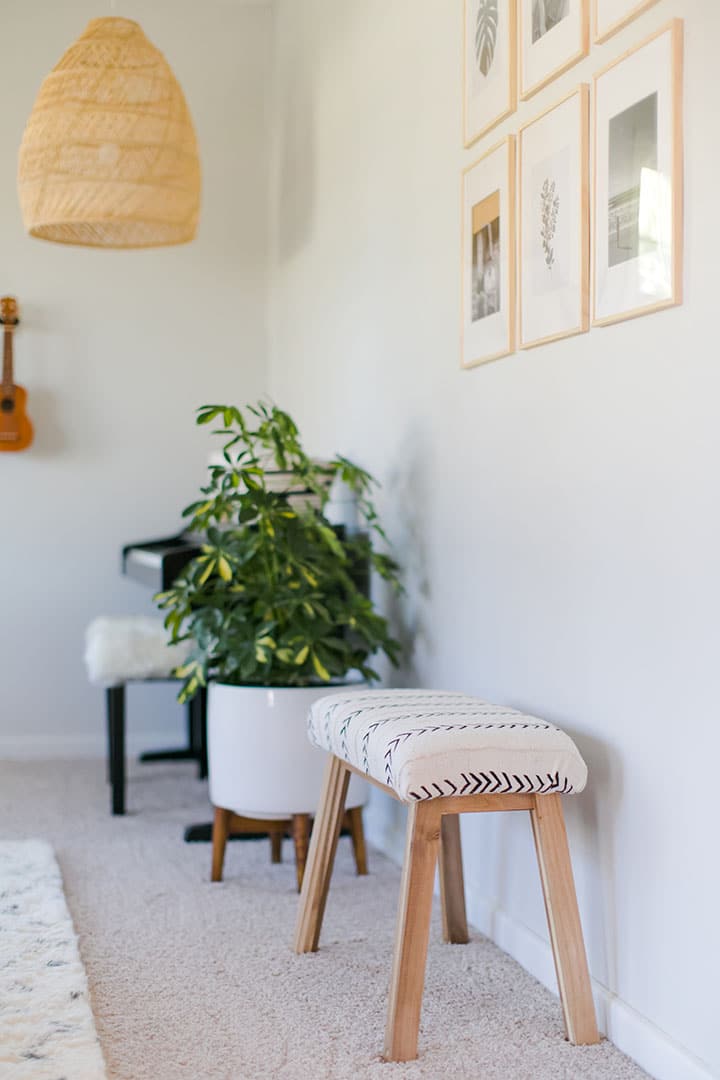 How to add a padded top to a wood bench – Ikea Hack Upholstered Bench
Step 1. Measure the top of bench and cut 1 inch foam a tad larger.
Step 2. Measure and cut padding to fit around the foam (add 2.5 inches to each side).
Step 3. Place the padding over the foam over the top of the bench. Using a staple gun, staple the edges of the padding to the bottom edges of the bench. Make sure to make the padding tight.
Step 4. Repeat the same step but this time with your fabric! Make sure and line up the fabric on the top of bench just how you would like it to look (straight lines, etc.). Staple away!
Step 5. Attach legs and enjoy!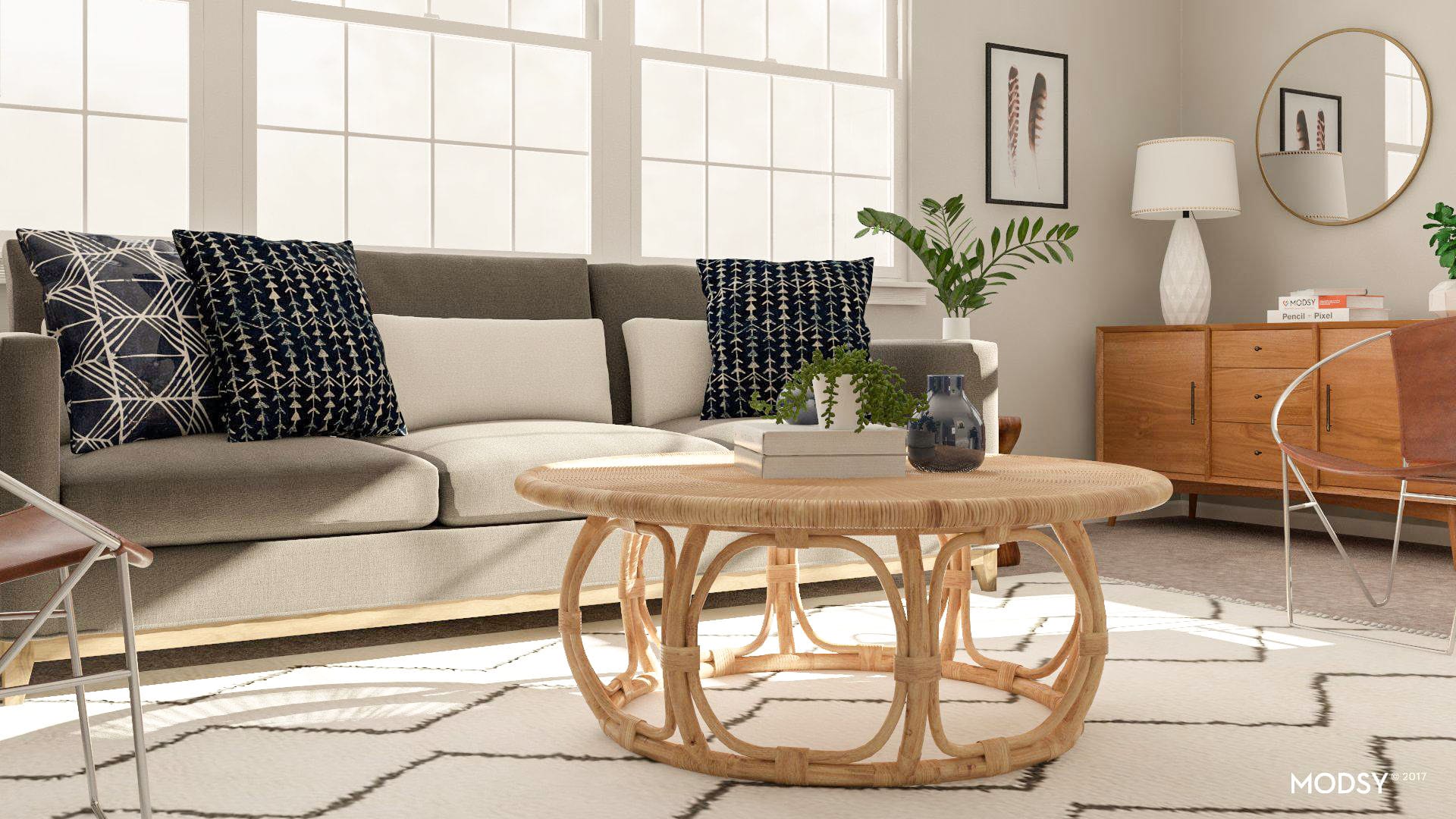 Modsy rendering above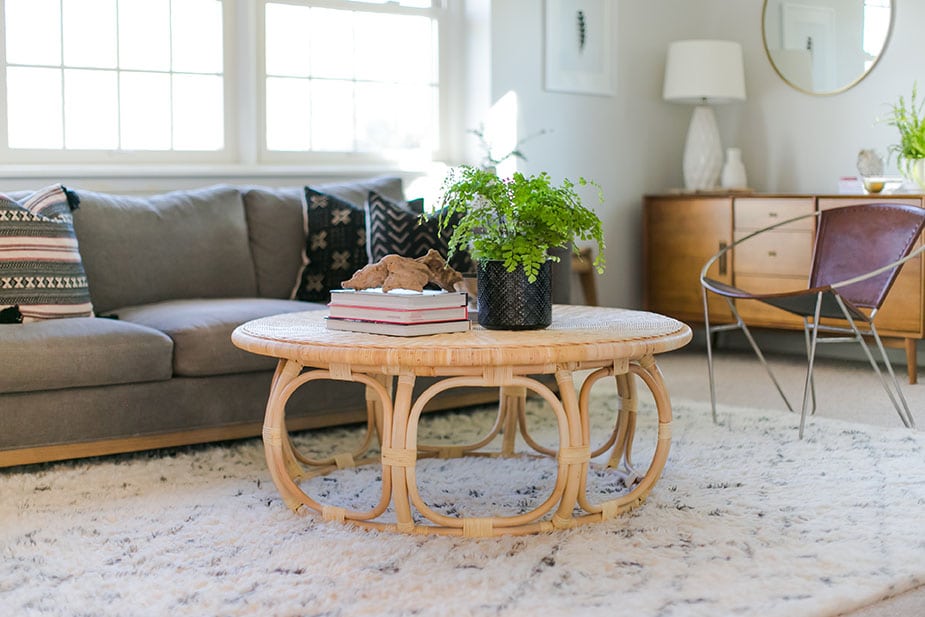 Thanks again to Modsy for helping me create a space that we are truly enjoying! It not only looks amazing, but is comfortable and relaxing. Just what we were going for!
Remember, you can get 20% off of services at Modsy with code ALICELOIS20.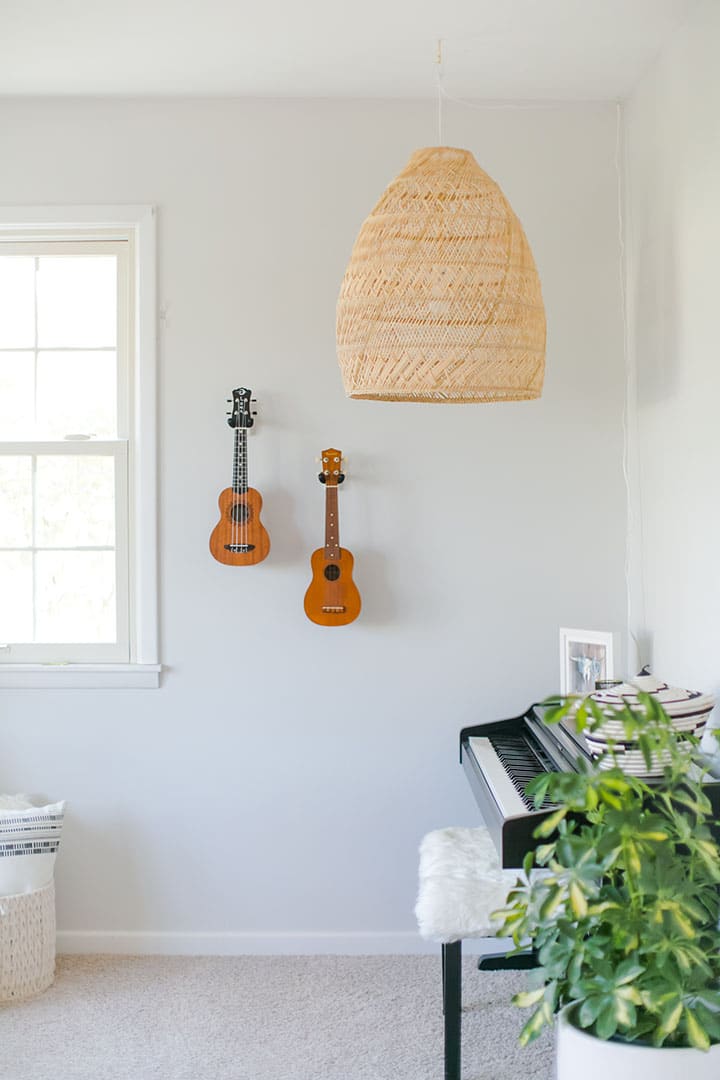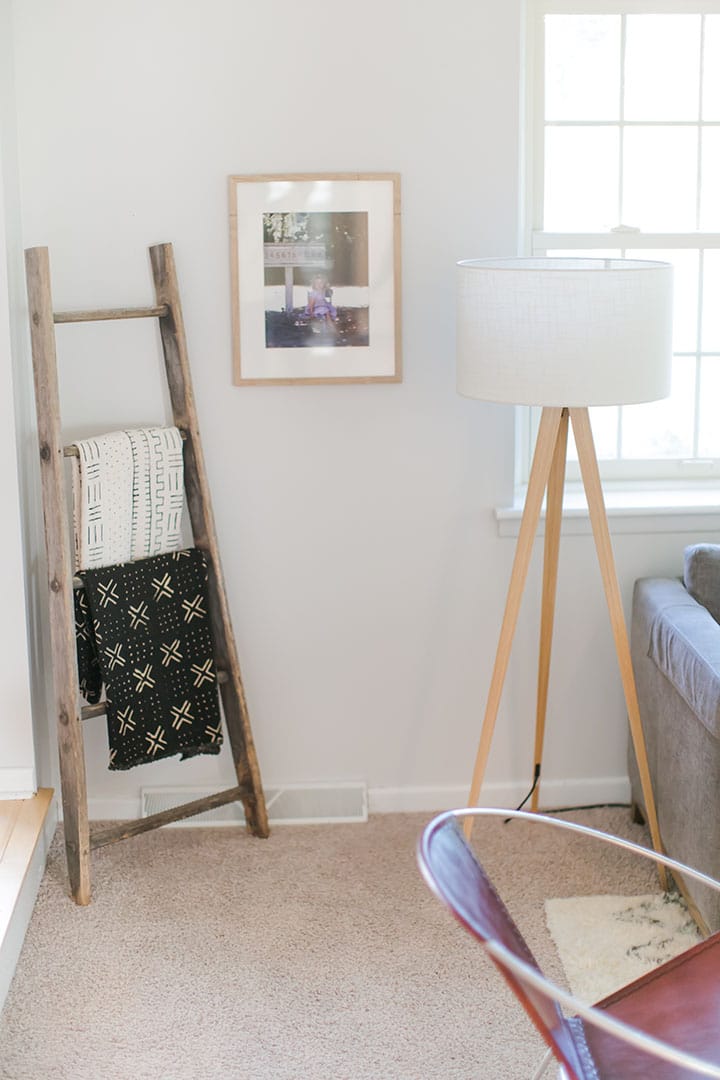 I just adore the room! Next week I will share our dining room area and DIY photo art tutorial as well!  – Sara
This post was made in partnership with Modsy. As always all thoughts & opinions are my own.
Photos by Jamie Sanger.
Product listing: