Mango Blackberry Vodka Cocktail Recipe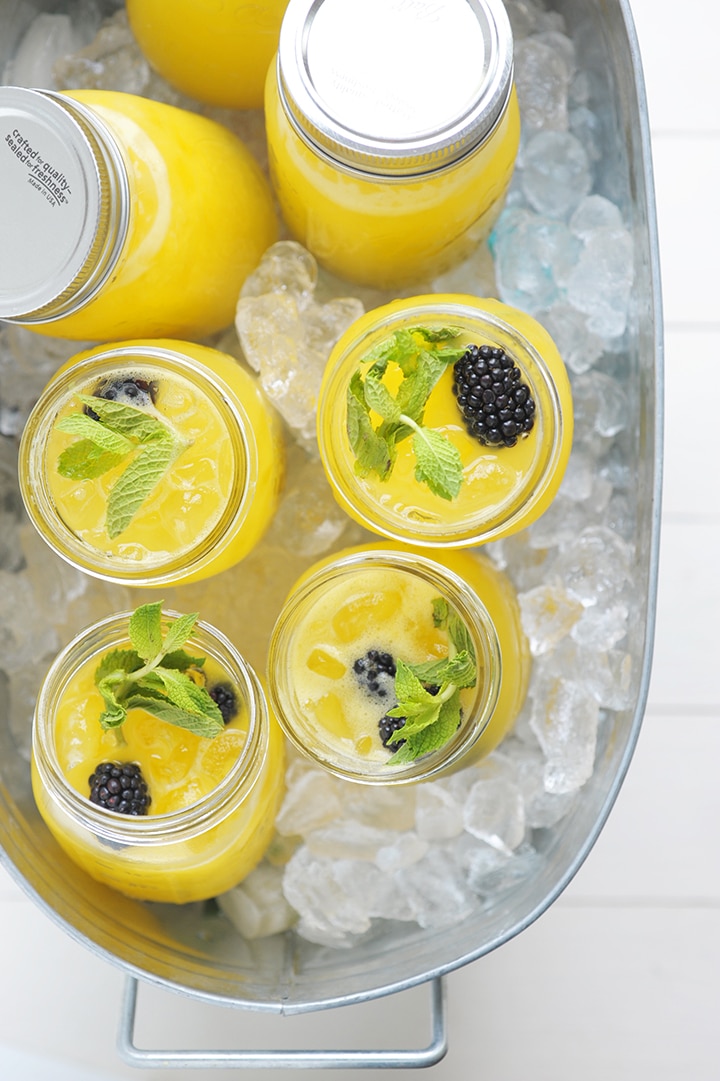 This post has been sponsored by Finlandia. All thoughts and opinions are my own. Must be 21 or older to consume alcohol. Please drink responsibly.
On a summer night, there's really nothing better than a freshly made cocktail over ice featuring fresh fruit and topped with mint from the garden. We're loving the combination of mango and mint, with pops of blackberries and citrus. This week, we're partnering with Finlandia Vodka to share one of our newest summer drinks – the Mango Blackberry Vodka Cocktail.
One of the best things about this cocktail is serving it in individual mason jars. Make a dozen of the cocktails and serve in a bucket with ice. This not only keeps the drinks ice cold, but it's such a pretty and casual way to serve these refreshing mango vodka cocktails.
Read more for the recipe!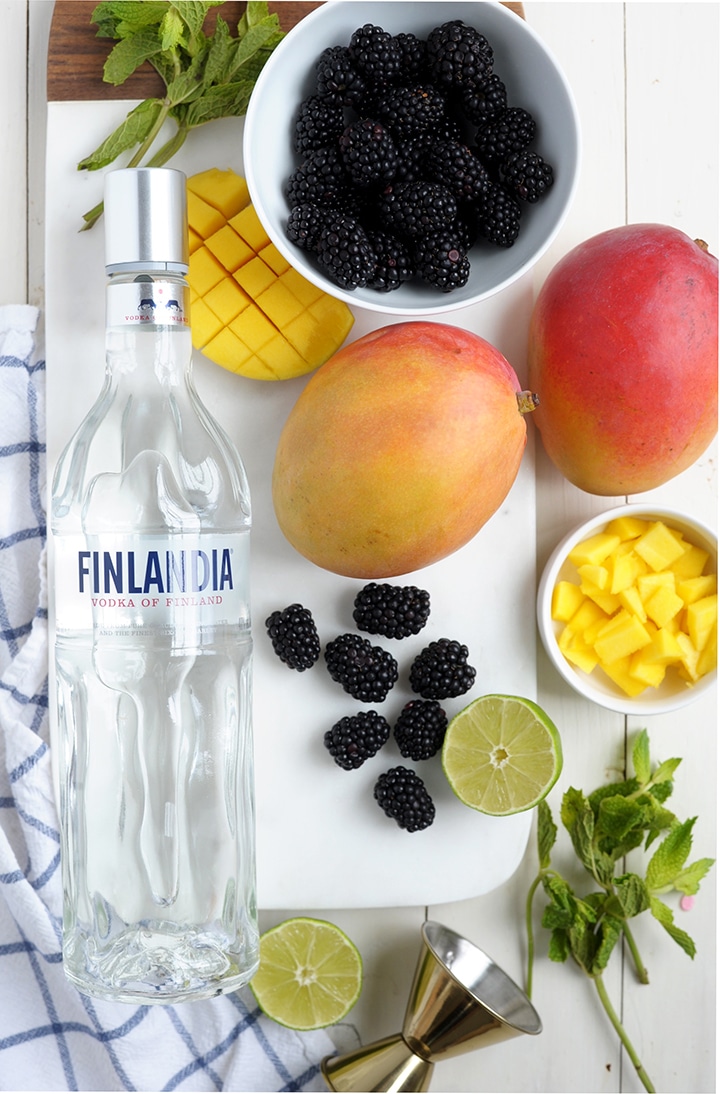 Mango Blackberry Vodka Cocktail Recipe
Mango Puree
Makes enough for several
2 cups chopped fresh or frozen mango
1 1/2 cups water
juice from 1 lime
2 Tablespoons honey
Cocktail
Makes 1 mason jar cocktail
Mango puree
2 ounces Finlandia Vodka
blackberries
fresh mint
sparkling water
ice
Directions
To make the mango puree, put mango in blender. If using frozen mango, let it thaw before blending. Add water, lime juice and honey and blend until smooth.
Fill mason jar with ice. Pour 2 ounces of vodka over ice. Fill glass two-thirds full with mango puree then top with sparkling water. Add 4-5 blackberries and stir to combine all of the ingredients. Garnish with a sprig of fresh mint and blackberry.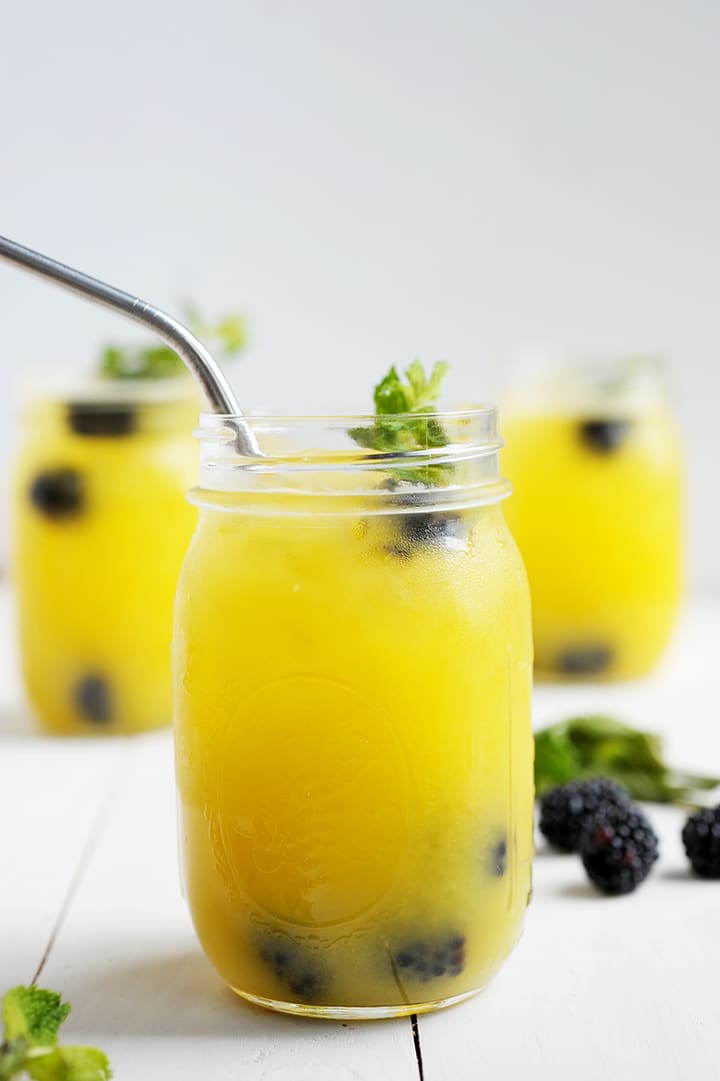 This summer, we're all about fresh fruit paired with mint. The beauty of this cocktail is that it's easy to use fresh mango or frozen. And if you're in a pinch and can't find mangoes, feel free to substitute mango juice for the mango puree. If using juice, try muddling the blackberries with a teaspoon of honey in the mason jars before adding the juice, sparkling water and a squeeze of lime juice.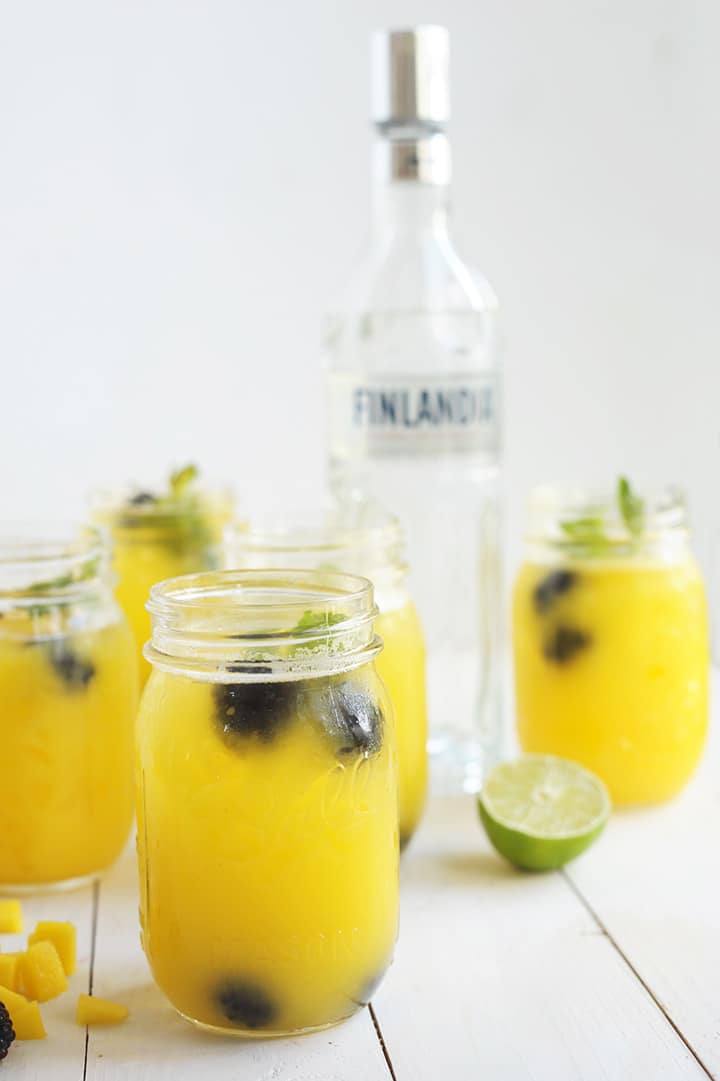 This cocktail is so refreshing – the just sweet enough mango, touch of tart lime, and crispness of Finlandia vodka. The color of this cocktail is truly a sign of summertime. You can sip it by the pool or at an evening backyard barbecue. It's a versatile summer cocktail thirst quencher.
When serving mason jar cocktails, it's so easy to set up a drink area. Next to your bucket filled with ice and mason jars, have some cups full of paper or reusable metal straws. Also have a bowl of extra lime wedges and a little bowl of blackberries if guests want to add more to their drinks. And of course, it's always cute to have a handmade sign with the name of the signature cocktail. You can always handwrite it on a mini chalkboard or use letter stamps on a folded piece of cardstock.
Enjoy this delicious summer cocktail for your next get together this summer. We think you're going to love it!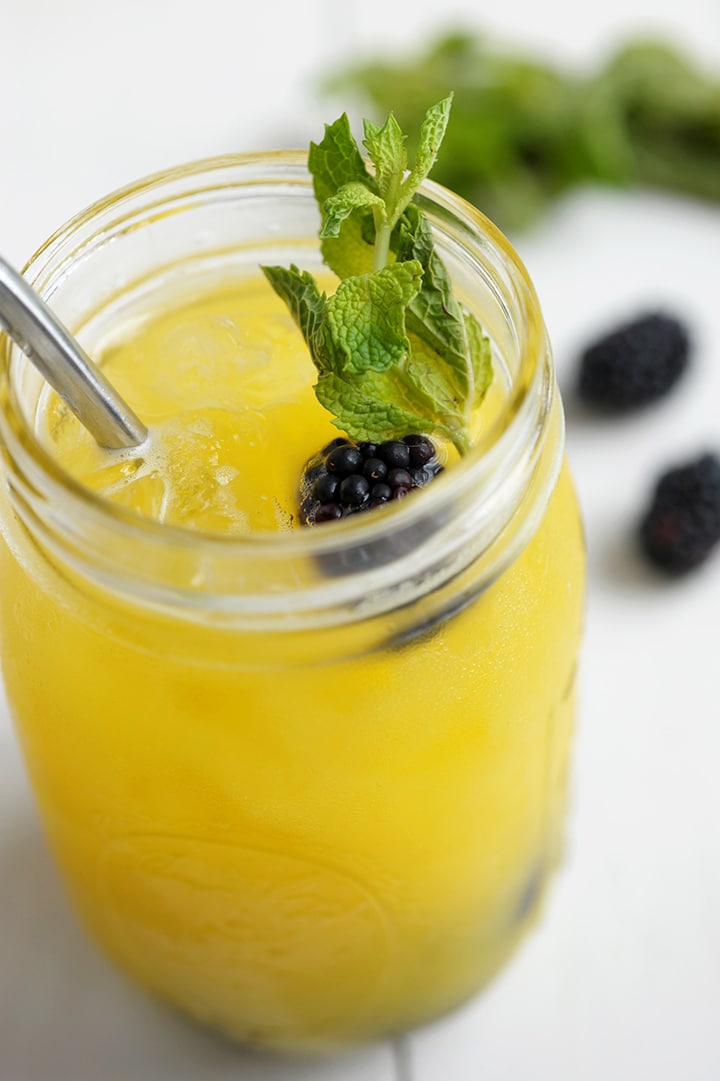 photos by Melissa Fenlon
Thank you to Finlandia Vodka for sponsoring this post.