Learn how to make these gorgeous Marbled Indigo Pumpkins using nail polish and water!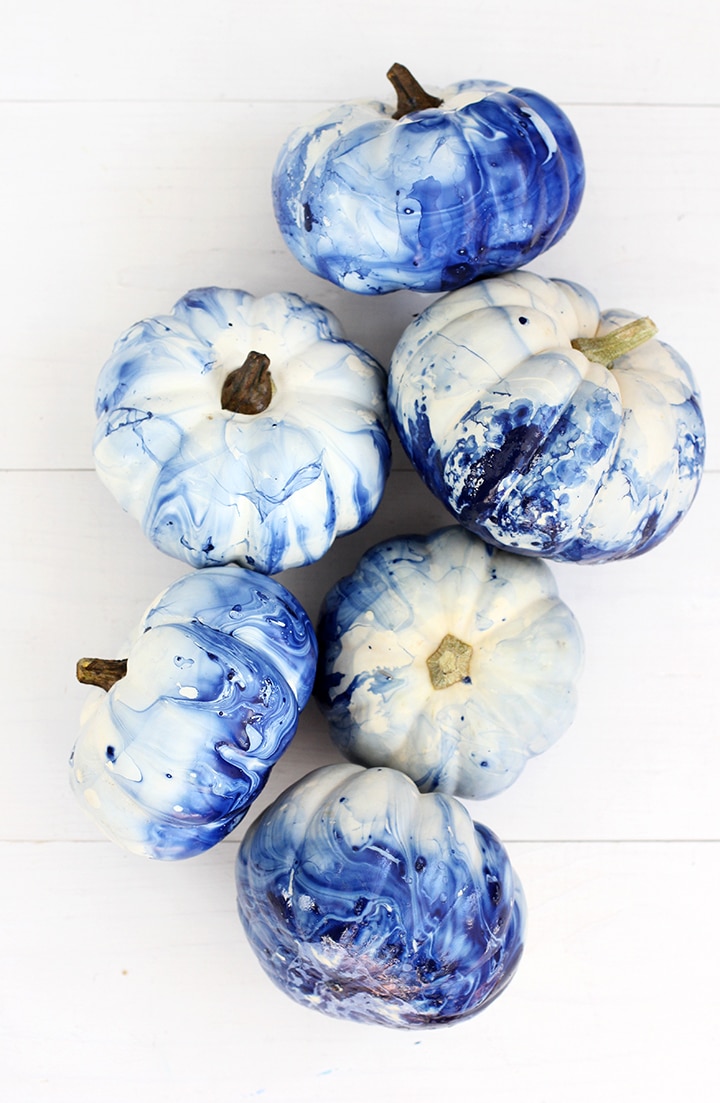 You know we have a thing for indigo, right? When it came time to start decorating pumpkins this year, we had to give them the indigo treatment.
One of our favorite projects to date was our Marbled Indigo Easter Eggs. You would not believe how many times that post has been viewed! We had to give this same treatment to pumpkins. The indigo hue would look best on white so we opted to use the mini white pumpkins.
There is something so sweet and almost delicate about the mini white pumpkins. A few weeks ago I picked up some mini pumpkins at the grocery. I also picked up some faux white pumpkins from Amazon. I was curious to see which would take the marbling treatment the best. Can you tell which ones were the faux pumpkins?
Some people use spray paint to marble things for craft projects. We find that nail polish is so simple! The blue in this indigo blue nail polish is perfect.
Make sure and read through all of the instructions for our tips on how to make the marbled pumpkins!
Read more to learn how to make the Marbled Indigo Pumpkins…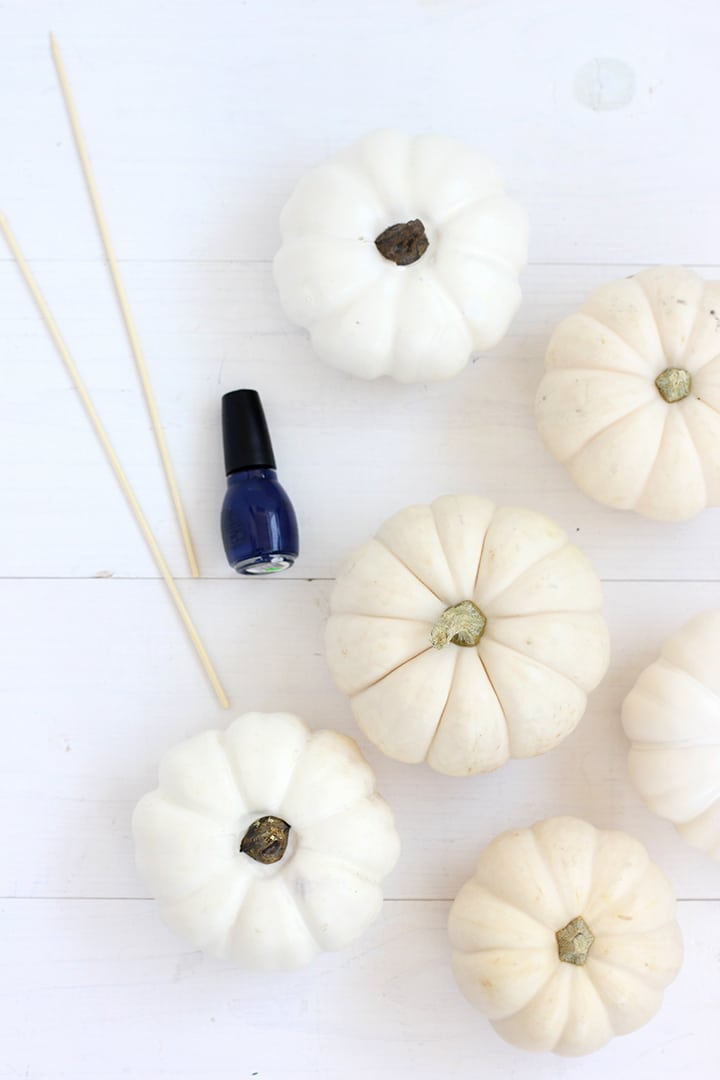 DIY Marbled Pumpkins Supplies
stir stick
plastic container
pumpkins (real and faux craft ones)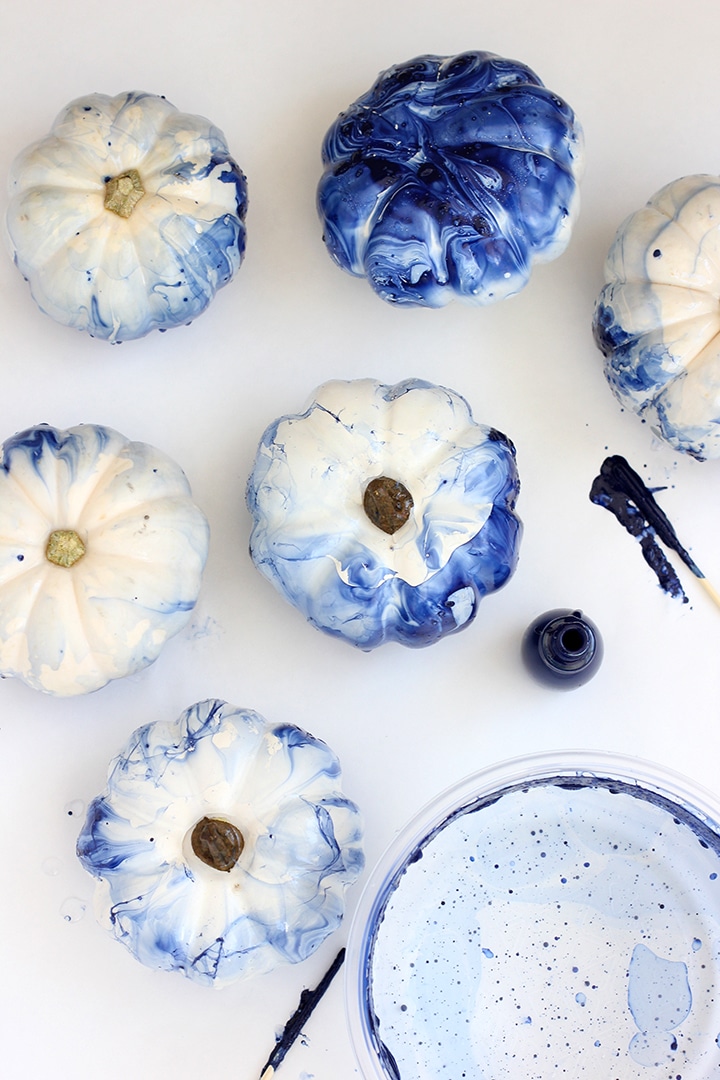 Marbled Indigo Pumpkin Tips and Tricks
Use luke warm water – if the water gets too cold, the nail polish will sink in the container
Use new nail polish – for some reason new polish works so much better! Old polish is traditionally thicker and seems to stick to the pumpkin in clumps
Wear gloves – grab a plastic glove when marveling pumpkins. If you do not have any, make sure and have nail polish remover ready!
Open a window – make sure and have proper ventilation when using the nail polish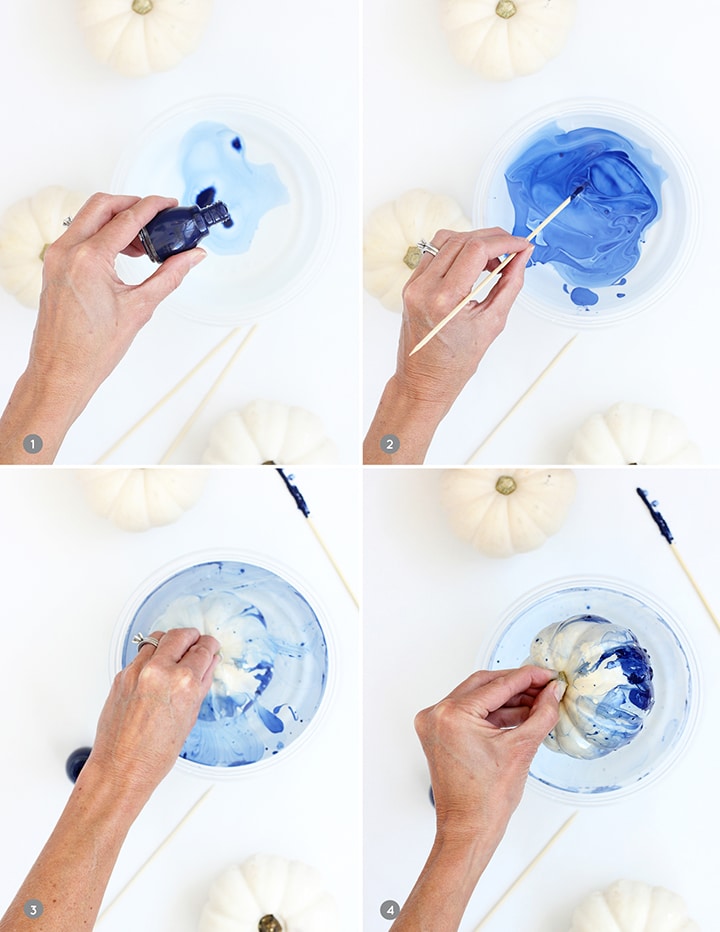 How to marble pumpkins
Steps
Fill a plastic container 3/4 full with

lukewarm water

(If the water is too cold the nail polish will sink). Add about 4 or 5 drops of indigo blue nail polish.
Use a wood stick to stir the nail polish on top of the water.
Dip the pumpkin in the water and spin a bit.
Remove from water and dry on wax paper. Flip pumpkin after 20 mins to dry on the other side.
Note – you will want to add more drops of nail polish for each pumpkin. The nail polish will move around as you swirl the pumpkin on top of the water. Thus, the nail polish will start to attach to the edges of the container.
See the video for our DIY Indigo Marbled Pumpkins here…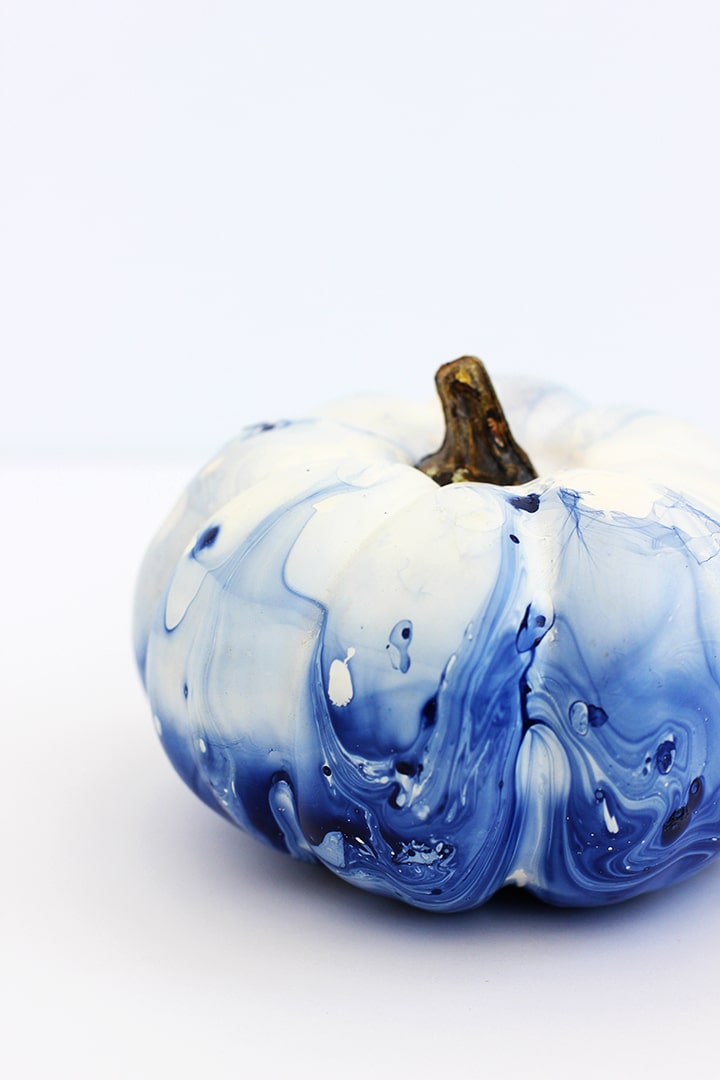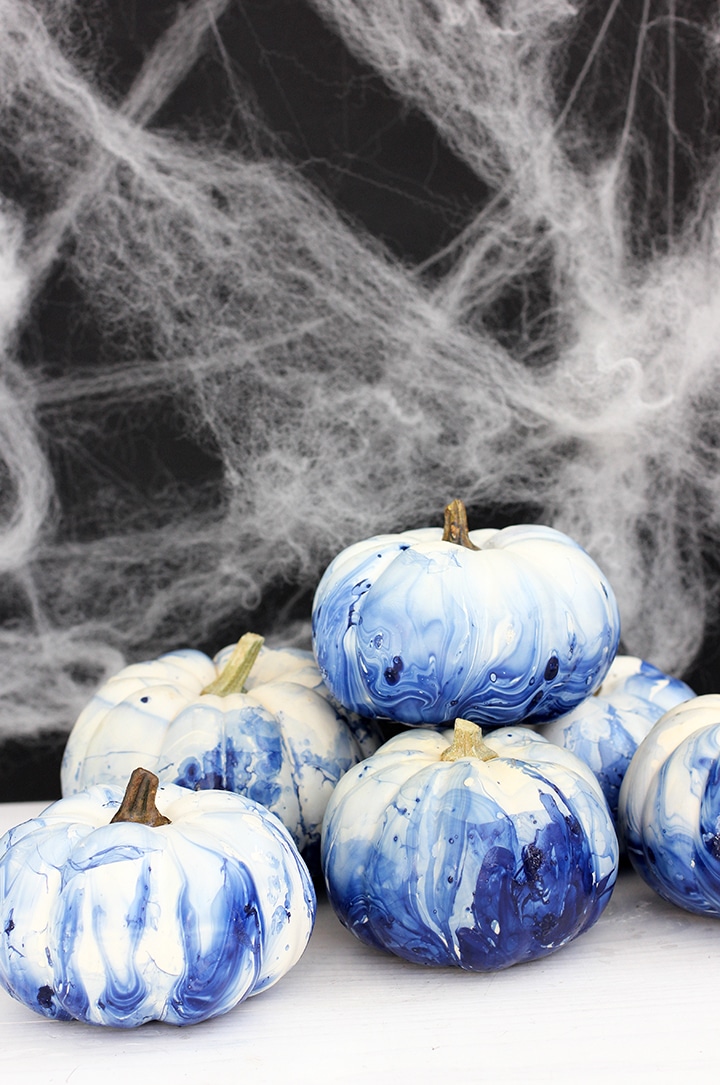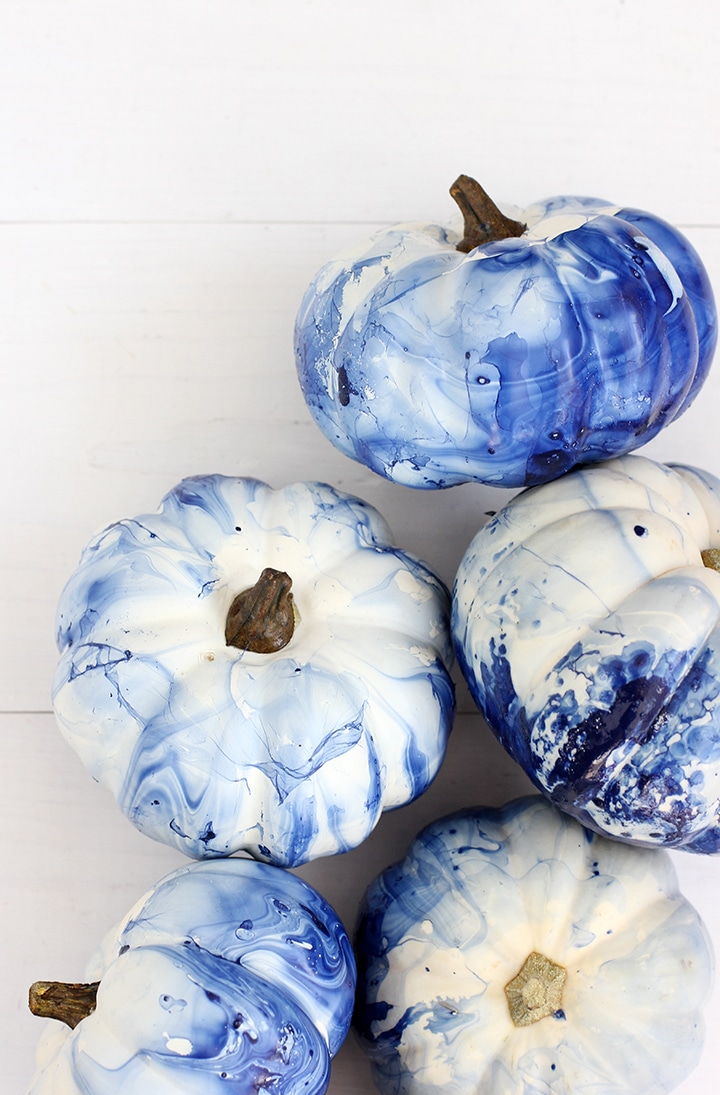 We have also made these pumpkins in other colors. The black and white are nice and give a more traditional look for Halloween. Multi colors of nail polish give a more whimsical feel – something our daughters love! We really want to do some earth toned colors like terra-cotta, moss green and mustard yellow. Those would be really nice in a display with dried grasses, don't you think?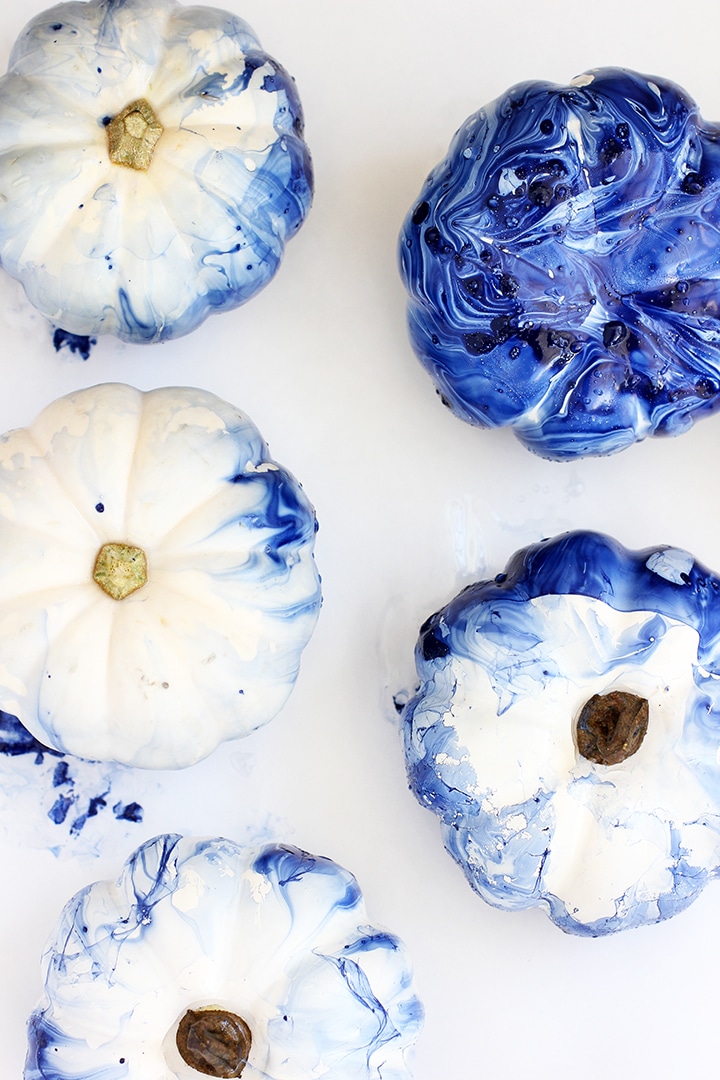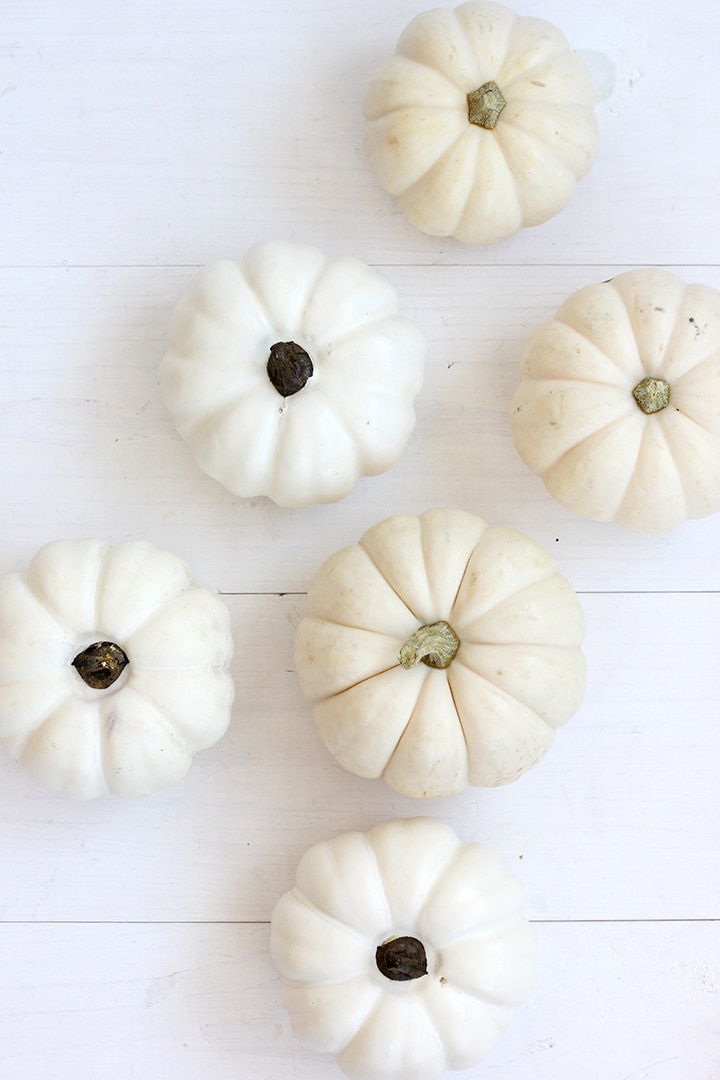 Photos by Sara Albers. all rights reserved.
SaveSave