Michelada Recipe with Sweet and Spicy Bacon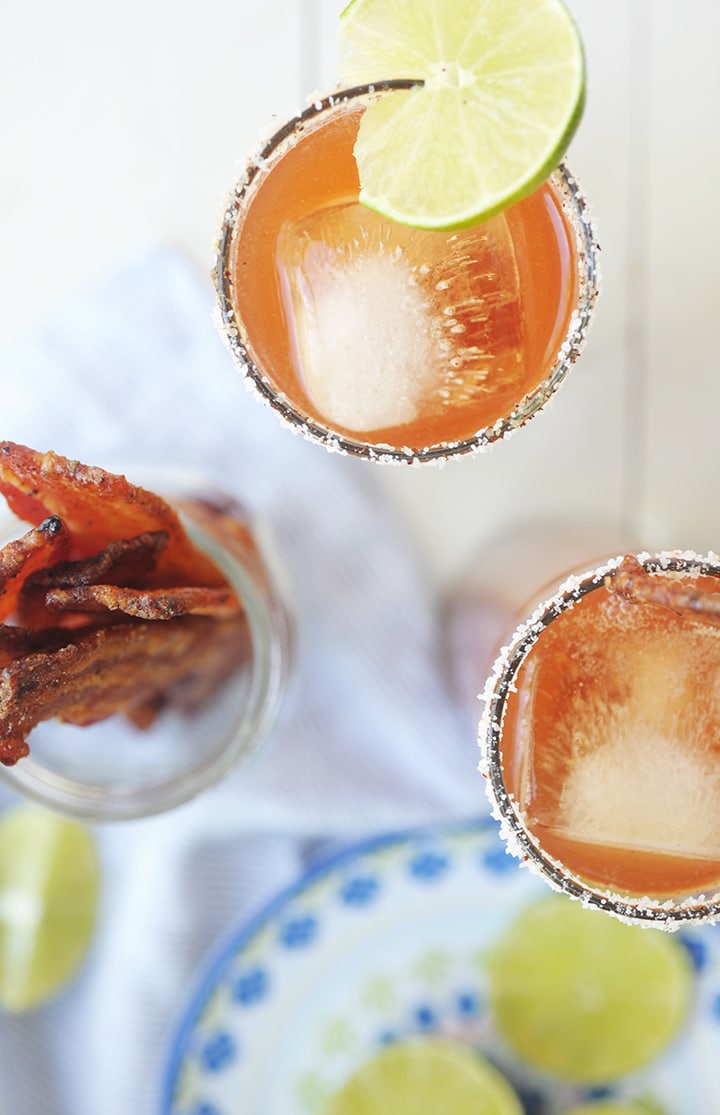 This post has been sponsored by Clamato ®. All thoughts and opinions are my own. Must be 21 or older to consume alcohol. Please drink responsibly.
I've heard micheladas referred to as beer cocktails, red beer and even michis. But it doesn't matter really what they're called. What matters is that they are easy to make and so darn delicious, especially on a hot summer day. We teamed up with Clamato® to share our favorite michelada recipe that we garnish with sweet and spicy bacon!
Micheladas are a favorite beer-based cocktail in Mexico. They work well when you make them as single drinks, but also when you're whipping up a whole big batch in a large pitcher. Fresh lime, Clamato, Worcestershire, hot sauce and a light Mexican beer are combined to create a fabulous summer drink. And don't forget about the salted rim and sweet and spicy bacon garnish!
You know we love to have a signature cocktail at parties, and micheladas made with authentic ingredients like Clamato, are always a hit at summer get togethers. We decided to add some maple glazed spicy bacon to our latest batch of micheladas, and talk about a hit! Just pick up the Clamato and all the other ingredients at your local Albertsons for ease.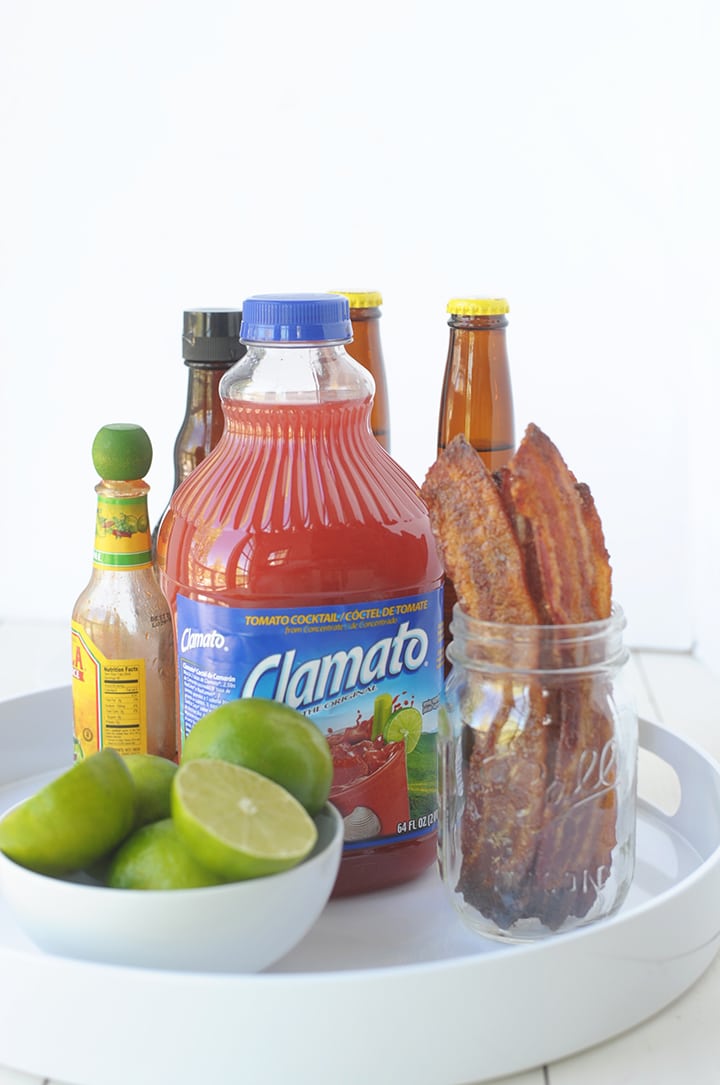 Sweet and Spicy Bacon Micheladas
Fresh Limes
¼ t Worcestershire sauce
½ t hot sauce
1/2 cup Clamato juice
Light Mexican beer
Rub rims of glasses in lime and dip in kosher salt chili powder mix (use ¼ t chili powder with 2 T kosher salt). Fill glass with ice. Squeeze one lime in glass. Add Worcestershire and hot sauce, then top with Clamato and beer.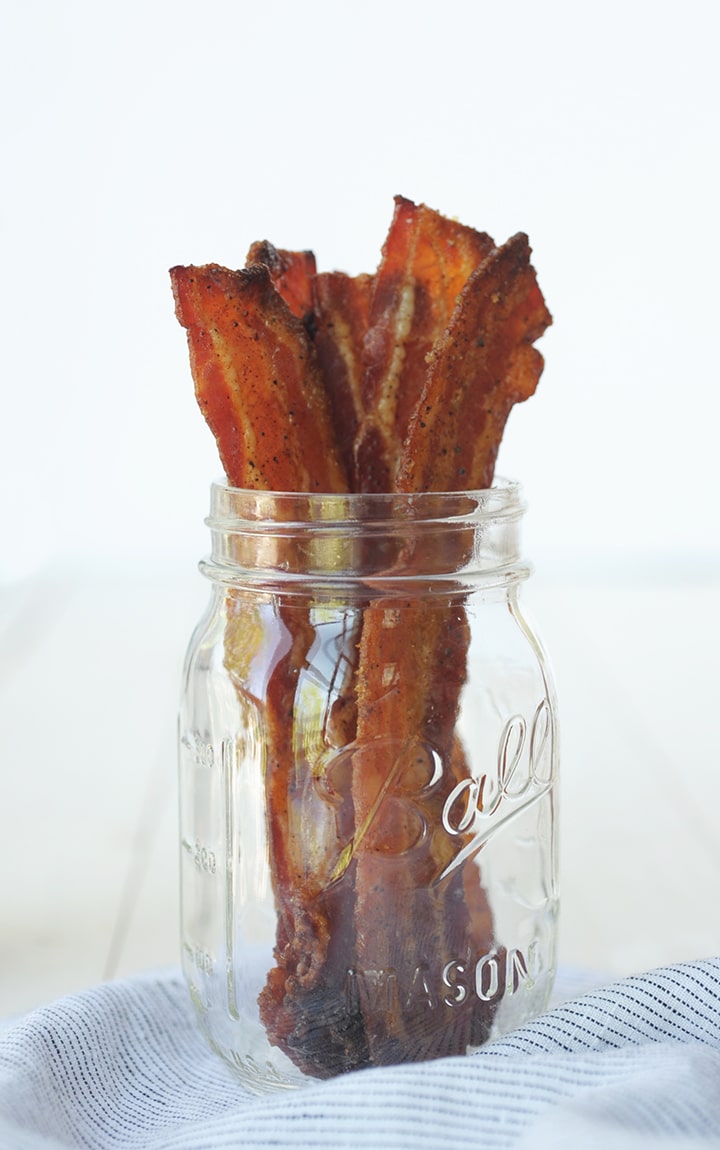 Maple Chili Bacon Recipe
This bacon, baked in a maple syrup, brown sugar glaze, is the perfect garnish for micheladas.
I was going to just stick with maple syrup and chili powder for my glaze, but I really wanted the caramalization you get from brown sugar. So, I added a bit of brown sugar to the mix, and love the end result. It's sweet, a tiny bit sticky and topped off with a little kick.
1 lb. thick sliced bacon
3 Tablespoons brown sugar
1 Tablespoon maple syrup
¼ teaspoon chili powder
¼ teaspoon cayenne powder
¼ teaspoon black pepper
Ice
Preheat oven to 350 degrees. Prep baking sheet by covering in aluminum foil and metal cooling rack. Mix ingredients in a large bowl and toss bacon until covered. Please bacon strips on rack in single layer. Do not overlap. Bake for 20 minutes then flip and bake for another 15 minutes until crispy. Remove bacon and cool and serve as garnish with drinks.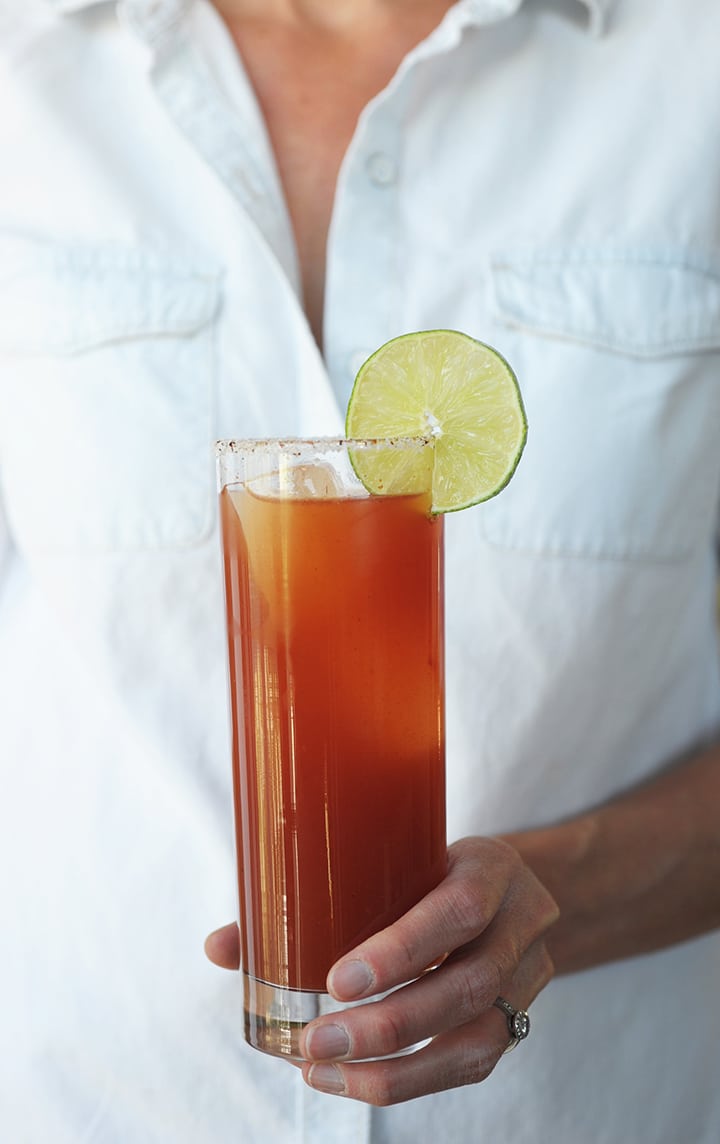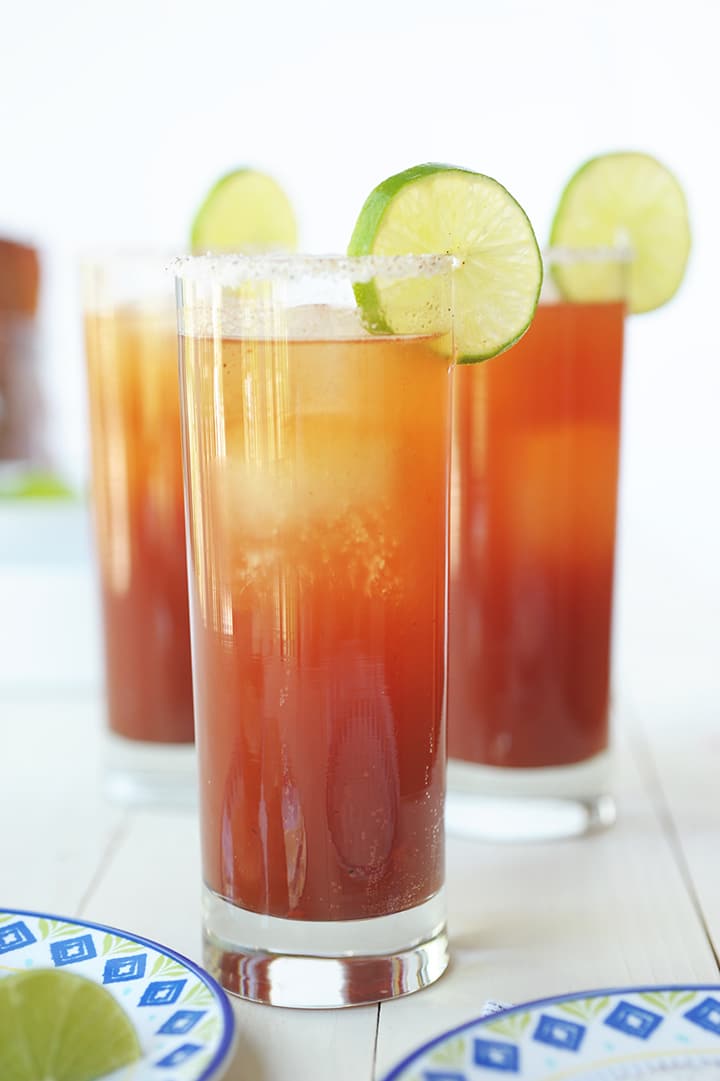 Once the bacon has cooled, feel free to serve it in a mason jar, over ice. Micheladas make a great cocktail to have as a self serve drink at a summer party. Your family and friends can create their own michelada with Clamata, beer and they can choose how much heat they want, and how many pieces of bacon they want as garnish!
For more recipe ideas using Clamato, visit www.MicheladaSummer.com!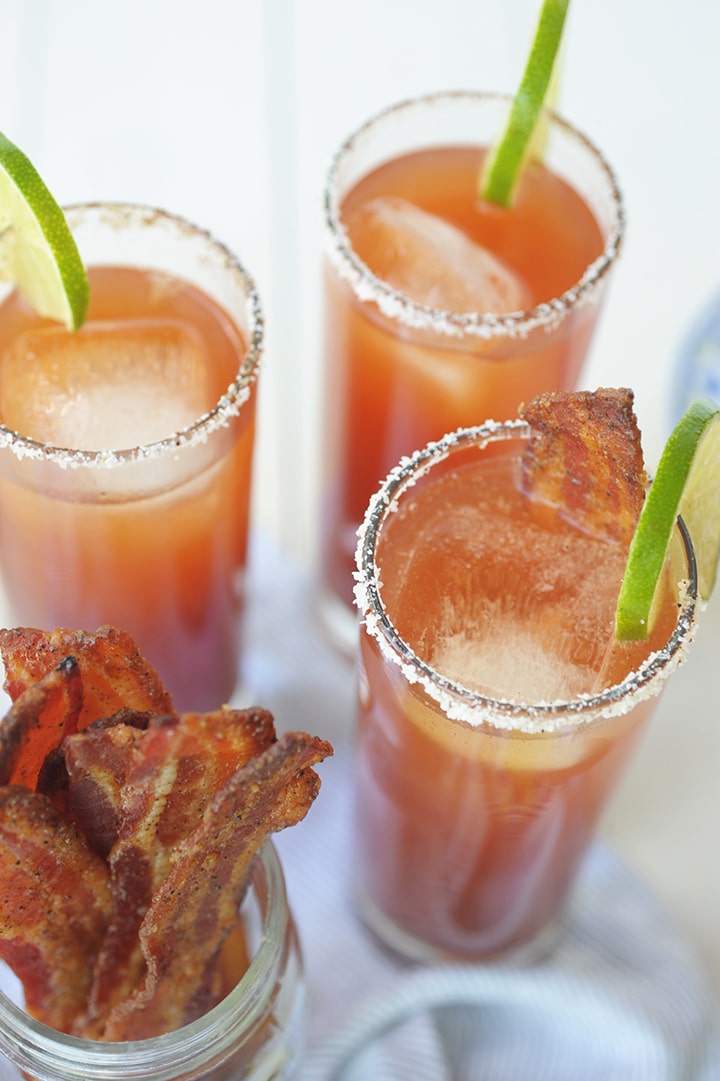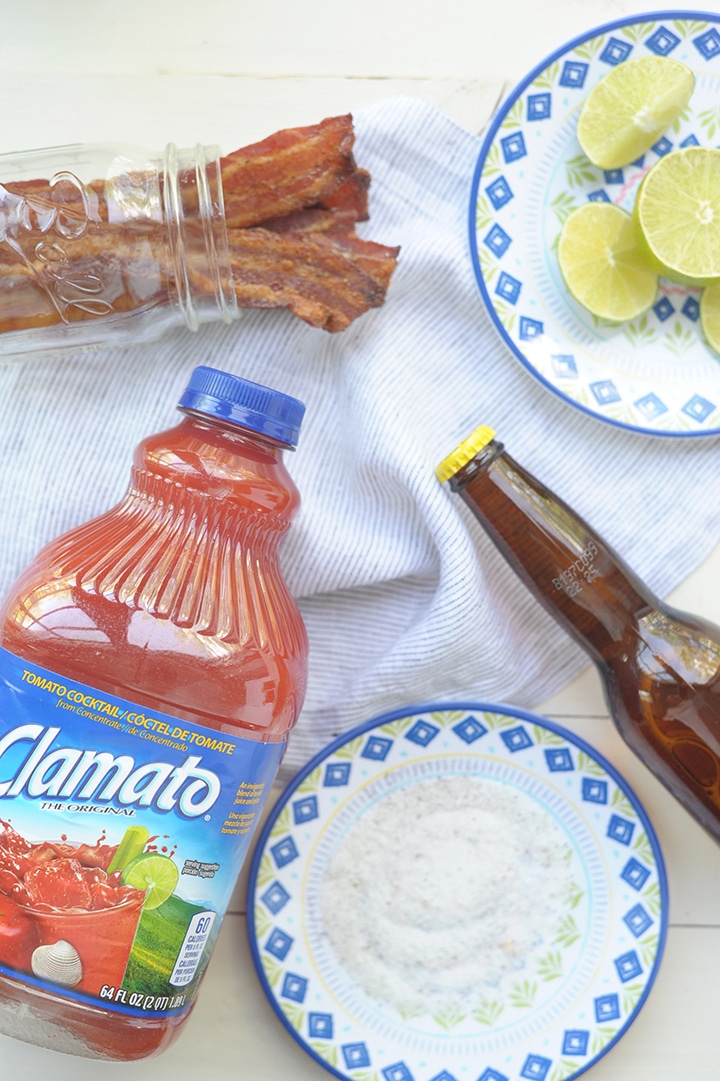 photos by Melissa Fenlon